Okay, muggles, witches, and wizards of all houses did you know that there are many magical Edinburgh Harry Potter locations to visit?
Edinburgh is known as the birthplace of Harry Potter as J. K Rowling wrote some of the very first chapters of the books here.
So, there are many places in this historic city that are thought to have inspired characters, places, and events in the series.
Ever since Edinburgh has become a popular pilgrimage for Potterheads who want to experience some of the magic.
Here are the most magical Edinburgh Harry Potter locations you must visit!
Was Harry Potter filmed in Edinburgh? What is the Edinburgh Harry Potter connection?
No, you may be surprised that none of the Harry Potter movies were filmed in Edinburgh.
So, you're probably wondering, what is the deal with Harry Potter and Edinburgh and why is there a connection at all?!
Although there are no Edinburgh Harry Potter filming locations, this magical city is known as the birthplace of Harry Potter.
If you didn't know, J. K. Rowling wrote the very first chapters of Harry Potter in some of the cafés found in the city. So, it's the place that started it all.
She also wrote the majority of the seventh installment, Harry Potter and the Deathly Hallows, at The Balmoral Hotel in Edinburgh too. So, I guess you could say that Edinburgh has played a huge role in these stories from start to finish.
That's why there are so many Edinburgh Harry Potter locations and fan theories about places that may have inspired characters and locations from the books!
Edinburgh Harry Potter locations to visit
So, what are all the Edinburgh Harry Potter locations you can visit? Well, there are plenty and they will take you all over the city.
From bars, beautiful streets, graveyards, escape rooms, castles, cafés, shops, and museums – it's best to plan at least a day to cram them all in!
Here are the very best Edinburgh Harry Potter locations you must visit while you're in Scotland.
1. Victoria Street aka Diagon Alley
Okay, okay, I told a slight lie and I won't need a Veritaserum to tell you the truth. It is just a fan theory that Victoria Street in Edinburgh is a real-life Diagon Alley. It's never been officially verified.
There are many streets across the country that have a claim to being THE Harry Potter Street. The Shambles in York is a huge one and my personal favourite contender.
Cecil Court and Goodwin's Court are also thought to be inspirations in London and even Gandy Street in Exeter has a claim (although this has recently been dispelled by J. K. Rowling).
But, it's so easy to see why Victoria Street could be a real-life Diagon Alley here in Edinburgh.
Although in the books and movies, Diagon Alley lies behind the Leaky Cauldron which can be found on Charing Cross Road in London, the similarities to Victoria Street are uncanny.
In the books, Diagon Alley is described as cobbled and winding and Victoria Street is just like that.
Also, this historic street is filled with colourful shopfronts in a rainbow of colours that are home to a variety of Independent boutiques and Harry Potter shops!
What do you think? Does this street look like a real Diagon Alley to you? It's a must-visit Edinburgh Harry Potter location in my eyes.
Click here to read my Harry Potter guide for Victoria Street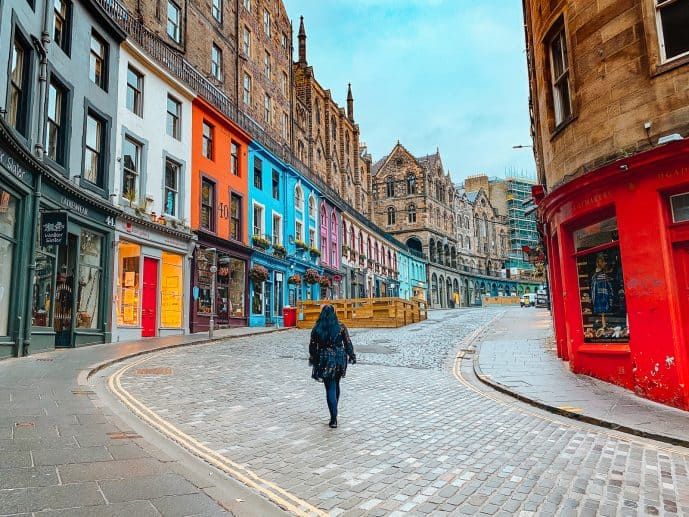 2. Museum Context
Museum Context is the most famous Harry Potter Shop in Edinburgh and can be found at 40 Victoria Street.
This building used to be home to Robert Cresser's brush shop which was established in 1873. Today, many believe this was the inspiration for Ollivander's Wand Shop!
It closed in 2004 and then became Diagon House. Later, it was renamed Museum Context and has three floors of mystical wares.
You'll find oodles of Wizarding World merchandise like wands, robes, plush toys, books, and souvenirs in all the Hogwarts Houses. Plus, there are plenty of photo opportunities in store too.
Click here to read my complete guide for Museum's Context Harry Potter shop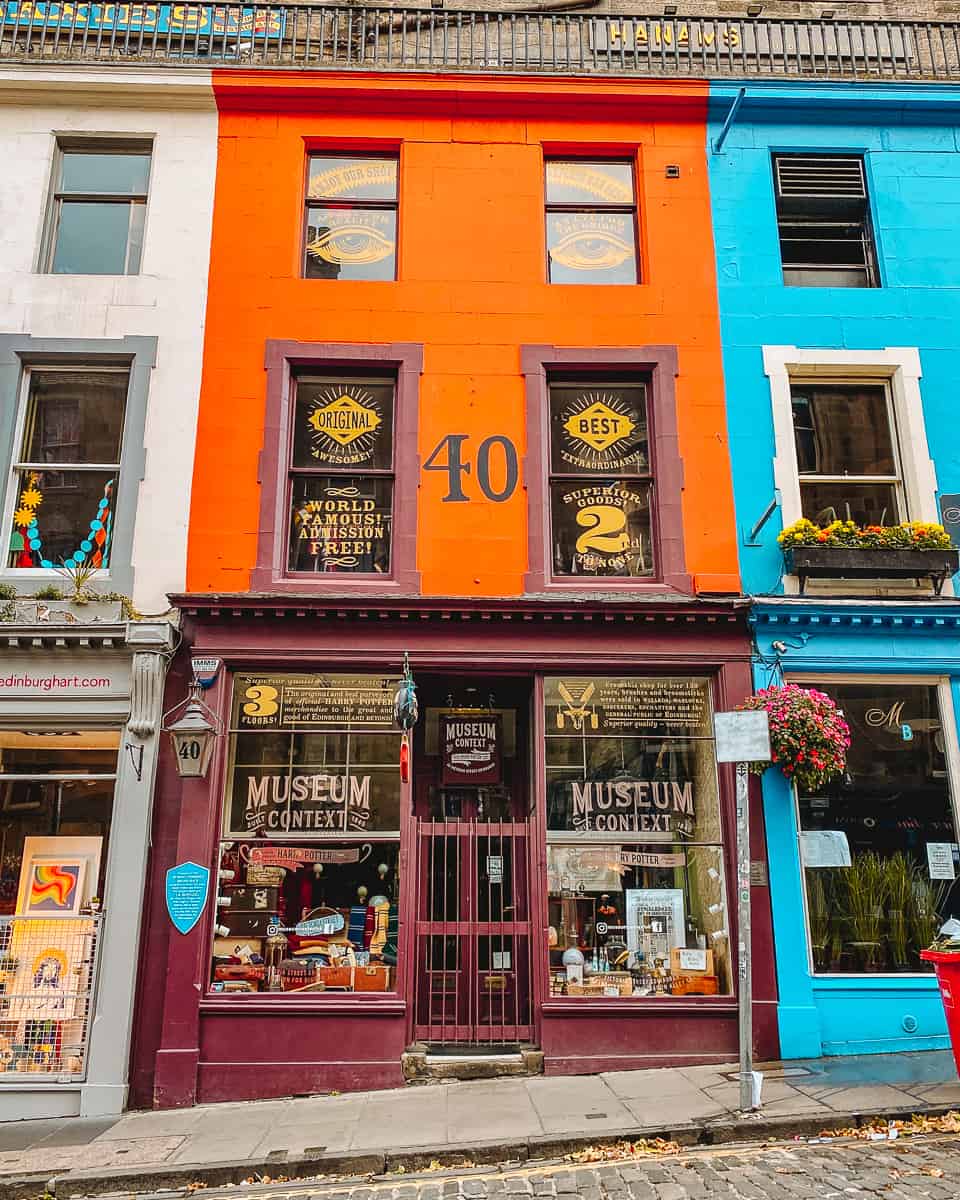 3. Candlemaker Row
If you head to the bottom of Victoria Street towards Grassmarket and take a left, you'll find the famous Candlemaker Row.
This is also known as Diagon Alley and you'll find some great street art that says so! Although now it's known as 'Deviation Alley'. You can take a photo with the wings on the wall here.
There are some amazing independent boutiques here so make sure to leave time for shopping.
Aspiring witches and wizards will love Black Moon Botanica which sells beeswax candles, herbs, oils, crystals, tarot readings, astrological charts, and even more magical offerings!
4. Greyfriars Kirkyard aka Harry Potter Graveyard
Just beyond Candlemaker Row is the famous Greyfriar's Kirkyard. This is one of my favourite graveyards in the world!
There is so much history to uncover here from Covenanters, grave robbers, poltergeists (yes, it's haunted), and Scotland's most famous loyal dog Greyfriar's Bobby.
But, in recent years, a popular thing to do here for Harry Potter fans is to find Tom Riddle's gravestone amongst other famous names from the books.
It's now been coined as the 'Harry Potter graveyard'. Make sure to take some time to explore but keep in mind to be respectful.
You'll find gravestones with familiar names like McGonnagal, Potter, Moodie, Scrymgeour, Black, Cruikshanks, and Tom Riddle!
It's never been claimed that these were actually inspirations for the books, but that doesn't stop Potterheads searching for them. It's a really popular Edinburgh Harry Potter location.
Click here to read my complete guide for Greyfriar's Kirkyard & How to find Tom Riddle's grave!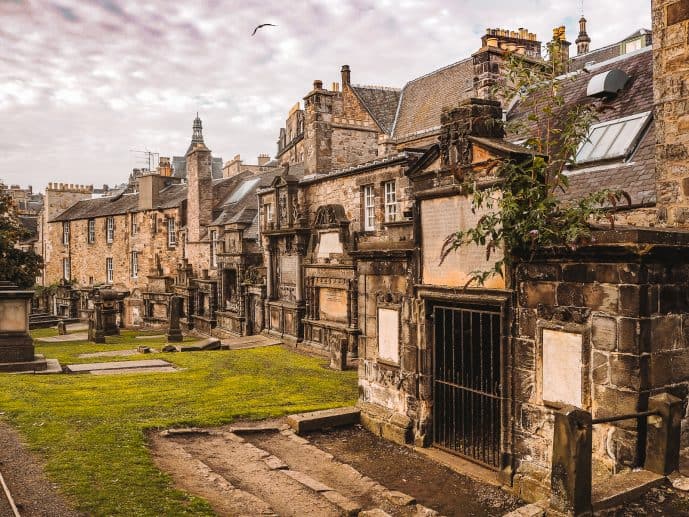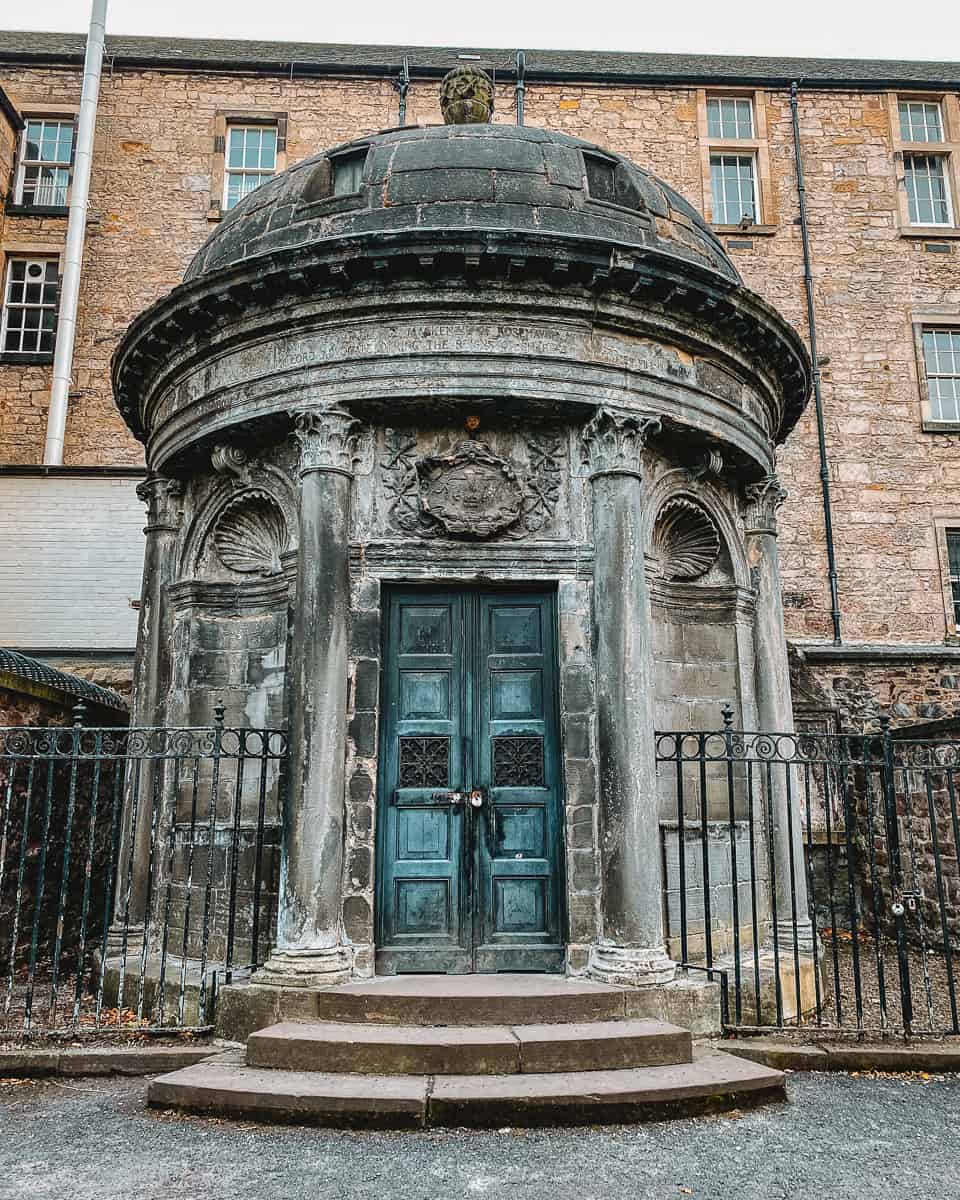 6. Tom Riddle's Grave
The gravestone that Potterheads always want to see is Tom Riddles' grave.
Fans will need no introduction but, if you're not aware, Tom Marvolo Riddle later becomes Lord Voldemort. Alternatively known as You-Know-Who, The Dark Lord, and He Who Shall Not Be Named!
You can find the grave by entering the Greyfriars Kirkyard by the Kirk and navigating over to the Flodden Wall arch. When here, make a right, and head all the way down to the very end.
If you were interested, this is actually the grave of Tom Riddell Senior who died at 72 years old in 1806.
There are also other Riddell family members commemorated here including Tom Riddell Junior who died before his father at 26 in 1802.
7. George Heriot's School
From Greyfriars Kirkyard you'll get an amazing view of George Heriot's School through the Flodden Wall. It was built all the way back in 1628.
This school is a strong contender for the inspiration of Hogwarts School of Witchcraft and Wizardry.
There's not much to say that this is a fact, in fact, J. K. Rowling denied it, but the building does inspire a wee bit of magic and it's worth a peek!
It is not open to the public but the best views of this school can be seen from Greyfriars Kirkyard and the Edinburgh Castle Esplanade.
8. The Elephant House Cafe
Just beyond Greyfriar's Kirkyard, you'll find The Elephant House Café which is also known as the 'birthplace of Harry Potter' as J K Rowling wrote some chapters of the very first book here!
Today, it's a popular Edinburgh Harry Potter location that sees droves of Harry Potter fans who want to take a seat and sip a coffee where the journey began.
You'll find that the toilets here are filled with graffiti and notes from Potterheads and it's almost become a bit of an institution.
If you did want to visit, I'd try to get here as early as you can. You can often see a huge line of patrons outside waiting for a seat!
Important Muggle Announcement: The Elephant House Cafe suffered a fire not long ago so it's temporarily closed! I would recommend Black Medicine Coffee (previously known as Spoon) while it's being fixed.
9. Black Medicine Coffee
Another café where J. K. Rowling wrote some chapters of the first Harry Potter book was Nicolson Café, previously known as Spoon.
It has changed names many times since then and it's currently called Black Medicine Coffee which is still a cosy coffee house.
If you look outside the shop, you'll find a small granite plaque with J. K. Rowling's portrait and gold lettering to commemorate the fact that she wrote some early chapters here.
I would highly recommend popping in for brunch or afternoon tea while you're chasing Edinburgh Harry Potter locations!
10. The Balmoral
An Edinburgh Harry Potter location in its own right, The Balmoral was the place where J. K. Rowling wrote the entirety of Harry Potter and the Deathly Hallows in Room 552.
The Balmoral Hotel has now made that room an official 'J. K. Rowling suite' with its very own purple door and owl door knocker.
The desk she used remains inside and you will find a signed marble bust and framed book cover on display.
If you wanted to visit without spending the night, I would highly recommend booking their afternoon tea service at The Palm Court. It's one of the best afternoon teas in Edinburgh.
Harry Potter fans should definitely plan to spend the night here, although you definitely don't have to stay in the suite. There are normal rooms to book that are pure luxury!
It's not a cheap place to stay by any means but it really is one of the best hotels in the city centrally located on Princes Street.
Click here to book a magical stay at The Balmoral for your Harry Potter trip to Scotland!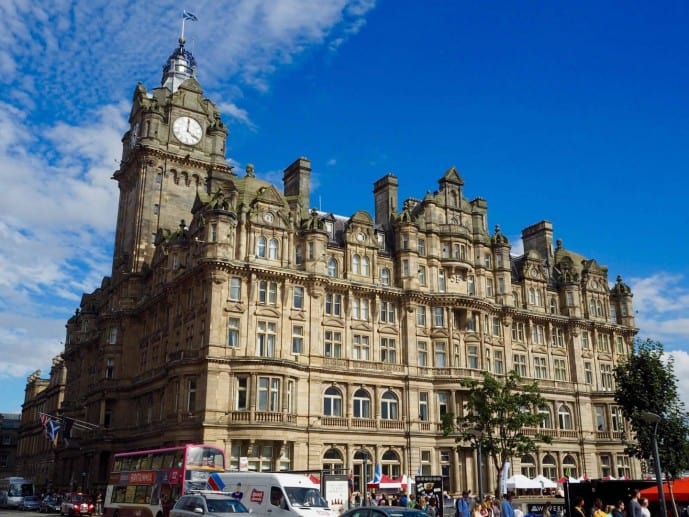 11. Try Butterbeer at the Dog House
If you have ever wanted to try the favourite Wizarding beverage of Butterbeer then you will be in luck.
Although there isn't an official Butter Beer Bar in Edinburgh, you will find some served on tap in The Dog House on Clerk Street.
The interiors have some seriously quirky decor and you'll find vibrant artwork, dummies, dolls, cuddly toys, guitars, and fairy lights on the walls. It has a reputation as a student bar and it's popular on a night out.
You have the option of trying the traditional Butterbeer served in a stein glass or you can sample one of their whisky-based Butterbeer cocktails as well.
Note: This is an adult bar and the Butterbeer in The Dog House is alcoholic. It's not suitable for younger witches and wizards.
12. Lewis Chessmen at the National Museum of Scotland
If you head inside the National Museum of Scotland, you may find a medieval chess set that looks suspiciously similar to the pieces used in Wizard Chess.
If you remember in Harry Potter and the Philosopher's Stone, Ron and Harry play a rather violent game of Wizard's Chess.
Then, at the end of the movie, the Golden Trio plays on a life-size chessboard that acts as security to protect the Philosopher's Stone.
The Wizard Chess pieces were inspired by the Lewis Chessman, a medieval set from the Isle of Lewis found on a beach at Uig.
They are an extremely popular exhibit and you can find them in a cabinet within the Kingdom of the Scots section.
As well as the Lewis Chessmen, you'll find some really cool stuff in this museum-like some period costumes, Egyptian exhibits, and the mysterious Burke and Hare Dolls.
The museum is perfect for a rainy day as there are lots to see and do. If the weather is dry though, make sure to head up to the very top of their viewing platform for a magical look at Edinburgh Castle.
The National Museum of Scotland is completely FREE to visit. Click here for the latest opening times.
13. Department of Magic cocktails
If you wanted a completely immersive Edinburgh Harry Potter experience then I would head to the Department of Magic near the Royal Mile.
Here, you can create your very own magical cocktails in their Magic Potion's Tavern that feels like you're in a class with Professor Snape!
You'll get to concoct your very own elixir and follow instructions just like you're in Hogwarts. Afterward, you'll get a shot presented in a smoking chest.
The session lasts around an hour and the whole place looks just like the Leaky Cauldron inside. It makes the perfect ending to any Harry Potter tour.
Click here for my complete Department of Magic Cocktails review
14. Harry Potter Escape Room Edinburgh
As well as serving up magical potions, the Department of Magic is known for its inspired Harry Potter escape rooms!
There are two games to choose from and they are very much Good vs. Evil.
One is the 'Prophecies Quest' where you're working to defeat the Dark Lord and, for our Slytherins and aspiring Death Eaters out there, you have one called 'Dark Lord Resurrection' where you fight to bring him back!
Both sound like a lot of fun and each room takes 2-6 players maximum. Prices vary depending on how many people you choose to bring with you for the quest.
Of course, after your dealings with the Dark Lord, you can all gather in the Magic Potions Tavern and enjoy the cocktails at an extra cost.
Click here to book your Harry Potter escape room in Edinburgh!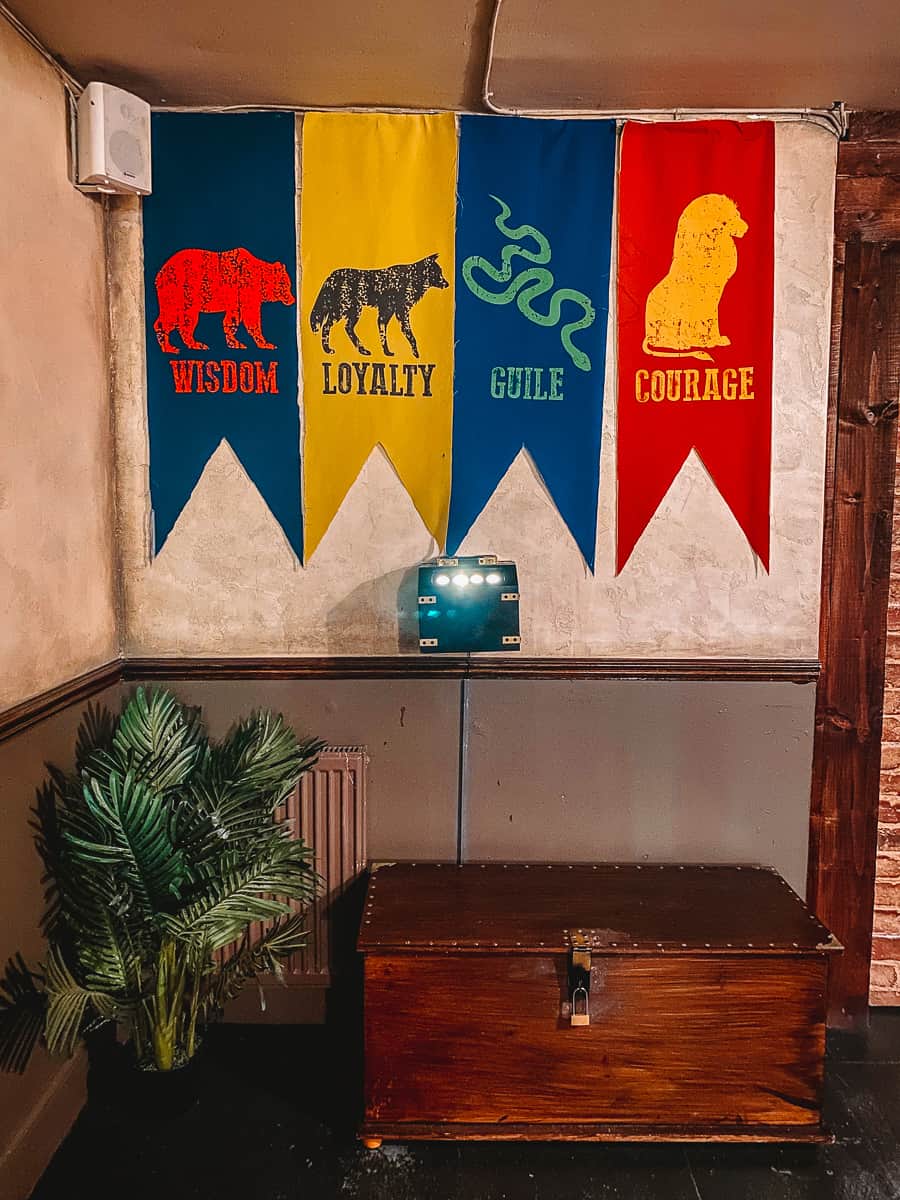 15. Potterrow Port and Potterrow Street
One of the stranger Edinburgh Harry Potter locations has to be Potterrow Port located near the University of Edinburgh.
It is an underpass rumoured to be the place that inspired Harry Potter's last name. J. K. Rowling lived in Edinburgh and so it makes sense that she may have been inspired by this street while writing her books.
This has never been proven but it's still worth stopping for a quick photo while you're on your Edinburgh Harry Potter tour!
It also looks very similar to the scenes when Dudley and Harry come across Dementors in the subway near Privet Drive during Harry Potter and the Order of the Phoenix.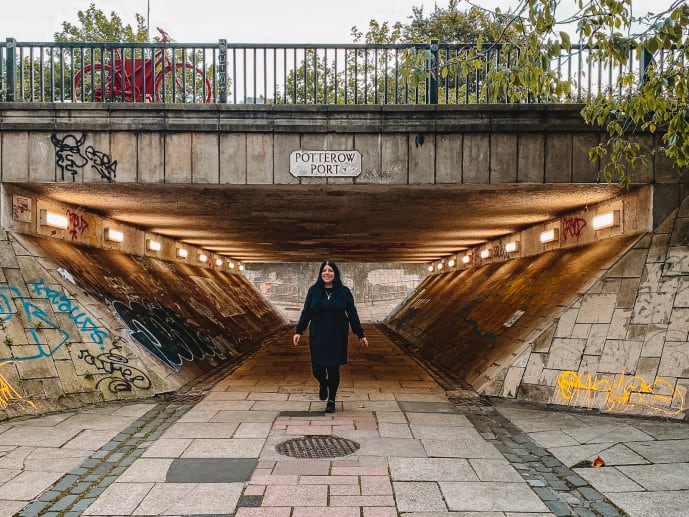 16. The Cauldron Edinburgh
Another immersive Harry Potter experience in Edinburgh is a night at The Cauldron. Again, this is another Harry Potter bar where you can make potion cocktails.
True to its name, you will be given your very own cauldron to mix your potion as well as a wand to cast spells using molecular mixology!
The Potion's Lesson lasts for around two hours and you get to make two cocktails as well as receive a welcome drink poured by your magic wand.
The great thing about The Cauldron is that they have adult potion lessons as well as sessions for children that are non-alcoholic. So, it's perfect for the whole family.
I went to the one in London but the experience is relatively the same. Click here to read my complete Cauldron Review!
17. Traverse Theatre Cafe
Another little-known place where J. K. Rowling wrote Harry Potter is the Traverse Theatre Café which can be found on Cambridge Street.
It's here that she did a lot of writing for her first book. She also met John Tiffany here who is the director of Harry Potter and the Cursed Child in London!
You can visit the café for a coffee or some lunch or you can head to their Dine restaurant at the very top.
Traverse Theatre has shows and events that happen throughout the year. Click here to see what's on.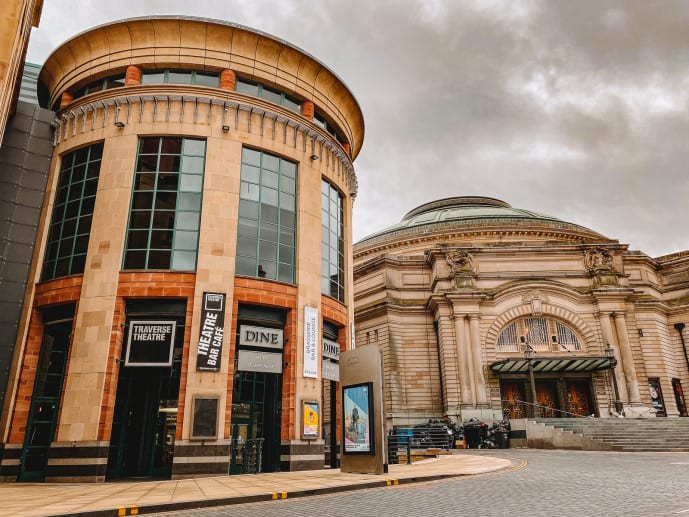 18. Find J. K. Rowling's Handprints at the City Chambers
If you're heading up the Royal Mile, you must make a visit to the City Chambers near Mary King's Close.
After J. K. Rowling completed her Harry Potter book series she was awarded The Edinburgh Award in 2008 by popular city vote.
You can find her golden handprints on the flagged floor just outside the City Chambers although they are a bit faded now due to all the Potterheads touching them!
19. Edinburgh International Book Festival
Edinburgh is home to some of the world's biggest literary giants. It was also the very first city to be named a UNESCO City of Literature so it makes sense that there is an annual book festival.
Edinburgh International Book Festival was one of the first places that J K Rowling gave a reading of her Harry Potter books. She also attended a few of the events as well.
The festival takes place every August in the Charlotte Square Gardens. It's the perfect addition to an Edinburgh Harry Potter tour for Bibliophiles.
Click here to see the latest information
20. Edinburgh Castle
We really can't have a Harry Potter tour of Edinburgh without stopping at the majestic Edinburgh Castle at the very top of the Royal Mile.
Home to Scottish royalty for centuries and later a military garrison, it is one of the oldest fortified places in Europe sitting on top of an extinct volcano.
This is another contender as the inspiration for Hogwarts Castle in the Harry Potter books. But, again, it has never been substantiated.
Even if it isn't an official Edinburgh Harry Potter location, I would highly recommend visiting this incredible fortress. It's massive and you can see the 'Honours of Scotland' crown jewels inside!
Look out for the famous 1 o'clock gun ceremony that has taken place since 1861.
I would highly recommend booking tickets beforehand as queues can get ridiculous and it will guarantee your entry with the best price available. Click here to book your tickets!
21. Armchair Books
An unofficial Edinburgh Harry Potter location is the magnificent Armchair Books that can be found on Grassmarket.
It's an antiquarian labyrinth of bulging bookshelves, creaking floorboards, plush carpets, and a familiar bookish smell that will make bookworms feel right at home.
It will instantly transport you to Hogwarts Library and it's a must-visit while you're here.
Click here to read my complete Armchair Books guide
Bonus Edinburgh Harry Potter locations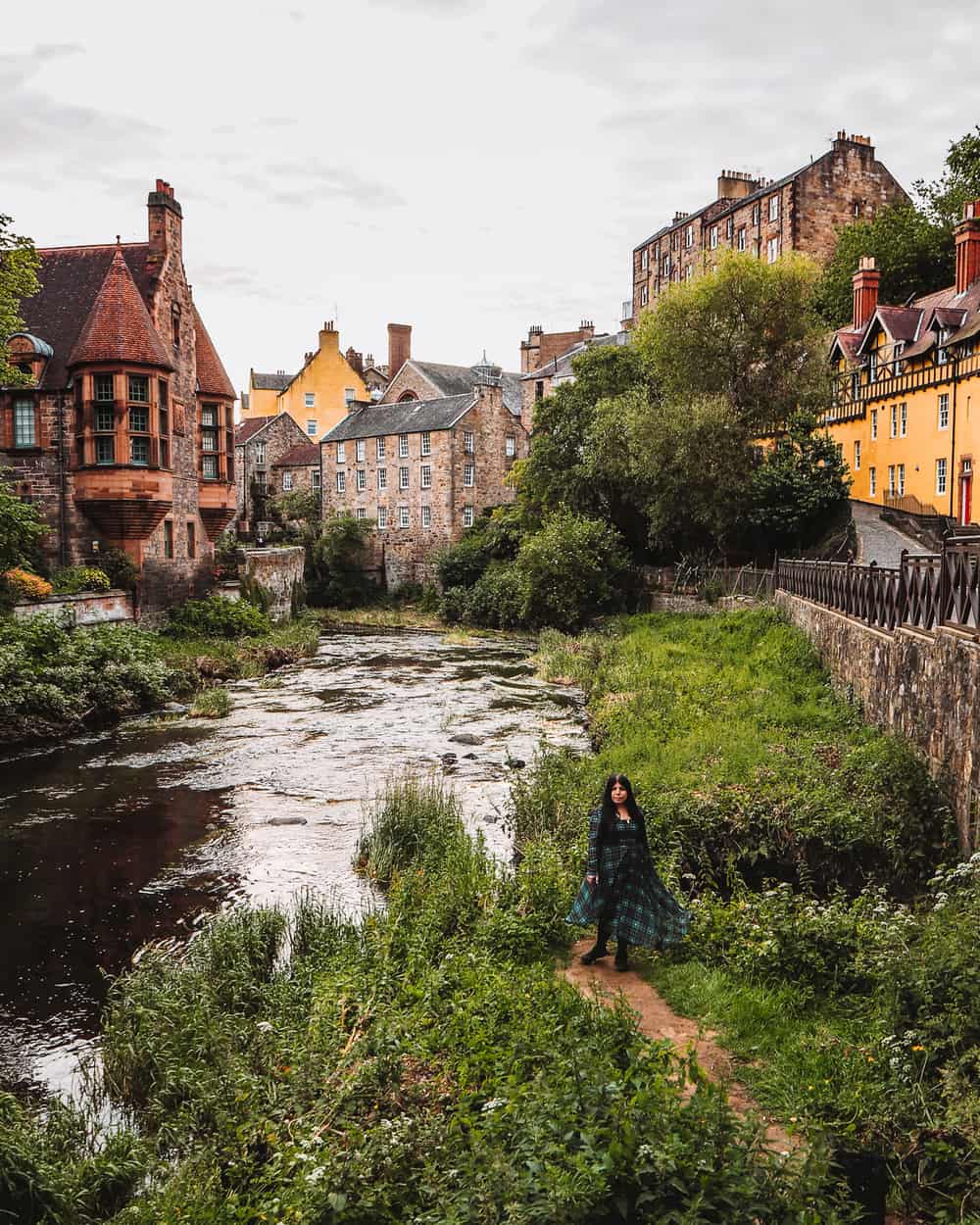 Writers' Museum – Another building that looks straight out of Hogwarts you'll find this on the Instagrammable Lady Stair's Close. The museum will appeal to Literary enthusiasts.
Divinity School – Part of New College in the University of Edinburgh, the Divinity School is another magical spot for photography. Again, a doppelgänger for Hogwarts.
The Witchery by the Castle – If you were looking for somewhere magical to eat, you have to visit The Witchery. It looks like you're dining in Hogwarts Great Hall with all the candles and gothic decor. Click here to read my review.
Use this Edinburgh Harry Potter locations map to find them all
Click this link or the image below to access an interactive Edinburgh Harry Potter tour map on Google Maps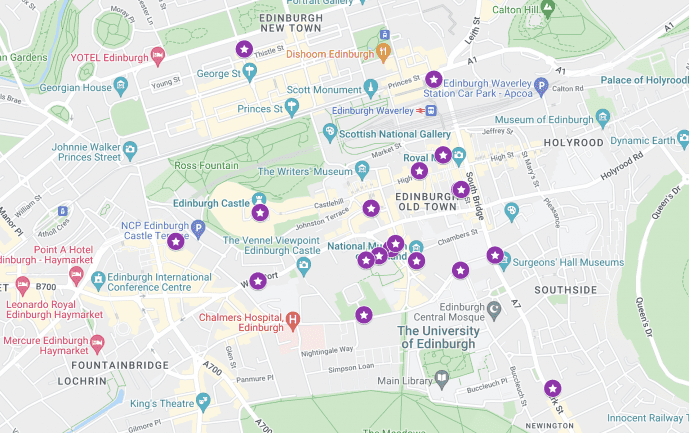 Edinburgh Harry Potter tours
All of the locations on this list are easy enough to visit on a self-guided Harry Potter tour of Edinburgh.
But, if you wanted to be shown around the city by an expert guide, I would recommend taking an Edinburgh Harry Potter walking tour.
There are plenty of these that run in the city and they are perfect for Potterheads who want some background to the sites they are seeing and how they connect to the stories.
This magical two-hour walking tour will take you to all the places where Harry Potter was 'born' and you'll end your tour at Tom Riddle's Grave. Plus, you can test your knowledge with their quiz and earn Hogwarts House points along the way!
Click here to book your magical Harry Potter walking tour in Edinburgh
Bonus Day Trip from Edinburgh – Alnwick Castle
As you're in the city, you can easily drive to another Harry Potter filming location near the Scottish Borders in Northumberland.
Alnwick Castle was another location used to portray Hogwarts in the movies. It's here that the students had their first flying lesson and poor Neville got stuck on the tower!
You can chase all the filming locations here as well as attend your very own Broomstick flying lesson in the courtyard. Make sure to capture a photo of yourself 'flying'.
They even have a massive gift shop with oodles of Harry Potter merchandise and a fairytale treehouse restaurant that looks like the Weasley's Burrow.
If you cannot drive, why not book this tour to Alnwick Castle from Edinburgh?
Click here to read my complete Harry Potter guide for Alnwick Castle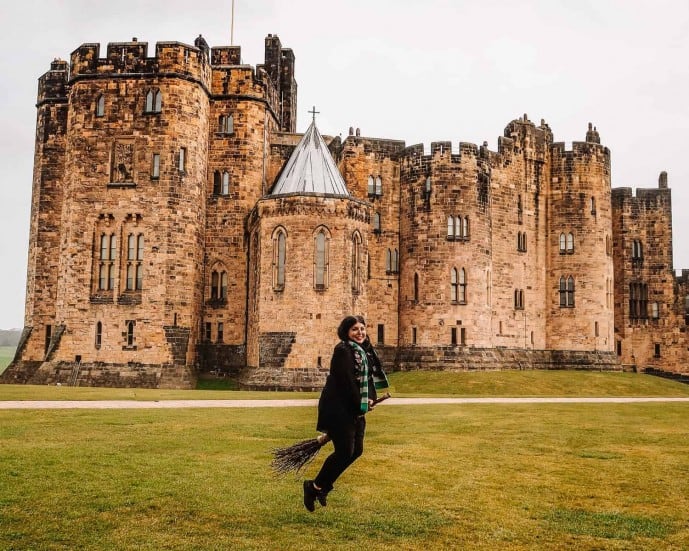 Looking for more magical things to do in Edinburgh?
Edinburgh is my favourite city on the entire planet, it looks like you're wandering around the Wizarding World as there are so many historical buildings.
But, there are plenty of other things to do that aren't chasing Edinburgh Harry Potter locations. You can explore the gorgeous district of Canongate, Hollyrood Palace, or Calton Hill.
Arthur's Seat in Holyrood Park is a popular walk up an extinct volcano that will give you the best views of the city on a clear day.
I would also plan to explore some attractions on the outskirts as well. Craigmillar Castle is one of my favourite castles in Scotland which was a hideout for Mary Queen of Scots. Or, why not visit Rosslyn Chapel featured in the Da Vinci Code?
If you're a fan of Outlander you can visit Lallybroch as well as Blackness Castle and Linlithgow Palace on a day trip.
I have a whole post on the very best Outlander locations you can visit from the city.
You may be surprised that there are lots of beaches close to Edinburgh and you can visit Leith, Portobello Beach, Musselburgh, and North Berwick easily by bus or train.
Read more of my Edinburgh travel guides
The ultimate Edinburgh Bucket List
The BEST photography locations in Edinburgh
All the Outlander locations in Edinburgh
Places to visit on Calton Hill
How to find Bakehouse Close from Outlander
Why you must visit the World's End
A complete guide for Circus Lane
The mystery of the Burke and Hare Coffin Dolls
Queen Mary's Bath House in Edinburgh
Topping & Company Booksellers Edinburgh review
Discover Liberton Kirk in Autumn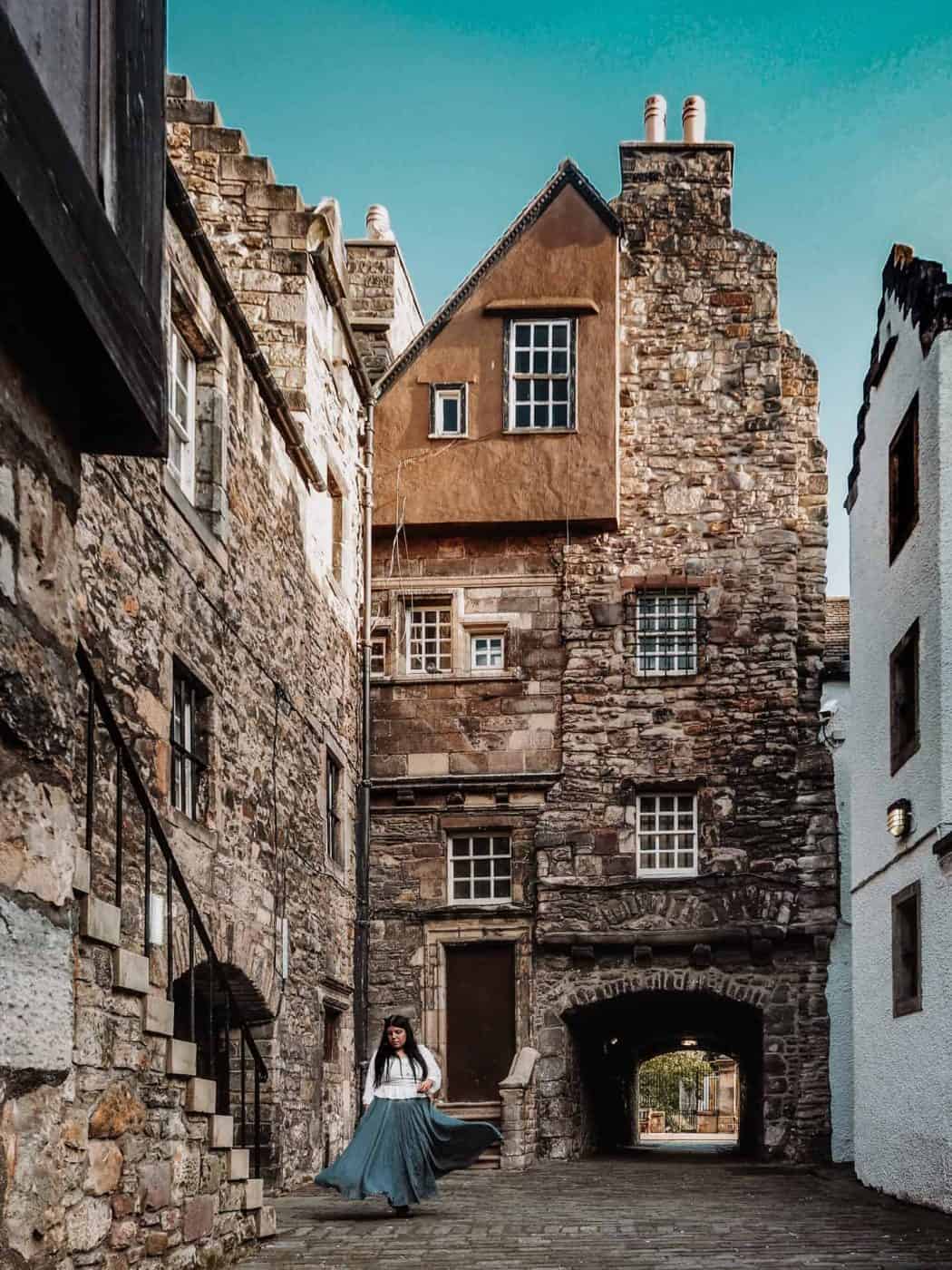 Looking for more Harry Potter locations in Scotland?
Did you know that there are plenty of Harry Potter filming locations in Scotland that you can visit? It's the perfect excuse to plan a Harry Potter road trip!
In Glen Coe, you can visit Rannoch Moor where the Hogwarts Express passes through, Loch Etive which was part of Hogwarts Lake, and also the location of Hagrid's Hut!
Most of the filming locations are near Fort William so it's best to base yourself here to visit them all.
You can head over to Glenfinnan to catch a view of The Jacobite steam train heading over the Glenfinnan Viaduct which stood in for the Hogwarts Express.
Click here to read my complete guide for Glenfinnan Viaduct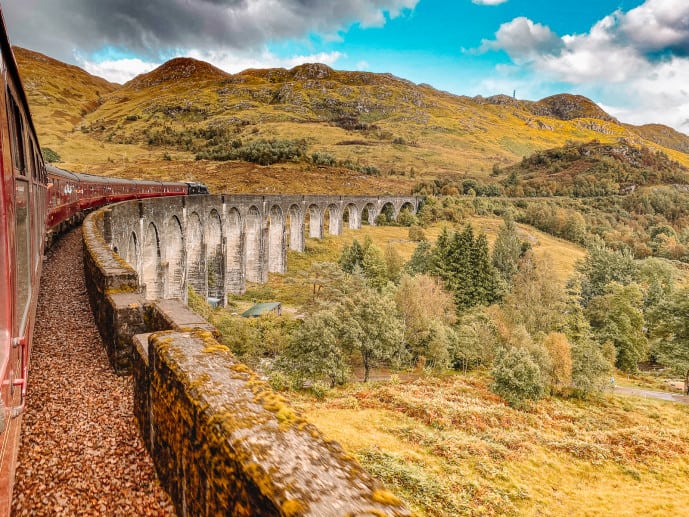 Afterward, make sure you head down to the Glenfinnan Monument and to Loch Shiel which was Hogwarts Lake scenery.
Then you can visit Eliean Na Moine on Loch Eilt and see where Dumbledore is buried. The gorgeous Loch Morar is a few miles up the road and is also featured as a Hogwarts Lake.
If you're up for a hike you can head to Steall Waterfall near Glen Nevis which is featured in the Goblet of Fire. Or, take a drive to Loch Arkaig (this one is only for dedicated fans as the drive is a challenge).
Black Rock Gorge is also a location on the NC500 that featured in the Goblet of Fire during the Triwizard Tournament.
Click here for my complete list of Harry Potter filming locations in Scotland
Read more of my Harry Potter travel guides
Harry Potter locations in Lacock
How to visit the real Godric's Hollow in Lavenham
How to spend a night in Hagrid's Hut
Harry Potter filming locations in Oxford
How to visit Hogsmeade Station in real life
Harry Potter filming locations in Alnwick Castle
Where to find Harry Potter in York
How to find the Harry Potter Tree at Blenheim Palace
How to find Dobby's Grave in Wales
Harry Potter filming locations in Gloucester Cathedral
Visiting Malfoy Manor in Real life!
A complete Forbidden Forest Experience Review
Virginia Water – the Other Hogwarts Lake
How to find the Malham Cove Harry Potter Deathly Hallows filming location
Harry Potter filming locations at Durham Cathedral
Instagram locations at the Wizarding World of Harry Potter
Save these Edinburgh Harry Potter locations for later!