The Scream Painting is one of the most recognised pieces of art in the world. Everyone seems to know about it, mostly from popular media.
But, do you know who painted it, the story behind it, and The Scream painting location?!
The Scream is a series of four original paintings by the revered Norwegian artist Edvard Munch. On his death, he gifted the entirety of his works to the Municipality of Oslo.
Today, the city proudly displays its masterpieces in a variety of museums.
Plus, there are plenty of places where you can experience Edvard Munch in Oslo. Including some Oslo sites that inspired his paintings.
Here is a complete guide on how to experience the best of Edvard Munch in Oslo!
Who was Edvard Munch?
Edvard Munch was a famous Norwegian expressionist artist and printmaker. He was born in 1863 in Löten and he was the second son of five children.
The Munch family decided to move to Kristiania, or modern-day Oslo, in 1864 but this move was the start of a chain of tragic events.
His mother died of Tuberculosis just four years later and his sister Sophie also died of Tuberculosis when she was 15.
His brother died of pneumonia at age 30 and another one of his sisters was institutionalised for mental illness.
Edvard Munch first had ambitions to be an engineer but quit this in favour of art by attending the Royal School of Art and Design 1881.
After this, he rented a studio in Oslo with six other artists to concentrate on painting.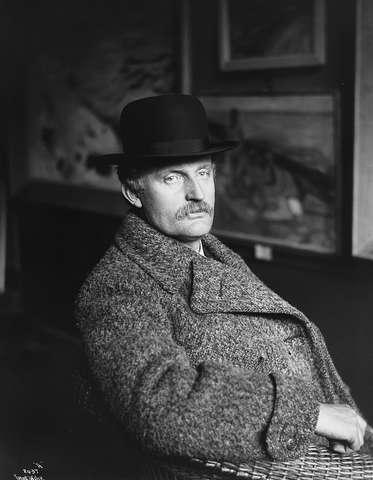 Munch then travelled abroad to the likes of Paris and Berlin. He used many of the tragedies in his life, along with his own issues of anxiety and mental illness, to create psychologically dark pieces. His most famous being "Frieze of Life".
These were 22 paintings that would go on display at the 1902 Berlin Exhibition. Among those works were pieces like "Anxiety", "Despair" and his most famous piece; "The Scream" or "The Cry".
These unique paintings created a name for Edvard Munch and he soon became known throughout the art world.
Unfortunately, despite Munch's brief happiness from the fame and success the paintings brought him. It wasn't enough. He started drinking uncontrollably and suffered from paranoia and paralysis. He even went so far as to check himself into an asylum.
He eventually moved to Ekely in the countryside of Norway. There he would live in isolation and would continue painting until his death in 1944.
Edvard Munch in Oslo
Although Edvard Munch's experiences in Kristiania, or modern-day Oslo, were often related to tragedy and the multiple deaths in his family.
These unfortunate events and the city itself would both inspire and influence his artwork throughout his life.
The Munch family often moved around Oslo and lived in many residences across the city. But, his childhood neighbourhood was that of Grünerløkka.
You'll find many of Oslo's streets and landscapes in Munch's paintings like Karl Johan Street. This appeared in both the "Frieze of Life" and his "Spring Day on Karl Johan Street". In his later years, Ekely influenced his landscape paintings.
His most famous piece, The Scream, was influenced by Kristiania fjord or Oslofjord.
Scroll down for the complete list of Edvard Munch Oslo locations!
What is The Scream painting?
The Scream painting is one of Edvard Munch's most famous pieces of art and is now one of the most recognised works in art history!
Although the most popular name is The Scream, in Norway it is called Skrik (Shriek). In Germany, it's called Der Schrei der Natur (The Scream of Nature).
The painting shows an agonised face and is meant to symbolise the anxiety of the human condition.
It may surprise you to know that The Scream is not just one painting. There are in fact four versions of The Scream that were created by Munch.
The subject and design of the pieces are identical but the differences are with the materials that Munch used to create them.
There is a painted version with oils, one was made with crayons. Years later he made one with pastels and in 1910 he used tempera paints on cardboard for the last.
Munch said that he got the inspiration for the painting while out walking and he saw the sky turn blood red from the sunset. At that moment he sensed an "infinite scream passing through nature".
This is why many people believe the face isn't actually screaming. The scream is the thing happening around the person!
Facts about The Scream Painting
The Scream is one of the most recognised paintings in the entire world
As well as the four original paintings. Munch mass-produced his work in the 1880s using a lithograph print
It has featured and inspired many movies and popular media. Examples include The Simpsons, Home Alone and Doctor Who
The character in the scream inspired the murderer in Wes Craven's Scream Movies
Pop Artist Andy Warhol made a series of silkscreen prints including Munch's The Scream.
Did you know that the 'shocked' face Emoji was inspired by The Scream?
In 2012, The Scream sold at auction for over $119 million dollars at Sotheby's in New York. A record-breaking price!
Munch's Scream painting theft!
Although Munch gifted his life works to the Municipality of Oslo on his death in 1944. It hasn't always been plain sailing trying to keep them.
It has not been stolen just once. But twice!
The first Scream painting was stolen in 1994 when thieves broke into the National Gallery in Oslo.
Thankfully, due to an extensive investigation by British detectives, it saw the painting returned three months later.
The second was a group of gunmen who broke into The Munch Museum in 2004.
They stole a different version of "The Scream" and also "Madonna". They were eventually recovered in 2006 but were returned with damages.
Where is The Scream painting location?
There are currently four original versions of Munch's Scream paintings. They are on display at the following locations;
The National Museum of Oslo in Norway has a painted version from 1893
There are two located at the Munch Museum in Oslo. The painted and pastel versions.
One is privately owned by Leon Black. He was the New York art collector who paid the $199 million (£74 million) dollars in 2012! This is the only one to ever face auction.
How to see The Scream Painting & Munch Art in Oslo
So, if you're interested in how to see The Scream Painting in Oslo, there are plenty of places where you can do that in the city. Oslo currently holds the world's largest collection of Munch Art!
Here are the top places to see Munch Art in Oslo!
1. Oslo National Museum / Nasjonalmuseet
The National Gallery in Oslo was the first EVER public collection to buy a painting from Munch. They purchased his "Night in Nizza" in 1891.
Ever since they have collected the most notable pieces in Munch's collection. From his early years until his latest.
Here you can see masterpieces such as "Puberty", "Ashes" and of course, "The Scream"!
It's good to note that 'The Scream' painting from the Oslo National Gallery is often on loan to art museums around the world for exhibitions. But, don't worry, there is always one available to see in The Munch Museum in Oslo.
2. The Munch Museum in Oslo / Munchmuseet
Unfortunately, for my trip, The Scream painting at the National Museum was on loan at the time!
At first we totally panicked but then we realised that the Munch Museum had not one but two versions of The Scream painting. Plus, it had exhibitions on his life and even more of his artwork on display.
Although Munch gifted his paintings to Oslo in 1944, the city found a home for them twenty years later at the Munch Museum in 1964. This was built in Tøyen where Munch grew up.
So, it was a no-brainer for us and we headed over there to see the painting. It was one of the coolest museums in all of Oslo!
Of course, we had to get the obligatory Scream face photo alongside it as well!
What I personally loved was exploring his other exhibits and learning more about the man behind the painting. I would recommend a few hours here to take it all in.
Although the Munch Museum owns 50% of his paintings and all of his lithograph prints. The works do see a 'rotation' for security. So, not everything will be on display.
After you've visited, you can pop to their awesome café and get a super-touristy Scream Cake! It was delicious.
See more information on visiting The Munch Museum in Oslo here
3. The University of Aula
An interesting fact about Munch is that he won a competition to paint a mural at the new hall of the University of Aula in 1911.
The university was celebrating its 100th anniversary and so they decided to hold a contest for the best idea.
It was a long-lasting competition but, eventually, Munch won and finished the work in 1916. This huge expressionist style mural is still in mint condition today.
Unfortunately, the University of Aula is only open on special open days or by invitation.
If you were a student, or you're interested in a tour – you can try to organise that here.
Bonus sites to experience Edvard Munch's Oslo
If you are a big fan of Edvard Munch and wanted to see some of the places in the city that inspired his paintings. There are plenty of Munch locations in Oslo that allow you to walk in his footsteps.
From the places he grew up, the houses he lived in, and even the fjord that inspired The Scream.
Here is a complete list of locations to experience Edvard Munch in Oslo!
Munch's Grünerløkka!
Grünerløkka was the affluent neighbourhood where Munch grew up in Oslo.
It is where he spent his childhood years and will transport you back to the 1800s. The architecture in this area of Oslo is outstanding.
Although you cannot visit his apartments or his childhood home. You can still wander the streets and walk in his footsteps.
Once you have reached the Grunerløkka district in Oslo, you'll find many of the locations in this list there.
Edvard Munch's House in Oslo
The Munch family moved around Oslo quite a lot. Here are some of their known apartments and residences around Oslo;
Thorvald Meyers gate 48 – The Munch family moved to Grünerløkka in 1875. Thorvald Meyers Gate was their first residence. At the time Grünerløkka was only just established in Oslo.
Fossveien 7 – Eventually the family moved to Fossveien 7 in 1877. Unfortunately, it was here that his sister Sophie died of Tuberculosis. This would inspire many of his works including "Death in the Sick Room".
Olaf Ryes plass 4 – The Munch family moved to Olaf Ryes Plass in 1882 for just a year. You'll find that this neighbourhood is trapped in time and looks just like it would have done back then!
Schous Plass 1 – This was the last place that Edvard would live with his family in 1885. By then he was an established artist. This is where he painted his famous portrait "The Sick Child".
Karl Johan Street
Karl Johan Street was a significant area of Oslo for Edvard Munch for many reasons.
One was that he rented his first artist studio here at the top of the main street opposite the Parliament Building.
Also, the Grand Café was located on this street. This was a popular hangout for the upcoming artists of the age.
Finally, the Blomqvist art gallery was a place where Munch would display his works including the "Frieze of Life".
You'll find that Karl Johan Street appears in many of his paintings. Most famously, "Evening on Karl Johan Street".
Oslofjord
Years ago, Oslo was called Kristiania and the Oslofjord was called Kristiania Fjord.
It is at the Kristiania Fjord that many people believe Munch gained his inspiration for The Scream painting.
According to Munch, he went walking at sunset and saw the sky turn blood red. It was at this moment he sensed an "infinite scream passing through nature".
Even today, the Oslofjord is a gorgeous place to witness the sunset. Why not take a boat ride or a stroll around the harbour?!
Luckily, we got to witness one of these blood-red sunsets while we were visiting. It was breathtaking!
Ekely – Edvard Munch's Residence
After Munch left to travel abroad in 1889, he decided to return to Oslo several years later. In 1916, he purchased the property Ekely on the outskirts of the city.
It was here he would live out the rest of his days in isolation until his death in 1944. During his last 28 years, he would paint many landscapes around the area.
Unfortunately, the villa was demolished in 1960. However, his winter studio remains open for artists. Ekely is now run as an art foundation.
You can visit Ekely on weekends in the summer season or on special events. Click here to find out more.
Telthusbakken
This district of Telthusbakken in Oslo is very old-fashioned and you'll find traditional 18th-century wooden houses. They are so pretty in all different colours.
Telthusbakken and especially the Old Aker Church were painted by Munch many times as a younger man.
Nowadays, the Old Aker Church is officially Oslo's oldest remaining building!
You can follow in his footsteps here and see the many landscapes that inspired him. Or, head on further down to his final resting place.
Pay respects at Edvard Munch's Grave in Oslo
If you wanted to pay your respects to Edvard Munch you can visit his final resting in Vår Frelsers Gravlund or the Cemetery of Our Saviour in Oslo. This is just a little further on from Telthusbakken.
It will be easy to locate as there is a huge bust of Edvard Munch over his grave near the northern gate of the cemetery.
Many people leave flowers and artwork as a token to remember his life work.
The best way to travel around Oslo
The most convenient and economic way to travel around Oslo would be to use the public transport options available.
Norway is not the cheapest country to visit and so private taxis will end up costing you a small fortune.
Oslo has an amazing range of transport options run by Ruter AS such as Trams, Trains, Buses, and Public Ferries.
You can either pay for journeys individually or you can invest in an Oslo transport card called a Ruter Ticket. These come in 24 hours, 7 days, 30 days etc. Click here for prices and sales points.
Buy your Ruter ticket before you board the transport. It can cost 20/40 NOK extra to buy it on transport.
Transport in Oslo runs on an 'honour system' but ticket checks happen all the time. It's not worth getting a fine.
Alternatively, tourists may like to buy the Oslo Pass. But, having not tried this myself I cannot say it's worth the money. With the Oslo Pass, you get free transport around the city as well as entry to many of the top attractions. See here for more information.
Where to stay in Oslo
Oslo accommodation is incredibly expensive but you can find some amazing hotels at reasonable prices.
We stayed at the delightful Thon Hotel Cecil in Oslo. The rooms were really comfy and it was only around £100 a night. This is a steal for central Oslo.
Not only did our room rate come with a huge breakfast but they also provided a free 'Smorgasboard' dinner in the evenings. It was a lifesaver with Oslo restaurant prices!
Read more of my articles on Oslo
Why you MUST visit this bizarre sculpture park
How to see the Changing of the Guard Ceremony at the Royal Palace!
Read more on Europe
How to spend 24 hours in Tallinn
40+ Places to visit in Vilnius
The ultimate Edinburgh bucket list
Save this Edvard Munch in Oslo guide for later!