An Udawalawe Safari attracts many tourists in Sri Lanka as, from here, you can take enter their National Park which is nearby.
The park is home to a massive herd of elephants and you can come up close to these majestic creatures.
As well as elephants, there are crocodiles, monkeys, peacocks, and a multitude of birds and deer if that's your thing.
On most safaris, spotting wildlife is not a guarantee. However, In Udawalawe, you can rest assured you will 100% see some elephants while you're here.
This for me was an exciting prospect and one I couldn't wait for.
What's better is this isn't a zoo, there are no chains involved. The elephants are wild and roam free, so when you spot them, it's truly a magical experience.
Here's a complete guide for taking an elephant safari in Udawalawe National Park!
How many elephants are in Udawalawe National Park?
Udawalawe National Park has been running as an established park since 1972.
This was made to protect the wild elephants that were visiting the reservoir here away from poachers.
It's home to over 250 wild elephants (and growing) which are permanent residents and so the concentration is quite high.
This means you're more like to see them!
The tribe includes males, females, and cute little babies. I saw a month-old baby that was hiding with his mama. It was so adorable but too hidden to get a picture.
You won't be able to see all of the herd in one day, as they will be spread all over the park!
You will most likely see around 10-40 elephants on your safari. If it's a particularly hot day, you will see most of them at the reservoir within the park.
I visited in the month of October during the rainy season so I didn't see a 'gathering' of any kind but I did see around 40 elephants during my half-day safari in the morning which was magic!
How to reach Udawalawe National Park in Sri Lanka
Udawalawe is based in the southern province of Sri Lanka and is the perfect stopover if you're heading up to Ella or the central province.
I personally stopped over here to break up the long journey.
This can also act as a stopover if you're heading south as well and so you don't have to do a massive detour like the likes of Yala National Park.
From Matara in the south, I had to catch 2 buses to reach Udawalawe. I got one bus from Matara to Empilibityia (a mouthful I know) which took 2 hours and then one more bus from Embili to Udawalawe.
It was quite a hassle with all my luggage but was a fraction of the cost of a taxi or Tuk Tuk. I think the whole journey cost me less than £3.
Typical buses looked trippy like this in Sri Lanka. Your bag goes by the engine (miraculously it never falls).
Here's a really informative guide on how to do it, by the Family Backpackers.
Where to stay for an Udawalawe Safari!
Whereas most people decide to drive up to Udawalalwe for the morning/afternoon safaris, it's nicer and more relaxing to stay within Udawalawe itself.
There are some beautiful hotels which all have a safari theme to them which are a great option to relax.
I decided to stay at the Kottawatta village which is based near the National Park. It was an awesome little boutique bungalow with a funky outdoor bathroom!
To see my full Kottawatta Village review and to check rates, click here.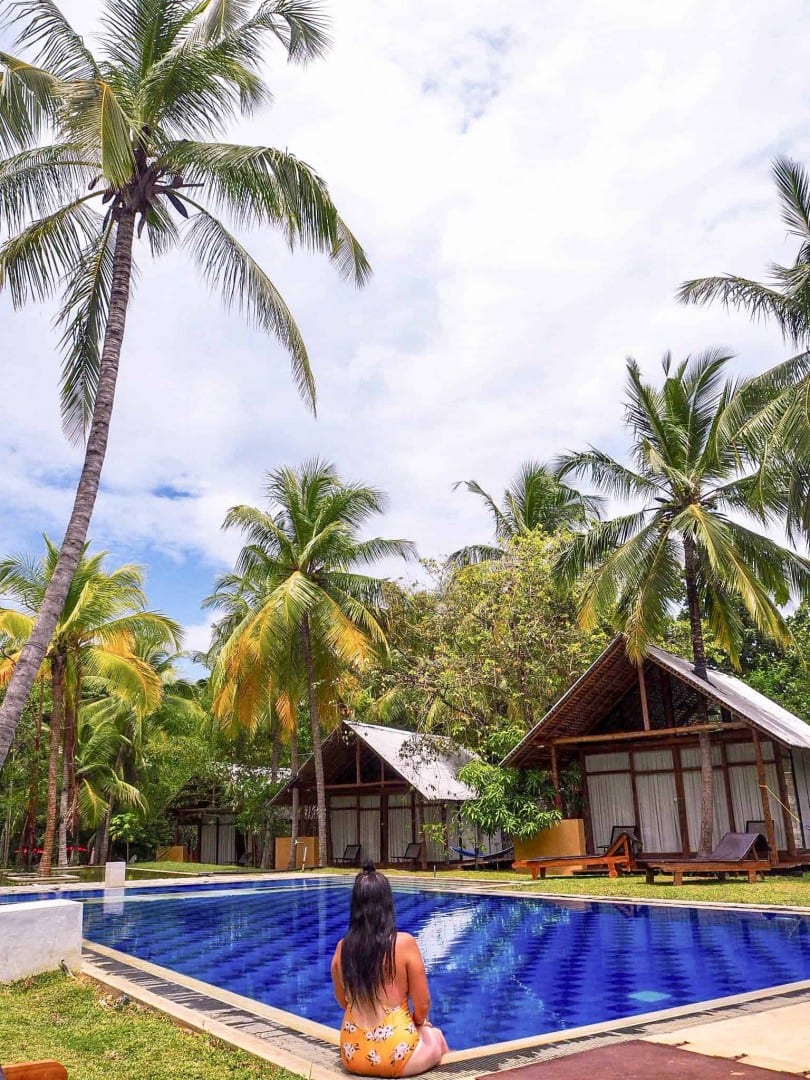 What are the Udawalawe safari prices?
Most companies offer private jeep services. So, you pay for the jeep which has up to six seats inside.
That way, you can split the cost with others if you wish to.
The cost for a private jeep from my hotel was 4000 Sri Lankan rupees around £20.
I couldn't find anyone to pair up with so I had to go solo, I didn't mind this however as I could move around all the seats to get the best chance of photographing these beauties!
Udawalawe Safari Permit fees and opening timings for the National Park
Park permit fees for the Udawalawe National Park are 3500 rupees including all taxes.
You have to pay this every time you go into the park as you get 'stamped out' when you leave and the permit is invalidated.
It isn't a 24-hour permit, so keep this in mind if you want to do more than one safari. You can hire a guide if you would like someone to join you to explain the park.
They can also be handy to spot the wildlife as your driver may not be able to do this easily while manning the wheel.
I personally got one to be my photographer for the morning haha. As you can imagine, he was thrilled ;).
Prices are 'as you like' but an expected amount is around 500-1000 rupees for a half-day safari.
Safaris run early in the morning around 6 am which means you will be the first in the park and we were racing around trying to find as many elephants as possible until around 10 am.
Although I decided to take a morning safari, you can take a safari at any time of day while you're in Udawalawe.
As the park is the main form of income here, all the businesses are centered around safari options and have their own jeeps to take tourists around. I'm sure you could look for a more competitive price too!
What do the Udawalawe Safari jeeps look like?
The jeeps were kind of cool as they had tiered seats. That way, everyone had a chance of seeing everything as they made their way around the park.
There are absolutely no seat belts provided for you and it's a hell of a bumpy ride at points.
You'll be going around all sorts of muddy and bumpy terrain so make sure you keep all your belongings secured and hold on tight!
Most jeeps also had weatherproofing, so if it did rain, they have covers that can be brought down for you.
When is the best time to go on an Udawalawe Safari?
This is always a debate but I heard that the best time to go was in the morning time.
You beat the heat and the elephants come out to drink water and eat their grassy breakfast haha!
I think if you do decide to go in the afternoon this is also a good option as it will be hotter, so the elephants will want to drink more.
I think no matter what time you go and in whatever season, you will definitely see some. So, don't sweat it too much.
It's good to note that in the rainy seasons, the lightning may frighten the elephants. Although it can't always be helped, try and go on a dry day.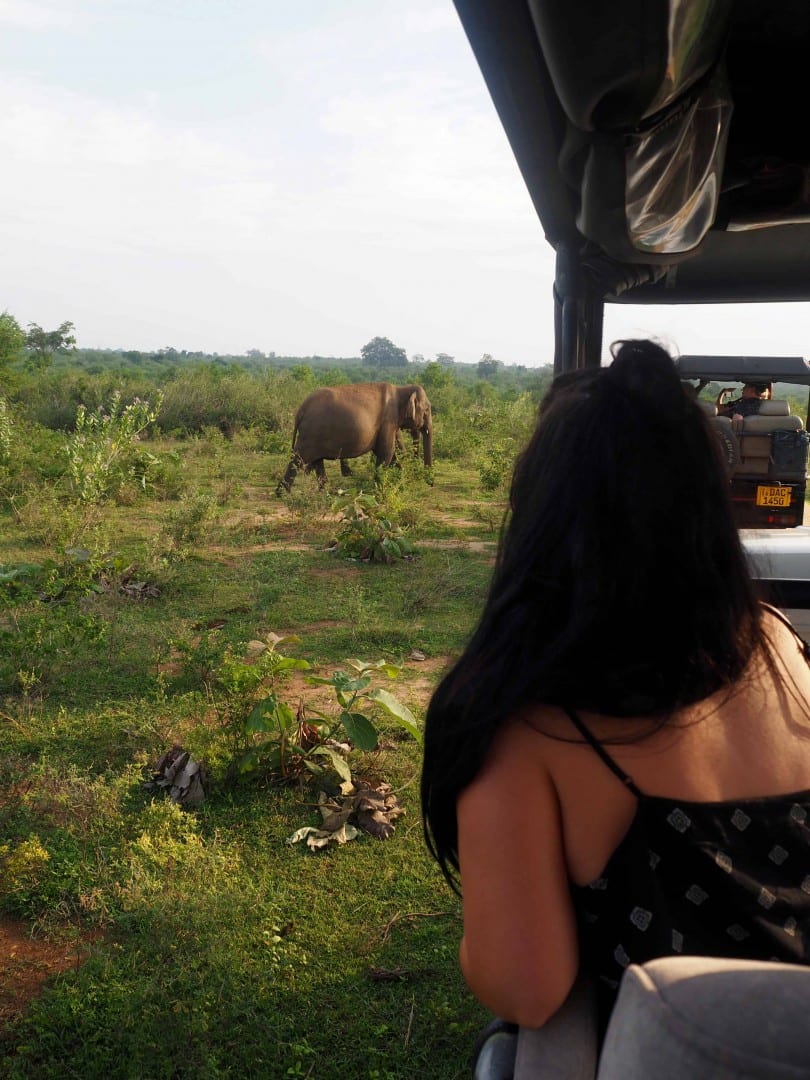 What will I expect to see on an Udawalawe Safari?
Beautiful, majestic elephants that are wandering around and munching on all the foliage here!
We hadn't even reached the park and I had already seen my first elephant.
He was called Rocky and he comes to this part of the park as he knows he's going to get fed.
This is quite cute, but apparently, he's getting sick from all the food people are giving him.
WARNING: Do not feed the wild elephants within the park with your own food. Not even fruit. This is bad for their digestive systems, they can get really sick and apparently even get diabetes :(
From here, I saw so many elephants wandering around. Families of elephants, males that were wandering alone, and even cute little babies!
I couldn't believe my eyes and they came so close to the jeep too. It was honestly a dream come true.
I also saw some crocodiles that were swimming in the reservoir, some deers, peacocks, and tropical birds.
There are also monkeys that monkey around and some will jump in your jeep if you have food with you – you have been warned!
It is quite overcrowded in the National Park, so ask to go to a quiet part of the park!
The one downfall about this safari and the part I didn't like was the overcrowding.
There doesn't seem to be any control as to how many jeeps are allowed in the park and around 6/7 at a time all crowd around the elephants giving them little space.
Although this is a great thing that the jeeps are ticking a box in letting all the tourists get close to them, I really didn't like the way it was frightening the animals.
Some elephants would leave instantly and others would try to run away from the noise.
After a while, I asked the driver to move to a more quiet side of the park so we could see some peacefully and further away so as to not terrify them!
Final thoughts…
I absolutely loved my Udawalawe Safari into the National Park and would go back in a heartbeat.
Not only did I see some of my favourite creatures in the wild, but I was also literally in touching distance of them too.
Although it was slightly overcrowded by a lack of jeep control, It doesn't take away from the fact that the safari is one of the best places to see elephants in Sri Lanka.
If you're in the southern province and you're dying to see elephants, I would highly recommend taking a safari in Udawalawe.
For some more information on the park, you can visit the official Udawalawe website here!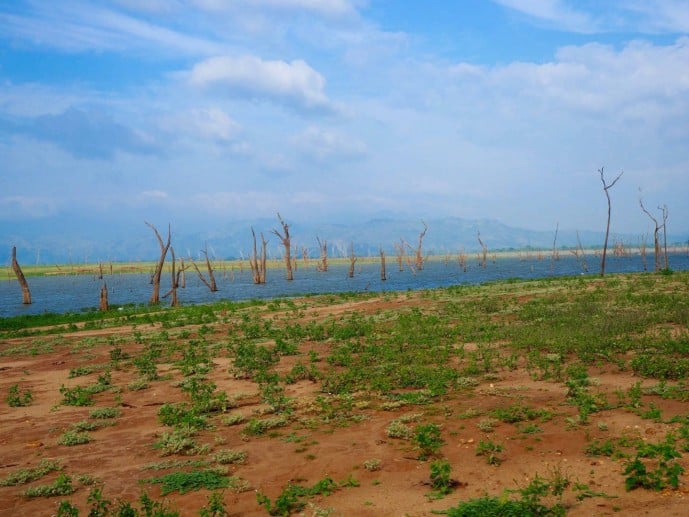 Read more of my Sri Lanka travel guides
My ULTIMATE Sri Lanka Bucket List
The top places to visit in Galle Fort
A complete guide for Nuwara Eliya
Tips for hiking up Sigiriya Rock
The ancient town of Polonnaruwa
Your complete guide for the Sri Lanka south coast
Instagram vs Reality of the palm tree swings of Sri Lanka
Save this Udawalawe safari guide for later!