Ella in Sri Lanka was such an awesome stop on my travels here. It was the first place that, to me, really felt like a traveller town.
My heart melted when I saw the mountain views all around me and felt the bohemian vibe.
I breathed in the cool fresh air, felt a welcome chill on my skin and smiled when I spoke to the friendly locals who greeted me.
Ella has its own mood and you will instantly feel it when you step off the bus. It attracts a lot of travellers here so you will see many, many tourists.
But, that does bring along some awesome cafés and people to meet, chat and hang around with.
Here are the 10 reasons why you must visit Ella in Sri Lanka and why you'll fall in love with it!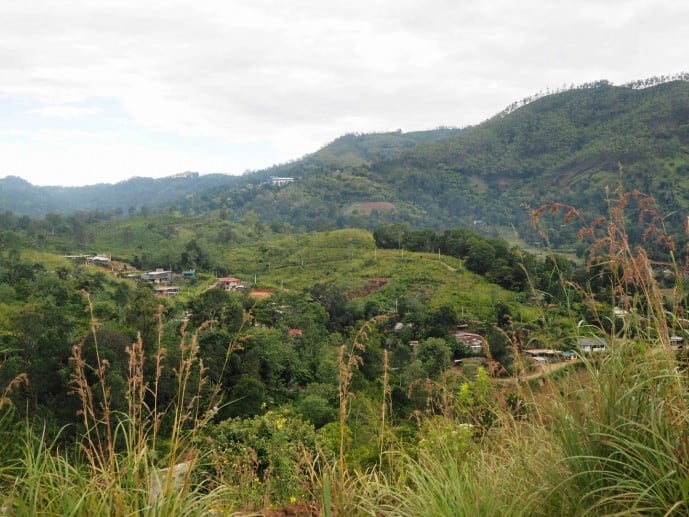 Top reasons to visit Ella in Sri Lanka
1. Ella is a traveller town with a laid-back vibe
I don't know why but I just love traveller towns.
Maybe it's seeing the backpackers and meeting people that are in the same boat as me or the fact that it brings a sort of hippie vibe to the place.
Either way, for me, it feels like home.
You will straight away feel the traffic and speed slow down, relish in the silence at night and feel comfortable walking around. It was an oasis on this little coconut island.
I would recommend spending at least a few days around Ella in Sri Lanka to make the most of it.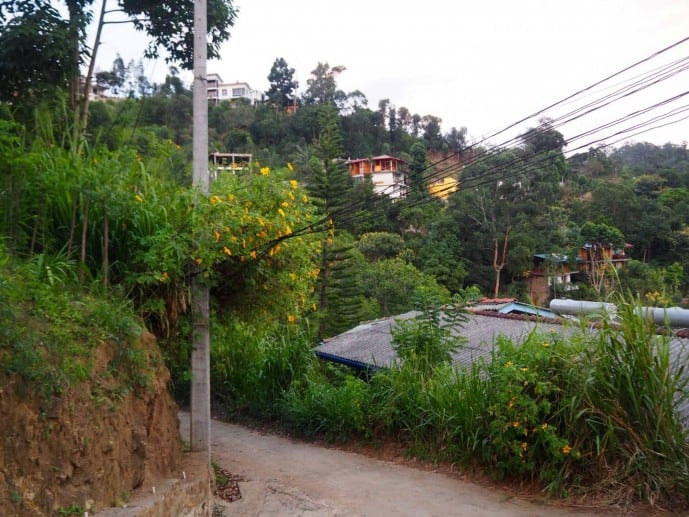 2. The panoramic views all around you are outstanding
When I was winding up the mountain on the local bus, I caught a glimpse of the scenery out the window and my jaw dropped.
The mountain views were incredible! They were so green, high and dramatic.
Sunsets/sunrises here are so dreamy so make sure you take some time to watch them!
3. It's home to the famous Nine Arches Bridge
My favourite part about Ella in Sri Lanka was how close the Nine Arches Bridge was.
This world-famous bridge has been on my bucket list for a while so I was super happy to tick it off!
I was dropped off at around 5.30 in the morning for a 'train show' at 6 am.
I went early to get the morning light on the camera but as I was there in October it was pretty drizzly.
A cute café called Eshran café stopped me at the top of the hill and offered me a good cup of coffee. This was SO needed at 6 am.
They were a sweet little family and the café had a train schedule so you could see what time the trains were pulling through.
If you also want to see a train schedule of trains, see here. The train pulled up on the bridge a few minutes after/before Ella station depending on which way it's heading!
After I took some snaps of the train from above, I decided to make my way down. Woah, I was not prepared for it!!
As it was October and it was monsoon season, there was a muddy landslide all the way to the track.
I literally had to hold on to the branches and plants on either side and clamber my way down.
I fell at points and got a nice layer of reddish-brown mud on my bum! Nice.
But, it was totally worth the slide down. Although this picture looks terrifying (sorry mum) it actually wasn't that scary.
There's a little step on the other side of the bridge so you can easily hop on and pose!
You're never really prepared for when the train comes through and so it was a mad dash to take a picture!
My wifi shutter wasn't working so a kind lady pressed it for me.
Next time, I would walk down the track or get a Tuk Tuk to the bottom and not the top.
It's just a lot easier and would save a bruised and muddy bum! Tuk-tuk one way should be around 700 from Ella town.
4. You can 'chill' with other travellers
Chill café is one of the most popular cafés in Ella and for good reason.
They have a reasonably priced and varied food menu, it's very relaxed and they're not wrong about the chilling out part.
Most evenings, I would chill out in their upstairs area with a Lion beer and some Sri Lankan curry dishes.
I loved their local food options! They had this awesome dish which was 10 types of Sri Lankan curry cooked up in a banana leaf.
When you opened the leaf up, the scrummy smell from the steam would make your mouth water.
I also tried one of their chocolate cakes, it was delicious! The staff are also super friendly and you can meet other travellers if you're solo.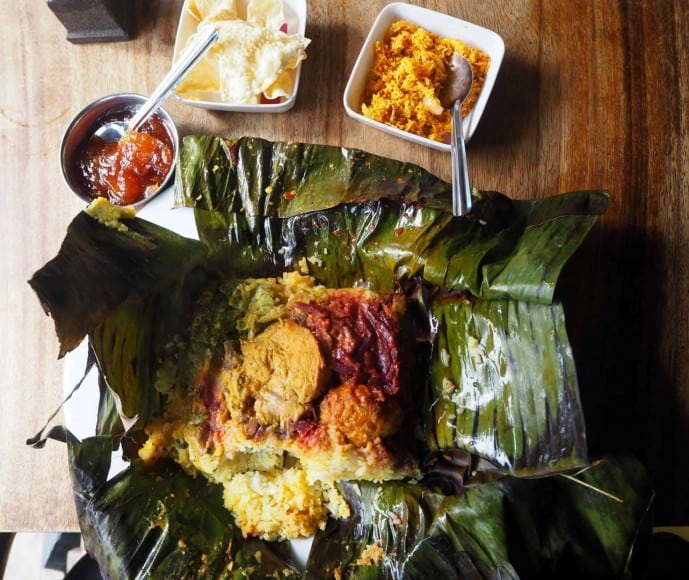 5. Ella in Sri Lanka has amazing waterfalls you can swim in
Once I had ticked off some of the normal tourist sites in Ella, I was looking for some waterfalls to chase!
Luckily, Ella had a few and they were in close distance to the town. I decided to head down the hill on the local bus and visit Rawana falls.
It's a short, cheap ride at 25 rupees so it's next to nothing to visit which is good as it's only really that to see!
I just came down the hill and looked at the falls from the bottom but you can swim in there like the locals. I would be cautious though as they have had a few fatalities (scary).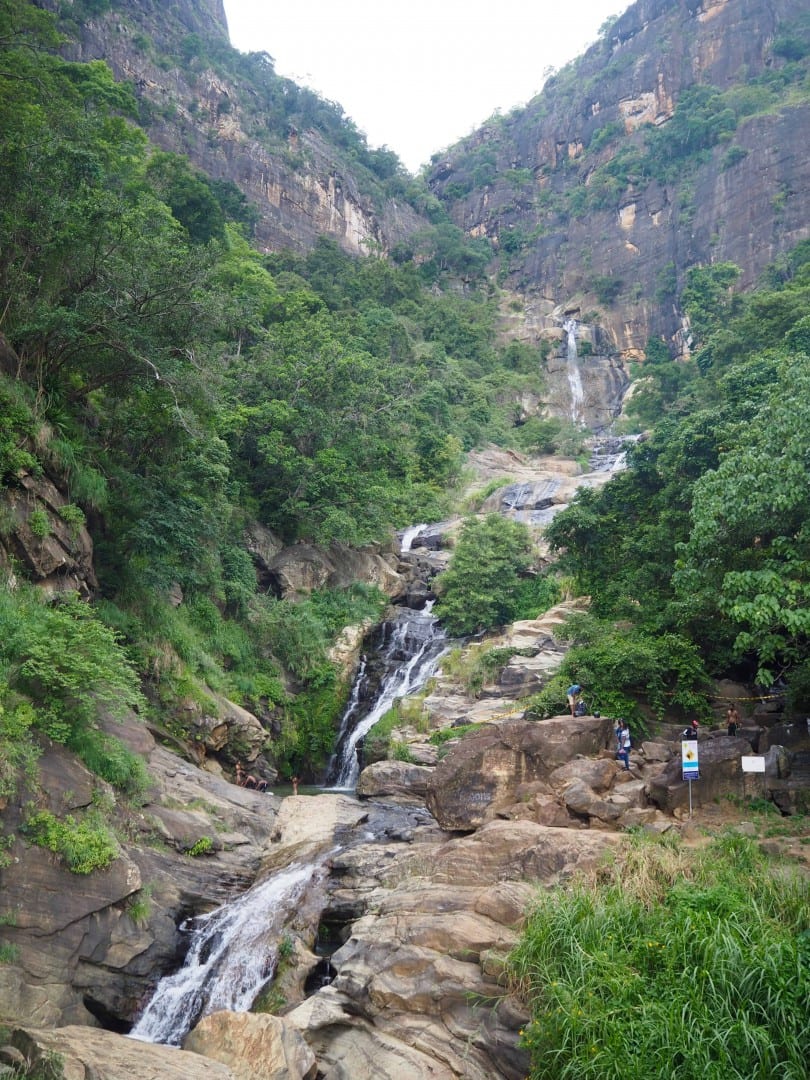 6. You can hike up to Little Adam's Peak
One of my favourite walks in Ella was to Little Adams Peak.
It's a lot easier than the Ella rock trek and should take you no longer than an hour each way to complete.
But, as I'm not such a fast walker, I got lost in the swanky 5* 98 acres resort and there were a gazillion steps to reach the top I took a little longer.
Once you reach the top of the stairs the views are so worth the climb. You can see from all over Ella and beyond!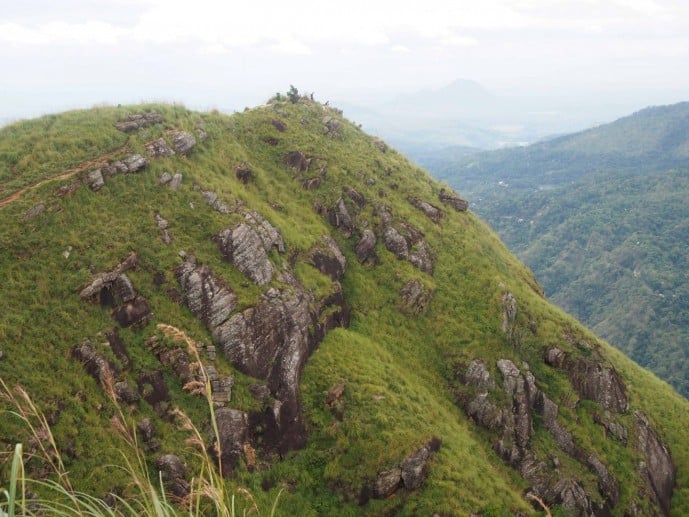 My favourite view was from this overhanging rock which had a more picturesque viewpoint than the main peak. Just saying.
The main peak takes a pretty steep trek down and then up again to reach it and wasn't worth it in my opinion being honest.
So I'd save your energy! If you're lucky you'll see some of the super-rich guests of the 98 acres hotel getting their private helicopter to land at the resort. It's huge and looks incredible.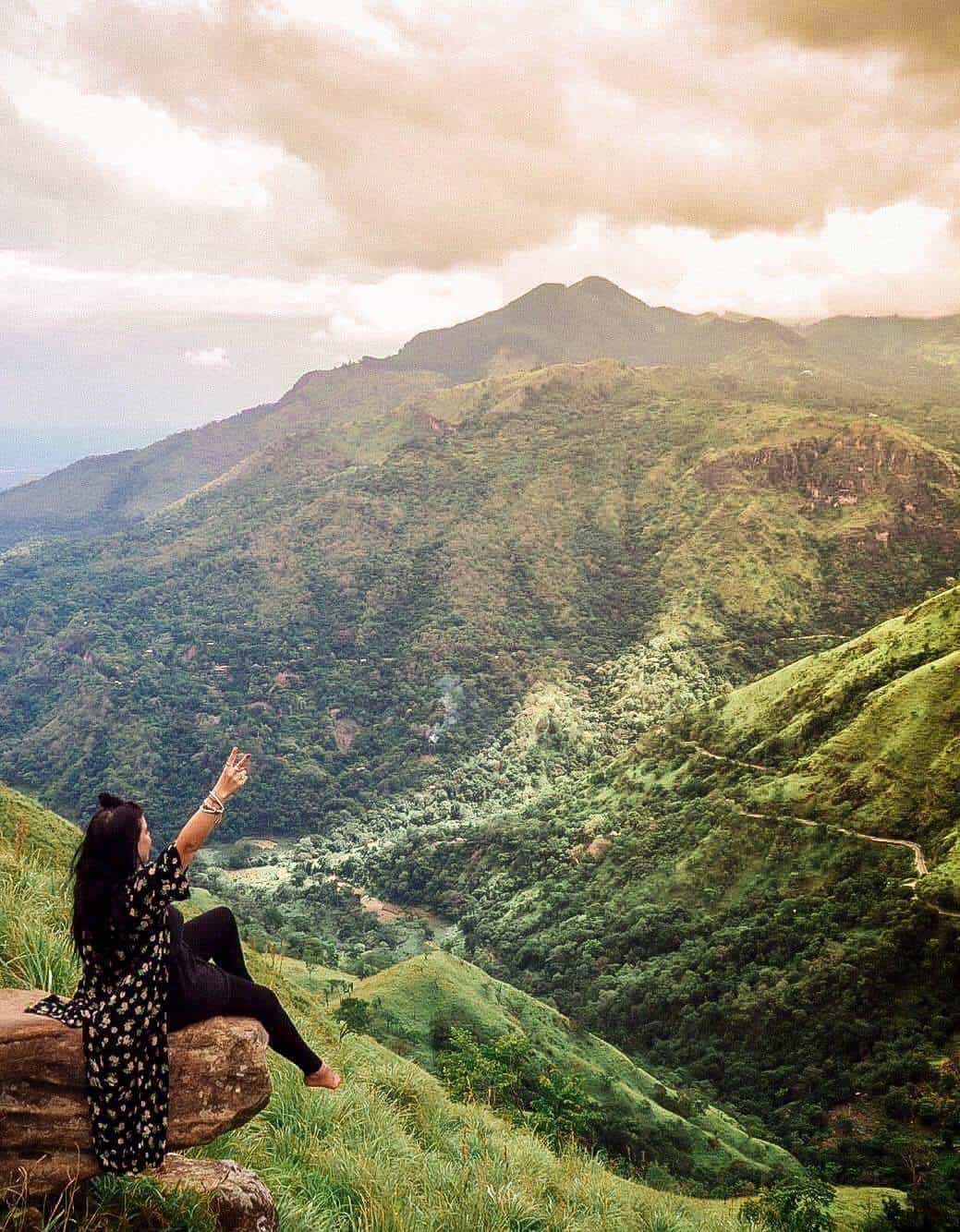 7. You can walk along the train tracks like the locals
One of the coolest things about Ella in Sri Lanka was walking on the tracks.
There is a wide enough gap between the train and the side to easily do this and it saves a lot of time doing it this way!
You can walk from Ella station to the Nine Arches Bridge or you can venture around for a wander.
8. The train station is so old school
When I went to book my train ticket for the next day, I was pleasantly surprised by Ella's quaint little vintage train station.
It was all lined with a white picket fence and had a colonial feel to it.
If you're not getting the train from Ella, it's definitely worth a peek. I also saw a lot of hikers using it as a through route on the tracks.
Click here for more information on trains in Sri Lanka with my top tips!
9. You can trek up to Ella rock
I didn't personally do this but another popular trek is the one up to Ella rock.
It's a four-hour round trek up here and you have to get very detailed directions. But, I heard from other travellers in the chill that it was worth it.
Make sure you get a map or your guesthouse to direct you.
On the trek, you go past the black bridge which is another picturesque place to watch the train.
The reason why I didn't go was that it was the rainy season and I really didn't want to be stuck in the mountains in the rain haha!
I also didn't have trekking shoes. But, next time it's on my list. For a helpful guide in trekking to Ella Rock yourself, check out this post by the Nomadic Boys!
10. From here you can start one of the most famous train journeys in the world
A must-do in Sri Lanka is to catch the famous trains.
The train journey on the toy train between Ella, Nuwara Eliya and Kandy is one of the most beautiful in the world and what's better is it's stupidly cheap!
A 3rd class reservation ticket from Ella to Nuwa Oyo was around 400 rupees (£2) for 2nd class reservation it's 600 rupees (£3) and for 1st class, it's around 1200 I think (£6).
Or, it's even cheaper for non-reservation but you're not guaranteed a seat.
Personally, I found that the 3rd class reservation was awesome. It was quiet, they open up all of the doors so you can hang out on the train and it wasn't much different to 2nd class. You have to do it!
Read more – The famous blue trains and Sri Lanka train travel tips!
Where to stay in Ella
Ella is full of awesome guesthouses and homestays.
I checked in a Lavendra Paradise which was a beautiful new property located on Wellawaya Road.
It was a family-run home that had a big heart and gave you a HUGE breakfast (see below). For available dates and rates click here.
Final Words…
Ella in Sri Lanka was one of my favourite stops. It was so relaxed and not crazy like other cities haha!
You can press the pause button and just take in the peaceful atmosphere. Make sure you put this awesome little stop on your Sri Lanka bucket list!
Read more of my Sri Lanka travel guides
My ULTIMATE Sri Lanka Bucket List
The top places to visit in Galle Fort
A complete guide for Nuwara Eliya
Tips for hiking up Sigiriya Rock
The ancient town of Polonnaruwa
My ULTIMATE Udawalawe Safari Guide
My complete guide for the Sri Lanka south coast
Save these reasons to visit Ella for later!