Elm Hill Norwich will make you feel like you've travelled back in time to the Tudor period with its thatched rooftops, cobblestone pavement, and colourful half timber-framed houses.
It's by far the most famous street in the city and is one of the most beautifully preserved medieval streets in all of England.
As well as being nice to look at, you'll find lots of shops, cafés, restaurants and art galleries that make it worth a visit too.
Here is a complete guide for Elm Hill Norwich and all the things to do on this magical medieval street!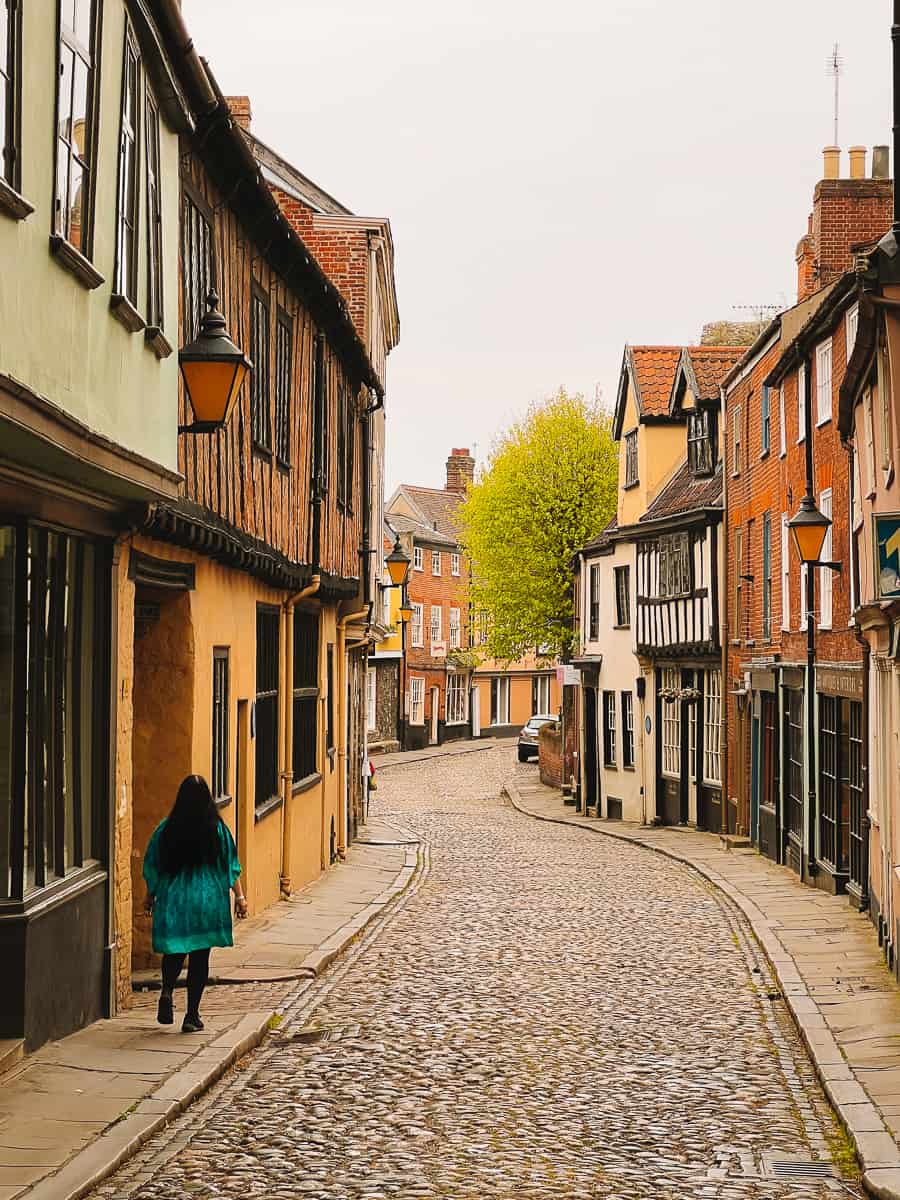 Elm Hill history
Elm Hill can be dated back to 1200 according to city maps (although not under that name) but the first recorded building here was the Britons Arms known then as 'Ye Goddes House' in 1347.
A great fire broke out in 1507 which burned down what little buildings were built here but the Britons Arms miraculously survived.
After that, many of the half-timber framed houses we see here today were built during the Tudor period.
A priest serving at St Peter Hungate supposedly planted the first Elm tree in the 16th-century which gave Elm Hill its current name.
Many wealthy merchants would live on this street as the backs of their houses would lead out to the River Wensum and their own quays.
The merchants would have the front of their houses facing the street and a factory or warehouse out the back. They would then export products to Europe via Great Yarmouth.
With the decline of the weaving trade, this area of Norwich became a slum in the 19th-century and fell into neglect.
It was eventually renovated in 1927 and today it is a gorgeous medieval street that has a range of colourful and authentic Tudor buildings.
Elm Hill facts & figures
There are more Tudor Houses on Elm Hill than the entire city of London!
Elm Hill gets its name from the Elm trees that used to grow here. A priest planted one in the 16th-century.
The tree in the middle of this street is not an Elm Tree. They were felled in 1978 following Dutch Elm disease. The one you can see today is actually a London Plain Tree.
There is an old monastery here at the top of Elm Hill that is said to be haunted.
Look out for the 'Norwich keyboard' which is an imprint of an old Amstrad PC keyboard. The story goes that a student called Molly Sole pressed the keyboard into cement in the name of art in 1990! You'll find it on the corner of Elm Hill and Prince's Street.
How to visit Elm Hill Norwich
Elm Hill is in the city of Norwich which is in the county of Norfolk in East Anglia, England.
It's centrally located in the Norwich Cathedral Quarter which is in the heart of the city. You'll find this street rising up from Tombland.
It's only a five-minute walk from Norwich Cathedral or you can take a local bus service to the Tombland bus stop.
Elm Hill parking can be found nearby in the Monastery Court car park or St Andrew's Car Park is a larger multi-storey and costs £6 for the entire day.
Elm Hill Norwich postcode is NR3 1HN. Click here for a Google Pin!
Things to do in Elm Hill
So, once you arrive at this gorgeous medieval street, what is there to actually do here!? Well, there is plenty if you know where to look.
Here are the best things to do in Elm Hill Norwich.
1. Visit Britons Arms
The gorgeous and thatched Britons Arms has stood here on Elm Hill since 1347 and used to be called 'Ye Goddes House'. Back then, it was a religious place connected with St Peter Hungate church nearby.
Barber surgeons used to operate from here and then it was a house for wool traders. A great fire broke out in the 16th-century and this was the only building to survive!
Later, the building was renamed 'The Kings Arms' and functioned as an Ale House, then it eventually became the Britons Arms in 1845.
It was transformed into a coffee house and restaurant in 1952 and it still functions as this today!
No visit to Elm Hill would be complete without a visit inside for a coffee, cake, or some hearty lunch – so make sure to plan time to stop by.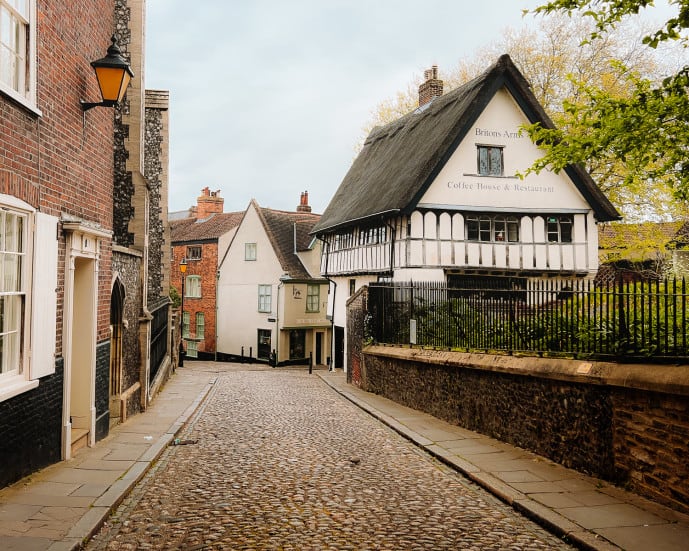 2. See the previous spot of the Elm Tree
Elm Hill takes its name from a grove of Elm Trees that used to grow on the West End of the hill near the Britons Arms.
I initially thought that the tall tree sitting in the middle of the main square was an Elm given the street's namesake.
However, the presence of Dutch elm disease in the UK killed off a lot of our English Elms. So, only one tree remains today which is a London Plain Tree.
Despite this, the name of Elm Hill still lives on and you can sit under the shade of this solitary tree on your visit. There are some benches circled around it!
Look out for the parish pump there too. Although not the original, this was the site where the residents would get their water years ago.
3. Visit St. Peter Hungate / Hungate Medieval Art
At the very top of Elm Hill, you'll find an imposing building called St Peter Hungate which was a medieval church founded in 1460.
It is said that a priest serving here was the one to originally plant an Elm tree that gives the hill its curious name.
It is Grade I listed and the church is now classed as redundant but the building is now home to Hungate Medieval Art.
It's an exhibition house that celebrates Norwich's history and heritage through artwork and is completely free.
Click here for more details on the latest events and how to visit
4. Go shopping
As well as being gorgeous, Elm Hill is primarily a shopping street so it's worth taking some time to browse the amazing range of independent businesses found around here.
The Bear Shop is an interesting find and inside you'll find over 300 artists' bears including Steiff and Charlie Bears. It's a tourist attraction in its own right.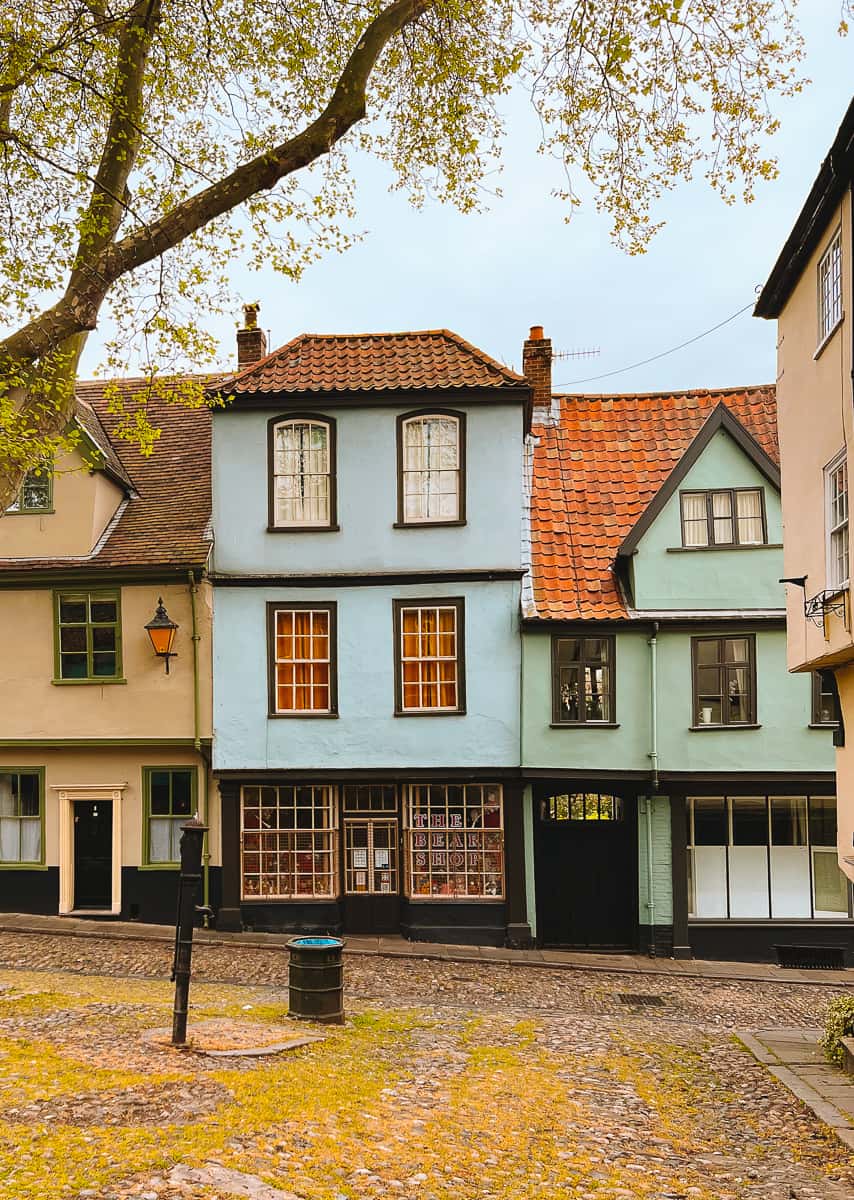 The Elm Hill Craft Shop was one of the first to open in England and was founded by two friends in 1936 born out of the Arts & Crafts movement.
You'll also find antique stores, bridal war, collectibles, and jewellery shops too.
5. Spot Stardust filming locations
Did you know that many famous TV shows and films have used Elm Hill as a filming location?
You may recognise this medieval street in famous movies like Stardust (2007) and Netflix's Jingle Jangle (2020).
In Stardust, Elm Hill was the location of Stormhold Market where Tristan and Yvaine hitch a ride with Ditchwater Sal's caravan.
You will recognise the Britons Arms as 'The Slaughtered Prince inn' that Lamia conjures up to trap Yvaine while giving her unicorn shelter.
Tip: Look out for the artwork on the side of The Britons Arms of a slaughtered prince
6. The Doormouse Bookshop
If you're looking for some books to read, I would highly recommend popping into The Doormouse Bookshop in the middle of Elm Hill!
They sell an amazing range of second-hand and antique books and the whole place has that incredibly cosy bookish smell.
Despite its deceivingly small shopfront, it's actually a huge shop so make sure to leave plenty of time to browse.
7. Take a picture-perfect photo!
With its colourful half-timber framed houses, cobbled streets, old oil lanterns, and medieval buildings in all shapes and sizes Elm Hill is a photographer's dream.
It's well worth getting up early for photos without many people around.
You'll find some lovely locations outside of The Britons Arms with its thatched rooftop and on the West Side of the street looking East.
Elm Hill Norwich photography tips
Get here early in the morning – Elm Hill is one of the most popular streets in Norwich so it can be busy during the day. It's always best to visit early morning before the city wakes.
Cars drive and park on this road. It doesn't make a very good photo as it spoils the medieval vibe but not much you can do until someone moves it.
Visit all of the possible locations – I found the site of The Britons Arms, the location just by the honorary 'Elm Tree', and just outside of The Doormouse Bookshop (West looking East) was the best.
Looking for more things to do in Norwich?
After your visit to Elm Hill Norwich, you must explore more of this historic city in East Anglia. It's famous for its incredible Norwich Cathedral which you can visit daily. A stroll around the cloisters has to be done!
You can also visit many of the museums that the city has to offer like Stranger's Hall, Norwich Castle Museum and Art Gallery, and the City Museum at Bridewell's.
Take a walk to Norwich Quayside to see the colourful houses or walk along the river to the likes of Cow Tower or Pull's Ferry.
There is plenty more shopping to do at the bustling Norwich Market or you can take a stroll through the Art Deco Royal Arcade.
If you fancy a cultural afternoon, why not head to the Sainsbury Centre for Visual Arts at Norwich University? Here, you can enjoy artwork by Picasso or explore their enormous sculpture park, absolutely free!
Great Yarmouth and The Broads are also only a short drive away from the city. You can explore the river, see some windmills, go Banksy spotting or play arcades at the beach.
Read more of my East Anglia travel guides
How to visit the Norfolk Tulip Fields
Harry Potter guide for Lavenham – Real Godric's Hollow
The best things to do in Lavenham
A complete guide for Trinity Lane in Cambridge
Save Elm Hill Norwich for later!