Eravikulam National Park is one of the highlights of any visit to Kerala.
Elevated on a mountainous plateau, you will get to see some of the best views that God's Own Country has to offer and the chance to spot an endangered Nilgiri Tahr Deer.
Now, if you think that there is no chance of seeing one and it's a waste of money. I'm living proof that you can actually get a glimpse of the deer while you're here and I have the photos to prove it too!
But, if you're still on the fence and not sure what to expect. This post will give you everything you need to know before your visit.
Here are some essential tips for Eravikulam National Park in Munnar!
Heads up: my trip was sponsored by India Someday. Although I was on a gifted press trip all images and opinions are completely my own.
What is Eravikulam National Park?
Eravikulam National Park has the proud title of the first National Park that opened in Kerala.
It's tucked away in the Idukki district near Munnar and is located around 2,000 metres above sea level.
The whole park is around 97 square kilometres but when you visit, you'll only be able to experience a fraction of that!
Inside the park, you can see wildlife, beautiful floral and fauna, and rolling hills including Anamudi, the highest peak in India south of the Himalayas.
The History of Eravikulam National Park
Although the park and its inhabitants are protected today, this wasn't always the case.
In fact, it used to be a Game Reserve for the British. It attracted people from all over the world to travel to Munnar and hunt wild animals down for sport.
It was managed by the Kannan Devan Hill Produce Company until 1971 when the lands were then handed to the Kerala Government.
In 1972 the Nilgiri Tahr was placed on the endangered list as nearly extinct due to extensive hunting practices. So, the park was then transformed into a conservation area to protect them.
Now, there are thought to be over 800 Nilgiri Tahr thriving in this park, making it one of the largest populations in the world!
Make sure you pop into the small museum in the park which explains more.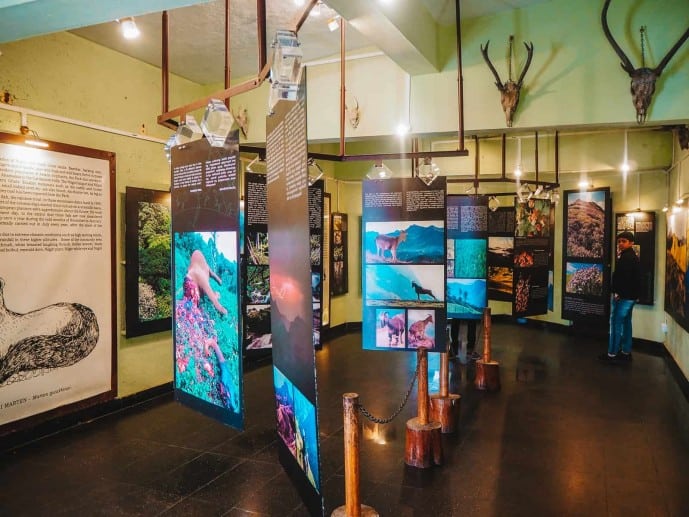 Where is Eravikulam National Park in Kerala and how to get there?
Eravikulam National Park can be found around 7 kilometres from Munnar in the Idukki district of Kerala.
It is easiest if you have your own means of transport to locate it, but you can easily rent a private car or taxi when you get here if you're backpacking.
I would recommend hiring a driver for the day to take you to a couple of sites in the area (this should cost you around 2,000 rupees). This would be more cost-effective.
If you plan on taking public transport, you can hop on a bus heading Udumalaipettai from Munnar Bus stand and ask to be dropped off at the National Park.
If there aren't any buses, try looking for shared Jeep options near the bus stand which may be heading to Eravikulam National Park.
I was guided around Eravikulam National Park with a naturalist guide from Route 49 adventures who escorted me here. It was amazing and my guide was so knowledgeable about the park. Check them out here!
Eravikulam National Park opening times and prices
The National Park is open from 7.30 – 4 pm daily. My advice would be to get there as soon as it opens.
Everyone that visits needs to buy a permit to enter the park;
Indian Nationals: 125 rupees
Children: 95 rupees
Foreign Nationals: 420 rupees
Ordinary Camera: 45 rupees
Video Camera: 335 rupees
Top tips for visiting Eravikulam National Park
Before I got to Eravikulam National Park, I had no idea what to expect. Would we be going on a safari in a jeep? Or, would it be like a zoo where the animals are trapped in cages.
I honestly had no idea, but now I have visited the park, I feel I can give you some advice to make sure you make the most of your visit and know what to expect!
Here are some essential tips for Eravikulam National Park;
1. Eravikulam National Park is home to the endangered Nilgiri Thar Deer
As I've already mentioned, Eravikulam National Park has one of the largest Nilgiri Tahr populations in the world. There are thought to be 700-800 deer who have a home here.
Although there are so many, they are still sadly very much on the endangered species list. But, calving season takes place each year and the numbers continue to grow!
There are two groups of Nilgiri Tahr, the mixed group and the all-male species group. The male is called a saddleback and has big curved horns. Where the females have short horns and are a lot smaller.
Although there are so many, it can be a bit of pot luck whether you spot one! They often graze in the park but can be put off by the noise and smell of humans.
As well as these majestic creatures there are over 48 species of animals, 133 species of birds, 101 species of butterflies, and 21 species of amphibians! Not to mention all the flora and fauna too.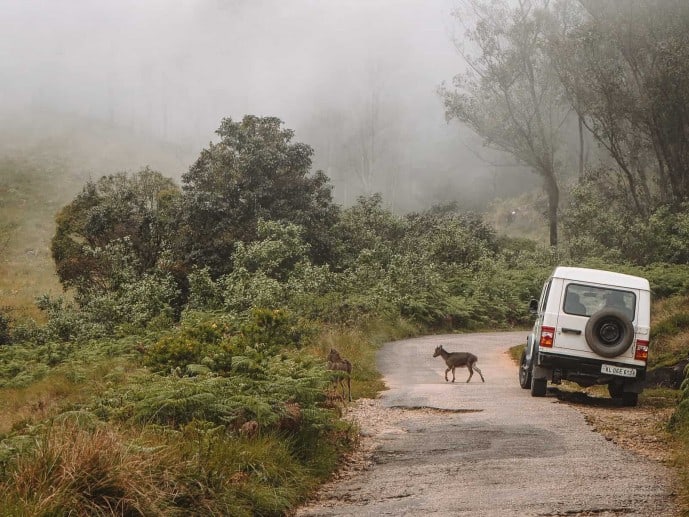 2. Eravikulam National Park is closed for calving season 3 months a year
So, when is the best season to visit Eravikulam National Park?
Well, the Kerala government always does what is right for the animals each season. Not only for their protection but also to ensure that the number of deer increases.
Each year the deers mate around July and August and then give birth to their young around January, February, and March.
During this time, the park is closed for the calving season!
So, I would make sure you don't plan your visit around this time. Also, the park may be closed during monsoon season (June – August) if it is deemed dangerous.
The best time to visit the park is in summer, around April, May, and June. This is the best time to see wildlife as they will come out to find food and water.
My guide told me that the best time to visit during the day would be early morning. This is when it is quietest, so you skip the long queues and the animals won't be hiding from loud voices.
Eravikulam National Park is open from 7:30 am – 4.00 pm.
3. You can't drive up to the park, you must get a shared bus to the top of the plateau
Everyone that visits Eravikulam National Park has to park up in the car park at the bottom and get a shared bus ride to the top.
This is great for the environment as it means fewer cars polluting the park and controls the crowds too. But, this does mean long queues to wait for the buses.
The buses take around 30 people at a time and when it is busy, they run non-stop, so you shouldn't have much of a problem. But, I personally would arrive early to skip the long lines.
The bus ride comes included as part of your park permit which I'll go through below with a little secret on how to skip the queues too!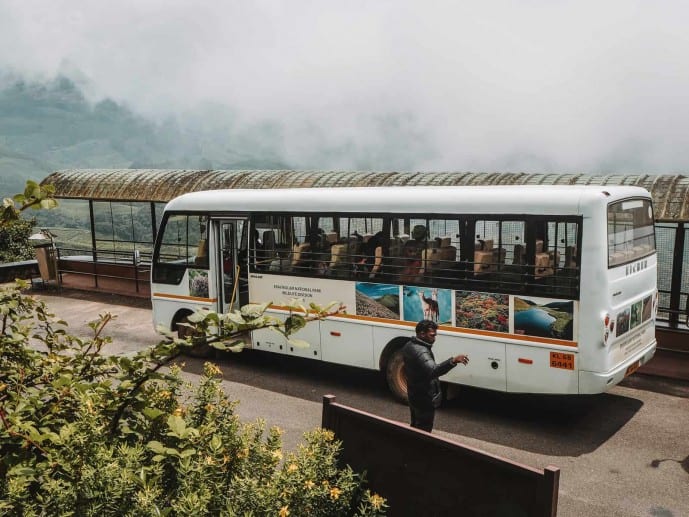 4. Buy tickets in advance to skip the queue
To enter the park, you will need to buy a permit which you can do at the visitor centre counter as soon as you arrive.
For Indian Nationals the permits are 125 rupees but Foreign Nationals pay 420 rupees per head. If you want to take pictures with a camera it's an extra 45 rupees. The only benefit of paying more as a foreigner is you get to skip the queues.
Queues for the buses can reach up to 2 hours in peak season. A lot of tourists complain about their whole time being spent in a queue. So, to avoid it, I'd leave early.
If you want to save more time, I would highly recommend asking your guesthouse to buy your ticket in advance. That way you can skip some of the lines before you've even got there.
Unfortunately, you can't do this online (don't trust websites that offer!), It will just come with a small 50 rupees reservation fee.
I did hear a rumour that you can pay for a VIP service that lets you skip the lines too, but nothing official on the website about it. It could just be guards asking for tips lol.
5. Once you reach the top you must take a 'walking safari' around the National Park
Unlike other National Parks, Eravilkulam allows you to wander freely through a designated area.
They don't run jeep safaris or anything like that to spot a deer, but you can go on a 2-3 hour private guided hike with permission from the park if you book in advance.
There is no limit as to how long you spend here, so if you fancied trying to spot deer all day, nobody will stop you.
It's a nice easy stroll with epic views and I guess staying in one place, you have more of a chance to spot the deer. Better than frightening it off with the roar of a jeep engine!
6. It will be busy as the distance through the park is only a few kilometres
A lot of people who are looking to hike within nature are sorely disappointed when they arrive at Eravilkulam as they expected it to be a nature park with long walking trails.
In reality, you'll be walking on solid concrete for just over a few kilometres in a set area of the park.
Because the path is so short and there are lots of crowds, it's incredibly packed. There'll be large groups and selfie sticks flying around everywhere!
Personally, I didn't mind the 'hike' as it was nice and flat, it had panoramic views, I didn't get lost (I'm the worst at navigating) and there's the chance to spot wildlife too. But, I get it's not everyone's cup of tea.
So, if you are expecting to go on a long trek into nature, I would recommend booking one with the park in advance. Or, better yet, save your money and find a guided trekking tour to go on in Munnar instead.
I would recommend visiting one of the tea plantation hikes in the area, read my guide all about the best tea plantations in Munnar here.
7. Seeing a Nilgiri Tahr Deer is not guaranteed… but patience is key!
800 deer spread across 97 square kilometres of land means that your chances of spotting one aren't high. They're even less when you think that you're only allowed to explore a few kilometres of that on a set walking path!
So, I wouldn't set your expectations too high. But, it's not impossible either, or, people wouldn't pay!
When I visited the park, we got word that a few deer had been spotted near the endpoint of the path at the very top of the park. So, we pretty much ran up there to try and find them.
Unfortunately, they had moved on. Safe to say I was disappointed. I kept looking out, thinking I may have seen one in the bushes.
Although we were running on a strict time with our tour, I asked my guide if we could wait it out a few minutes to spot one.
A few minutes later, a family thought they had spotted a goat. But, in fact, it was a female Nilgiri Tahr coming out to graze on the main path. Then two more followed!
Everyone was gathering at the main point to take photos and to catch a glimpse! It was a great feeling.
The moral of this story? Wait it out a while! You never know.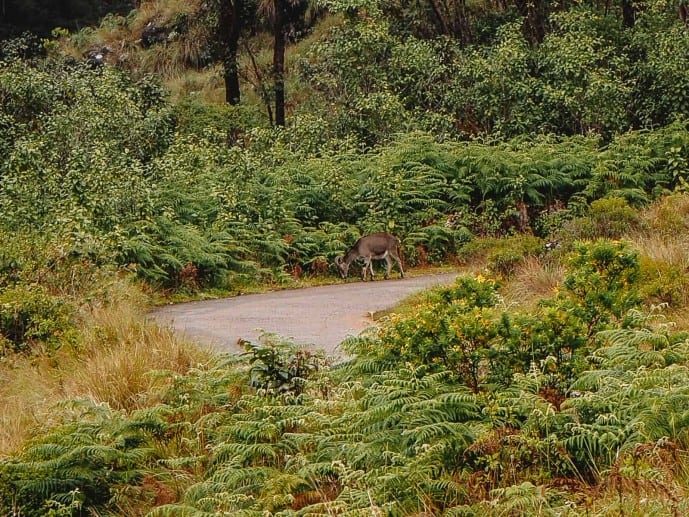 8. The views from the top of the park are still well worth the ticket price
Even if you don't see a Nilgiri Tahr, I still think that a visit to the park is worth it for the breathtaking views you can get from up here!
Eravikulam is home to some of the highest peaks outside of the Himalayas and, along with that, you can spot endless tea fields, waterfalls and really experience God's own country.
There are multiple points along the path that provide great views and selfie points. So, make sure you take some time to remain present and enjoy the beauty all around you.
9. There are eco toilets in the park that you can pay to use
What I loved about this park was how eco-conscious they were. Not only was it a completely plastic-free zone, they also had eco-friendly toilets that you could pay to use.
It sounds weird but I actually prefer toilets you have to pay for in India, usually, this means that they will be clean.
I didn't use the loos here, but I did hear that they are kept nice and tidy throughout the day. So, don't worry if you need to use the facilities.
These are located a little way up a hill just beyond the gift shop.
10. Make sure you look around the souvenir shop, all proceeds go towards the park
I'm such a nerd when it comes to safari parks and I was so happy when I saw they had a gift shop here.
Inside, they sold all sorts of t-shirts, caps, safari hats, magnets, and even little Nilgiri Tahr deers as souvenirs!
I was super tempted to buy a hat, but as it wasn't too hot and sunny I didn't bother. But, my guide and I did have a lot of fun trying them on.
Make sure you stop in here as all proceeds go towards the park.
11. They sell some amazing local ice cream in the café!
The day I arrived in Munnar, I lost my voice to a sore throat. So, I was craving something cold. I know, I know, you're not meant to have cold drinks or ice cream for sore throats. But, I just needed something to take the itch away.
Thankfully, they have a cute little café at the park that sells local ice creams made from local produce in the area. They had butterscotch and chocolate!
If you are feeling peckish, there are also some snacks you can buy like samosas. Also, they sell your classic chai and coffee too if you needed a little pick me up.
The queue is a little bit of a free for all though and I lost my temper when a lady shoved me with her elbow trying to push in front of me. But, the fight for ice cream was worth it lol!
12. Every 12 years a rare Neelakurinji flower phenomenon happens here
The Neelakurinji flower bloom is a rare phenomenon that occurs in Kerala. But, it only happens once every 12 years!
Most plants die and regrow with the seasons annually but the Neelakurinji has a different cycle.
"Neela" in the local language means blue and "Kurinji" is the local name for the tiny blue flowers. When they come together, they almost look like a sea of purple lavender!
The last one took place in 2018, so it's not expected to happen again until 2030.
Around this time, Kerala will see thousands of tourists, botanists, scientists, and naturalists flood the area. So, book way in advance.
Click here to read more about the Neelakurinji season
13. It's a plastic, clutter and cruelty free zone
Eravikulam is a strictly plastic-free zone, but you are permitted to bring water bottles. Don't bring any plastic bags with you to the park or anything you can dispose of either.
On that note, don't bring a picnic along with you to eat. This is strictly not allowed in the park.
If you do happen to see a wild deer, I shouldn't have to say this, but don't touch it, or scare it away.
Deers often use scent to recognise their young and if they feel the baby has been contaminated it may abandon it. Plus, it's just cruel!
There are a hundred signs in the park about what you should or should not do here. So, you shouldn't be in any doubt.
14. Look out for leeches!
I travelled just after the monsoon season and Kerala was the first time I had ever been leeched!
While I was taking pictures of the deer on the grassy knoll, I suddenly felt a tingly feeling between my toes and saw a little baby leech wiggling!
I freaked out and grabbed it, then threw it away so god knows where it is now. But, luckily as it was so small it didn't make me bleed.
Long story short, watch out for leeches in the monsoon season, and don't wear sandals!
15. Don't forget to visit Lakkam Falls nearby
Did you know that there are some gorgeous waterfalls that form part of the wider Eravikulam National Park? One of these is called Lakkam falls.
It's by far one of the prettiest falls in the whole of Munnar and you don't need a national park permit to visit.
Entrance to the falls costs 20 rupees and it provides a cool respite in the humid monsoon months. My favourite part about my visit was swimming in the icy falls and getting a natural fish spa!
It's located a few kilometres from the park, so if you are visiting make sure you ask your driver to stop here for a while.
The best time to visit these falls is monsoon time (July-Sep), if you come in summer (April-June) this will be dried up!
Read my complete guide for Lakkam falls here or find the prettiest waterfalls in Munnar with this post
Where to stay in Munnar
Although staying in the centre of Munnar provides cheap accommodation, the best way to experience this hill station is to stay in the countryside!
India Someday booked me into the adorable Mistletoe Munnar Homestay which not only had a beautiful double room but an epic view from my balcony too.
One of my fondest memories was eating breakfast out on my private terrace overlooking the rolling hills. It was magic!
As it is a family-run homestay they also cook homemade traditional meals in their kitchen too. Each night I asked for a surprise and it got better and better.
Click here to read my complete Mistletoe Munnar review
Looking for more inspiration for Kerala?
If you're planning a vacation in Kerala and are looking for some inspiration or more information about where to go.
You can look at some of my detailed articles here;
A one-week itinerary for Kerala
The places you cannot miss when in Fort Kochi
Top tips for visiting the tea fields in Munnar
The top tourist places in Munnar
Top Station: is it worth the drive?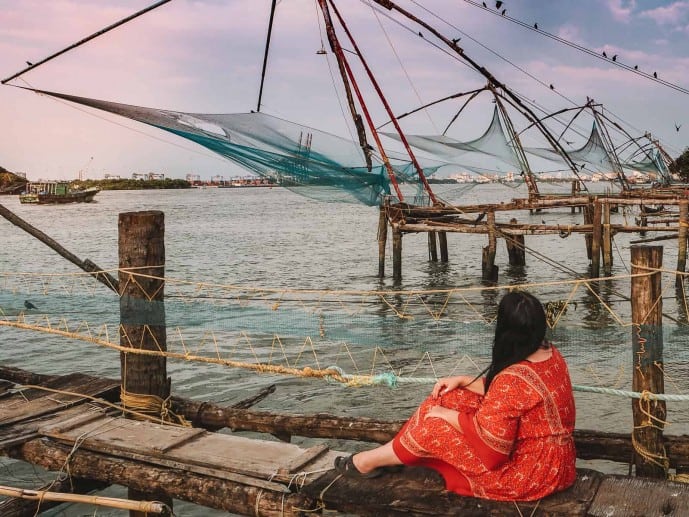 Save these Eravikulam National Park tips for later!