If there is one hike you must do on the Isle of Skye, it's the spectacular Fairy Pools walk.
A scenic trail, surrounded by Cuillin mountain peaks where you can visit some magical waterfalls and swim in crystal clear aqua pools.
As their name suggests, these breathtaking pools have a certain amount of magic, mystery, and legends about them.
This is my favourite walk in Scotland and I would highly recommend visiting whilst on the Isle of Skye.
Here is a complete guide to the magical Fairy Pools walk with directions and what to expect!
What are the Fairy Pools in Scotland?
The Fairy Pools in Scotland are a series of beautiful rock pools with cascades and waterfalls that are formed in tributaries of the River Brittle.
In Gaelic, their name is Allt Coir' a' 'Mhadaidh which roughly translates into 'burn of the wolf'.
They are overlooked by the dramatic Cuillin mountain range, and in the right lighting, the crystal clear water can appear aqua and teal in colour!
The Fairy Pools are very popular with walkers on the Isle of Skye. Many brave adventurers also take a dip in the icy waters if it's a warm day.
You can access the Fairy Pools on a 1.5 mile or 2.4 kilometre hike from the Fairy Pools car park which is near Glenbrittle.
Why are they called Fairy Pools?
The crystal clear water of the Fairy Pools in Scotland is said to contain a certain amount of magic, hence the name.
There are many fairy legends on the Isle of Skye. The most famous is the Fairy Flag legend of Dunvegan Castle which is somewhat related to the Fairy Pools.
The story goes that the chieftain of Clan Macleod of Dunvegan married a fairy princess or a bean sidhe, one of the Shining Folk.
That's why so many places on the Isle of Skye, especially in the Dunvegan estate area, have the name 'fairy'.
The pair were deeply in love but the King of the Fairies forbade them from marrying. Eventually, as his daughter was so upset, the Fairy King conceded but they were handfasted and only permitted a year of marriage as a trial.
After the year was up, the Fairy Princess was ordered to return to her kind. They had a son together and she grieved him so when she left for her world.
One night, she heard her baby crying and instantly returned to his side in the mortal realm. She wrapped him in a silk shawl and sang him to sleep. Hence the name Fairy Flag!
Well, that's one legend about it anyway. There are many, many different versions of that story like The Fairy Bridge.
It's also said that these pools attract selkies. They disguise themselves during the day as seals and transform into humans at night so they can bathe under the light of a full moon.
Skye's Fairy Pools history
Although we know this area as the Fairy Pools today and it is relatively peaceful, years ago this was the location of the vicious battle of Coire na Creiche in 1601.
The fight was between the MacLeods of Dunvegan and the MacDonalds of Sleat. They had a history of feuding with each other for years.
The Laird of the McLeod clan attempted to make peace by offering his sister's hand in marriage to Laird McDonald. They were handfasted which meant they would be together for one year and one day as a trial.
After their time was up she had not given him a child and went blind in one eye so McDonald said he had no use for her.
He sent her back to her brother tied to a one-eyed horse facing backward which was led by a one-eyed servant with a one-eyed dog.
It was a huge insult. McLeod was so incensed at the treatment of his sister, that he called for this battle. Hence why it is often named the Wars of the One-Eyed Woman.
Although the MacDonalds were victorious, many people were savagely killed. There is a legend that this fight was so bloody the Fairy Pools ran completely red that day!
Reports were fed to the Scottish crown and they were so horrified they were forced to call a truce. It was to be the last clan battle on the Isle of Skye.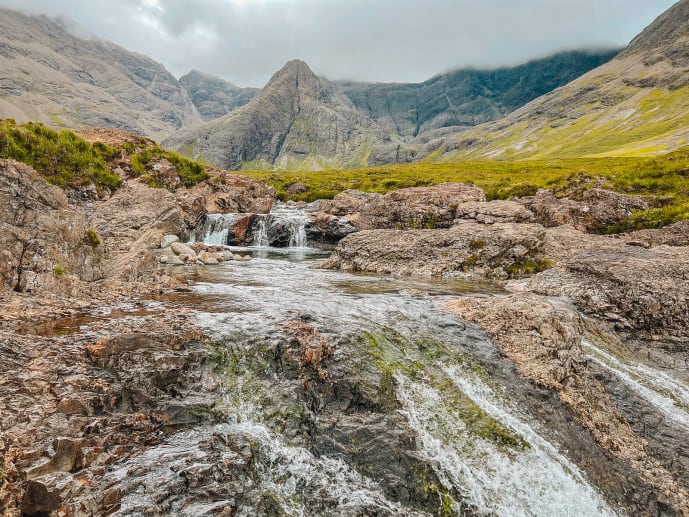 How to visit the Fairy Pools on the Isle of Skye
It's easiest to drive to the Fairy Pools on the Isle of Skye. It's near Glenbrittle in quite a remote area of the island.
This is 20 miles from Portree or a 45-minute drive. Also, 11 miles from Sligachan Bridge or a 30-minute drive.
You'll be driving down a long single lane with passing places for the majority of the drive so make sure to go carefully and with consideration. It can get very busy with visitors so lots of waiting!
If you're not driving, there is a bus service that will drop you off at the Fairy Pools from Portree on the Isle of Skye. I saw the bus come through myself and I was surprised.
The Fairy Pools bus only runs from Monday – Friday in the summer months and is run by Stagecoach (T54).
Alternatively, you can get the CityLink bus from Inverness to Sligachan Bridge. Then, arrange a taxi to the Fairy Pools.
The Fairy Pools postcode is Glenbrittle, Isle of Skye IV47 8TA. Click here for a Google Pin!
Fairy Pools opening times and prices
The Fairy Pools are open 24 hours a day so you can visit any time you like on the Isle of Skye.
It would be amazing to visit these at sunset or sunrise to create more of a magical atmosphere.
Skye's Fairy Pools are also FREE to visit but you do have to pay for parking which is £6 for the day. There is free parking available a little further up the hill from the hike.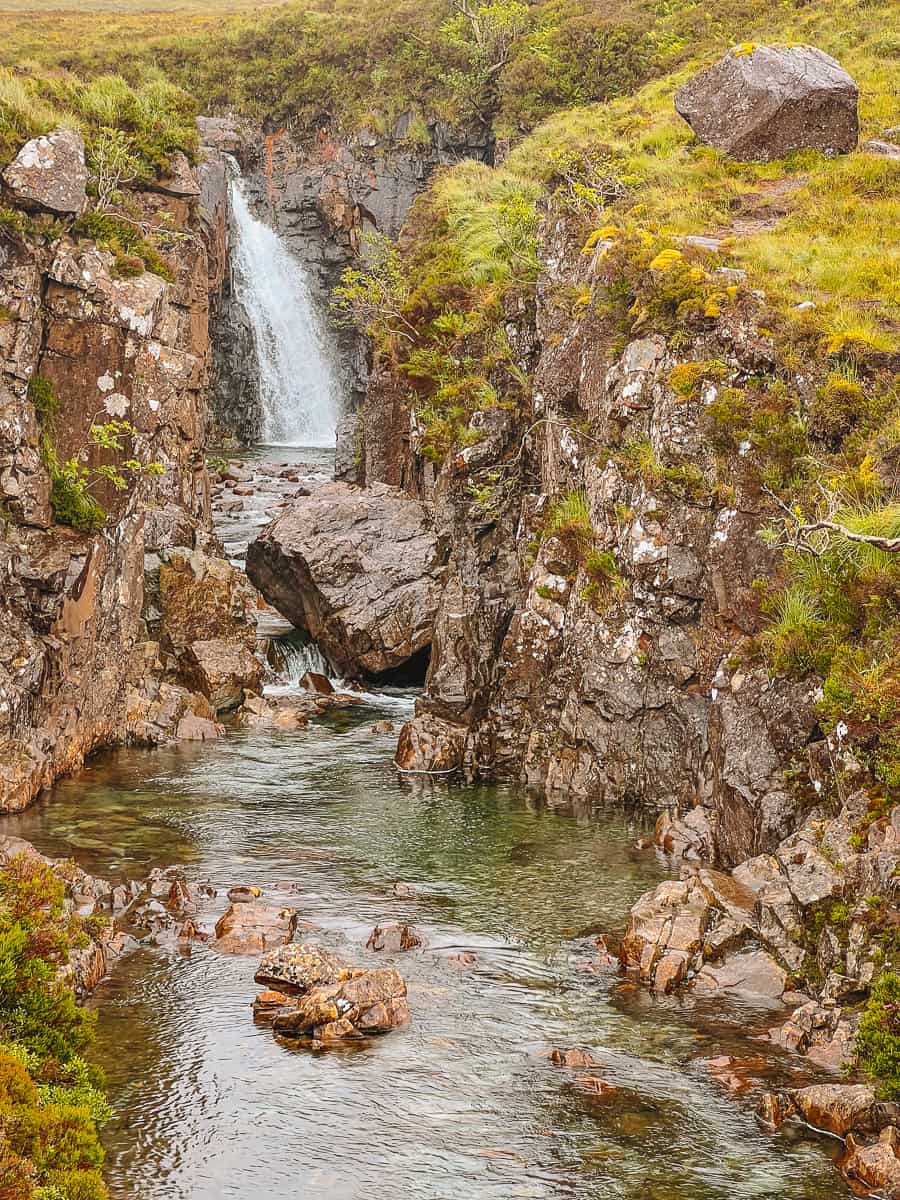 Skye Fairy Pools parking
There is a large gravel Fairy Pools car park that is close to the start of the Fairy Pools walk on Skye. Although it can get really busy, there always seems to be enough parking spaces.
It's really well managed and you'll be guided to a parking space by the attendants who work here.
Fairy Pools parking charges are £6 for the entire day. You can pay both by cash and contactless card payments.
If you're on a budget, there is Fairy Pools free parking just up the hill from the main car park. Click here for a Google Pin to the 'alternative Fairy Pools car park'.
You'll be adding on a steep 10-15 minute walk to start the trail! But, it seems a good saving if you don't mind.
Note: there are toilets at the Fairy Pools car park. They are free to use and really clean. I would recommend using these before you set out as there are no toilets on the Fairy Pools walk! They shut promptly at 3 pm in Winter and 5 pm in Summer.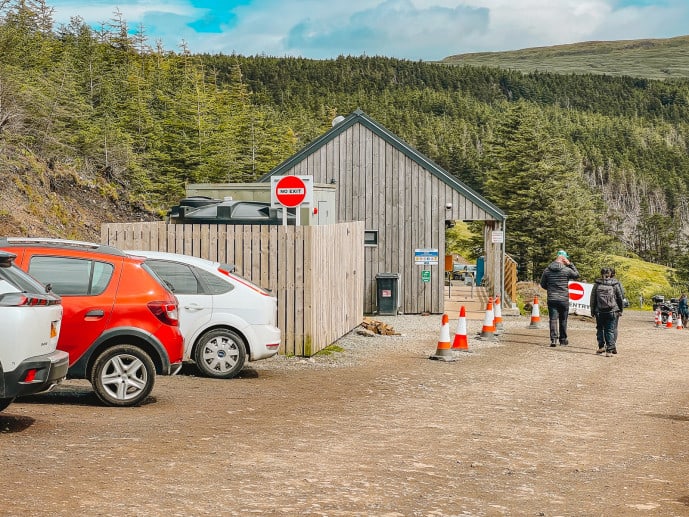 How long is the Fairy Pools walk on the Isle of Skye?
From the Fairy Pools car park, you'll be walking around 20-40 minutes to reach the first of the Fairy Pools. That's without any stops.
Then, if you want to carry on to the upper Fairy Pools, it will take you around an hour minimum. Plus, you have to allow time for you to walk back to the car park.
I took forever on this walk as I was constantly taking photos and stopping to admire the pools, they were just so pretty! If I had gone swimming I would have probably been there all afternoon.
I would personally recommend 1-2 hours at a minimum for the Fairy Pools walk. Push it up to 3 if you have more time on the Isle of Skye!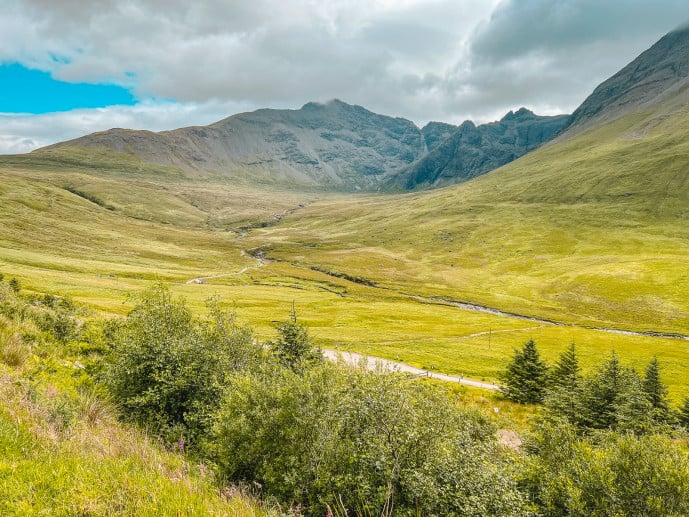 Is the Fairy Pools walk difficult?
This is subjective but I'd say it's an easy to medium-level difficulty. To start the hike you meander down quite a steep hill and then you hike uphill all the way to the pools which is steep in parts.
The pathway is pretty uneven with jagged rocky parts in places that can get slippy in the rain. Also, it can get quite muddy around the edges of the pools as it's mostly peat.
I have to admit that the Fairy Pools hike is A LOT easier now as they have got rid of the big stepping stones to cross the river and replaced them with flat wooden bridges to walk over.
Before, the stepping stones were quite dangerous with people falling over as they were slippy and would create quite a bottleneck holding up a lot of walkers.
Personally, I was SO thankful as I'm quite short and the stepping stones were a real struggle for me.
Also, it's good to mention that the Fairy Pools walk doesn't technically have 'an end'. Well, it does but you'll be heading up the mountain which would definitely be difficult lol!
You can walk to as many fairy pools you feel comfortable with and when you're ready or you've had enough, simply turn back.
I ended my walk at the final 'big fairy pool' which was the one you always see on Google and then had enough as it was misty and raining heavily.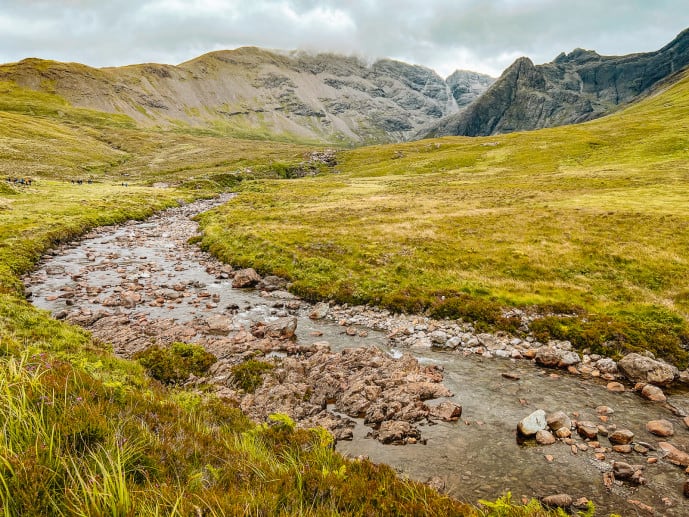 Skye Fairy Pools walk directions
You don't really need Fairy Pools walking directions as it is super straightforward from the car park. It's just one long path to all the Fairy Pools.
But, I'll give you some pointers on what to expect;
1. From the Fairy Pools car park cross the main road to start the hike
2. Make your way down the steep hill
3. Don't forget to visit the 'hidden' waterfall which is close to the car park on the hill down to your left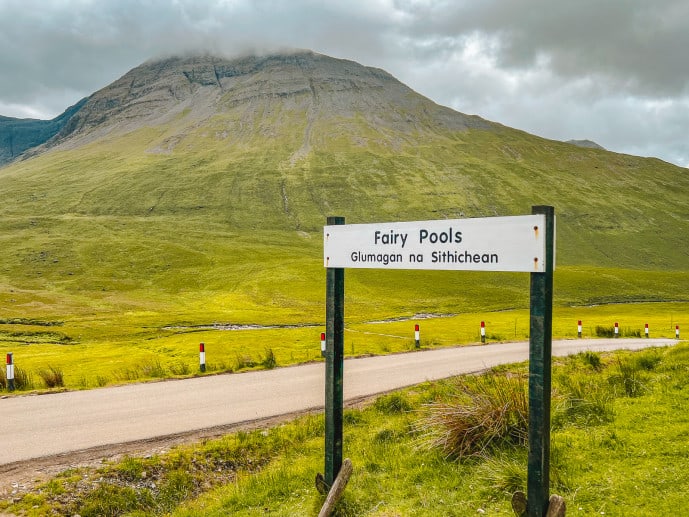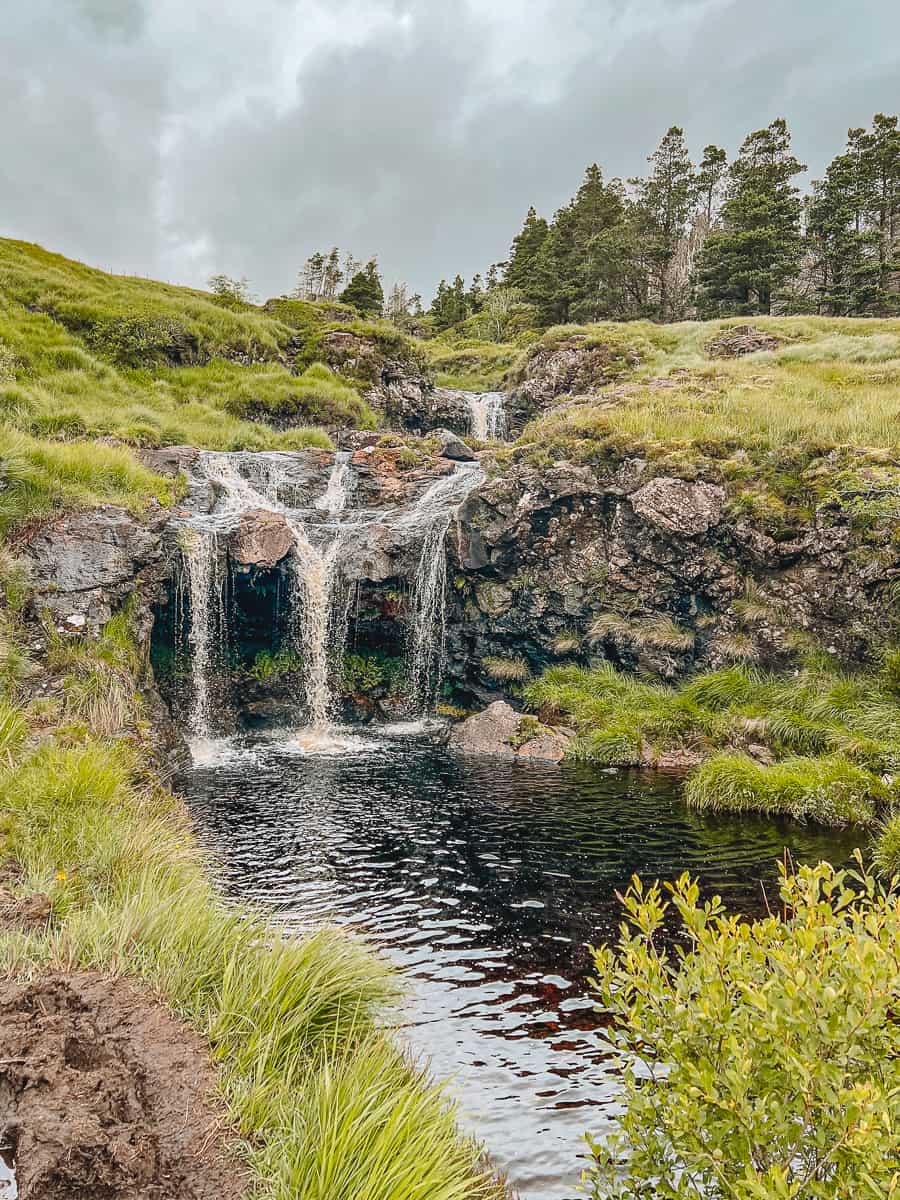 4. Cross the first wooden footbridge over the river and then make your ascent up the hill
5. You will then cross a second bridge over the river to the main fairy pools
6. There are lots of waterfalls, cascades, and fairy pools here perfect for swimming but the lower ones can get very busy
7. Keep walking on the same main path to the upper pools and the crowds start to ease out
8. Walk as far as you'd like to go and then make your way back the way you came to the car park!
Things to do on the Fairy Pools walk
1. See the Cuillin Mountain range
If you're lucky, you may be able to do this hike with clear visibility of the Cuillin mountain range.
They are huge dramatic peaks and it really makes the Fairy Pools walk even more magical to see them in the background!
The one you'll most likely be able to see is the triangular-shaped mountain called Sgùrr an Fheadain which sits directly behind the pools. It stands at 689 metres high or 2261 feet.
You'll see a line running down its spine called the Waterpipe Gully. It was first attempted as a rock climb by Victorian tourists but was completed by very few due to the severity.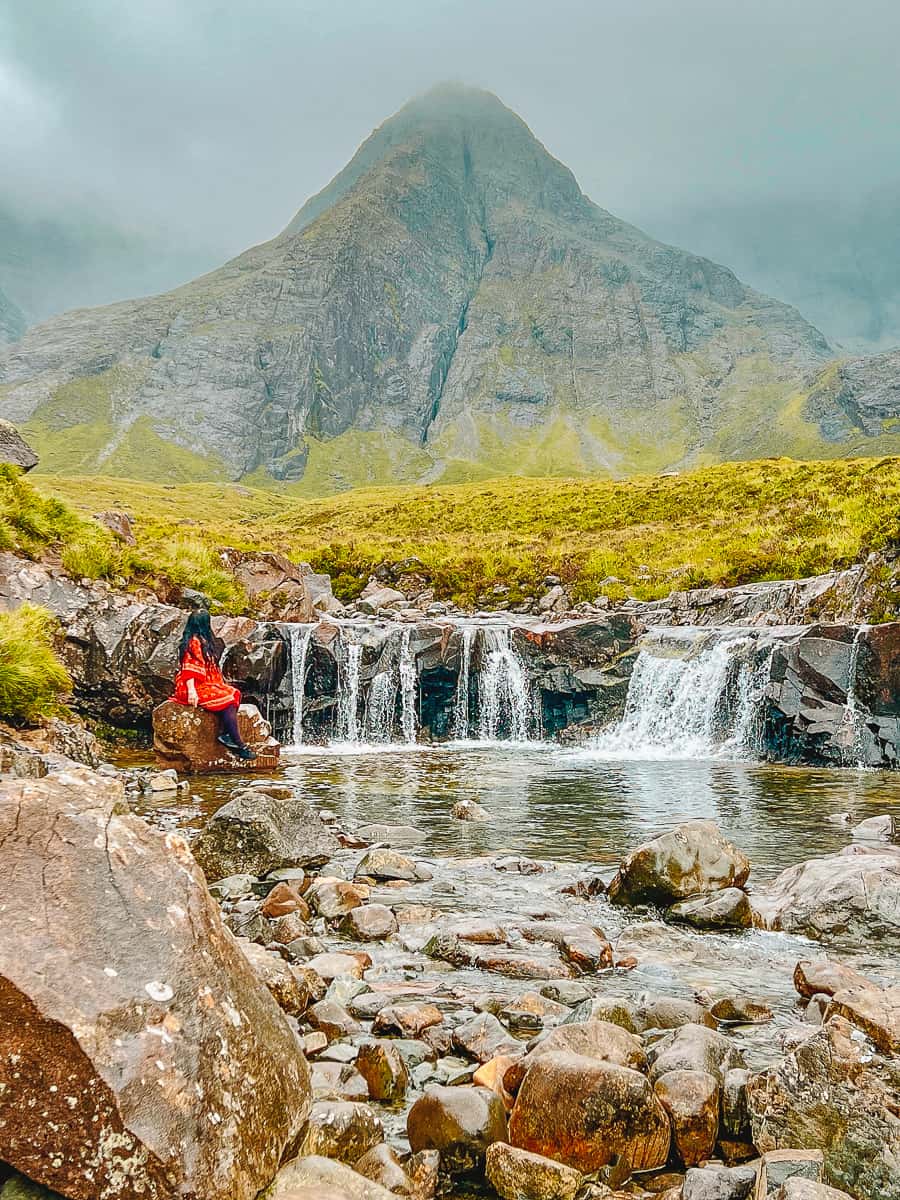 2. Admire the Fairy Pools waterfalls
There are many cascades and waterfalls you can see around here that make this walk incredibly scenic.
They all trickle into crystal clear aqua rock pools and it is truly breathtaking to see them on the Fairy Pools walk.
The amount of water in the cascades completely depends on the time of year you go and the weather.
If it's a sunny day it will probably be more of a trickle but if there have been heavy rains they will be really powerful!
I went in July and we had a mix of sun, clouds, rain, and mist. It's always a gamble but it will be beautiful whenever you decide to go.
3. Go Fairy Pools swimming!
Many people visit here on a warm day to swim in the crystal clear water of the Fairy Pools on Skye.
There are plenty of shallow and deep pools that you can take a dip in. So, make sure you pack a bikini, trunks, or your swimsuit!
Even on a really warm summer day, these pools can be ice cold so prepare for it to be bracing. But, it is well worth it if the weather is good enough.
The pools vary in depth with the deepest being near the main waterfall which is 10 metres deep.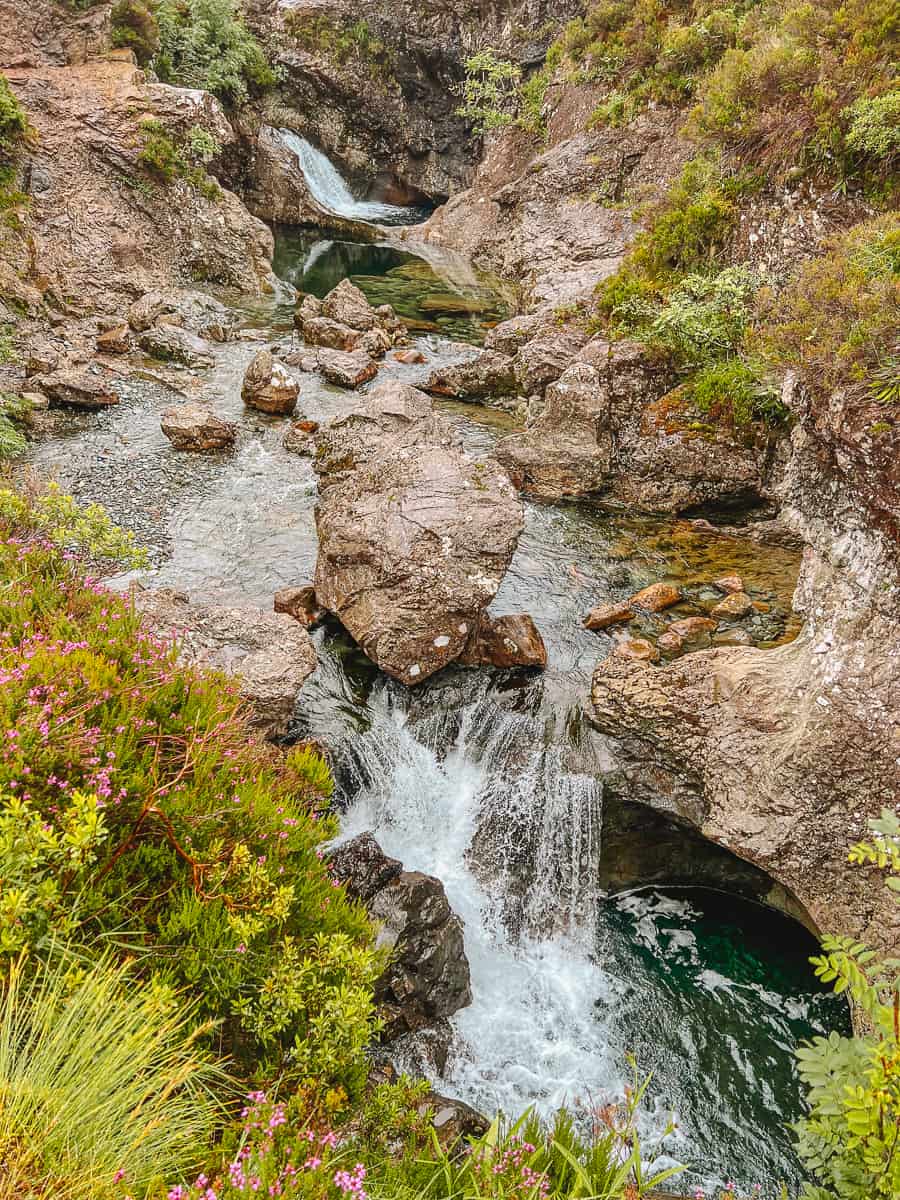 4. Coire Na Creiche Hike
If you're feeling particularly adventurous, many people extend their Fairy Pools walk and hike Coire Na Creiche meaning Corrie of the Spoils.
This is the location of the famous War of the One-Eyed Woman between the two Skye clans of the McCleods and the MacDonalds.
The route will take you over the Fairy Pools, to Coire Na Creiche, Bealach a' Mhaim, and eventually you can continue over to Sligachan and Sligachan Bridge and back if you choose.
This is a difficult trail that's 8-kilometres or 5 miles in length and will take you approximately 3-5 hours.
What's the best time to visit the Fairy Pools on Skye?
As one of the most popular walks on the Isle of Skye, this walk can get seriously busy with tourists. Especially, if it's a sunny day as it's ideal swimming weather!
In the summer months, you can be visiting with hundreds of other tourists and fight for space in the pools.
For photographers, this can be a bit of a nightmare as you want to capture the pools without lots of people!
I visited the Fairy Pools in July and the weather was a mix of cloudy and heavy rains and mist. I went around 1 pm so it was really busy and I wish I had the time to visit a bit later.
Personally, I would try to avoid the middle of the day if you can (11 am – 5 pm) and avoid weekends.
It's always quieter during the week, early morning or later in the afternoons/evenings. Sunrise or sunset would be also ideal for a more magical atmosphere.
If you want to see more waterfalls, I would visit in the shoulder seasons of spring or autumn. This would be the best chance of decent weather with stronger rapids, deeper pools, and powerful waterfalls. But, you may not get the sun, aqua colours, or visibility of the mountain range!
If you don't mind a bit of ice and cold weather you could visit in the wintertime. These waterfalls often freeze up, creating a magical winter wonderland.
My top tips for the Fairy Pools walk
Wear proper footwear – the terrain around the Fairy Pools is really mucky and is peat bog! You'll need some good shoes to even go near them. Also, the path in parts is steep, rocky, and uneven. Although you can go swimming the hike to get there requires ankle-supporting shoes, not flip-flops or sandals.
Bring water and snacks – there are no food facilities at the Fairy Pools only toilets. So, make sure to pack food and water. There is a Cuillin Coffee Cafe & Beach just four miles away.
Leave enough time – the timing on Google Maps is so wrong. It says 20 minutes but you'll need at least 40 minutes to reach the 'proper' Fairy Pools. I'd leave at least 1-2 hours.
Bring midge repellent – usually, the Fairy Pools are okay for bugs if it's windy. But, if it's a warm day it can be midge prone. I would pack something like Smidge to ward off the bites.
Pack swimwear and a towel – you will definitely want to take a dip in these magical fairy pools on a sunny day! The water can be very bracing so you may prefer a wetsuit over a bikini or trunks.
Fairy Pools FAQs
What is a Fairy Pool? A pool visited by fairies, duh! Just kidding, it's a crystal clear pool that turns an aqua blue in the sunshine. They are very magical, surrounded by mountains and you can swim in them.
Why are the Fairy Pools blue? The rich mineral content underneath the pools and the crystal clear water all make the pools a rich teal or aqua when the sun is shining! Even when it's raining though it's still blue and magical.
Are the Fairy Pools in Scotland really purple? No, that's a fake photoshopped photo that went viral! The power of social media I guess. The Fairy Pools are most definitely blue with green grass.
How deep are the Fairy Pools? They vary in depth here. Some are very shallow that you can easily paddle in. The main waterfall is quite deep at 10 metres! It also depends on the amount of rainfall too. In summer they will be quite shallow, in winter they can be deeper.
How far are the Fairy Pools from Portree? The Fairy Pools are 20 miles away from Portree or a 40-minute drive. I would allow a bit longer for waiting on the single lane with passing places road. With the number of visitors, the drive can be a bit of a slog.
Can you drink from the Fairy Pools? You can but I would definitely try to walk upstream as far as possible before filling your bottle if you're visiting in the summer. There are LOTS of people that swim in these pools and dogs! That's all I'll say.
How long do I need to visit the Fairy Pools? I would allow around 2-3 hours for your visit. If you wanted to swim or take lots of photos, I'd allow a bit longer!
Where to next on Skye?
After the Fairy Pools walk, you're ideally located on the west side of Skye to explore more of the island.
You can head up to Dunvegan Castle & Gardens which has the famous Fairy Flag or Am Bratach Síth! Dating back to the 4th century the flag supposedly has magical powers and Fae legends surrounding it.
You can also visit Talisker Bay Beach which has a magical waterfall cascading down from the cliffs there. It was an Outlaw King filming location.
Or, why not head up to the top of the Isle of Skye to Neist Point? The drive is tiring as it's all single-lane with passing places but the views are magical! It's a lighthouse walk with breathtaking scenery.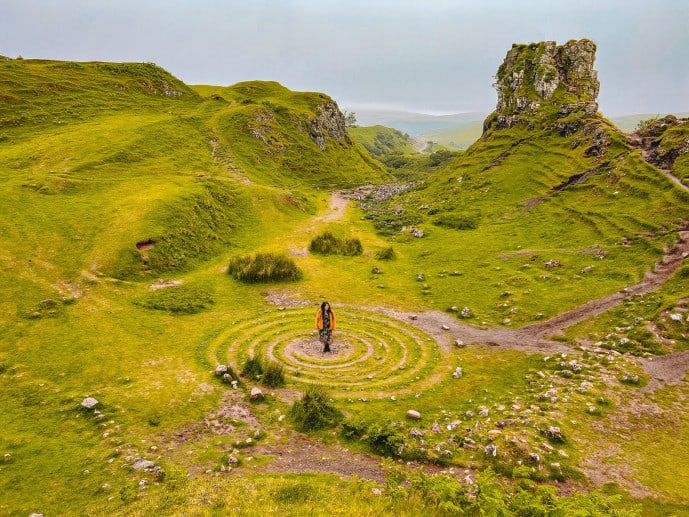 On the east side of the Island, you can visit the magical Fairy Glen which is one of my favourite places on Skye. Here, you can find emerald hills, a ruined castle, magical rowan trees, and even a labyrinth to make wishes to the Fae.
The colourful houses of Portree are always worth stopping for and you can take a wildlife boat trip from the harbour.
You can also add on a trip to the Quiraing where you can see it at the viewpoint or take a hike to it. Kilt Rock and a hike up to the Old Man of Storr. It's a tough hike but worth it for the views.
Don't forget there are many magical attractions near to Skye in the Kyle of Lochalsh like Eilean Donan Castle and Plockton. The best view of Eilean Donan Castle is from the Carr Brae Viewpoint.
Also, you must visit the hidden gem of Manuela's Wee Bakery!
Read more of my Scotland posts
Are Duntulm Castle ruins haunted?
Visit Kilt Rock and Mealt Falls
Where is the pink castle in Scotland?
How to visit the Kelpies in Falkirk
Incredible Harry Potter locations in Scotland
Edinburgh Harry Potter locations
How to visit the Wee White House in Glen Coe
A complete guide for the Glenfinnan Viaduct Viewpoint
How to visit the Corpach Shipwreck
Outlander locations you can visit in Scotland
How to visit Lallybroch from Outlander
The magical Kilchurn Castle viewpoint in Argyll
How to visit Smoo Cave & Waterfall
How to Find Balmoral Pyramid in Scotland
Things to Do in Gearrannan Blackhouse Village
How to visit Castle Stalker in Scotland
How to visit Dunrobin Castle – Scotland's fairytale chateau
Why you must visit Leakey's Bookshop Inverness
How to visit the Callanish Stones on the Isle of Lewis
Visiting the Puck's Glen Fairy trail
Save the Fairy Pools walk for later!