One of the most beautiful walks in Scotland is Puck's Glen, an enchanting woodland walk through an emerald gorge with cascades and pools.
It looks like you've entered a fairytale or have been transported to Middle Earth from the Lord of the Rings.
Named after Puck from Shakespeare's A Midsummer Night's Dream, this magical cavern is meant to be home to fairy folk.
It's an easy and rewarding woodland walk on the Cowal Peninsula and you have to experience it if you're in this area.
Here is a complete guide for the Puck's Glen walk, a magical fairy cascade trail in Argyll & Bute.
"Up the airy mountain, Down the Rushy Glen, We daren't go a-hunting, For fear of little men" – The Fairies by William Allingham (1850).
What is Puck's Glen?
Puck's Glen is an evocative gorge that can be found in the Cowal Peninsula in Argyll Forest Park.
It's a magical trail in an emerald ravine that is filled with mossy rocks, Douglas firs, roaring cascades, storybook bridges, and bubbling pools.
It's easy to access from a car park and is only around a mile long. But, it is one of the most enchanting places in all of Scotland.
You will struggle to believe that what you're seeing is real as it looks like something from a fantasy realm.
Why is it called Pucks Glen?
Puck's Glen takes its name from Puck who is a character in Shakespeare's A Midsummer Night's Dream.
He's a mischievous fairy or sprite and was based on púca in Celtic mythology and folktales.
Although you may not see Puck on your walk, you may encounter Puca Ban who is rumoured to live in this fairy forest.
He's a troublesome sprite that plays tricks on wanderers in Argyll. He can appear as a ball of wool and trip you up on your path.
"Lord, what fools these mortals be!" – Puck, A Midsummer's Night's Dream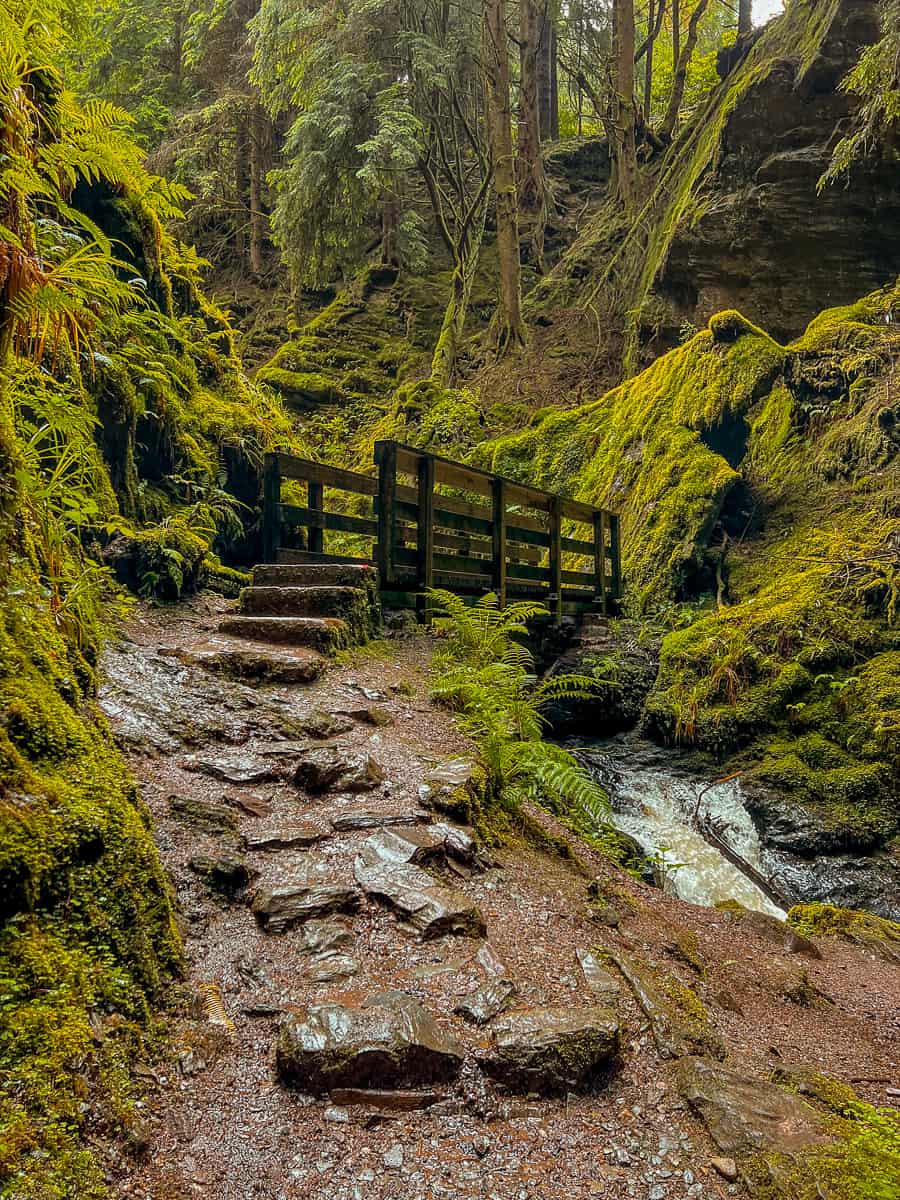 Puck's Glen history
The Benmore Estate was originally a hunting ground for the Campbells of Ballochyle. But, then had a series of different owners.
It was James Duncan, 'Laird of Benmore', that made the gorge trail something that we can enjoy today.
In 1870, he bought the Benmore Estate and started to work on the land that would eventually become Benmore Botanic Garden.
He planted over 6 million trees and transported many rare plants to the area which came at a great expense.
Duncan decided to enhance the forest around Puck's Glen to impress Victorian visitors and so created an accessible path with steps and handrails.
He wanted everyone to enjoy the magical and mythological atmosphere of this woodland and so Puck's Glen was born.
It's been drawing visitors ever since and is now the most popular walk on the Cowal Peninsula.
Today, the glen is part of Argyll Forest Park which is Britain's oldest forest park. It is owned by Forestry and Land Scotland who care for it.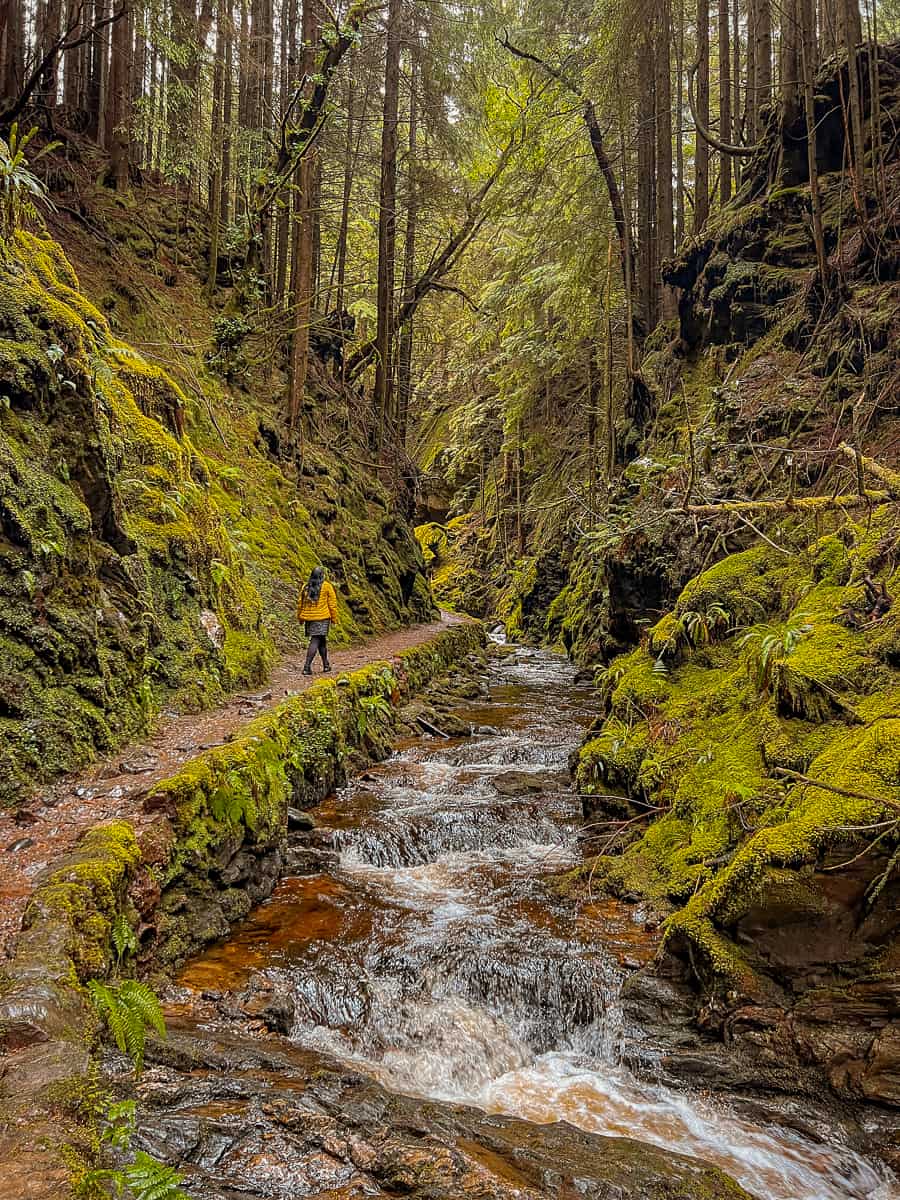 Where is Puck's Glen in Scotland?
Puck's Glen can be found around 6 miles from the town of Dunoon on the Cowal Peninsula which is in Argyll and Bute.
This is in the west of Scotland and is hidden inside Argyll Forest Park near Benmore Botanic Garden.
It's a two-hour drive from Glasgow, a two-hour drive from Stirling, a one-hour drive from Loch Lomond, and 45 minutes from Inveraray.
The nearest Puck's Glen postcode is Dunoon PA23 8QT. Click here for a Google Pin!
How to visit Puck's Glen
It's best to drive to Puck's Glen from Dunoon on the A815 road on the Cowal Peninsula. Or, you can head to the glen through Loch Lomond & The Trossachs National Park.
If you wanted to skip a long drive from Glasgow you could get the Western Ferries from Gourock, near Port Glasgow, to Dunoon.
It's a 20-minute crossing from McInroy's Point to Hunter's Quay and then you arrive in Puck's Glen in around 10 minutes drive from the ferry terminal.
This is what I did and I bought my ticket on the ferry itself for £20. That included my car and one passenger. But, I have heard you can get cheaper tickets in advance.
There is also the option of getting the CalMac ferry. This also heads from Gourock to Dunoon and you can buy tickets online.
The Cowal Peninsula has limited public transport options but there are buses from Dunoon that stop at Puck's Glen (484, 486, or 489).
They are heading to Inveraray but they can stop at Puck's Glen on request. The journey takes around 25 minutes.
Alternatively, you could walk or cycle Argyll Forest from Dunoon but this is a 6-mile trek before you even enter the glen.
Where do you park for Puck's Glen?
There is a small car park just outside the gorge which has space for around 15 cars or so. Make sure to park with consideration.
It's completely free to park here and there is an information board that gives you more information about the walk and legends of Puck's Glen.
They even have free handy maps from Forestry and Land Scotland that give you walking trail directions and other forest walks in the area.
Spaces are limited so it's best to get here early in the morning or later in the afternoon to guarantee a parking space.
How long is Pucks Glen walk?
The Puck's Glen Gorge Trail is roughly 2 miles long and you will need around 1-2 hours to complete it.
I was so enthralled by this place and I couldn't stop taking photos and videos. It took me closer to 3!
A mile of this walk will be through the waterfalls and cascades of Puck's Glen and then another mile is through the Argyll Forest.
But, you don't have to do the entire 2-mile trail to experience the magic. You can easily just walk through the gorge and waterfalls until you're ready to head back through the gorge again.
In fact, I would say that's the best way to do it as the walk through the forest isn't that exciting and it's very steep and slippy (more on that below).
Puck's Glen walk directions
Most people tend to pick the Puck's Glen Gorge Trail when visiting and this is the easy 2-mile walk through the fairy woodland.
The most important thing to remember is to follow the red markers. Sometimes these will be on wooden posts and at other times they will be spray-painted red dots on the floor.
There's no right or wrong way to start the circular loop. However, I think it's best to go clockwise.
This means you will be walking up the gorge and facing the waterfalls which is a lot nicer.
From the parking area information board, turn left and then head on this path straight ahead.
You'll pass by Pucks Glen Lodges on your left and eventually reach a bridge that has a vintage sign for 'Dunoon Pier – 6 miles'.
There is a path behind the bridge that will lead you to Puck's Glen! Then, it's a relatively straightforward path through the gorge following the cascading water.
Explore the magical emerald gorge
Once you're inside the gorge you will feel like you've travelled through a portal to a fantasy land.
The entire place looks like a Fae trap to be honest and I was more than willing to fall for it. One ticket to the fairy realm, please!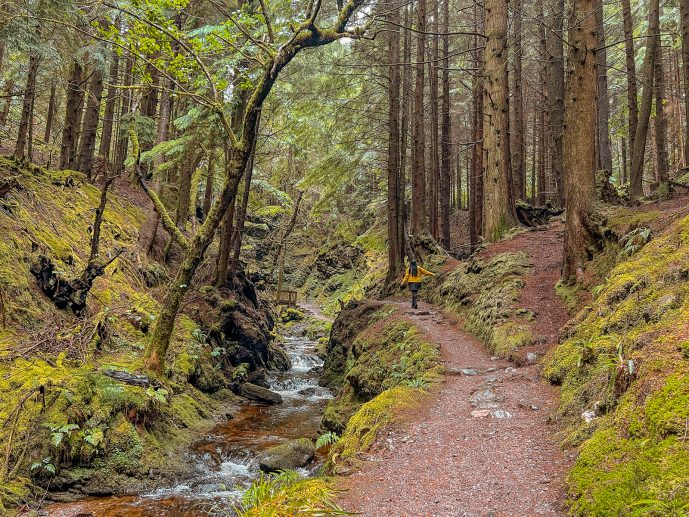 You'll find tall trees, mossy rocks, a cascading river, and so much beauty. It will feel like walking through a film set.
You can follow the well-laid path up the steep paths, over the bridges, and up the staircases. Unbelievably, the gorge gets prettier the higher you go.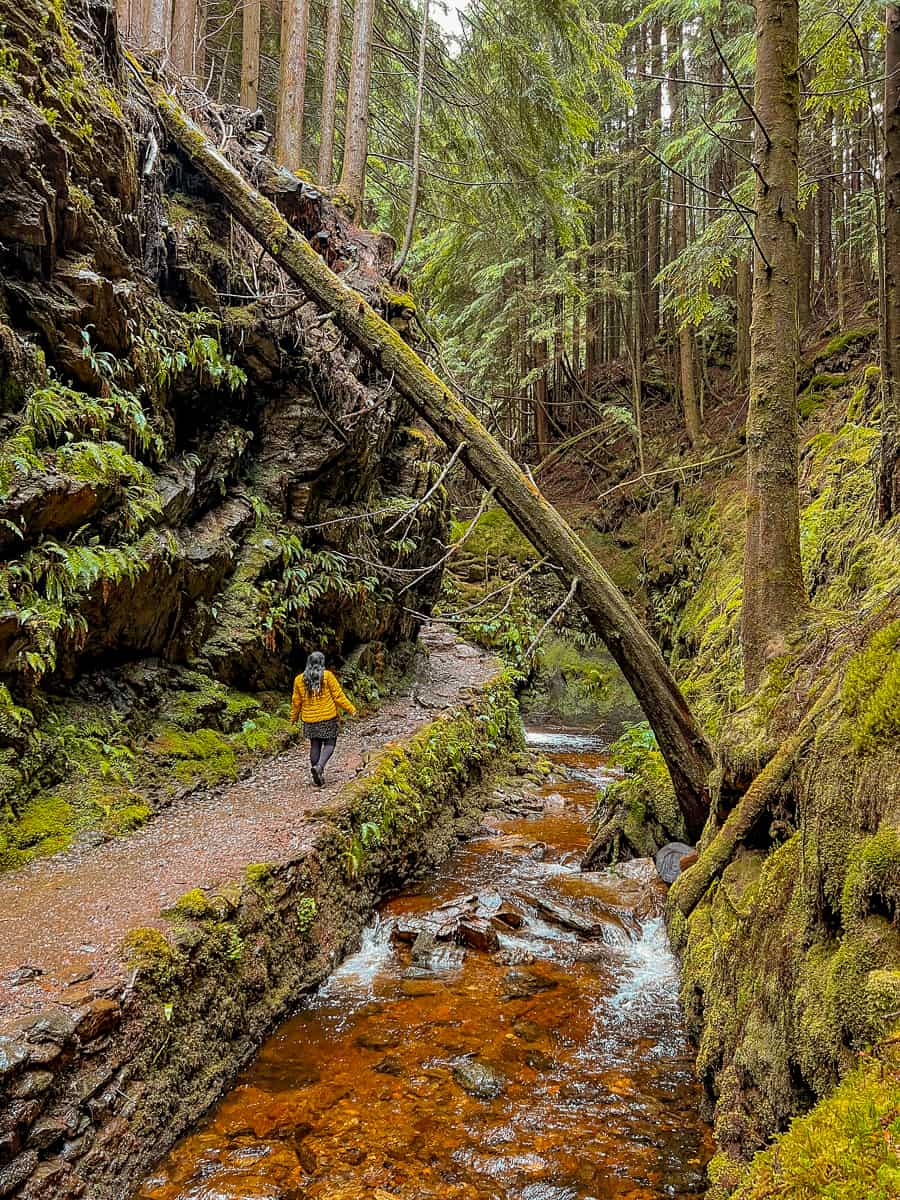 See the cascades, bridges, and fairy pools
Along the way, you'll see so many cascades and waterfalls that make a roaring sound as you make your way through the glen.
There are lots of steep paths and steps but you'll barely notice the climb as the hike is so scenic.
You'll encounter a waterfall flowing into a red pool that almost looks like a cauldron filled with blood. It gets its curious colour from the sediment underneath it.
Plus, there's lots of moss, rocks, ferns, and trees. It's easy to imagine that this is a land of magical folk.
At one point, you have the option to climb up several staircases that will take you further up into the forest.
But, make sure to follow the red dots on the Puck's Glen Gorge Trail. This will take you back down some steps to another bridge and over to even more waterfalls.
You'll then enjoy a few more cascades before you climb up some steep steps and exit the gorge.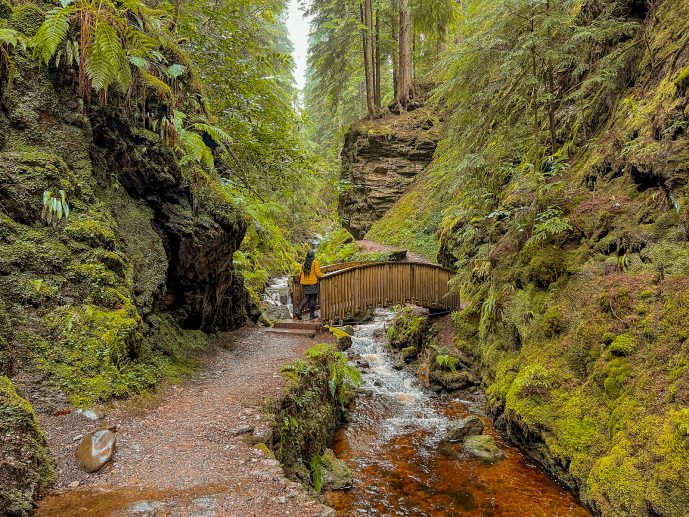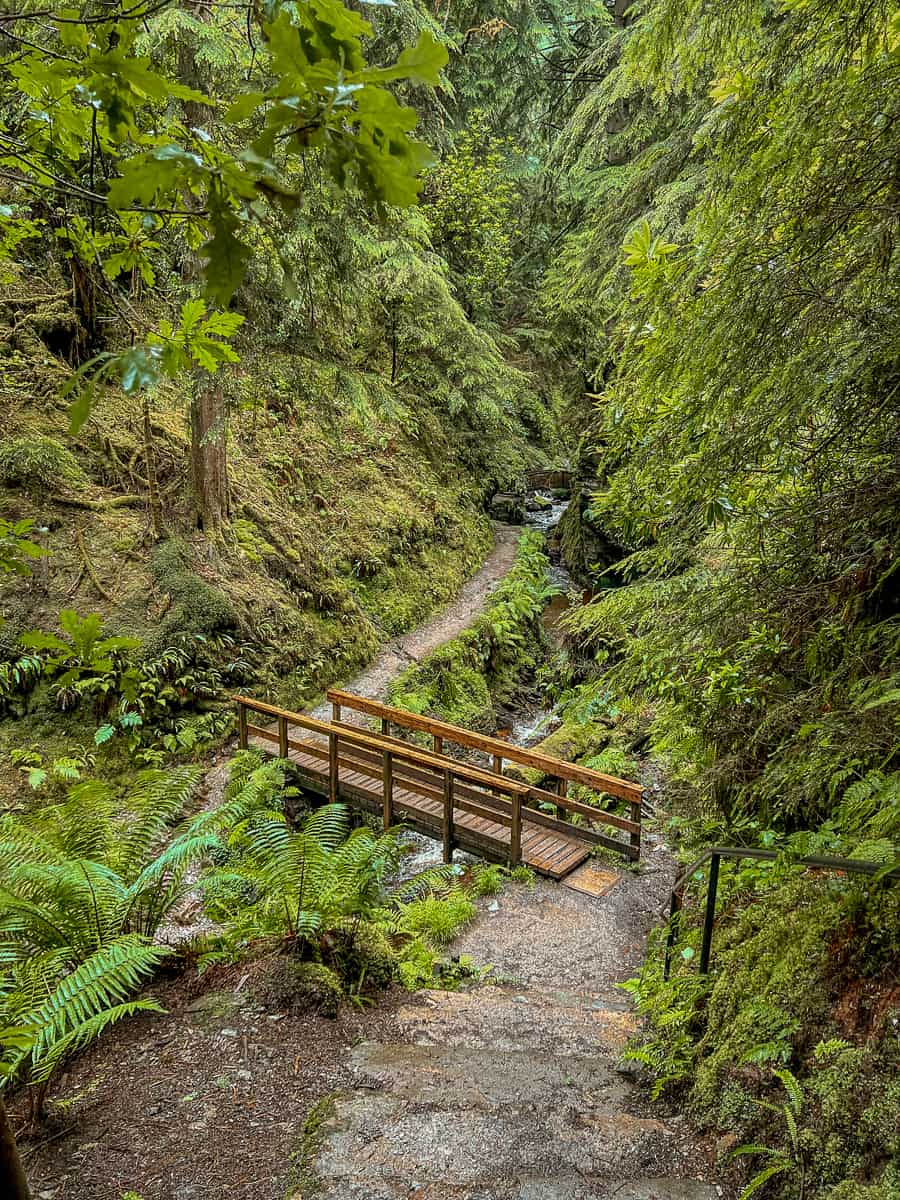 Walk back through the forest
After you exit the gorge, keep following the red markers. It will bring you out to a gravel path and then lead you into a forest track back down to the car park.
It was a very steep walk down through the forest for around 1 mile or 20 minutes but it felt endless.
Although it's an enchanting woodland, it's not as scenic as the gorge and there are no waterfalls.
I'm going to be completely honest and say that I despised this part of the walk and got fed up near the end.
The forest was so steep and slippery with large drops beside the path and there were no fences or handrails to hold onto.
If I was going to do this walk again, I would head back through the glen instead. It's far prettier.
It's also safer when it's raining as the ground is so slippery in the wood. The gorge at least has something to hold onto with the steps and handrails.
My top tips for visiting
Wear sensible shoes – the glen can get very slippery, especially when it's raining. It's also steep and uneven in places. Make sure to wear sensible shoes with ankle support.
Bring waterproof clothing – the waterfalls do look good after/during rain. Bring a waterproof layer.
You don't have to do the entire loop – You could just explore the glen and waterfalls for as long as you like and then head back.
Take rubbish with you – Make sure to leave no trace and respect this beautiful place.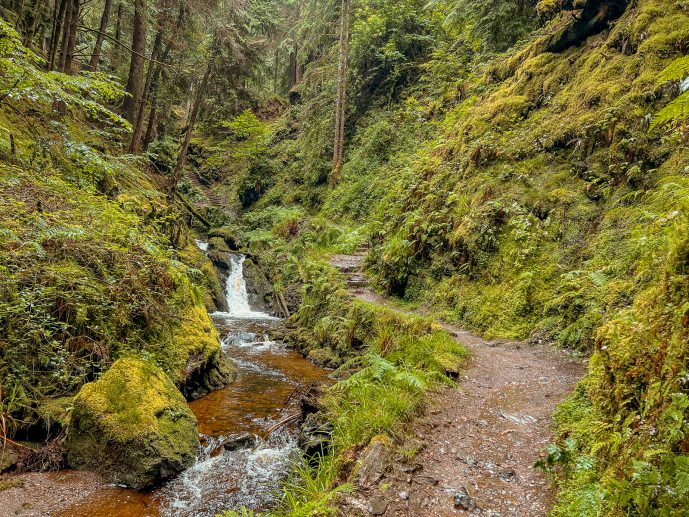 What is the best time to visit Puck's Glen?
The best time to visit Puck's Glen would be after a few days of heavy rains so you get to see the waterfalls and cascades at their best.
When it's warm weather, the trail will still be charming but it won't look half as magical without the heavy waterfalls.
It's also best to head here early in the morning or later in the afternoon. Parking spaces are limited and it can get very busy on the paths.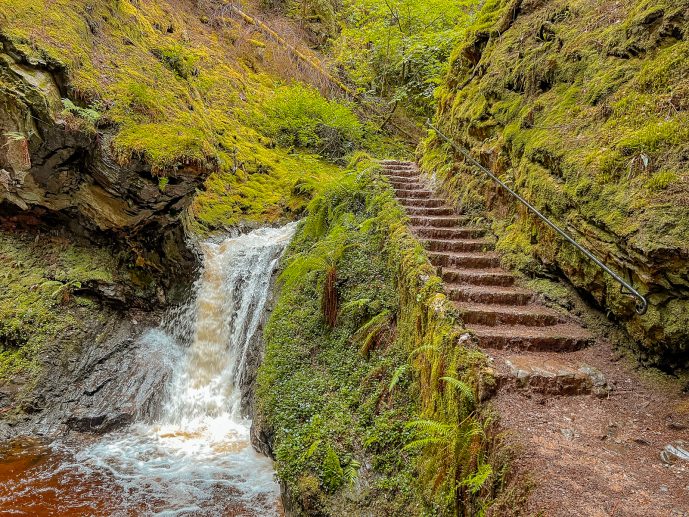 Is Puck's Glen walk worth doing?
Yes! Puck's Glen is one of the most magical places that you can visit in Scotland.
It's so eery and beautiful to walk through the emerald gorge and I was in awe of all the crashing cascades and waterfalls.
The best part is that you don't need to do the entire 2-mile trail to experience the magic. You could easily walk half a mile or a mile to see some of the waterfalls and then head back.
This is now one of my favourite walks in all of Scotland, don't skip this fairy trail if you're in the area!
"If we shadows have offended,
Think but this, and all is mended,
That you have but slumbered here
While these visions did appear.
And this weak and idle theme,
No more yielding but a dream" – Puck, A Midsummer Night's Dream
Visit Benmore Botanic Garden next
If you're looking for a pick-me-up after your walk through Puck's Glen, I would recommend heading over to the Benmore Botanic Garden.
This was what became of James Duncan's estate and is now managed by the Royal Botanic Gardens Edinburgh.
They have a wonderful cosy café that serves up hot and cold drinks, lunches, and snacks throughout the day.
There are also much-needed toilets and a sitting area to rest your legs after your hike through the fairy forest.
You don't need a ticket for the café but you do have to pay to visit Benmore Botanic Garden.
It's a mountainside grounds of 120 acres with dramatic scenery and is home to a world-famous collection of plants.
Inside, you can see the Giants of Benmore, Rhododendrons, the Victorian Fernery, and lots of wildlife.
There's also Puck's Hut that you can visit in the walled garden. Look out for a statue of Puck on the roof!
Where to visit next on the Cowal Peninsula
Near Benmore Botanic Gardens, you can visit Kilmun Parish Church and Argyll Mausoleum.
St Munn's Church has a history since the 7th century but the current building was built in the 1840s.
The Argyll Mausoleum is separate and was commissioned in 1790 to house the last Dukes of Argyll.
If you drive up the A815, you will eventually reach Inveraray and the famous Inveraray Castle.
This was featured in the Downton Abbey Christmas Special as the fictional "Duneagle Castle" and was used to film A Very British Scandal.
A little further on, you can walk to the atmospheric ruins of Kilchurn Castle which is a fortress that sits beside Loch Awe.
It's currently closed but the ruins still look so romantic. Parking is free and it's around 10 minutes walk to the keep. You may be lucky and spot a Highland Cow on the trail.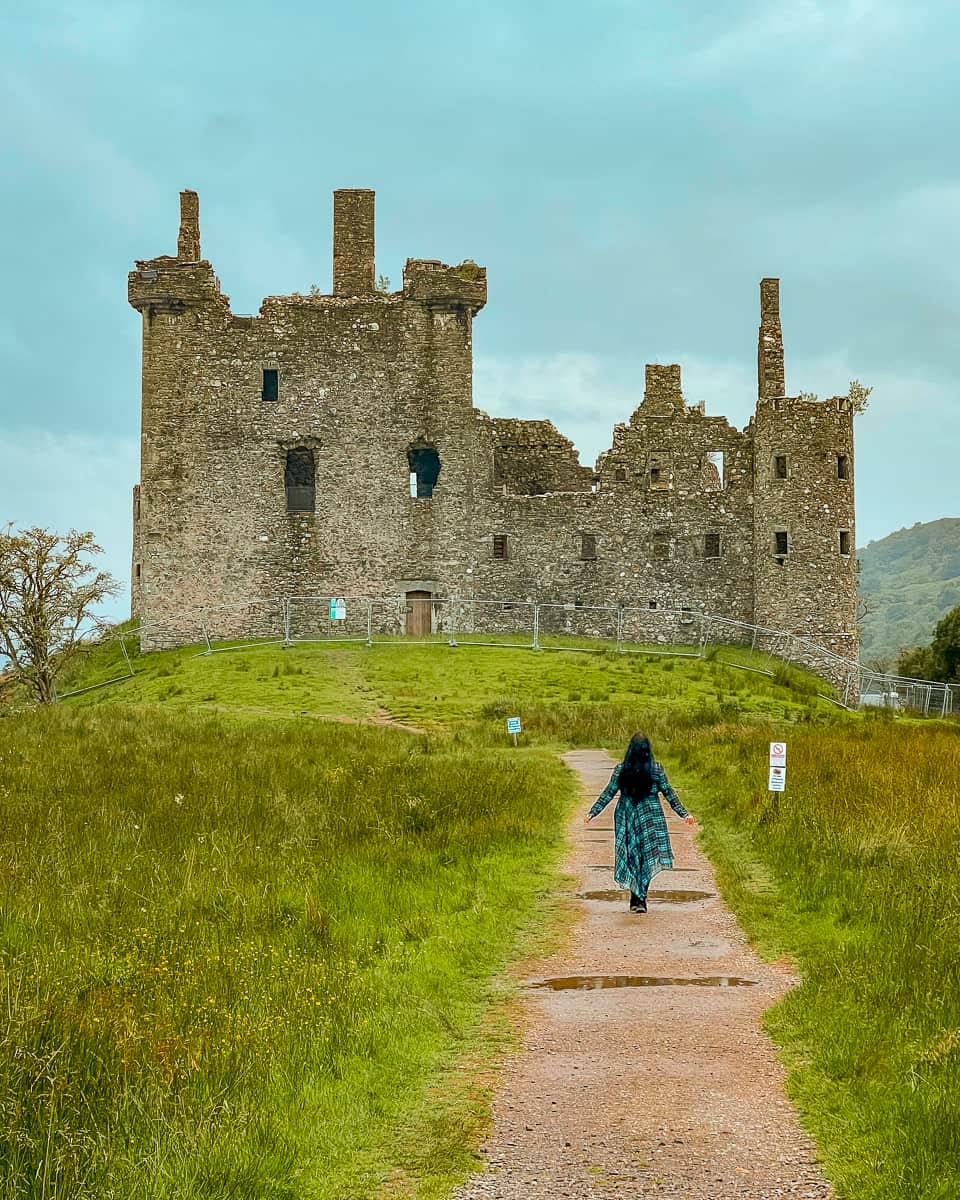 Puck's Glen FAQS
When does Puck's Glen open? Puck's Glen is open 24 hours a day, 7 days a week. So, you can visit whenever you like but I wouldn't recommend visiting at night time.
How much does it cost to visit Puck's Glen? It's completely free to visit! I was shocked as this emerald cavern with fairytale waterfalls is so stunning.
Is Pucks Glen suitable for dogs? Yes, but make sure to keep them on a lead during the walk.
Can you swim in Puck's Glen? People do go wild swimming here but it's not recommended due to the strong currents of the cascades.
Are there toilets at Puck's Glen? No, there are no facilities at the glen. The nearest toilets are in Benmore Botanic Garden.
Read more of my Scotland guides
How to visit the Green Loch Aviemore
How to see the Pink House on Loch Glass
How to ride the Hogwarts Express in Scotland
Harry Potter filming locations in Scotland
Edinburgh Harry Potter filming locations
How to find Dumbledore's Grave
A complete guide for the Steall Falls walk
How to find the Corpach Shipwreck
How to find the Kilchurn Castle viewpoint
Magical Dunrobin Castle in Scotland
Where is the pink castle in Scotland?
How to visit the Kelpies in Falkirk
How to visit the Wee White House in Glen Coe
A complete guide for the Glenfinnan Viaduct Viewpoint
Outlander locations you can visit in Scotland
How to visit Lallybroch from Outlander
Isle of Mull Cheese Glass Barn Café review
Save this magical Puck's Glen walk for later!