When you think of castles in Scotland, what is the first thing that comes to mind? An austere keep, a fortress in the mountains, or a line of defense guarding a loch, perhaps?
I'm guessing it's certainly not a whimsical chateau that has towers, turrets, and planned gardens that look like something from a Disney movie!
Dunrobin Castle is by far one of the prettiest castles in the country and is often described as Scotland's fairytale castle.
Many people like to compare this storybook residence to the enchanted castle in Disney's Beauty and the Beast that contains the cursed rose!
As a lover of fantasy, Disney, and anywhere magical, I've had this place on my bucket list for years and I was so happy to finally make it here.
Here is a complete guide on how to visit Dunrobin Castle Scotland with the history, opening times, prices, and things to do!
Introducing Scotland's fairytale castle
Love it or hate it, Dunrobin Castle is a magical French chateau-style castle in Scotland that looks like something from Grimm's Fairy Tales.
It's a Scottish baronial stately home built on a high cliff that rises over the North Sea. There are also manicured gardens beneath it that were inspired by the Palace of Versailles.
The chateau is the family seat of the Earl and Dukes of Sutherland and it is open to the public for tours in the summer.
It's often been described as a Disney Castle that could belong to princesses like Belle and Cinderella.
Or, many have even compared it to Tamlin's Spring Court in S. J. Maas' fantasy series of A Court of Thorns and Roses.
But, it may surprise you to know that this castle did have its humble beginnings as a severe medieval fortress and it was a far cry from a romantic fairytale.
Dunrobin Castle history
Dunrobin Castle has been the ancestral home of Earls and Dukes of Sutherland since the 13th century.
The Earldom of Sutherland was created in 1235 and is now one of seven ancient earldoms of Scotland.
There has been a fort recorded here as early as 1401 but it's believed this replaced an earlier medieval fortress. The name Dun Robin means 'Robin's Hill' in Gaelic.
In the medieval era, the defense keep was square with six-foot thick walls and stood on a rocky clifftop.
This had a great view of the surrounding land and the North Sea to prepare for any encroaching clan enemies.
There were small extensions made over time but the big changes took place in 1785. You can still find the remains of the old earls keep within the castle walls.
The Dunrobin Castle we see today was the design and creation of Sir Charles Barry who is known for building the Houses of Parliament in Westminster, London.
He was retained to remodel the castle into the Scottish Baronial style which was popular with the nobles of Scotland at the time after Queen Victoria took residence in Balmoral Castle.
The castle was built in a French chateau style and the formal gardens were inspired by the palace of Versailles.
Unfortunately, a great fire saw much of his original work destroyed. Sir Robert Lorimer, a Scottish architect, reconstructed the castle to its former glory.
Dunrobin became a boarding school in the late 1960s and then again a family home for the Sutherlands. It's been opened up to the public for tours since 1973.
Today, many people describe Dunrobin as Scotland's fairytale castle or even a Disney castle and it's easy to see why! It draws in many tourists visiting the Scottish Highlands every summer.
Where is Dunrobin Castle in Scotland?
Dunrobin Castle is located in the far north of mainland Scotland in the Highlands around a mile away from Golspie in Sutherland.
This magical fairytale castle is just over an hour's drive out of Inverness and a 90-minute drive from John O' Groats on the A9.
Most people who want to visit Dunrobin Castle drive here from Inverness where they base themselves for a few days.
Or, many plan a stop at this fairytale chateau as part of the NC500 road trip in Scotland. A 516-mile scenic journey that starts and ends at Inverness Castle!
How to visit Dunrobin Castle
The easiest way to visit Dunrobin Castle is by driving there. This fairytale chateau is conveniently located off the A9.
It makes a great pitstop on the NC500 road trip if you're heading to or away from Inverness.
Depending on which way you're heading, you can stop off at Dunrobin Castle on your first day of the NC500 or the last day, it's completely up to you.
Dunrobin is around a 90-minute drive from John O' Groats, an hour's drive from Wick or just over an hour's drive from Inverness Castle.
If you're not driving, you can easily get a train from Inverness to Dunrobin Castle station on the ScotRail service heading towards Wick. The journey takes around 2 hours.
If Dunrobin Castle is not a stop on that service, you can also alight at either Golspie or Brora. Then you can walk or take a bus to the castle.
There is also a Stagecoach X99 bus from Inverness to Scrabster that stops at Golspie which is 30 minutes walk from Dunrobin Castle.
You can use Traveline Scotland to plan your journey to Dunrobin Castle by public transport.
Dunrobin Castle address is Golspie, KW10 6SF. Click here for a Google Pin!
Why not take a Dunrobin Castle tour?
If you're stuck on time, you may wish to visit Dunrobin Castle with a few of Scotland's far north attractions!
There is a group trip from Inverness to John O' Groats makes a stop at Golspie, Dunrobin Castle, Wick, and then John O' Groats harbour.
This day tour is a great option for those not driving in Scotland as you get to save money and time on your holiday!
Click here to book your Inverness to John O' Groats day trip including Dunrobin Castle!
Dunrobin Castle opening times & prices
Dunrobin Castle & Gardens are only open from April to October each year. Both the castle and formal gardens are closed from November to March.
In April and October, Dunrobin Castle opening times are 10.30 am – 4.30 pm with the last entry of 4 pm.
From May to September the castle opens from 10 am – 5 pm with the last entry at 4.30 pm.
Dunrobin Castle ticket prices are £13.50 for an adult and £8.50 for a child. There are student, senior, family, and group concessions available.
As part of your ticket, you'll get access to the castle, formal gardens, Victorian museum, and a falconry display. There is no separate garden ticket available.
You don't need to pre-book and it's not possible to buy tickets online. Dunrobin Castle tickets can only be purchased on the day at the ticket desk.
The wider estate and woodland are free and open all year round.
Things to do at Dunrobin Castle
1. Explore the magical Dunrobin Castle gardens
My favourite part of the tour had to be exploring the extensive Dunrobin Castle Gardens located beneath the castle terrace.
They are designed in the French formal style and were inspired by the manicured gardens at the Palace of Versailles.
Honestly, I felt like a princess wandering around these grounds with the fairytale chateau in the backdrop.
As the coast near Brora has its own micro-climate, you'll find that Dunrobin has lots of colourful and rare flowers that grow here.
You can also perch on benches and admire the parterres with manicured topiary and water fountains.
Don't be afraid to live out your best fairytale dreams. So, many people were getting pictures in pretty princess dresses!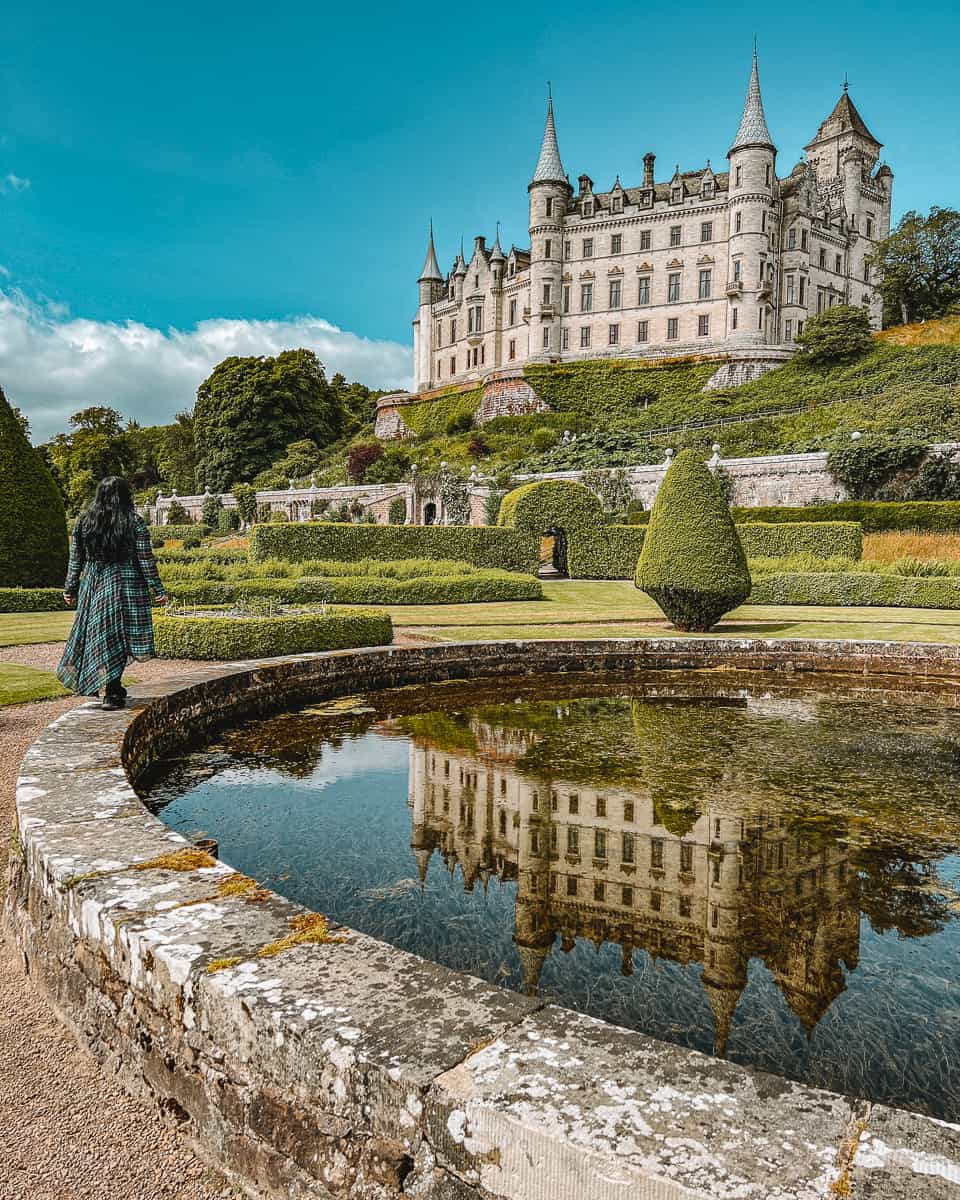 2. Terrace views of the North Sea and Dunrobin Gardens
As Dunrobin Castle is built high on top of a terrace, you get incredible views over the North Sea from the castle. I was lucky to visit here on a sunny day and you could see for miles over the horizon.
Whether you're inside the castle or standing on the terrace itself, you can also get a great look at the planned gardens from above.
From here, you can really see how these gardens were inspired by Versailles with its many Parterres.
In summer, there is an outdoor coffee van near the terrace and it is the perfect place to sip on your drink with the panorama!
3. Watch the Dunrobin Falconry display
A bonus of visiting Scotland's fairytale castle is getting to watch the famous Dunrobin falconry display that is included in your ticket.
It's an outdoor show that takes place in the formal gardens twice a day. Once at 11.30 am and again at 2.30 pm. The falconry show lasts for around 30-45 minutes.
The ancient art of falconry is described as the 'sport of kings' and was very popular in medieval times. Training a falcon to hunt for your quarry was to show off wealth and your social status. Even Mary Queen of Scots was a talented falconer and her favourite bird was a Merlin.
You can take a pew on the castle lawn and watch Dunrobin's resident falconer show you Harris hawks and Gyrfalcons as they take to the skies.
A highlight is watching a peregrine falcon fly. They are the world's fastest animals and can reach record-breaking speeds of over 200 mph (390 km/h) when swooping for their prey!
I wouldn't miss out on this show as it's really entertaining and extremely informative. You also get the chance to get close to the birds after the show and take some photos of them against the castle.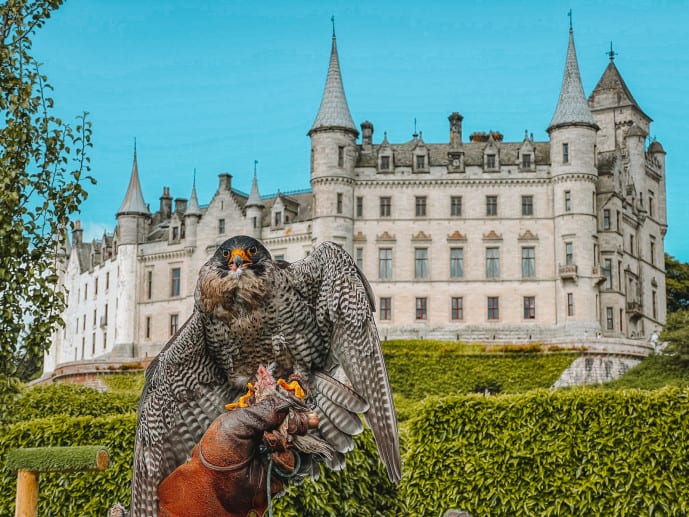 4. Dunrobin Castle museum
As you make your way through the formal gardens, you can make a stop at the Dunrobin Castle museum.
It was originally built in 1762 by the 16th Earl of Sutherland as a summer house on castle grounds.
In Victorian times, it was made into a clan museum housing all sorts of artifacts. The collection is mainly taxidermy trophies from the Earl's various hunting trips.
This can be overwhelming for visitors who find this sort of thing offensive, especially with the extinction of so many animals today. But, it is a sadly a reflection of the era.
There are also objects collected from all over the world like Tibetan bells, Pictish stones, and a portrait gallery.
Warning: this really is a Victorian museum and some visitors may find the exhibits upsetting. If you're sensitive to taxidermy, you can't avoid seeing it! I would skip this part of the tour.
5. Take a tour of Dunrobin Castle
Dunrobin Castle is the largest northerly home in mainland Scotland. It's five storeys high and towers over the North Sea on the cliff.
As part of your ticket, you can take a self-guided tour inside Dunrobin Castle that allows you to explore over 20 staterooms!
Each room has an information board to tell you more about the family room's function and any interesting facts.
Meander through dining rooms, tea parlours, nurseries, studies, bedrooms, and clan rooms. See where the family would relax or host their guests.
You'll even get to see where Queen Victoria stayed on her visit, it was a room built and designed specifically for her!
It was painted a gorgeous shade of green with decorated gold walls, ceiling, and bed frame topped with white doves. Swoon.
6. Have lunch in the Dunrobin tearoom
There is a tearoom located on the bottom floor of Dunrobin Castle which is the perfect spot for a bit of light lunch or coffee and cake.
It can get very busy at peak lunchtimes and there are only so many seats. So, it may be an idea to eat lunch a little bit earlier to avoid the rush.
Dunrobin Castle café serves sandwiches, soups, and a variety of hot lunches. You can also purchase one of their homemade cakes or scones to pair with tea or coffee.
There is a refreshing selection of cold drinks too if it's a warm day! This was perfect for my visit as it was roasting. The café provided the best respite.
7. Exit through the Dunrobin gift shop
After your tour, don't leave without checking out the Dunrobin Castle gift shop that's located by the café.
The shop has a delightful range of clan tartan souvenirs, bags, jewellery, and shawls. They also sell Dunrobin mugs, key rings, magnets, and snow globes!
I'm like a magpie and there were too many pretty and shiny things I wanted. But, I settled on a mini snow globe in the end. It's so magical as it looks like Dunrobin is covered in glittery snow!
How long do you need at Dunrobin Castle?
If you're visiting Dunrobin Castle, I would personally recommend at least 2-3 hours for your visit. Maybe more if you have it spare.
This is to make sure you have enough time to explore the extensive gardens, take a tour of the castle, watch the falconry show and explore the museum.
There is also a tearoom here where you can stop for some lunch or a coffee and a large gift shop.
You could cut this tour down to just an hour if you're pressed for time but I think it would be too much of a rush to actually enjoy it.
I visited at opening time (10.30 am) and didn't end up leaving until 2 pm! I just loved the gardens so much and it was such a relaxing place to spend half a day.
Dunrobin Castle is truly a magical place with lots to see, do and admire. I would make sure to prioritise making the most of your ticket!
Can you see Dunrobin Castle without paying?
Yes, if you just wanted to visit the woodland and wider gardens you can see Dunrobin Castle without paying!
This is especially useful if you're visiting Dunrobin Castle in the winter months when it is closed off to the public.
Also, this is a great option for photographers who want to capture the castle at sunrise/sunset.
The view will be from outside of the garden gates on the coastal path but it is still worth visiting if you want to see Dunrobin Castle for free. As the castle is at a great height, you can see it easily.
If you're visiting at any time from April-October, simply park up in the free parking at Dunrobin Castle then head around the castle through Dunrobin Woodlands towards the Golspie to Brora coast path.
You can then follow the coastal path that runs parallel to the formal gardens and sneak a peek at the castle through the back gate!
In winter, you can see Dunrobin Castle for free as part of the Golspie to Brora Coastal walk. This walk is open all year and starts at either Brora Station or Golspie Station. See the trail here.
Is Dunrobin Castle worth visiting?
100% YES. This castle is one of the prettiest I have seen in Scotland. Honestly, I'm so happy that my travel dates aligned with being able to visit this fairytale castle.
It's been on my bucket list for years now and it reminded me of Beast's Castle from my favourite Disney movie, Beauty and the Beast! It really does look like a magical chateau from the pages of a storybook.
Even if you're not into fairytales, Disney or fantasy, there is something at Dunrobin that will appeal to every type of visitor.
There's lots of history to discover, a falconry display that appeals to wildlife lovers, and amazing views over the woodland and coast.
I would highly recommend adding Scotland's fairytale castle to your bucket list! You won't regret it.
Dunrobin Castle FAQs
Does anyone still live in Dunrobin Castle? Most of Dunrobin Castle is a tourist attraction these days and open to the public. But, there are private apartments reserved for the Sutherland family.
What is Dunrobin Castle famous for? Dunrobin is one of the largest houses in the Northern Highlands and is one of Britain's oldest continuously inhabited houses since the 1300s. Also, many know this chateau today from social media as Scotland's fairytale castle or Disney Castle.
Can you see Dunrobin Castle from the road? Yes, but from very far away on the A9 heading towards Inverness and you can't easily stop to capture it. The closer you get to the castle, the less you can see as it is surrounded by a woodland estate. If you park at Dunrobin Castle car park, you'll only see the back of it without paying. If you want to see Dunrobin Castle for free, I would recommend the Golspie to Brora coastal path that takes you behind the castle gardens (see above).
Is Dunrobin Castles dog friendly? No. Unfortunately, dogs are not allowed inside Dunrobin Castle or the formal gardens. The only exception is Assistance Dogs. The wider gardens and woodlands are fine for your furry family members.
Can you get married at Dunrobin Castle? YES, weddings are only held in the summer months but it looks like an absolutely magical venue!
What does Dunrobin mean? Dun Robin translates to Robin's Hill or Fort in Gaelic.
Can you stay in Dunrobin Castle?
No, unfortunately! Although the castle has 189 rooms these aren't currently available for the public to book for the night.
However, there are many castles and lodges located nearby that you can book if you wanted to stay near Dunrobin Castle.
The Royal Marine Hotel in Brora looks lovely or you can stay the night at Dornoch Castle Hotel.
Don't like the sound of those? Click here to find your ideal hotel through booking.com!
Where to next in Scotland?
If you're heading down towards Inverness, you'll find lots to do in this Capital of the Highlands! You can visit the city centre with Inverness Castle, Black Isle Brewery Bar, and Leakey's Bookshop.
Also, you can head further afield to the likes of Culloden Battlefield which is owned by the National Trust. Or, why not visit Clava Cairns that inspired Craigh Na Dun in Outlander?
Cruises run on Loch Ness, the home of Nessie the Lochness Monster, and you can visit the historic Urquhart Castle too.
If you're heading upwards towards John O' Groats, you can stop off at Wick on your way up. This is a gorgeous coastal town that's home to one of the shortest streets in the country.
Before that, I would highly recommend visiting the hidden gem of The Wee Hoose in Lairg! It's a small pitstop but has an interesting legend associated with it.
After that, you can visit the remains of Kiess Castle and then head up to John O' Groats harbour. This is a great place to visit and you can get a photo with the famous sign.
Then, you can make trip to the Duncansby Stacks area with the lighthouse!
If you have a day spare, I would highly recommend taking an Orkney Islands Day Trip from John O' Groats. I did this and it was fabulous, I can't rate it enough.
Click here to book your Orkney Islands Day Trip from John O' Groats!
We visited highlights like the Italian Chapel built by Italian POW, Kirkwall, Stromness, Skara Brae pre-historic village, Skaill House, and the Ring of Brodgar.
Or, why not head further afield to places like Thurso, Smoo Cave, and then Ullapool on the NC500?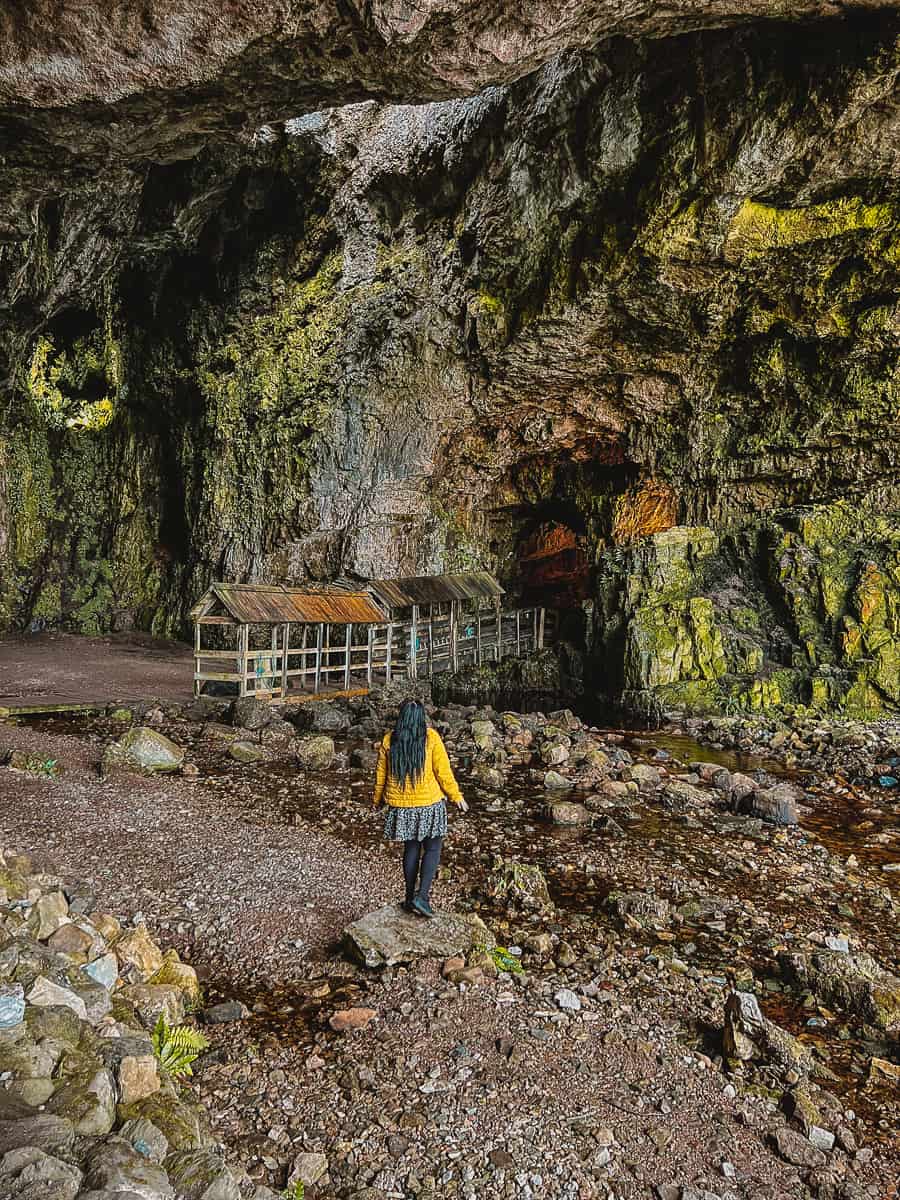 Save time and book a tour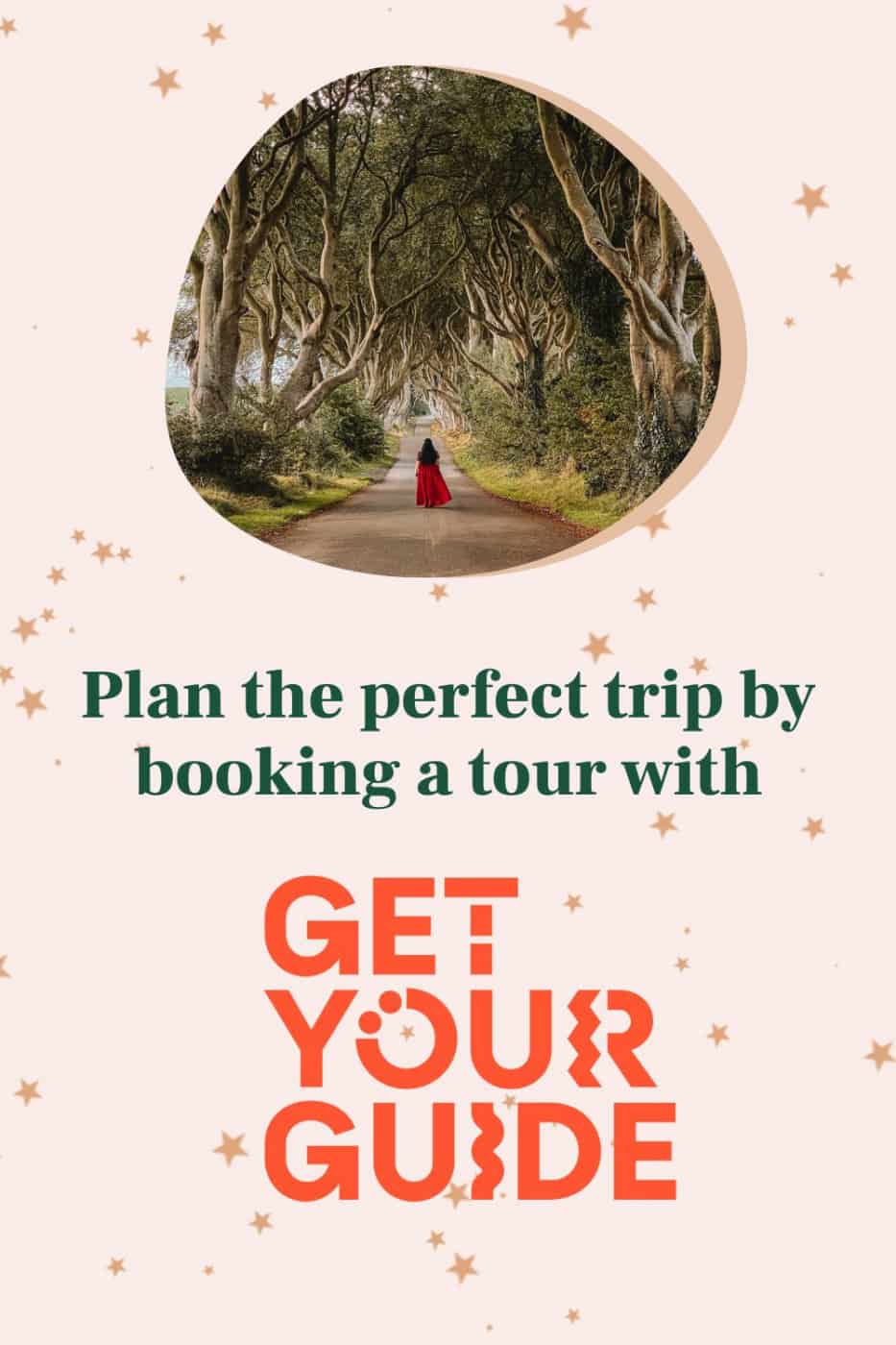 Book tours & tickets for Inverness!
Read more of my Scotland articles
How to visit Eilean Donan Castle for free
Where is the pink castle in Scotland?
How to visit the Kelpies in Falkirk
Edinburgh Harry Potter locations
Outlander locations you can visit in Scotland
How to visit Lallybroch from Outlander
Visiting the Fairy Pools on the Isle of Sky
Smoo Cave & Waterfall walk in Durness
How to get to the Balmoral Pyramid
Visiting the Corpach Shipwreck near Fort William
How to visit Kilchurn Castle viewpoint
Things to do in Gearrannan Blackhouse Village
How to visit Castle Stalker from Monty Python
How to visit the Callanish Stones on the Isle of Lewis
How to visit the Green Loch Aviemore
How to visit the Pink House on Loch Glass
Visiting the Puck's Glen Fairy trail
Isle of Mull Cheese Glass Barn Café review
Save the fairytale Dunrobin Castle for later!