If you're a fan of Outlander, I'm willing to bet you've heard of the Falkland Outlander location! This pretty village in Fife was used to film historic Inverness in the Outlander TV series.
Although much of the village was altered for filming to make it appear like Inverness in the 1940s, as soon as you drive in you'll instantly recognise the scene.
When I pulled up, I couldn't help but smile from ear to ear as it felt like I was transported straight into the iconic episode one! I've watched that first episode a hundred times so to see it in real life was spine-tingling.
Falkland was featured most famously in Season One of Outlander when Frank and Claire have their second honeymoon in the Scottish Highlands in 1945.
They check into Mrs. Baird's B&B in the square, which is the current Covenanter Hotel. You can actually stay in the bedroom that Claire and Frank stay in here (more on that later!).
Again, this pretty village reappears in season two as Inverness in the 1960s when Claire, Rob, and Brianna go searching for Jamie and in season four when Rob is searching for Brianna.
You won't need much help searching for Outlander locations here as some are easy to spot as soon as you pull up in Falkland square. But, I'll give you a helping hand to make sure you don't miss any on your visit.
Here are the Falkland Outlander filming locations fans must visit to experience Inverness!
How to reach Falkland in Fife?
There are many ways to reach Falkland that don't necessarily mean having your own means of transport. I'll list out of the different options below;
How to reach Falkland by Car: Falkland is located just 40 miles north of Edinburgh and takes around an hour to drive there by car. There are tonnes of free parking spots in the village and you could even park your car in the same spot that Claire and Frank did in the series!
How to reach Falkland by Bus: From Edinburgh the nearest large bus station to Falkland is Glenrothes, so you can catch a Stagecoach bus heading here. The services X59, X54 and X9 run there. From Glenrothes switch service to the 66, 66A, 64 or 36 to reach Falkland. The journey should take just shy of two hours.
How to reach Falkland by train: Falkland doesn't have a train station, but again you can catch a train to Glenrothes from Edinburgh and catch a bus service 66, 66A, 64 or 36 to reach the village of Falkland.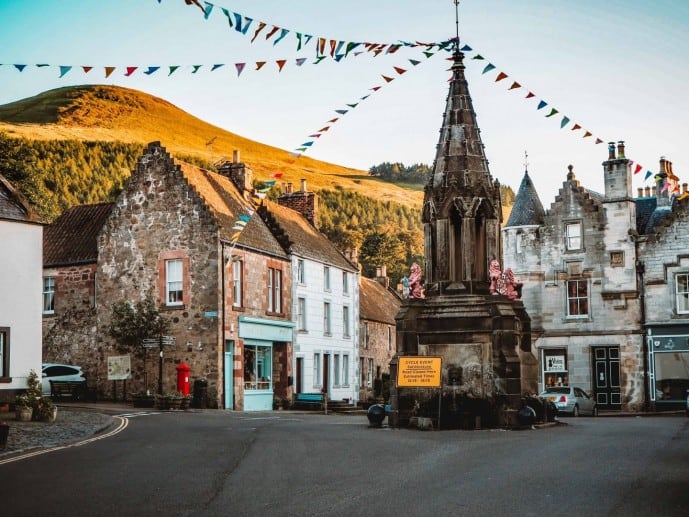 The 8 spots in Falkland Outlander locations fans must visit
1. Falkland Square / Inverness
From one Outlander fan to another, this is moment where you'll get the chills.
Driving into Falkland was like travelling through time and hopping straight into 1940s Inverness in the TV series.
I actually had the Outlander soundtrack playing Bear McCreary's 'People Disappear All The Time' in my car so it made the moment even more spellbinding. Okay, maybe that was a bit extra. But, for me, it made the moment, okay?!
Although there aren't any vintage cars parked up or 1940s shop signs, that doesn't make a difference at all. It's irrevocably Inverness!
Having visited Inverness on my travels in Scotland, I can see why the Outlander team decided to scout Falkland as a location.
There is nothing 1940's about modern day Inverness at all! But, Falkland has all these beautiful grey stone listed buildings and that cosy feel that cities used to have. Where people didn't lock their doors, independent businesses thrived and people say hello to you on the street!
This square will be your gateway to accessing all the Outlander locations in Falkland so park up and get ready to explore.
2. Mrs Baird's Bed and Breakfast / The Covenanter Hotel
The Covenanter Hotel in Falkland square was used in Outlander to portray Mrs Baird's B&B. Claire and Frank check in here on there honeymoon and discuss arriving on the Eve of Samhain.
You definitely won't find blood spattered on the door when you arrive! However, all but the front door, the bed and breakfast sign and a lick of paint is what was changed for the production.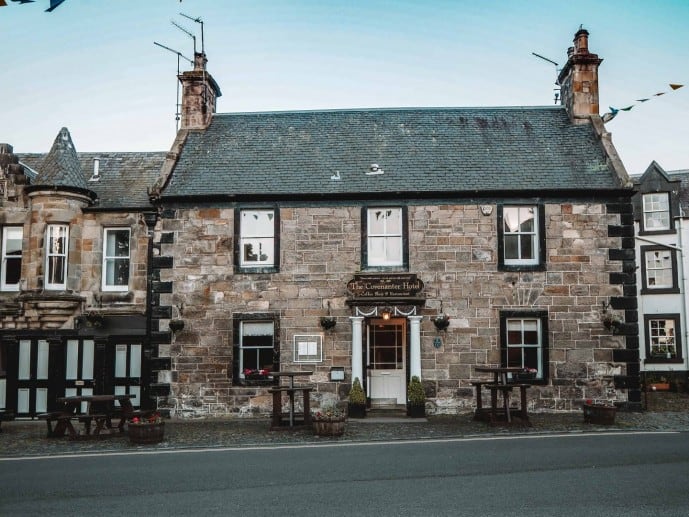 The whole building looks exactly the same as it does in the show and luckily for fans, you can check in here and stay the night!
I had the pleasure of staying here for the night which meant I pretty much had the village to myself in the evenings.
During the day the village is always filled with tour buses and people queuing to take photos so I was happy to be able to shoot and wander around alone.
I stayed in the apartment to the side of the hotel which was so quaint and lovely but you can stay in THE room where Claire and Frank stay on their second honeymoon. This is great for a photo opportunity if you're in the window and the other person in your party is by the fountain.
Click here to book your stay at the Covenanter Hotel for the night. The room that Claire and Frank stay in is popular so book as far in advance as possible! I had to pleasure of staying here and wrote a full review here.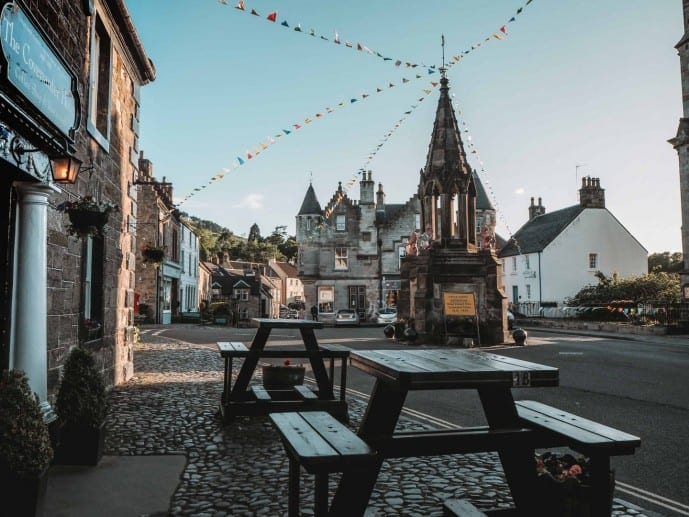 Interiors of Mrs Baird's B&B
I'm sorry to report that the interiors of the Covenanter Hotel aren't anything like Mrs Baird's B&B. It's entirely modern inside. The Outlander team didn't repaint or redecorate anything inside the hotel either to shoot the inside room scenes.
The interiors were actually filmed in Hunterston House of Clan Hunter in West Kilbride near Glasgow.
If you take a tour here, you can see the room which is instantly recognisable with the floral wallpaper and the door to the bathroom where Claire brushes her hair and curses "Jesus H. Roosevelt Christ!" (which is actually a wardrobe).
This is when they switched to Claire being in the Covenanter Hotel 'bathroom' window. With Frank and the ghost of Jamie looking up from outside by the Bruce fountain.
The reception of the B&B was also filmed in Hunterston. The team converted the top of the stairs! I paid a visit here on my trip so got to see it for myself. It's well worth checking out.
Read my complete Outlander guide for Hunterston House here!
Afternoon tea or dinner at Mrs Baird's B&B
Of course if you didn't fancy staying the night at Mrs Baird's B&B, you can always pop in for afternoon tea or dinner on your visit.
The Covenanter Hotel have a cosy restaurant, tea room and fully stocked bar for you to enjoy.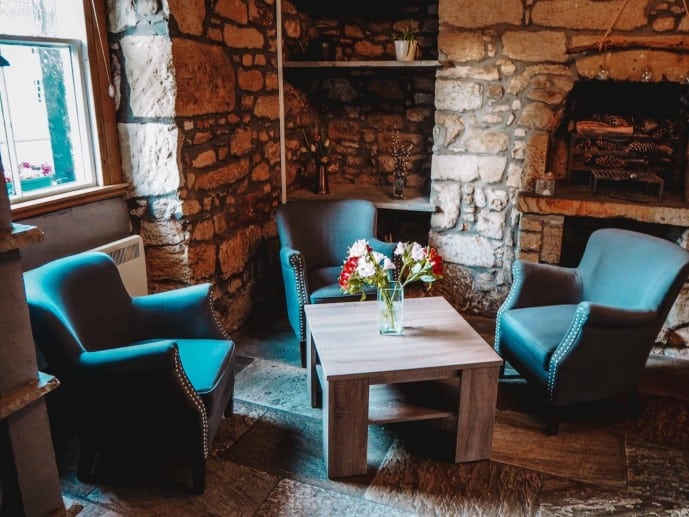 I had dinner in their restaurant which was mouth watering!
I treated myself to a glass of their rosé wine and their lamb shank which was served piping hot with potatoes and veggies.
They also have daily specials and it's well worth booking.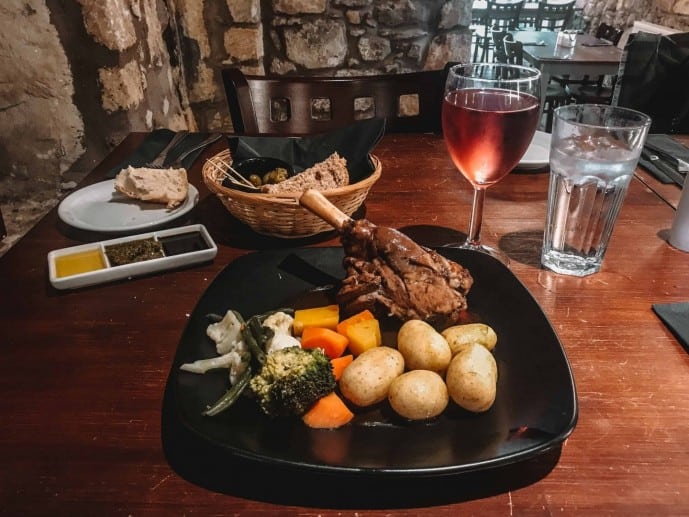 Look out for the 1940s memorabilia on your way in where you can find Inverness bus schedules and vintage tour posters which really adds to the charm.
Or, shop for some Outlander souvenirs in their gift shop. You can also find some signed posters from Sam and Caitriona and some Outlander themed decor inside.
I love the way that the Covenanter Hotel really embrace the theme, it makes the journey more special for fans!
3. Bruce Fountain
Even if you're only passing through Falkland and stop for this photo, I'd say your trip was worth it!
This is the fountain where the ghost of Jamie is staring up at Claire brushing her hair in Mrs Baird's B&B or the Covenanter Hotel. All the while Frank is looking on at Jamie doing so in the rain.
Apparently the ghost of Jamie mystery will all be revealed in Diana Gabaldon's last novel. So, until then it will remain an enigma!
The Bruce Fountain in Falkland hasn't changed much aside from a bit of black rubber being placed over the red lions. Remembering the cinematography of this scene, the colours are quite mute, so I guess they would look too bright for the scenes.
Completely in contrast to the series, I arrived on a beautiful summer's evening so they had some cute bunting flying from the fountain and also it wasn't raining, it was bright blue skies for the evening.
So, I had to wait a while for the sun to go down for soft lighting. I think I captured these around 10pm.
In June, it actually doesn't really get dark in Scotland until around 1am and even then it's more like a twilight indigo, so I guess I'll come back in winter to get the night photos haha!
Whatever time of day or year you choose visit, it's an awesome spot for a photo and a must for Outlander fans.
4. Inverness Apothecary / Falkland Palace
Even if you're just here for the Outlander spots, Falkland Palace is well worth your time for a visit.
Its owned by the National Trust for Scotland and was famously favoured by Mary, Queen of Scots as a House of Stuart royal residence. It's a huge palace and you could get lost in it's walls and gardens for the better part of an afternoon.
It may surprise you to know that Falkland Palace is also a Season two Outlander location. It acts as the apothecary in the episode "The Hail Mary" in 1745 Inverness.
Claire is after more medical supplies and stumbles upon Mary Hawkins in here who is asking for more laudanum for nursing Alex Randall.
The National Trust for Scotland have actually transformed the room into an interactive apothecary, being inspired by the Outlander series. You can visit for a hands on experience where you can learn all about ailments and treatments through time!
5. Farrells furniture store / Fayre Earth
One of the first scenes we see in Falkland or 1940s Inverness is Claire looking in the window of Farrells furniture store at a blue vase. She's reminiscing on how she has never had a home to put one in.
Although it's Farrells in the series, the shop is actually called Fayre Earth which is a gorgeous Fair Trade gift shop selling handicrafts. You can visit their Facebook page here.
Staying true to the Outlander theme, you can pose in the window looking in at some blue vases they have placed there for fans. Just remember to pop in and support their business! They actually have some Outlander themed gifts to buy.
One of my biggest regrets was getting here late and leaving early, so I couldn't explore any of the shops around the village. But, next time I will aim to spend more time here.
In series 2 Farrells furniture store then becomes Farrell & Sons when Claire visits the town to find Jamie and remains so in season 4.
6. Campbell's Coffee Shop
Although it doesn't play a starring role in the series it does transform into a few shops that you'll recognise in the backdrop of the Inverness scenes in Outlander. In the first series Campbell's store was transformed into a green grocer's.
In the second series, Claire drives passed Campbell's coffee which was transformed into a 1960s tea shop.
But, nowadays, it actually is Campbell's Coffee House & Eatery in Falkland square and you can pop in for your caffeine fix or a wee bite to eat while you're here.
7. Inverness County Records Office / Falkland Village Old Town Hall
The Falkland Village Old Town Hall which is currently for sale on my visit (any takers? Lol) doubled up as the Inverness County Records Office.
This is when Claire, Brianna and Roger were on the hunt for Jamie. It's here they find the deed to Lallybroch and commence the search for records for any mention of his name.
The building is derelict and you cannot go inside but at only a few metres distance from The Covenanter Hotel it's hard to miss it!
8. High Street, Brunton Row, Sharp's Close and Rotten Row
After you've wandered around the square, taking as many Outlander photos as you can fit in, it's time to head out of the square and into Falkland village streets.
There are many that you will recognise around the area so I'll give you a few pointers of what they were used for in the series.
Brunton Street, Sharp's Close and Rotten Row
In season 2 the Outlander team used Falkland to film 1745 Inverness but in the streets residing around the village.
Some of the houses didn't need to be altered, save a lick of paint. Brunton Street was used as the street where Black Jack Randall secure's lodgings for his sick brother Alex Randall and accosts Claire in the street asking her to save him.
At the end of Brunton Street you'll see the mouth of Sharp's Close which is where Claire and Black Jack Randall have their argument and she blackmail's him into telling her where Cumberland's army is.
Then, walk down Rotten Row to follow in the footsteps of Claire and Murtagh when he offers to take Mary's hand.
High Street
If you walk down Rotten Row this will take you back into the square, you will recognise the scene in the High Street just past Fayre Earth's store.
If you remember in Season 1 Claire is walking back towards Mrs Baird's B&B crossing her arms from the cold.
You can do the same pose here, just watch out for the traffic passing by!
Want to see extra locations from Outlander's Inverness?
So, that's all the Outlander scenes that feature the picturesque village of Falkland but there are plenty more to explore if you want to see more scenes from 'Inverness'.
In the first episode, you will see the Reverend Wakefield's house and also the famous Craigh Na Dun so I'll let you in on the secrets on where to find them here!
Reverend Wakefield's House and Mrs Baird's B&B Interiors / Hunterston House
If you were curious as to where the interior's of Mrs Baird's B&B were filmed, it's actually Hunterston House near West Kilbride in Glasgow.
Their castle is the seat of Clan Hunter, but the house nearby play's a part in many notable scenes in 1940s and 60s 'Inverness'.
Interior of Claire's and Frank's Room in Mrs Baird's B&B
If you're heading on a tour of Hunterston house, one of the bedrooms inside you will recognise. It has the exact same wallpaper as the room in the series.
The decor in the room isn't the same as the family have a four poster bed and a number of personal items around but it's definitely the room that was used as the kind housekeeper, Mary, showed me the photos of the production.
You can see the window where Frank looks out at the 'square' having seen a ghost that was covered up in filming to hide the fact it looks out onto countryside. There is a door that should lead to the bathroom at Mrs Baird's B&B where Claire brushes her hair, but this is actually a storage cupboard.
Reception at Mrs Baird's B&B
The top of the stairs at the Hunterston house was transformed into the reception at Mrs Baird's B&B where Claire and Frank check in and discuss the festival of Samhain in Inverness.
A lot was changed to make it appear like a reception and a desk was added with the log book for guests checking in. There was also some taxidermy heads and paintings placed around but the bookshelf and paint are the same colour.
Reverend Wakefield's House
The lounge of Hunterston House is the most recognisable with the iconic wooden panels as the Reverend Wakefield's sitting room.
This is where Frank and the Reverend sit to have tea and are looking through his records for Frank's ancestors who we later meet in the series as Black Jack Randall.
You can also visit the library where Frank and the Reverend and looking into more books and discuss that there were four Jacobite risings. Head into the kitchen to see where Claire receives her tea reading from Mrs. Graham.
The gardens were transformed so that Claire could read through the history books looking for Jamie in season 2 and you can visit the scene of the potting shed where Frank destroy's everything in sight in a rage!
Other parts are the room where Claire tells Frank the whole story of her time travels over a stiff dram and you can visit Suzette's attic room which was part of their Paris residence in season 2 as well.
Click here to read my complete Outlander guide for Hunterston House with all the details
Craigh Na Dun / Kinloch Rannoch
Although in the series Craigh Na Dun is only a few miles away from Inverness, The filming location is actually in Rannoch Moor in Perthshire.
But, I'm sorry to tell you that there aren't any stones placed there. The Outlander team built these specifically for filming on Kinloch Rannoch Moor.
No matter, as soon as you pull up to the farm you will recognise the mound and the trees where they placed the stones that Claire travelled through.
The views are also exactly the same, you can see the loch from there too. Why not have fun and practice the dance of the druids?!
The farmer has kindly provided a car park for fans outside of the moor, so please use this when you visit. As instructed, use the pedestrian gate and not the cattle grid entrance.
Also, as this is private land and a working farm, please respect the residence by not disturbing the family that live there or scaring the animals that graze in the area.
It's not set up as a tourist attractions so there are no facilities and there is an awful lot of animal poop, nettles and rocks around so take care while visiting.
Click here to read my complete guide for Craigh Na Dun and how to find this location!
Craigh Na Dun Sign
If you head up the road just five miles of here you can also find the spot where they filmed the Craigh Na Dun sign at the entrance of Braes of Foss car park.
Or, bring your own sign along like me. Don't worry, I didn't leave it there and no rocks were harmed in the making of this photo!
Outlander locations around Edinburgh
There are so many locations you can visit in Edinburgh to experience Outlander in and around the city- find my whole list here!
On the famous Royal Mile you can relive that emotional scene where Claire reunites with Jamie on Carfax Close, or visit the spot where Claire meets Fergus again after twenty years at Tweeddale Court.
Follow in their footsteps and save Mr Willoughby at The World's End Tavern. An afternoon tea at the Colonnades will also transport you to Jamaica as the interiors of the Governor's mansion in series 3 or fly to Claire's Boston medical school at Summerhall.
Read more: Outlander walking tour of the Royal Mile Itinerary (+ Map)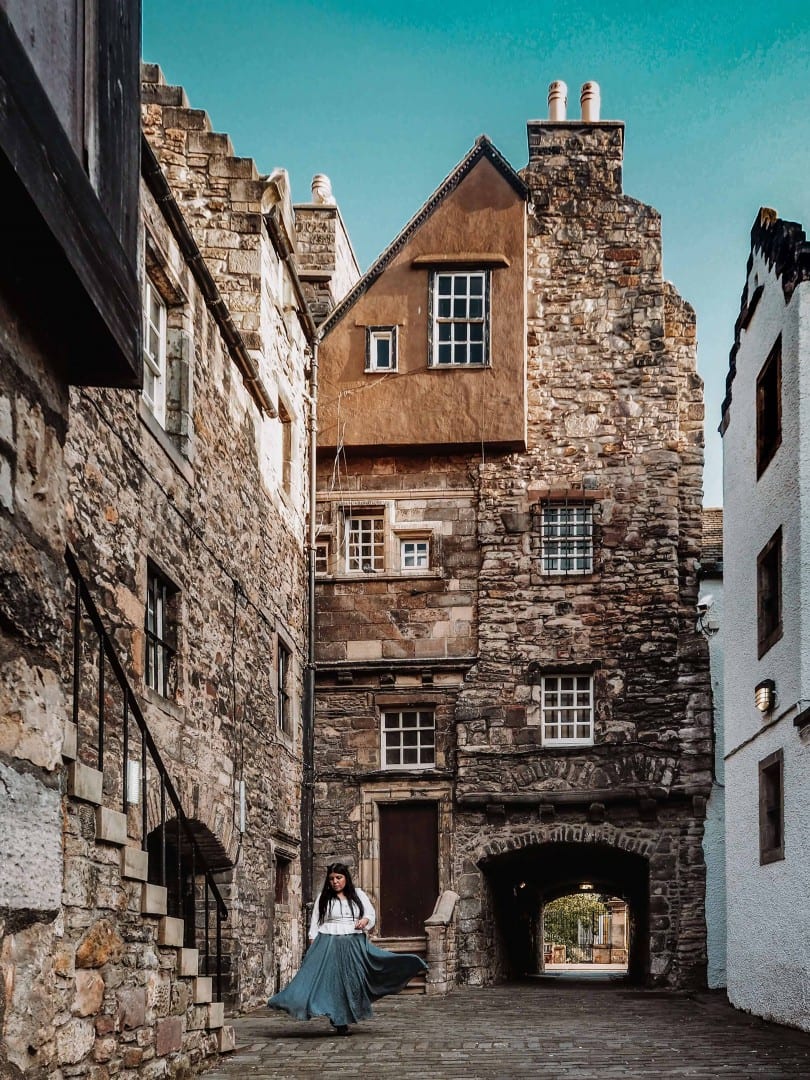 Craigmillar Castle will allow you to see inside Ardsmuir Prison and you'll find a season one argument location at Roslin Glen Gunpowder Mills.
See where Jamie and Claire were wed at Glencorse Old Kirk, visit Helwater Estate at Gosford House and Preston Mill's historic water wheel featured as Lallybroch Mill in season one.
Become the new Laird or Lady of Broch Taurach by visiting Midhope Castle that featured as Lallybroch, Abercorn Church that featured in season 4 is nearby or Hopetoun Estate has many locations in the house and grounds including the Duke of Sandringham and his red room.
See where Jamie was flogged at Fort William at Blackness Castle and Linlithgow Palace will transport you to the dreaded Wentworth Prison.
Bo'ness railway station played the 1940s station where Claire and Frank said their goodbyes and Culross featured as Cranesmuir with their West Kirk as the Black Kirk.
Doune Castle further on featured as the Mckenzie clan home of Castle Leoch, Deanston Distillery has a tour where you can see Jared's wine warehouse in La Havre and Drummond Castle gardens play the royal gardens in Versailles.
Or, click here to learn How to find the Outlander Witness Trees from Fraser's Ridge!
Are you travelling to Glasgow? Click here to see all the film locations in the city! Or, if you're really keen find my complete list of 90 Outlander locations in Scotland and worldwide!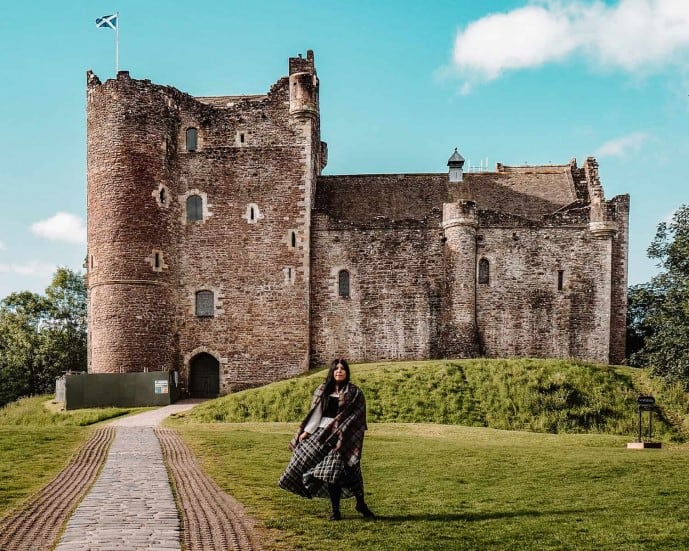 Save these Falkland Outlander locations for later!