I rarely write about Starbucks on my blog but I feel that Starbucks Opera Paris has to be the exception.
Inches away from the majestic Palais Garnier, the home of Phantom of the Opera, you can treat yourself to a coffee in a setting made for royalty.
You'll be surrounded by marble columns, colourful murals, gold gilded walls, sparkling chandeliers, and botanicals. It's majestic and like something from a fairytale.
Here is how to visit Starbucks Opera Paris, the most beautiful Starbucks in the world!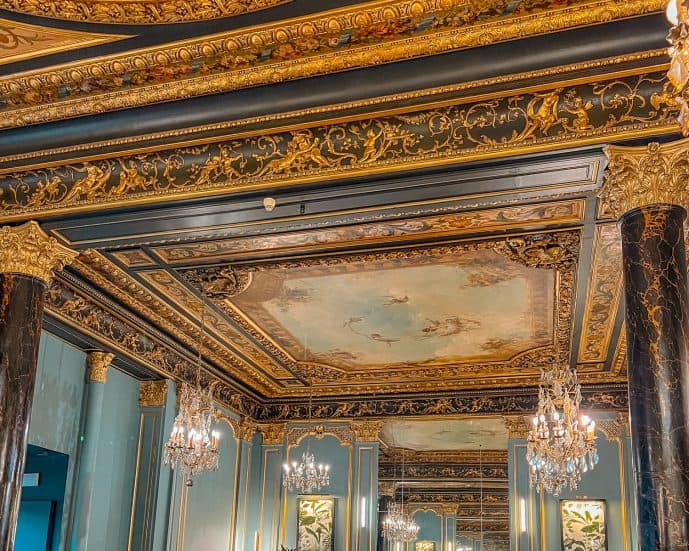 Introducing Starbucks Opera Paris
Starbucks Opera is a majestic setting for the Seattle-based coffee chain that purchased the store in 2006.
The original building and courtyard date back to the 17th century and used to be a department store selling fabrics and textiles.
When Starbucks renovated the historic building they were very careful to preserve many of its original features.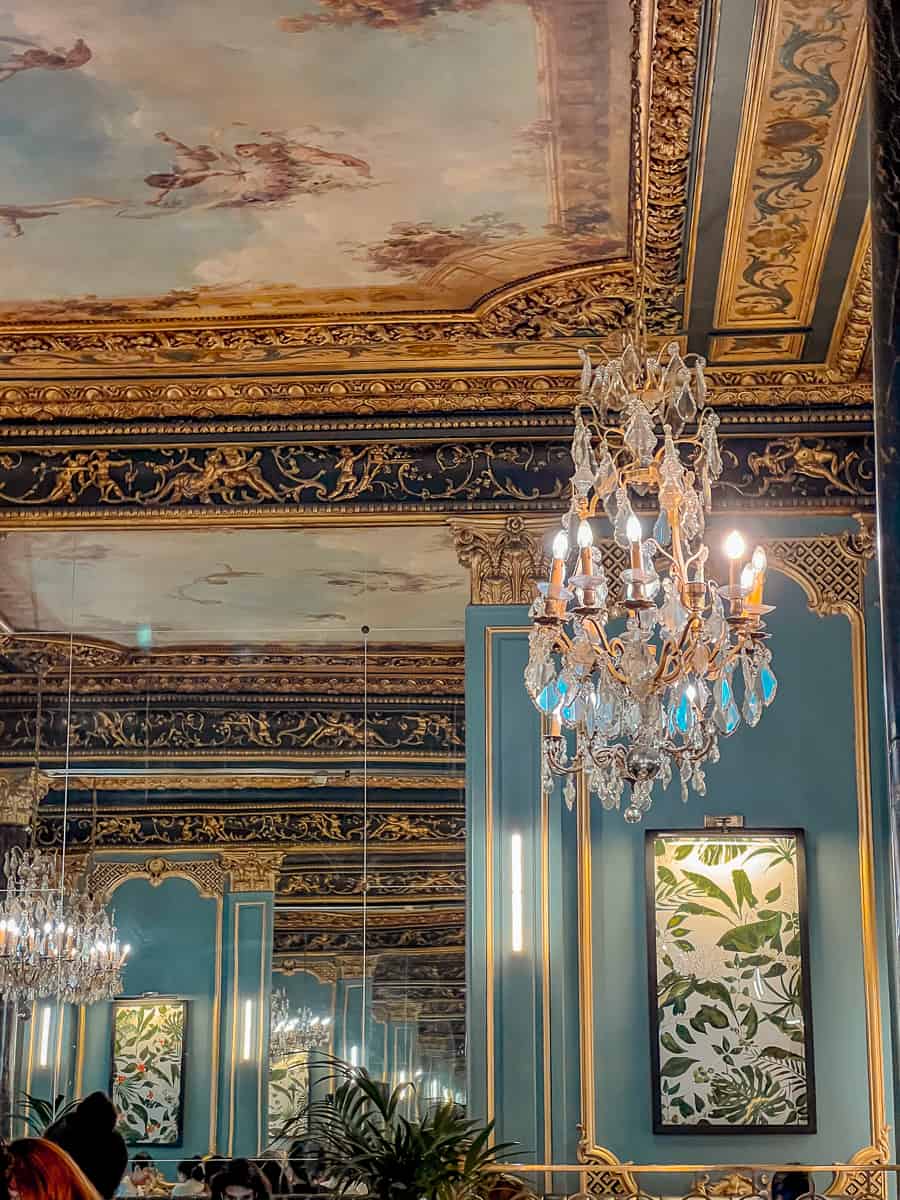 The murals on the walls and ceilings date back to the 19th century and were beautifully restored. They also added some modern fusions of bespoke portraits and Arabica coffee plants.
Today, this incredible café on Boulevard de Capucines is known as 'the fancy Starbucks in Paris' as it looks like a mansion for royalty.
Admittedly, at first glance, it doesn't look like much. But, as you go further inside you will find a grand setting worthy of a room at the Palace of Versailles.
Is this the Prettiest Starbucks in the world?
Many people say that this is the most beautiful Starbucks in the world and, after my visit, I have to agree.
It's not every day that you get to sip your caramel frappuccino surrounded by so much splendour.
Indeed, this coffee palace often goes viral on social media due to its stunning interiors and many people want to know how they can visit the City of Love.
Where is the fancy Starbucks in Paris?
The fancy Starbucks in Paris can be found on 3 Boulevard de Capucines and is almost right next door to Palais Garnier.
Opera is in the 9th arrondissement of the city and is a very chic area with five-star hotels and designer boutiques.
There are a lot of Starbucks in Paris and a couple dotted around the Opéra area. So, make sure to get the right one.
The address is 3 Bd des Capucines, 75002 Paris, France. Click here for a Google Pin!
How to visit Starbucks Opera in Paris
Paris is best explored using a mix of public transport and walking. Fortunately, there is a metro station nearby.
You can alight at Opéra station on either Line 3, Line 7, or Line 8 of the Paris Metro.
From the station exit, it's just a 2-minute walk (110 metres) to the Starbucks on Boulevard des Capucines.
What to expect when visiting Starbucks Opera
I have to admit when I first got to the Starbucks Opera on Capucines, I asked myself 'Am I in the right place?!'
The outside is painted dark granite with a black Starbucks sign and black umbrellas. It didn't look like a fancy place from the exterior.
Even when you went inside the ordering area was pretty minimalist with black walls, a skylight, and steel features.
But, as soon as you look beyond the counter, you will gasp at how pretty this Starbucks is! You'll see the chandeliers shining in the distance.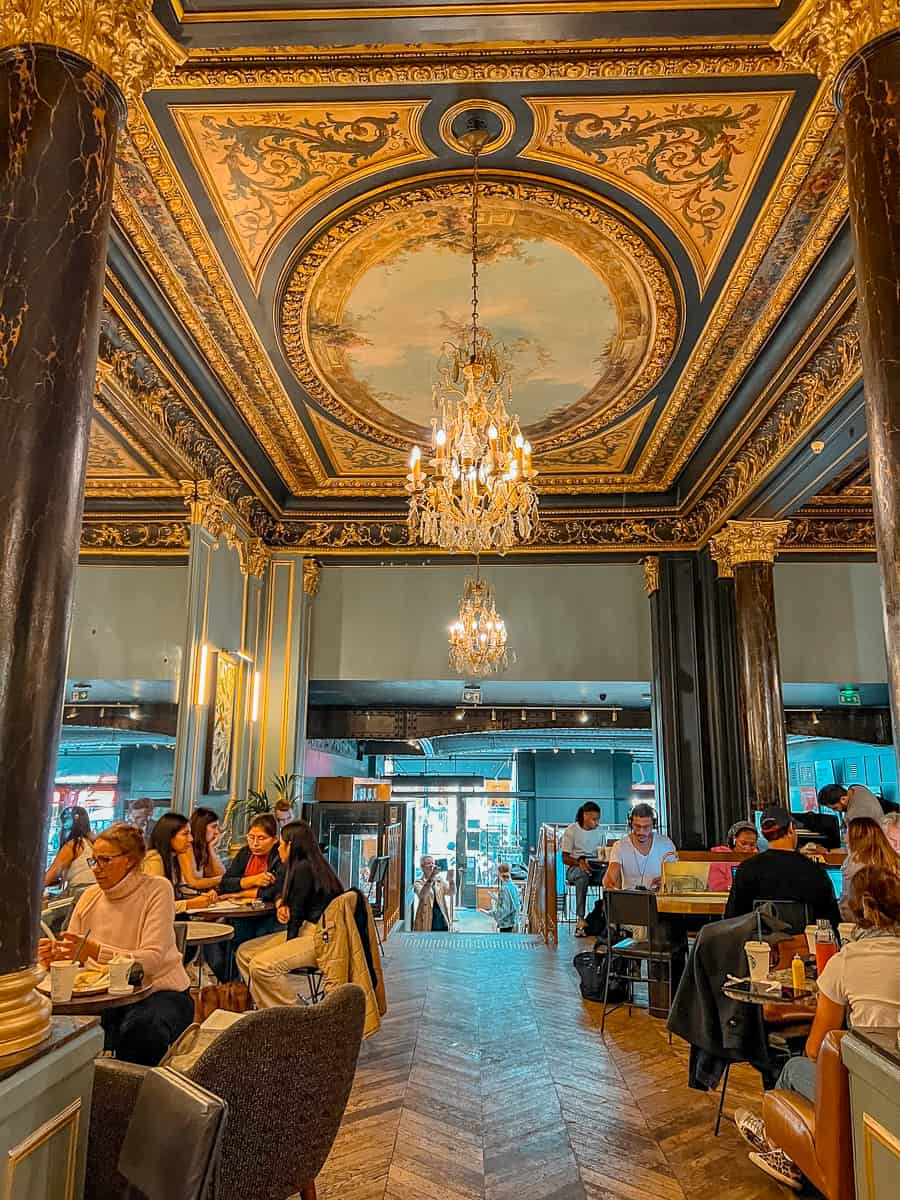 Once you've finished your drink order, you can head up the stairs and have a look around. There are plenty of rooms here and all are stunning.
There are lots of seats to relax on, including sofas and a huge long table that is a workspace area. It was full of people remotely working or studying on laptops.
Depending on when you arrive, it can be quite difficult to get a space. But, be patient and a table will eventually open up.
Then, you can feel like royalty whilst you sip on your brew! Honestly, I've never been in such a pretty Starbucks and it felt like a dream.
Is visiting Starbucks Opera worth it?
Yes, it is. I usually don't recommend a chain on my blog as I believe in supporting local businesses and there are plenty of incredible cafés in the city.
But, the Starbucks Opera is no regular Starbucks. It's a grand coffee palace that is a bit of a novelty and is definitely worth checking out.
It's also the perfect place to relax before or after a tour of the opulent Palais Garnier as it's right next door.
Don't miss a visit to the fancy Starbucks in Paris. Although it was busy, I still loved this enchanting setting for a caffeine fix.
Starbucks Capucines opening times
Starbucks Opera opens from 7 am and stays open until 10 pm on Monday to Friday.
On Saturdays, they open from 7.30 am – 11 pm, and on Sundays, it's from 7.30 am – 10 pm.
For a more peaceful visit, I would get here for opening time as it does tend to get very busy during the day and evening times.
Also, remember this is 'Paris time' so take the opening time with a pinch of salt. It may not open at exactly 7 am sharp.
My top tips for Starbucks Opera Paris
There are two Starbucks in Opera – You want the one next to Palais Garnier on 3 Boulevard des Capucines.
It will be BUSY – this Starbucks is always packed with people as it's stunning. The queues are really long and you may be waiting for a table. Just be patient and one will eventually show up.
It's a remote working space – lots of people come here to remotely work but it looked a little stressful for places. There weren't many working plug sockets for laptop cables.
Don't expect the same drinks/service as the USA – This is a Starbucks in France. They may not understand your regular drink orders from the US and drinks/food may look different. The menu is in French/English. But, If you know any French it will go a long way. I saw a lady get very angry at the workers here for this very reason. It's simply not going to be the same.
Things to do around Starbucks Opera Paris
There are many amazing places around Starbucks Opera that you can visit afterward in this chic area of the city.
Here are some of the places I would recommend.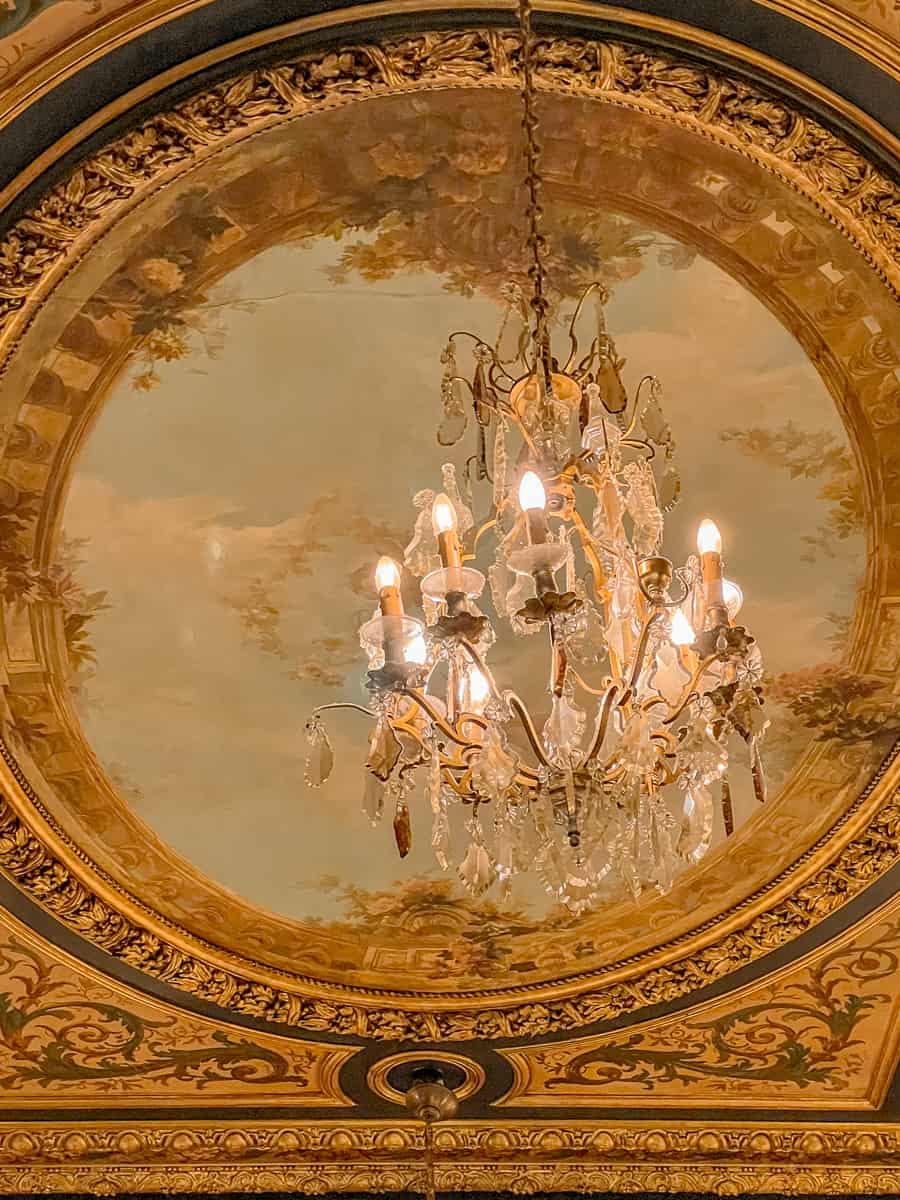 Palais Garnier
Right next door to Starbucks Opera is Palais Garnier, the home of The Phantom of the Opera.
It was built for the Paris Opera from 1861 to 1875 on the orders of Emperor Napoleon III. It's now one of the most famous opera houses in the world.
It was used as the setting for Gaston Leroux's novel The Phantom of the Opera as the Phantom's Lair. It was also used to inspire the Andrew Lloyd-Webber musical and the movie adaptation.
You can watch a performance here but visitors are welcome to take a tour around the building. It's one of the grandest places in Paris and you can purchase entry tickets here.
Fair warning, this place can get very busy and they have an extremely aggressive security team who refuse entry to many people.
Don't bring your DSLR camera, tripods, or a fancy dress or you'll be kicked out like a criminal.
Galeries Lafayette Rooftop
One of the best free rooftop views in Paris can be found at the very top of Galeries Lafayette.
If you weren't aware, it's a very famous luxury department store in the city that has an iconic glass dome inside.
If you make your way up to the 7th floor at the very top you'll be treated to a panoramic terrace with views over the Palais Garnier and Eiffel Tower.
There is a restaurant up here called Créatures as well. In the summer, they usually have a pop-up bar, deckchairs, and events.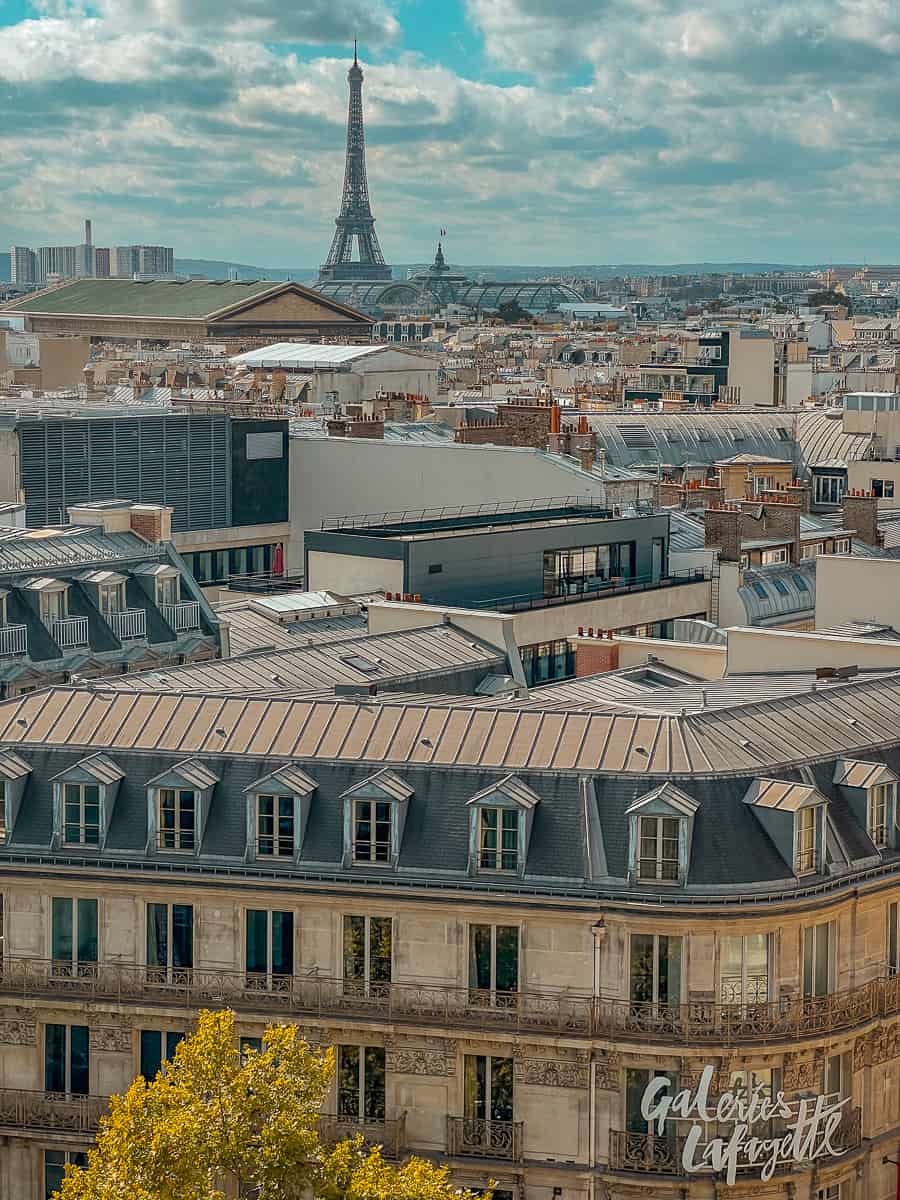 Galerie Vivienne
Galeries Lafayette is extremely busy but a hidden gem you may prefer is Galerie Vivienne which doesn't see as many crowds.
It's a stunning shopping arcade and passage that was constructed in 1823 and is completely free to browse.
The interiors are stunning and you can explore many gorgeous boutiques, art galleries, and the famous Librairie Jousseaume bookshop.
I was a little sad that the Instagrammable 'book window' is now gone. The new owners of the antique store decided to remove it.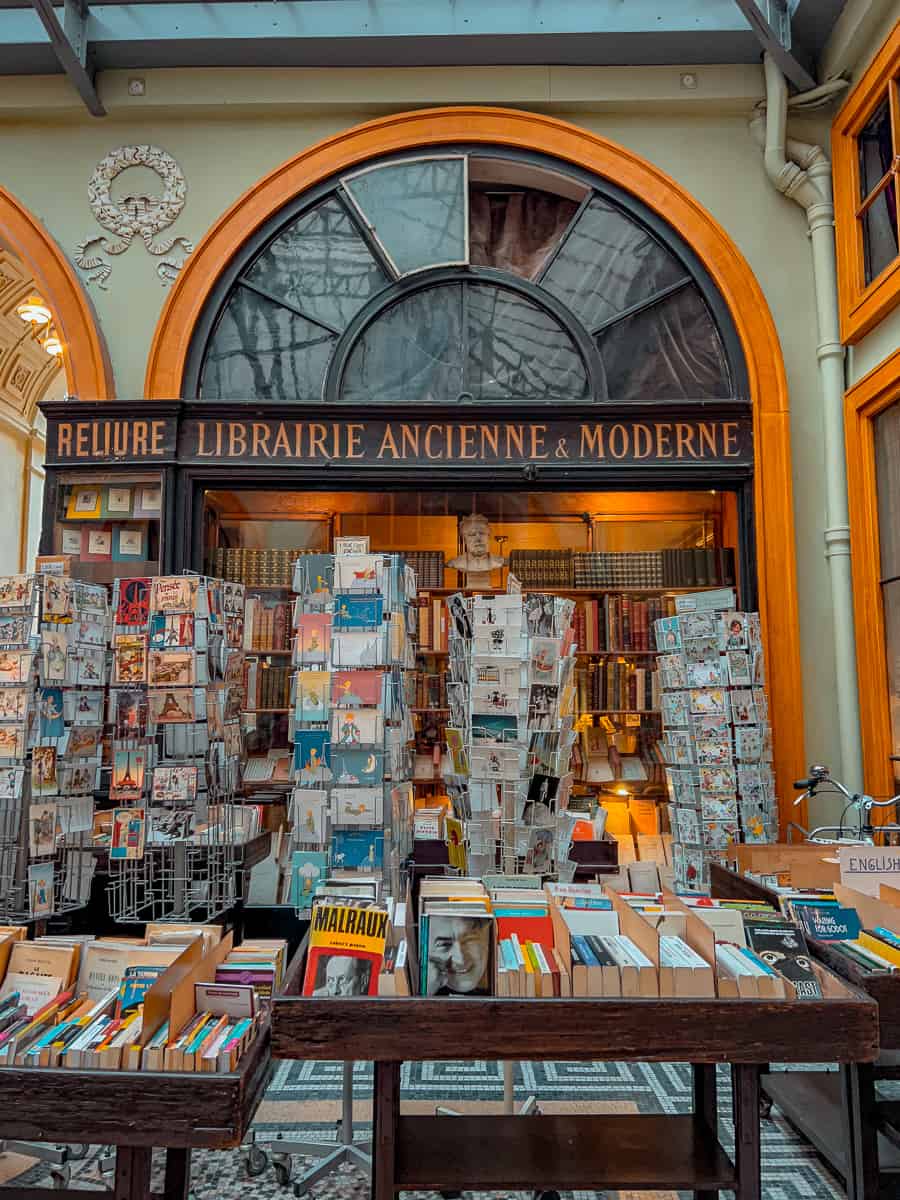 Palais Royale & Louvre
Palais Royale is a beautiful former royal palace that was built for Cardinal Richelieu from 1633 to 1639 by architect Jacques Lemercier.
Yes, that's the same guy from Alexandre Dumas's 1844 novel, The Three Musketeers!
Today, the palace is now a series of government buildings but the park that lies within it is free to visit.
As part of your visit, you can see the shopping arcades, Palais Royale courtyard, and the controversial black and white column display Colonnes de Buren.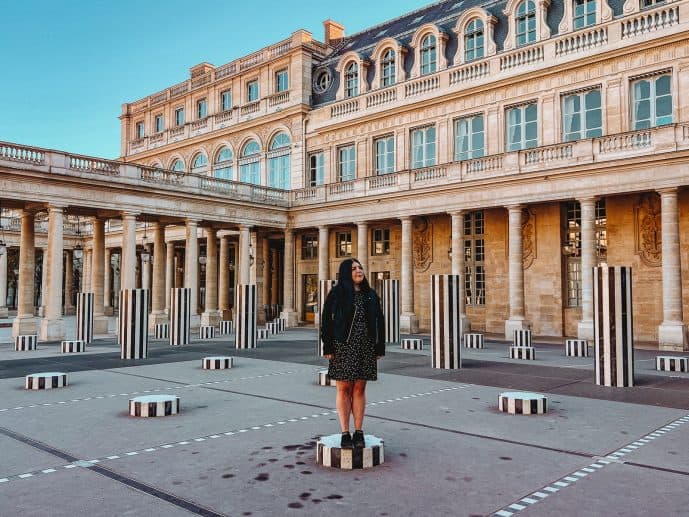 Just next door, you can visit the Louvre. The most famous art museum in the world. Inside, you can see masterpieces like the Mona Lisa and Vénus de Milo.
Even if you don't go inside the museum, the courtyard is worth seeing for the incredible architecture and is free.
You can visit the top of the iconic Louvre Pyramid, have coffee at Café Marly, or admire the Arc de Triomphe du Carrousel.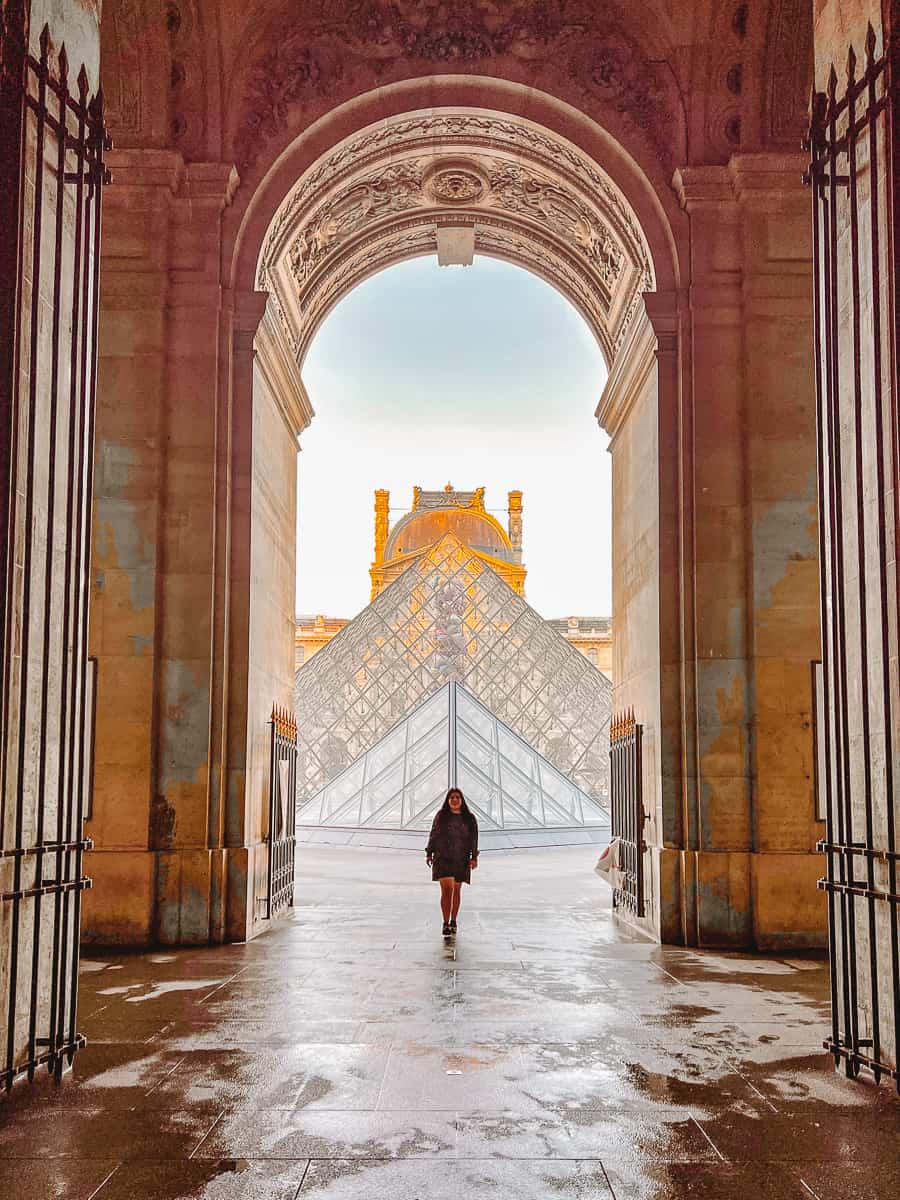 Jardin de Tuileries
Jardin des Tuileries sits between the Louvre and the Place de la Concorde. It's another free public park.
It was ordered to be created by Catherine de Medici as an Italian garden for Tuileries Palace in 1564.
It then acted as a French formal garden for Louis XIII and Louis XIV and it eventually opened to the public in 1667.
This was at the request of Charles Perrault who was the author of Sleeping Beauty, Red Riding Hood, Cinderella, and Puss n' Boots amongst other famous fairytales.
Since the French Revolution in the 18th century, Parisians and tourists have visited this park to meet friends, walk dogs, take a stroll, and relax in the city.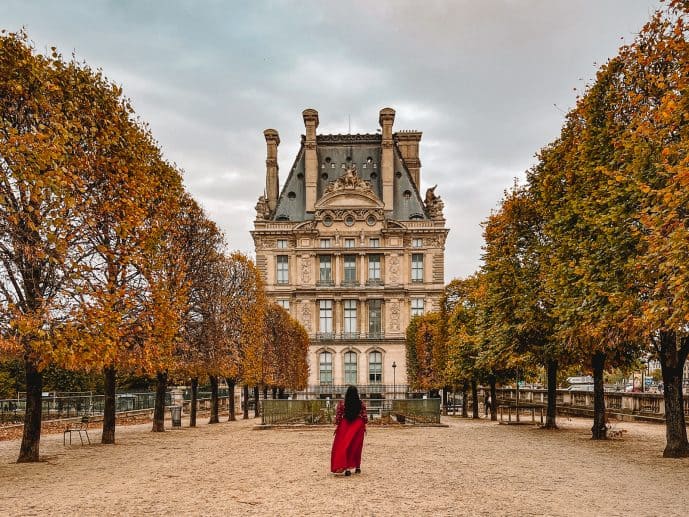 Book tickets and tours for Paris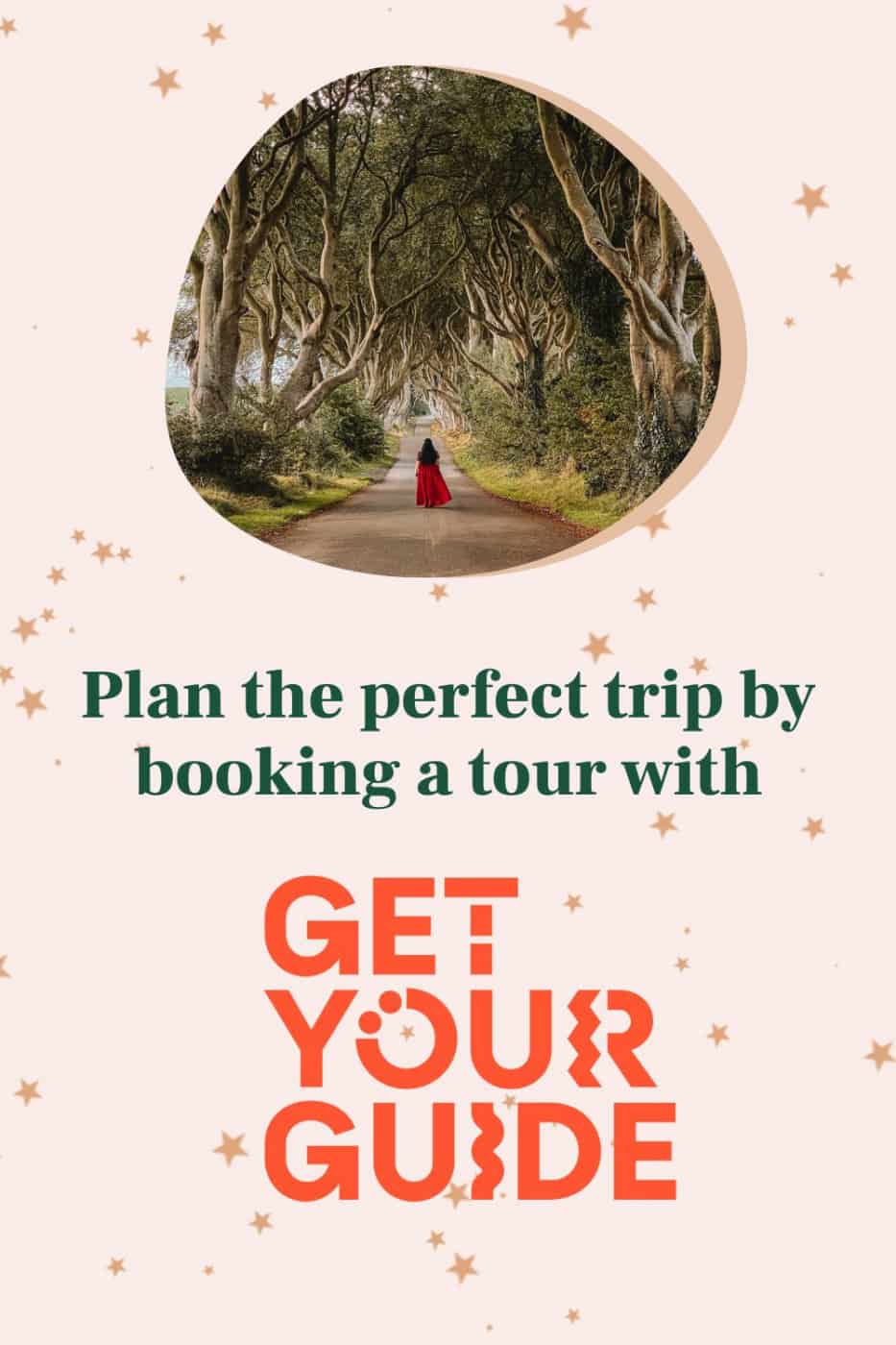 Read more of my Paris travel guides
Why you must visit Saint-Chapelle – the Jewel Box church
How to get an empty Versailles Hall of Mirrors Photo
A complete Pink Mamma Paris review – is it worth it?
Visit the Medici Fountain in Jardin de Luxembourg
How to visit Marie Antoinette's Queen's Hamlet in Versailles
How to visit Merlin's Camelot Castle aka Chateau de Pierrefonds
50+ Instagrammable places at Disneyland Paris
25+ Things to do in Disney Village Paris
Don't miss the Disneyland Paris Dragon
Captain Jack's Restaurant Review
How to eat at Bistrot Chez Remy Ratatouille Restaurant
How to find Jim Morrison's Grave at Pere Lachaise Cemetery
Save the Fancy Starbucks Opera in Paris for later!