Faringdon Folly Tower is truly an icon on the Oxfordshire skyline that's tucked away in the mysterious Vale of the White Horse.
Although nowadays it's a much-loved building that's visited by many. When it was originally built, it was embroiled in controversy and constructed as one big tease.
The brainchild behind the folly was the eccentric Lord Berners.
He not only had a giraffe as a pet and painted his pigeon flock pink; he built this folly with no purpose, simply to annoy the residents who opposed it! It was the last great folly tower built in Britain and you can still visit Berner's surreal legacy today perched on top of Folly Hill.
A mound that was originally under the sea millions of years ago and has since seen the likes of Oliver Cromwell.
As well as visiting the tower, there are all sorts of magical things to find in the Folly Wood surrounding it. Including curious sculptures, abandoned pianos and pointless bridges!
Here is an essential guide for visiting Faringdon Folly Tower and 18+ quirky things to find around it.
What is the Faringdon Folly Tower?
The folly is a part classical, part gothic tower that is 140 feet high and its lookout provides spectacular views across the Vale of the White Horse.
It was built by Lord Berners, the 14th Baron Berners, in 1935 and was the last major folly to be built in Britain.
The architect was Lord Gerald Wellesley, the 7th Duke of Wellington.
When Berners was asked exactly why he built the tower, he responded that "The great point of the Tower is that it will be entirely useless".
This comes as no surprise as Lord Berners was quite a curious character that did a great many surrealist things just for his entertainment in baffling people.
Some say that this was a frivolous waste of money and I'm sure Berners would have delighted in that fact!
Read more about this Faringdon's most famous resident Lord Berners here
Lord Berners and the story of Faringdon Folly Tower
The story goes that one day Lord Berners was walking with his companion Robert Herber-Percy on Folly Hill and they both said that "this hill needs a tower".
As soon as rumours spread around the town like wildfire, there was a public outcry and the people of Faringdon were annoyed that Berners wanted to build it.
This only encouraged the Baron even more and surprisingly, against all odds, he gained planning permission to build it! Based on the strict condition he would only build it 3 feet higher than the woodlands.
He commissioned Lord Wellesley as the architect to build the tower in the Gothic style. Knowing full well that Wellesley hated Gothic architecture. When Berners was away in Rome,
Wellesley went against his orders and started to build the tower in the classical style.
There were all but ten feet left to build when Berners returned home.
Naturally, the Baron was furious and demanded that the rest of the tower be built in the Gothic style.
So, that's why you see two types of architecture here. It was opened up in 1935 on Guy Fawkes night with a huge party and fireworks just to emphatically announce the tower had been built (much to the distaste of the townsfolk).
Berners was known for inviting the most prominent artists of the age to town, with the likes of Salvador Dali and Aldous Huxley on his guest list!
All the guests who were invited to attend were asked to bring effigies of their worst enemies to be burned at the stake! Berners gifted the tower to Herber-Percy for his birthday.
It's now one of the most beloved buildings and icons in Faringdon.
But, the mound on which it stands has its own interesting story, way beyond the chapters of the folly.
The history of Folly Hill
It may surprise you to know that millions of years ago, Faringdon was actually completely submerged under the sea!
Even today, geologists are finding fossilised 'sponges' that were formed in the Jurassic Period.
Over the course of 50 million years, the mound was formed from a sand dune out of a shallow coral reef in the Mediterranean!
It is for this reason, that the town officially registered their folly as a lighthouse! Why? Pointlessly and for no reason at all – in true Berners style.
Its high position was a favourite defense hill of many settlers including early men, Roman soldiers, Alfred the Great, and Empress Matilda in the Anarchy Civil War.
Her cousin King Stephen sacked her fortress here and Matilda barely escaped, only in her shift!
Later, the Civil War of the 17th century saw Oliver Cromwell stationed here. He and his troops were armed with cannons ready to destroy the town in an attempt to get Royalists troops to surrender.
They didn't succeed but did manage to destroy the All Saint's Church tower, you can still find the cannonball on display.
Back then, the woodlands were not there. It was to be planted in the 18th century by an infamous poet laureate of Faringdon…
Henry James Pye & planting Folly Wood
Henry Pye could possibly win an award for being the worst poet laureate in history but his wonderful legacy of the Folly Wood was a small act of redemption.
Pye was born in Faringdon and was the poet laureate for the mad King George III. He was the first royal poet to receive a fixed salary of £270 a year.
Usually, poets were paid in casks of Canary wine!
His birthday song for the king was so bad and chirrupy that a literary critic, George Steevens made a joke of him. He used the rhyme 'Sing a song of sixpense' to berate him with reference to 'four and twenty blackbirds baked in a pie' – the birds being the screeching choir!
Later, Pye planted a copse of Scots Pines on top of Folly Hill which still stands 200 years on.
This has been known as the most poetic act of his life. You may find the four and twenty blackbirds dotted around Folly Wood on your visit. This is in memory of him!
Faringdon Folly today
After Lord Berners built the pointless folly tower, it has been a much-loved part of the town.
Later on, during World War II, it would become involved in its last war as a base for The Home Guard.
For years, the tower and woodlands were the property of Robert Herber-Percy. It even had a sign that read "Members of the public wishing to commit suicide from this tower do so at their own risk"!
Another Frivolously Unnecessary Notice by Berners that has naturally been removed for being insensitive.
In 1985, two years before he died, he decided to gift the tower to the people of Faringdon. In 1986, it was registered as a Grade II listed building.
Nowadays, it's been fully restored and is open for the public to enjoy.
As well as a viewpoint, it's also a public space that can be rented for parties or events. You could even have a wedding here!
Along with being an icon for Faringdon, the tower is also a beacon and part of the town's identity.
During the Millennium, the tower became the only registered lighthouse that couldn't be seen from the sea.
Faringdon Folly is also a beacon of light at night time. The theme changes every year from March to October.
You can find a white star, flashing pink lights or maybe a searchlight beaming over the hill.
Can you visit the Faringdon Tower?
YES! The folly is run by the Faringdon Folly Tower Trust and is a tourist attraction that you can visit.
The tour will allow you to climb up the tower and look out across the amazing views of the Vale of the White Horse and Oxfordshire Downs.
The only thing is that the folly is not open all year as it relies on volunteers. So, you'll need to plan your visit carefully when it's open!
Faringdon Folly opening times
The folly tower is only open on selected dates throughout the year. You can climb up on the 1st and 3rd Sundays of the month between April and October.
On these days, it's open from 11 am – 5 pm. Faringdon Folly ticket prices are £3 an adult. It's £1 for children between 11-16. Children under 11 go FREE.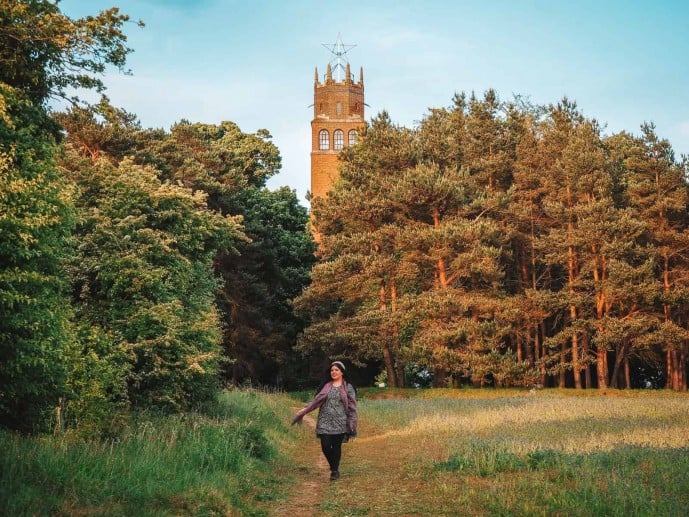 Things to do in Folly Wood
If you do miss the Faringdon Folly opening times, don't fret. There are plenty of things to do around Folly Wood that make it worth a visit.
It's open 24 hours a day and is completely FREE.
You can check out the tower even when it's closed which is pretty impressive. Can you spot the contrast of classic and gothic styles?
Also, make sure to look for the "please don't feed the giraffes" sign placed there by Berners.
The main draw for visiting Folly Hill would be the spectacular views. You get a great panorama of the town from here and you can also look over the Vale of the White Horse. You can just spot the white horse figure from here.
Why not come armed with a picnic and enjoy lunch with the backdrop of the countryside?
The best thing to do however would be the Faringdon Folly Wood Sculpture Trail.
You'll find around 30 sculptures all waiting for you in this magical forest. It's a great FREE activity that is lots of fun for all the family. Small and big kids alike!
As they're not easy to locate, you'll find that people are running all over the place trying to spot them. I even joined in myself.
Here is a complete list of all the sculptures in Folly Wood. Can you find them all?
18 amazing things to find on the Faringdon Sculpture Trail
1. Curious Ring of Toadstools
So, I definitely didn't get the memo that these curious toadstools in the middle of Folly Wood are here to help you find all of the sculptures…*facepalm*.
It would have definitely saved me walking around in circles trying to find them all. But, where would be the fun in that?!
Anyway, you can find all the names of the sculptures carved onto these toadstools and they will point you in the right direction.
However, I still found them extremely hard to find. So keep your eyes peeled.
2. Wise Old Owl
Perched high in one of the Scots Pines, you'll find the wise old owl statue who looks over the wood.
3. The Giant Willow Pie
A giant heart-shaped willow pie. A long time ago it had a wicker fence around it. Now, it's a heart-shaped mound of mud pie!
4. Lord Berners Giraffe
This took me forever to find. But, I was extremely excited when I did. Lord Berners had his own pet giraffe but remember not to feed it!
5. Please don't feed the giraffe sign!
You can find this curious sign on the Faringdon Folly itself! Lord Berners had a habit of placing pointless signs and notices around the town.
Just to confuse and tease people. You can read more about the Faringdon FUN trail (Frivolously Useless Notices) here.
6. Scary Hare
Not so scary to me, actually he looked quite sweet. But, maybe if you look a little closer his eyes do look quite fixed and menacing?
7. The Troll
Apparently, this is a dead troll. But, it looked quite alive and well to me, peering out over his log house and spying on people…
8. Pretty Heart
Just that really. Looks lovely in photos!
9. Cromwell's Cannon
Cromwell famously sacked Faringdon from Folly Hill during the Civil War with his ironically named 'Royalist Cannon'.
He damaged many buildings including the All Saint's Church. To this day, the church does not have a steeple.
You can see the cannonball that destroyed it on display. The cannon is placed facing the town, ready for another attack!
10. A pointless piano
Just as random as the man who created Faringdon Folly! A pointless piano sat in the middle of Folly Wood didn't surprise me in the least…
11. Fairly Useless Bridge
Just as useless as the piano is a useless bridge that's been placed right in the middle of the woodlands…serving absolutely no purpose!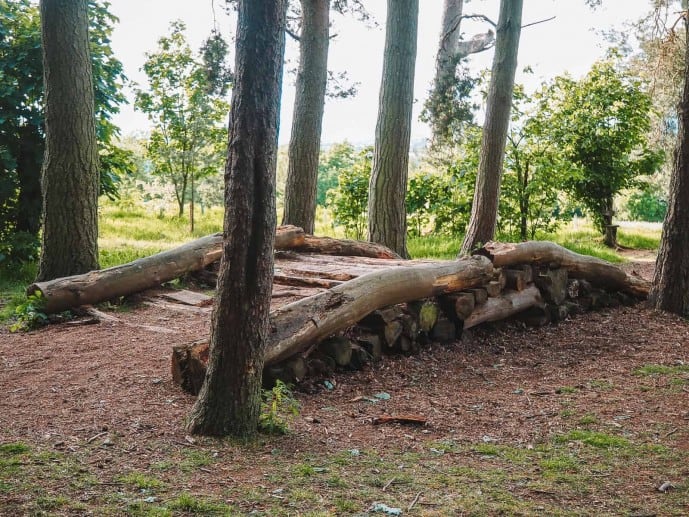 12. Faringdon Mystery Door / Fairy House
My absolute favourite part of this sculpture trail was the Fairy House / Mystery Door. It was just so sweet.
You could knock and see who's inside. Although it was a little broken on my visit.
13. The Mole
You'll find the Mole on the floor in Folly Wood. At first, I didn't realise what it was meant to be! It looks like a prehistoric fossil or something.
14. Four and Twenty Blackbirds
You'll probably notice plenty of blackbirds placed high in the trees all over the Folly Wood!
This is an ode to Benjamin Pye, the (quite terrible) poet laureate for the Mad King George III. Apparently, the 'Sing and Song of Sixpence' rhyme was written to berate him and his terrible skills.
You can find 22 birds in the Folly Wood, the other two are located inside the tower itself!
The one's that I could not find!
Okay, so there were a few I absolutely couldn't find. Some were really small and some were covered with the forest being quite full.
Other sculptures had been taken down or taken away for repairs (I wish I knew that before). So, I would definitely check the website if you cannot find some of the sculptures. It saves you running around in circles just to find they weren't there in the first place!
See if you can do better than me and find all of them;
15. The Buzzard – high in a leafy tree, so almost impossible to find! I just kept seeing the blackbirds
16. A Field Mouse – So tiny and difficult to spot. It could have been on any number of trees. Maybe use the toadstools to point you in the right direction?
17. The Hanging Bat – has been removed! Such a shame as it's one of my favourite animals. I'm not sure if it's coming back..
18. Lord Berners – was under repair on my visit. Usually, he's causing a nuisance in chopping down trees. Hopefully, he'll be back soon.
Top tips for visiting Faringdon Folly
Go in wintertime – sounds strange, but I actually think visiting Folly Wood would have been better in the winter or early spring. That way the trees wouldn't be so full and you could find the sculptures a lot better! But, that's just me…
The hill is steep – You will need to walk up from the town and then again up to the Faringdon Folly. It's only 400 metres from the bottom, but it's still quite steep. However, it is well paved.
Wear good walking shoes – on that subject, wear a good pair of walking shoes! Stilettos wouldn't be a good look up here, especially around the uneven Folly Wood.
Facilities & Toilets – There are no facilities up at Folly Wood. No toilets and no tea room or anything like that. If you did want a bite to eat or needed the loo, there are facilities nearby in Faringdon market square.
Bring a picnic – There are a few benches and areas set up for you to bring a picnic. Or, you could sit on one of the benches on the hillside and enjoy the views! Make sure to take your rubbish with you.
Dogs are free to walk here without a lead but.. please take your doggy bags with you! There are bins on the way up.
How to get there
Faringdon Folly Tower is located in the town of Faringdon in the Vale of the White Horse, Oxfordshire. This is 18 miles from Oxford and 13 miles from Swindon.
Driving: Once you reach the town, the Folly can easily be found via the postcode SN7 8EP which will take you to Stanford Road. You can park up here.
By Bus: If you're heading to Faringdon by public transport. There is an S6 Gold Service from Swindon to Oxford that stops at Faringdon. Plus a service from Wantage. There is no train station in Faringdon.
On foot: If you're heading there on foot from the market square. You just head up London Street from the Old Town Hall and then Stanford Road. The walk is well signposted the whole way. It will take you around 10 minutes walk from Faringdon square.
Parking for Faringdon Folly: There is a small dead-end road with some parking spaces on Stanford Road at the base of Folly Hill. But, this is quite often full due to it being a residential area. Failing that, there are two car parks near Faringdon market square. These are pay and display but they give you two hours FREE parking.
What else is there to do in Faringdon?
As well as the tower, Faringdon has plenty of amazing things to see and do. Some are just downright bizarre thanks to Lord Berners and his legacy.
You could explore the market square and find many more of his FUN signs. Also, look out for the dog level Yoicking signs that sent Herber-Percy's hunting hounds into a frenzy! They are all anagrams of Faringdon.
There is a delightful exhibition on Berners in the museum if you wanted to learn more about his life and just outside is the Portwell Bench with the Dali Diver.
You could visit the church without a steeple and see the famous cannonball or borrow a book from the Red Telephone Box Library.
Plus, there are plenty of shops and restaurants surrounding the Old Town Hall that sits on stilts.
Why not time your visit for the famous Faringdon Market that has been taking place here for the last 800 years?!
Click here to read my complete travel guide for Faringdon with a list of things to do
Where to stay in Faringdon
There are plenty of amazing places to stay in Faringdon if you wanted to extend your stay. Take a look at my top picks below;
Mollie's Motel – run by luxury brand SOHO House, Mollie's Hotel is a delightful contemporary boutique property with a vintage twist. Located in the nearby Buckland, it has spotless rooms and is home to Mollie's Diner and Drive-Thru. They serve up an American-style menu of burgers, shakes and fries! Click here to book.
Sudbury House – this charming award-winning hotel is set in a historic 18th century country home. Offering 50 contemporary rooms (some with clawfoot tubs!) you can feel at home in this comfy retreat. Plus, they have a popular lounge bar and restaurant on site. Click to enquire.
Read more of my related articles on the Vale of the White Horse
and Oxfordshire
Like it? Pin it!