Before my visit to Fez, my Pinterest boards and Instagram were filled with incredible architecture from Morocco.
I lusted after those gorgeous tiles, beautiful patterns, archways, and streets filled with colourful buildings and bazaars.
However, the one place I was most excited to see was the famous golden Fez Royal Palace doors. Known locally as Fes Palais Royal Dar El Makhzen!
Although you cannot go inside the palace, it is still worth a visit to see that spectacular set of arched doors in all different sizes at Place des Alaouites.
The architecture, including the brass details and tiles, will take your breath away and makes a fantastic photo opportunity!
Here's a complete guide for visiting Fes Palais Royal and the famous golden palace doors.
First up, what is Palais Royal Fes or Dar El Makhzen?
Dar al-Makhzen in Fes translates in Arabic to the 'House of the Makhzen'. It is the official Royal residence of the King of Morocco.
It is surrounded by high walls to protect the Moroccan Royal family and, if you can believe it, spans an area of 195 acres!
Inside the palace, you'll find a mosque, a cookery school, accommodation for the Moroccan Royal Guard, a library, and the College Royal! This college is the building that educates members of the Moroccan Royal family.
As well as all of those buildings, you'll also find a huge planned garden which was inspired by both Arabic and French influences.
The history of Fes Palais Royal
The Royal Palace of Fez was built all the way back in the 13th century, in the Fes el Jadid quarter of the city.
This area was established as the "New Fez" with the rise of the Marinid dynasty who took over the throne in 1276.
However, most of what we see today was a palace constructed from the 17th – 20th century. When the Alouite Sultans started to invest in the city.
The main reconstruction was in 1864, when Sultan Mohammed ben Abdallah replaced the old palace created by Sultan Muhamad IV.
This was when Morocco was controlled by France. Therefore they wanted the Sultan to move into the palace in support of the new alliance.
After Morocco gained its independence in 1956, Fes Palais Royal still remained as the official royal residence of the King of Morocco.
Shortly afterward, King Hassan II restored the entranceways and built a new grand square or Mechouar.
This was called Place des Alaouites and the fabulous golden gates were constructed here in 1969 – 71.
Who lives in Fez Royal Palace today?
The palace still acts as the residence of the Moroccan Royal Family today. Therefore, it is an extremely important symbol in the country.
It was the birthplace of the late King Hassan II and also the location of the royal wedding between King Mohammed VI and Princess Lalla Salma.
King Mohammed VI of Morocco currently lives in the palace with his family ever since 1999.
The Moroccan Royal family includes Princess Consort Lalla Salma. Surprisingly, she is the first wife of a Moroccan King to be publicly acknowledged and given a royal title (hence why she's not called a Queen).
However, she has not been spotted publicly since 2017! Many people call her the "ghost princess". Apparently, she asked for a divorce and went into hiding.
Also in the Royal family are The Crown Prince of Morocco Moulay Hassan and Princess Lalla Khadija.
Can you go inside Fes Royal Palace?
No, unfortunately, the palace is strictly closed off for visitors at this time. Even when the Royal Family is not in residence.
However, many people make a quick stop outside the palace to see the fabulous Fez royal palace doors in Place des Alaouites.
Even if you're not on a guided tour, I'd still recommend making a stop at Palais Royal on your Fez itinerary as no visit would be complete without it.
Visiting the famous Fez Royal Palace doors at Place des Alaouites
Unfortunately, unless you have a special invite to go inside the palace, the closest that tourists can ever get is the grand gateway outside.
In the 1960s, King Hassan II decided to change the entrance of the Royal Palace from the Old Mechouar. This used to be in the North by the Ville Nouvelle.
He built a new grand square (New Mechouar) called Place des Alaouites in the South and this is when the ornate gates to the palace were constructed in 1969.
This lavish gateway is considered one of the finest pieces of Moroccan architecture and showcases traditional craftwork.
You'll find that the huge gilt brass doors (Ormulu) are decorated in geometric patterns with intricate brass door handles. Also, there are beautiful blue mosaic tiles (Zellige) that surround them and carved Cedarwood.
There are seven gates in total in all different sizes with different tiles and designs. But, most people centre their attention on the largest three in the central gate!
These are by far the most impressive of all seven doors and you'll be amazed that they are HUGE in real life. Much bigger than you imagine from seeing photos of them on the front of Moroccan guide books!
Even if you're not into photography in a big way, you'll definitely want to get your camera out for this. They are so photogenic.
Fun fact – they use lemon juice to clean the gate and keep these gilt brass doors looking shiny! That's why lemon trees were planted in the square.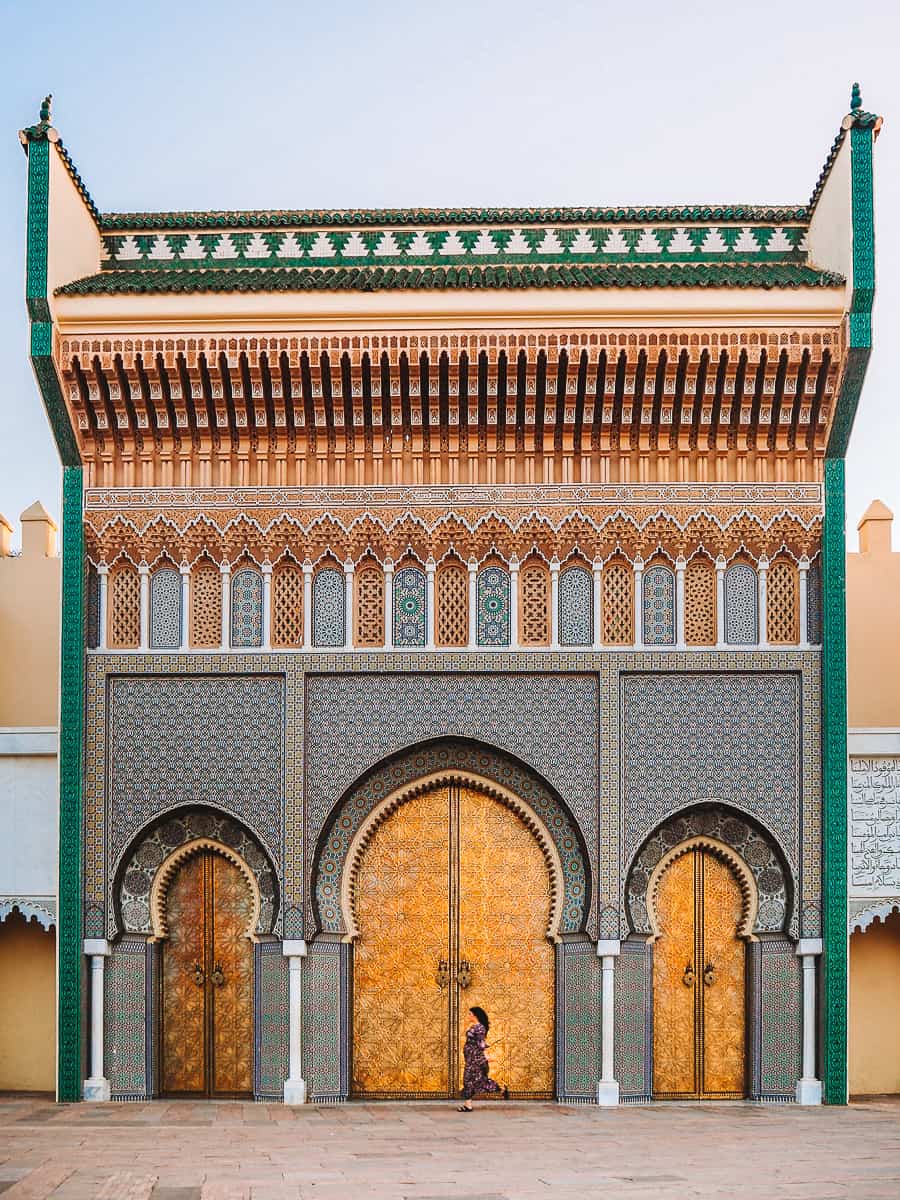 The best time to visit & photography tips
Although it's forbidden to enter the palace, you'll still find lots of tourists in front of the gates all day! So, if you want to get some photos without the crowds, I'd get here as early as possible.
I took my photos alone with a tripod and it was fine. But, there was no one around when I got there at 7am. The security guards didn't mind at this time. I can't guarantee it will be the same when there are crowds though.
This place is patrolled by Royal Guards 24 hours a day, every day. They may shout at you if you get too close to the doors. But, usually, they let you take photos with no issues.
Don't take photos of ANYTHING other than the doors. Not of the Royal Guard or of anything beyond the gates. It could see your camera being confiscated.
Videos of the gates also seemed to be okay. But, drones are forbidden in Morocco. If you somehow managed to bring one in (i.e. on the ferry from Spain), don't even try to fly it over the Royal Palace. It will not end well and could see you arrested.
If you do arrive and the square is really busy, there are more doors than just the main three. Take some photos of the smaller ones and wait for a lull in the crowds.
Opening times and entry fee
Fes Palais Royal is open 24 hours a day and 7 days a week. There are no restrictions on visiting the doors unless specified by the Royal Guards.
It's also completely FREE to visit the gate. So, it's a nice budget activity in Fes!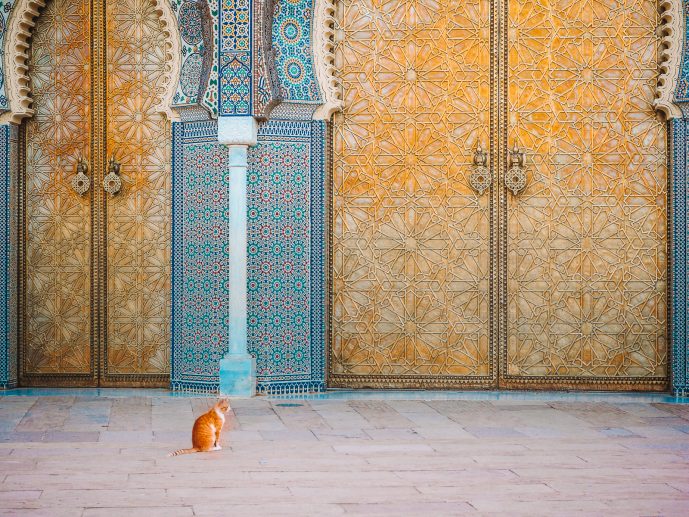 Where is the Palais Royal located in Fez?
The Royal Palace is located a little further out of the Old Medina in the Fes el Jadid quarter.
As most hotels and riads are located in and around the Old City, it will be a little bit of a walk to get there.
Also, keep in mind that the royal palace covers an area of 195 acres. There are two entrance gates to Fes Palais Royal.
The one with the huge golden gates is the Place des Alouites that can be found on the south side of the palace.
How to get there
The cheapest way to get to the Fez Royal Palace would be to walk. But, as before, it will take you around 30-45 minutes to get there.
As I knew I wanted to take photos early in the morning and I was travelling solo, I opted for a taxi to take me to the royal palace. It took just 5 minutes drive.
You can easily hop into any of the red taxis outside of the Old Medina and they can take you there.
They should have a meter on but it's almost impossible for tourists to negotiate the meter. So, barter your fare before you get inside.
I ended up paying around 10 MAD each way, which is only around £1.
Looking for more things to do in Fes?
Fes is not as glamorous as Marrakesh but it is richer in so many ways as you can get far more cultural experiences, like this one.
There are plenty of attractions hidden away in the Medina and beyond that, you could visit next.
Some of my favourite places were the Bou Inania Madrassa, The Chouara Tannery, and the viewpoint you can find in the Marinid Tombs.
Also, if you're looking for some amazing places to eat, you can start off at the famous Café Clock who are known for their camel burgers!
Click here to read my complete Fes travel guide with more things to do!
The best place to stay in Fes
Fes is full of riads and hotels and it can be hard to know what to book as it seems there is an endless choice!
But, there are a few I would highly recommend you check out;
Dar Seffarine – This family-run property used to be a palace that went into ruin. Now, it's been restored back to its former glory! It has some incredible boutique rooms and their homemade tagines at dinner are to die for. They also have a gorgeous view from their rooftop! Click here to read my full review or click here to check dates and rates.
Riad Fes – This is one of the most high-end hotels in the city. This 5* property has jaw-dropping decor and another incredible view from the rooftop. You can enjoy cocktails overlooking the view, swim in their pool or eat at their fine dining restaurant. Click here to read my review or book your stay here.
Heading to Morocco? Read more of my articles!
The ultimate 2 weeks in Morocco itinerary
The top things I wish I knew before travelling to Morocco
What to wear in Morocco as a woman
Solo female travel tips for Morocco
Taking a Sahara Desert Tour from Marrakesh
Top places to visit in Chefchaouen
Save this Fez Royal Palace doors post for later!