Alright, my fellow Witches and Wizards of all houses. If you're a Potterhead that would like to know the exact Dobby's Grave location, keep reading this post as I have all the magical details!
The first Harry Potter book may have been released over two decades ago now but that doesn't mean that its following isn't strong today.
Potter fans from all over the world are still willing to fly almost anywhere to see these spellbinding locations from the books and movies.
One of those places is the final resting place of Dobby the Free Elf!
That's right. Dobby's Grave is real muggles and it can be found tucked away in the sand dunes on a gorgeous remote beach in Pembrokeshire.
You won't need a letter from Hogwarts, Platform 9¾'s, or your Nimbus 2000 to see this beautiful place.
Here's my detailed guide on how to find Dobby's Grave location in Freshwater West or the Harry Potter beach in Wales!
Is Dobby's Grave still there in 2023? Yes, it's still here! The National Trust has allowed the Dobby Memorial to stay (yay) but please ask that Potterheads only take photos and no longer leave tributes :(
Who is Dobby the Elf in Harry Potter?
Avid Harry Potter fans can easily skip this section as Dobby will need no introduction.
However, if you've never heard of Dobby before (where have you been?!), he was first introduced to the Potter series in the Chamber of Secrets.
He was an enslaved house elf that belonged to the notorious Malfoy family. For years, he was abused and badly treated by these Dark Wizards.
He was custom to daily threats from the Malfoy's and, later, would often punish himself if he did something wrong as he had endured years of being mistreated.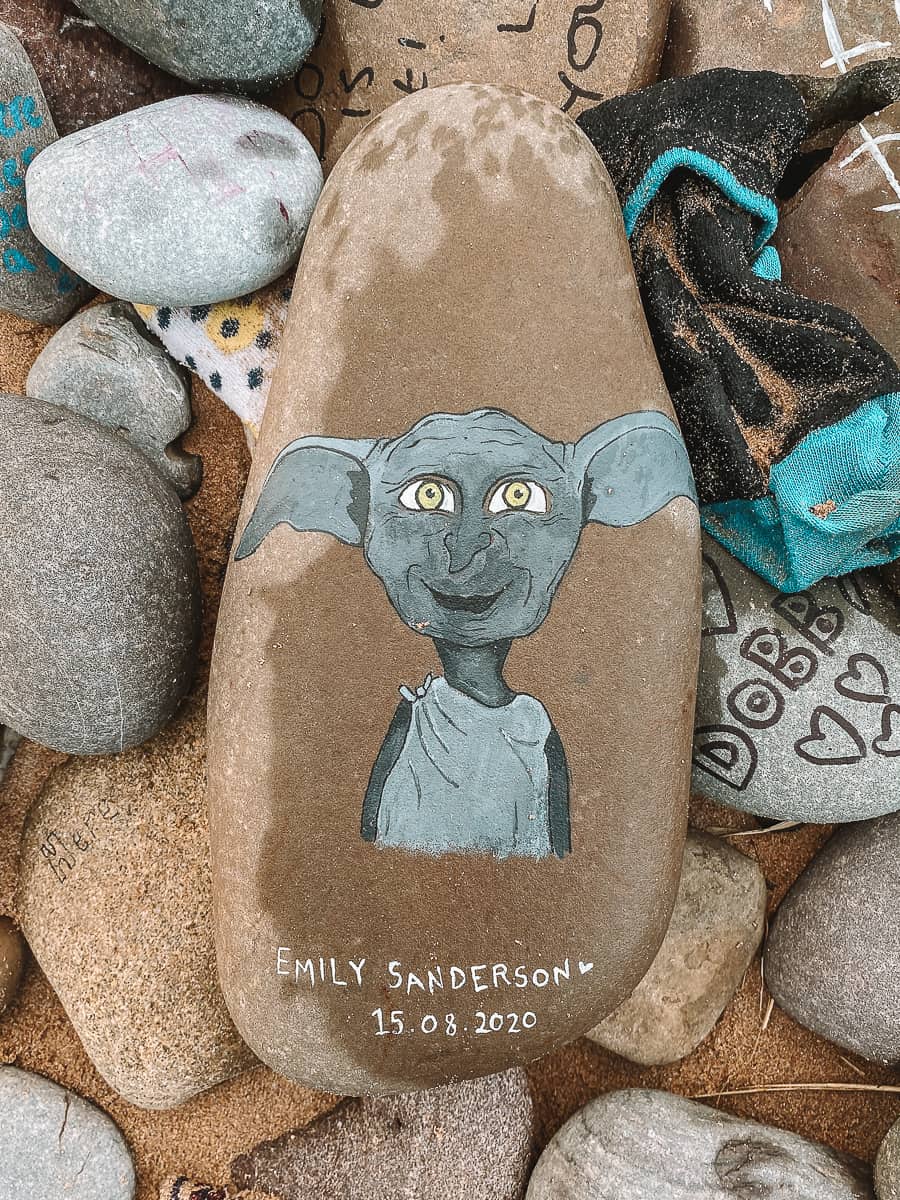 In the Chamber of Secrets, Dobby learns of the plot to reopen the Chamber of Secrets.
Dobby tries to warn Harry to not return to Hogwarts to save him from danger. But, the house-elf ends up causing absolute mayhem in the process!
Later on, Harry warms to him and wants to set him free. But, the only way to free a house-elf is when their master presents them with clothing.
At the end of the film, Dobby is given Tom Riddle's diary by Lucius Malfoy. But, unbeknownst to Lucius, Harry had hidden a sock inside the pages!
"Master has given a sock, Master gave it to Dobby. Got a sock, Master threw it, and Dobby caught it, and Dobby — Dobby is free"
So, Dobby became a free elf and a friendly ally to Harry and his friends. Although he was free, he was later employed by Dumbledore at Hogwarts.
Dobby continued to work for Dumbledore and was part of his 'army'. But, he would often help Harry, Ron and Hermione when they got into sticky situations.
He would do whatever Harry asked of him as he was eternally grateful for setting him free.
How does Dobby die in the Deathly Hallows
In Harry Potter and The Deathly Hallows, Harry and his friends Ron Weasley, Hermione Granger, Luna Lovegood, and Griphook the Goblin are captured by Snatchers. They are then imprisoned in Malfoy Manor.
Aberforth Dumbledore sends Dobby to save them from the Malfoy's and Bellatrix Lestrange who are planning to hand them over to Voldemort.
A Skirmish (wand battle) ensues and Dobby comes to the rescue just at the right moment! He cuts a chandelier off the ceiling to try and 'maim' her.
Bellatrix is furious at the house-elf who almost kills her. She asks him why he can be so disobedient to his masters. He bravely replies;
"Dobby is a free elf, and Dobby has come to save Harry Potter and his friends!" (Go Dobby!)
Read more – how to visit Malfoy Manor in real life!
But, just as Dobby casts a spell to transport them all to safety at Shell Cottage, Bellatrix throws a knife at Dobby.
When they land at Shell Cottage, Harry, Hermione, Ron, and the others are all relieved that they are safe. But, they hear a weak cry…"Harry Potter".
Dobby has been stabbed and the wound is fatal. Harry cradles Dobby in his arms and tries to save him, telling him it will be okay.
But, it's too late and Dobby, with a smile, says his final words….
"Such a beautiful place, to be with friends. Dobby is happy to be with his friend, Harry Potter."
Sniff. I'm not crying, your crying! It honestly gets me every time…Why did he have to die?! Why, J.K.?!
Where is Dobby buried?
Harry is bereft that his loyal friend has passed away and decides to bury him without magic at the beach, just above Shell Cottage.
His grave reads, "Here lies Dobby, a Free Elf". It's a beautiful location, right by the sea!
In the books and movies, Shell Cottage is actually based on the outskirts of Tinworth, Cornwall.
But, if you've ever wondered where Dobby is buried in real life then you only need to visit the Pembrokeshire coastline in Wales.
The Dobby's grave location can be found tucked away in the sand dunes of the stunning Freshwater West Beach.
This was the Harry Potter Beach filming location where they filmed 'Shell Cottage' from Harry Potter and The Deathly Hallows parts 1 and 2.
Here, you can visit to pay your respects to the heroic loyal elf!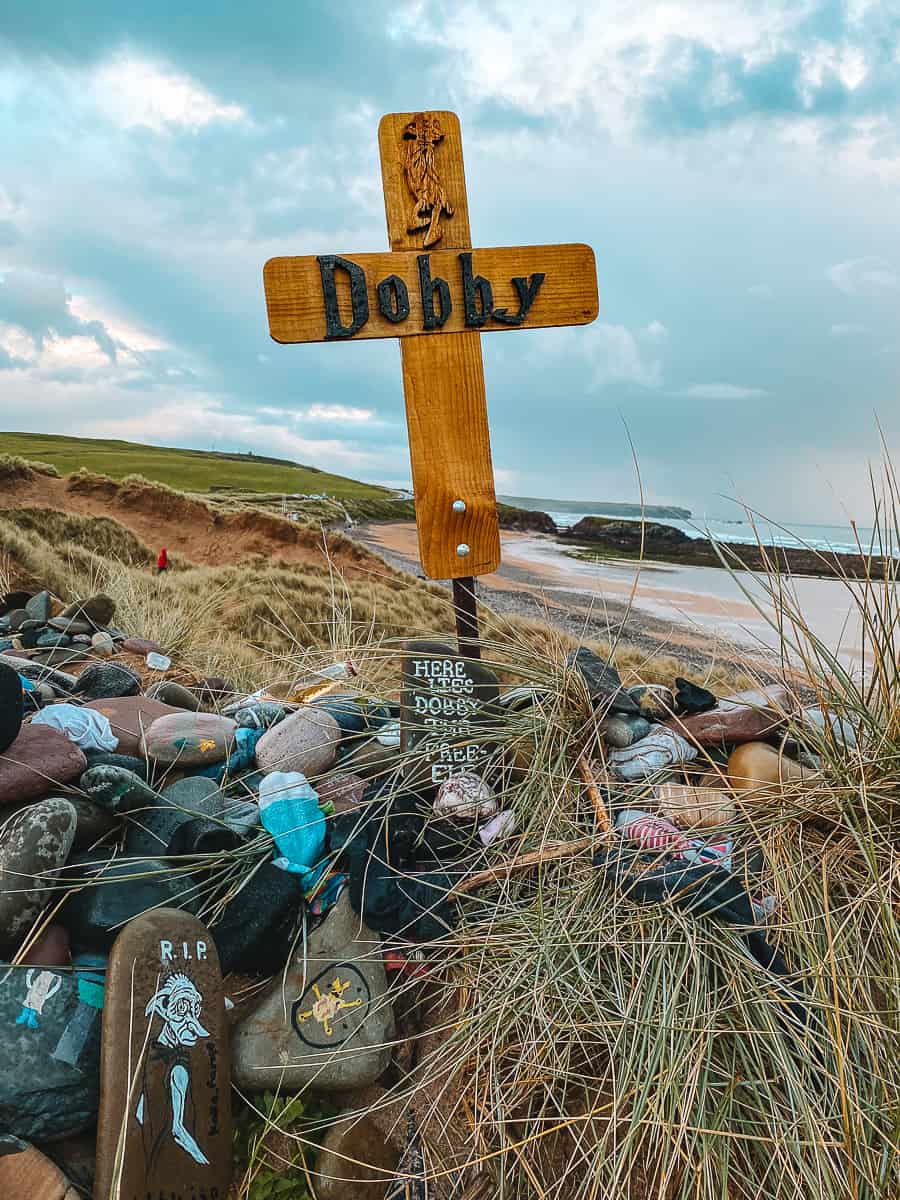 Is Dobby's grave still there today?
YES! Although in the books Dobby died in 1998, the free elf's grave is still kept alive by fans on Freshwater West Beach. Even now, over two decades later!
In fact, the size of the memorial grows and grows every year. This is because hundreds of fans visit and leave their own offerings like painted pebbles and socks.
So, if you did want to pay a visit to Dobby's grave and were worried about it disappearing. Don't be.
It's high above the sea in the dunes, so it will never wash away. Plus, although it has been destroyed in previous years, the loyal Potter fanbase is SO strong it always comes back eventually!
I think, by now, the council has just succumbed to its popularity and leave it be. It brings in so many visitors.
Dobby's memory will never fade here in Wales if Potter fans have anything to do with it! Freshwater West will always be known as the final resting place of Dobby, a Free Elf.
Where is the Freshwater West Harry Potter Beach in Wales?
Freshwater West Beach can be found in the county of Pembrokeshire in the West of Wales along its gorgeous coastline.
Pembrokeshire is HUGE and Freshwater West can be found by visiting the South West area. It's a section of coastline owned by the National Trust.
It's nearby the Green Bridge of Wales, Bosherton, and just a few miles from the town of Pembroke. So, if you're based in the town, you can visit easily from there.
To put it into perspective this is around two and a half hours from Cardiff and forty minutes from Tenby.
By far the easiest way to visit Freshwater West is by driving and it's accessible along the B4319 road. It's mostly a single-track road with passing places.
You can plug in the postcode SA71 5AH on your SatNav to take you there.
It seems obvious but it's important that you don't mix up this Harry Potter beach with Freshwater East Beach. They are completely separate beaches and are nowhere near each other at all!
Is there are Freshwater West beach bus?
There is a 388 and 387 service from Pembroke Dock and Pembroke that runs to Freshwater West Car Park near Castlemartin.
You'll need to alight at the stop opposite the car park.
It only runs twice a day though in the morning and afternoon. It will take you roughly 30 minutes to arrive from Pembroke.
See the bus times here to plan your journey!
Where to park for Dobby's grave
Freshwater West is a massive beach and there are two large car parks at either end of the strip.
I would always suggest parking in the car park nearest to the Café Môr Food Van if you're planning to visit Dobby's Grave.
This is the closest to the bus stop, war memorial, and lifeguard hut and it saves you having to walk over lots of sand.
There are no Freshwater West Beach parking charges. Both of the car parks are completely FREE.
But, saying this, they have introduced fines for overnight parking. So, no camping overnight. As long as you visit during the day, you're completely fine.
How to find Dobby's grave location in Freshwater West beach
Although getting to Freshwater West Beach is easy. Finding Dobby's grave location can be a little harder as its tucked away deep in the sand dunes.
So, it's not always obvious to spot as you're approaching from the car park.
But, not to worry. I have some detailed instructions for you below on how to find it!
1. Start out at the car park by the Café Môr Food Van
So, once you've parked up at the car park in Freshwater West. You'll need to start heading towards the beach.
I wouldn't personally walk on the single-track road behind the dunes. I'd head down the laid-out pathway towards the sandy coastline.
Freshwater West beach is a half pebbled beached and half sand beach. So, you will need to tread over quite a few large pebbles to actually make it onto the soft sand.
I made the mistake of climbing onto the sand dunes straight away. This was because it was sunset and I wanted to make a beeline for Dobby's grave before it got dark.
I thought it would save some time. But, I would avoid doing that at all costs.
It ended up with me climbing over mountains of sand and making the walk twice as long as it should be.
2. Walk towards the lifeguard hut on Freshwater West Beach
So, once you've stepped over the layer of pebbles and stepped onto the sand. You'll need to make your way over in the direction of the lifeguard hut.
Once you've located the lifeguard's hut (which should be on your right), head on further until you see an opening in the smaller sand dunes.
3. Climb up the sand dunes just beyond the lifeguard hut
This is the hard part. But, you should be able to see the Dobby crucifix or a part of the memorial by now!
You'll then need to traverse some grassy sand dunes up towards Dobby's Memorial area.
Depending on what time you visit, it will be easy to spot as you'll see lots of footprints from others who have made it here. Plus, you may see people already there.
There are plenty of sand dune routes up towards the grave. So, if one looks a bit too steep, continue on around it until you find a path that's easier to climb!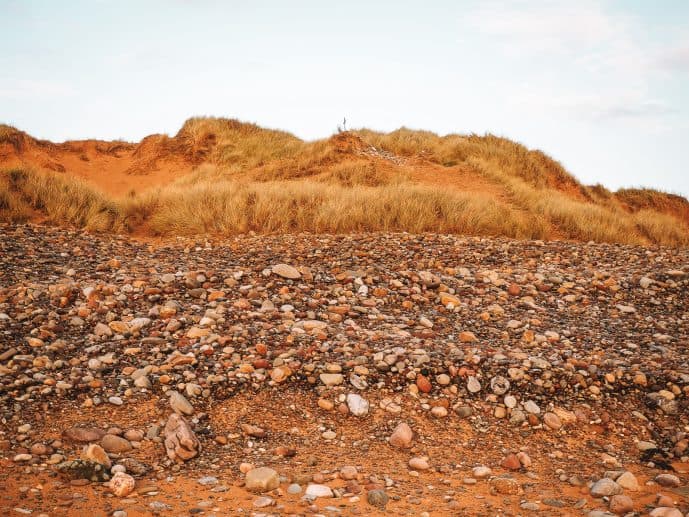 4. You've found Dobby's Grave location!
Keep heading towards the big pile of pebbles, sticks, and crucifix on the top of the dune until you've finally made it!
Although you may feel a little out of breath, it will be well worth the effort to see the Here lies Dobby the Free Elf location.
It's roughly a third of the way inside the sand dunes.
I did find that my phone had zero signal here. So, I'd save any maps or pins you need before you head out!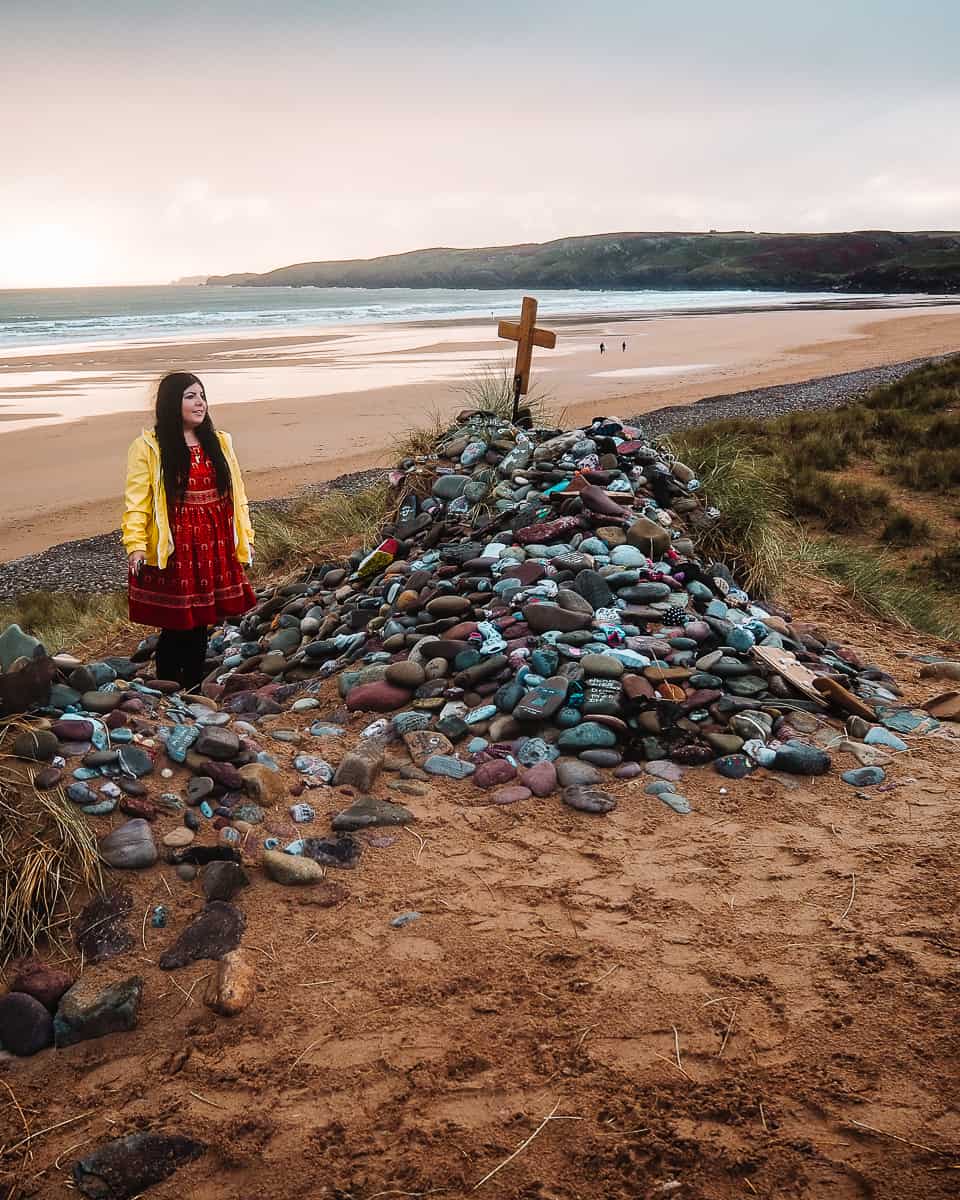 What you'll find at Dobby's burial site
I wasn't too sure what to expect when I got here. Of course, I knew that Shell Cottage wouldn't be there.
But, what I found in its place was so touching. It was like a portal that transports you into the Wizarding World all over again!
What started out as just a few pebbles left at this location a couple of years ago has now transformed into a HUGE memorial. It's like a Dobby shrine.
There were beautiful hand-painted pebbles all with loving messages.
They said things like 'R.I.P Dobby', 'Master has given Dobby a sock', 'Forever a Free Elf', 'Such a beautiful place to be with friends' and 'Harry Potter Forever'.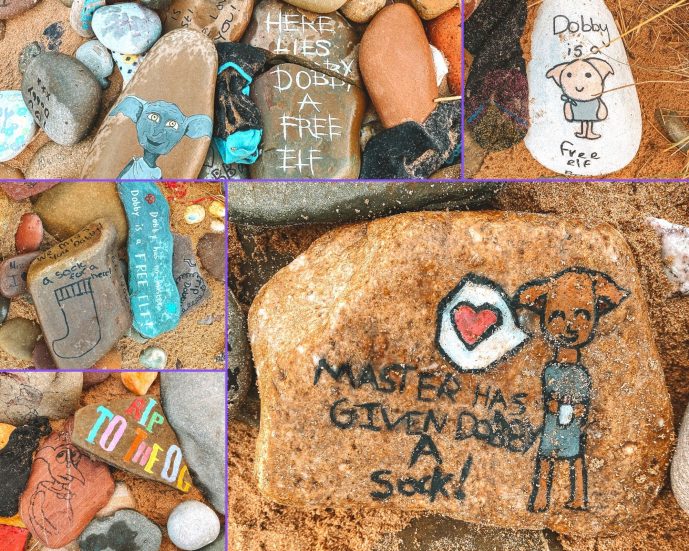 There were even socks left here and other gifts! Some kind fan had even made a crucifix for the gravesite. It was incredible to see and quite moving.
I could have spent hours looking at all the pretty paintings and reading the messages that had been left. Plus, the views from up here are breathtaking.
Is Shell Cottage real? Can you visit the Harry Potter Shell Cottage filming location?
Freshwater West beach was chosen as the filming location for Shell Cottage which was 'on the outskirts of Tinworth in Cornwall'.
In Harry Potter and the Deathly Hallows, this is was where Bill Weasley and Fleur Delacour live. It's also where Dobby transports Harry and his friends from Malfoy Manor to safety.
However, I'm sorry to report that the Shell Cottage used in the movies is not real or a place you can visit today.
The production team built the cottage from scratch. They made it out of shells that had been found on Freshwater West Beach and the Welsh coastline.
This fact alone started to see fans flock to the otherwise untouched beach.
But, once filming had wrapped up, the team completely dismantled Shell Cottage.
This was in order to preserve the natural beauty of the beach! But, there was also some Robin Hood filming scheduled.
Although it is a shame. At least you can still visit Dobby's grave location in the sand dunes above where it stood.
What else is there to do at the Harry Potter beach?
Beyond Dobby's burial site, Freshwater West beach is one of Pembrokeshire's best-kept secrets!
It's called 'freshwater' for a reason; its gorgeous clear waters really sparkle any time you visit. That and the miles of clean sand make it a spectacular bit of coastline.
Although I visited on a day that was a bit of a washout with heavy rains. I was so happy that the sun came out for the last few hours of the day.
It made such a difference being able to stroll along here in the sunshine.
There is not a lot 'to do' at Freshwater West beach as it's so remote. It's not your typical beach resort with a pier, arcade games, and a build-up of shops.
It's untouched and natural and that's the best part about it!
It's a great place to visit all year. In the summer, you can walk along the shore or sunbathe.
In the cooler months, it's still great for a scenic walk – even if it is a bit bracing!
Where to eat at Freshwater West
As this beach is so remote and tucked away in the Pembrokeshire countryside, there are no permanent food outlets at the beach.
But, there is an award-winning food truck called Café Môr. Môr means sea in Welsh! They are usually stationed just outside the car park.
It serves up traditional Welsh seafood with a unique twist. You'll find seafood sandwiches with Welsh Sea Black butter, seaweed tea, burgers, and their organic ice cream.
It's well worth stopping here to see what's on offer. They only park up here seasonally though.
I was sad I missed them at sunset but it gives me an excuse to return!
Café Môr is open from Easter until October. Click here for more details.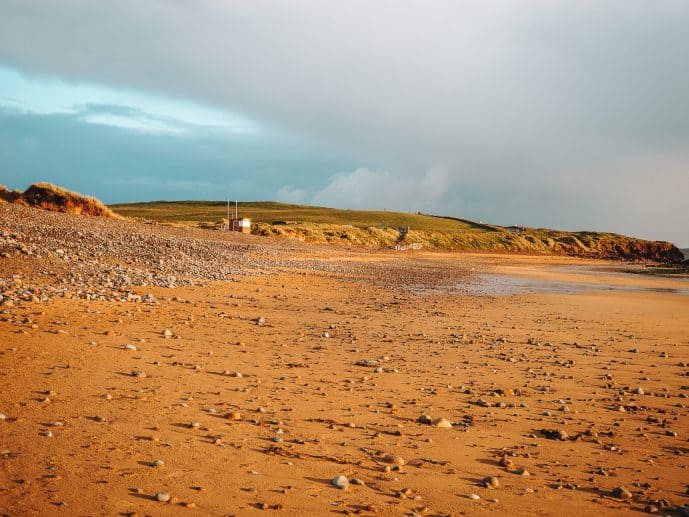 Café Môr opening times:
Easter – Summer holidays: 10am – 4pm
Summer holidays: 9am – 7pm
September: 10am – 4pm
October – Easter: Closed
Aside from this, I would make sure you pack a picnic and bring some water and snacks with you!
There is a public toilet near the car park as well.
Are you a Potterhead? Read more Harry Potter travel guides!
Places to find Harry Potter magic in York
How to visit Malfoy Manor in real life!
Harry Potter filming locations in Oxford
How to spend the night in Hagrid's Hut
Harry Potter locations in Edinburgh
All the Harry Potter filming locations in Scotland
Harry Potter filming locations in Virginia Water
How to find the Harry Potter Tree at Blenheim Palace
The Shop That Must Not Be Named review
Harry Potter locations in Exeter
How to find Tom Riddles grave in Edinburgh
Harry Potter filming locations in Lacock
Visiting the Quidditch Town of Tutshill Tornados
Harry Potter filming locations at Gloucester Cathedral
Harry Potter filming locations in Alnwick Castle
A complete Forbidden Forest Experience review
How to see the Hogwarts Express in Scotland
The very best Instagram locations at the Wizarding World of Harry Potter in Orlando
How to visit the real Knockturn Alley in London
Is Cecil Court a real Diagon Alley in London?
How to visit Dumbledore's Grave in Scotland
Harry Potter filming locations at Durham Cathedral
Read more on Pembrokeshire
How to visit St Govan's Chapel
A complete guide for the The Green Bridge of Wales!
Discover the magical Blue Lagoon in Wales
Why you must visit Stackpole Quay
Save this Dobby's Grave Freshwater West post for later