Did you know that Little John was buried in Hathersage which is a Derbyshire village in the Peak District?
So, if you wanted to pay your respects to Robin Hood's giant Merry Man, Little John's Grave can be found in Hathersage churchyard!
Although he is thought to be just a legend, many people believe that the Robin Hood ballads were inspired by real people. So, it could very well be true that the 'real' John Little was actually buried here.
Here's how to visit Little John's Grave in Hathersage with details about the legend and why he is buried in Derbyshire and not Sherwood Forest or Nottingham.
Who is Little John from Robin Hood?
If you don't know who Little John is, he was the righthand man and best friend of Robin Hood.
Robin Hood is the legendary outlaw who robbed from the rich and gave to the poor, having regular clashes with the Sheriff of Nottingham!
Although you'll probably recognise Little John from fantasy TV shows, films, and cartoons, his story actually started out in medieval folktales from the 14th-century.
At the time when Robin Hood was alive in the 1100s, King Richard the Lion Heart was on Crusade and so he made Bad King John the Regent King of England.
Taxes were at an all-time high and so Robin Hood was there to carry out his own form of justice for the people. Little John was with him every step of the way!
Little John is a name that is quite ironic because according to the legends, he was over 7-foot tall!
He was a huge warrior who was a master of the quarterstaff. In fact, he met Robin Hood by duelling him over a bridge in Sherwood Forest. At first, he wouldn't let Robin pass over the bridge!
But, after Little John won the duel, he was convinced by Robin Hood to join his Merry Men on their mission to eat the rich and help the poor.
You can see a statue of this fight in Sherwood Forest also there is a plaque by the Robin Hood statue in Nottingham that shows this scene too.
Was Little John a real person?
Like Robin Hood himself, Little John is thought to be just a legend and not a real warrior.
But, that doesn't mean to say he didn't exist in some form or another. I mean the ballads had to come from somewhere, right? Not to mention that a seven-foot-tall man in medieval times would have been a marvel!
Although Robin Hood is remembered through folktales today, it is thought that he was a real nobleman of Loxley born in 1160.
He eventually falls outside of the law, becomes an outlaw, and recruits a band of merry men. There are thought to be over 150 Merry Men in his army but the main ones are Little John, Will Scarlet, Friar Tuck, Much, Alan-a-Dale, and his sweetheart Maid Marian.
Little John is the only Merry Man who appears in nearly every Robin Hood ballad. Including the last one where Robin Hood met his untimely end.
So, although never proved, it's no stretch to believe that Little John was a real person in medieval times who was a close ally of Lord Loxley.
According to the stories, his formal name was John Little but Robin Hood jokingly reversed them as it was fittingly ironic!
Where is Little John buried?
Despite the fact that there are no historical records to prove he existed, the legend is so strong that Little John has his very own grave to remember him by.
A modern tombstone was placed over a seven-foot grave in the Peak District to mark the place where he is thought to have been buried.
Although many of the Little John legends place the events around Nottingham and Sherwood Forest, his grave is located under a yew tree in Hathersage Churchyard in Derbyshire.
Why is Little John buried in Hathersage?
TV shows and films do heavily fixate the Robin Hood tales around Nottingham and Sherwood Forest. But, the medieval legends mention many more places around the UK.
The original ballads mention Loxley which is where Robin Hood was from which is a village in South Yorkshire.
This settlement back then was only a few miles from the old borderlines of Sherwood Forest which used to stretch from Nottinghamshire to Derbyshire.
It was also close to the village of Hathersage. According to a local legend, Little John was born in Hathersage and made his living as a nail maker or 'Nailer' before joining Robin Hood's Band of Merry Men.
Another Hathersage Little John connection is that there was a cottage by the church called 'Little John's Cottage'.
This is where Little John is supposed to have died. Unfortunately, it's no longer there to visit but there are records and etchings of what it used to look like.
According to the tales, after Little John buried Robin Hood, he returned to Hathersage and that cottage to die.
Apparently, he chose his burial spot with an arrow shot from Robin Hood's Stoop which is a landmark above Hathersage.
Little John also built a cottage on the East Side of the River Derwent which was separate to the family home. On the site now lies a Grade II listed property which is a 15th-century farmhouse called Nether House in Offerton.
Little John's bow and cap also used to hang inside Hathersage Church for years and it was even recorded in 1652. But, they were moved in the 19th century and are now on display in Parham House, West Sussex.
Did you know? There is a secret cave at Stanage Edge called Robin Hood's Cave! It's believed that Robin and his Merry Men hid out here. Also Lud's Church.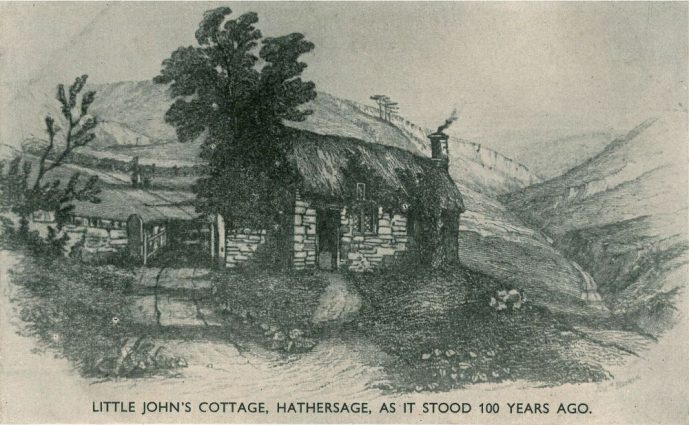 Little John's Grave exhumed
According to Little John's tombstone, Captain James Shuttleworth exhumed this very gravesite in 1784.
He discovered the skeletal remains of a man who was seven-foot-tall and a thigh bone that was 32 inches!
This is why Little John's tombstone was placed in this very spot!
Although it could never be proven that this is the burial site of the 'real' John Little, the timelines do seem to fit with the legends.
The grave we see today is a modern memorial that replaced a 600-year-old marker stone. The upkeep of the site was undertaken by the Ancient Order of Foresters Friendly Society in 1929.
How to find Little John's Grave in Hathersage
If you did want to pay respects to this legendary giant, you only need to visit the quintessential village of Hathersage in the Peak District National Park.
Little John is buried in St Michael's Churchyard which lies high above the main village area of Hathersage. So, you'll need to follow signs and walk up a steep hill in order to access the church.
Once you have made it to St Michael's Churchyard, the church has made it surprisingly easy to find Little John's grave!
It's located just outside the front door entrance and as you walk along the main path through the churchyard you'll see a sign pointing you towards Little John's gravesite.
It's quite hard to miss as there is a small parking meter placed there to accept visitor donations and you can usually find a colourful flowerbed on top of the grave soil!
What to expect at Little John's Grave
So, once you arrive, you'll find that the grave is suitably large enough for Little John at around 8-feet or so and the gravestone is protected by a small fence.
I loved the fact that there were flowers growing on it around the old clipped yew trees. You don't see many colourful graves like this with flowerbeds so it was a really lovely place to spend a moment.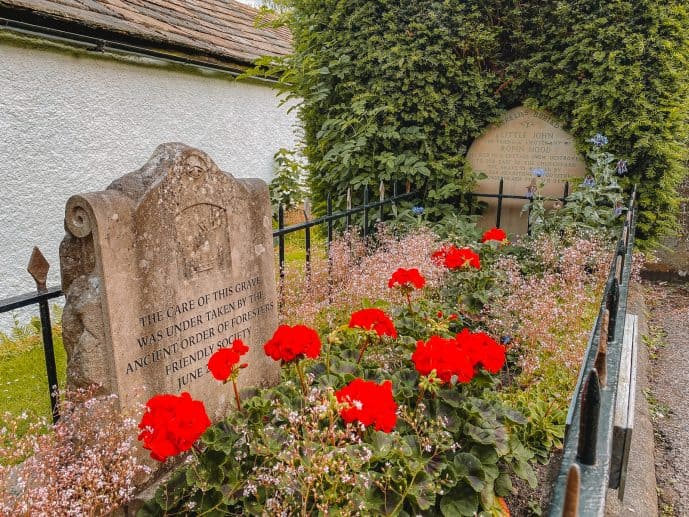 At the top of the grave, you'll see Little John's tombstone which reads:
"Here Lies Buried Little John The Friend & Lieutenant of Robin Hood.

He Died In A Cottage (Now Destroyed) To The East of The Churchyard The Grave Is Marked By This Old Headstone & Footstone And Is Underneath The Old Yew.

In 1784 Captain James Shuttleworth exhumed the grave to find the bones of a man over seven feet tall"

There is also another stone that reads: "The care of this grave was undertaken by the Ancient Order of Foresters Friendly Society. June 24th, 1929".
Visiting Little John's grave is completely free but the church asks for small donations to help with the upkeep of the church and gravesite.
There's a rather odd parking meter that has been placed right next to the gravesite that accepts and collects small change. I presume this is to stop coins being robbed?!
Where is Robin Hood buried?
So, you may be wondering where is Robin Hood buried if Little John is buried in Hathersage?
Well, according to the ballads, Little John was with Robin Hood on his deathbed and Robin's untimely end came at Kirklees Priory.
Robin Hood fell sick and so he went to the Priory to get bled. Back in those times, bleeding was a common cure for illnesses to balance the humours.
Unfortunately, the prioress betrayed Robin Hood and purposely took too much blood and so he eventually bled to death. Little John wanted to avenge him but Robin refused.
Just before Robin died, he shot one last arrow out the window with his bow. He was then buried at the exact location where his last arrow fell. He was 80 years old!
Little John buried him and then decided to retire and left for Hathersage to live out the rest of his days.
Today, Kirklees Priory is now Kirklees Park and a privately owned estate but they sometimes have open days where you can visit Robin Hood's grave which has its own tombstone.
The history of Hathersage Church of St Michael
Beyond paying your respects to Little John's Grave, you can visit the gorgeous Hathersage church while you're here too. They happily welcome visitors during daylight hours.
St Michael's Church in Hathersage has a long history and it started off as a Danish settlement during the Anglo-Saxon era.
The current building was constructed in 1381 but there was a history of different churches being recorded here over the course of 200 years prior to that.
The St Michael's Church we see today was built by donation of the Eyre Family of Padley.
Inside the church, you'll find many effigy tombs of the Eyre family including Robert Eyre who fought in the Battle of Agincourt.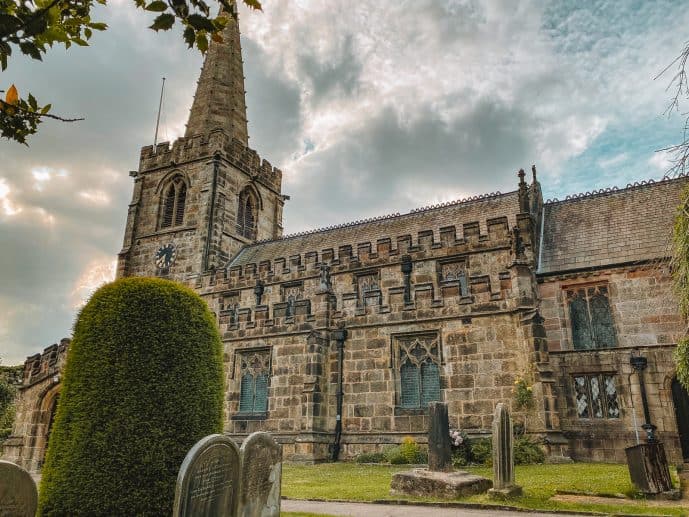 How to get to Hathersage in the Peak District
Hathersage is a large village in the Peak District that is famous for its outdoor swimming pool.
It's located just a few miles away from the popular village of Castleton and popular attractions like Hope Valley, Stanage Edge, and Bamford Edge.
You can easily drive to Hathersage from big cities like Sheffield in 30 minutes and it will be the first settlement you see in the Peak District.
Nottingham, which is the home of Robin Hood, is just over an hour's drive from here. You'll find Hathersage on the A6187 road.
If you were visiting the Peak District car-free there is a train station at Hathersage. Or, you can take the 272 bus services from Sheffield to Castleton which stops at Hathersage on the way!
Hathersage Church parking
There is no dedicated parking for St Michael's Church in Hathersage and the church is located on top of a steep knoll in the village.
However, there is some off-road car parking by the churchyard lychgate if your car is able to make it up the hill!
If not, you'll need to find some of the Hathersage parking in the village and then make your way up to the churchyard on foot.
There is some Pay & Display parking to be found at Odd Fellows Road which is open 24 hours.
Little John's Grave & Hathersage Church opening times
St Michael's churchyard in Hathersage is traditionally open 24-hours a day as it's not only a public graveyard but a through route for residents. So, Little John's Grave can be accessed any time of year.
But, if you wanted to visit the inside of St Michael's Church, then you will need to visit during daylight hours.
The church is often open during the week and provides services from Monday – Thursday, and Sundays.
Looking for more things to do in Hathersage?
Hathersage is a large village in the Peak District that is well worth visiting and it's a gorgeous place to boot!
Many people visit here to swim in the Hathersage Outdoor Swimming Pool which was founded in the 1930s. It's massive at 100ft x 30 ft which is one large pool for a village with 2000 residents!
Nevertheless, it's the perfect place for some UK swimming all times of the year as it's heated! It's a great family activity.
Many people base themselves in Hathersage to visit the many attractions that are easily accessed from here. You can visit the famous Stanage Edge in a few minute's drive or you can walk from Hathersage.
This is home to the famous Robin Hood's Cave which is thought to have got its name from the outlaw visiting the cave himself!
You could visit the less famous but equally amazing Bamford Edge and pay a visit to the Lady Bower Reservoir.
Being in Hathersage, you're only a quick drive over to the beautiful village of Castleton with its Peakshole Water and Peak's Cavern!
Or, you could hike up to Mam Tor or the 'Mother Hill' which is near Edale, Hope Valley, Jacob's Ladder, and Kinder Scout!
Where to stay & eat in Hathersage
If you want to raise a glass to Robin Hood's second in command, then why not visit The Little John pub in Hathersage?
Named after the giant Merry Man, it's a popular inn that's right underneath the hill leading to St Michael's Churchyard.
The Little John provides a menu of warm meals, barrelled local ales behind the bar as well as cosy, affordable accommodation.
Click here to book your stay at The Little John!
Why not go on the Robin Hood trail?
If you love Robin Hood and you want to experience more of the legend, there is a dedicated Robin Hood's Trail in the UK.
This is different than Robin Hood's Way which is a national walking trail set in Nottinghamshire.
The road trip trail includes many of the most famous locations that involve Robin Hood such as Nottingham Castle and Sherwood Forest.
Plus, there are other places relating to King John, Friar Tuck, Maid Marian, Will Scarlet, Much, and Alan-a-Dale!
It's best to undertake the trail by your own means of transport as many of the locations are quite remote. But, it's a great way to see the real places that inspired the legend.
Read my complete guide of all the Robin Hood places to visit in the UK!
See more of my Peak District guides
How to Visit Mr. Darcy's Pemberley aka Chatsworth House
The best things to do in Milldale
Why you must visit Peakshole Water in Castleton
How to get to the incredible Bamford Edge
How to visit the real Malfoy Manor from the Deathly Hallows
How to get to Thor's Cave in the Peak District
Why you need to visit Monsal Head Viewpoint
How to get to Solomon's Temple in Buxton
How to visit & cross Dovedale Stepping Stones
A magical easy walk to Lud's Church
How to find Robin Hood's Cave in Stanage Edge
Things to do in Eyam Plague Village
Best things to do in Ashford in the Water
Why you must visit Scrivener's Books in Buxton
Chee Dale Stepping Stones walk
How to visit Ramshaw Rocks from Pride and Prejudice
Read more of my Robin Hood related posts
Robin Hood attractions in Nottingham
The Robin Hood Statue in Nottingham
Visit the Ye Olde Trip to Jerusalem
Robin Hood locations in Sherwood Forest
Is the Major Oak Robin Hood's Tree?
Visit where Robin Hood and Maid Marian got married
How to visit King John's Hunting Lodge ruins
Save how to visit Little John's grave Hathersage for later!