Hidden away in the Northumberland countryside are the quaint Ford and Etal Estates. An unassuming part of the world that looks like it could only be found in a storybook.
Ford and Etal transport you back to a bygone era before satellites, TV wires and WiFi. There are no large buildings here, traffic jams, Uber, chain supermarkets or any sign of the 21st century really!
The three estates of Ford, Etal and Heatherslaw were notoriously feudal in the past; each having their own laird, church, mills, farmland and communities. However in recent years, it's formed into one beautiful, and thankfully peaceful, area to explore.
Northumberland is famous for its pristine coastline, but if you head inland to the lush green countryside you'll find an unexpected gem that's waiting to delight in you.
I was really taken with these pretty little villages and I'm sure you will be too. Here's the ultimate travel guide to the Ford and Etal estates!
Where is Ford and Etal in UK?
Ford and Etal were estates on the border, meaning that they were frequently on the battle and territory lines between England and Scotland. During the battle of Flodden in the 16th century, the Scots captured the castles in Ford and in Etal making it part of Scotland once upon a time!
Of course, we're all now part of the United Kingdom and the Ford and Etal estates can be found in Northumberland in the upper North of England.
From Etal, you're actually only 20 minutes from Scotland by car over the River Tweed to the nearby village of Coldstream! So you could be in another country not far from here.
How to reach Ford and Etal
How to Reach Ford and Etal By Car – The best way to reach Ford and Etal is by car and you can be here within 30 minutes from Bamburgh Castle or the Holy Island of Lindisfarne on the coast! The best route is to head back to the A1 and look out for signs to turn off to Ford and Etal Estates.
How to Reach Ford and Etal By Train – Ford and Etal have a light railway but not one that connects them with anywhere in Northumberland I'm afraid. The nearest train stations are Berwick-upon-Tweed with a bus change.
How to Reach Ford and Etal By Bus – Border buses are the company you use in this part of the world. But, they're few and far between so make sure you plan ahead! The bus service 267 departs from Berwick-upon-Tweed but some aren't direct and require a change.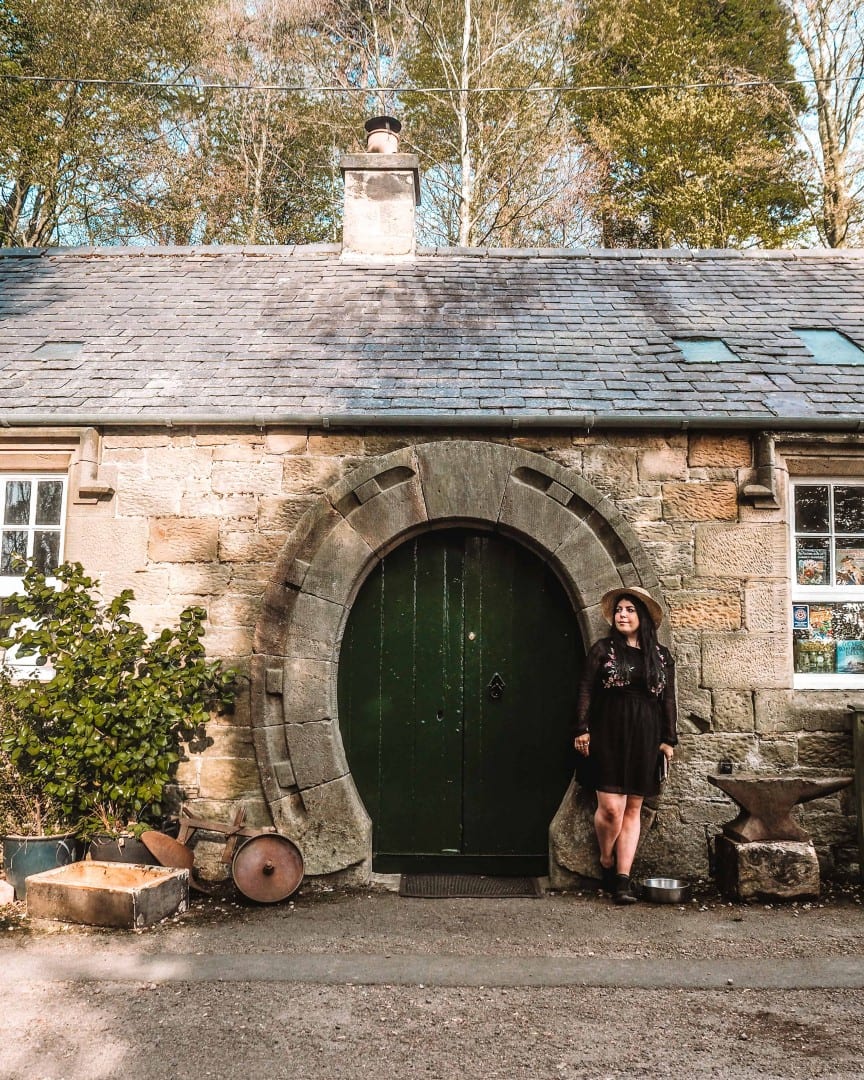 Getting around Ford and Etal estates
Ford and Etal on foot – If the weather is fine, getting around Ford and Etal is lovely on foot or you can cycle around the area. You can walk from Ford Village to Etal within 45 minutes with a stop at Heatherslaw Mill sandwiched in the middle.
Ford and Etal by car – For me as I was running out of time I decided to drive. I know it's bad BUT it was roasting hot and the thought of walking around was just too much to bear. Bring on the air con! If you're going to drive, the villages are only five minutes away from each other by car!
Heatherslaw Light Railway – If you're here in the summer season, why not take the Heatherslaw light railway to explore?! I was gutted as I got here too late for the last one but it looked like so much fun! The light railway is a steam railway train that runs from Heatherslaw mill to Etal and back. It makes a great day out for families, you can find out more here.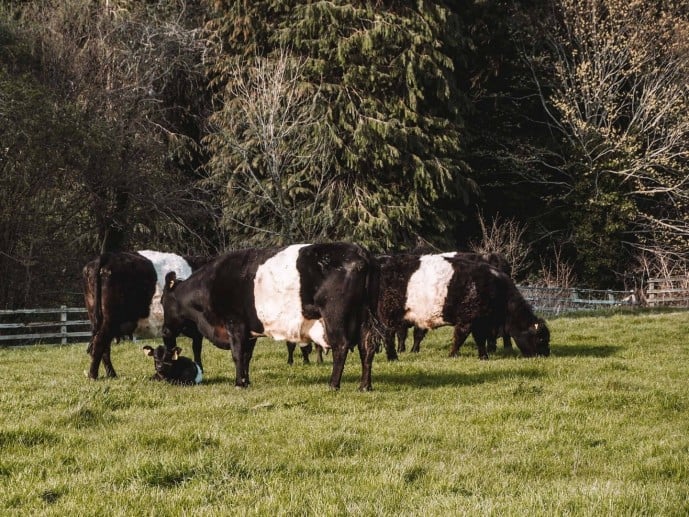 Parking in Ford and Etal
I loved the fact there was free parking in Ford village, Heatherslaw mill, and Etal village. You can park in the designated parking areas that have been set up for you.
In Ford Village you can park up opposite the Lady Waterford Hall, In Etal village there is parking by the castle and in Heatherslaw the visitor centre has a dedicated car park that is also free of charge.
It's good to remember that people live in these villages, so keep to the designated parking areas and don't park in front of residents' houses or driveways!
The History of Ford and Etal estates
I had never heard of Ford and Etal before visiting here and I was fascinated to learn about the feudal history of these seemingly peaceful estates. You may notice when you're exploring Ford and Etal there are two churches short of a few miles of each other!
This is because each of the estates of Ford, Etal, and Heatherslaw used to be at war with each other with each of them having their own laird of the estate.
Although nowadays we only see Heatherslaw mill that still provides flour to local bakeries, in the past all three estates had their own mills, their own churches, and their own communities!
If a woman from Ford married a man from Etal, she would be excommunicated from Ford and never allowed to return. People would visit friends and family in secret. It was that strict.
Ford and Etal as a battleground
In the 14th century, Lord Manners ruled Etal and Lord Heron ruled Ford.
With the battle of England and Scotland going around them, the two were also at war with each other. They attacked each other's castles and families fought between themselves.
In 1513, King James IV of Scotland lodged at Ford Castle that had been taken by the Scots, along with Etal castle in the run-up to the Battle of Flodden.
In terms of troop numbers, this battle was the largest between the two kingdoms of England and Scotland.
But, It didn't end well for King James and he was slain along with 9,000 of his men. He still remains the last monarch in the British isles to die in battle.
A time for peace
Following this, the area became peaceful and became known for its thriving agricultural communities. Louisa, the Marchioness of Waterford, came to Ford in the 19th century and built a schoolroom and houses for tenants. Her legacy, including the fabulous murals in the Lady Waterford Hall, is what we see today.
In 1908, the 1st Baron Joicey of Chester-le-Street (what a name!) historically united the area by purchasing both estates. It is still to this very day owned by the Joicey family.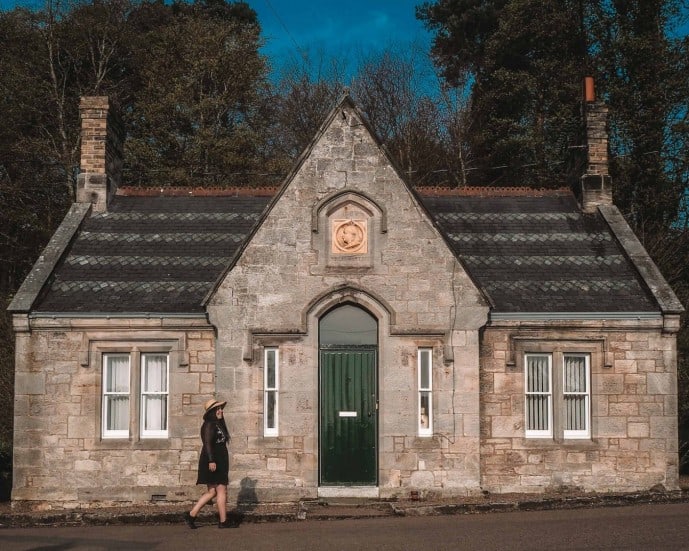 Heatherslaw Visitor Centre
The best place to start off your journey in Ford and Etal is Heatherslaw that is sandwiched in between the two villages. This is because you can pop into the Heatherslaw visitor centre to learn about the area and then catch the light railway should you choose.
This also gives you some ideas and itineraries for exploring and the opportunity to ask any questions.
They have different routes for adventure seekers, history lovers, those wanting to stroll into nature, and more!
Heatherslaw Mill
There has been a mill on the site of Heatherslaw since the 13th century and even today it grinds flour for local bakeries in the area!
It sits on the banks of the River Till and is the only place in Northumberland where you can experience the workings of a traditional mill.
The mill is powered by a 16-foot water wheel and the corn is ground traditionally with three pairs of millstones.
I loved learning about the machinery and even had the chance to turn the mill on and off myself! You could see the mill in action from where the grain goes in and the flour comes out in a bag at the end.
As well as an interactive mill, you can learn about the history in their colourful displays!
There's even a chance to dress up and take a trip down memory lane with old advertisements.
Afterward, you can buy a bag of Heatherslaw flour from their gift shop or head into the Heatherslaw tea room where they make bread and cakes from the flour too!
Heatherslaw Mill opening times change throughout the season from 10 am-5 pm in Summer and 11 am – 3 pm in winter.
Heatherslaw Tea Rooms
Just next door on the grounds of Heatherslaw mill is Heatherslaw Tearoom which is based in the old granary.
Here, the café uses local produce, including Heatherslaw's own flour, to make tasty cakes, sandwiches, and treats.
It's quite a cosy tearoom so it's perfect in winter but for a summer's day can be quite hot, so there's a nice terrace outside to enjoy some sunshine when it's out!
Heatherslaw Light Railway
The perfect way to get around the estate is to take the Heatherslaw light railway from March – September.
It's the most northerly steam railway in England and it's so cute! The trains are steam locomotives called "Bunty" and "Lady Augusta" and one Diesel called "Binky". It's was created by Neville Smith in 1989 and has expanded from just one mile to four!
The track is around four miles and runs from Heatherslaw Mill to Etal and back. You can catch the train from Heatherslaw or Etal station and tickets costs £7.50 return for adults.
Exploring Ford Village
The legacy of Louisa Anne, The Marchioness of Waterford, is the beautiful village of Ford that we see today. It was rare for a lady of high birth to care about working people in the area, but Louisa was no regular lady!
Having inherited the Ford estate from her late husband, she was quick to work in creating housing for her tenants and a schoolroom for children in 1860.
In Louisa's time, the school wasn't compulsory or free and education was a privilege to the rich, but she made sure that children in the area were given the chance.
As well as a humanitarian, Louisa Anne was a talented painter from a young age and we can see her finest works in the Lady Waterford Hall.
Lady Waterford Hall
The Lady Waterford Hall was commissioned in 1860 by Louisa Anne, the Marchioness of Waterford, as a schoolroom. It remained that way until 1957 and now is a village hall that stands proud in the village.
I loved the architecture outside with its grey brickwork and dove blue tiles and when I went inside my jaw dropped.
The building was lined with timber beams and the walls were covered with gorgeous paintings of scenes from the Bible. I soon learned that all of these paintings were made by Louisa herself to decorate the schoolroom!
The Pre-Raphaelite brotherhood are some of my favourite painters and I could see their touch on the paintings here!
Louisa was inspired by them and also associated with John Ruskin, although I learned she wasn't the biggest fan of him.
You can visit the hall today for a small fee to see the paintings in detail and learn more about this inspiring Marchioness in their delightful displays. I loved the small video you could watch which explained more about Louisa and her legacy in Ford village. It really brings the area to life.
The Lady Waterford Hall is open from 11 am, closing at 3 pm in winter and 5 pm in summer.
Ford Castle
The origins of Ford Castle go back to the 13th century when it was originally built as a manor house in the area.
Lord Heron was granted a license to hold it as a castle in 1341. As the castle was on the border of England and Scotland, it was a treacherous stronghold in turbulent times.
It was seized by the Scottish in 1513 and King James IV himself lodged here before the Battle of Flodden!
Louisa, the Marchioness of Waterford, used to live in Ford Castle who built a schoolroom for children in the village, so it's quite fitting that ever since 1956 it's been an outdoor activity centre. Children can come here for adventure and it's also used as an education centre.
It's not open to the public and when I visited it was under construction, but it's nice to look at from the outside!
Ford Church, St Michael & All Angels
St Michael & All Angels or Ford Church has been in Ford village since the 13th century and used to be associated with whoever was in Ford Castle at the time.
The grounds and graveyard provide a gorgeous panoramic view of Cheviot and Flodden Hill. You can also find Louisa, the Marchioness of Waterford's, grave here if you wanted to pay respects.
The church is quite small but beautiful and you can pop inside to take a look. Some of the architecture was a restoration piece in the 19th century by famous architect John Dobson.
Ford Village Shop and Tea Room
The Ford village shop is an independent business that sells local produce from and to the community and also acts as the local post office.
If you're feeling peckish, why not pop into the Ford Tea Room Gallery? As well as sipping on a freshly ground 'Grumpy Mule' coffee or Brew Tea Company tea, you can help yourself to a scrumptious homemade cake too!
The tea room also acts as an art gallery selling works from local landscape painter, Mark Irving. You can sit inside, or if the weather is nice, there is an outdoor terrace to enjoy the sun.
Other things to do in Ford
That's the main things to do in Ford, but there are some other places to explore too;
Ford High Street – here you can see old fashioned houses and buildings including the Jubilee cottage and Horseshoe Antique forge – with a door shaped like a horseshoe!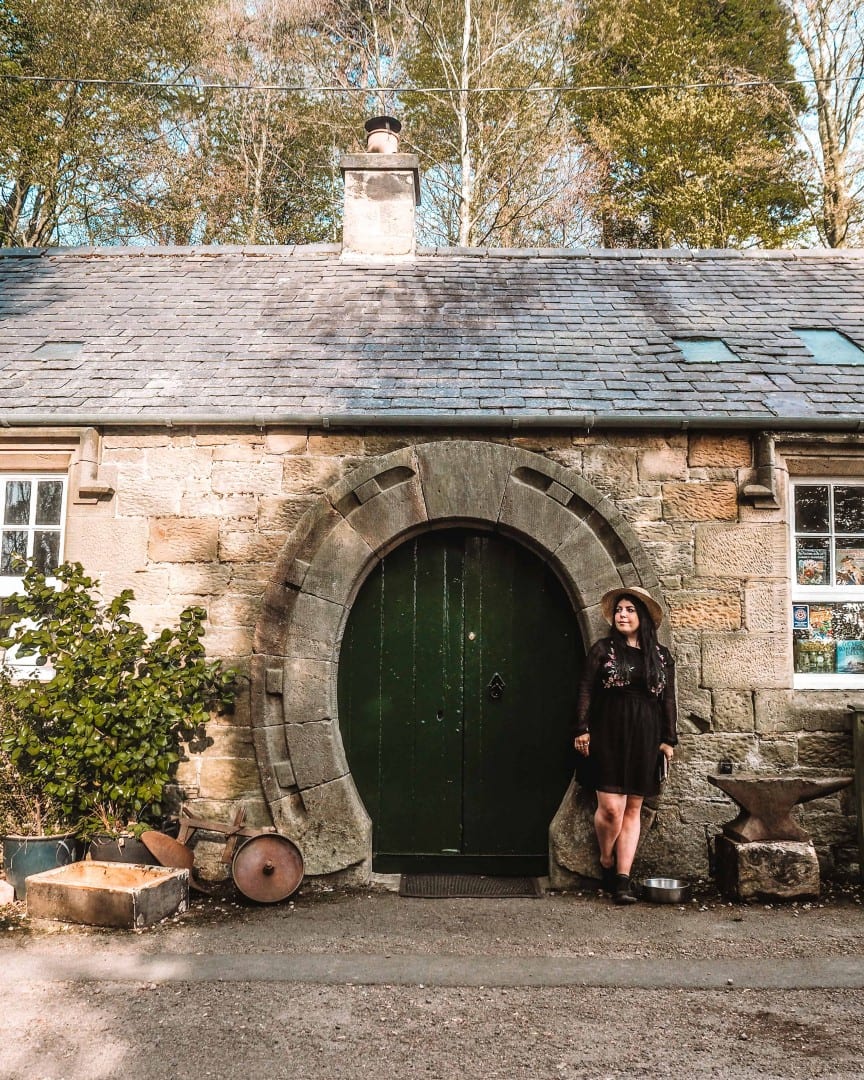 Ford Moss Nature Reserve & Colliery – You can explore this wild nature reserve that spans 60 hectares, with views of Till Valley and the Cheviots. Here you can find limestone bedrocks, beautiful flora and fauna including bog plants! It's been named a Site of Special Scientific Interest (SSSI) but it's quite dangerous so keep to the well laid visitor path. It was also the location of an abandoned coal mining community and the ruin is still there today.
Hay Farm Heavy Horse Centre – an approved rare breeds conservation centre on Hay Farm located between Ford and Etal. You can see and learn about rare horse breeds and animals here inside the centre.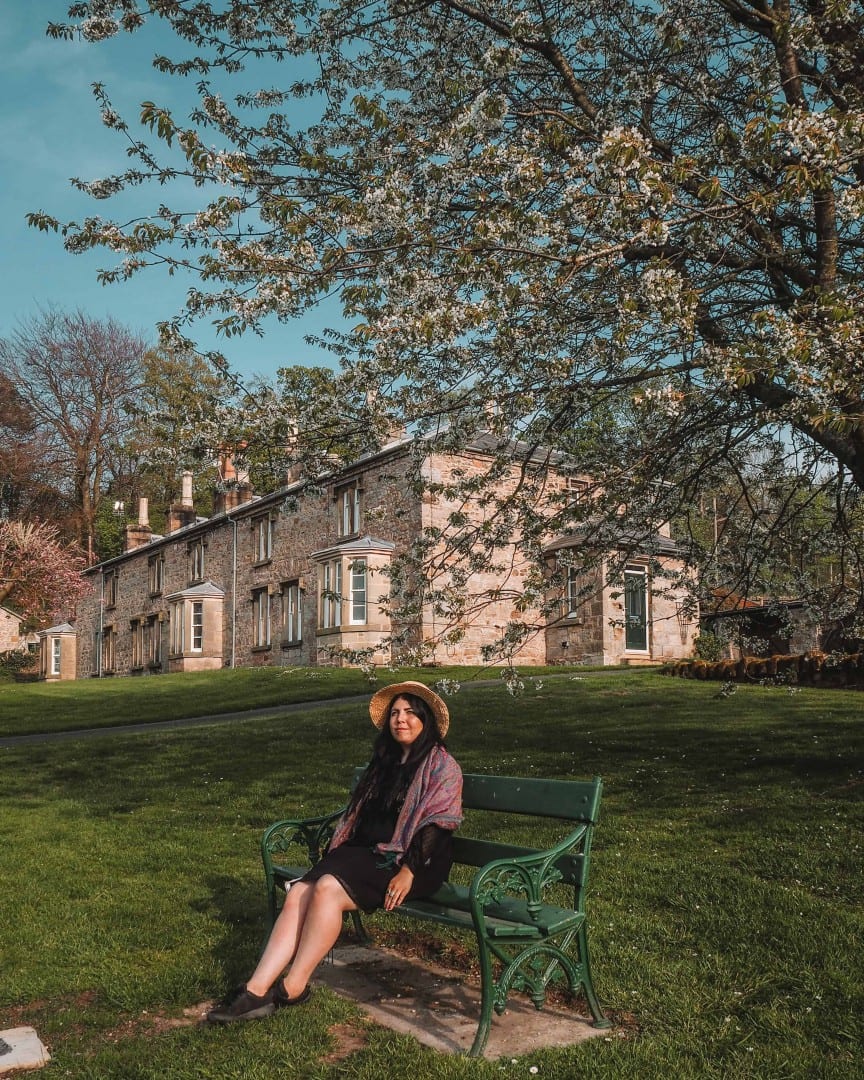 Exploring Etal Village
Etal village is your last stop and even though you've only travelled a few miles you will be able to see the stark difference in architecture as soon as you arrive.
Whereas Ford Village has brick buildings and tiled roofs, Etal has two rows of gleaming white buildings with thatched cottages. It's like something straight out of a postcard!
The centerpiece at the end of the street is Etal Castle, an important chess piece in the territorial games between England and Scotland.
Owned by both the English and the Scots in history, this seemingly small castle today has a rather large and turbulent past.
Etal Castle
Although today Etal Castle is a ruin in the idyllic countryside, it wasn't always such a pretty picture and comes with a bloody past.
Northumberland, being so close to Scotland, was constantly under attack by Scottish raiders. So, in the 14th century, Lord Robert Manners decided to build Etal Castle as a defensive stronghold.
In 1513 Etal castle was taken by King James IV on the build-up to the Battle of Flodden. It was this battle where King James was slain with 9,000 of his men!
Before you enter the castle you can see their award-winning exhibit which gives you all the gory details of Anglo-Scottish warfare. It is hard to imagine as you walk around today the number of people who must have lived and died here in those turbulent times.
Today, it's utterly beautiful! I personally love castle ruins as I find them so romantic. You can explore the grounds and even have a picnic here! Perfect when the sun is out.
Etal Castle is owned by English Heritage. it's free for English Heritage members. Opening times are 10am – 6pm.
Flodden battleground
If you're keen to learn more about the Battle of Flodden, you can visit Flodden battlefield which is only a 10-minute drive away from Etal.
Although it is a peaceful area today, it was the location of one of the bloodiest battles in the British isles! A marker stands in remembrance here.
This is part of the award-winning Flodden Battlefield Trail between here and Branxton. The train has signposts marking out significant events and describes what being there would have been like!
Black Bull
Why not have some lunch or dinner in the only thatched inn in Northumberland while you're here?
The Black Bull has undergone new management in 2019 and it's beautifully decorated inside with a beer garden outside too!
This pub is quite popular in Etal village serving up food using local produce including flour from Heatherslaw corn mill and cheese and sausages from local farmers.
As it was Sunday, I decided to treat myself to one of their Roast Dinners. It was beef, with Yorkshire pudding, potatoes, gravy, and all the vegetable trimmings! I washed it down with a local beer from the Cheviot Brewery that has opened on the Ford and Etal estates too.
It was absolutely scrumptious and I would highly recommend a visit. As it's quite popular, I would make sure you book in advance if you're going to eat.
Other things to do in Etal
Duddo standing stones – these five standing stones date back over 4,000 years from the Neolithic period. They're often called singing stones as their deep grooves make a noise in the wind. It's Northumberland's equivalent of Stonehenge and can only be accessed on foot by a permissive pathway.
Etal church, St Mary the Virgin – a Victorian church that was designed by William Butterfield. It was commissioned by Lady Fitzclarence of Etal manor in 1856 as a memorial to her husband and daughter. It's a small active church that still holds services today.
Lavender Tea rooms – These cosy tearooms are located in the Etal village shop and post office. Here, they serve afternoon teas, coffees, and light lunches. You can try local cakes like Border Tart, "Singing Hinnie" or their Lavender cake!
Where to stay in Ford and Etal
If you would like to spend more than just a day in this beautiful part of Northumberland there are a few places to stay in the area;
Ford Village Bed and Breakfast – Located right next to the Ford Village shop and tea room, this family run Bed and breakfast is ideally located in the middle of town.
You can find more in the area on Ford and Etal's official website.
Read more of my Northumberland articles
How to visit the Farne Islands
A complete guide to Holy Island
Why you must try Lindisfarne Mead
Dunstanbugh Castle walking guide
Harry Potter film locations at Alnwick Castle
Visiting the only poison garden in the world
How to see the Alnwick Cherry Blossom
Eating in the world's largest treehouse!
How to do the Steel Rigg to Sycamore Gap walk on Hadrian's Wall
Visit the magical Barter Books in Alnwick
Why you must visit Bamburgh Castle at Christmas
With thanks to Visit Northumberland and Ford & Etal estates for sponsoring my visits to the Lady Waterford Hall, Heatherslaw Mill, and Etal Castle. Although I was a guest, all opinions and photos are my own.
Save these things to do in Ford and Etal for later!