Did you know that you can have a FREE Disney Day out at Walt Disney World? You read that right! There are many magical things to do in Disney Boardwalk and some of them are completely FREE!
If you're getting tired of queuing, sick of the endless crowds and rides, want some grown-up fun, or just want a relaxing budget-friendly thing to do in Orlando. The Disney Boardwalk is the place to go.
Not only is it full of exciting stuff, but it's also gorgeous with some beautiful scenery both day and night. You'll feel like you've stepped back in time with its quaint and colourful 1920s theme.
It's also based on the likes of Coney Island and Atlantic City and comes alive when the sun goes down with its twinkling fairy lights.
In my humble opinion, it's the most underrated piece of the magic in Walt Disney World and I would highly recommend allowing time to visit on your vacay. Here are the top things to do in Disney Boardwalk!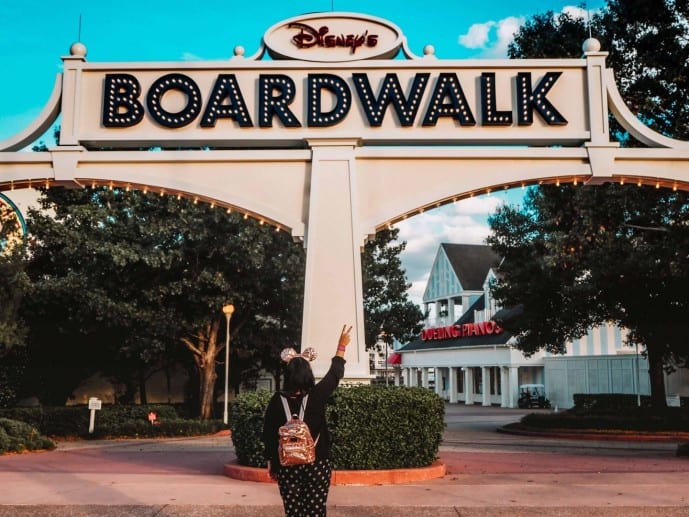 What is Disney Boardwalk?
Disney Boardwalk is an entertainment, dining, and shopping area near Epcot. It's an adorable quarter-mile promenade with a colourful vintage theme, based on turn-of-the-century coastal piers like Atlantic City.
The Disney Boardwalk is closest to Epcot and Hollywood Studios and many of the Disney resorts. So, it's easily accessible and anyone is welcome.
I remember when I first visited at night, I fell in love with the Boardwalk all lit up against the night sky. It has a relaxing atmosphere which is needed after the hectic days around the Disney parks!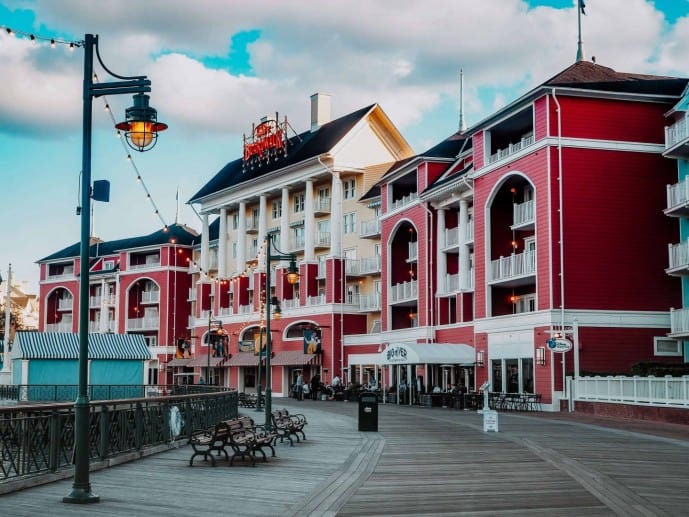 Is Disney Boardwalk free?
YES! The Disney Boardwalk is 100% free to enter. There's no entrance fee, or obligation to buy anything while you're here.
You don't need park tickets or a magic band to enter Disney Boardwalk either. But, you may have to pay a cover charge to enter certain attractions.
It's an amazing budget-friendly place to visit and a FREE Disney day. What could be better?!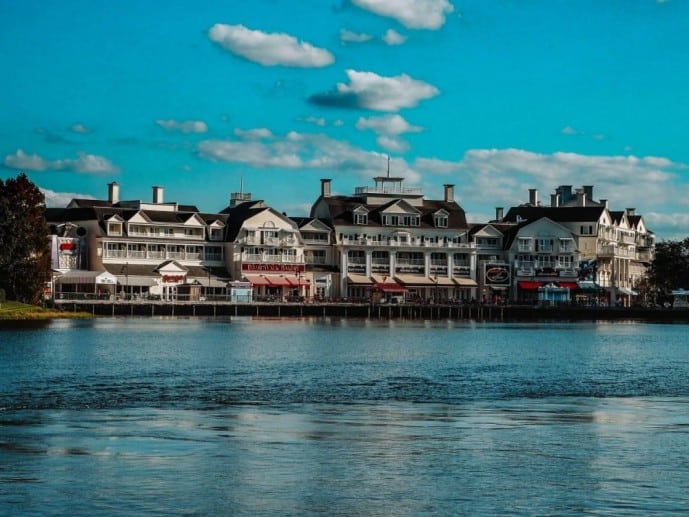 How to reach Disney Boardwalk
Disney Boardwalk is nearest to Epcot and can easily be accessed on foot via the International Gateway between the United Kingdom and France section of the World Showcase.
Nearby resorts are Disney's Boardwalk Inn and Villas, Walt Disney Swan Hotel, Walt Disney World Dolphin Hotel, Disney's Yacht Club, and Disney's Beach Club Resort. All provide easy access footpaths to the Disney Boardwalk.
But, there are plenty of transportation options to reach the Boardwalk too from further afield.
Disney Boardwalk Parking
If you're planning on driving you can self park for free in the Disney Boardwalk Inn & Villas or the Resort overflow parking lot? Valet parking is $25USD.
But, parking spots are limited and Disney World recommends using their complimentary transport options which are more eco-friendly.
You could also park at Epcot or Hollywood Studios and take a short walk, but it will cost you for parking.
Disney Water Transportation
If you're in either Epcot or Hollywood Studios, it's fun to catch a free Friendship Boat over to the Disney Boardwalk. These run every 15 minutes and the last one runs at 9.30 pm. Look at the Disney Bus options below if you're staying here late.
These can be quite busy and, over the holiday season, we waited 45 minutes for a Friendship Board during the afternoon.
The ride is scenic with some beautiful views along the river. As well as stopping at the Disney Boardwalk, the Friendship Boats stop at some of the Disney Resorts on the route.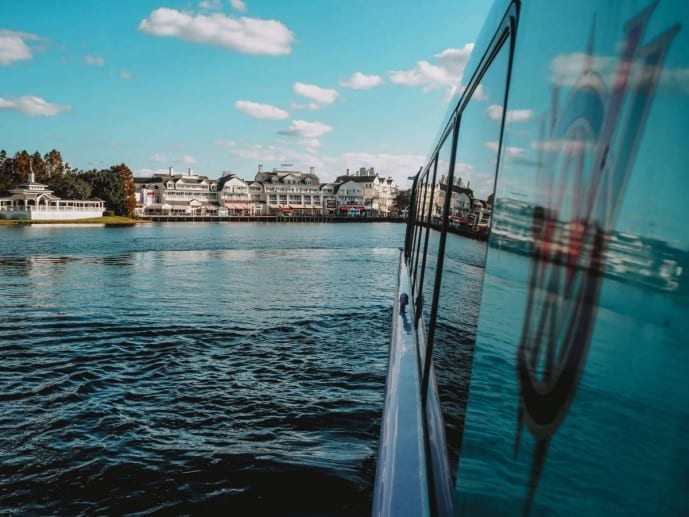 Disney Bus Transportation
There are no direct bus options for Disney Boardwalk. But, if the queues for the Friendship Boat are too long or, you've missed the last boat.
There are free Disney Bus options from Epcot or Hollywood Studios which is a short walk away. Buses run approximately every 20 minutes.
What can you do at Disney Boardwalk?
As it's a dining, shopping, and entertainment complex all in one, there are so many things to get up to at Disney Boardwalk. Some of these are FREE and others will cost money.
The great news is that those on a Disney dining plan, whether counter service or table service, have options for dining here. So, get tapping that magic band!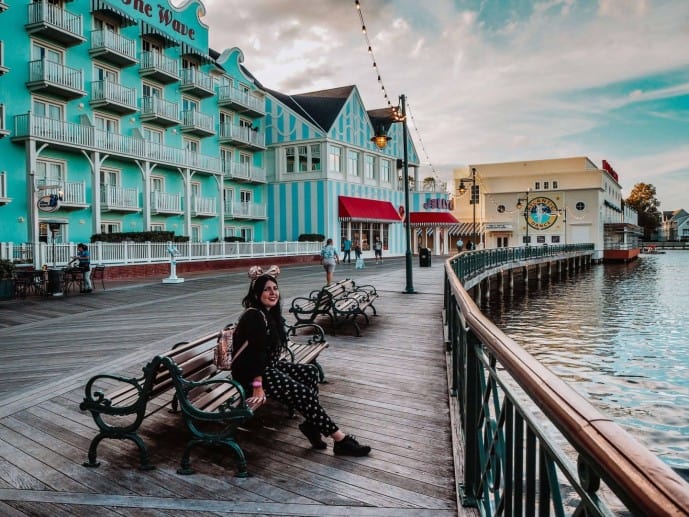 Top things to do in Disney Boardwalk
1. Go for a stroll along the Disney Boardwalk promenade
Seems obvious, but this for me is the main draw for a visit to Disney Boardwalk. You can walk along the promenade on the river's edge and take in the magnificent views.
We visited on a sunny afternoon and it was so relaxing to spend a few hours away from the crowds.
It's a quarter-mile boardwalk but there is so much packed in you'll have a tough time deciding where to go and what to do!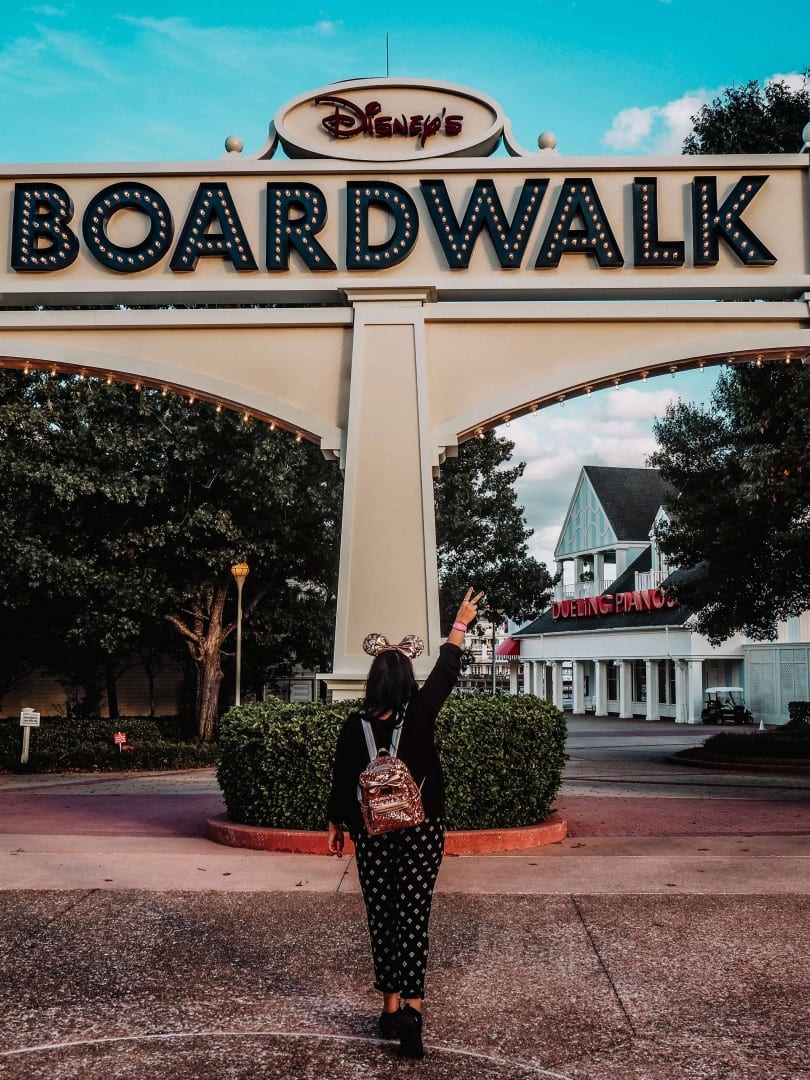 2. Visit Disney Boardwalk Bakery
Okay, I lied. THIS is secretly the reason why I love Disney Boardwalk. On my last visit to Walt Disney World, they had done away with a lot of the bakeries and replaced them with Starbucks.
So, I was super happy to see that the traditional Boardwalk Bakery is still alive and kicking.
Don't get me wrong, I love Starbucks, but the Disney treats are so much better.
The Boardwalk Bakery has so many Disney-themed cakes, you'll have a hard time choosing one. Mickey-shaped cupcakes, brownies, muffins, they even had a cake that was shaped like Belle's dress in Beauty and the Beast. Be still my beating heart!
Read more: The tastiest Mickey-shaped food at Disney
Boardwalk Bakery Mug refill
Another great benefit of the Boardwalk Bakery is that you get a free mug refill here too!
If you're not sure what this means, it's where Disney Resort members get a refillable mug and they can help themselves to soda fountains and hot drinks free of charge at certain refill stations during their stay.
So, if you have your mugs with you or you're staying at the resort, remember to refill at the Disney Boardwalk Bakery. It's an awesome budget saver.
3. Rent Disney Boardwalk Surrey Bikes
What could be more fun than renting a bicycle with friends?! At the Disney Boardwalk, you can rent fun and colourful Surrey Bikes.
I saw lots of families and friends renting these out and riding them up and down the pier. It looked so exciting. I'm gutted I didn't have the time.
The counter is easily found as it's close by the Boardwalk friendship pier. However, these are not free and incur an additional cost.
4. Spend in Disney Boardwalk shops
I mean, it wouldn't be Walt Disney World without a gift shop right?
At Disney Boardwalk, there are plenty of shops that you can wander into and spend your cash, even Disney dollars if you have them!
Screen Door General Store
This store has loads of Disney merchandise including souvenirs, jewellery, magnets, pens the lot!
As well as souvenirs, they have a huge supermarket selling groceries if you've forgotten to pack something.
They have their very own Disney bakery section too with some super cute offerings. Including cupcakes, muffins, cookies, candy apples the lot!
Thimbles & Threads & Pin Station
Thimbles and Threads is an extension of the Screen Door General Store and, here, they sell all sorts of Disney clothing. Caps, Mickey ears, t-shirts, sweatshirts, and bags it's all here.
As well as clothes, they also have a Pin station where you can buy some new pins for your collection.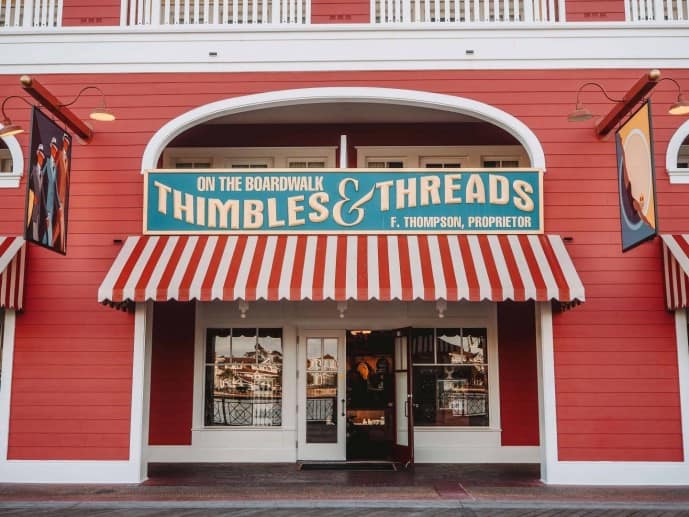 Wyland Galleries
Why not take in some Disney-inspired art while you're here. The Wyland galleries at Disney Boardwalk. Ever since the Boardwalk opened in 1986, this gallery has attracted thousands of visitors.
You'll find a gorgeous marble floor, bronze dolphins, and loads of gorgeous artwork on display to enjoy!
The Wyland Galleries is FREE to enter and you can purchase artwork of your own inside.
5. Party at Disney Boardwalk Atlantic Dance Hall
Of course, there are so many things for grown-ups to do at Disney once the sun goes down, but the Atlantic Dance Hall is a highlight of the nightlife on offer.
It's actually Disney World's last remaining nightclub on the river that has a 1940s theme but plays upbeat modern music. In here you can have a few drinks with friends and party the night away on their dance floor.
Most days it's free to enter, however, the Atlantic Dance Hall may have a cover charge on certain nights.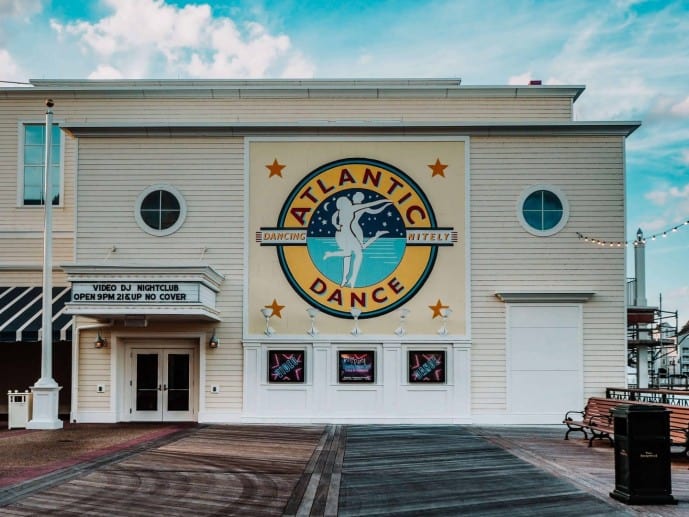 6. Be entertained at Jellyrolls
Jellyrolls is another adult hangout nearby the Atlantic Dance Hall. It's a restaurant and bar for over 21's that features two duelling pianos.
These musical maestros' hit the stage and play all sorts of musical requests making you laugh along the way.
So grab a drink and enjoy the show! There is a cover charge to enter Jellyrolls.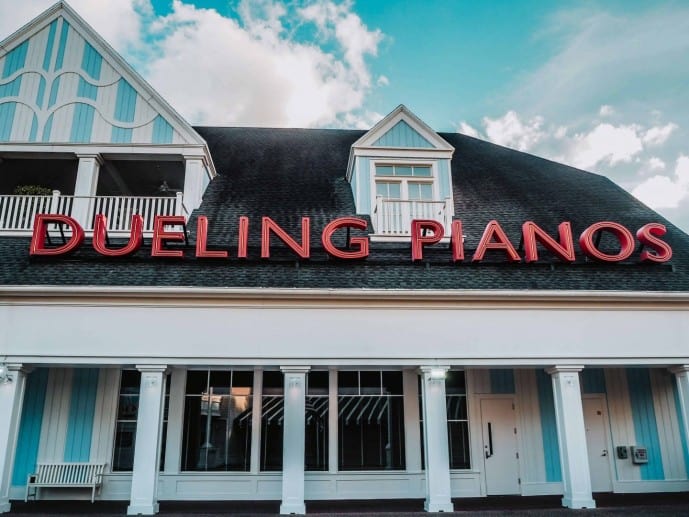 7. Eat at the many Disney Boardwalk restaurants
If you weren't into the clubs, but want a nice setting for dinner, Disney Boardwalk has no better place. They have many table and counter service restaurants that all provide breathtaking views of the lagoon and beyond.
At night, the Boardwalk lights up with twinkling fairy lights which creates a magical atmosphere. I'd highly recommend it!
Table service restaurants at Disney Boardwalk include Flying Fish, Trattoria Al Forno, and the Big River Grille & Brewing Works are also table service restaurants that serve up a delicious fare.
Counter service outlets here include the Ample Hills Creamery which serves up incredible ice cream, the Disney Boardwalk Pizza that's by Trattoria Al Forno, and the Boardwalk To Go which serves up corn dogs and light bites.
8. Get tipsy at the Disney Boardwalk bars
Disney Boardwalk is a great spot for nightlife, as well as the Atlantic Dancehall they have a few bars you can try.
AbracadaBar
AbracadaBar is a favourite on the Boardwalk as it was an intriguing vintage magician theme. As the home of illusionists, magicians, and their assistants, you can choose a spell-binding concoction from their cocktail menu.
Inside you'll see show posters, magic mirrors, and vintage props on show. You'll feel like you've been transported through time!
Boardwalk Joe's Marvelous Magaritas
It's 5 o' clock somewhere right?! Boardwalk Joe's Marvelous Margaritas serve up frozen margaritas, beer, and sangria from 12 pm.
So, you can enjoy one while basking in the sun on the boardwalk. They also serve up Mickey pretzels and roasted nuts too. All are included as snacks on the Disney dining plan. Bliss.
9. Visit the Belle Vue Lounge and get involved in an Arts and Crafts Class
The Belle Vue Lounge is a quaint 1930s theme lounge inside Disney's Boardwalk Inn. Inside you can listen to a radio programme while having coffee and pastries in the morning, play board games in the afternoon, and have a meal with a cocktail or two in the evenings.
Disney Boardwalk provides many crafting events, at certain times of the year. These include painting your own wine glass, canvas drawing, and even making your own wire Mickey Ears!
These events do incur an additional cost, enquire at the Belle Vue Lounge for details.
10. Play the Disney Boardwalk Carnival Games & Disney Boardwalk arcade
If you take a stroll along the promenade, you can have all the fun at the Carnival. You can play the many vintage funfair games that are open like the Lob-A-Lobster and a Hoop Toss.
These do cost an additional fare, but it's so much fun to try and bag a Disney prize, you may become addicted!
The Disney Boardwalk Inn also has an arcade, where you can spend a few hours collecting tickets for prizes.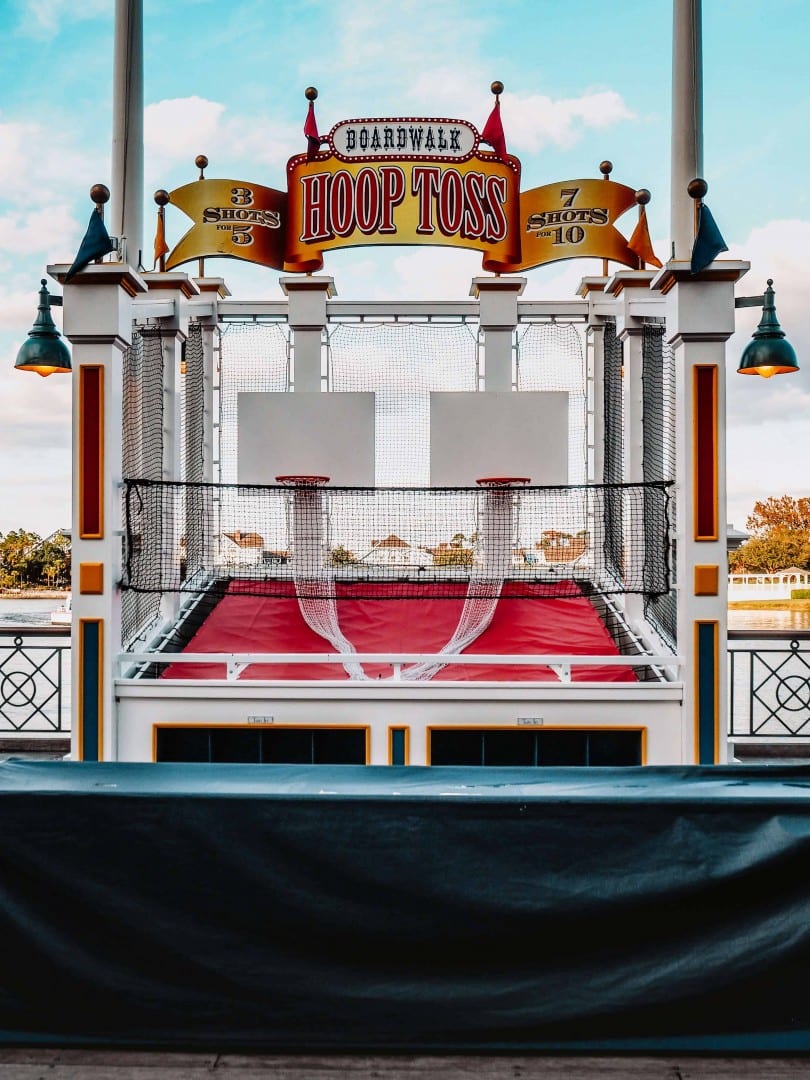 11. Take a Friendship boat ride
One of my favourite things to do at Disney is taking a relaxing boat ride along the river. The complimentary Friendship Boats from Disney Boardwalk run throughout the day and head from Hollywood Studios to Epcot and back.
As well as the Boardwalk and the Disney Parks, these Friendship Boats head to the Beach Club, Yacht Club, and the Dolphin and Swan Resorts.
These boats provide gorgeous views and a lovely change of pace from the hectic bus rides but these are quite slow with long queues.
Make sure you leave enough time if you're planning to ride the boats to get to your next destination.
12. Go for a walk along the river to the Disney Parks
If the boat rides are too long or you just fancy walking. Why not take a stroll to the Disney parks from the Boardwalk?
Both Epcot and Hollywood Studios can be easily accessed from the Disney Boardwalk on flat footpaths.
If you're staying around the area in one of the Disney Resorts, these footpaths also provide a great jogging route with some breathtaking scenery too.
Read more of my Walt Disney World guides
Beautiful photo spots at Walt Disney World
Unmissable Mickey Food finds in WDW
The secret Disney Walls of Walt Disney World
Where is the You are Most Beautiful Wall?
What is the Purple Wall at Magic Kingdom?
A complete Be Our Guest restaurant review
Save these things to do at Disney Boardwalk for later!