Howdy folks, did you know that there are lots of amazing and FREE things to do in Disney Village Paris?
That's right, you can visit this area of Disneyland Paris resort without a park ticket and there are plenty of things to do there to feel part of the magic.
From lots of boutiques, fun-themed restaurants, cafés, a cinema, hotels, and Lake Disney. There are plenty of reasons to visit this dreamy village.
Here are all the things you can expect to find at Disneyland Paris Disney Village!
What is Disney Village in Paris?
Disney Village is an entire leisure complex that is located just outside the entrance of Disneyland Park and Walt Disney Studios Park.
It's a great place for those staying at Disneyland Paris as there are hotels, cafés, and shops to visit.
It's a huge resort with plenty to do. In fact, you could probably spend a day here if you really wanted to.
The best part about Disney Village Paris is the fact that it is open before the parks open and stays open way after the parks close.
So, it's a great way to keep the magic going once the sun goes down. Plus, it doesn't cost a single penny to visit.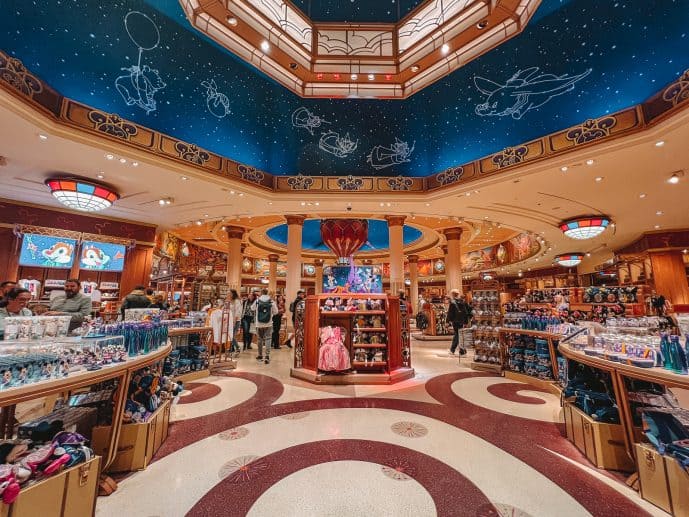 Do you need to pay for Disney Village Paris?
No, Disney Village Paris is completely FREE to visit. In fact, you don't even need a valid park ticket to visit the village.
So, even if you weren't planning on visiting the parks whatsoever, you can still visit the village for free.
It's very easy to do from Paris on the RER A (red line). You can travel from stations like Gare de Lyon, Nation, and La Defence to Marne-la-Vallée Chessy and it takes around an hour from central Paris.
Or, you can travel to Chessy from further afield via the Eurostar and regional TGV trains.
As soon as you leave the Chessy train station just head through the security tents and then you're in the Disney Village.
Paris Disney Village opening times
Disney Village security is open all hours of the day and night as it's a resort complex with hotels. So, you can visit whenever you want.
But, the only thing that will open from around 7 am / 8 am would be McDonald's, Starbucks, and New York Style Sandwiches.
Most of the shops will open around 9 am and the themed restaurant like Annette's Diner doesn't open until 9.30 am / 10 am.
It's a completely different story in the evening, however. All the shops and restaurants remain open after the parks close for the day.
There are even bars here that stay open way into the evening until 12 am / 1 am!
Disney Village Paris is the perfect place to visit after the Disney Parks close if you're not ready to say goodbye to the magic.
Or, it makes a great place to visit for dinner and drinks in the evening. The place has a really nice vibe.
Magical and free things to do in Disney Village Paris
So, here are all the magical and free things to do in Disney Village Paris.
There is plenty on offer including shops, restaurants, an air balloon ride, a walk around Lake Disney, and some Art of Marvel hidden gems.
1. World of Disney
So, the largest shop at Disney Village Paris would be the World of Disney and it's absolutely massive.
Above the shop, you'll find a giant dome with Mickey and his friends in a giant air balloon surrounded by the stars.
Look out for constellations of Winnie the Pooh, Dumbo and the three fairies from Sleeping Beauty.
If you're looking for a particular Disney item, it will most likely be found here. They have everything from crockery, mugs, jewellery, Mickey Ears, sweets, keyrings, clothes, and toys.
You could get lost here because there is so much to see and It's one of the best things to do in Disney Village Paris.
To avoid it being too busy with long queue lines I'd avoid shopping just after the parks close.
2. Disney Village Starbucks
I absolutely love the fact that they have Starbucks in the parks at Walt Disney World and the fact that they had one at Paris Disney Village was awesome.
They don't have any themed Disney cups as they do in Florida or any Disney-inspired snacks or drinks.
But, they do sell some amazing Disneyland-themed Starbucks mugs to buy. I bought a few of them, including a 30th Anniversary edition, as they make great collectibles.
This Starbucks is a lifesaver if you're looking for coffee or a snack before the parks open in the morning!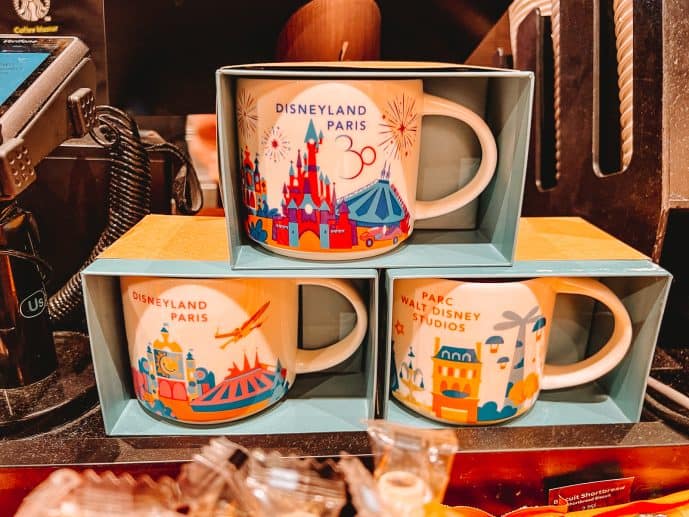 3. Disney Store
If you didn't find what you were looking for in World of Disney, why not try another shop called Disney Store?
This store mainly has toys for sale and there is every sort of Disney-inspired cuddly toy you could think of inside.
There are also balloons, Disney Ears, Star Wars pieces, Marvel-related gifts, and so many sweets.
The shop is also amazingly decorated and you can find Minnie, Mickey, Daisy, and Donald riding a spaceship on the ceiling.
4. Annette's Diner
Annette's Diner is a Disneyland Paris restaurant here in the village. It's a 1950s American-style diner with neon lights, jukeboxes, and a retro car parked out the front (which makes a great photo opportunity).
They serve up breakfast, lunch, and dinner throughout the day and it's all American-inspired.
So, think fluffy pancakes with bacon and syrup for breakfast. For lunch and dinner, it's all types of burgers you can think of served with fries and milkshakes.
You can't reserve Annette's via the Disneyland App but they usually have lots of room. It's one of the best things to do in Disney Village Paris.
Be aware that although Annette's serves 'breakfast' this doesn't start until 9.30 am – 11.30 am. Not ideal if you're hoping to grab food before the parks open!
5. Earl of Sandwich
The great thing about Disney Village Paris is the fact that they have lots of budget options to eat for lunch or dinner. Even the quick-service food options at the parks can be pricey.
Earl of Sandwich is an American franchise and a really popular option for those looking for something lighter to eat. You can find it near the Rainforest Café.
The menu serves up a range of hot and cold sandwiches, salads, and wraps filled with tasty fillings. There are even soups, chips, pizza bread, and desserts.
As it's a budget option here you can expect queues to be quite long throughout the day.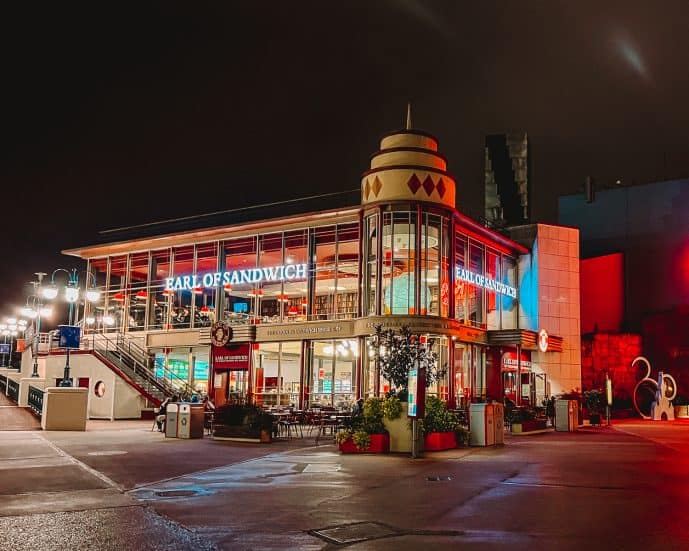 6. Disney Village Rainforest Café
Next door to the Earl of Sandwich you can find the amazing Rainforest Café which was one of my favourite restaurants as a kid.
The entire restaurant is decorated like the Amazon rainforest and there are lots of wild animals inside like the Red-Eyed Tree frog, gorillas, elephants, and jaguars.
They all make noises throughout your dining experience and there is even a few tropical storms overhead. It's honestly perfect for kids to keep them entertained.
I love the Rainforest Café for its varied menu inspired by the jungle. You'll find Safari Salads, Rio's Pizzeria, Pasta, Burgers and Desserts. There's also a Menu Cha-Cha and kids menu.
After you've finished your meal don't forget to check out their Rainforest Café boutique filled with all sorts of Amazonian souvenirs.
7. Disney Village McDonald's
As you can imagine, the Disney Village Mcdonald's is one of the busiest eateries here. It's one of the most popular things to do in Disney Village Paris.
It's a great budget choice as the prices aren't hiked up just because they are part of the Disney resort. Plus, kids love a Happy Meal with a free toy.
You can grab a McMuffin and coffee for breakfast from around 7 am or find their regular menu of burgers, fries, and shakes throughout the day until around 12 am.
If you want a unique snack in France, you must try their McChoconuts which is a Chocolate Burger. It's nicer than it sounds.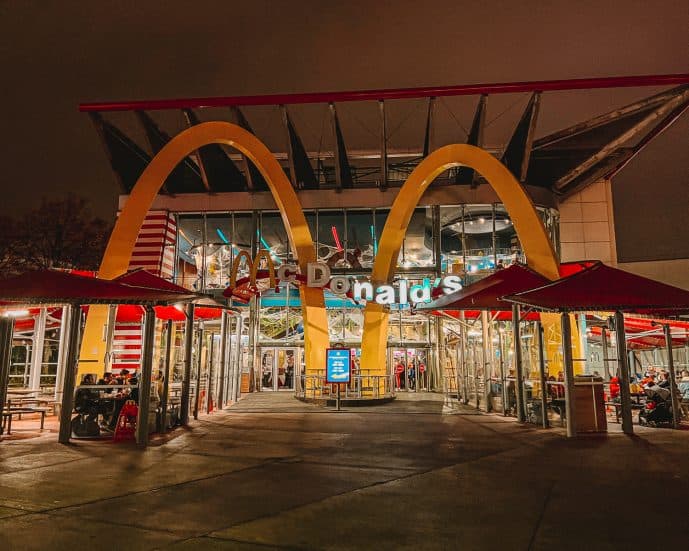 After the parks close, you can expect to wait anything up to an hour in line for a McDonald's. The line for the machines is often out of the door.
It's a huge restaurant with two floors and lots of seating both inside and outside. There's even a lift for accessibility.
I loved it as it reminded me of the McDonald's restaurants of the 90s as you could find original McDonald's characters like Ronald McDonald, the Hamburglar, and Grimace. Ya girl is getting old.
They went hardcore for Halloween decorations too (rare for France) and the entire place was covered in cobwebs!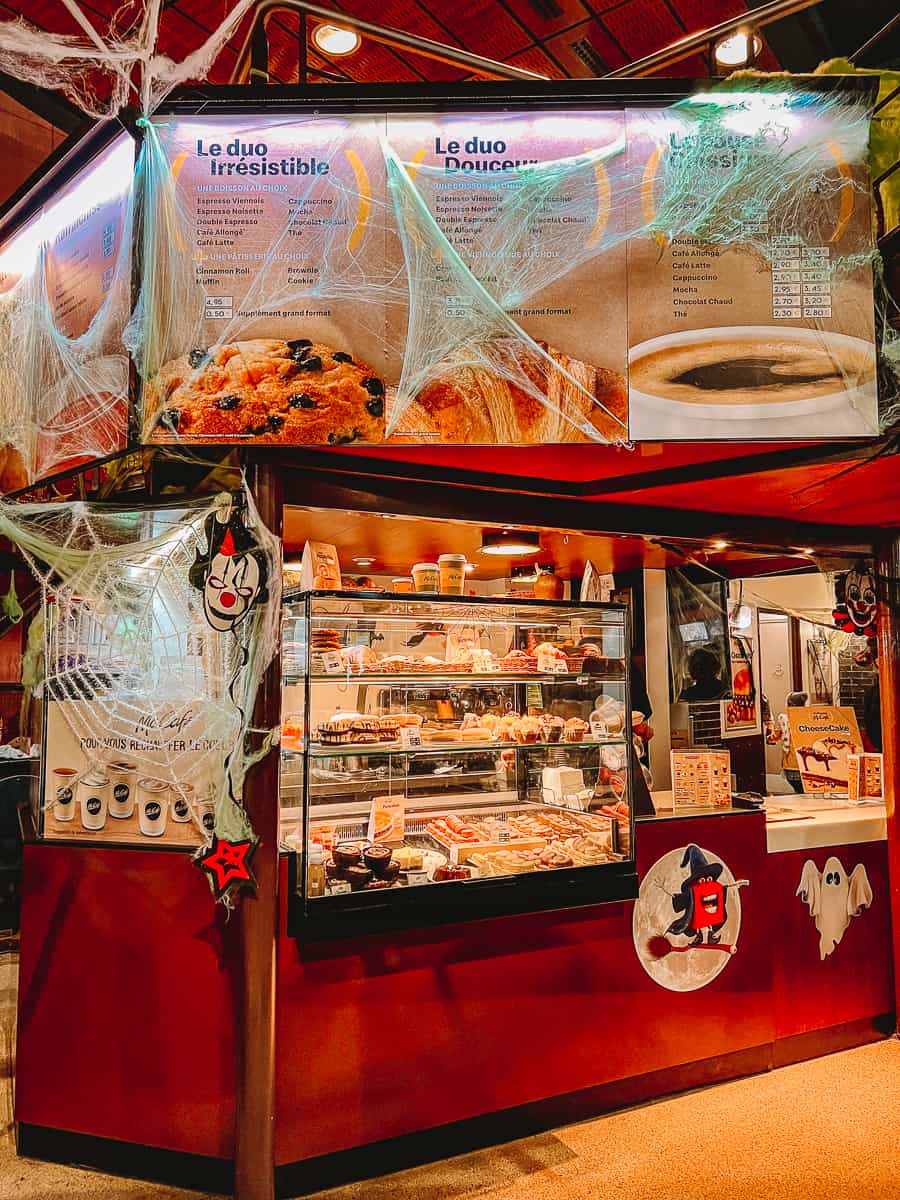 8. The Royal Pub (Previously King Ludwig's Castle Restaurant)
Another one of the Disney restaurants you can find here in the village is The Royal Pub which was previously King Ludwig's Castle.
King Ludwig's Castle was inspired by King Ludwig II who built Neuschwanstein Castle and in turn, inspired Walt Disney to create Cinderella's Castle for the animation and the castle at Walt Disney World.
Unfortunately, it is now closed (*sniff* – it was so good) and it is called The Royal Pub which is going to be styled like a typical British pub.
It won't open until later this year and it's meant to have a warm and cosy atmosphere with alcoholic drinks, burgers, sandwiches, and salads.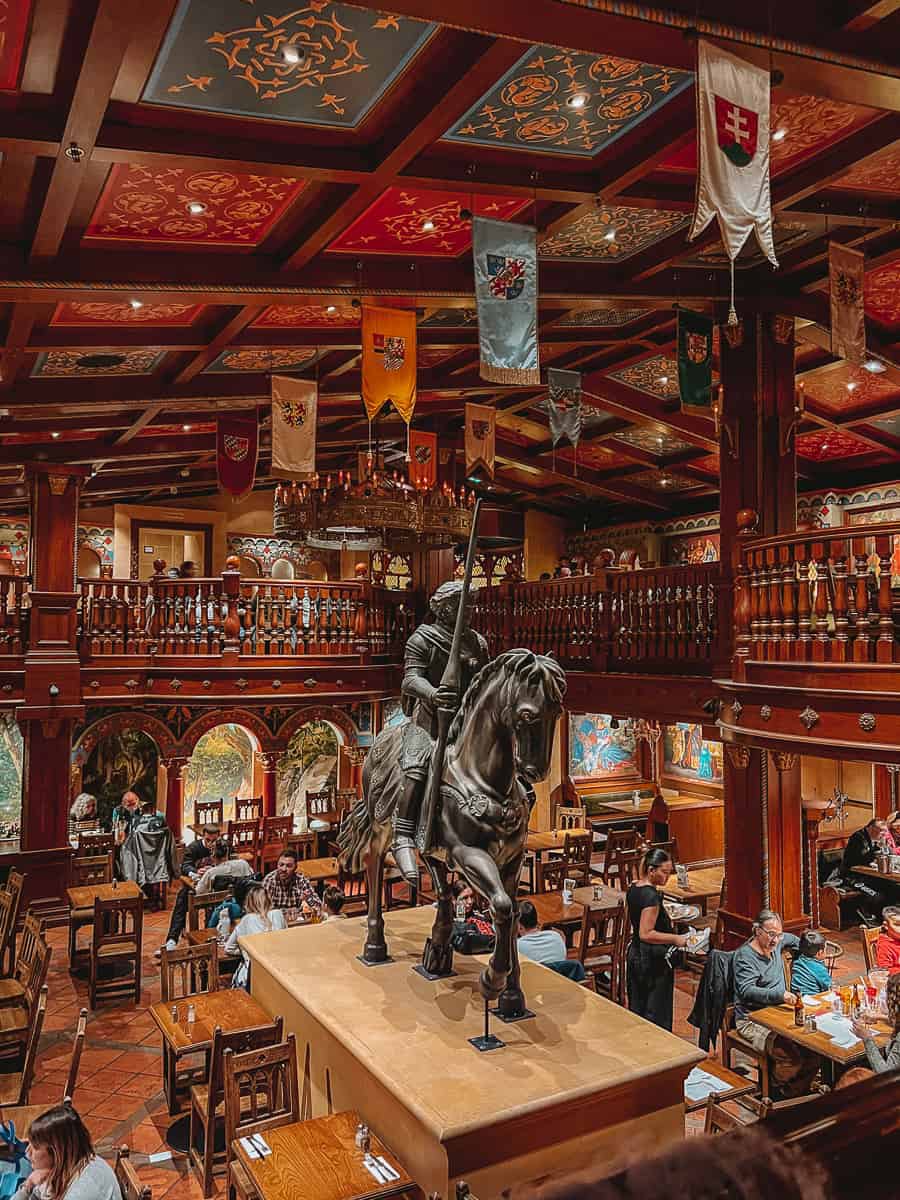 9. Disney Fashion
If you were looking for some clothes that weren't your run-of-the-mill Disney tees, you'll find some beautiful outfits in the Disney Fashion store.
Here, they have some gorgeous Disney-themed dresses, Loungefly backpacks, pyjamas, Pandora jewellery, and other pretty things.
This is the shop I go to if I'm looking for something a little different to wear in the parks. They have all sorts of accessories and some homeware thrown in too.
It's also a place where you can get a tax refund. If you're from the UK or from a country not in the EU, you can now claim a tax refund if you spend over 100 euros in any of the Disneyland Paris shops!
Just save your receipts and visit the Disney Fashion store to claim. You can also do it in this in the City Hall.
10. Disney Village Sports Bar
Sports Bars just aren't my thing but it's a very popular place to have a drink in the Disney Village.
It's just like a traditional American Sports Bar with lots of screens to show the latest soccer match, football, baseball, basketball, or cricket game.
When there is a big tournament, like the World Cup or Champions League, this place can be heaving. But, it's a lively atmosphere to feel part of the action.
Even if there isn't a game on, it serves up food throughout the day in its sports-themed restaurant until late evening.
11. Disneyland Paris LEGO store
I love visiting a LEGO store like the one in London Piccadilly as they have all these amazing statues.
I've not bought LEGO in years, and don't plan to, but I love visiting all the same for the vibes.
The Disneyland Paris LEGO store has a beautiful mural of Sir Philip fighting off Maleficent's dragon from Sleeping Beauty.
You can also find a statue of Sorcerer Mickey from Fantasia and R2 D2 from Star Wars.
Beyond ogling the artwork, the shop sells lots of LEGO sets where you can construct scenes from your favourite movies at home.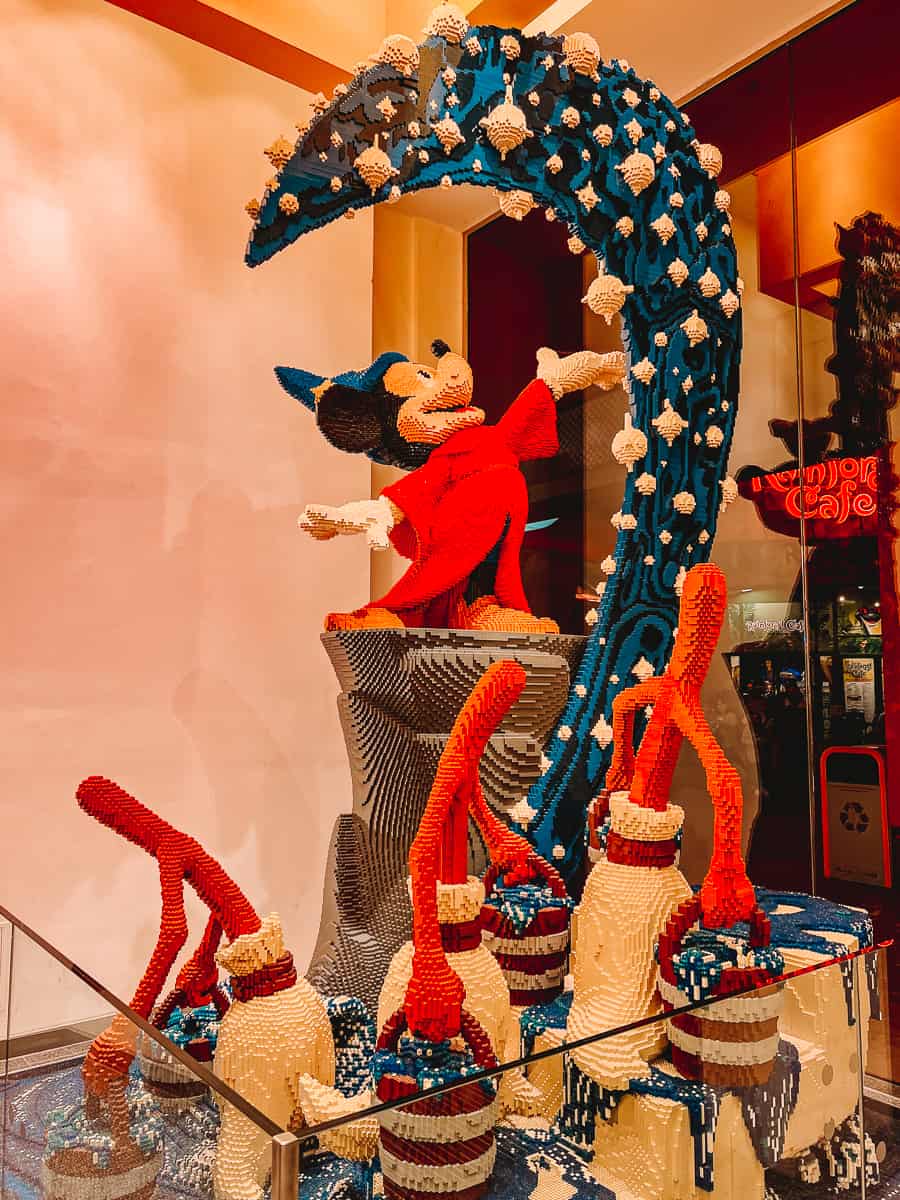 12. Disney Gallery
One of my favourite shops was the Disney Gallery which has lots of beautiful artwork and models on display.
As you make your way around the Disneyland Park you'll see lots of posters dotted around and you can buy miniature versions of these here.
My favourite is the vintage poster of Sleeping Beauty's Castle or Le Château de la Belle au Bois Dormant. I got a poster of this and it was really easy to order via their machines in store.
You can order it on different types of paper and frames. The more elaborate the paper and frame the more expensive it gets.
Instead of taking it straight home, Disney Gallery arranges to ship it to you directly and it will arrive in a few weeks depending on your country. I'm from the UK and the delivery took around a fortnight.
Beyond buying artwork, it's just nice to visit the Disney Gallery to see some of the portraits and models. You can find a huge model of Sleeping Beauty's Castle towards the back.
13. PanoraMagique
Disney Village does have a ride and it's the big Hot Air Balloon you can see on Lake Disney called PanoraMagique. It's one of the more unique things to do in Disney Village Paris.
It's not free and you do have to buy a ticket at the desk before you ride. It's usually open every day of the week throughout the day until early evening.
You can step into the balloon basket and then it will take you on a 6-minute ride with unrivaled views over the entire Disneyland Paris resort.
Even if you don't plan to ride, PanoraMagique makes a beautiful photo opportunity on the shores of the majestic Lake Disney.
14. Billy Bob's Country Western Saloon & La Grange
Billy Bob's Country Western Saloon is an Old-West style restaurant and bar in Disney Village that looks like something straight out of Frontierland home to Big Thunder Mountain.
It serves up a range of drinks, cocktails, and platters of nachos. All the while you can listen to lively music. They even have a DJ on certain nights where you can dance til dawn.
If you were looking for a restaurant, you should check out La Grange at Billy Bob's Country Western Saloon.
This is a Tex-Mex-style buffet. You can feast on as many chicken legs, ribs, fish fillets, and corn on the cob as you can stomach.
15. New York Style Sandwiches
New York Style Sandwiches is a Disney restaurant that is like stepping into the streets of Manhattan next to the Sports Bar. It's one of the better things to do in Disney Village Paris.
They serve up hot and cold sandwiches throughout the day. They also have hot food like a Mickey-shaped pizza, fish & chips, hot dogs, and pasta.
There are also bakery items like Disney muffins and pastries. You have to try one of the Mickey Mouse Beignet's which are filled with Hazelnut chocolate.
The good news is that New York Style Sandwiches serves breakfast from 8 am – 11 am so you can pick up something before the parks open. It stays open until around 11 pm.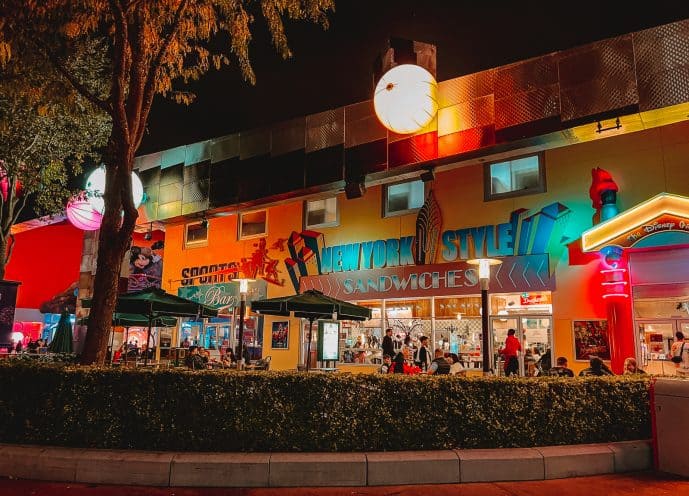 16. The Steakhouse
The Steak House is one of the more premium restaurants here at Disney Village Paris and has a gorgeous interior.
It is decorated with a 1950s Chicago vibe and it's meant to be a meatpacking warehouse that has been transformed into a high-class steak joint.
You'll find a bar and a huge seating area where they serve up juicy steaks, BBQ, and other dishes throughout the day and evening.
This is one of the restaurants you can book via the Disneyland Paris App and tables do sell out. So, make sure to plan ahead.
17. Disney Village Cinema
Did you know that the Disney Village has an entire entertainment complex including a cinema?
Gaumont Disney Village is a huge venue that shows the latest Hollywood blockbusters on 15 state-of-the-art screens using the latest Imax Laser technology.
Many French movies will be shown here and will obviously be shown in French. Some Hollywood movies will be dubbed in French with English subtitles.
But, some US or British movies will be offered in English with French subtitles. Always check with the staff at the desk before you book.
If you're lucky, you could catch the latest Disney or Pixar movie whilst you're here! It's one of the more fun things to do in Disney Village Paris.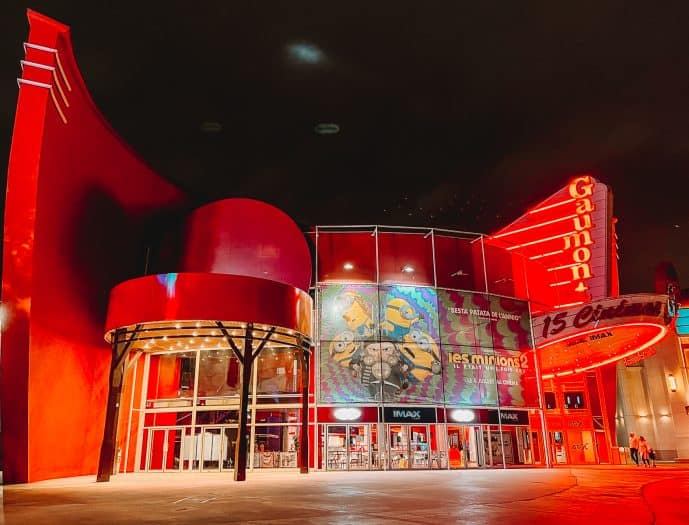 18. Vapiano
Vapiano is an Italian / Mediterranean-style restaurant franchise located just outside the security tents at Disney Village.
It serves up fresh Italian dishes like pizzas, pasta, and salads and is prepared for you by its very own Vapianisti.
I haven't eaten here so I can't attest to what they are like but it seems quite a popular option.
19. Five Guys
Another restaurant located just outside the security tents is Five Guys, a popular franchise.
It's a great burger place as you get to create your own burger. So, you decide on your toppings and sauces for your patty and bun.
All burgers have the option of being served with skin-on fries and you can treat yourself to a bottomless soda fountain too. Don't forget to pick up a tray of their complimentary free peanuts.
This place is also very busy just after the parks close but is usually pretty quiet throughout the daytime.
20. Take a stroll around Lake Disney
Disney Village is home to the majestic Lake Disney which sits at the heart of the Disney Resort.
Around the lake, you'll find properties such as the Art of Marvel Hotel, Sequoia Lodge, and the Newport Bay Club.
The lake makes a great place to go for a stroll and you can find lots of hidden gems dotted around here.
You can visit a Lighthouse, spot some Marvel statues, and see PanoraMagique reflected in the water.
It makes a great stroll after you've spent some time shopping or eating in Disney Village.
21. Hotel New York – The Art of Marvel
There are a few bars and restaurants located in Hotel New York – The Art of Marvel that are available even if you're not staying here.
You can step into the lobby and see over 350 pieces of Marvel artwork inside plus a boutique, a Manhattan Restaurant, and a New York City Bar.
Plus, there are plenty of photo opportunities inside like their cartoon cut-outs, Marvel artwork, a huge model of Tony Stark, and a New York cab out front!
Even if you don't plan to dine, it's worth having a look inside. It will feel like you've stepped into New York.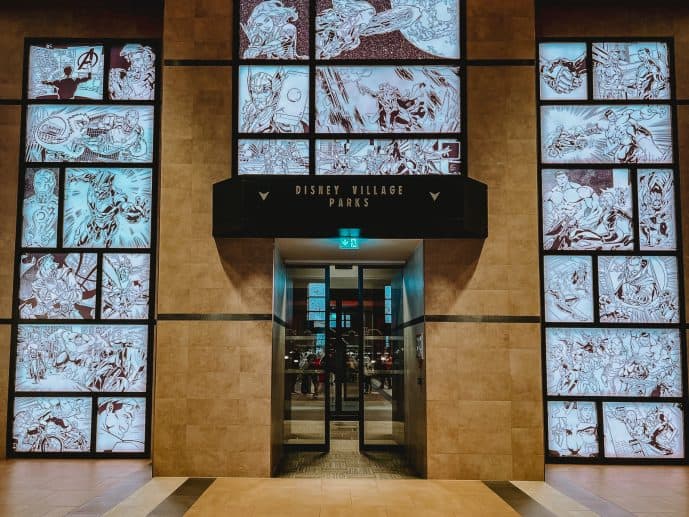 22. Newport Bay Hotel
Another hotel I would recommend visiting is the Newport Bay Club. It's a 1920s New England-style mansion set beside Lake Disney and looks like something from a fairytale.
Inside, you'll find lots of chandeliers, artwork, and bric-a-brac. They have their Cape Cod restaurant and Yacht Club on offer to dine.
They sometimes have character meet and greets here and there is the Bay Boutique Hotel as well.
If you're a Disney annual pass holder, you can use their pool and spa facilities. Check your benefits to see if you are eligible.
Read my detailed Newport Bay Hotel review and if Compass Club is worth it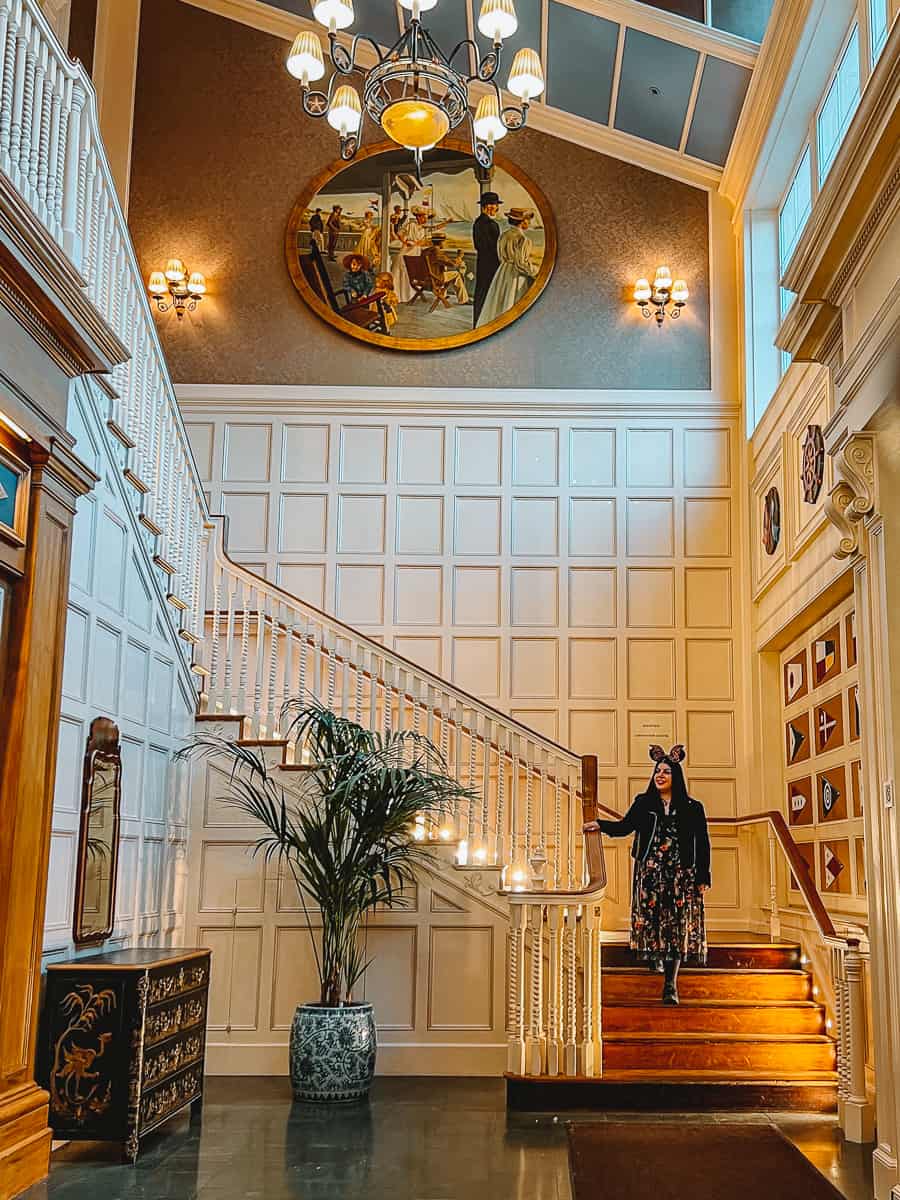 23. Disney Village stage
In all the times I've visited Disney Village I have never seen much taking place on the Disney Village Stage.
At Halloween and Christmas, they had some decorations on there and some projections. But, I've never seen any shows.
They used to have stage shows based on Disney Junior Channel but I don't think that happens anymore.
Sometimes they may have events taking place here. So, it's worth seeing what's going on during your visit.
24. The Tiny Shops
True to their name, the Tiny Shops are easy to miss whilst exploring Disney Village Paris but I would keep an eye out.
You'll find some amazing boutiques selling kids' toys, sunglasses, Disney candles, and some eye photography which sounded pretty cool.
These shops have a tendency to change as they are small business rentals. So, make sure to see what stalls are there on your visit.
25. Magical photo opportunities
Lastly, one of the best things to do in Disney Village is look around for all the amazing photo opportunities.
They had some great artwork for their 30th Anniversary Celebrations and they often have cute pop-up displays to take a snap of.
At Halloween, I loved their castle bat display and they always have a very cute Christmas Tree for the festive season.
They make great memories from your time at Disney Village Paris, even if you don't intend to visit the parks.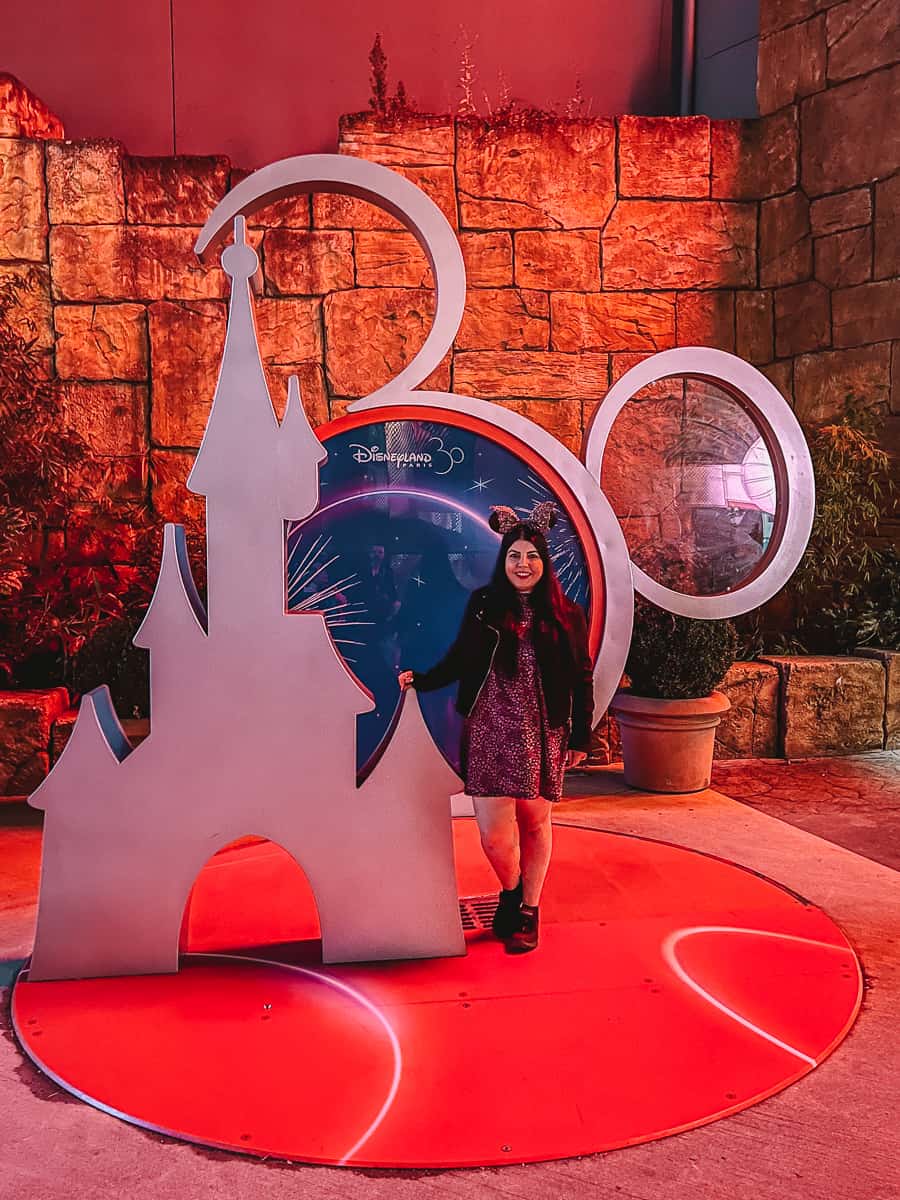 Is visiting Disney Village worth it?
I would say so yes, it's a great FREE thing to do in Disneyland Paris and doesn't require a park ticket.
If you're staying in one of the Disney Hotels you can't really escape the village as you'll walk through it every day to get to the park entrance.
It makes a great place to go shopping after the parks close or a place to grab a cocktail or some dinner.
Don't skip a visit to Disney Village whilst you're in Paris. It's the best place to experience some Disney magic without breaking the bank.
How long do you need to visit Disney Village?
There are plenty of shops, restaurants, and experiences to enjoy and you could easily spend a couple of hours here. It completely depends on you.
I would say at a minimum you will need around 2 hours to enjoy the village to see enough but if you're a Disney fan or want to have dinner I'd push it up to 3-4.
In my opinion, the best way to experience Disney Village would be at night time when the sun goes down.
It can get very busy once the parks close with lots of people making their way through to hotels but after that, it quiets down.
How to get to Disney Village Paris
So, Disney Village is located in Chessy and the main station is Marne-la-Vallée Chessy. There are plenty of ways to arrive at Euro Disney resort via car, metro, or train.
The most popular way that people arrive at Disneyland Paris is by the RER metro from central Paris.
You can take the RER A from stations like Gare de Lyon and Nation to Marne-la-Vallée Chessy which is the terminus station.
If you're arriving by Eurostar, the direct Eurostar from London to Disneyland Paris is stopping this year. But, you can still arrive at Chessy you just need to stop at Lille in between.
France regional TGV trains stop in Chessy too. You can book tickets via SNCF.
Many people arrive by car from all over Europe. If you're using the Eurotunnel in Calais, you can make your way to Chessy and Disney Village via Paris.
You do have to pay for Disney parking which is 30 euro per day. It's not cheap but a very standard parking price for Disney parks around the world.
Remember, if you're staying in a Disney hotel or one of their partner hotels parking is completely free.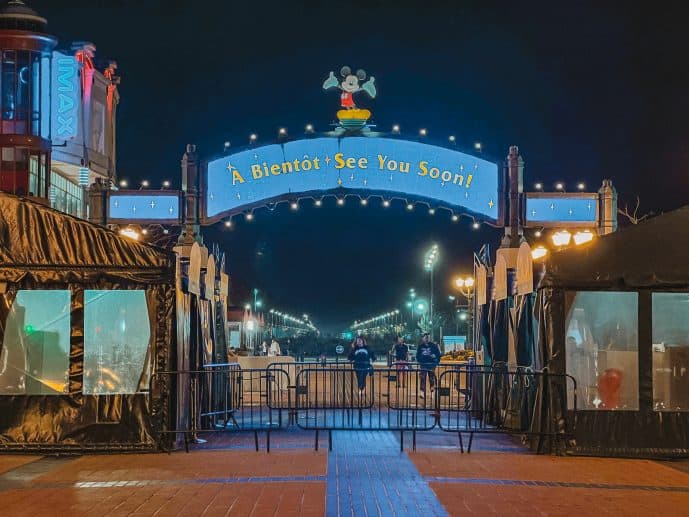 Enjoy the magic of Disneyland Paris parks
Of course, visiting the Disney Village is a great free and budget activity in the Euro Disney Resort. But, I would always recommend visiting the Disneyland Paris theme parks if you can whilst you're here.
Currently, there are two and these are Disneyland Park and Walt Disney Studios Park. Both parks have amazing things to offer.
Disneyland Park has traditional areas like Fantasyland and Adventureland along with parades and fireworks. Disney Studios has Star Wars, Marvel, and Pixar. You can get a park hopper ticket to see both.
The parks don't just have rides. There are also shows, parades, character meet and greets, restaurants, shopping, and all sorts of magical experiences that will make memories for a lifetime.
It makes a great short break in Europe. I would recommend booking a Disney Hotel package with park tickets for the best experience. Or, you can book individual day tickets online.
Related post – 50+ Instagrammable places at Disneyland Paris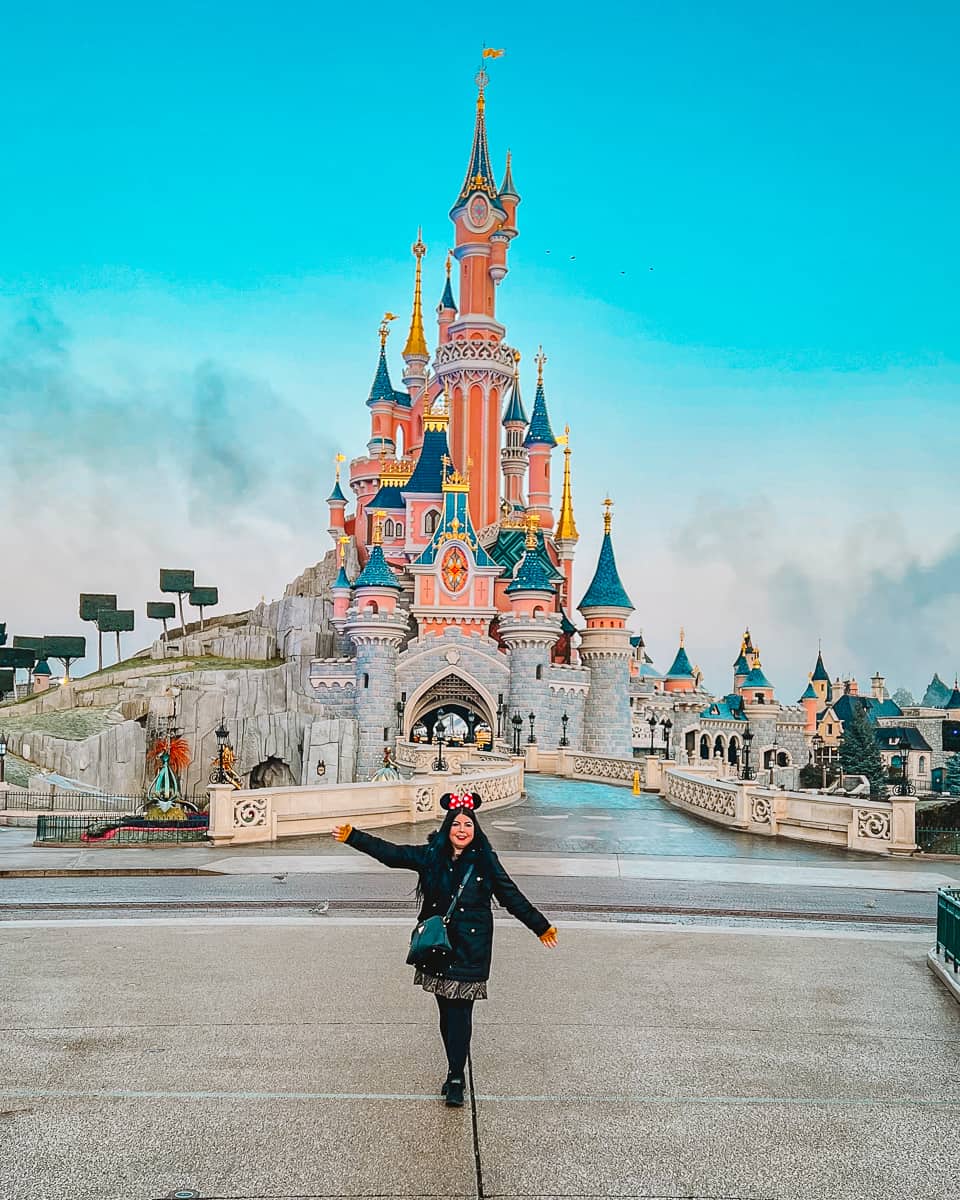 Book your tickets for Disneyland Paris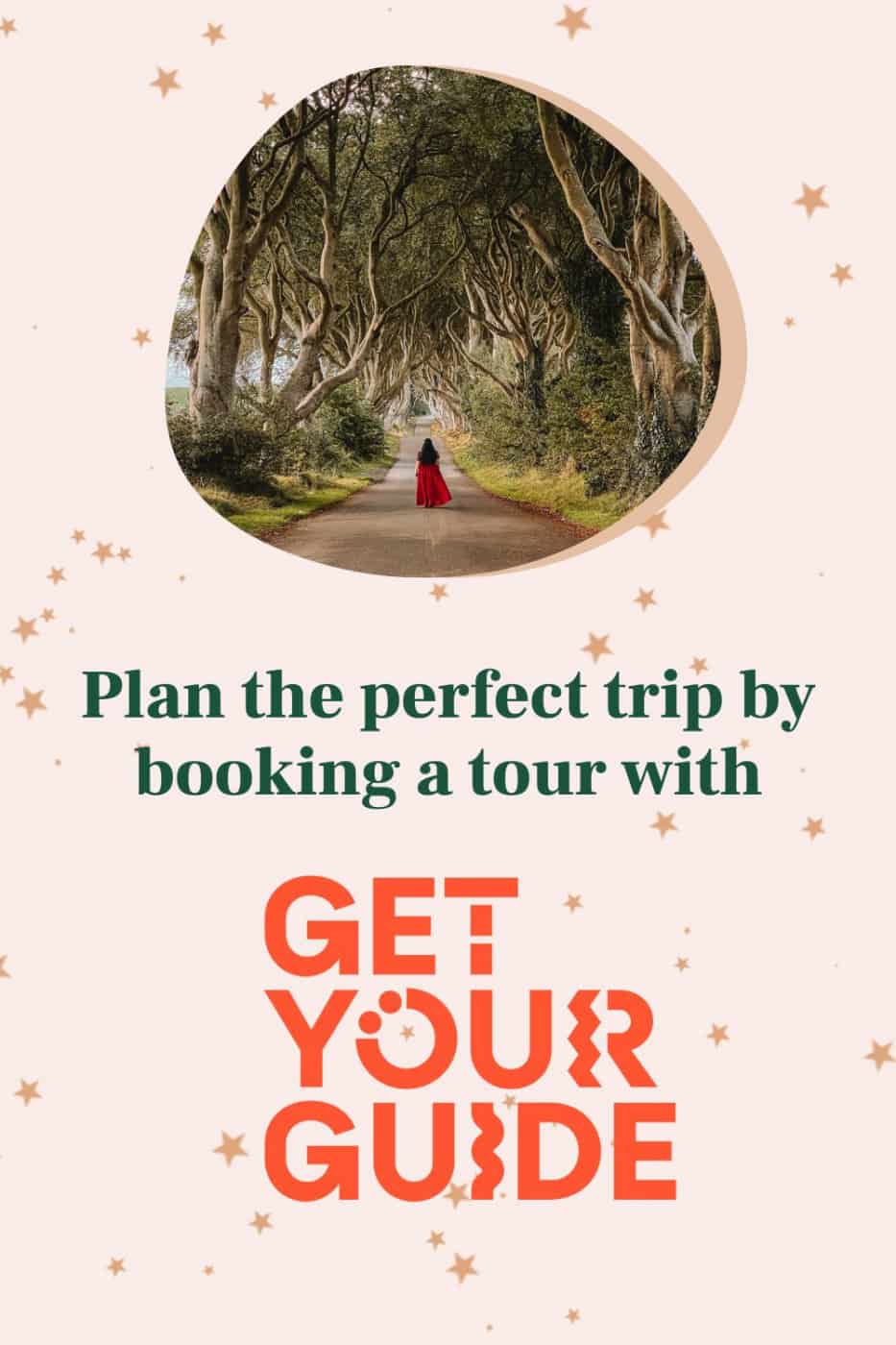 Pre-book tickets to Disneyland Paris!
Read more of my Disneyland Paris guides
55+ Disneyland Paris secrets and hidden gems to discover
Walt's An American Restaurant Review
Pizzeria Bella Notte Review – Lady & The Tramp restaurant
Captain Jack's Disneyland Paris review
Don't miss the Disneyland Paris Dragon under the castle
My Honest Bistrot Chez Remy restaurant review
Toad Hall Restaurant Review at Disneyland Paris
Is Auberge de Cendrillon Princess Dining worth the price?
Save these things to do in Disney Village Paris for later!