The city of Bath has had a spa culture for centuries, so if you're ever in the UK and are looking for the perfect spa break it has to be in this city!
The Gainsborough Bath Spa is a luxurious five-star property that sits right in the heart of it and proudly stands opposite the famous Thermae Bath Spa. So, it's the perfect place to honour the time old tradition of 'taking the waters'.
You will be treated like royalty as soon as you walk through the doors at Gainsborough Bath Spa. This hotel is fit for a queen and has all the ingredients for the perfect relaxing break.
Pampering at the spa village, an indulgent afternoon tea, a chic cocktail bar, delectable dining and the comfiest rooms and beds. What could be better?!
Here's a full review of the Gainsborough Bath Spa Hotel and all the steps you should take to have the perfect luxury spa getaway.
Where is Bath in UK and how to reach the Gainsborough Bath Spa hotel
Bath is located in the South West of England in the county of Somerset.
If you're heading here from London by car, you can drive on the M4 motorway and alight at the Bath junction.
Or, grab a train which is around two hours away from London Paddington.
Once you arrive at the Gainsborough you can park your car in their valet parking which will cost you £15 per night.
If you're arriving by train, the good news is that the Gainsborough is only around five minutes walk away on Beau Street.
I would always check National Rail for times and prices to plan your journey!
The history of spa culture in Bath
One of the main reasons why I love picking a spa break in Bath is the fact that 'taking the waters' is a time-old tradition in this city.
For thousands of years, there has been human activity around the thermal waters of the Mendip hills and for centuries people have flocked here solely to use its healing springs.
The Celts and the Romans were some of the earliest settlers. Evidence of this can be found in the Roman Baths which is the finest preserved ruin of its kind in the UK.
Queen Elizabeth I issued a royal charter decreeing that the city of Bath should be in charge of the waters and declared them open for public use.
Royalty would also come to visit the city to swim in the waters, making it even more fashionable at the time.
Click here to read my article on the Roman Baths at night!
The Regency Era and Taking the Waters
Fast forward to the Regency Era and the spa resort of Bath was booming. With Richard 'Beau' Nash making Palladian developments to the city and Dr William Oliver releasing publications about the healing nature of the Spa Water in Bath, word soon spread.
It was fashionable to 'take the waters' and it became a breeding ground for society and aristocracy in the 18th century.
But, It was more than just healing people came to Bath for. The Assembly Rooms and the Grand Pump Rooms were born to cater for the masses.
So, there were balls, public breakfasts, social engagements, pleasure gardens. You name the distraction, it was here! Jane Austen herself even came to the city to sample the Spa.
You could say that a Spa break in Bath is as old as time itself and it would almost be criminal not to take part. It's more than just a spa break, it's an age-old past time!
After the Thermae Bath Spa opened its doors in 2006, the Gainsborough Bath Spa followed with its grand opening in 2015. So, it's the perfect spot today to honour the tradition.
How to have the perfect spa break at the Gainsborough Bath Spa
1. Check in to your room fit for a queen
After receiving the warmest of welcomes to the Gainsborough Bath Spa, I was invited into their Canvas room to enjoy a coffee and some shortbread while I was waiting for my room to be prepared.
As soon as I walked in, I felt like a princess. The sumptuous details in the lobby and rooms, the relaxing music and the vibe of the place all felt on point. In fact, I knew this was going to be a hotel that I wouldn't want to leave!
I think the Gainsborough Bath Spa gave me one of the biggest rooms I've ever stayed in. The curtains were around twenty feet tall, no kidding!
It was so roomy with huge French windows that let in lots of light, something that I crave when checking into a hotel room.
Everything down to the willow pattern bed frame, the mattress that felt like a cloud and the fluffy pillows (that came with its own pillow menu) were speaking my language.
The spacious bathroom had double sinks with a huge tub and even a heated floor.
Then I had a knock on the door and was welcomed with chocolates, strawberries and some bubbly.
I felt like I must have done something good in another life to deserve this treatment!
2. Head down to the Gainsborough Bath Spa village
After trying out the popular Thermae Bath Spa, I was keen to experience the Gainsborough Bath Spa village which was on site.
The great thing about this is that it's more of an intimate experience with fewer crowds which is far more relaxing. Actually, there was hardly anyone there when I went down, it was bliss.
As I usually travel solo, I always get confused and awkward in spas as I have no idea what I'm doing half the time. But, I loved the fact that this place had some structure.
I was checked into the spa and offered a welcome drink. This was made with some of the healing crystals they have onsite.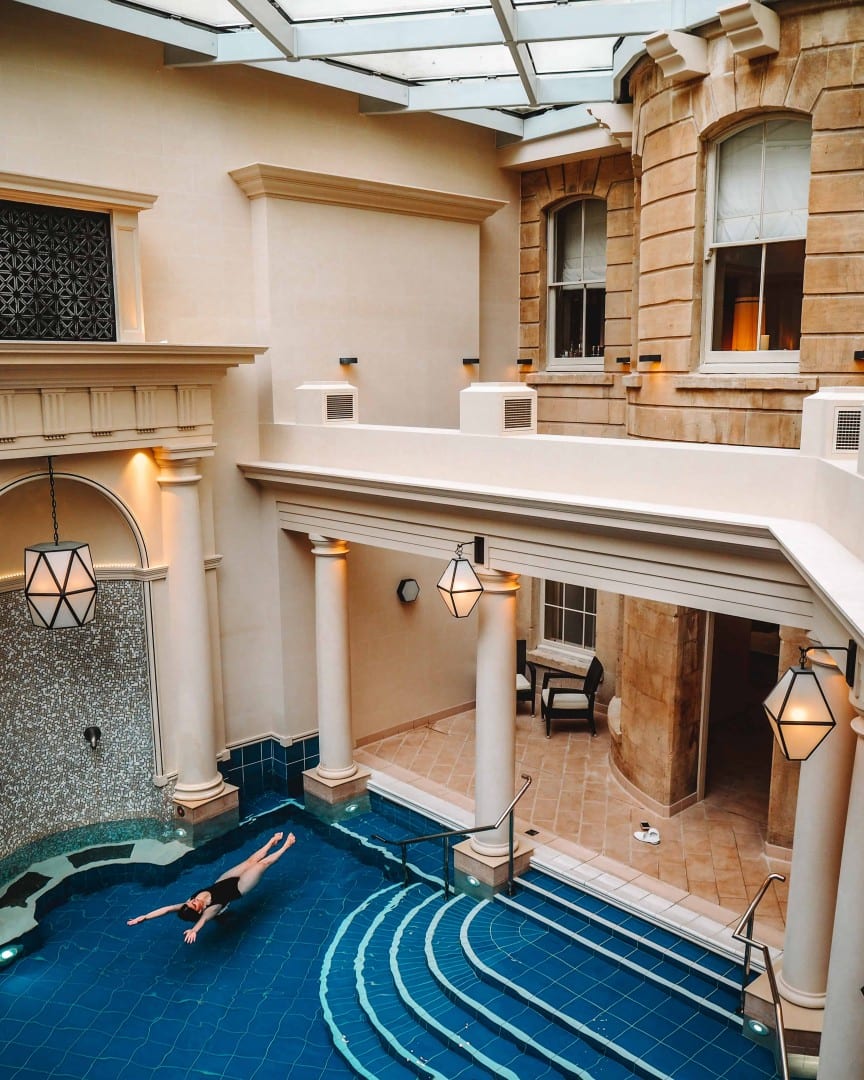 During my check-in I was also asked how I wanted to feel after my experience. Relaxed, balanced or energised.
It was a tough one as I would normally choose all three but in the end, I chose relaxed and balanced as I wanted to destress. So, after my choices, I was handed a poultice with essential oils in to smell as I went around the spa (how cool?!)
Entering the spa, you can either take it easy and simply relax in the pool or take their Spa village circuit.
This will take you on a journey of hot baths, warm baths, saunas, steam rooms and the pool.
I loved the whole idea of taking this circuit before your treatments so you're nice and relaxed already. The waters here are pumped from a natural spring, the Hetling, that has over 42 minerals!
A personal favourite touch of mine was the Georgian hot drinking chocolate that was prepared here. Its a recipe from 1700s and it was delicious! It was spicy and really rich.
Pretty sure I had one too many shots of it but, who's counting?! it's a spa break after all.
3. Have a treatment or two to unwind
The Gainsborough have a wide range of spa treatments that you can purchase while you're staying here.
You can book this as part of your hotel package or simply book the spa separately with treatments and an afternoon tea. The choice is entirely yours.
I booked in a rose facial at the spa which was needed as my skin had been suffering due to weather changes and stresses of travelling a lot, planes completely dehydrate my skin!
I was really excited and felt even better when I found out my masseuse was from sunny Goa. India is the home of Ayurveda and many masseuses around the world train there to be qualified so I knew I was in really good hands.
After my amazing treatment, I felt so refreshed and had a wonderful time relaxing on their sun terrace with some berry tea. I definitely could get used to this!
4. Treat yourself to a indulgent Gainsborough Bath Spa afternoon tea
Afternoon tea in Britain is a famous past time and something that I love to indulge in when I travel.
The tradition of pouring tea and gorging on scrumptious finger sandwiches and dainty cakes is one of my favourite things and the Gainsborough afternoon tea did not disappoint!
You can take tea in their Canvas Room and it costs £30 per person, there is also the option upgrade to have this with bubbly for an extra £16. But, as I had a bottle chilling in my room I didn't need it.
Most people order the tea as a package offer along with their spa treatment or hotel room but you can just book this separately if you're a resident or not.
I loved their wide range of traditional teas on the menu, but more often than not I choose English Breakfast unless they have a house blend. This was served loose with a strainer.
Then, I was really excited when the cake tier came out. It looked utterly divine. It came with finger sandwiches with traditional fillings of salmon and cream cheese, ham and mustard, egg and mayo and coronation chicken. Then two scones with preserve and clotted cream and seasonal desserts, my favourite part of any tea!
There were brownies, blondies, Victoria sponge, mousse…there was actually too much on the plate for me, so I had to take some away.
5. Have a cocktail in the chic Gainsborough bar
The Gainsborough really know the style and this also applies to their chic bar.
This is the perfect setting for pre-dinner cocktails and they have an extensive gin palace menu which made my heart sing!
I am a really big fan of gin and I love experimenting with new flavours so I asked the waiter to surprise me with their finest concoction.
I was treated to a Seville orange gin with a Fever-Tree tonic and it came accompanied by a decorative peel inside the glass. The waiter made a great recommendation.
The atmosphere of the bar was fun and made the perfect setting to relax before dinner. I was really pleased that my cocktail came with complimentary nibbles too. Such a lovely addition!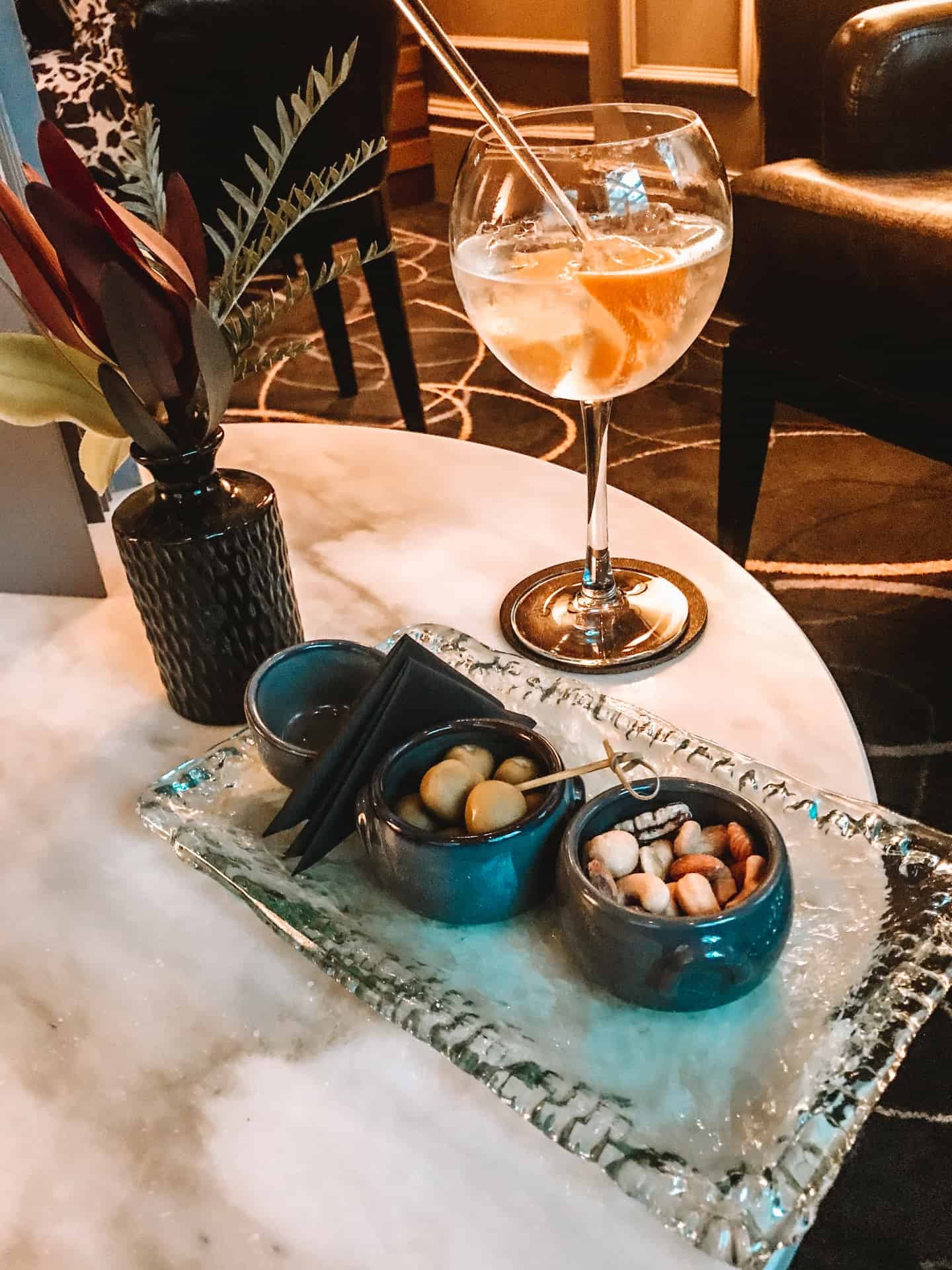 6. Sample the delectable cuisine at Dan Moon restaurant
I was really excited to sample the cuisine at Dan Moon. It's a 3 AA rosette award-winning fine dining restaurant so I had high expectations!
The first thing I loved about the restaurant was the tasteful interior and the romantic lighting. I love dimly lit restaurants that set a tone for the evening and I was delighted to find fresh flowers on each table.
To get the best of the menu, I decided to go with the five-course taster menu. This can be accompanied by a wine flight but as I was already enjoying my Seville orange gin cocktail, I decided to pass.
The food was expertly prepared and almost looked like mini works of art when they arrived at the table. The care and work that goes into curating the dishes with complementary flavours at Dan Moon is really something special.
I have to admit that halfway through I was defeated and I had to take some breaks between courses. But, every course I ate was exquisite.
From my chicken tea, the smoked beef fillet, sautéed scallop, roast duck and then a sweet ending of a lemon mousse I was stuffed but left very satisfied!
7. Start the day right with a scrumptious breakfast
The Gainsborough serve up a buffet breakfast for many of the room rates on offer and it's served in the Dan Moon restaurant each morning.
Here you can treat yourself to a continental buffet and a selection of hot dishes from their menu.
At first, I genuinely thought I wouldn't be hungry for breakfast after indulging the day before but after an amazing rest and looking at the pretty buffet setting; I knew had to start my day in the right way.
I am obsessed with avocado on toast and I loved the Gainsborough's take on it.
It was sourdough bread, with a mountain portion of avocado on top paired with pumpkin seeds. I treated myself to that along with some refreshing fruit and a glass of freshly squeezed orange from the juice bar.
It's actually embarrassing how much I need coffee in the mornings so when the cafetière with a fresh batch first came into view, I was a happy girl.
8. Head in to Thermae Bath Spa to 'take the waters'
I was so contented at the Gainsborough Bath Spa, it was actually a struggle to leave! So, I can completely understand if you would do the same.
However, if you did fancy it you can hop over the road to the famous Thermae Bath Spa; one of Bath's most popular attractions.
Thermae Bath Spa opened its doors to the public in 2006 after the demand for a wellness spa came back once the Roman Baths and the Pump Rooms re-opened. It was a complicated project due to building on graded buildings but it's now one of the leading things to do in the city.
Bath is one of the only cities in the UK to have a spa pumped by natural thermal spring water, so it's definitely a unique experience that you can treat yourself to.
The main draw is the heated thermal pool on their rooftop which provides sweeping panoramic views of the city and the Mendip hills beyond. You can also bathe in their Minerva Bath, unwind in their sauna and steam rooms or relax in their wellness suites.
Prices start from £36 per person. Click here for a full review of the Thermae Bath Spa experience.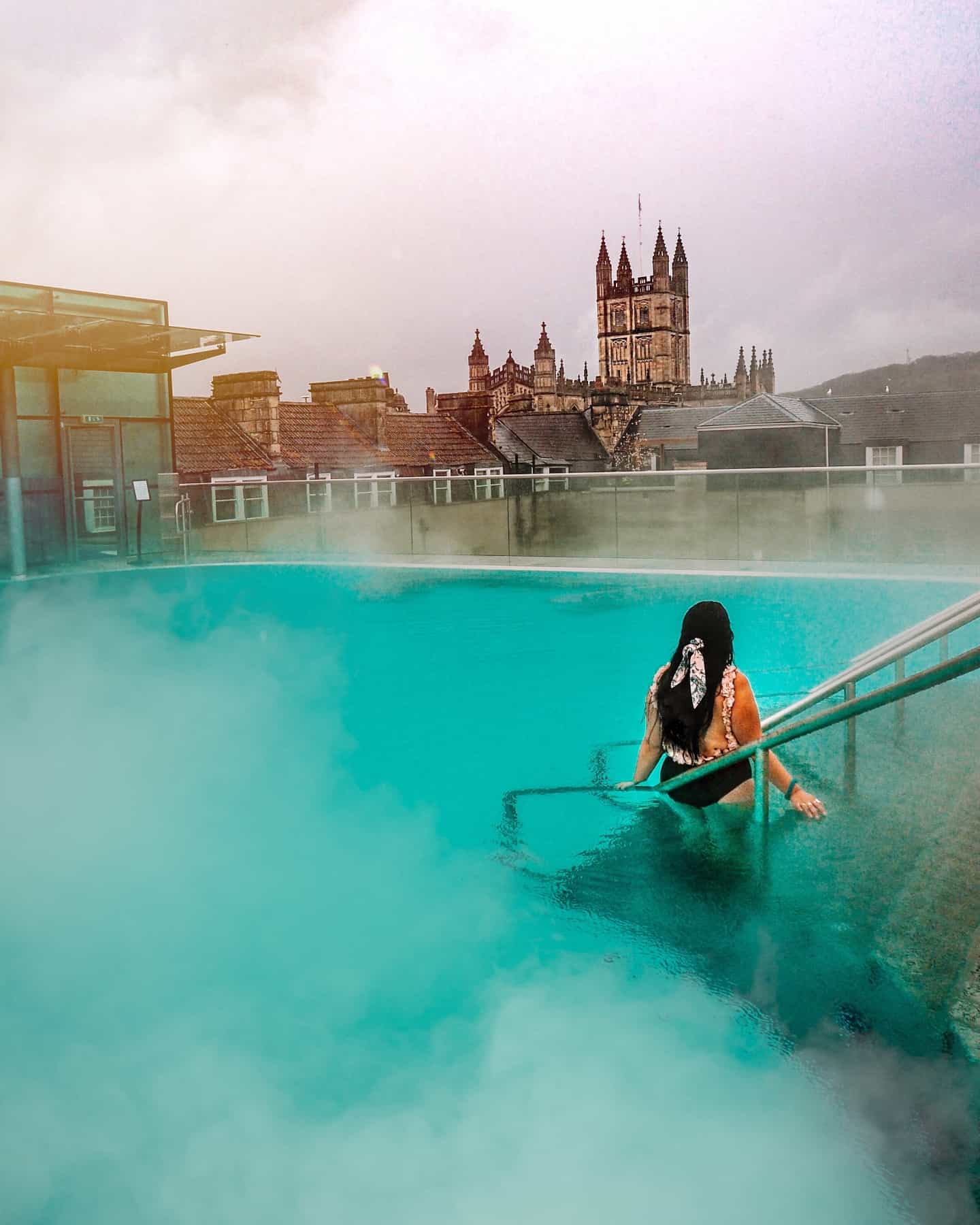 9. Explore the UNESCO world heritage city of Bath
As well as being pampered at the spa, Bath is an incredible city that is a UNESCO world heritage site.
So, you will find lots of history here and attractions to keep you occupied should you choose.
You can visit Bath Abbey which has been in the city since the 7th century, The Roman Baths which is the largest in the UK, The Grand Pump Rooms if you fancy 'taking the waters' or stroll around the city and take the air.
Bath has many outdoor highlights including the Royal Crescent, the King's Circus, the Skyline walk or Prior Park.
One of Bath's most famous residents is Jane Austen and she mentions Bath in her novels Persuasion and Northanger Abbey.
On my recent visit to the city, I explored all the Jane Austen spots in Bath. This guide will take you on a journey through Bath's most historic spots and give you a glimpse into life in the 18th century.
Don't miss out on a visit to Gainsborough Bath Spa Hotel
I left the Gainsborough Bath Spa with a heavy heart and lots of fond memories of my visit.
It was nice to destress for a few days and be completely and utterly spoilt by the hotel and their wonderful staff! Luxury now has a whole new definition to me.
If you ever find yourself in Bath, then you must take a few days out to relax and unwind at the Gainsborough Bath Spa Hotel. It is like paradise.
Of course, you can go on a couples retreat or a mother-daughter date but I found that it was still a nice experience for some much needed 'me time'.
Click here to book yourself in for a retreat and see their range of spa packages on offer!
Save time and book a tour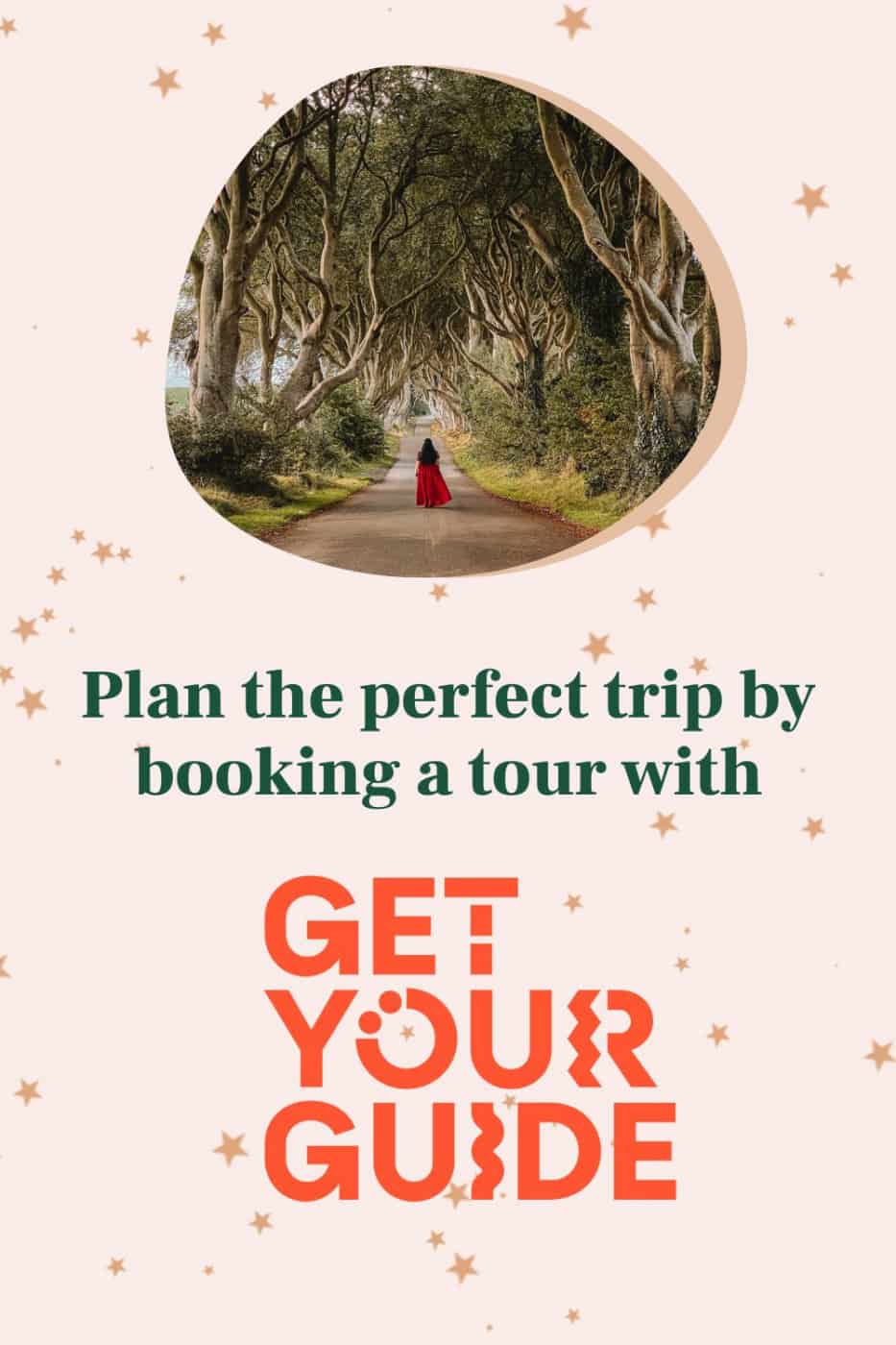 Book tours & tickets for Bath!
Like it? Pin it!
With thanks to the Gainsborough Bath Spa for inviting me to stay and treating me like royalty. Although I was a guest, all thoughts, pictures and opinions are my own.