Game of Thrones fans, did you know that there is a Game of Thrones Studio Tour in Northern Ireland?
It's a completely immersive experience where you can walk through authentic film sets, and see costumes, props, and prosthetics from the show.
It's based in Linen Mill Studios which was used to film much of the 8-series production that took us on an epic journey through the seven kingdoms of Westeros and Essos.
You cannot miss it if you're a fan. Here is my honest Game of Thrones Studio Tour review and if it's worth visiting.
Warning: there will be major spoilers for the Game of Thrones Studio Tour in this post.
What is the Game of Thrones Studio Tour?
The Game of Thrones Studio Tour is a new, immersive, and exciting way to relive the award-winning HBO fantasy series that took the world by storm.
You can visit a huge studio lot that has many of the original sets, props, costumes, and armour from the show.
The tour also allows you to go behind the scenes and learn about all the incredible teams and talent that went into creating this epic 8-series production.
As well as drooling over the memorabilia, there are plenty of games, restaurants, photo opportunities, and gift shops to enjoy too.
It's a must-visit experience for any Game of Thrones fan visiting Northern Ireland.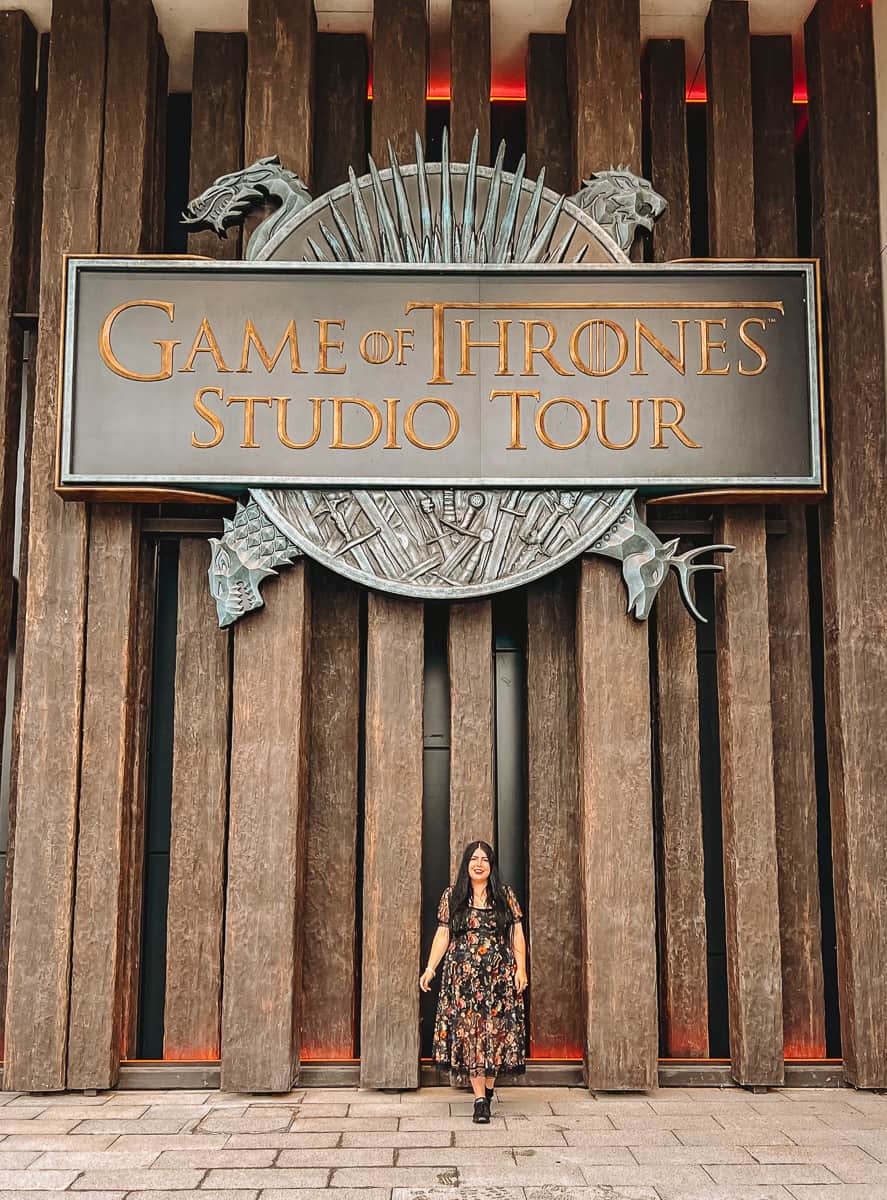 Where is the Game of Thrones studio tour located?
The Game of Thrones Studio Tour is set within Linen Mill Studios which is around a 30-minute drive from the city of Belfast in Banbridge, Northern Ireland.
Linen Mill Studios was one of the major TV studios where they filmed the Game of Thrones series and many of the sets you will visit, such as Winterfell Great Hall, have not moved since production!
So, you will literally be walking in the footsteps of the actors on your visit. How cool is that?
Game of Thrones Studio Tour ticket prices & opening times
The Game of Thrones Studio Tour is not a cheap experience by any means but I felt that it was well worth the money, especially if you're a fan.
Adult ticket prices are around £39.50 (46 euro) and this includes your studio tour, parking, and shuttle service. It will cost more if you book coach transfers.
There are concessions for seniors and students (16+) at £31.50 (37 euro) and teens (13-15) are £15.50 (18 euro). Under 12s get in for free and there are family tickets available.
They sometimes have budget offers for weekday visits. So, it's worth playing with the dates online to see if you can spot some discounts.
You will need to book your tickets online before you visit. You choose a specific entry time and the tour is normally open from 10 am – 6.30 pm throughout the year.
Click here to book your Game of Thrones Studio Tour tickets
How to get to the Game of Thrones Studio Tour
There are many ways to visit the Game of Thrones Studio Tour even if you're not driving in Ireland.
You can visit yourself by car or take one of the coach transfer services from Belfast or Dublin.
By Car & Game of Thrones Studio Tour shuttle bus
Although you can find Linen Mill Studios on the map, you cannot park up there for the studio tour as there simply aren't enough parking spaces.
So, on the day of your tour, you will need to make your way over to The Boulevard shopping centre in Banbridge and park in the Game of Thrones Studio Tour parking area. It's completely free.
Once here, you can park up and head to their Game of Thrones Studio Tour welcome centre, check-in, and then wait for your shuttle bus service to the studios.
Your entry time on your ticket is your shuttle departure time. So, make sure to get to The Boulevard around 15 minutes before the entry slot just in case.
A member of the team will collect you from the welcome centre and then guide you to the bus. It's then less than 10 minutes travel time to the studios.
Once you're finished, you will then take the shuttle bus service back to The Boulevard.
Even if you're not driving, you can get a bus to The Boulevard in Banbridge and get the shuttle bus the same way.
You cannot get a taxi drop off at the studios, you will still need to be dropped off at the Boulevard and then get the shuttle.
The Boulevard is around 30 minutes drive from central Belfast. You can find the location at the Game of Thrones Studios Parking Area, Outlet Park, Banbridge BT32 4LF. Click here for a Google Pin!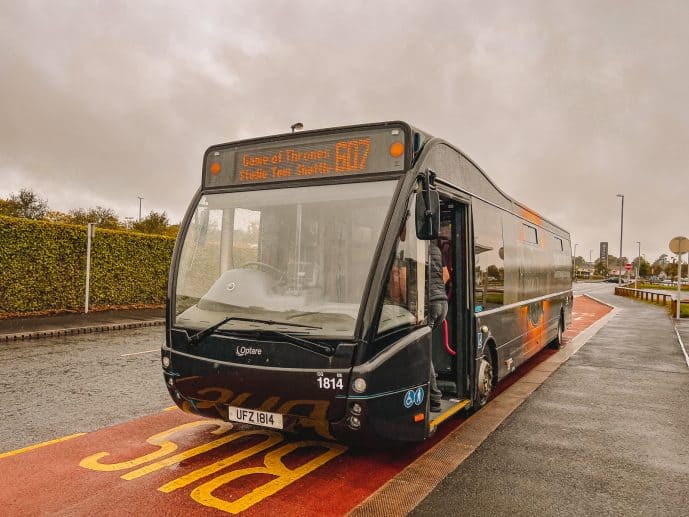 By Coach Transfer from Belfast or Dublin
If you're heading to the studios from either Belfast or Dublin, the Game of Thrones Studio tour has some coach transfer services you can book.
These will pick you up from either city and then drop you off at the Studio Tour and head back after you're finished.
If you were heading to the tour from Belfast, you don't have to book a return there. You could easily book an onward transfer to Dublin. The same goes from Dublin to Belfast.
Just pick that option at checkout. It's a great and convenient way to break up the journey between the two destinations!
Alternatively, why not book the tour through Get Your Guide? You can easily book tickets there with a transfer.
Things to do in the Game of Thrones Studio Tour
You will be amazed by the number of things that you can do at the Game of Thrones Studio Tour.
I went in blind and I actually spent way more time here than I originally intended to.
Everything from the music, the quality of the exhibits, the authentic sets, and the gift shop was entirely immersive. Even the restaurants were top quality.
Here are all the magical things to do on the Game of Thrones Studio Tour.
1. Go Beyond the Wall
So, there is a wee surprise for you as you enter the exhibition and I won't spoil it for you but you start your self-guided journey off Beyond the Wall. It's really cold, misty, and mysterious.
Here, you can see costumes from the White Walkers, including the infamous Night King, members of The Watch, and Wildlings too.
My favourite part was seeing one of the Free Folk Giants, Wun Weg Wun Dar Wun. It looked so lifelike and made a great photo opportunity.
There was also a touching scene of Bran, Benjen, and Hodor used in the 'Hold the Door' scene *sniff*.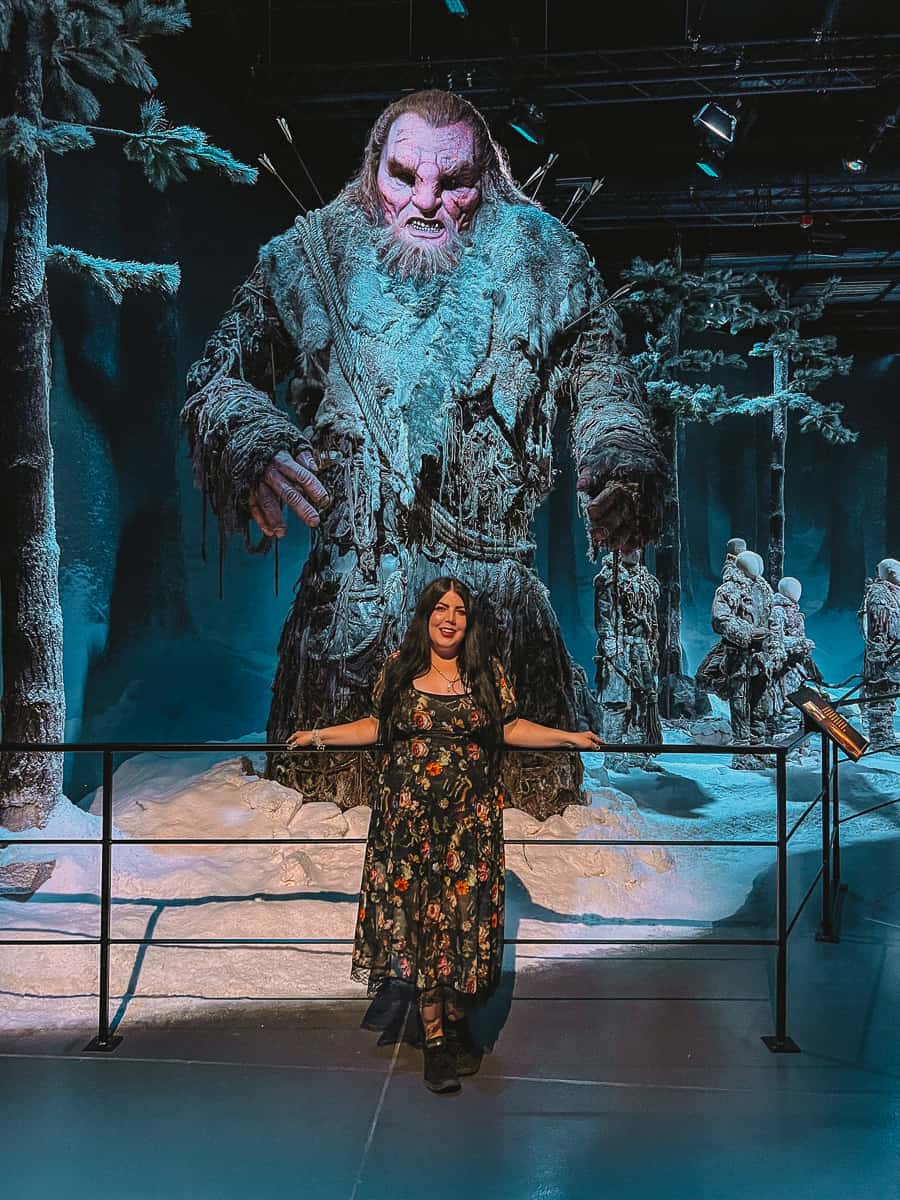 2. Discover Production Design
I always find it amazing how initials sketches and designs on paper can transform into what we see on the screen!
In the Production Design area, you'll find miniature versions of the great houses of Westeros and sketches of how they imagined the landscapes before filming.
There are interactive games to play and you can see into a production artist's studio. How many places from the show do you recognise?
3. Step into Castle Black
After you've explored Beyond the Wall, you make you're way into Castle Black which is home to the Night's Watch.
Here you can see sets and costumes of Jon Snow, Commander Jeor Mormont, Samwell Tarly, Maester Aemon, and Alliser Thorne.
You'll smell the smoke and the cracking of the fire. Admire Melisandre's red dress or look at Sandor aka 'The Hound' in his cell.
4. Crypt of Winterfell
You start your journey into House Stark at the Crypt of Winterfell where you'll find familiar faces including Ned and his Direwolf.
But, the best part was the fact that they had life-size statues of the Stark children; Jon, Sansa, and Arya.
Of course, Jon Snow is one of my favourite characters in the show so I had a few photos with him!
5. Walk through Winterfell Great Hall
In my opinion, Winterfell Great Hall was the best set of the studio tour and I loved walking through the hall with all the different characters and costumes.
Although they filmed most of the exteriors at Castle Ward in County Down, the interiors were filmed at Linen Mill Studios.
So, when you walk through here you're standing on the same floor that all the actors did whilst filming!
Look out for familiar costumes like Tyrion, Bran, and Sansa. See the flicker of flames in the candle chandeliers, smell the fire, and hear the sounds of the hearth.
7. Explore Dragonstone
Next, you'll explore Dragonstone Castle and see the infamous Painted Table with the map of Westeros. This is where the Targaryens and Baratheons planned their strategies for war.
You'll find costumes for Ellaria Sand, Daenerys Targaryen, and Olenna Tyrell. Look out for all the different markers placed across the kingdoms.
After, you can visit the Dragonstone Throne which was the traditional seat for Targaryen heirs.
Also, look out for the huge dragon heads that look like they've travelled straight from the Red Keep Crypt.
6. See costumes of your favourite characters
I dread to think how long it took for the production teams to create all of the costumes for Game of Thrones.
From the cloaks of the Night's Watch, gold armour for Joffrey, and the fine dresses of the different courts. Thousands of hours and threads went into creating them.
Many of these works of art are on display here that were actually worn by the actors whilst filming.
There are hundreds on display from nearly all the main characters. You can really look closely to see the details that you can't easily see on screen.
As much as I hated her, Cersei had some of the best costumes and dresses made by far. I loved her armour dress!
8. Game of Thrones props & prosthetics
One of the most fascinating parts of production is the makeup and prosthetics.
Although many of the White Walkers were played by human actors it would take hours to put on their masks and body paint to make them look the part.
Plus, many of the battle scenes needed false limbs and realistic-looking wounds.
You can see all sorts of prosthetics on display like masks and full-sized body doubles. Even, Direwolf's heads and baby dragons.
Look out for all the props too. You'll find goblets, dragon eggs, tapestries, books from the Citadel, and house sigil flags.
9. Put your own face in the Hall of Faces
The Hall of Faces in Game of Thrones is one of the creepiest parts of the series which is home to The Faceless Man of Braavos.
In the show, Arya joins him to become a girl with no name and it's a pretty hard watch. But, I loved the sets all the same.
In the Game of Thrones Studio Tour, you can actually put your own face in the Hall of Faces!
Simply use one of the screens to take a photo of your face, press submit, and see your face pop up moments later. It's a great photo opportunity (but not the most flattering lol).
10. See the armoury and weapons used in the show
Game of Thrones was filled with awesome swords from Arya's Needle, Jaime's Widow's Wail, Jon's Longclaw, and Brienne's Oath Keeper.
Plus, many other weapons were used like Tyrian's Crossbow, axes, arrows, maces, and Oberyn Martell's spear. Plus, there were shields, helmets, armour, and trebuchets etc.
You can see all of the weapons that were made for the show in the armoury and even get a photo with Longclaw!
11. See Scoring in the Music Studio
Music in fantasy shows can seriously make or break a production, I'm not kidding!
The sound score counts for a lot more than you think. It really sets the scene and makes the audience feel like they are there.
I'm a huge fan of the composer Bear McCreary who has made the music scores for shows like Outlander, Black Sails, The Witcher: Blood Origin, and Rings of Power.
But, the Game of Thrones music score was created by Ramin Djawadi. He composed the main theme tune and iconic songs like The Rains of Castamere. He's since won several Grammy Awards.
You can see an interview with him on the studio tour. Have a look inside his mind and the process he took to create the music for the show.
12. Play interactive games
Around the Game of Thrones Studio Tour, you can find plenty of interactive games to get involved with. In fact, I saw some in nearly every room.
You can have a go at archery, become a White Walker, put your face in the Hall of Faces, and many more.
It was so fun and the kids (and bigger kids) were having a blast with them!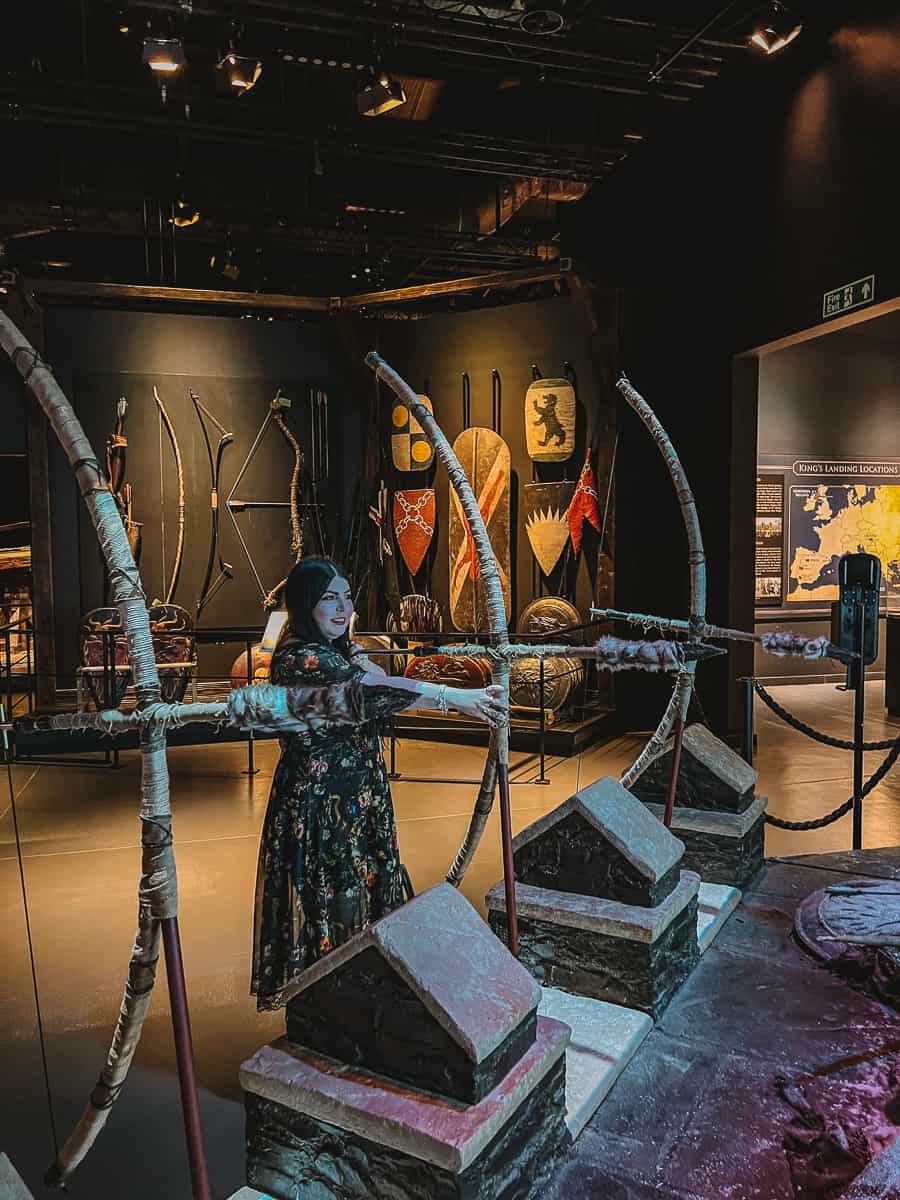 13. Walk through King's Landing
My second favourite set of the studio tour is King's Landing where you can enter the Map Room.
You'll notice that the room temperatures from Beyond the Wall have gradually been getting warmer in each room and you'll find it very warm in King's Landing.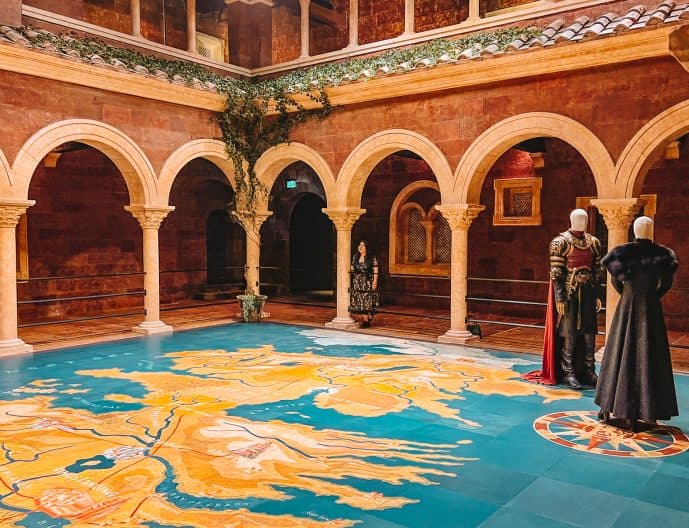 In the Map Room, you'll find costumes for Cersei and Jaime Lannister and you can walk into the Hand of the King's meeting room. There are also costumes of Margaery Tyrell and Tommen Baratheon.
This was one of the rooms which made me feel like I was really there in Westeros. The sounds, music, smells – everything came together to feel like you'd been transported to the Red Keep.
14. Destroyed Throne Room
Lastly, you'll walk through the Destroyed Throne Room which was featured in series 8 of the show.
Here, you'll find Daenerys and Jon Snow in the destroyed Red Keep and you'll be completely surrounded by rubble and mayhem.
If you look closely, you'll see dragons flying overhead and you can take a picture with the famous Iron Throne.
15. Have lunch in The Studio Café
If you feel like some food on your Game of Thrones Studio Tour you have two options to choose from.
One is the Lobby Café which is located at the entrance and serves up coffee, soft drinks, and light bites.
But, I particularly liked The Studio Café found around halfway through the tour.
I wasn't really expecting much from the food to be honest as it was a studio tour. I thought it was going to be basic, mass-produced, and overpriced but boy was I wrong.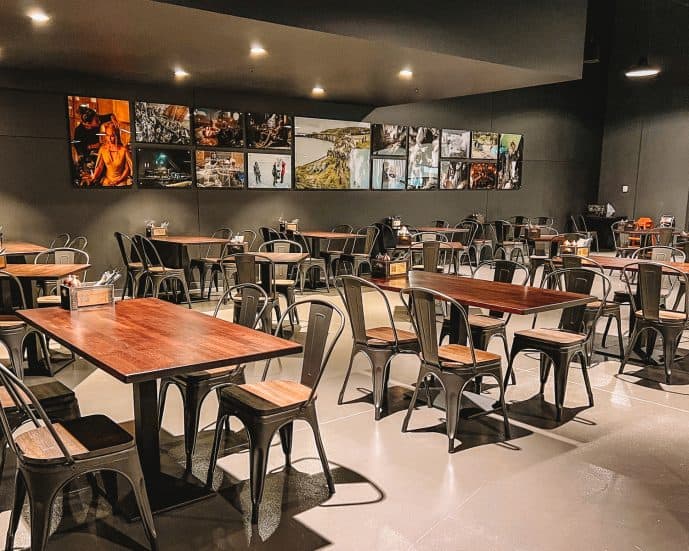 The restaurant here was really good and served up incredible hot dishes. I treated myself to a ham hock sandwich which came with chunky chips and it was delicious!
You'll also find an all-day breakfast, salads, burgers, fish & chips, beef kebabs, and hot wings. Plus alcoholic drinks like beers and cocktails and desserts. It was really good value for money.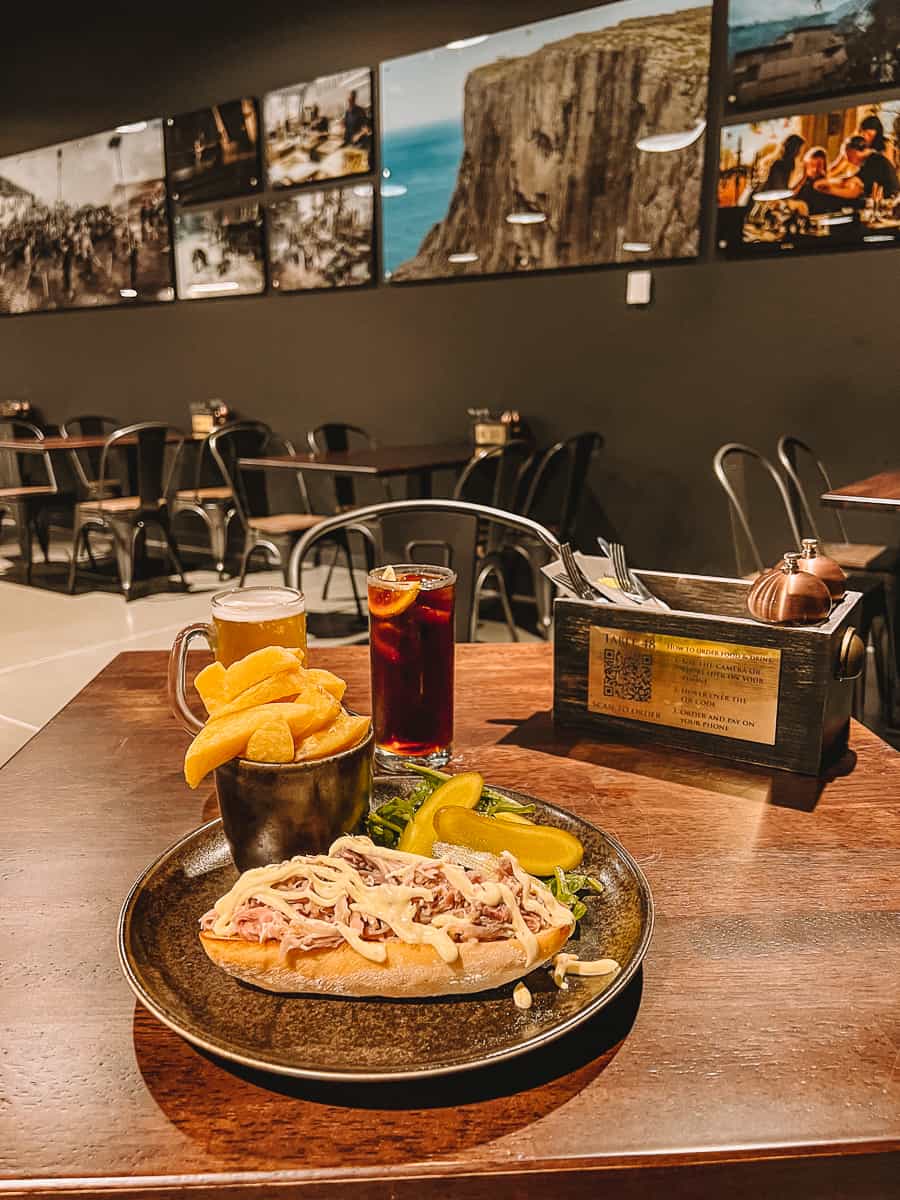 16. See the Greyjoy ship in the lot
Another one of the hidden gems at the Game of Thrones Studio Tour is the Greyjoy Ship in the parking lot.
It's a huge wooden ship with a Kraken attached to it and it was used to film scenes with the Greyjoys in Pike.
You can't board the ship, or really get close to it, but it is still cool to see it in the staff parking area. If you head to the smoking area near the mid-way toilets you can get a sneak peek there.
17. Shop in the Game of Thrones Gift Shop
Is it even a tour if you don't exit through a gift shop? In all seriousness, the Game of Thrones Studio Tour gift shop is actually worth browsing in.
You'll find all sorts of magical things to purchase here from t-shirts, jumpers, notebooks, keyrings, mugs, and pins.
There are souvenirs from every house in Westeros and even rare collector's items. You'll need lots of time to shop and enough funds in your bank account. It was all so tempting.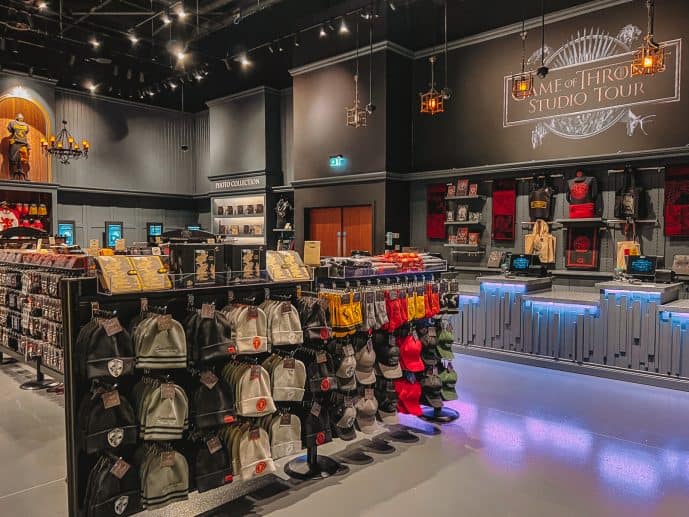 18. Sit on the Iron Throne!
Something that everyone wants to do at the Game of Thrones Studio Tour is to sit on the Iron Throne.
Well, the good news is that you can do that and get some awesome photos taken in the process.
You'll take your seat in the king's chair with a green screen behind you and get some spectacular photos that look like you're in the Red Keep.
You can purchase digital copies, and physical copies and even make key rings and magnets. They make a great souvenir to remember your visit.
How long does it take to do the Game of Thrones studio tour?
I would say that you will need at least 2-3 hours to complete the Game of Thrones Studio Tour.
But, it entirely depends on you and how much you're enjoying it! You could easily spend half a day there if you're really keen.
There is so much to see and do at the tour and super fans will be in their element with all the props, costumes, games, and sets. Plus, there is a restaurant to enjoy a delectable lazy lunch.
I have to admit, I spent ages here as I was loving it so much. It was way more time than I originally intended to spend so make sure to plan enough time in your itinerary.
Is the Game of Thrones Studio Tour worth it?
100% YES! It's not the cheapest experience by any means but visiting many of the real sets that are featured in the show is priceless.
There is so much to do here and the quality of the exhibits is incredible. I loved getting to see all the armour, weapons, costumes, and props that made up this fantasy world.
Plus, there is some great food, photo opportunities, and gift shops as well. It's incredibly immersive and Game of Thrones fans will be obsessed.
All the staff at the tour were really friendly and on hand to answer any questions. They are all big fans of the show.
They also helped me take many of the photos in my post as I was a solo visitor. So, big thanks for that!
Don't skip visiting the Game of Thrones Studio Tour if you're a fan, you won't regret it.
Game of Thrones Studio Tour FAQs
How far is Game of Thrones studio from Belfast? It's located in Linen Mill Studios in Banbridge. This is around 23 miles (37 km) or 30 minutes drive from the city.
Can you sit on Iron Throne in Game of Thrones Studio Tour? YES, well you can but in the gift shop. They have an iron throne to sit on in front of a green screen to take souvenir photos. Then, they make it look like you're sitting in the throne room of the Red Keep.
Can you tour the Game of Thrones set in Belfast? Yes, you can at the Game of Thrones Studio Tour in Linen Mill Studios! There are many authentics sets that were used in the show. It's a little out of Belfast but there are transfer services if you don't plan to drive.
Looking for more Game of Thrones in Northern Ireland?
If you're visiting Northern Ireland to visit Game of Thrones attractions and filming locations, you're in for a real treat.
Although they did film in countries from around the world most of the show was filmed right here in Northern Ireland using countryside locations and production lots like Linen Mill Studios.
So, there are plenty of places to track down as well as walking trails, shops, and experiences. Here is a mini guide on where you should head next.
Belfast
Although there aren't many Game of Thrones filming locations in Belfast, there are places you can visit in the city that celebrate the show.
They filmed lots of the series in the Titanic Studios in Belfast. You can't visit unfortunately but you can find a 'Glass of Thrones' walking trail in the Titanic Quarter. It's completely free.
This is a series of stained glass windows with different houses and scenes from the show! You can find the Starks, Lannisters, Targaryens, and Baratheons and you can even sit on the Iron Throne.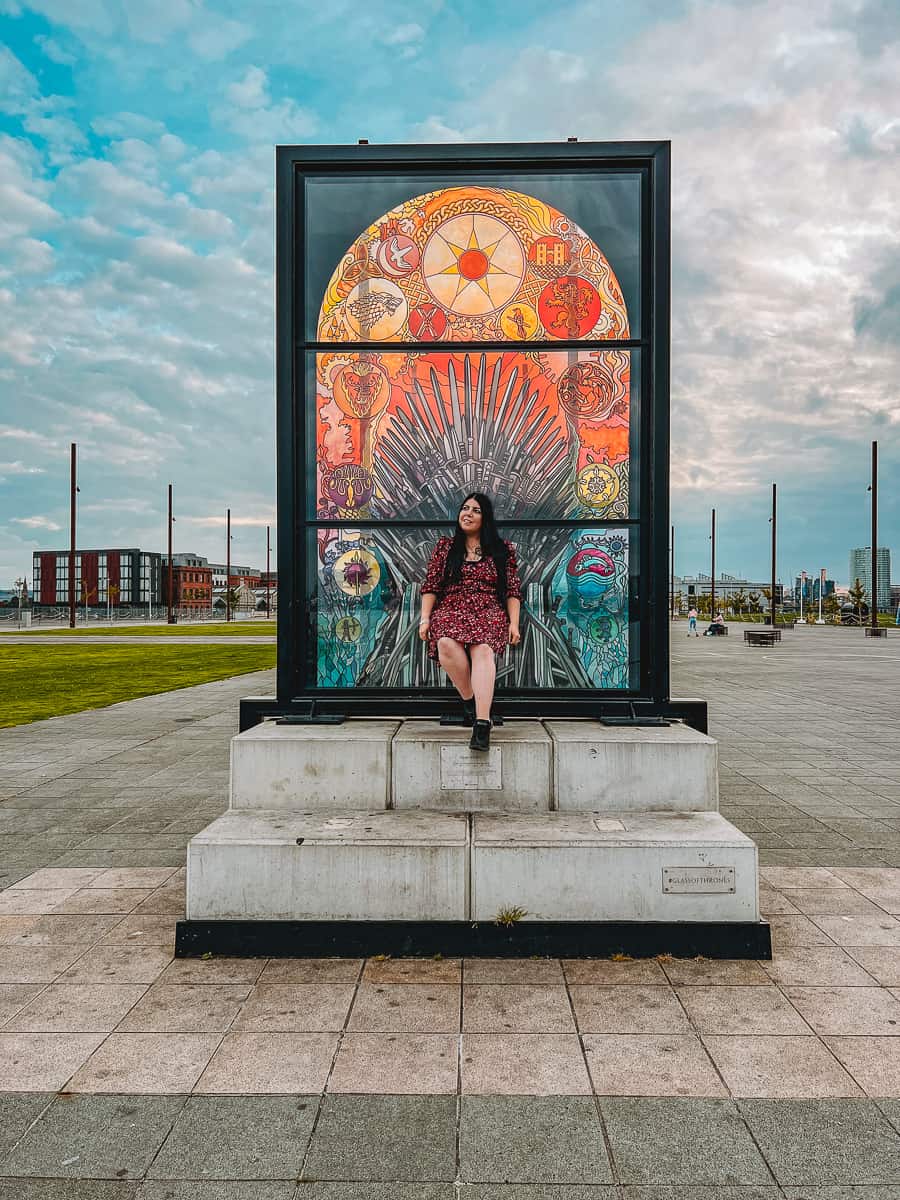 Or, why not head to the Ulster Museum to see the Game of Thrones Tapestry? It's a 90-metre-long tapestry that has scenes from every episode from The Red Wedding to the Mad Queen.
If that's not enough, you can visit themed escape rooms, a Game of Thrones door, Steenston's Jewellers who designed the jewellery and crowns for the show, and where the cast used to go out to drink.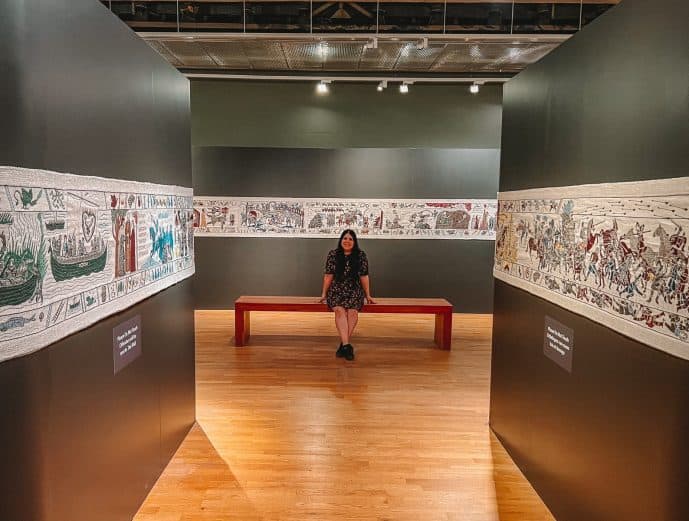 County Down
Just a few hours south of Belfast you can visit the gorgeous County Down that's home to many filming locations from Game of Thrones.
My favourite has to be Tollymore Forest which played Winterfell Forest in the first series. You can visit the wildlings pit, where the Starks found the direwolves, and more.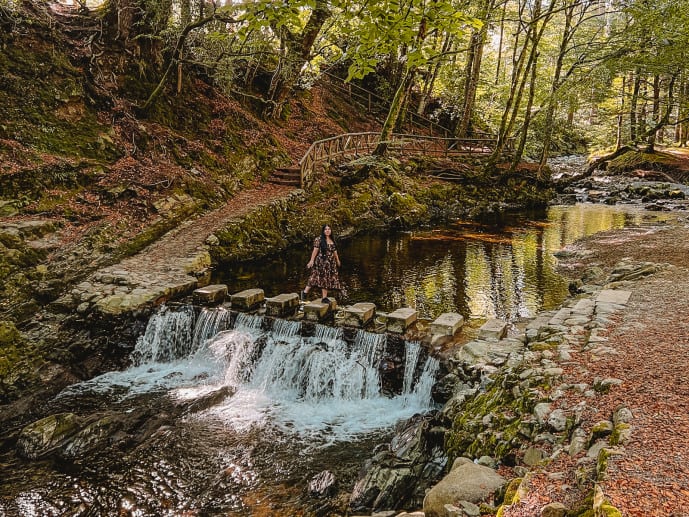 After, you must make your way over to Inch Abbey, a beautiful ruin near Downpatrick. This is where Robb Stark sets up camp and learns of his father's untimely demise.
Or, why not visit Winterfell by heading to Castle Ward? There are over 20 filming locations here, including Audley's Field and you can even take archery lessons in the Winterfell courtyard!
County Antrim
Heading north of Belfast, there are some amazing filming locations that you can visit on the way up to the Causeway Coast.
You can visit Braavos in the form of Carnlough Harbour where Arya ends up and heads to the Hall of Faces.
Cushendun Caves was used to film part of the Stormlands of House Baratheon. This is where Ser Davos Seaworth rows the Red Priestess Melisandre to the caves to have her creepy Shadow Baby.
Just north of there, you can visit Fairhead or the cliffs of Dragonstone where Jon Snow meets Daenerys' dragons, or visit Murlough Bay which they used for Slaver's Bay.
Dark Hedges
I'm going to put the Dark Hedges as an item on its own as it was one of my favourite Northern Ireland Game of Thrones filming locations.
Although it only featured for a few moments in the show, it's now one of the most popular places to visit in the country.
The Dark Hedges played Kings Road in series 2 where we see Arya, Hot Pie, and Gendry escape from Kings Landing.
You can park outside the Dark Hedges Hotel and make your way over to Bregagh Road. Make sure to visit earlier or later in the day for fewer crowds.
Click here to read my complete guide for visiting the Dark Hedges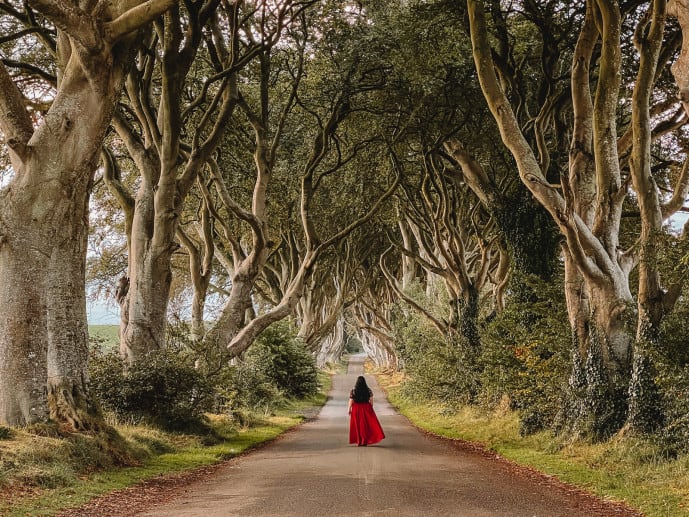 Causeway Coast & Glens
One of my favourite areas for chasing down Game of Thrones filming locations has to be the magical Causeway Coast home of the Giant's Causeway.
Here, you can find amazing locations like Ballintoy Harbour which was used to play the port of Pyke in the Iron Islands.
You can then head down to the road to the Carrick-a-Rede rope bridge that they used as inspiration for the bridge of Castle Greyjoy.
Larrybane Quarry is right next door where King Renly set up his camp and Catelyn Stark visits to negotiate.
Dunluce Castle was used for filming Pyke Castle with a bit of magical CGI or you can head to the Mussenden Temple and Downhill Beach to visit Dragonstone Temple.
Although the Giant's Causeway was not used in Game of Thrones, it's still an incredible place to visit as it's mired in magic, myth, and legends. I would recommend heading there at sunset.
Or you can visit hidden gems like Kinbane Castle which sits on the cliffs, Dunseverick with its ruined castle and waterfall, or catch a ferry over to Raithlin Island.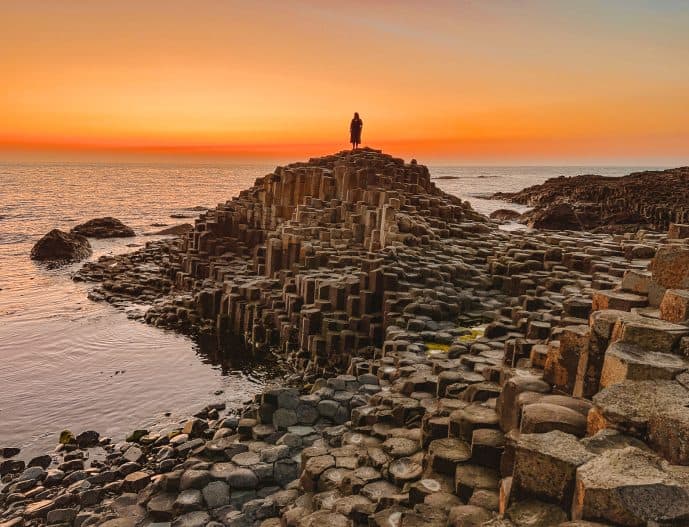 Journey of Doors trail
A great way to visit all of the Game of Thrones filming locations in Northern Ireland is to follow the Journey of Doors trail.
If you weren't aware of the Journey of Doors trail, the beech trees at the Dark Hedges were damaged some years ago due to over-tourism, and some of them were sadly knocked down.
A group of clever artists re-purposed the wood and made a series of Game of Thrones doors.
The doors were gifted to pubs dotted around Northern Ireland. Many of these pubs were places that the cast/crew used to eat, drink or sleep in after filming!
When you visit all filming locations, remember to eat/dine in these pubs and see the doors. You can get your Game of Thrones passport stamped at each one.
Click here to see how you can find all 10 Game of Thrones doors
Read more of my Ireland travel guides
Marsh's Library – visit the oldest public library in Ireland
How to visit Ballysaggartmore Towers Ireland
How to visit the Pollnagollum Cave Game of Thrones location
How to capture Deck of Cards Cobh
How to find the Umbrella Street Dublin
How to find the Umbrella Street Belfast
How to visit Lough Tay aka Guinness Lake
How to find the Ballinastoe Boardwalk in Wicklow
Guinness Storehouse in Dublin review
Save this Game of Thrones Studio Tour Review for later!