If there is one street you need to visit in Devon's capital city, it has to be Gandy Street Exeter.
A magical and historic cobbled lane that is filled with lanterns, bunting, colourful shops, vibrant bistros, and mysterious alleyways!
It has a history since the Saxon era and today is a little gem that can be found hidden down an alleyway from the bustling Exeter High Street.
It's also become famous with Potterheads over the years as it's thought that J. K. Rowling was inspired by her visit here and used it in her Wizarding World. Many Exonians believe there is a Gandy Street Diagon Alley connection. But, how much of that is true?
Here is a complete guide for Gandy Street Exeter with the history, how to find it, things to do, and all you need to know about the Gandy Street Harry Potter connection.
Looking for all the Harry Potter locations in Exeter? Click here to read my magical self-guided walking tour here!
Gandy Street History
You may be surprised to know that this shopping street dates back to the Saxon era around the time of King Alfred the Great! Even now, it still retains a medieval charm.
It has had many names over the years including Correstrete in 1265, which is thought to have originated from the Olde English term of currying or curing of leather in workshops found here.
Later, it was known as St Lucie's Lane in 1669. It eventually changed to Gandy's Lane which was in honour of Henry Gandy who was the Mayor of Exeter from 1661 – 1672.
Along with the name changes, this historic street has seen many transformations over the centuries. Many of the buildings found here now date back to the 17th-19th centuries.
The Old Exeter Journal, one of Exeter's first newspapers, was printed here in the 18th-century.
This gorgeous place eventually became Gandy Street which today is an eclectic shopping street filled with colourful boutiques, bars, restaurants, and salons!
It's popular amongst locals and tourists alike and is a must-visit in Exeter. It's also extremely popular with fans of Harry Potter and the Wizarding World due to an urban Exonian legend and fan theory.
Gandy Street Exeter Harry Potter connection – is this the inspiration for Diagon Alley?
This historic shopping street has become famous in recent years as many people believe that J. K. Rowling used Gandy Street as a Diagon Alley inspiration in Harry Potter.
As J. K. Rowling was a student at the University of Exeter, it makes sense that places in the city may have inspired locations in her Wizarding World.
Indeed, there are many places in Devon like Topsham, Ottery St Mary, Budleigh Salterton, and Chudleigh that have an eerily similar connection to places in the stories.
Gandy Street as Diagon Alley was a bit of an urban legend amongst locals and student at Exeter University for years.
However, this fan theory was recently put to the test when J. K. Rowling was asked about it by fans on Twitter. The response was not what Potterheads were expecting at all.
J. K. Rowling's response on the Gandy Street Diagon Alley connection
So, is Gandy Street Diagon Alley? A lot of Potterheads seem to think so and it's become a bit of an urban legend in this city!
Unfortunately, a lot of Exonians, Potterheads, and students at the University of Exeter were crushed when J. K. Rowling put the popular rumour to bed.
She publicly announced on Twitter that Gandy Street was not the inspiration for Daigon Alley. She said that "Gandy Street is nothing like the Diagon Alley in my head" along with The Old Firehouse being an inspiration for the Leaky Cauldron.
Although disappointing, I'm sure that fellow Potter fans will agree that the resemblance between the two shopping streets is uncanny.
So, despite this, if you still wanted to visit the Harry Potter street in Exeter and act like you're shopping for witch and wizardry supplies, no one is stopping you!
Where is Gandy Street in Exeter? How to visit Exeter's Harry Potter Street!
You can find Gandy Street hidden down a little lane off Exeter High Street by Urban Outfitters. If you head inside and walk straight, you'll eventually find this colourful shopping street right at the very end.
Alternatively, if you're heading in from the RAMM Museum, you can turn the corner of Upper Paul Street to find Gandy Street. Or, besides the RAMM Museum entrance by the Exeter Pheonix Theatre.
Gandy Street is a pedestrianised shopping street, so you will need to park up in the city and walk here. The nearest car park would be the Exeter Guildhall Car Park – I've provided more parking options below.
If you're heading into Exeter by train, it's a 15-minute walk from Exeter St David's and a 20-minute walk from Exeter St Thomas. The nearest bus stop would be Exeter High Street.
Gandy Street Exeter photography tip – if you wanted to visit here when it's empty like I did, you will need to visit early and before shops open as this street gets busy! I got here around 8 am on a weekday and it was super quiet. Not completely empty as it's a commuter street but empty enough. It's a popular bar area so the evenings will be busy.
Things to do on Gandy Street for Harry Potter fans!
Gandy Street is an amazing place to visit in Exeter whether you're a Harry Potter fan or not and there is plenty of things to see and do here!
From shopping in all the independent boutiques, getting a spot for lunch, or partying until the early hours. Here are all the things to do in Gandy Street Exeter.
See Knockturn Alley (the top of Gandy Street)
If you head into Gandy Street from Exeter High Street, you may walk through a dark brick-walled lane initially to get to the main shopping street.
It has old oil lamps, fairy lights, and café windows on either side (look out for the painting of Shakespeare!) and I thought this looked just like Knockturn Alley!
There is not much here to see but there are some gorgeous lanterns guiding you through to the place that looks just like the colourful shop windows of Diagon Alley.
Visit Gringotts bank (The Vaults)
In the middle of Gandy Street, you'll come across a large white building with a black door called The Vaults.
This is a popular nightclub in Exeter but Potterheads believe that this building inspired Gringotts Bank in Harry Potter!
In the books, the story describes the building as 'snowy white' and a place that towers over the smaller shops of Diagon Alley. The Vaults is just like that.
I can definitely see the resemblance here, can you?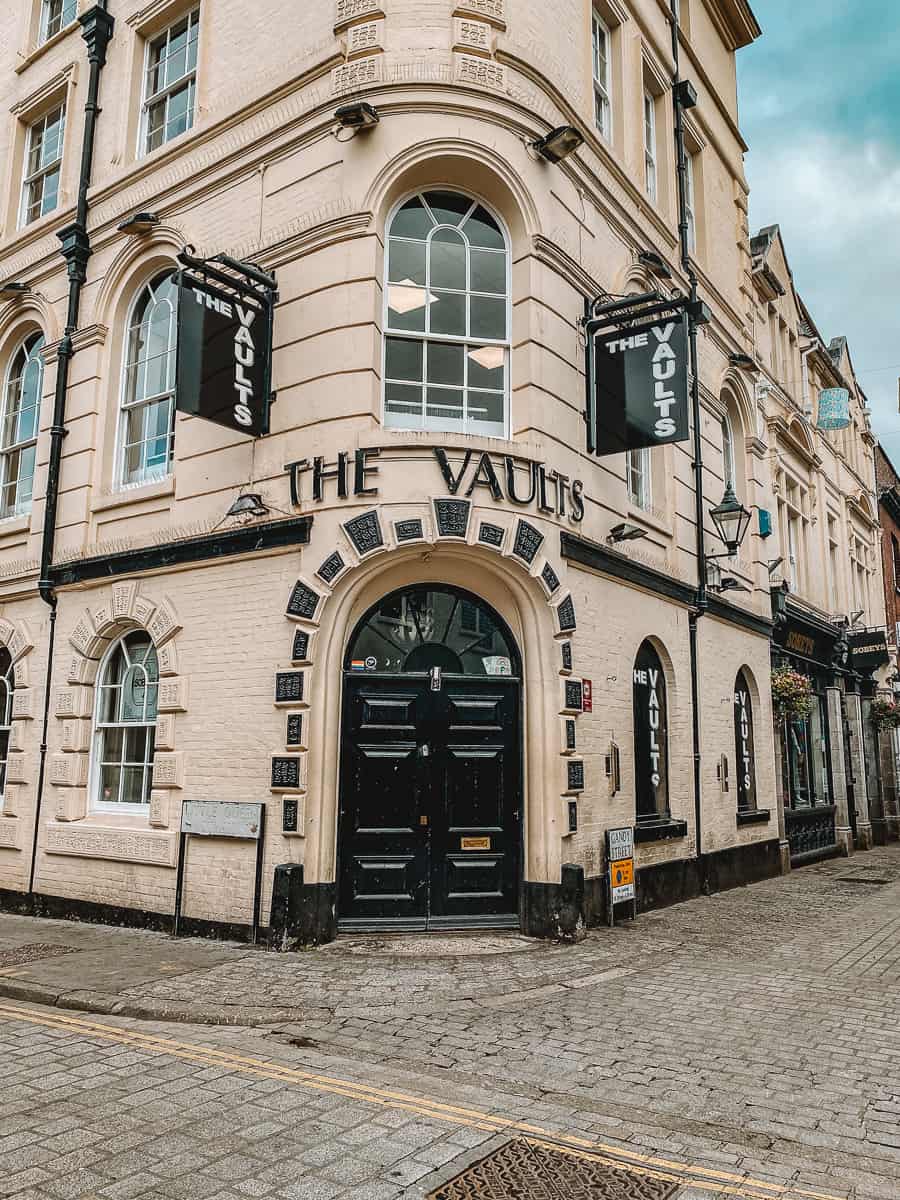 Visit the Gandy Street shops for wizardry supplies
Of course, the main thing that you should do in the Harry Potter Street in Exeter is visit all the Gandy Street shops in this vibrant cobbled street!
Although you won't find Ollivander's wand shop here or Flourish and Blotts, you will find some incredible places to visit.
Just like the amazing bohemian Fore Street, this area is filled with independent boutiques which provide services and items for just about everything.
There are clothing stores, coffee shops, candle makers, crystal sellers, secondhand clothing, beauty shops, salons, travel services, jewellery, and more. Just like Diagon Alley.
You could honestly spend hours exploring this shopping street and not see everything.
It's good to note at this point that the shops here aren't your typical 9-5 places! Always check opening hours before you go as they differ throughout the week.
Find the entrance to Diagon Alley (sign near Upper Paul Street)
Another place worth visiting for Harry Potter fans is the Gandy Street sign which is located right at the end of Gandy Street on the corner of Upper Paul Street.
You'll notice a red brick wall that almost looks like it's crumbling off at the corner a little bit. This is the place that Exonians believe is the inspiration for the entrance to Diagon Alley!
I mean, they're not wrong – it does look a lot like the movie. Plus, with all the gothic architecture of the RAMM Museum nearby and the old oil lamp, it looks very similar to the courtyard of the Leaky Cauldron.
So, if you are a wayfaring wizard, just tap on the bricks with the secret code, and away you go!
Find hidden alleyways
My favourite part of exploring Gandy Street was all the hidden alleyways and shopping streets that falls off of it. Just like Diagon Alley!
You have the Queen's Walk which leads you through to Queen's Street which is the cutest cut-through.
There was also a gorgeous alleyway called New Buildings that greeted you with a colourful mural before you head inside. As you walk down you'll find lots of crystal shops, tattoo parlours, hairdressers, and boutiques!
There was colourful bunting, the smell of incense in the air, and lots of amazing shops that you can rummage around here. I was in my element.
Visit the Royal Albert Memorial Museum
Just off Gandy Street is the popular RAMM Museum which is the Royal Albert Memorial Museum in Exeter!
It's an award-winning and FREE interactive attraction that is filled with amazing exhibitions suitable for all the family.
The entrance is just off Gandy Street and is close to the Pheonix Theatre too which puts on productions throughout the year.
It's the perfect place to visit on a rainy day as you could explore for hours and they have a cosy café for a cup of tea or lunch too.
Click here for RAMM opening times!
Where to eat on Gandy Street
Gandy Street is filled with incredible places to eat and drink, so if you fancied a spot of lunch there are plenty to choose from.
If you were after a coffee break, you could shop into Chococo which is a chocolaterie that serves up some of the best coffee and cakes in town.
There is also the popular Red Panda which serves up fresh and tasty Asian street food. The Banh mi sandwiches and Bao buns are to die for and you can eat in or take away!
The Cork and Tile is a popular cafe/bar which serves up fresh and authentic Portuguese food throughout the day.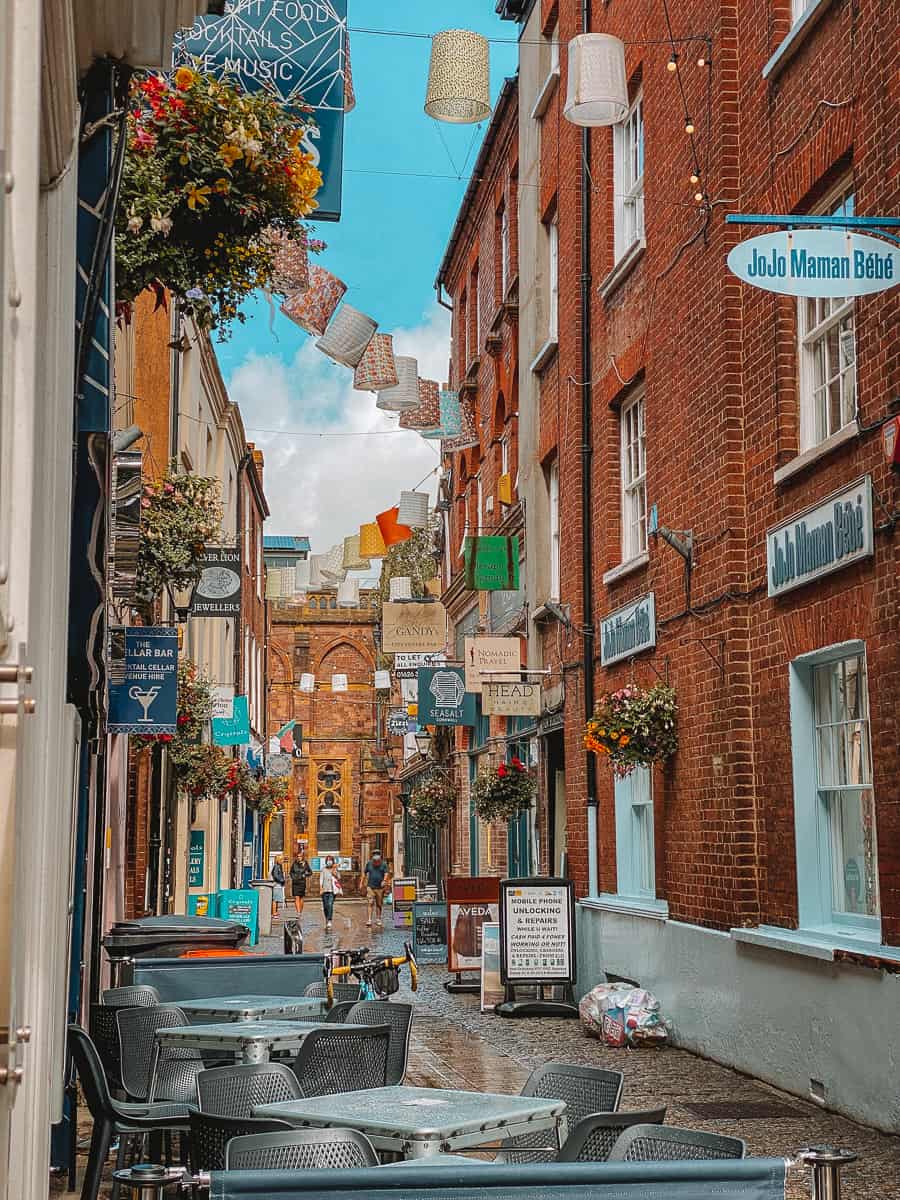 Go for a drink in one of the Gandy Street pubs
Unfortunately, the Harry Potter bars in Exeter of the Muggler's Inn and The Cauldron Inn have closed down here on Gandy Street.
Before closure, they were fun-themed bars that had lots of Harry Potter references and potions to drink!
But, if you were looking for a tipple, there are a couple of bars that you can choose from while you're here.
Or, you wanted drinks in the evening, there is John Gandy's that opens for cocktails in the evening time and Crocketts too.
Gandy Street facts
This shopping street dates back to the Saxon era during the time of King Alfred the Great!
A carved stone Saxon cross called Toisa's Cross used to stand here outside of the Westgate in 1316. It was used to repair the medieval Exe bridge in 1603. It has since been removed and you can see it in the RAMM museum nearby.
Gandy Street has been called Correstrete, St Lucie's Lane and Gandy's Lane over the years until eventually it became Gandy Street. It's named after Henry Gandy who was the Mayor of Exeter from 1661 – 1672
Exeter's first newspaper the Old Exeter Journal was published from Gandy Street in the 18th-century.
Gandy Street was the main source of a cholera outbreak in 1832
There is a strange door located on Gandy Street which is home to a Masonic Lodge! That's right it's a hub of the mysterious Freemasons. The building is Grade I listed and dates back to the 14th century.
Parking near Gandy Street Exeter
Parking in central Exeter can cost a pretty penny. The closest car park to Exeter has to be the Guildhall Centre car park. From here, you're just a minute's walk to Exeter's Harry Potter Street.
There's also the Northernhay Street Car Park, Exeter Central Station car park and the car park by John Lewis as well that is near to the High Street. But, all are expensive for a day of shopping.
If you're looking for a cheap all-day car park, I parked up on Okehampton Street Car Park for £3.50 all day. It's by the Exeter Historic Quays and it's only a 10-15 minute walk to Gandy Street from there.
Click here to see all the parking options and parking charges in Exeter
Looking for more Harry Potter locations in Exeter?
As J. K. Rowling was a student of The University of Exeter, many Exonians and Potterheads believe that places in this historic city inspired her Wizarding World!
After this, you can head over to Exeter Cathedral and be immersed into the Great Hall at Hogwarts, or visit Cathedral Close to see the inspiration for the Room of Requirement.
If you were looking for a Harry Potter bar in Exeter you should head to The Old Firehouse which was meant to be the inspiration for The Leaky Cauldron (before J. K. Squashed the rumour!).
You can find all the locations on my self-guided Exeter Harry Potter walking tour I wrote down here.
If you want to feel like Harry did on the Knight Bus, why not visit Parliament Street in Exeter nearby which is the narrowest street in Britain!
Don't forget to pop by The House That Moved. It looks straight out of Budleigh Babberton.
Or, you could head around Devon to see some of the places that inspired characters and places names in her books like Ottery St Mary, Topsham, Budleigh Salterton, Chudleigh, and Dartmoor!
I visited a real-life Forbidden Forest in Wistman's Wood which was absolutely magical and a must-visit in Devon.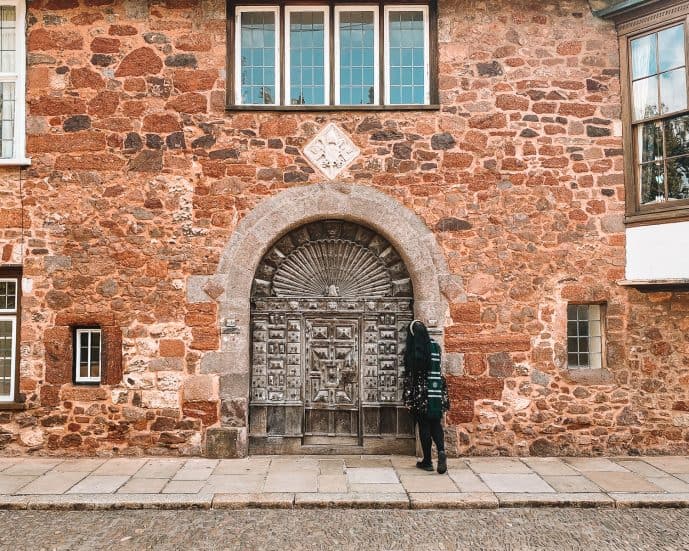 Read more of my Harry Potter guides
Harry Potter locations in Lacock
Harry Potter filming locations in Alnwick Castle
How to spend the night in Hagrid's Hut
Harry Potter filming locations in Scotland
Godric's Hollow filming location
Where to find Harry Potter in York
How to find the Harry Potter Tree at Blenheim Palace
A complete Forbidden Forest Experience Review
The Shop That Must Not Be Named Review
How to find Dobby's Grave in Wales
Harry Potter filming locations in Gloucester Cathedral
How to see the Hogwarts Express in Scotland
Visiting Malfoy Manor in Real life!
Where to find Tom Riddle's grave in Edinburgh
Visiting the Quidditch Town of Tutshill Tornados
Harry Potter locations in Exeter along with Gandy Street and the Room of Requirement
Virginia Water – the Other Hogwarts Lake
Instagram locations at the Wizarding World of Harry Potter
Is Cecil Court a real Diagon Alley in London?
How to visit Dumbledore's Grave in Scotland
Harry Potter filming locations at Durham Cathedral
Read more of my posts on Exeter and Devon
What to do at Agatha Christie's Greenway House
Places on the Agatha Christie Mile in Torquay
The best places to visit on Burgh Island
Visit the Lynton and Lynmouth Tram Railway in Exmoor
Things to do in Cockington Village
What to expect on the Babbacombe Cliff Railway
How to visit Lydford Gorge & White Lady Waterfall in Dartmoor
How to visit Brentor Church in Dartmoor
Woolacombe Bay Holiday Parks Review
Magical Valley of the Rocks Devon guide
Save this Diagon Alley Gandy Street Exeter guide for later!