If there is one thing you must do while you're in the capital of West Bengal, it is to go on a Ganges river cruise in Kolkata.
Also known as the Hooghly River, this famous waterway snakes through the city and is used by locals every single day.
Sailing down the Ganges, you can see many of the cities top attractions, including the temple ghats and the iconic Howrah Bridge. Plus, you can watch so much life happening on the water.
This was one of my favourite memories from my visit and ended up being an epic way to end my trip to Kolkata!
Seeing the sunset over the horizon and watching the sky turn all different colours is something I'll remember forever.
Here's a complete guide to taking a Ganges river cruise in Kolkata. Including what companies are recommended, the ticket prices, the best time to go and what to expect!
Why is it called the Hooghly River and not the Ganges?
The Hooghly River is the official name for it in Kolkata and it's actually a river that flows off or is a distributary river of the Ganges.
This river in total is 160 miles (260 kilometres) long and flows from Kolkata to the Bay of Bengal.
The Ganges River is around 1,500 miles (2,525 km) long in total that runs all the way through India to Bangladesh. So, the Hooghly river is actually only around 10% of the size of the Ganges!
Although it is considered holy water as it flows from the River Ganges, it is not officially part of the main body of the Ganges.
Hence, the name Hooghly. However, despite the official name, many people in Kolkata simply call it 'Ganga'.
Why is the Ganges river important?
The Ganges river is considered holy and sacred. Hindus believe that the river is personified as the goddess Ganga.
Hindus also believe that the water of the Ganges is pure and bathing in the river will wash away any sins.
It's also regarded as a place of Moksha (liberation from the cycle of life and death). So, this water source plays a huge part in daily lives. It's a place where locals meditate, drink, pray, wash and clean clothes every single day.
Many Aarti's, a Hindu worship ritual, is performed by this river each morning and night and there are also burning ghats for Hindu funerals.
A Ganges River Cruise in Kolkata is an amazing way to really learn about Hindu Culture and see life happen on Hooghly River Ghats.
A 'ghat' is a name for steps leading down the river and you'll see them lined up all along the banks of the Hooghly.
What is the best company for a Ganges River Cruise Kolkata?
Although there are many websites advertising a Ganges River Cruise in Kolkata, a lot of them like Pandaw Cruises are for an extended period of time.
Which sounds lovely, but some of us don't want to be on the Ganges for a week!
What you're looking for is an option to sail on a Hooghly river cruise for a few hours.
Most tour companies online offering day cruises on the Hooghly River, like Lonely Planet and Viator, are advertising for commissions. Selling cruise tickets via their platform for one company.
That one company that is truly recommended by most hotels in the city, and is the only company I would recommend for a Ganges River Cruise in Kolkata is Vivada Cruises.
FYI this post is NOT sponsored by Vivada Cruises. I paid my own pennies. I just had a really good experience and wanted to share.
They have quality ships, well-cooked food and run four professional day cruises every day. Those are breakfast, lunch, evening and dinner cruises.
So, when booking your river cruise, I would book it directly with Vivada Cruises online or call them to reserve tickets and pay when you get there.
We asked our hotel, the Oberoi Grand, to reserve us tickets over the phone and paid when we got there.
If you don't have your own phone working in India, I would ask your guesthouse/hotel to do the same.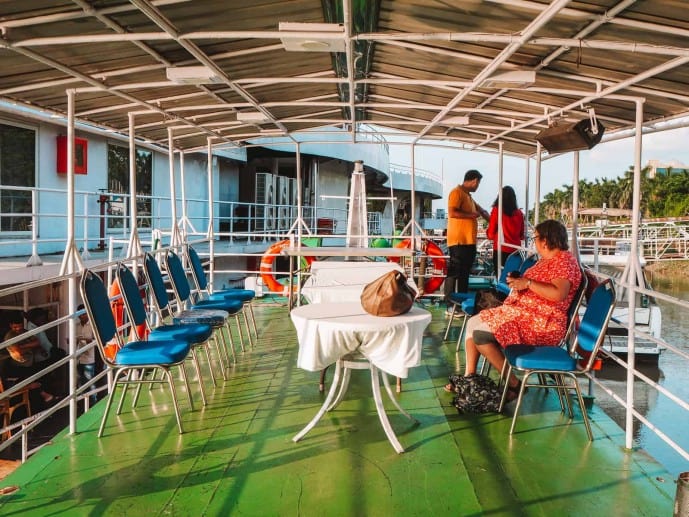 Vivada Cruise ticket prices
The online prices for booking a Hooghly river cruise are quite expensive compared to booking directly with Vivada Cruises. Most of the ones I saw online were £38 or 3,500 rupees!
Yes, those tours include pickup service, but you'll be paying over double what the tour costs originally.
Through Vivada Cruises' website, the breakfast and evening cruises cost 1,000 rupees plus GST Tax (18%).
The lunch and dinner cruises are 1,500 rupees plus GST. So, I would 100% recommend booking with them directly to save yourself some money!
If you're worried about the pickup and drop off, getting to the dock and back for your Vivada cruise really couldn't be simpler.
Arriving for your Vivada cruise
The Vivada Cruise dock can be found near Metcalfe Hall on Strand Road on the banks of the Hooghly River.
It's easy to spot as there is Millennium Park nearby and a huge sign telling you that you've arrived on the harbour;
How to reach the Vivada Cruise Dock in Kolkata
There are many ways that you can reach the Vivada Cruise Dock in Kolkata. By using the public transport system like the metro, buses and trams or to get a taxi
By Metro: The nearest Metro stop for Vivada Cruises is Chandni Chowk. From here it's a 15-minute walk to the cruise docks via Hare Street. The Metro is really cheap and efficient to get around the city and you pay by the kilometre.
By Bus or Tram: There is a bus stop right outside the dock called the 'Shipping Corporation bus stop'. Many bus services in Kolkata run past this stop.
The official government transport website for West Bengal has a bus travel planner. Or, I find it easier to organise a journey via Google Maps. The nearest tram Stop is BBD Bagh which is a short walk away from the dock.
By Taxi: You can hail a yellow ambassador taxi down in the city, just remember to ask for the meter to be switched on or negotiate a price. Sometimes they can be sneaky and overcharge, especially if you're a tourist. I personally preferred Uber and found it less hassle and a lot cheaper.
Click here to read my article all about how to use Indian Uber with a special discount code for your first ride
Checking in and collecting Vivada Cruise boarding passes
If you're booking directly with Vivada Cruises, I would aim to be at the dock meeting point at least 30 minutes before your river cruise to check-in, pay and collect your boarding passes at the office.
In Britain, we have a thing for being strictly on time or early. So, if a ticket tells us we need to be there 30 minutes before, we turn up earlier than that just in case.
But, as you'll be in India, it usually means Indian time…So, your cruise check-in and the time you sail off may be delayed. For no other reason, than…this is India!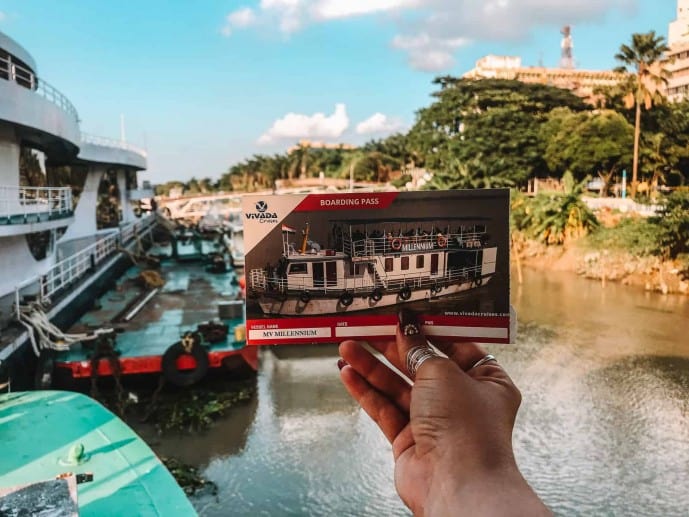 As it was Durga Puja in Kolkata, a lot of the roads were being blocked off and so it was causing congestion. So, we got here a whole hour earlier than planned.
If you are twiddling your thumbs and looking for something to do to pass the time. The Vivada cruise dock is right by Millennium Park.
We each paid 10 rupees to go in and got ice creams to cool down in the heat!
It's wasn't the most pleasing park in the world but very popular with locals and it had a nice promenade by the river!
If you would prefer, the Vivada Cruise office has seats to wait in and are nice and air-conditioned with the heat.
How long is a Vivada Cruise experience?
All the Vivada Cruises that run during the day are around 3-4 hours. Although I can't speak for the other cruises, the evening was well worth the money and is the one I would definitely recommend.
Due to Durga Puja, there was actually only us and one other couple. So, it was like we had a private cruise ship for the evening!
Although it advertised that we would receive small snacks and drinks, we actually had enough yummy food to keep us full through the entire evening! So, we didn't need dinner.
Plus, we got to witness the most amazing sunset as part of our journey, watch an evening aarti at Belur Math and then return under the stars while the city lights up at night.
It really gives you the best of both worlds and was the perfect way to end my journey in Kolkata. Here's a full review of the Vivada evening cruise experience and all the reasons why you cannot miss it.
Why you cannot miss a Ganges River Cruise in Kolkata
1. You get to see the city from a completely new perspective
The one thing I really loved was seeing Kolkata from the water. The whole of my trip, I was on road transport and walking in amongst the city streets.
It was hectic, dirty and as it was monsoon most of the city was flooded from heavy rains. So, that meant hopping in and out of black polluted water that couldn't drain properly.
I had seen the Hooghly River on my travels and even saw some of the temples on the banks of it. But, actually being on the water makes you see the city in a different light.
You'll notice things you didn't before and the fact you travel from North to South makes sure you get to see the outskirts too.
It was really relaxing floating along the Ganga, watching and hearing the chaos from afar on our cruise ship.
2. Your boat will pass under the iconic Howrah Bridge
There are many iconic bridges in Kolkata, but none so famous as the Howrah Bridge or Rabindra Setu. It sounds weird, but I was so excited to see this bridge for myself.
I had heard about it long before my visit to West Bengal and it's almost a tourist attraction in its own right.
It was commissioned all the way back in 1871 by the British but wasn't built until 1935. It stretches over 705 metres, required 23,000 tons of steel and it's the busiest cantilever bridge in the entire world.
Approximately 100,000 vehicles and 150,000 pedestrians cross it each day! That's not including the cows that roam here.
When I visited the flower market at Mullick Ghat, we got dropped off by this bridge and we walked over it at sunrise to have a look at some of the sights. We saw many locals washing and praying in the Ganges.
This time, on my cruise, we were able to go under it from the river. It was really fun to wave at the locals passing by and it provided some fantastic photo opportunities too.
Another bridge you can see in the distance is the second Hooghly Bridge, Vidyasagar Setu, which kind of reminded me of a grey Golden Gate Bridge.
It's the longest cable-stayed bridge in all of India.
If you are wondering, there are a total of 4 bridges on the Hooghly River connecting Kolkata to Howrah. The others are Bally Bridge (Vivekananda Setu) and New Bally Bridge (Nivedita Setu).
3. Enjoy watching life on the Kolkata Ghats
As well as getting to see the city in a different light, I loved watching the life that goes on along the river banks.
As we took the evening cruise, people were coming out to pray in the cooler temperatures, meditating in the low sunshine and bathing or washing clothes in the river.
People would wave, or watch us go by. We'd see people waiting for the local ferries and heard many temples playing loud music.
As we were visiting around Durga Puja, people were immersing idols of the Hindu warrior Goddess Durga in the river Ganga. A tradition that has taken place for centuries.
I actually went to see the idols being made in Kumartuli, the potters quarter in the city, which is another place I would highly recommend you visit.
Apparently, to make a statue of Durga, a priest has to collect soil from outside the house of a prostitute.
Then it is mixed with clay taken from the Ganga, cow dung and cow urine too.
Durga Puja is celebrated across the world for those of the Hindu faith, but it is a really special occasion in Kolkata. The celebrations go on for 10 days or more and the city is bustling with all sorts of festivities.
4.
You'll get chai, and lot's of yummy snacks on board!

As soon as we boarded the boat and just before we left, we were showered with drinks and snacks pretty much the whole time we were sailing.

We were offered fresh mango juice on arrival and spicy-sweet chai as we sailed along the river bank.

Later there were fizzy drinks. But, I'm afraid there isn't a bar or any alcohol if you were expecting a booze cruise. It is the Ganges river and many Hindus do not condone drinking.

As there was only four of us, we had no need to secure our seats. We could just sit anywhere we liked and walked around to different sides of the boat to see a new perspective.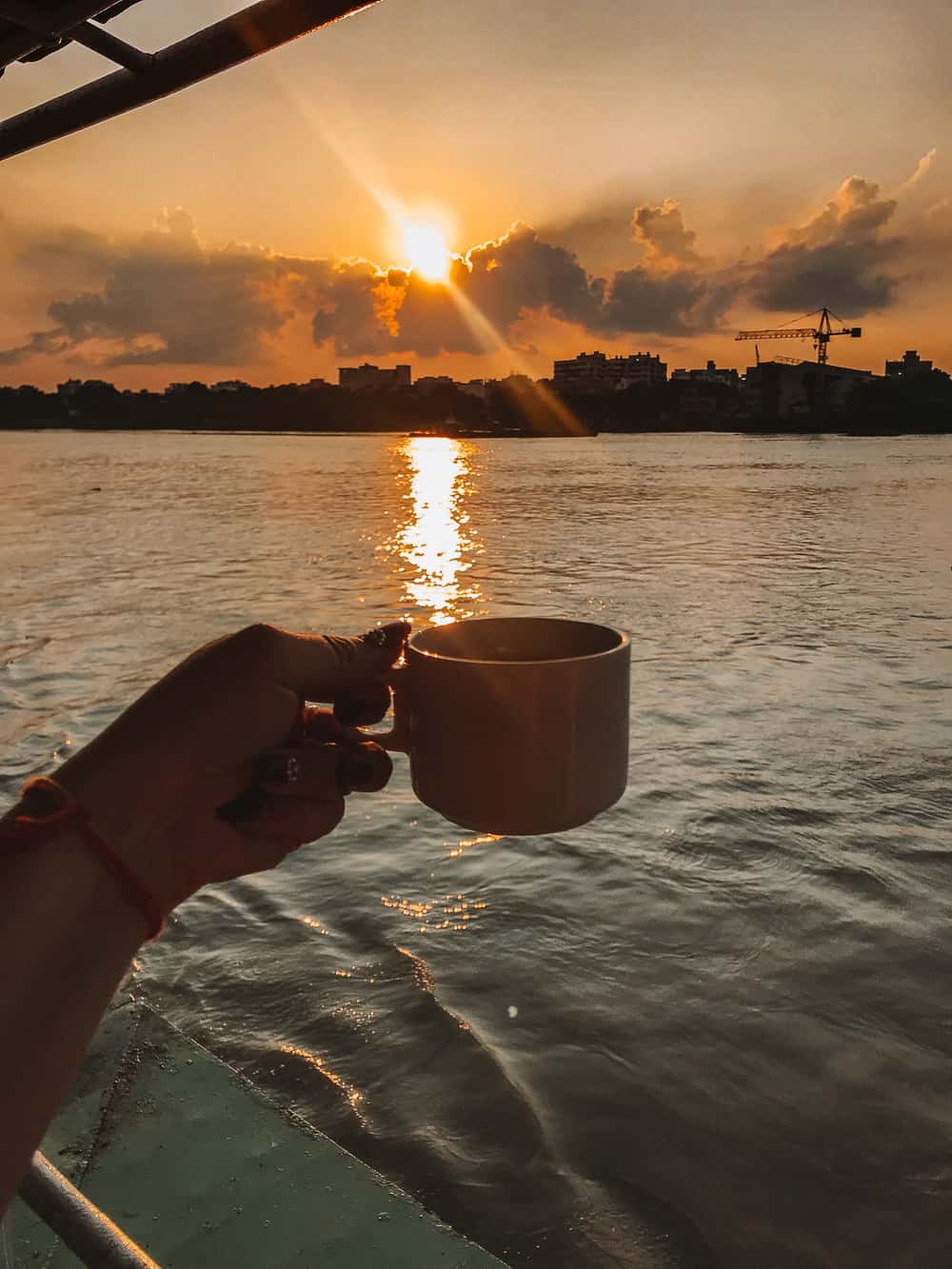 What food is served on a Vivada evening Cruise?
In the first half, we were offered fried snacks. They were traditional Indian snacks like 'Fish Fry' which was amazing as Kolkata is famous for its fish.
There was also Pakora or Pakoda which essentially just means deep-fried something… So, you have onion pakoda (like onion bhaaji), paneer (cheese) pakoda, chicken pakoda etc.
If you're worried about spicy things, just ask the staff to help you out. But, their version of spicy and yours may be very different, lol!
I didn't find anything spicy save the chutneys. They did have mild tomato ketchup though for dipping.
Then on the second half of the trip, we got chicken drumsticks, more fish, more pakoda, we were offered so much food.
I was actually super full by the end of it. Then, when the local desserts came out, I thought I was going to burst! So come with an empty stomach.
We were planning to eat dinner after if there wasn't much food on the cruise. But I honestly couldn't have eaten another bite. I needed rolling home as I was full of Pakoda!
5. The sky will transform in all different colours
A highlight for me was watching the sunset as we sailed towards Belur Math. As we got on the boat around the time the sun was setting, we could watch the whole thing from start to finish.
The weather for Kolkata in October was extremely temperamental. One minute we'd have sunshine, the next grey clouds and tropical rain showers.
All within the space of an hour. It was meant to be past monsoon season. But, the rains were so heavy a lot of the city was flooded.
That meant grey skies and I hadn't actually seen a good sunset since I had been in the city. But luckily, on the very last night for our sunset cruise, we actually got to see a sunset!
So, we picked a great day for it and the sun definitely put on a show. We saw the sky change from orange, to red hues, then the most bright shade of pink.
It was so beautiful to see and even better when paired with sipping on chai!
6.
Explore Belur Math for the evening aarti

An unexpected but welcome addition to our trip was a short 45 minute stop at Belur Math in the middle of our cruise. We were led inside and shown around by a Vivada cruise leader.

Belur Math is a HUGE temple complex that spans 40 acres on the banks of the Hooghly River.

It's the Headquarters of the Ramakrishna Math and the Ramakrishna Mission spiritual organisation.

It was founded in the 19th century by Sri Ramakrishna, known as the Prophet of the Modern Age and his chief disciple Swami Vivekananda, a forward thinker and religious leader.

Although there are 4 temples, plus education and medical centres in Belur Math, the Sri Ramakrishna Temple is the jewel in its crown.

Here, we got to see the magical evening aarti. Where the priests of the temples lead the local pilgrims in prayer.

Women must observe in one section and men must be on the other as is the custom. You'll quickly be ushered on by security if you end up in the wrong place.

You can also buy all sorts of books with the teachings of Swami Vivekananda in the library afterwards. We had absolutely no idea that we were stopping here but we both said it was the best part of our trip for sure.
7. On the way back, you'll see the city light up at night
Once we boarded the ship after the evening aarti, it was pitch black skies. As it was so clear, we did get to see the stars and started to slowly sail back to the boarding dock.
But now the city had completely lit up with the most marvellous reflections on the river!
So, we enjoyed our (rather huge) snacks while watching all the colourful buildings. The Howrah Bridge even lit up and so we got to see it in two ways.
There were also buildings like SBI (State Bank of India) who had lights in all different colours of the rainbow. I only know them as I always use their ATMs because they don't charge lol.
The reason why I loved this cruise over the others is that you got to see the best of both worlds. Kolkata by day and night on the water!
8. It's the perfect way to start or end your trip!
I don't know why, but I always love to end my trips with a big event like a cruise. I think it just feels nice to do something epic on your last day to say goodbye to a place.
Kolkata quickly became one of my favourite cities in all of India after my visit, I really didn't expect to fall so in love with it.
There was just so much to do, the streets had such a vibe and the people were really friendly.
From the legacy of the British Raj, temple hopping, cultural events, shopping streets and the most amazing food. I don't think I'll ever forget my visit here and am already plotting how I'll return.
But, wrapping up the trip with an epic colourful sunset over the Hooghly (after rain and grey skies for 4 days straight) was the best way to end my incredible journey here.
Whatever time you decide to go on your cruise, I'm sure will be memorable. So I say, enjoy every minute!
Top tips for your Ganges River Cruise Kolkata
Although this trip was amazing, there are a few things I wish I knew before I came on board.
So, here are some of my top tips and things to pack for your Ganges river cruise in Kolkata;
Jacket – although it is really warm in Kolkata during the day, it can get chilly in the monsoon or winter in the evening time. As you're in the middle of the river, the breeze can bite. So, I'd make sure you bring a scarf or a light layer if you feel the cold.
Shoes – During our tour, we did have to take off our shoes to enter the temple at Belur Math. Luckily, I wore slip ons. From personal experience, temple hopping in trainers gets really annoying to have to untie shoes, then tie shoelaces again etc.
Toilets – There is a toilet on board on the bottom deck and it is clean! There was even toilet roll which was a bit of a blessing. But, there wasn't soap. So, bring some anti-bacterial hand wash. I always have mine as part of my staple day kit in India.
Bug spray – Epic fail, I forgot bug spray. Bugs love me too. The mozzies do decide to come out when the sun is setting and at night. So, make sure you bring some to stop getting bitten!
Two decks – There are two deck on board the boat. The top deck is open which is lovely for views. But the bottom deck is covered if it's raining or you're feeling the cold.
Other things to do in Kolkata at night
If you've returned from your Vivada Cruise and feel the night is still young. There are a lot of awesome places to visit in Kolkata at night time.
From temples that worship till late at night, sound and light shows and some of Kolkata's famous street food. You'll never be bored in this thriving city.
Here are the top things to do in Kolkata at night.
Kalighat Temple
Although I always like to visit temples during the day, I know that Hindu temples really come alive at night time.
When the sun sets and the temperatures are cooler, many pilgrims come to the temples to pray.
Kalighat Temple is one of the most famous temples in Kolkata. That's because it is one of the 4 main Shakti Peetha temples of the 51 Shakti Peethas.
If you're not aware of what Shakti Peethas are, the legend is that Shiva's Wife Shakti died. Shiva was so upset he carried her dead body around everywhere with him.
Eventually, Vishnu cut her body up into 51 pieces. Where her 51 pieces fell are now temples and places of worship dedicated to her.
I've now visited 2 of the 4 main Shakti Peetha temples, one is Kalighat temple and the other is Khamakya temple in Guwahati. But, overall there are 51 in total, so I still have a LOT left to see.
Kamakhya Temple is where Shakti's yoni (or vagina) fell and Kalighat Temple is where her right toe fell. So, it draws many crowds and you'll find the queues are huge and you could be waiting hours to go inside.
Many Brahmin's of the temple charge a 'VIP' fee of 300 rupees where you can skip the crowds. Even locals do it if they don't want to queue for hours.
It will save you a lot of time and you can be blessed and receive your red-yellow thread too (Kautuka). I still wear mine now!
Victoria Memorial Sound and Light Show
The Victoria Memorial has to be on your list while you're in the city and is a marvel during the day. But by night it is lit up beautifully against the night sky and they put on a sound and light show in the gardens.
You can then watch the memorial light up in different colours and watch the magic fountains dance outside on the reflection lagoon.
The sound and light show takes place every day, except Mondays and tickets cost 30 rupees per head.
Click here for more details about visiting the Victoria memorial
Try a Hot Kathi Roll on Park Street
I can assure you that the snacks you receive on the boat will make you full! But, if you're still feeling peckish and looking for foodie ideas, you have to try one of Kolkata's famous Hot Kati Rolls.
There are many dotted around the city, but the original is a 'hole-in-the-wall' (quite literally) counter that can be found on Park Street.
It's the ultimate street food and can be compared with a kebab back home.
You'll get a wrap, filled with hot chicken, onions, spices, some unidentifiable sauce and it will be all wrapped up and fried on the counter!
It is absolutely delicious, ridiculously cheap at 50 rupees a pop and crowds of locals come here to eat each evening. There are no seats as it's just a street food counter, but just nearby you can sit down and enjoy.
Go on an evening Kolkata Street food tour!
Kolkata is known for its street food, so if you'd rather go on a street food tour, there are a few that take place each evening.
You'll try a range of famous Kolkata street foods like;
Fish Curry (Macher Jhol)
Kolkata Biryani (yes each place has their own version in India and it's almost criminal to just call it 'Biryanai')
Mutton Curry (Kosha Mangsho)
Phuchka – similar to Gol Gopan or Pani Puri
and… so much more! (There are vegetarian options for those that do not eat meat)
So, make sure you book your Kolkata food tour here to learn all about them
Where to stay in Kolkata
I stayed in the beautiful Oberoi Grand Kolkata. This was like an oasis to return to after a hot sweaty day out exploring in the monsoon!
Their hotel is almost an attraction in itself and an icon of the city as it's the second oldest hotel. You can stay in one of their beautiful deco-like rooms with four-poster beds and it has a gorgeous washroom with a bathtub.
I would highly recommend booking a room indoor facing as the traffic is quite loud, especially during festivals.
Their delectable buffet breakfast at ThreeSixtyThree comes included and they have a refreshing pool with free smoothies!
Click here to book your stay at the Oberoi Grand for the night
Check out some more of my articles about Kolkata
Save this Ganges River Cruise Kolkata review for later!