There are many Outlander locations dotted around the city of Glasgow. But, have you heard of the George Square Outlander film location?
It appeared in the very first series as the City of Westminster register office where Claire and Frank were married.
Now, although the Visit Scotland Outlander map says George Square. The filming location is actually around the side of the building of Glasgow City Chambers on John Street.
In this guide, I'll show you how to find the George Square Outlander location in Glasgow and what to look out for while you're here.
George Square Glasgow history
George Square in Glasgow was named after King George III and laid out in 1781. But, was not completely finished until 20 years later.
The square is surrounded by important buildings like the Glasgow City Chambers and the Merchant's House.
Also, George Square has many statues and monuments dedicated to famous figures such as Sir Robert Peel, Robert Burns, and Sir Walter Scott.
Although today, George Square holds many concerts and cultural events for the city in the past it has been the location of protests.
The most famous was the Battle of George Square in 1919. It is thought that over 20,000 engineers and workers gathered here and rallied for a fair workweek. It descended into violence and a riot act was read.
The foundations of the Glasgow City Chambers, which stands proudly in the square, were laid down in 1883 and designed by William Young.
This is where the Outlander team filmed the City of Westminster Registry Office.
What was the George Square Outlander location
In series 1, episode 7 'The Wedding', Claire and Frank are heading through the City of Westminster on the way to lunch with Frank's parents. Frank stops and asks her if she will marry him!
They talk outside of the City of Westminster Register office in the series but it's actually outside of the Glasgow City Chambers.
Although the Visit Scotland tourist map pins down the Westminster Registry Office as George Square, make sure you head around the side of the city chambers building to find the exact location.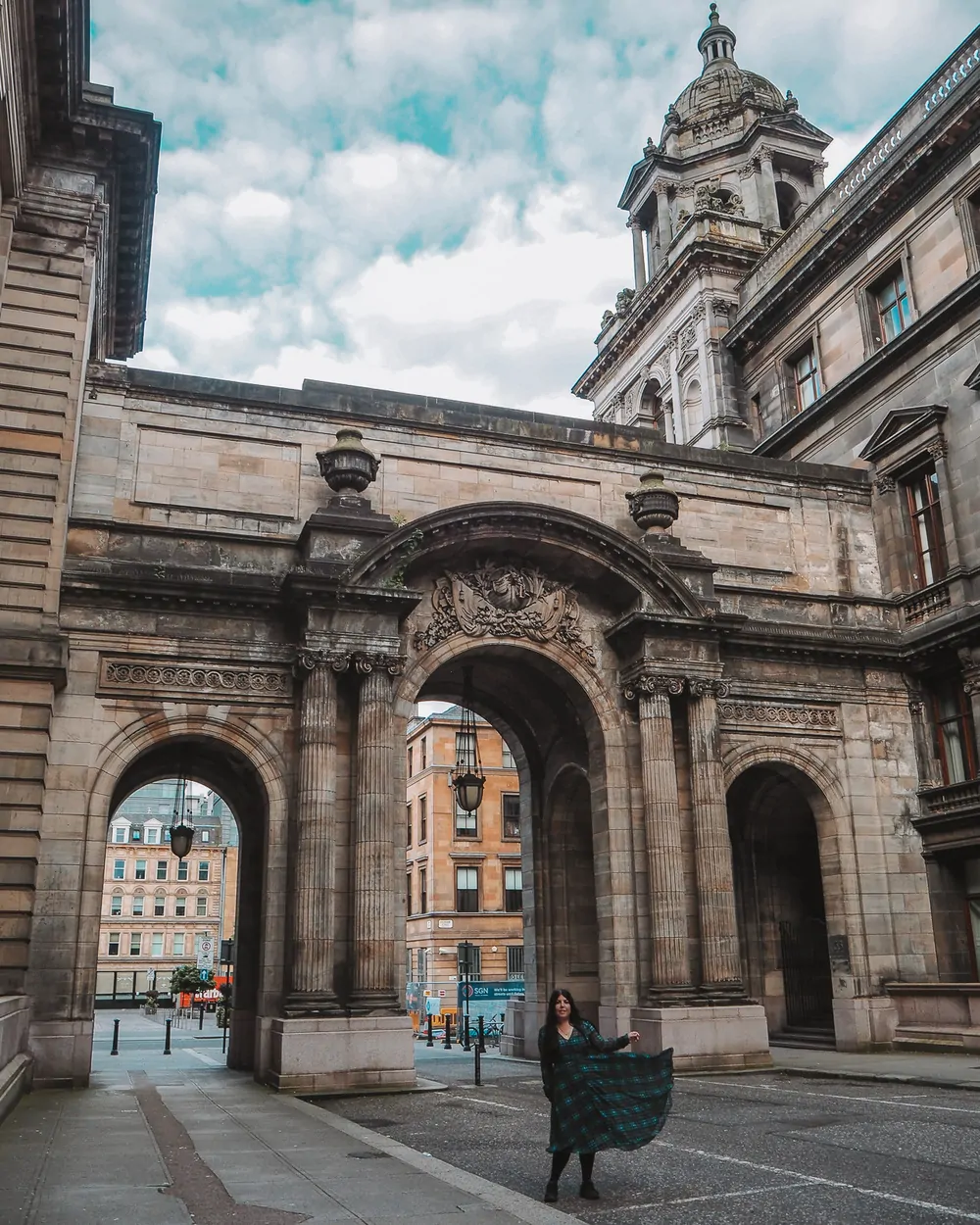 Finding Outlander at George Square
Once you reach George Square and you're facing the city chambers, walk toward the building and head around to the side until you reach the back. The location is called John Street.
You'll see two beautiful archways which bookend the street and the City of Westminster Register office is located at 45 John Street. In the episode, you can see the same number 45 too!
The great thing about visiting the City Chambers early morning is it's actually cordoned off to cars, so it's the perfect time to take some Outlander selfies while you're here.
How to reach George Square in Glasgow
Glasgow is one of those great cities where most things are compact and so it's easy enough to reach on foot.
But, if you were located further afield, Glasgow has a great public transport system. It has buses, trains, and a subway! You can buy a single ticket starting from £1.40 or invest in a Subway smart card if you plan to stay for a while longer. See more transport options here.
You can also get the City Sightseeing open-top bus tour that has a stop for George Square. You can even buy a joint bus and subway tickets. See more here.
What is the best time to visit George Square for photos?
George Square in Glasgow and The City Chambers are busy at nearly all times of the day. They're also working office buildings, so you will see lots of people waiting to go inside of them.
If you want to get some clean photos of this location, I would recommend visiting very early on a Sunday morning.
As most people will be sleeping in, this is the perfect chance to get some photos without the crowds! Although, you may encounter some drunk characters walking home from a night out.
Book a Glasgow city chambers tour
Something I loved while I visited Glasgow was a FREE tour of the Glasgow City Chambers run by the city council.
It allows you the chance to snoop around inside the building and see some of the most gorgeous marble staircases and rooms you've seen in your life! It was honestly like walking through Hogwarts at some points.
Tours only run twice per day and are on a first-come, first-serve basis. You cannot book tickets in advance so I would recommend getting to the Glasgow City Chambers at least 20-30 minutes before the tour begins.
You will have an entertaining guide, be given a great overview of the history and there are lots of photo opportunities whilst inside too!
Click here for more information on how to visit Glasgow City Chambers!
Save time and book a tour!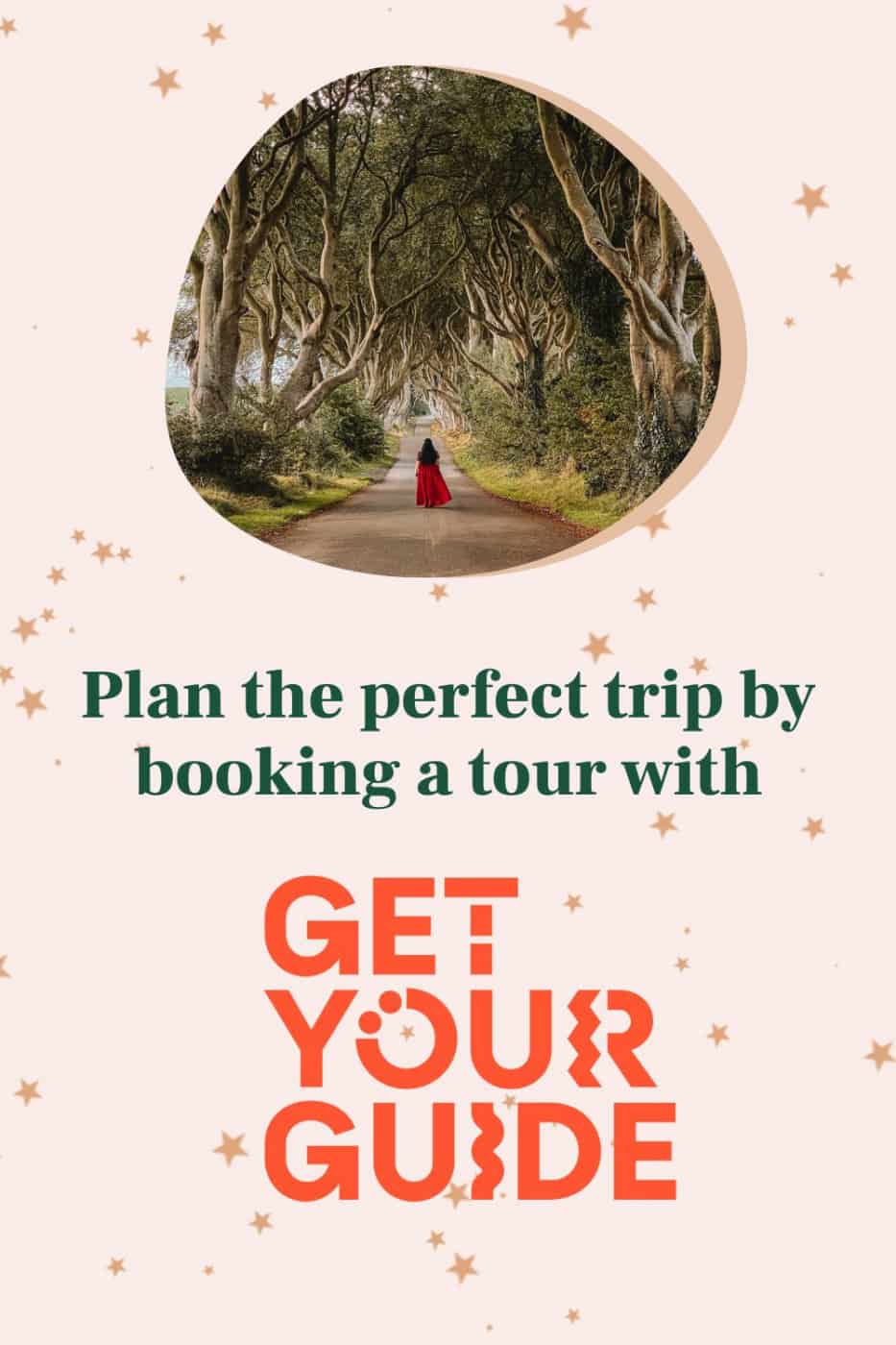 Book tours & tickets for Glasgow!
Where to stay in Glasgow
If you're looking for a modern, luxurious, yet affordable hotel in the centre of Glasgow then Motel One is it.
It's only recently opened to the public and, although you're right next to Glasgow Central Station, you won't hear a peep in the night. That's due to the amazing soundproofing. I slept so sound even on a weekend when people were out partying!
What I loved about them is that they were very eco-conscious too. There were recyclable cups and there were no single-use plastics in my room.
The buffet breakfast was also a tasty treat and the design throughout was flawless. I would highly recommend them.
Click here to read my full review for Motel One Glasgow and how to book.
Explore more Outlander locations in Glasgow
Glasgow has plenty of Outlander locations and you'll need at least a day to explore them all! Click here to read my whole list.
Start off at Kelvingrove Park to see where Claire pushes Bree in her pram. Or, visit the ancient University of Glasgow to find Havard University where Frank was a professor in Boston.
You can visit L'Hopitale De'sange from season 2 at the Glasgow Cathedral and take a walk up Dowanhill street to find Claire and Frank's house on Furey Street in Boston.
Pollock Country Park has scenes from the grounds of Castle Leoch and the duel between Jamie and Black Jack Randall in Paris and Dean Castle Country Park featured in the Fox's Lair.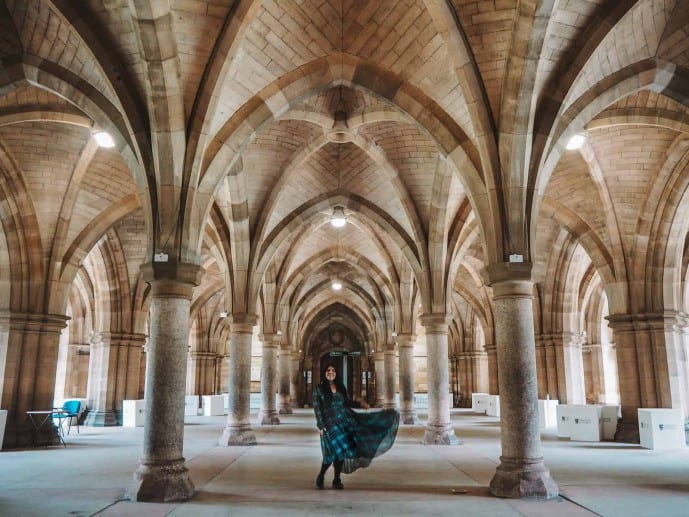 Even more Outlander locations to visit from Glasgow
You can read my ULTIMATE list of Outlander locations in Scotland here, or read my Outlander in Edinburgh guides
Devil's Pulpit
The Devil's Pulpit is around an hour's drive from Glasgow and looks like something out of a fairytale. However, the walk and journey to get here is anything but a fantasy!
It's tough work to get to but the payoff is SO worth the climb. You'll find an emerald green cavern, flowing waterfalls, and a blood-red river. Legend has it, the devil himself used to give his sermons here!
This spot was the Liar's Spring in series 1, where Dougall makes Claire drink from the river to check she isn't an English spy.
See my complete guide on how to find the Devil's Pulpit here!
Dunure
Dunure is proud to boast about their Outlander connection, even their sign when you enter the village screams about it! This adorable village on the west coast in Ayrshire has risen to fame in series 3 of the series.
Dunure Castle doubled up as ruins on the Silkies Island where Jamie finds the MacKenzie treasure. But, don't worry, it's not actually offshore. It's a FREE attraction on land that you can visit.
Also, on the beaches below you can find where Jamie and Claire watch young Ian Murray being kidnapped by pirates.
If you head around 800 yards over, you'll end up at Dunure Harbour (Ayr Harbour).
This was transformed into an 18th-century port and is where Claire and Jamie seek passage to Jamaica.
It also re-appeared in series 4 when Brianna finds a boat to Carolina and then a few days later Roger follows her.
Click here to read about all the Dunure Outlander locations!
Save this George Square Outlander guide for later!