Did you know that one of the best FREE things to do in Zurich is hidden away inside Zurich Police Station?
Now, I know that the police station is the last place that you would want to spend your holidays but hear me out.
Zurich Police Station or Amtshaus I has one of the prettiest police station entrance halls in the entire world as they were painted by the famous artist Augusto Giacometti.
The Zurich Giacometti-Halle was commissioned to brighten up the dark austere hallways and are painted in all sorts of colourful flowers. Locals call this "Blüemlihalle" or the little flowers hall.
It was one of the best things I did in the city and all you need is to bring some form of ID to go inside.
Here is how to see the secret Giacometti-Halle in Zurich and the story behind this gorgeous artwork.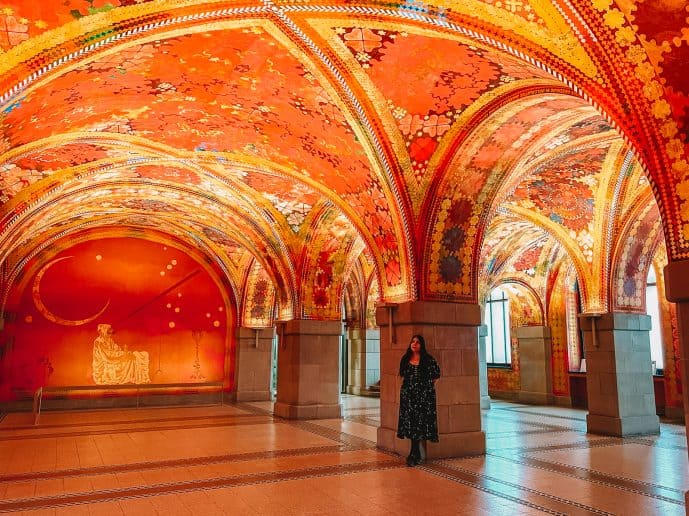 Who was Augusto Giacometti?
Augusto Giacometti was a Swiss painter from Stampa, Graubünden, and was born in 1877. He studied at the Zurich University of the Arts.
The Giacometti name was big in the art world and there is an entire dynasty of Giacometti artists including his cousin Giovanni Giacometti and sculptor Alberto Giacometti.
Throughout his life, he was a prominent painter of the Art Nouveau and Symbolism movements and was one of the first abstract painters to work with stained glass, murals, and posters.
You'll see many of his stained glass window pieces in Zurich's famous churches like the Grossmünster and Fraumünster.
Plus, he was commissioned to paint the famous "Blüemlihalle" frescoes on the vaulted ceiling of Zurich Police Station!
History of the Giacometti-Halle in Zurich Police Station
The Swiss architect Gustav Gull, who created the Swiss National Museum, was commissioned to covert an old orphanage into the Zurich police headquarters.
The vaulted ceiling of the orphanage cellar was preserved to save space and became the entrance hall of the station. But, it was rather austere, dark, and gloomy.
So, the city held a competition in 1922 to paint the entrance hall. The goal was to brighten up the space but also provide much-needed work for local artists.
Augusto Giacometti won the competition by a mile and wanted to paint warm-toned red and orange frescos with a floral design along with geometric patterns.
Not only that but he also wanted to paint stone masons, carpenters, magicians studying science, and astronomers gazing at the moon and stars.
It took two years to paint and was completed in 1925 and it was extensively restored in 2019.
Today, it is considered an important national artwork that the locals call "Blüemlihalle" or a hall of little flowers.
How to visit the Zurich Giacometti-Halle
If you wanted to see this fabulous vaulted fresco for yourself then it's very easy to do at Zurich Police Station. It's open every day of the week and is completely FREE.
The only catch is that you need to remember to bring a form of ID with you. You can't enter the police station without it!
When you arrive, explain to the security officer that you would like to see the Giacometti murals. You will then need to deposit your form of ID.
I had my passport with me and I really didn't like the fact that it was held hostage and stuck on the desk while I was visiting.
But, hey, at least you know it will be safe as possible it's at the police station (eep).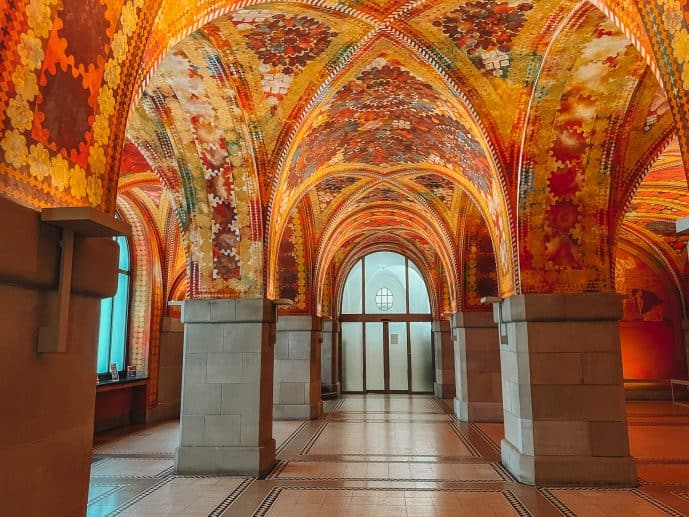 Where is Zurich Police Station and how to get there
The Zurich Police Station is made up of multiple buildings but the Giacometti-Halle is located in Amtshaus I.
This is on Bahnhofquai street which is less than 2 minute's walk from the Zurich Central Station.
If you're using the city trams, it would be easiest to alight at the central station and then walk over to the police station.
Zurich is a very easy city to explore on foot. The police station is only an 8-minute walk from Lindenhof Hill and 15 minutes walk from the Fraumunster/Grossmunster area.
Click here for a Google Pin to help you locate Giacometti-Halle!
Zurich police station opening times
When planning your visit to the Giacometti Murals, it's always best to check when the Zurich police station will be open.
As a government building it is open daily but the public can only enter in a short window in the morning and afternoon.
The frescoes are available to visit Monday – Sunday from 9 am – 11 am and then from 2 pm to 4 pm.
Exploring the Zurich Giacometti Murals
When you enter the Giacometti Murals, the colours, and the patterns will take your breath away.
You can admire the vaulted ceilings and see all the little flowers, symbols, and geometric shapes.
Plus, on every wall, you'll see workers like stone masons, and carpenters. Also, scientists studying the moon and stars overhead.
There are some free leaflets provided in both German and English at the back that provide more information on Giacometti and the commissioning of the artwork.
It's a small space and you only need around 15-20 minutes to explore the entire thing. But, don't be surprised if you spend even longer as it's breathtaking.
You're allowed to take as many photos and videos as you like. But, remember, it's a police station and working office so be respectful and act accordingly.
Looking for more things to do in Zurich?
Zurich is a fabulous city that has many highlights to explore and I would recommend paying a visit to the Aldstadt (Old Town).
You can stroll along the Limmat River to see the historic buildings and you may spot a swan or two swimming by.
Here, you can find many famous churches like the Fraumunster, Grossmunster, and St Peter's Church.
A great place to watch the world go by is to have a drink at Storchen Zürich. They have a riverside bar that provides amazing views of the Grossmunster and their very own riverboat port.
Take a stroll down the colourful street of Augustinergasse or end your day with a sunset view from Lindenhof Hill, it provides a great panorama of the city.
One of my favourite hidden gems is the B2 Hotel Wine Library which is a bar that houses 33,000 books! It is also home to the Hürlimannbad Spa with a rooftop infinity pool.
Or, why not indulge in some Swiss chocolate? The Lindt Chocolate Factory is a popular thing to do here where you can learn how they make their amazing chocolate and you can get some samples as part of your visit.
Click here to read my complete guide on the best things to do in Zurich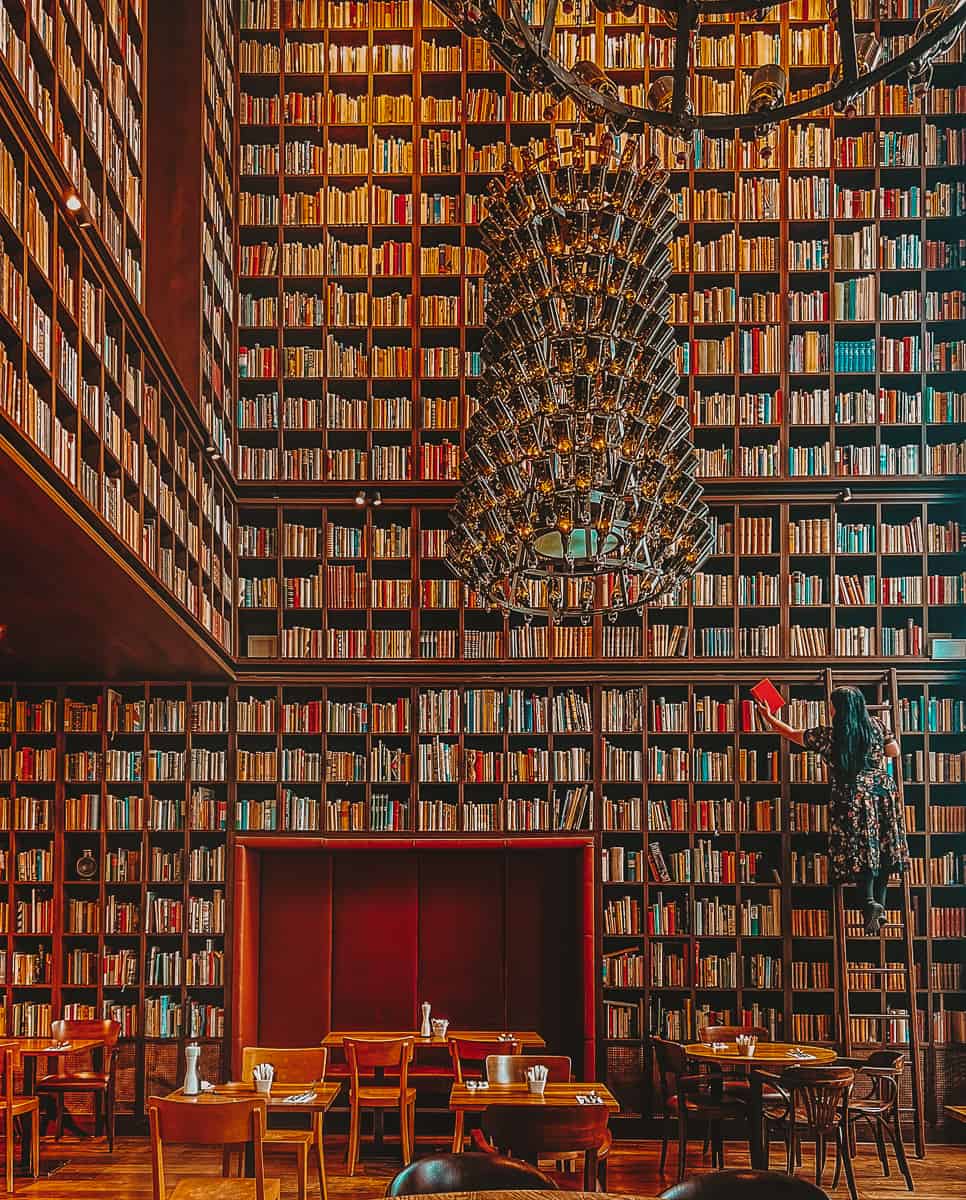 Read more of my Switzerland guides
20+ best things to do in Zermatt
How to find the best Zermatt Matterhorn viewpoint
Glacier Express Excellence Class Review – is it worth it?
Is Zermatt a real life Velaris from ACOTAR?
Heading up to Jungfraujoch – Top of Europe
How to see the Matterhorn in Zermatt
Männlichen to Kleine Scheidegg walking guide
The famous Kapellbrücke Bridge
A Sherlock Holmes guide for Meiringen
The best afternoon tea in Interlaken
A 007 guide for Schilthorn Piz Gloria!
Save the Zurich Giacometti-Halle for later!