One of the best panoramic train journeys you can take in the entire world is the Glacier Express which travels through the Swiss Alps.
You'll take a route from St Moritz – Zermatt (or vice versa) which is 290 km (180 miles) over roughly 8 hours – it's the slowest express train on Earth!
If you take the journey in winter, the entire journey looks like a fairytale. Like you're travelling to Hogwarts, journeying through Narnia or riding the Polar Express.
There are different carriage options to book but the most expensive is the Glacier Express Excellence Class. A luxurious carriage with a six-course meal and wine pairings.
Many people wonder what the difference between excellence class and first class is and if it's worth spending the extra money.
As someone who has ridden in both 1st class and excellence class, I can compare and give an honest opinion.
Here is my detailed Glacier Express Excellence Class Review and if it's worth it!
What is the Glacier Express train journey?
The Glacier Express is a panoramic train that runs from Zermatt – St Mortiz and back. It travels through three cantons of Valais, Uri and Graubünden and offers breathtaking panoramic views.
It covers 290 kilometres (180 miles) and you pass over 291 bridges, including the famous Landwasser Viaduct, and travel under 91 tunnels on your way there.
The entire journey takes 8 hours, at an average speed of 24 mph and so it's often called the slowest express train on earth.
This train ride is one of the best in the world and definitely a bucket list journey you should take in your lifetime.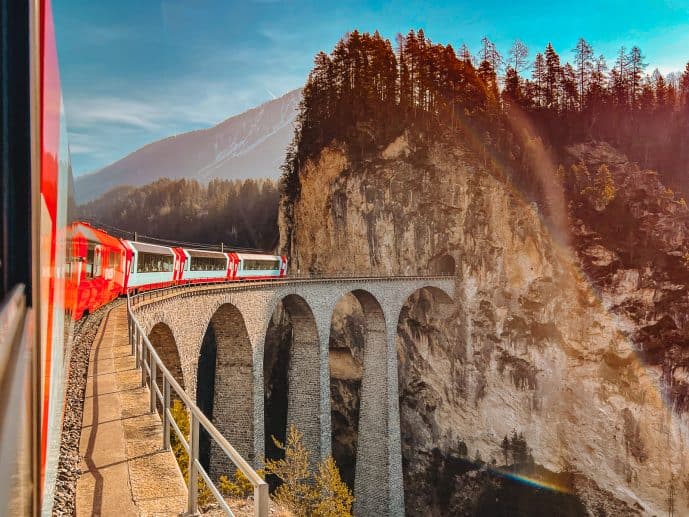 As someone who is obsessed with the world of Narnia and Harry Potter this train journey was a dream come true for me, especially in winter with all the snowy peaks.
One of the highlights is the Landwasser Viaduct and you could easily imagine you're on your way to Hogwarts!
I have to admit that I was a little worried about spending 8 hours on a train. Would I get bored? Or, feel motion sick?
But, with all the amazing views, food and audio guide in excellence class the time seriously flew by!
What is Glacier Express Excellence Class
The Glacier Express Excellence Class is the best seat available on this panoramic train journey through the Swiss Alps.
There is only one carriage in this tier with twenty seats on a 1-1 seating plan. All of them are plush leather window seats making your 8-hour journey even more comfortable.
As part of booking this experience, you get a six-course meal with wine pairings along with complimentary soft drinks.
The excellence class has a world-class concierge service, Glacier Bar and many more luxurious additions that are a level up from 1st class.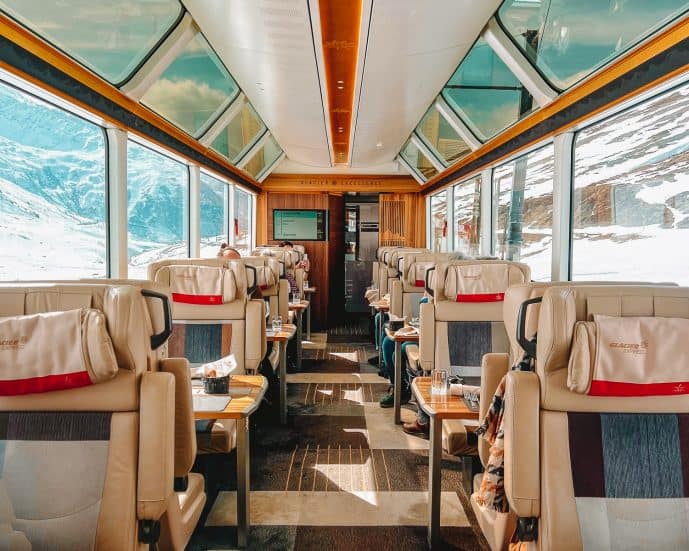 What is the difference between excellence class and first class on Glacier Express?
There are many differences between the excellence and first class on Glacier Express.
Firstly, the layout is entirely different. 1st class is a 2-2, 1-1 layout carriage whereas the excellence class is a 1-1, 1-1 seating plan. So, everyone in the excellence class gets the best possible seats by the window!
Second is the seating. All of the seats in the excellence class are leather and more comfortable. Every person also receives an iPad with an interactive map of the journey and a headset that provides a commentary of the highlights.
Third is the service. As there are only 20 people in the carriage and the excellence class has its own concierge service, you get a far better more personalised experience.
Fourth is the food! All six meals have been prepared by Swiss gastronomy experts and come with the best wine pairings.
Although meals in first class are nice, they pale in comparison to the excellence class menu. You also get soft drinks included for free (which surprisingly includes beer).
I thought it was just a massive level up from 1st class and an all-round better experience. They really look after you in excellence class.
What is included in excellence class on Glacier Express?
Here is a list of everything that is included in your ticket with the Glacier Express excellence class;
A luxury leather window seat
An iPad with a headset to provide commentary on the scenic highlights
A six-course meal with wine pairings designed by gastronomy experts
Complimentary soft drinks (including beer)
Private access to the Glacier Bar
Exemplary concierge service
A very clean bathroom with toiletries
An in-carriage private WiFi network which actually works
An excellence class certificate and free gifts
Glacier Express Excellence Class prices
So, this is where the difference between first class and excellence class really shows as I'm not going to lie, the prices for excellence class are eye-watering.
A one-way first-class ticket on the Glacier Express is 248 CHF and then the excellence class supplement is 470 CHF.
This makes the excellence class a grand total of 718 CHF plus insurance (at the current exchange rates that's £637 / $ 785).
It's not a cheap journey by any means but it's a once-in-a-lifetime experience and one I feel is worth splurging on.
My thinking was it's one of the best train journeys in the entire world and, if you're going to do it, you may as well do it in style! Plus, it was my birthday trip so I wanted to spoil myself.
The best way to book the Glacier Express is via their official website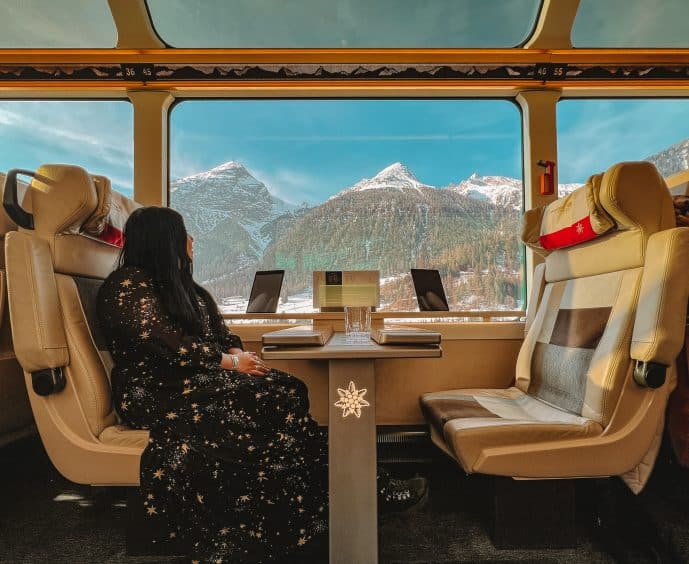 Glacier Express discounts
When booking the Glacier Express excellence class it's good to note that 'technically' you're booking two tickets. One first-class train ticket and then your excellence class supplement on top.
So, if you have a Eurail Pass, Interrail Pass, Swiss Travel Pass or Swiss Half Fare Card you could get your train ticket deducted and only pay for the excellence class portion of your ticket which will give you a slight discount.
Although it sounds complicated, everything will be listed for you on the booking system and you only pay one final price at checkout.
Your ticket confirmation will have two QR codes that the excellence class staff will need to scan on the day of your journey for both parts.
Tips for booking the Glacier Express
As one of the most luxurious and famous train journeys in the world, the Glacier Express is a highly popular thing to do in Switzerland and is often sold out.
So, you should aim to book your tickets well in advance of travel to guarantee a seat on your travel dates.
This is especially important for the excellence class as there are only 20 seats available on each journey.
In fact, if you plan to do this train ride, I would have your Glacier Express tickets booked first and plan the rest of your vacation around it.
There are always exceptions and cancellations and you may get lucky with a last-minute booking but it's a risk.
What is the best seat on Glacier Express Excellence Class?
Let me tell you, I did a LOT of research into what seat I wanted to book for my Glacier Express excellence class journey.
As I was shelling out a small fortune, I wanted to make sure I had a good seat and was in a prime position for the panoramic views.
After watching many reels, social media posts, vlogs and reading lots of blogs, I kind of had an idea of what side is the best for views but it's never a guarantee!
My journey was from St Moritz to Zermatt and I sat in seat 42 which was on the left-hand side of the train. So, I got a great view of the Landwasser viaduct.
Although this meant that I went backwards for two hours, once we got to Chur, the train changes direction and I was then front-facing for the rest of the journey.
What's even better is that I was on the best side for the Oberalp Pass, the highest part of the train journey with the best views.
Regardless, I wouldn't stress too much. Both sides of the Glacier Express have great views. However, I did think that my side was just slightly better. So, if that side is available I would recommend booking it.
I felt pretty lucky as I was on my own and the train was meant to be fully booked. But, the seat in front of me was empty and the seats to the right of me were empty too! So, I could switch seats the whole time to see all the views from both sides.
Although this sounds great for photos, the reflective windows and glare made getting good photos out of the windows pretty much impossible.
But, I have a secret hack to avoid glare in your photos/videos on the Glacier Express and I'll share that with you later on in this post!
Glacier Express Excellence Class review & what to expect
So, although I've covered a little bit about the Glacier Express already, here is my detailed review of the excellence class tier.
I know that it's not the cheapest experience and so I hope that this review will give you everything you need to know to make an informed decision before you book.
I'll go through how to get to St Mortiz to start your journey, checking in, the food, views, top tips and everything in between.
Here is my honest Glacier Express Excellence Class review & what to expect!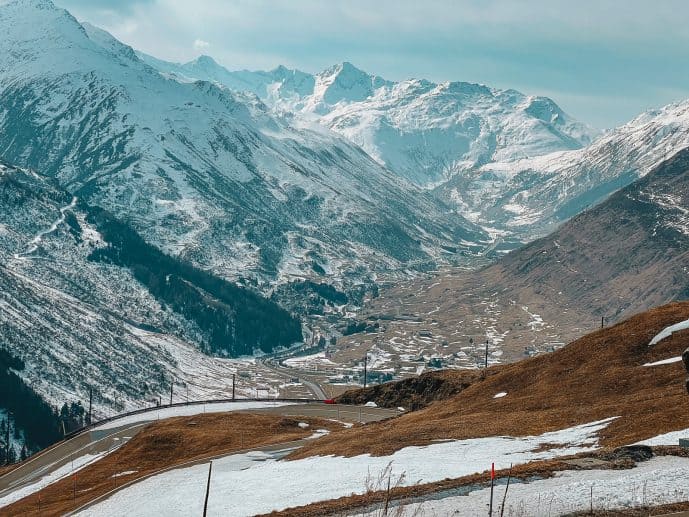 Getting to St Moritz for the Glacier Express
There are many ways that you can travel to St Moritz to start your Glacier Express Journey.
The easiest and most popular is to travel to St Moritz from Zurich which is the closest international airport.
Swiss trains are some of the most efficient in the world and so you should have no issue booking tickets yourself via the official Swiss Trains website (SBB). They even have a handy app.
There is no direct train from Zurich to St Moritz, so you will need to change trains in Chur which is around an hour's ride from Zurich.
Then, you will switch trains in Chur and travel another 2 hours from Chur to St Moritz.
It is possible to take the Glacier Express from Chur to St Moritz if you prefer as it's on the same route.
This is what I did and it was really cool to travel into St Moritz on the Glacier Express in 1st class! Unfortunately, you cannot book excellence class for such a short journey.
I would recommend getting to St Moritz the day before your train journey (or a few days before) as you won't make it from Zurich on the day.
Trains simply don't run that early in the morning and it would be too tight a connection to make it for 8.51 am.
Click here to read all of the magical things to do in Zurich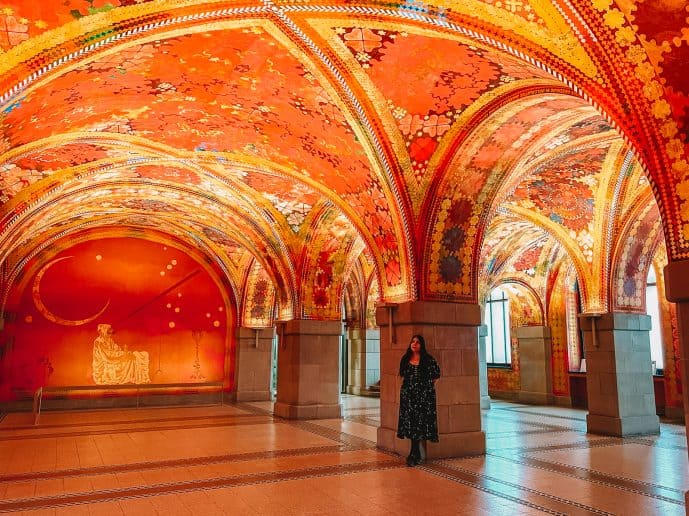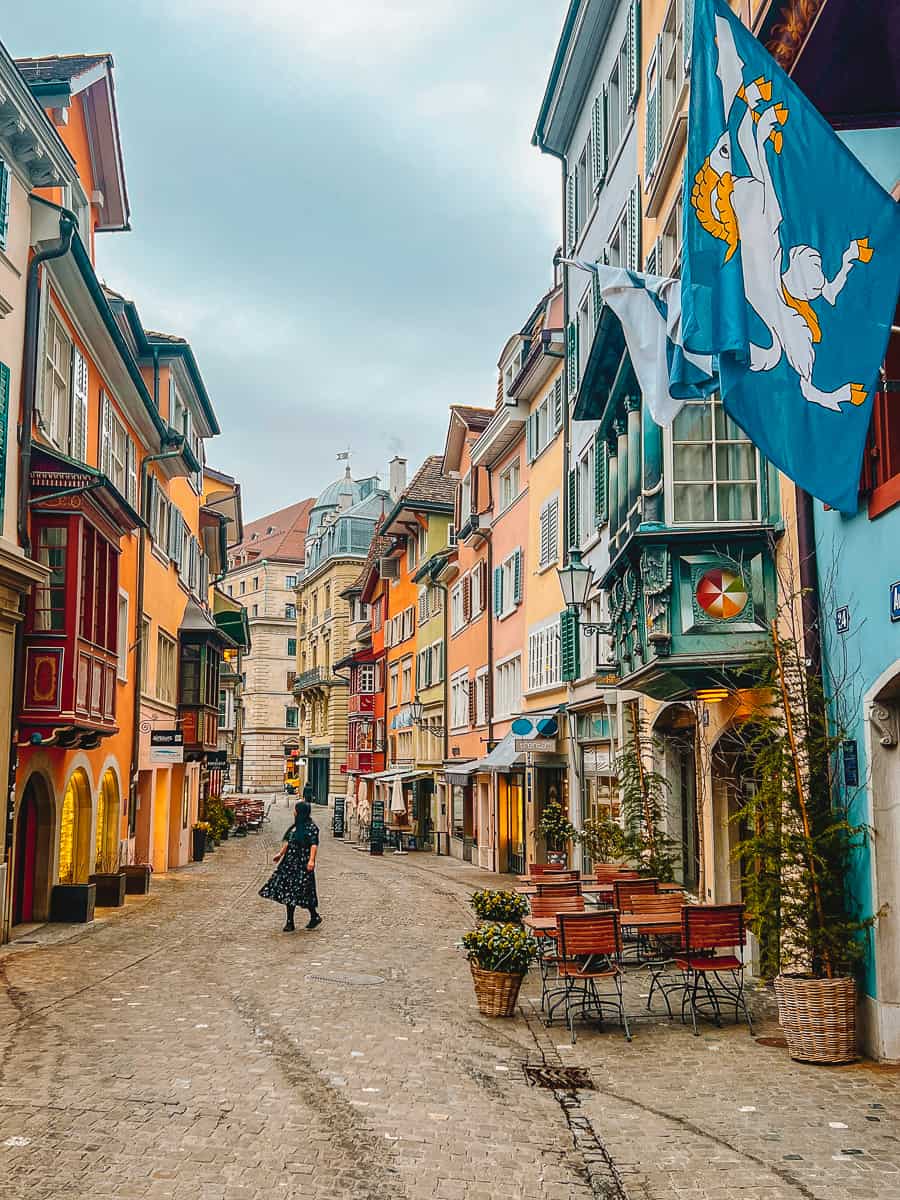 Where to stay in St Moritz
St Moritz is one of the oldest leisure resorts in the world, a ski resort and a winter playground for not just millionaires but billionaires. So, you can expect hotels, shops and restaurants to be pricey.
I booked Hotel Reine Victoria by Laudinella which was very comfy with great views and they gave you free access to an outdoor heated pool (OVAVERVA Pool Spa) with a view of the mountains!
It actually started snowing when I was swimming here at sunset which was pretty magical. No photos were allowed in the pool, unfortunately.
The breakfast service at the hotel was pretty poor but I thought it was still a great hotel. Although it looks old, all the rooms have been renovated and provide modern amenities.
Click here to book your stay at the Hotel Reine Victoria by Laudinella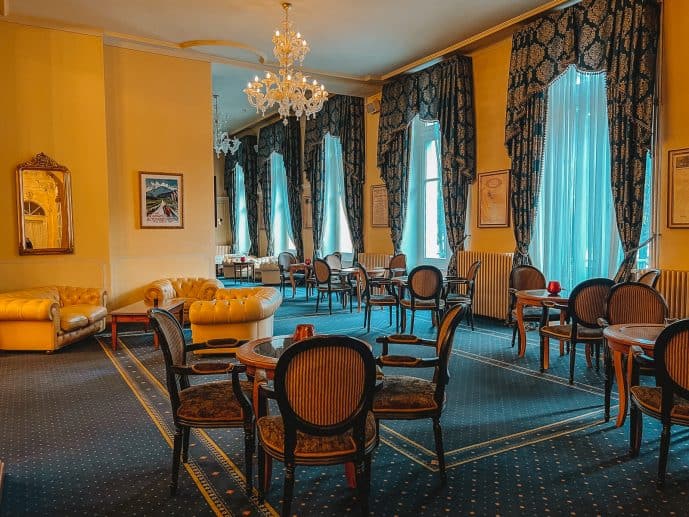 A big tip I have for booking a hotel in St Moritz would be to book one with a hotel transfer from the train station and back.
Although there are buses and taxis, having a transfer just makes life so much easier as St Moritz is very hilly! Trying to haul luggage around here is frustrating.
Plus, you'll need to be at the station early for the Glacier Express. So, make sure to book/schedule your early morning hotel transfer when checking in. You don't want to miss your train.
When you arrive in St Moritz most of the big hotels will be waiting for you outside the station with minibuses and even a snazzy Rolls-Royce if you're staying at the Kulm Hotel.
Tips for St Mortiz
I only stayed in St Moritz for one night so I didn't see much. I swam in the outdoor pool, browsed the displays on the designer shopping street and ate dinner. But, my visit was still beautiful with all the mountain views.
If you're looking for a great restaurant in the evening then I would recommend The Pizzeria at The Kulm Hotel!
It was one of the best pizzas I've ever had and the atmosphere is very cosy with a scandi vibe.
Although it's quite posh and they have a garderobe to take your jackets, the prices for food and drinks were pretty reasonable for Switzerland.
After, you can stroll around the lobby and check out one of the leading hotels in the world as part of your visit. It's a huge complex, like a Swiss palace, with its own village.
We had a quick tour and I loved that the Kulm had 'moving portraits' just like in Harry Potter. I'm not even lying, it was incredible to wander around.
Click here to book your stay at the Kulm Hotel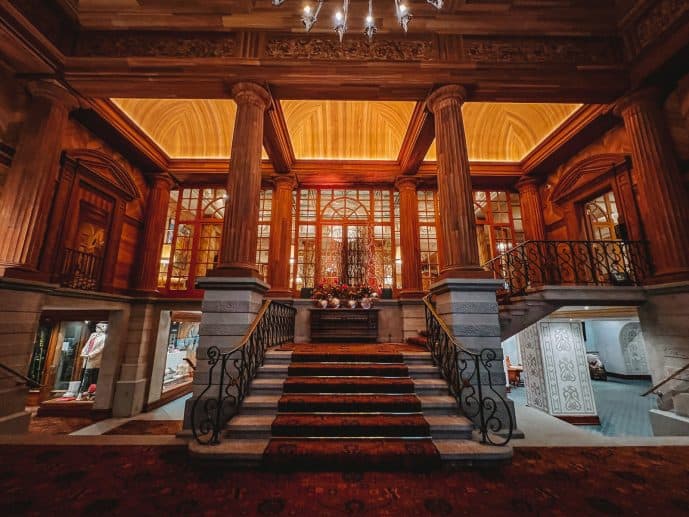 Arriving at St Mortiz station
On the morning of your train ride, you will need to make sure you are booked onto a hotel transfer or have your taxi/bus journey planned to St Mortiz station. You really don't want to miss this train and it won't wait around.
The Glacier Express leaves St Mortiz at 8.51 am so you will want to make sure you arrive at the station around 8.30 – 8.40 am in my opinion.
The Glacier Express will already be in the station waiting for you at the platform to board.
So, if you arrive a little early, you can find the platform, check-in, find your seat and get settled in for the journey ahead with ease.
Checking into the Glacier Express Excellence Class
Even boarding the train in excellence class is a moment. You'll feel like a celebrity with the rolled-out red carpet!
The excellence class has its own check-in desk and then you'll be asked to provide your name. Your luggage is then taken to be stored for you and you'll be shown to your seat.
Coats are put on the back of the seats and I would have them handy for later. You can get off the train at the Oberalp Pass and in winter it is FREEZING as you're so high up.
A little later, you'll be handed a Glacier Express magazine/certificate with your name on it and the date of your journey as a souvenir.
What is the Glacier Express Excellence Class carriage like?
The Glacier Express excellence class carriage layout is a 1-1, 1-1 style so everyone gets a window seat.
Like all of the Glacier Express carriages, the windows are fully panoramic and the glass reaches the ceiling so you can see the views of the mountains.
It felt very light, spacious and luxurious with the plush leather seating. Even if you're not at the end of the carriages, the other passengers didn't feel imposing and it didn't feel crowded at all.
Your seat on the Glacier Express Excellence Class
All of the seats in the Glacier Express Excellence Class are beige cream leather and are very comfy. This is a good thing as you'll be sitting on them for almost 8 hours!
The table is very cleverly designed as there are drink holders to keep glasses in place whilst the train is moving.
At one point, we took a sharp turn and all the passengers made a collective gasp. I was sure my wine was going to go over on the floor but it stayed in place perfectly.
Every seat will have an iPad next to you with an interactive map of the journey. You even get a headset so you can listen to an audio guide of the journey.
Each time you hear the sound of a gong, you will experience something new. Whether that's a highlight view, a dinner course or a train stop.
Glacier Express Excellence Class menu
The Glacier Express Excellence Class menu has been specially designed by Swiss gastronomy experts using local ingredients from the region.
You get six dishes on board and each one comes with an expertly prepared Swiss wine pairing.
I'm quite short, so I was sure that all of these glasses of wine were going to floor me. But, surprisingly, I was just a little tipsy by the end. Maybe it's the way they designed it!
Considering we were on a moving train, travelling thousands of feet above sea level the food still looked artisan and tasted incredible.
Firstly we were given a welcome drink of coffee and champagne and a small starter plate with a tartar mini-tart, cheese tart and mixed spiced nuts.
Then, we moved on to a smoked-Swiss trout salad with oven-roasted beetroots, apples, salad and horseradish cream cheese.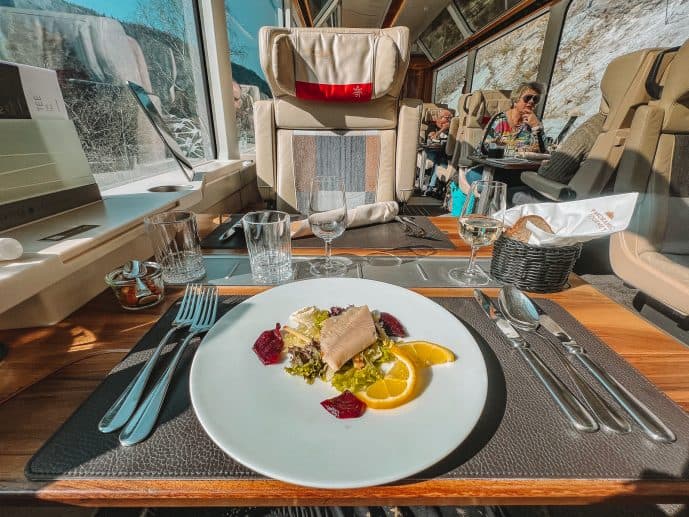 One of my favourite courses was the pea mint soup. We were given a bowl of fresh cream and alpine flower blossom petals and the concierge then poured the soup from a teapot. It was really tasty.
The main course was a delectable Swiss beef tenderloin with mashed potatoes and truffle oil, carrots, spring onions and gravy with mountain herbs.
Then, we were served a regional cheeseboard. This had Viamala cheese, Graubünden mountain cheese, sliced Aletsch cheese and organic Langwieser ewe's milk cheese, with tomato-apricot chutney, pear bread & crackers.
If that wasn't enough, the dessert to finish was a warm Swiss chocolate cheesecake with a creamy vanilla sauce and roasted almonds.
Everything tasted divine and the panoramic views made the whole dining experience even better.
If you have any allergies, intolerances or issues with the menu, make sure to speak to the concierge at the start of the ride and they can provide alternatives. There's even a vegan cheeseboard!
Also, if you don't drink alcohol the concierge can provide you with a range of soft drinks instead.
Glacier Express highlights
Beyond the food, the main reason for booking the Glacier Express is the jaw-dropping, panoramic views of the Swiss Alp on the 290-kilometre journey from St Moritz to Zermatt (or vice versa).
You'll ride through 3 cantons of Graubünden, Uri and Valais and you pass over 291 bridges and 91 tunnels.
The views are spectacular every step of the way but here are some of the main highlights you can expect.
1. Rhine Gorge
The Rhine Gorge, also known as the "Grand Canyon of Switzerland", runs between Ilanz and Reichenau.
Here, you'll see geological formations, sheer white rock faces and lots of rare bird species with the Rhine river snaking through it.
The train will pass through these white cliff faces with dense pine trees and the river water is so clear!
2. Landwasser Viaduct
For me, one of the highlights had to be the Landwasser Viaduct. As a big Harry Potter fan I couldn't help but feel like I was on the Hogwarts Express train passing over the Glenfinnan Viaduct.
This bridge is a curved limestone viaduct that is single-track and has six high arches! You will cross over it and head into a tunnel carved into a snowy mountain peak.
It was designed by Alexander Acatos and constructed between 1901 and 1902 by Müller & Zeerleder.
If there was a time when you should wait by the small windows at the end of the carriage to take a photo, it would be at this moment. You can capture the train passing over the viaduct without the glare!
Fun fact: The Landwasser Viaduct inspired the viaduct in Anastasia! It gets destroyed by Rasputin's minions when Antatasia, Vladimir and Dimitri (swoon) try to escape.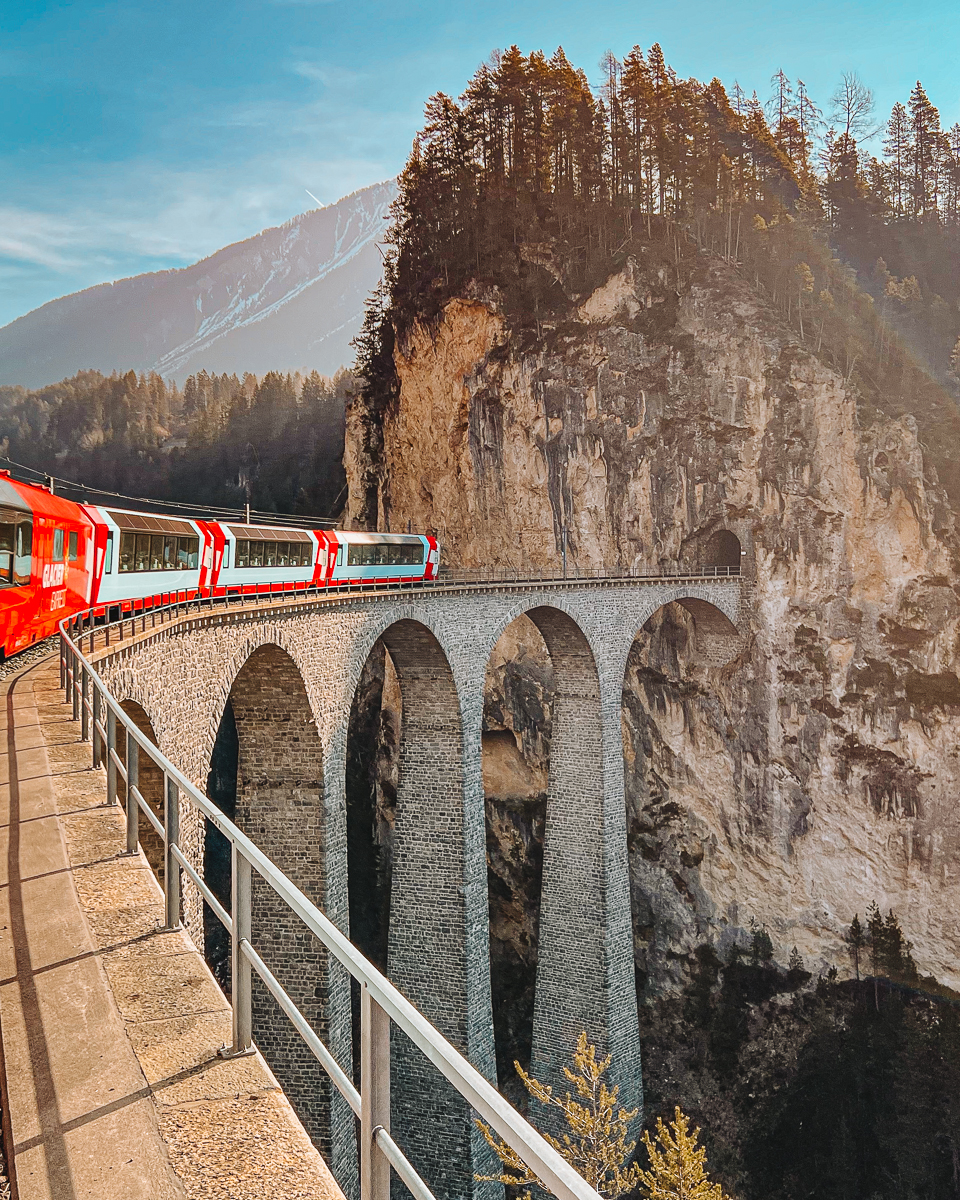 3. Oberalp Pass
The Oberalp Pass is the highest point of the train journey and arguably has the best views of the trip.
It's 2044 metres above sea level (6700 feet) and in winter it will be covered in a thick layer of snow!
The snowy peaks here are some of the best views you can have on a train journey in the world and you get to experience it in excellence class with great food and a glass of fine wine!
At this peak, the train stops for 10 minutes at the Oberalp Pass station so you can stretch your legs, admire the views and take a photo! Just remember to wrap up as it's chilly in winter.
Glacier Express photography tips – the 'secret' windows that open!
If there is one thing that really sucks about the Glacier Express it's the reflective windows that provide a glare for photography.
You can't open any of the large windows on board and so you just get these really bad reflections in photos/videos.
Even in excellence class you can't avoid it! All of your photos will have reflections of you and other passengers around you in them.
But, there is a way around this and that is to make use of the little windows at the end of each carriage that opens.
There's one on either side of the train and so you can take some incredible photos of highlights like the Oberalp Pass and Landwasser Viaduct without the glare.
These windows can be quite popular so be prepared to share. But, it's the best way to capture things without reflections.
Glacier Bar
The Glacier Express Excellence Class carriage has an exclusive private bar called the Glacier Bar.
Although you are given complimentary soft drinks (including beer) and wine pairings with meals, the bar is here to provide something extra for you should you need it.
If you wanted to order some extra wine, spirits, champagne or a cocktail you can do so at an extra cost!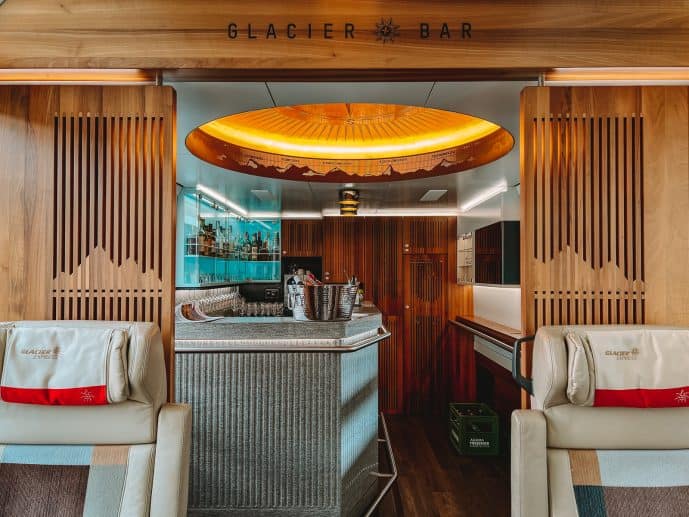 Glacier Express excellence class bathroom
I know it's weird to mention the bathrooms but this is genuinely something I think about when booking long train journeys.
Having travelled extensively by train in India, I can say for sure that having access to a clean toilet matters.
The Glacier Express excellence class toilets were impeccably clean. They had motifs of the Matterhorn mountain and an edelweiss on the ceiling, the symbol of Switzerland.
They had gorgeous-smelling soap, cotton hand towels and even amenities like hand wipes, bamboo toothbrushes and mini moisturiser tubes for your hands.
It was the prettiest and cleanest train bathroom I think I've ever been in and smelled great.
It is a very minor thing but having a nice toilet is extra assurance for the length of time you are on board and the amount of alcohol you'll consume.
Exemplary service & a parting gift
Another thing that I believe makes a huge difference in these luxury experiences is the service.
The Glacier Express Excellence Class has its own concierge service and they will look after you every step of the way.
The staff were really nice. They made sure you were happy with the menu, would provide alternatives and answered any questions that you had on the way! It really was a step above and you were well taken care of.
Every passenger was also even given some leaving surprises near the end of our journey. We were each gifted a Glacier Express drinking glass.
I was even gifted a suede Glacier Express excellence class luggage tag on my suitcase. I didn't even notice it until I reached my hotel room and it was a lovely touch.
Arriving at Zermatt station
When you reach the Canton of Valais, you'll slowly start ascending up to the likes of Tasch and the alpine village of Zermatt.
As you journey along, you'll start to notice that the mountains get even bigger and you may even get a first glimpse of the incredible Matterhorn Mountain.
Although you see the Matterhorn in photos or packs of Toblerone nothing can prepare you for seeing the peak of this incredible mountain in real life.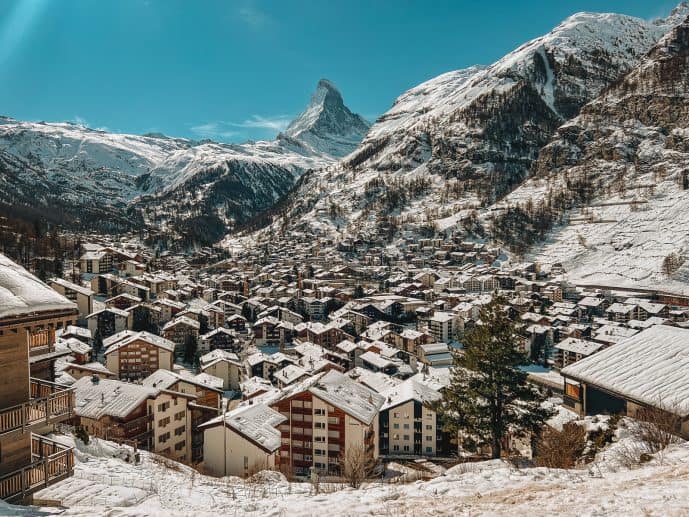 When you arrive at Zermatt station, your Glacier Express journey will sadly be at an end but the staff will have a little leaving surprise for you to remember your adventure.
The concierge will hand you your luggage and then you will need to make your way to the front of the station.
As Zermatt is a car-free village, many of the vehicles are electric. Most of the big hotels will have their own electric taxis to transfer you to your hotel!
This is another place where you will need a transfer as Zermatt is another hilly place and dragging luggage up these hills with the altitude can be a challenge.
If not, you can queue for a taxi at the station and you can pay them for individual journeys.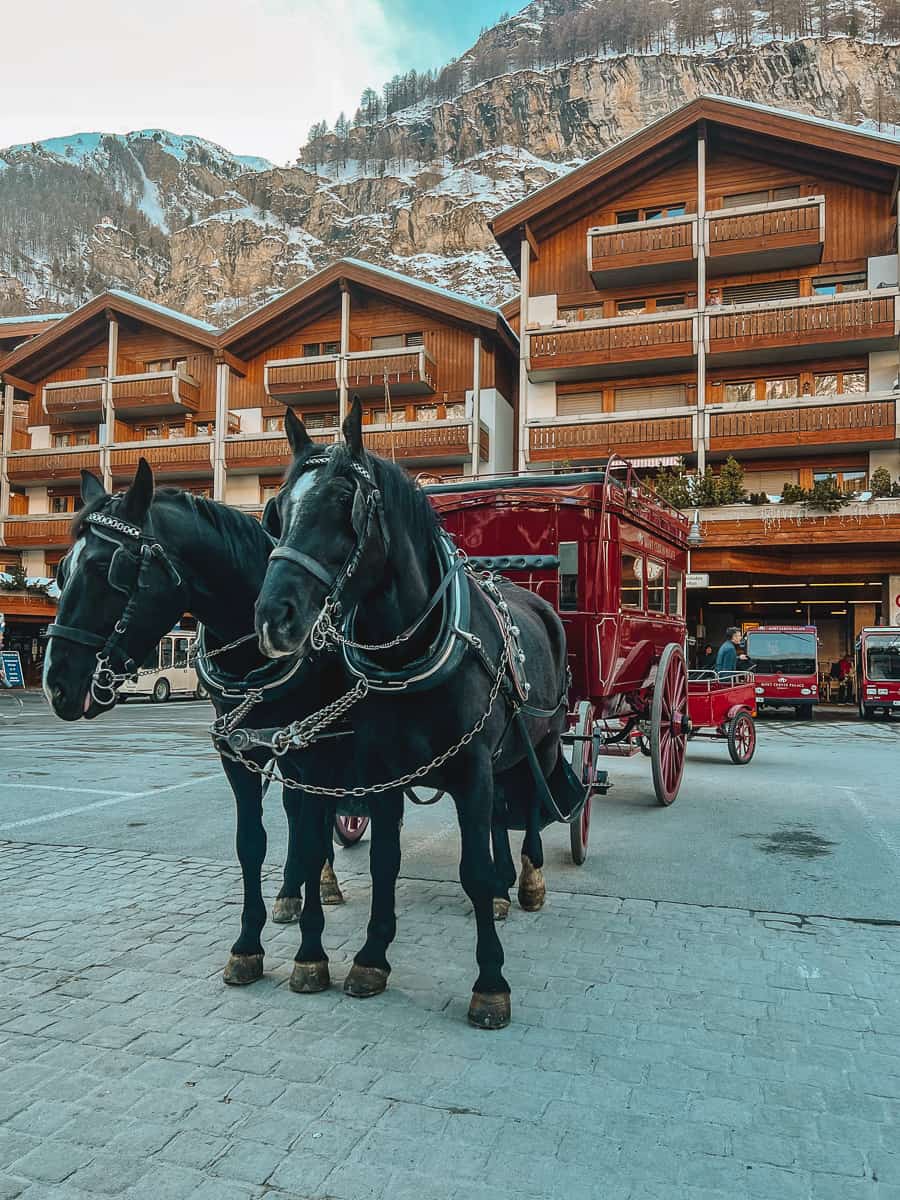 Where to stay in Zermatt
This is why I was so happy that I booked the Relaix and Chateaux Chalet Hotel Schönegg on my visit to Zermatt.
I was picked up from the station in their electric taxi transfer and we made the journey to the hotel in style.
Chalet Hotel Schönegg has one of the best views of the village and Matterhorn in Zermatt and many rooms have a panoramic view of the mountains from their balconies.
There is also an infinity terrace bar, luxury restaurant and spa & jacuzzi onsite to enjoy.
Although it is located on a hillside, the Chalet Hotel Schonegg have a lift down to a tunnel where you can access attractions like the Sunnegga funicular, the high street and the Gornergrat cog train in just a few minutes walk.
Click here to book your stay at the Chalet Hotel Schonegg!
Things to do in Zermatt
Most people visit Zermatt in winter to ski but there are many things to do here for non-skiers in winter as well!
Wandering around the town is always a delight and you can see the Old Town, and High Street or pop into the Matterhorn Museum.
The Gornergrat is one of my favourite things to do in Zermatt. It's a cog train that travels to over 3,100 metres above sea level or just over 10,000 feet.
Up here, you get incredible views of the Matterhorn, there's also an observatory, restaurant, museum and ski routes.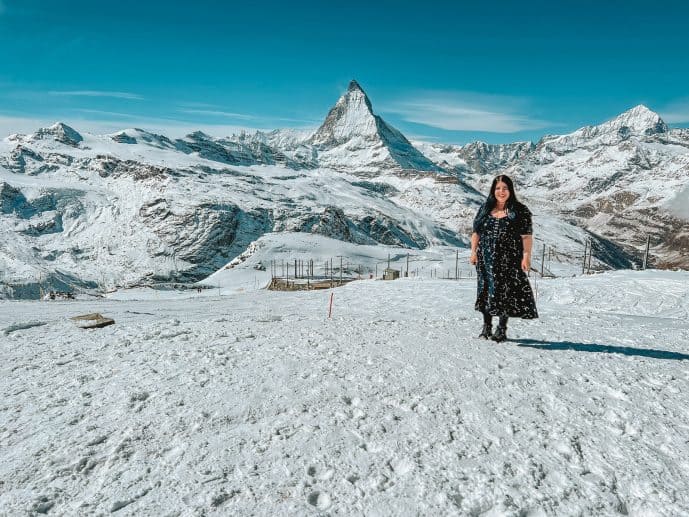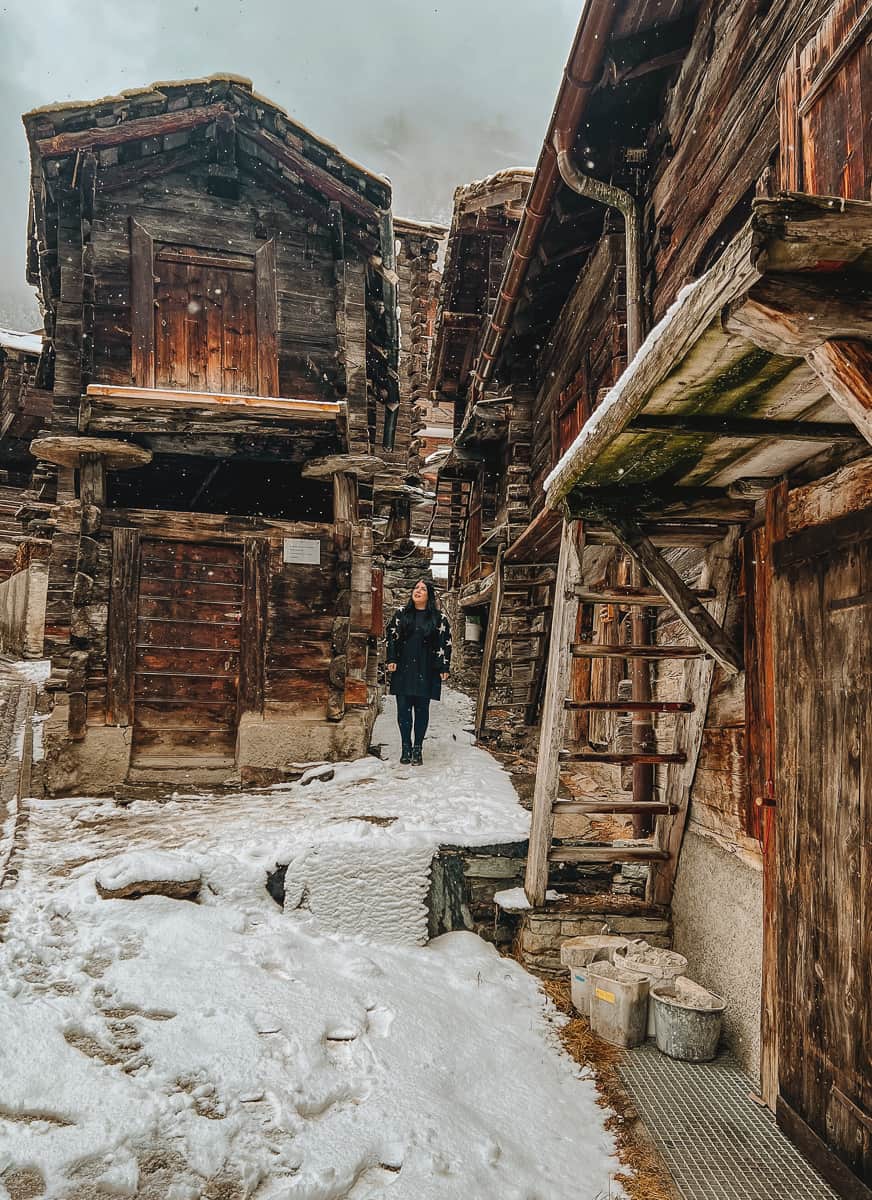 Sunnegga funicular is also nice and leads you to a café and ski resort area that overlooks the Matterhorn. The journey takes 4.5 minutes and you'll ascend to 2,288 metres.
Matterhorn Glacier Paradise is a relatively new attraction. You'll travel by gondola at an altitude of 3883 metres above sea level. Up the top, there are amazing views, an ice palace and restaurants.
If you only have time for one thing, you have to visit the Zermatt Matterhorn viewpoint on Murini Hill.
It's a spectacular photography spot and visiting at sunset is the best as you get to see the sky change colour and all the gingerbread houses turn on their lights for the evening!
Click here to read all the best things to do in Zermatt!
Downsides to the Glacier Express
Okay, so nothing is perfect and there are always going to be downsides to any luxury experience. Here is what I thought wasn't great about the Glacier Express;
The glare – I know photos aren't everything but the glare from the windows on the Glacier Express is awful for photographing the views. It would almost be funny if it wasn't so annoying. You will always have your face or other people's faces in the photos, lights and all sorts of stuff reflected back. That's why I recommend going to the little windows you can open at the end of the carriages.
The heat – it gets SO hot in these carriages. When the sun is directly on you it feels like you're slowly cooking. So, don't wrap up too warm. I would also bring sunglasses for when the light reflects on the snow. It's blinding.
The speed – although I personally didn't mind the slow train journey, they are not kidding when this is the slowest express train journey in the world. It's almost painfully slow. You also go through lots of tunnels where the train descends into darkness for parts. But, it wasn't overly noticeable.
Admittedly, these are very small gripes and didn't bother me too much. I actually found this to be the best train journey I've ever taken and I loved every second!
Is the Glacier Express Excellence Class worth it?
It's pretty obvious by now but I thought that booking the Glacier Express Excellence Class was worth every penny!
The Glacier Express has been on my bucket list for years and I'm glad that I decided to splurge on this once-in-a-lifetime experience for my birthday.
As they say, money will come back to me but I'll never be in my early 30s riding on one of the world's best train journeys in style again.
I can wholeheartedly admit that this experience is not cheap by any means but I did feel that the service here was a massive step above first class.
The fact that you had a six-course meal with wine pairings included was incredible and the entire tour just felt so luxurious.
I would highly recommend booking the Glacier Express Excellence Class – you won't regret it!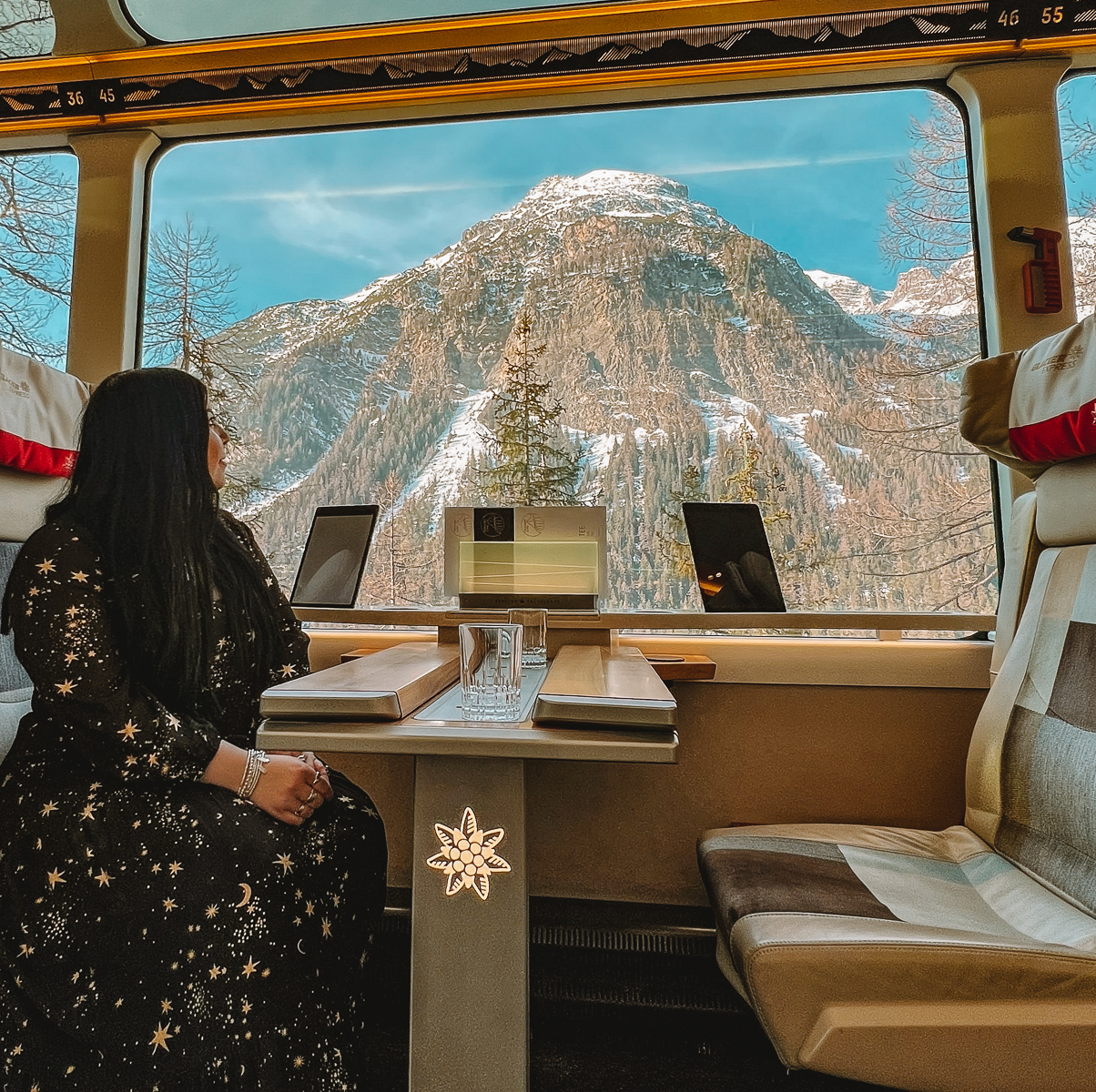 Glacier Express Excellence Class FAQs
How many seats are in the excellence class on Glacier Express? There are only 20 seats in this carriage so it's a cosy and private atmosphere! You also get exemplary service.
What is the most scenic section of the Glacier Express? The Oberalp Pass as it is 2044 metres above sea level (6700 feet)! It's usually filled with large snowy peaks.
Is Excellence Class Glacier Express worth it? Yes! It is so worth the money. Of course, it's a bucket list train journey and comes with some cost but if you're going to ride the Glacier Express you may as well upgrade to excellence class. It's top-tier!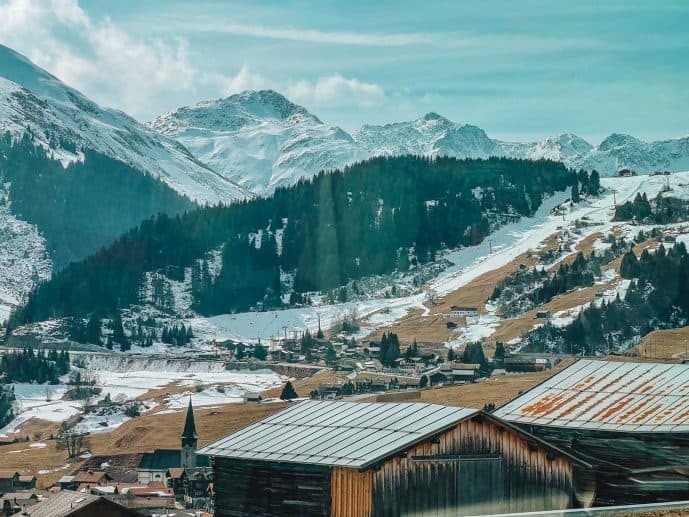 Read more of my Switzerland guides
Is Zermatt a real life Velaris from ACOTAR?
B2 Wine Hotel Library in Zurich
Secret Giacometti murals in Zurich
Heading up to Jungfraujoch – Top of Europe
How to see the Matterhorn in Zermatt
Männlichen to Kleine Scheidegg walking guide
The famous Kapellbrücke Bridge
A Sherlock Holmes guide for Meiringen
The best afternoon tea in Interlaken
A 007 guide for Schilthorn Piz Gloria!
Save this Glacier Express Excellence Class Review for later!