If you're a book lover, then you must reserve a stay at Gladstone's Library. Yes, you read that right, you can actually spend the night in a historic library!
Don't worry, you won't sleep between the bookshelves (although that would be awesome in my opinion). You'll be sleeping in one of the 26 boutique rooms that they have on offer.
Whilst here, you can make use of all their historic reading rooms and amenities. It's a great place to read, study, or complete a writing project.
Gladstone's Library is the UK's only residential library and so it makes the perfect literary retreat in Wales if you're a bibliophile.
Here's what it's like to spend the night at Gladstone's Library Hotel and how to book.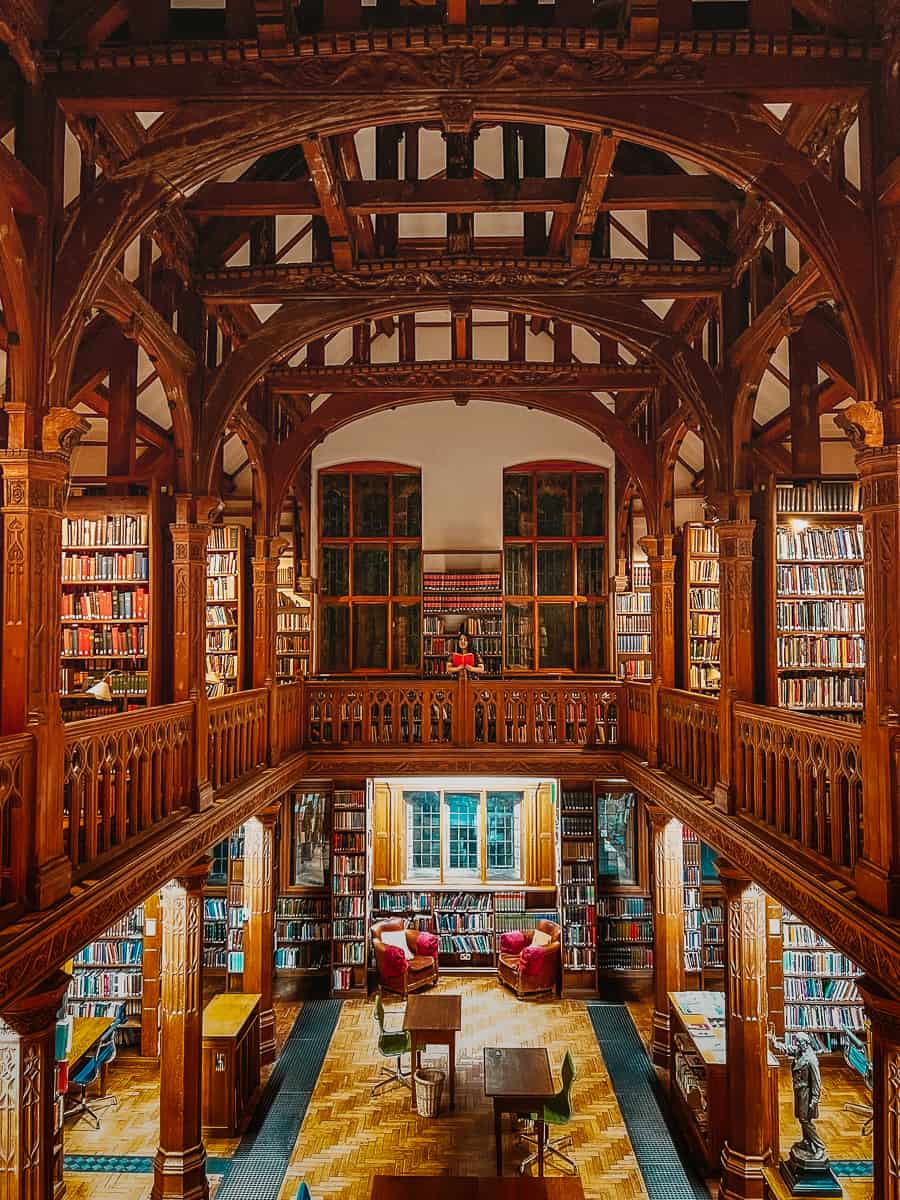 What is Gladstone's Library?
Gladstone's Library is a unique institution as it's the UK's only residential library.
It's an entire complex with historic reading rooms, 26 bedrooms, a restaurant, lounge, chapel, garden, and amenities.
It has a huge collection of over 150,000 books and even more in its archives.
The library is an independent charity and peaceful retreat that is open to anyone, readers and residents alike. They often have talks, events, workshops and an annual festival called Gladfest.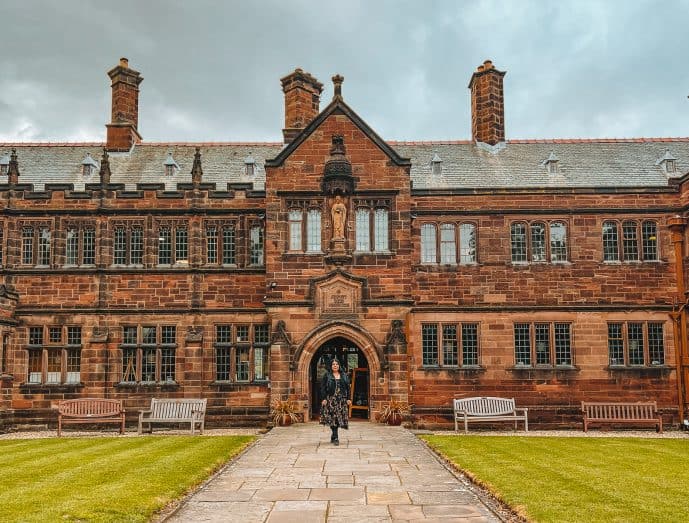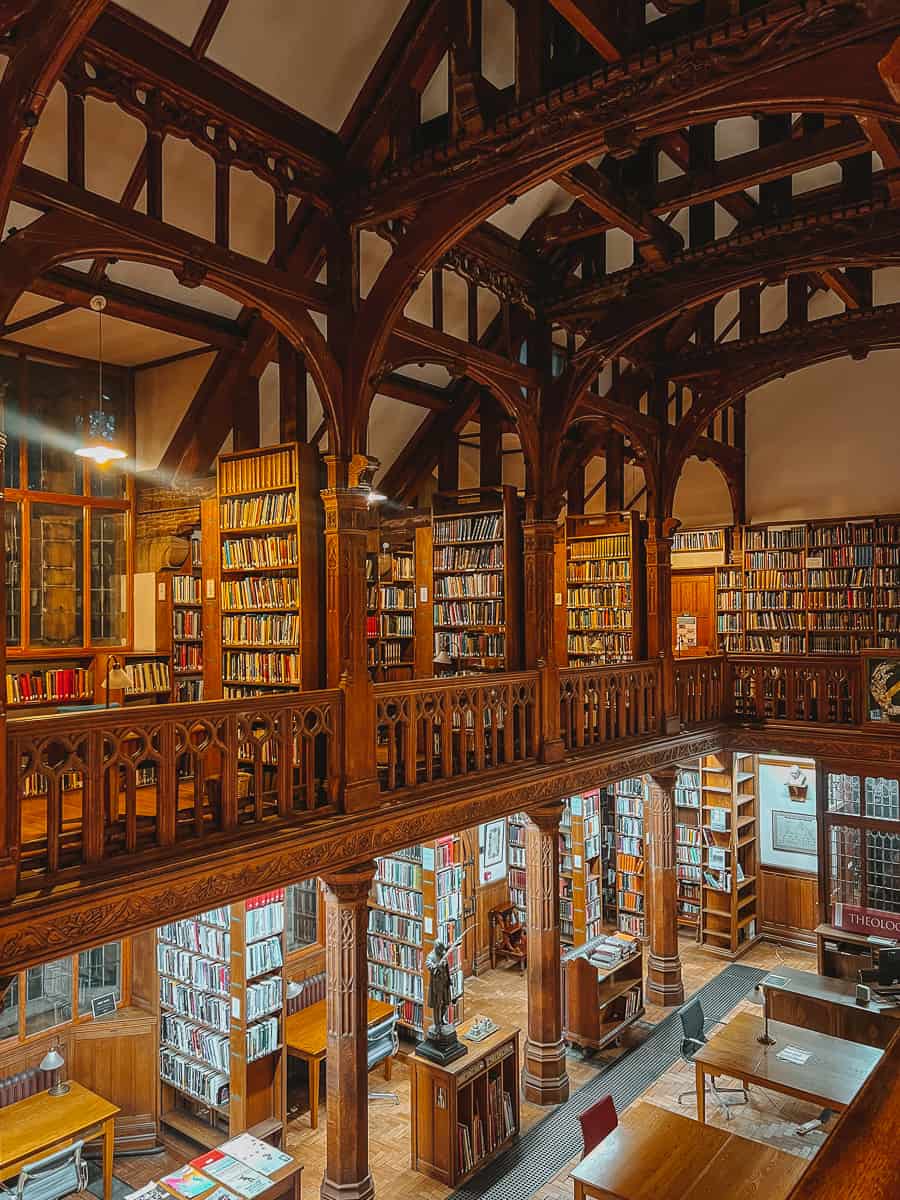 Gladstone's Library history
Gladstone's Library was founded by William Ewart Gladstone in 1894. He was a great Victorian statesman and politician who had a lively 60-year career.
He served as Prime Minister for 4 separate periods over 12 years which is more than any other Prime Minster in UK history.
He was highly accomplished and had 'radical' liberal ideas for his time, Queen Victoria described him as "that half-mad firebrand".
But, to the working classes, he was well favoured and known as the "Grand Old Man".
In his later years, Gladstone wanted to share his private collection of books with those who couldn't easily access them.
At age 85, he decided to give £40,000 towards a library. It was a temporary structure and repository outside St Deiniol's Church that he called the "Tin Tabernacle" or the "Iron Library".
He carted over 32,000 books from his personal library at Hawarden Castle to the building by wheelbarrow!
He unpacked and catalogued them himself, noting that he had opened a trust at St Deiniol's in his memoirs.
Unfortunately, he wouldn't live long enough to see the library as it is today. He died just a few years after in 1898.
Despite Queen Victoria's comments, Prince Albert was one of the pallbearers at Gladstone's funeral.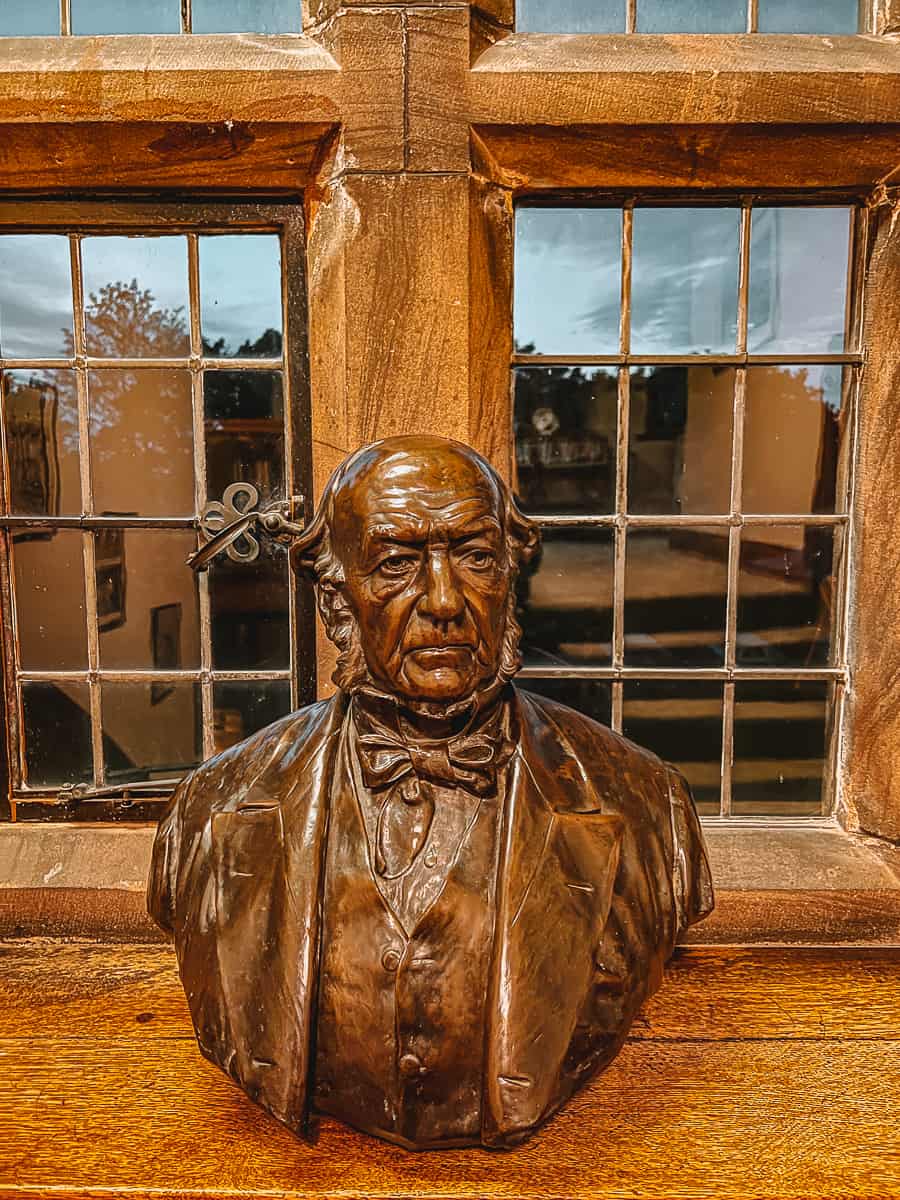 Following his death, a public appeal was launched to fund a permanent building to replace the iron one.
So, the UK's only residential library was born in a beautiful red sandstone and green slate building with ornate reading rooms.
The Gladstone family was able to fulfill William's final wishes of a residency on the grounds and the library welcomed its first overnight guest in 1906.
Beds & Books – sleep in the UK's only residential library
Today, Gladstone's Library still functions as the UK's only residential library meaning you can spend the night there.
You won't be sleeping between the bookshelves but they have a selection of rooms in the complex where you can stay whilst using their reading rooms.
It's a really unique experience and the perfect retreat if you're a book lover. I recently spent two nights here in the summer and it was perfect.
It gave me the chance to read and to catch up with work in the library. But, also a chance to unwind and disconnect.
I loved snooping around their historic reading rooms and browsing their collections. Plus, the gardens were a lovely place to get some quiet away from the hustle and bustle.
What are the bedrooms like in Gladstone's Library Hotel?
There are 26 bedrooms on-site at Gladstone's Liberty Hotel and all of them have a bookish theme with portraits. I particularly loved the bookshelf wallpaper in my room.
They have a range of single bedrooms and double bedrooms. Or, you can book their Monad Suite which comes with its very own attached writing room. All the rooms are now en-suite.
You'll have a bed, a study desk, Robert's radio, a wardrobe, a hairdryer, and tea and coffee-making facilities. There were even some scrummy Meredith & Drew biscuits by the kettle.
In the bathroom, you'll be provided with fluffy towels and locally made toiletries from Myddfai like hand soap, shampoo, and body wash.
The only thing you won't find in the rooms or the entire library complex is a TV. It's a place for mindfulness, work, and reflection. But, they do have a DVD collection.
Although I say it's a 'hotel', it doesn't operate as such. It's really like a Bed & Breakfast. So, it's not luxury with lots of hotel amenities. It's a peaceful retreat to work, study and reflect.
Although bed linens are provided they won't be changed every day. However, your room will be cleaned daily, and used towels will be replaced.
Things to do in Gladstone's Library
So, during your stay at Gladstone's Library Hotel, you can make use of all the amenities on offer.
As well as the historic reading rooms, there's a restaurant, chapel, and gardens that make this a peaceful literary retreat in the countryside.
Here are all the things to do in Gladstone's Library;
Study in the historic reading rooms
One of the best things to do in Gladstone's Library is explore their historic reading rooms.
They have lots of tables and desks within the shelves to set up a workspace and cosy armchairs for reading.
It's the perfect study space to work on an essay or project. Or, catch up on some reading.
Gladstone's Library is not a lending library and doesn't allow its books to be taken outside of the building.
In fact, you can't take them to your room or the restaurants either. The books can never leave the reading rooms and must be read onsite.
But, to be honest, most people use the reading rooms as a quiet study area bringing their own laptops and notebooks to the desks.
There are lots of reading rooms to explore, make sure to wander around all of them and see what's on offer.
I'm a huge Romantisy reader (Fantasy & Romance) and I obviously wasn't expecting to find any of that here.
One day, I want to make a huge library solely filled with romance novels. There would be different sections for dark romance, historical, spicy, fantasy, Sci-Fi, paranormal, and rom-com…it would break the taboo of romance not being 'proper' reading and be glorious *sighs*.
But, they do have lots of texts on poetry, science, theology, history, biography, and classical literature.
In reception, you can also buy some Gladstone's Library souvenirs like book bags and bookmarks to remember your stay. I snagged up one of their classic book bags.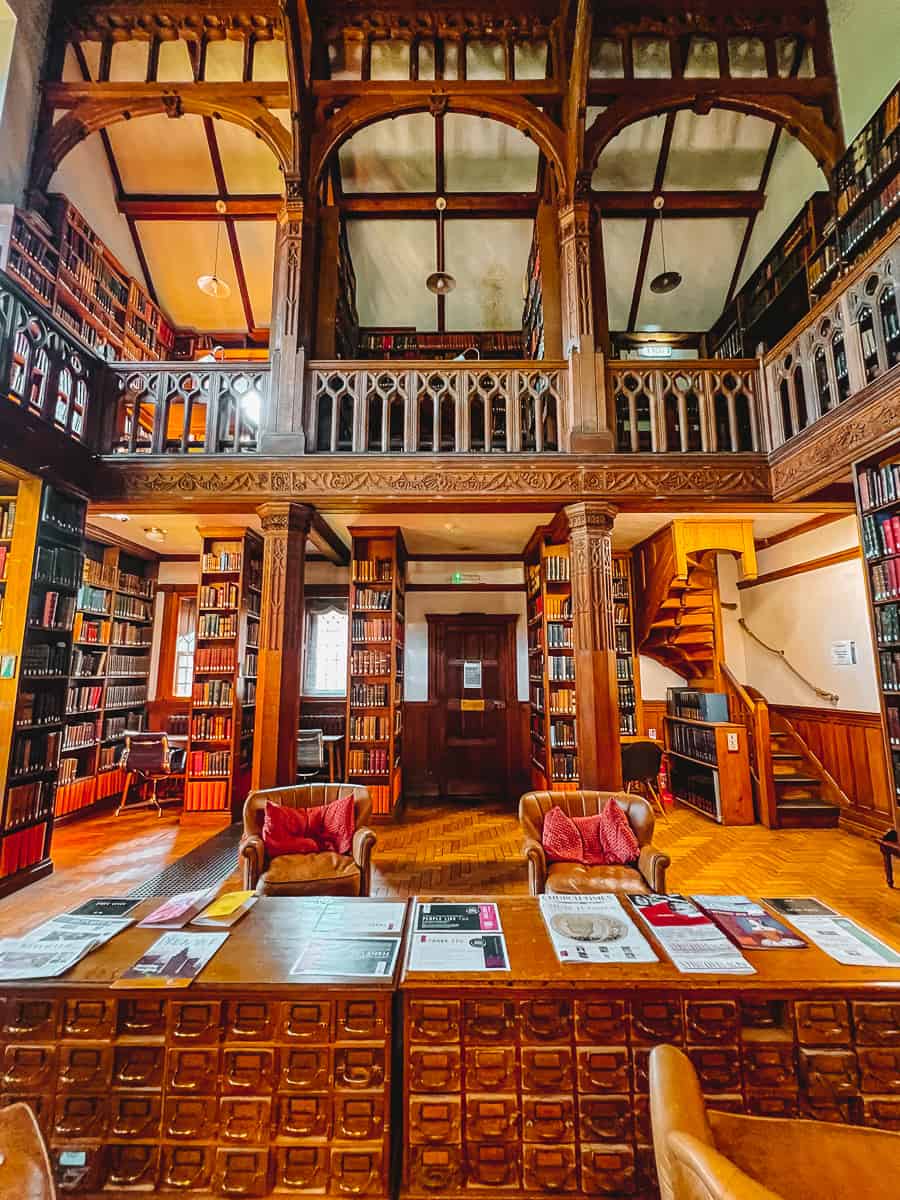 Theology Room
The Theology is the larger of the two historic reading rooms and I loved this space as it's the one that remains open until 10 pm at night.
It's gorgeous with dark wood interiors, oak bookshelves, and a huge arched beam ceiling. It was magical and felt like something from Harry Potter.
It's set on two levels and to get to the upper mezzanine floor, you have to use their tiny wooden staircases with a rope.
There are desks on the bottom floor with armchairs but I loved the study desks set up between the bookshelves on the upper levels.
Each one had a lamp light and it felt like a private space. It was lovely and quiet so you could really concentrate on writing.
I picked a busy time to visit the library due to upcoming exams. Who knew so many people wanted to study on a Friday/Saturday night?!
If you want to use one of the study tables upstairs, I would get here first thing to secure a spot. It got pretty savage on my visit and there were some (very hushed) fights for desks.
History Room
The Gladstone's History room is only open during staff hours (9 am – 5 pm) and it's a lovely space.
Similar to the Theology room is filled with oak bookshelves and an upper level. But there were more windows in this room, so it was a lighter and brighter space.
It's smaller than the other room but it does have some really cosy armchairs on the bottom floor to read.
Again, there is an upper floor with study desks in between the towers of tomes with lamplights. Make sure to secure a desk if it's a busy day in the library.
Islamic Reading Room – House of Wisdom
Just off the History Room, you can find the House of Wisdom which is an Islamic Reading Room here.
It was created over a decade ago to help promote inter-faith understanding and cooperation as part of their Islamic Faith & Culture project.
It's called the House of Wisdom after a library of the Islamic Golden Age, the Bayt al-Hikma. A major Abbasid public academy and intellectual center in Baghdad.
At the time of its foundation, the library worked closely with Muslim communities in North Wales to ensure that the resources and materials were relevant and helped to promote unity.
It was opened by Prof Tariq Ramadan, an Oxford University Islamic scholar. It's another lovely space with a table and armchairs to study.
Annex
The Annex is a relatively recent addition to the library which is home to a major archive of the library's extensive collection.
Indeed, the books you see in the historic reading rooms are only a fraction of what they have on offer here.
You can access the books on rolling stacks which take up far less space than traditional bookshelves. It looks so fun to crank the shelves apart.
Anything you would like to access will have a catalogue code. Ask the friendly staff if you need help.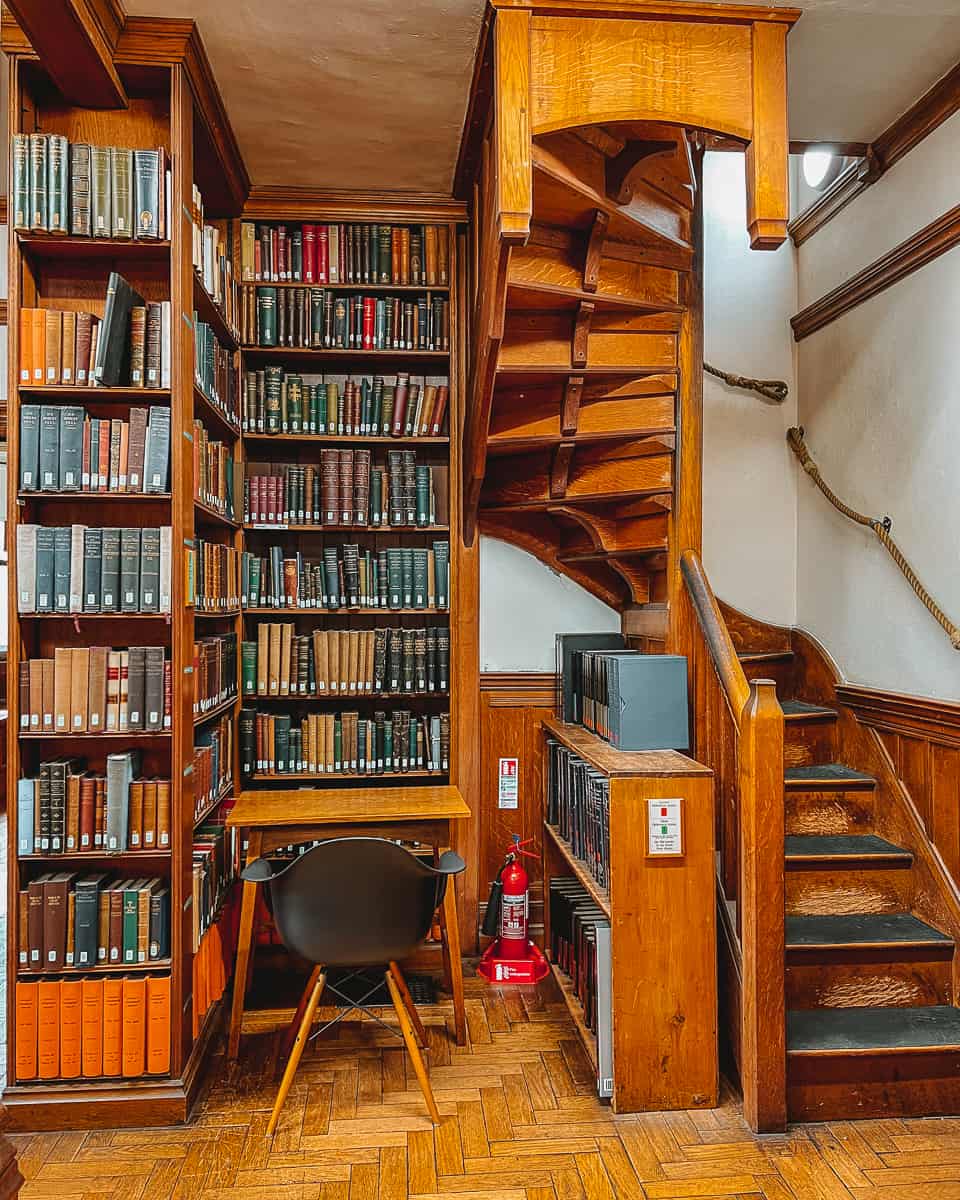 Food for Thought restaurant
Gladstone's Library has its very own restaurant / café called Food for Thought that you can use throughout your stay.
This is where you'll have breakfast in the mornings and you get a coffee, tea, juices, and continental options included. So, think of pastries, cereals, yoghurt, and fruit.
There are cooked breakfast options too but these come at an additional cost. To be fair, in summer the continental options were perfect.
You can also visit the café during the day for lunch, afternoon tea, or dinner. For the evenings, I would recommend making a table reservation at reception.
They had lots of menu options like curries, fish and chips, and salads. There were also vegan options. I had their vegetarian tagine with rice and flatbread which was very filling and tasty.
It's a nice space to relax and meet people. You could spark a debate and discuss your latest studies!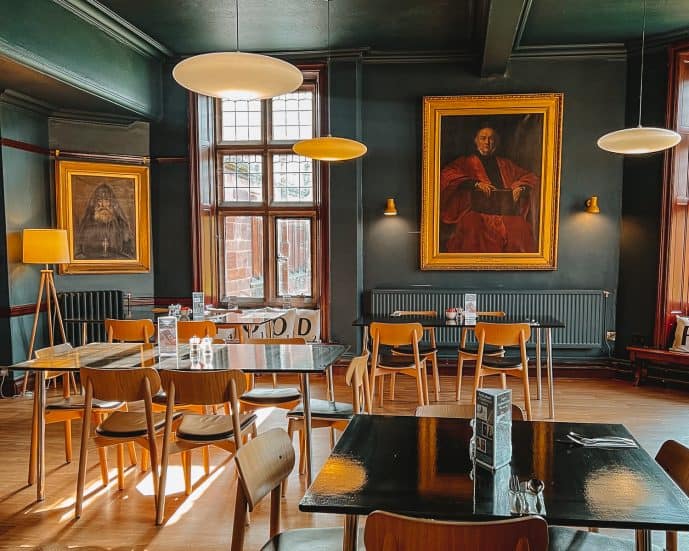 Relax in the lounge
Throughout your stay, you can relax in their comfy lounge area which has lots of sofas and a fireplace for the winter season.
There are bookshelves, newspapers, cards, games, and jigsaw puzzles to keep busy with or you can simply relax.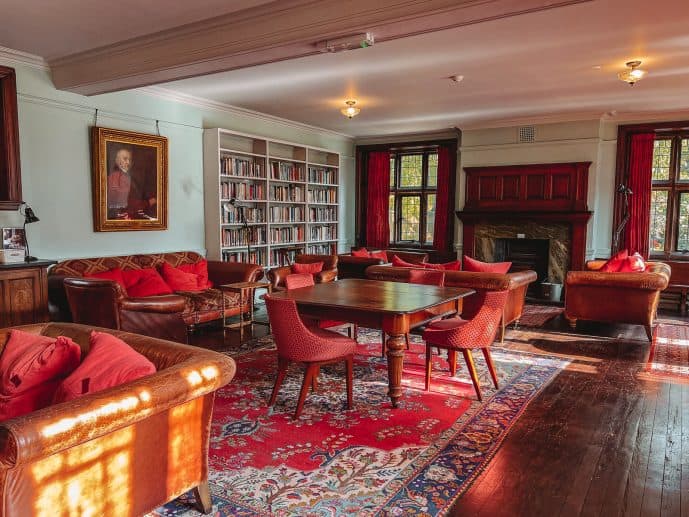 This is a great place to sit back and chat with other residents and they even have their very own honesty bar!
You can treat yourself to a glass of wine, beer, or a range of spirits. Just put some money in the box and don't forget to sign the sheet.
Take a walk in the library gardens
Hawarden Village is a sleepy settlement in the countryside and so you'll find the library grounds very quiet.
They have a gorgeous garden out the back of the library where you can take a stroll.
I particularly loved the statue of Sophia in the very centre. Sophie means 'wisdom' in Greek which is also my namesake.
It was a statue carved by Tom Waugh and she has stood here overlooking the library gardens for over a decade now.
You can sit on one of the four benches that surround her. These are called Cariad (Love), Heddwch (Peace), Gwirionedd (Truth), and Cyfiawnder (Justice).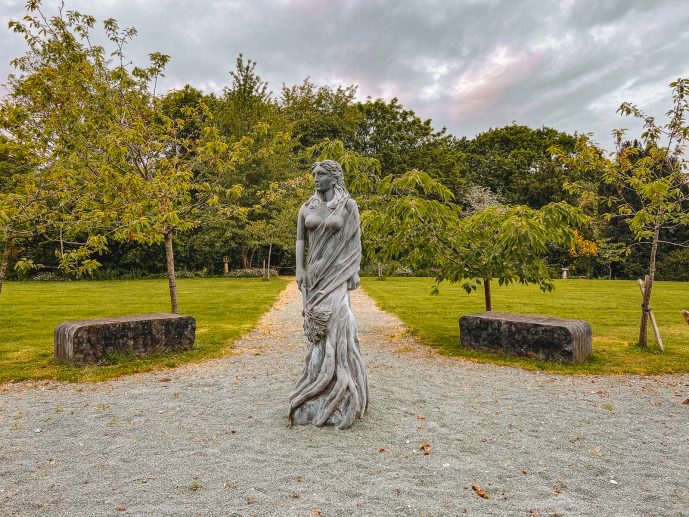 Gladstone's Library Chapel & Prayer Room
As part of the library complex, you'll find a chapel which is a place for prayer, reflection, and meditation.
It's open from 7.45 am and everyone is welcome to attend their brief mindfulness gathering at 8 am.
It's only around 20 minutes but it consists of poetry, prompts of reflection, and the sharing of bread and wine in the Christian tradition.
It is for all faiths and there is even an adjoining prayer room to make use of throughout the day should you wish for private prayer.
It's a simple chapel inside but I particularly loved the stained glass windows found in here.
St. Deiniol's Church
If you were looking for a more traditional historic chapel then you can visit St. Deiniol's Church which is right next door.
In fact, my room at Gladstone's Library Hotel overlooked this gorgeous building and the graveyard.
It's an Anglo-Catholic parish church that has a history since the 12th century. St Deiniol was a Bishop of Bangor in the Kingdom of Gwynedd who died in 572.
The building we see today was reconstructed in 1859 after a great fire. It was often visited by William Gladstone and his family and there is a memorial chapel dedicated to them inside.
It's well worth having a look around and it's open every day. The stained glass windows are particularly impressive and so colourful. There are also services to attend.
Take a walk around Hawarden village & Hawarden Castle
If you wanted to take a break from all the books and explore the area, Hawarden Village is a very peaceful and quaint place to take a stroll.
Funnily enough, there are two Hawarden Castles in the village. One is a medieval fort that was attacked by Dafydd ap Gruffydd in the 13th century.
The other is an 18th-century residence that is more of a Gothic mansion surrounded by the countryside. It was an estate owned by William Gladstone himself.
It's closed off to the public, but residents of the library can take a walk around the grounds. Just ask the lovely library staff how you can access it!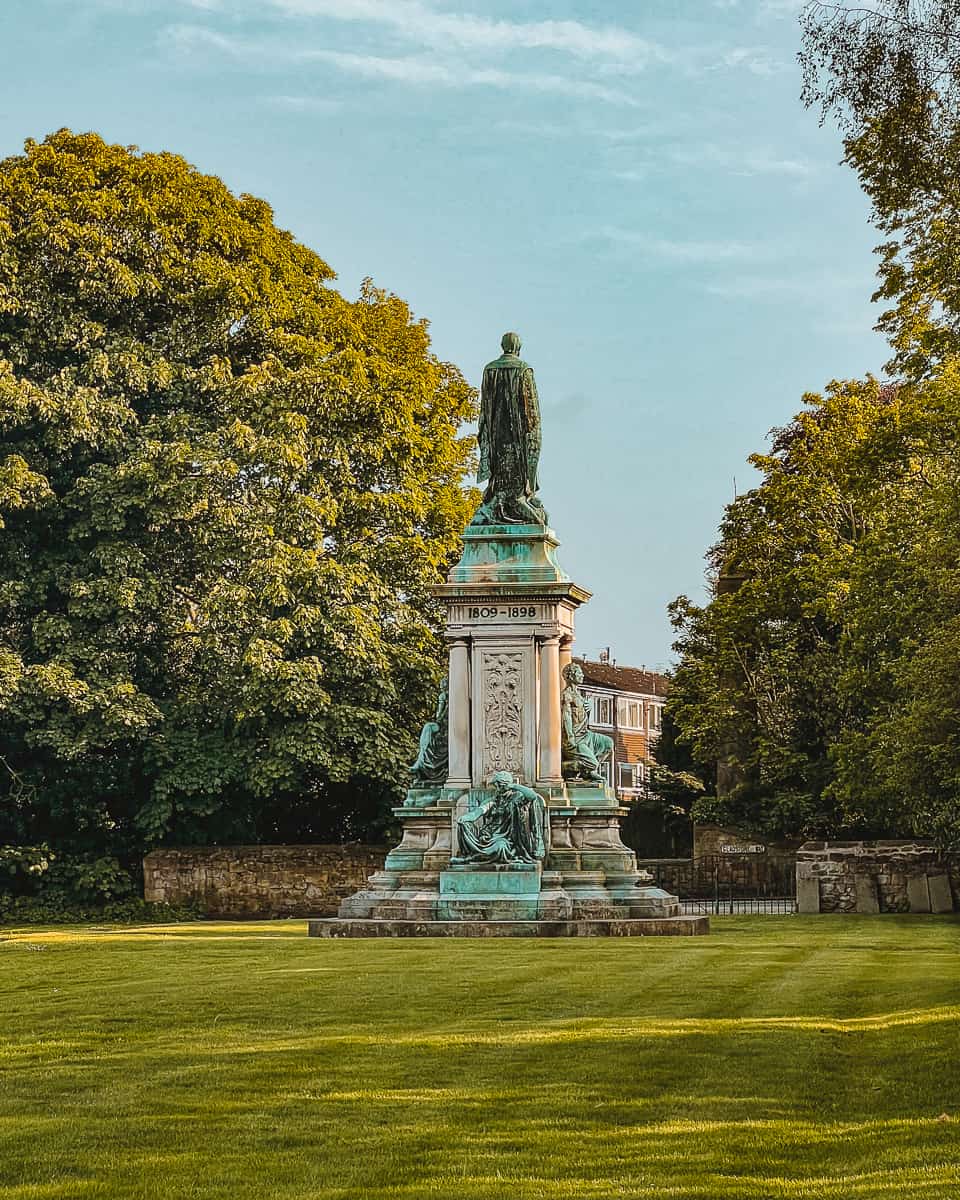 Gladfest
Every year in early September, the library holds its annual Gladfest event that takes place over two days.
It's a small, friendly festival and literary event where you'll find lots of fellow bibliophiles in attendance.
There are plenty of talks and masterclasses to attend and there are even online workshops for those who want to attend from far away and overseas.
You do have to pay for tickets to attend Gladfest and the reading rooms will be closed off during the festival.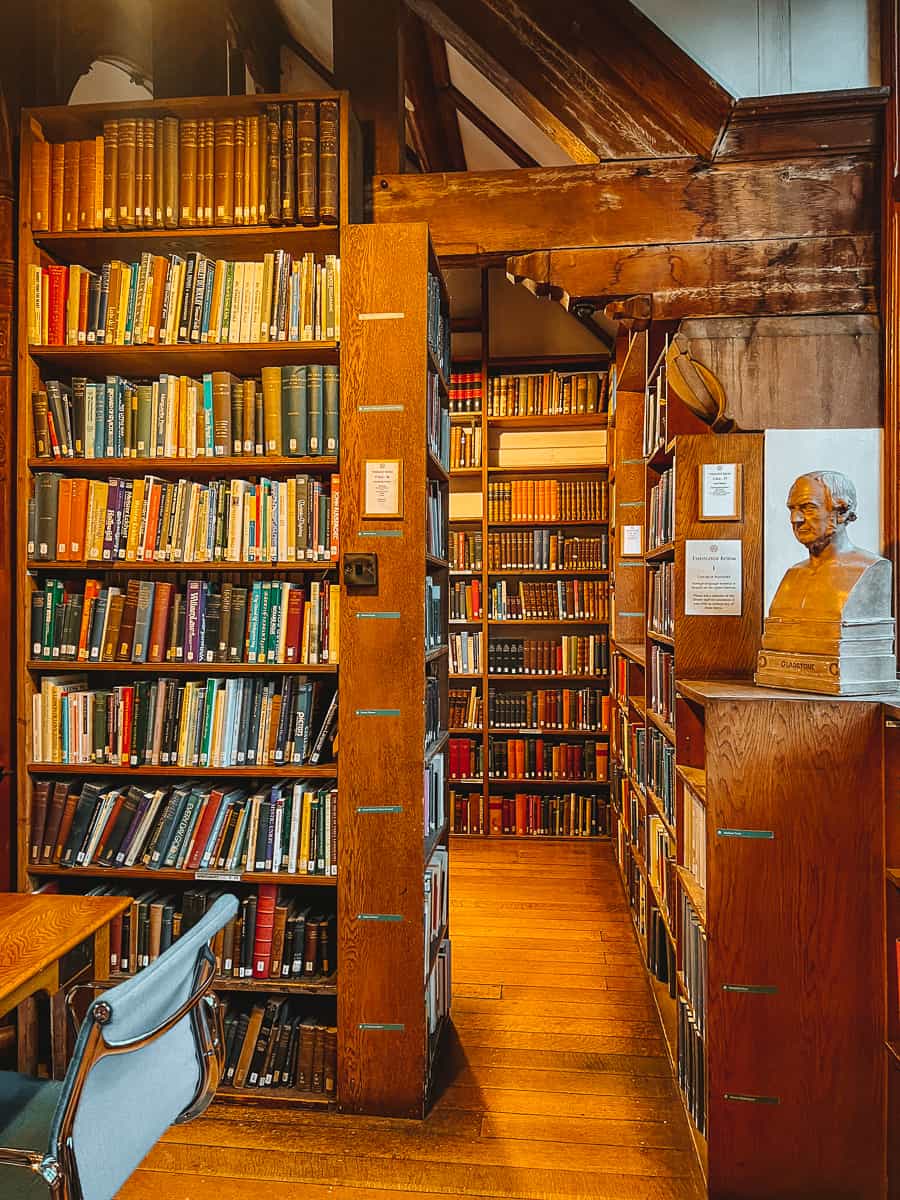 How much does it cost to stay in Gladstone's Library Hotel?
Staying at Gladstone's Library is cheaper than you may think. Gladstone's ethos was to make education accessible for all and so the library strive to keep rooms as cheap as possible.
Depending on the season, it can cost as little as £120 a night for a single room or £150 for a double.
I managed to book one of their special offers where I got a 30% discount for a second night. So, my stay only costs £200 for two nights in a double room (£100 per night).
That included the room, use of the reading rooms and facilities plus a free continental breakfast in the mornings. Your room keys will have a fob to access the library.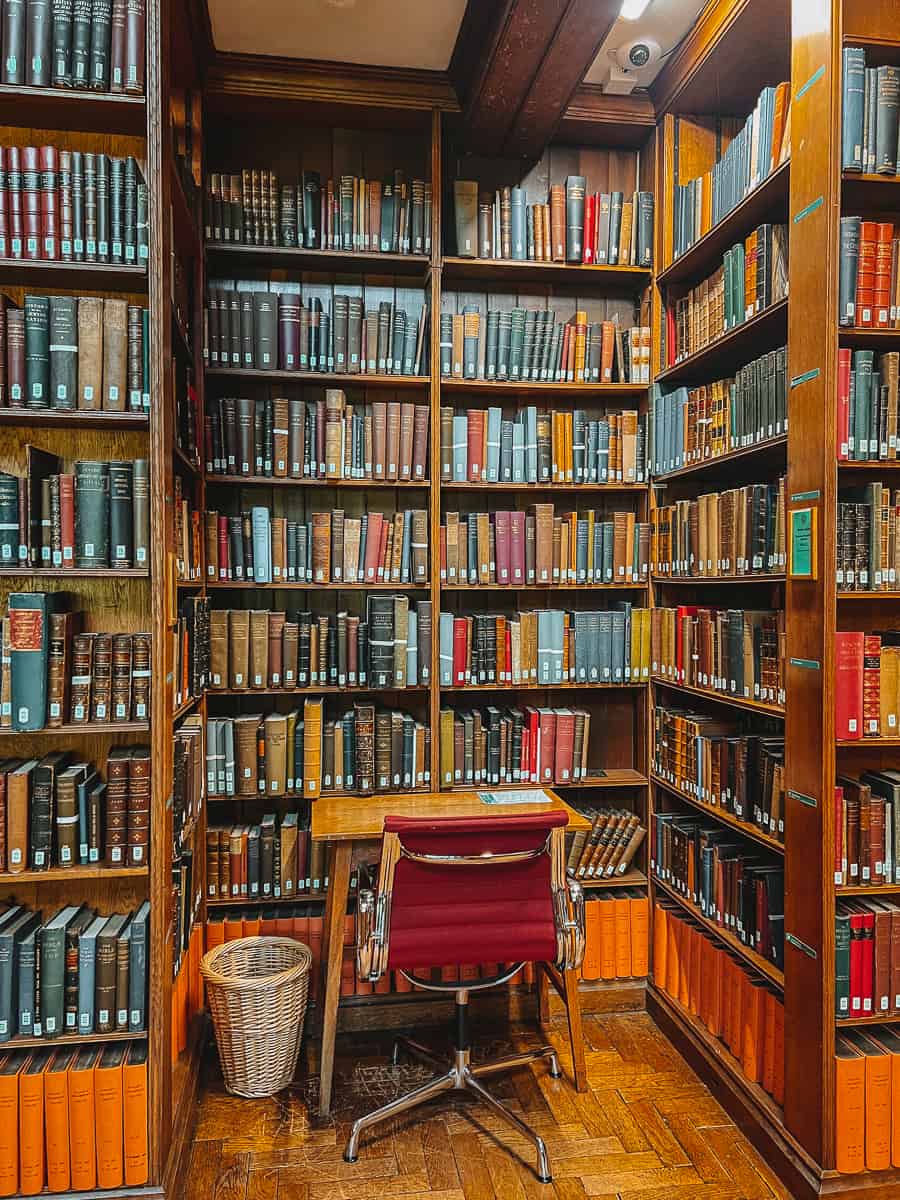 You secure your booking with a £100 deposit and then pay the rest of what you owe when you check out. You can create a tab for food and drinks in the restaurant.
It was such a bargain for somewhere so special and to say I spent the night in the UK's only residential library.
It's good to note that it's not 'technically' a hotel, it's a residency which is more like a Bed & Breakfast. But, it's still very cosy and a unique place to stay in the UK.
Click here to book your stay at Gladstone's Library
How much does it cost to join Gladstone's Library?
If you didn't want to stay in Gladstone's Library but you did want to use the facilities, you must register to become a member or reader of the library.
Joining the library is absolutely free to all but they do ask for a £5 one-off donation. This goes towards the preservation of the library and reading rooms.
You will receive a reader card that gets you access to Gladstone's Library at any time you wish to use the reading rooms.
You can also become a Friend of Gladstone's Library if you wish to regularly donate. This comes with its own set of benefits, discounts, and offers.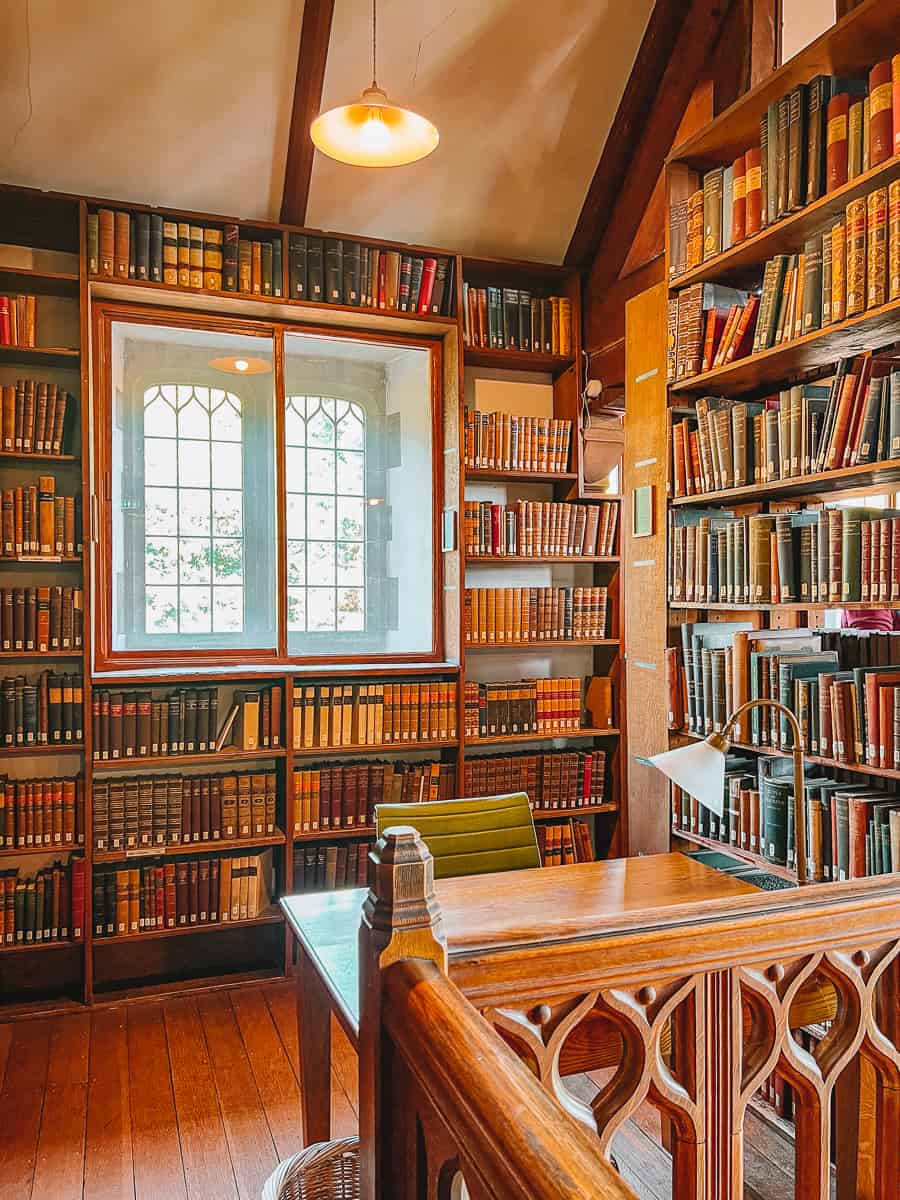 How to get to Gladstone's Library in Wales
Gladstone's Library can be found in Hawarden Village which is in the county of Flintshire in Wales.
It's easily accessible by car and is only 15 minutes from the M56. Once you reach the village, you'll turn down Church Lane but it's easy to miss the turning due to a junction.
If you're travelling by public transport, it's easiest to travel from Chester station. You can get a bus or taxi from there to the library. Or, you can travel by bus from both Wrexham and Liverpool.
The nearest airport is Manchester Airport. You can then travel by train to Chester from Manchester Piccadilly. Then, you can get a bus or taxi to the library.
Gladstone's Library address is Church Lane, Hawarden, Flintshire CH5 3DF. Click here for a Google Pin!
Gladstone's Library parking
There is limited free parking available right next door to Gladstone's Library for readers and residents.
When you arrive at check-in you need to let them know your registration number so they can mark you down.
Make sure you do this as there is a hefty fine for people who park here and are not using the library!
If parking here is full there is some free parking found on Rectory Lane.
Gladstone's Library opening times & prices
The only way that you can visit Gladstone's Library reading rooms is if you're a resident or reader.
They used to be open for short guided tours but due to the current climate, these have not yet resumed.
Readers and Residents are both given a special card or key fob that allows them access during opening times.
Gladstone's Library reading rooms can be accessed any time between 9 am-10 pm, every day.
Staff are only available for assistance from 9 am – 5 pm. After staff hours, the only reading room open is the Theology Room.
It was so cool reading and studying in the library at night time. It really did feel like you were studying at Hogwarts Library!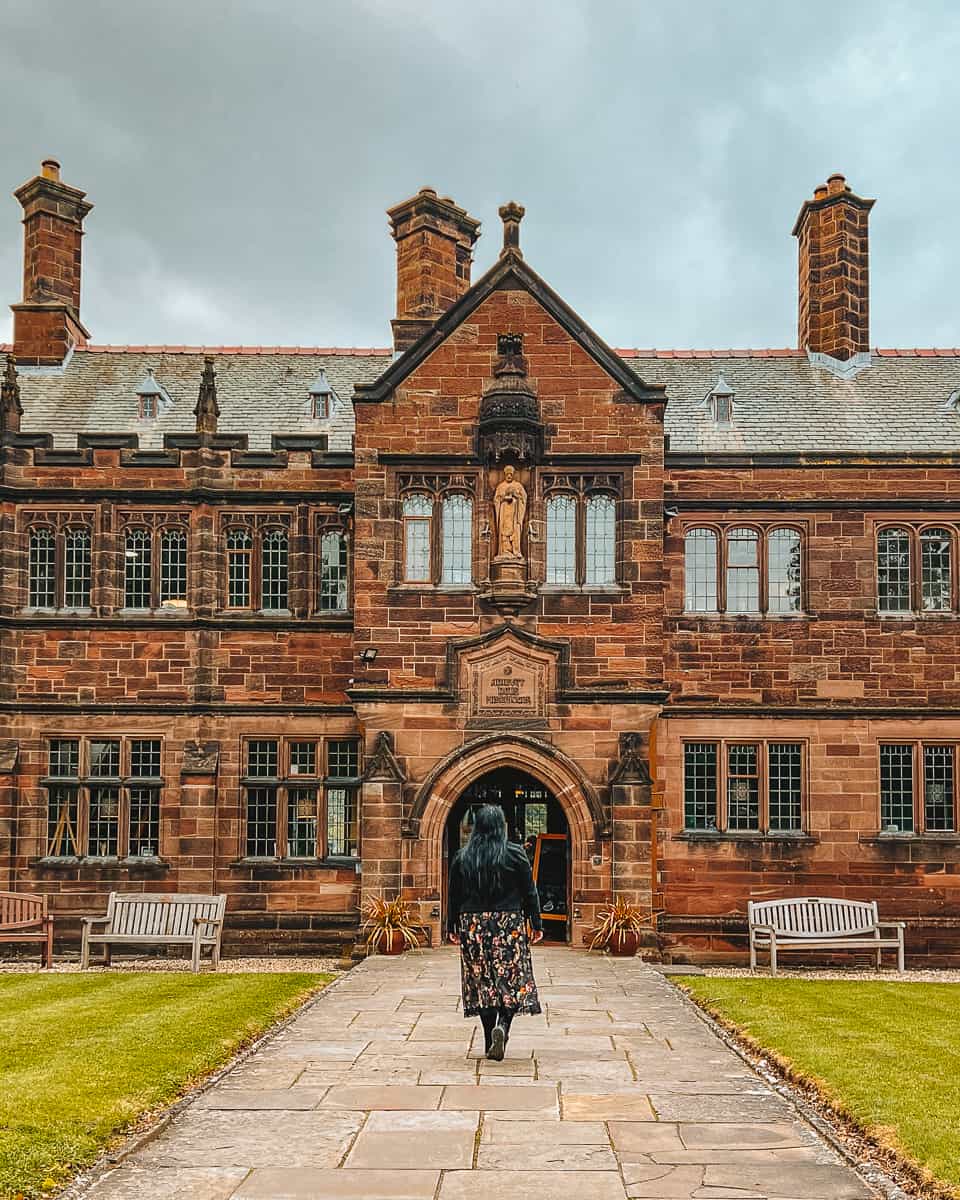 Things to do around Gladstone's Library
If you'd like to get out and explore some of this gorgeous area of Wales, there are lots of places to choose from nearby.
From historic cities and areas of natural beauty to visiting some of the Seven Wonders of Wales like Pistyll Rhaeadr waterfall.
Here are all the spectacular places you can visit near Gladstone's Library;
Chester & Wrexham
Gladstone's Library is only a 20-minute drive from the historic city of Chester. It's famous for its Roman history.
It's home to the largest Roman Amphitheatre in Britain and has the most complete city walls.
You will also find the oldest racecourse and a cathedral that is over 1000 years old. So, there's lots to see and do there.
Alternatively, you could visit Wrexham which is a vibrant Welsh city with lots of culture and history.
You can marvel at St Giles Parish Church, the largest church in Wales. The tower is one of the Seven Wonders of Wales.
Gresford Bells is another wonder found nearby in the 15th-century All Saints Church in Gresford. Another wonder is the Yew Trees in Overton-on-Dee.
You can wander the gardens in the beautiful Erddig, browse Wrexham Museum, or visit the Xplore! Science Discover Centre.
Clwydian Range And Dee Valley AONB
Many people visit this area to visit Pontcysyllte Aqueduct (pronounced Pont – ker – sulth – tay) which is a UNESCO site known as The Stream in the Sky.
Canal boats, bikers, kayakers, and walkers alike can cross this 39-metre-high water bridge that is around 300 metres long and you get views for miles!
But, there are plenty of amazing things to do nearby as part of a day out.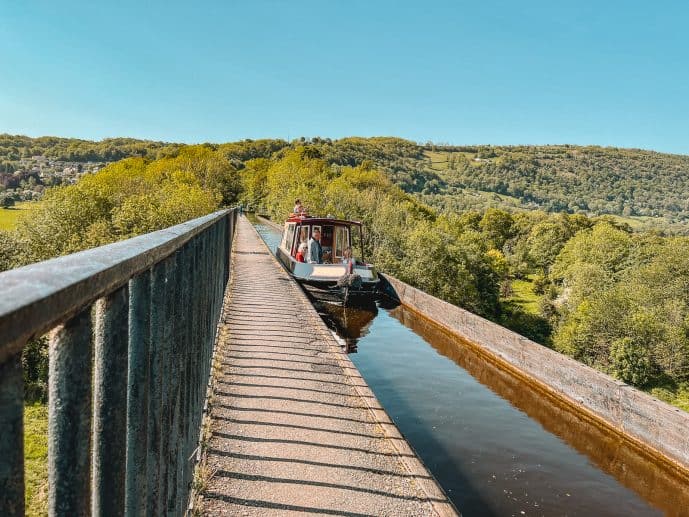 I particularly liked my visit to Chirk Castle which was a medieval fortress turned renaissance estate. There's so much to see here including planned gardens, medieval towers, and staterooms.
After, you can visit the Oak at the Gate of the Dead near Offa's Dyke which is one of the only remains of the Battle of Crogen between England and Wales.
Llangollen is a huge canal town that has lots of attractions such as Plas Newydd, Valle Crucis Abbey, Castell Dinas Brân, and the Llangollen Railway station.
Or, you can visit other attractions like Horse Shoe Falls, Horse Shoe Pass, and Bryn Owain Glyndŵr.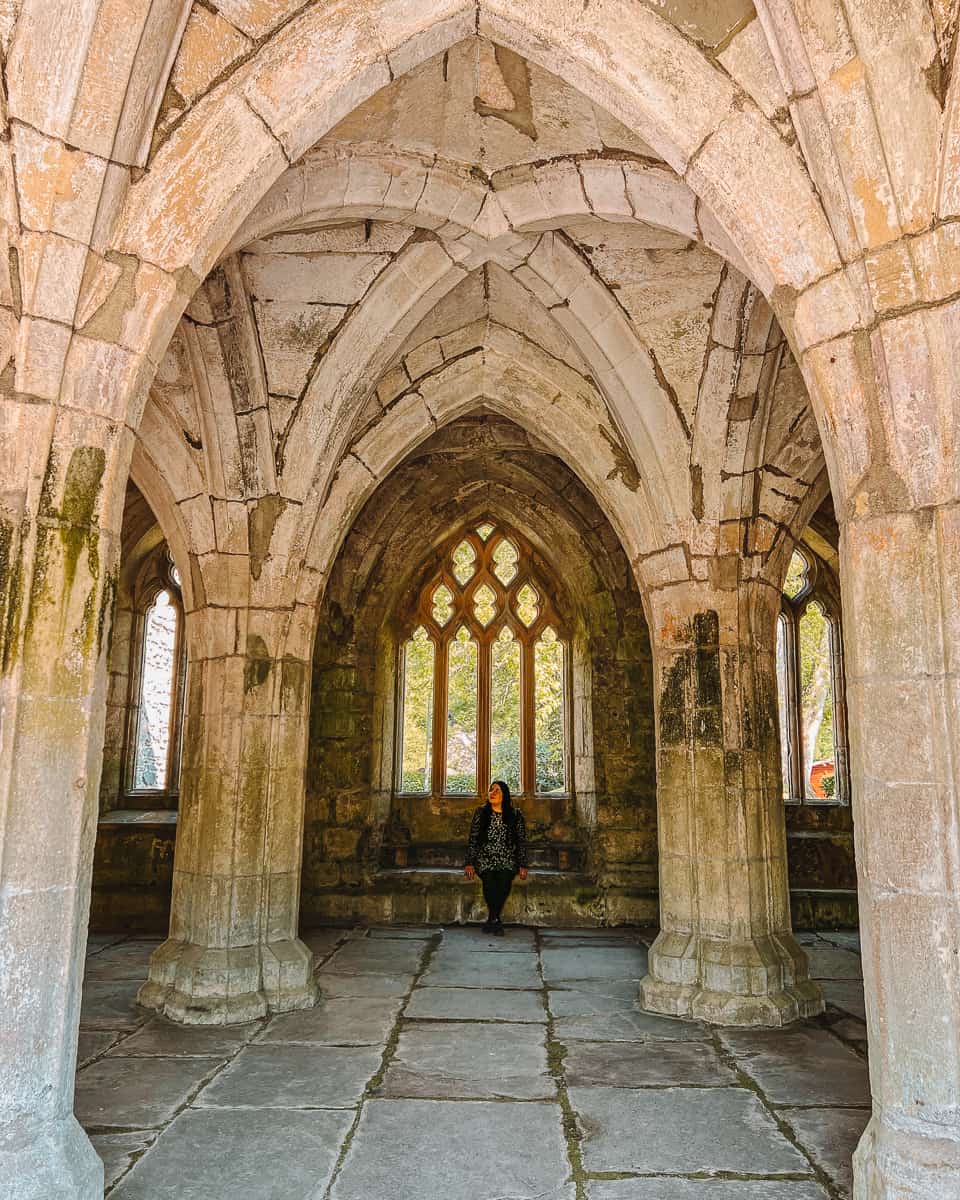 Pistyll Rhaeadr waterfall
Around an hour's drive away from Gladstone's Library is Wales' tallest waterfall which is Pistyll Rhaeadr! One of the Seven Wonders of Wales.
The water of Afon Rhaeadr falls at a height of 240 feet or 80 metres down a sheer cliff face in the Berwyn Mountains.
It falls through a natural arch in the cliff so it looks like something from Middle Earth in Lord of the Rings.
It's located in a remote village near Oswestry and so you would need to drive. But, this cascade is incredibly magical and worth the journey.
The best part is that there is a car park and tearoom right next door. So, it doesn't take long to get to the base of the waterfall and see the dramatic cascade.
Click here to read my complete guide for visiting Pistyll Rhaeadr
Gladstone's Library FAQs
What did Gladstone call his library? 'Tin Tabernacle' or the Iron Library.
How old is Gladstone's Library? It was founded in 1895.
Does Gladstone Library have free wifi? Yes, you can find the registration details near the reception when you arrive.
Can you use Gladstone's Library to study? You can but you must be a registered reader or a resident of the library to make use of the reading rooms. You'll be given a special card for access.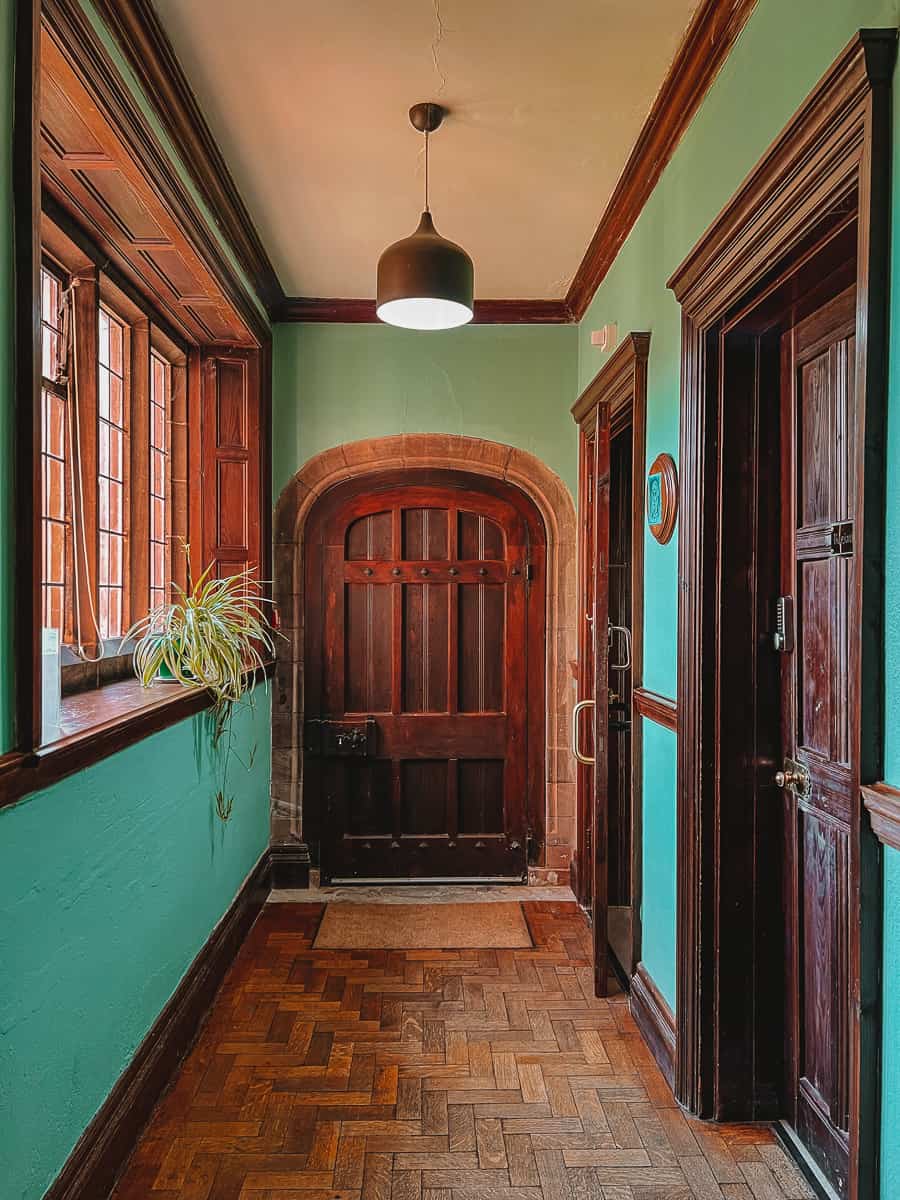 Read more of my North & Mid-Wales travel guides
How to visit Dinorwic Quarry Wales
How to visit the Aber Falls walk
Look inside the Smallest House in Great Britain!
A complete guide for the Cwm Idwal walk
Penmachno Roman Bridge photography location
Why is the Ugly House called Ugly?
When does Tu Hwnt I'r Bont turn red?
The legend of Gelert & how to visit his grave
The top places to visit in Beddgelert
Visiting the Cauldron Waterfall of Pont-y-Pair
How to find Sappers Suspension Bridge
A complete Swallow Falls guide
Why you MUST visit the Fairy Glen Gorge
A complete Conwy Falls visitor guide
A complete guide for the Dinas Emrys Walk & Dragon legend
Save this Gladstone's Library hotel review for later!