Glencoe is a highlight of any Scotland itinerary. It's one of the finest examples of the rugged terrain of the Scottish Highlands.
With rolling hills, flowing rivers, wide lochs, and the feeling of being completely immersed in nature. Is it any wonder why it's so popular?
Personally, this is one of my favourite drives in the whole of Scotland.
Even when I first visited over ten years ago, the memories of Glencoe stuck with me for years.
If you've been watching Outlander from the very beginning, you'll recognise Glencoe from the opening credits. There isn't anything that sums up the Highland's better!
Here's your go-to Glencoe Outlander location guide and what there is to see on one of the most beautiful drives in Scotland.
Are you an Outlander Fan? See my Ultimate Outlander filming locations guide here or read more of my Outlander related guides!
What is Glencoe?
Glencoe is Scotland's most famous and historic Glen, which originates from Volcanic foundations.
It's a huge U-shaped valley that lies in Lochaber Geopark and in the north of the county of Argyll.
When you drive into the valley, you'll find gigantic mountains that were carved out by nature centuries ago. They are spectacular and will make even the tallest person feel small.
The first time you visit here will leave you speechless and it will stick with you for years to come.
Glencoe is also home to eight Munro's which is a name for a mountain over 3,000 feet (914 metres).
'Munro bagging' is a term that people use to say how many they've climbed or 'bagged'. This is something that Sam Heughan does often. He plays Jamie Fraser in Outlander!
If you climb all 277 Munro's in Scotland you have the right to be called a Munroist.
Glencoe has also been a famous filming location for many movies such as Harry Potter, Outlander, and Skyfall.
Related post – How to find Harry Potter's Hagrid's Hut location in Glencoe!
Glencoe History & the infamous Glencoe Massacre
Glencoe is home to one of the most infamous massacres in Scottish history.
In the 14th century, Robert the Bruce gifted Glencoe to Angus Og. He was the chief of the Clan MacDonald.
In 1501, there was a conflict between the Glencoe MacDonalds and the Argyll Campbells. The argument was over cattle raiding and trying to take lands as territory.
This rivalry continued until the 17th century during the Scottish Wars of the Covenant. This is when the MacDonald clan and Campbell's chose different sides.
In 1691, William III offered a pardon to all clans in the Scottish Highlands that had previously stood against him. But, there was a deadline.
The MacDonald clan reluctantly swore to take the oath but made it to the magistrate's office a little too late for the deadline.
He gave his oath anyway and thought he was safe. But, little did he know that an army was already stationed to kill them off.
William III gave Laird Campbell orders to kill every clan member under 70.
The tragic thing is that the Macdonald's actually entertained them for 10 days. They gave Captain Robert Campbell hospitality before they were all slaughtered in their beds.
Only 40 died from the attack. Most of the clan escaped and died later on from exposure or hunger in the valley.
The reason why it was such an infamous crime is that the Campbell clan and MacDonald's were together under a truce.
There is now a monument in Glencoe Village that is marked to remember those who had fallen.
What exactly was the Glencoe Outlander location?
The Outlander team filmed a variety of places around Glencoe that featured in the opening credits. But in terms of a specific place, I couldn't say!
However, most of the incredible landscapes in Glencoe will give you those signature views and your Outlander fix!
If you want to see some deer, like in the opening credits, then check out Glen Etive (I'll cover it below).
Whereas Glencoe is seriously packed daily, Glen Etive barely sees anyone. It's also a place where you can wild camp and see the Skyfall bridge!
The best places to stop in Glencoe
As I'm a photographer, I usually just see a pretty view, stop the car and take a photo.
There are lots of laybys and places to park up and take in the views in Glencoe.
The beauty is endless and sometimes it's nicer to come with no expectations and let nature do the talking.
For me, there were no hikes planned here or any particular things to do. I just wanted to explore free-style.
I visited on one of the hottest days ever caught on record. Not one cloud in the sky. Very unusual for Glencoe.
I was happy to stay in the air-conditioning of my car!
But, if you are a type-A person and were after organising some walks around the area, check out this site for some ideas.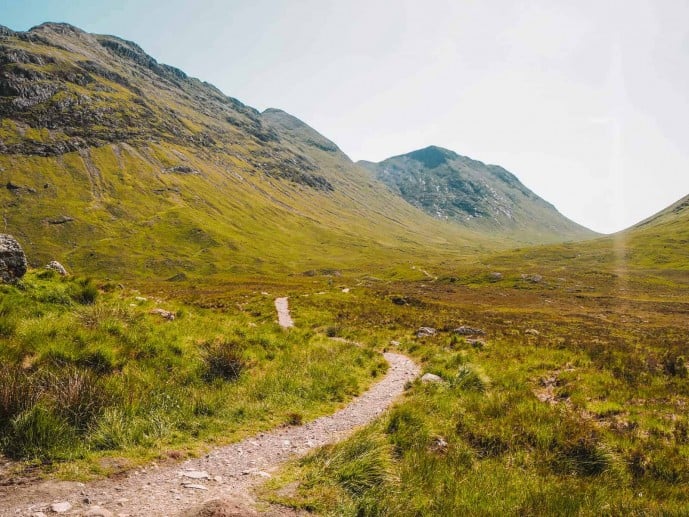 1. Glencoe Visitor Centre
I don't know what it is, but a visit to the Glencoe Visitor Centre run by the National Trust for Scotland always makes my trip.
It's a nice stopping point for a toilet break. Plus, you can grab a bite to eat, get a drink and learn in their museum.
The best thing though? it's completely FREE.
Tell a lie, you do have to pay for parking which is the only catch. However, this is FREE For NTS Members.
There are also some picnic tables so you can bring your own lunch if you'd prefer. But, the food prices in the café are very reasonable.
If you wanted to, you can follow in the footsteps of the Glencoe Massacre. Park up at the Glencoe Visitor Centre and take a short walk to the memorial site.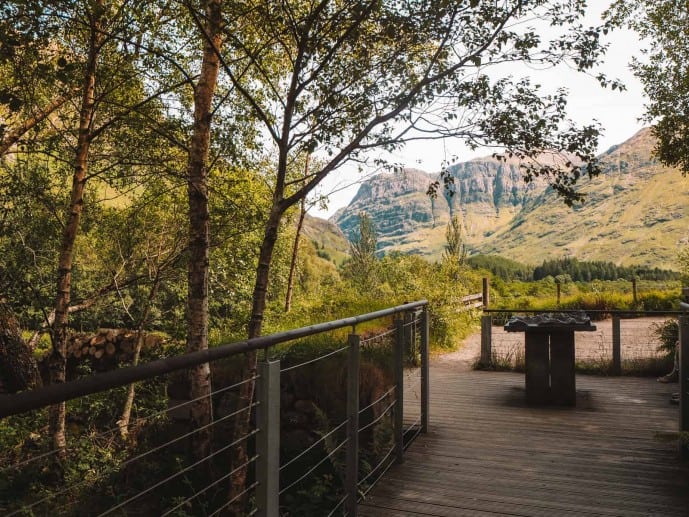 Outlander souvenirs in Glencoe
A lovely surprise when I arrived at the Glencoe Visitor centre was an amazing gift shop. They had a whole section dedicated to all things, Outlander.
There were Fraser and MacKenzie tartan shawls, Claire's Cowl, Outlander inspired jewellery, notebooks, and more.
I decided to buy a limited edition mug by Jane Booth Ceramics.
They are such unique pieces and went beyond the typical white mug with a print on it.
It was expensive, but you have to remember all proceeds go towards the upkeep of this gorgeous place!
2. Glencoe Valley
Most people who visit Glencoe drive through the heart of the Valley. Or, they park up and take one of the many stunning walks around the area.
Some of these walks are really short and take less than 20 minutes. Others can take a whole afternoon.
So, if it's a reasonably good day, then there are lots of places to explore. You can spend as long or as little as you like.
As I was on a time limit, I decided to drive through the valley and stop off when I wanted to take photos.
But, be careful, it's so easy to get distracted by the views and not watch your driving!
In summer, these parking spots were PACKED with tour buses and groups.
It can be difficult to get a space. Luckily, there are plenty of spots to choose from and all the views in Glencoe are beautiful.
Related post – why you must stop at the Wee White House Glencoe!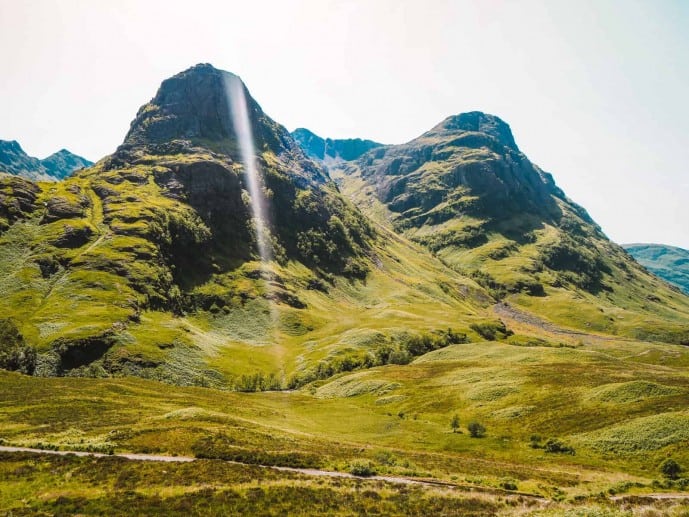 3. Glen Etive – Skyfall filming location
One of the best decisions I made on my trip was to pull into Glen Etive. Compared to the busy Glencoe, this valley was a dream.
There were barely any cars and the unobstructed views were even more stunning!
I visited Glencoe on one of the hottest days ever recorded in the Scottish Highlands. There wasn't a cloud in the sky and it was scorching.
So, when I pulled into the valley and saw the river, I had to take a paddle! Lots of people were wild camping here or swimming in the river.
You can even drive on a bit further to see the house that was used in Skyfall.
Although many people say there are deers in Glen Etive, I didn't see any on my visit. But, I suspect they were too hot.
Related post – Complete list of Harry Potter filming locations in Scotland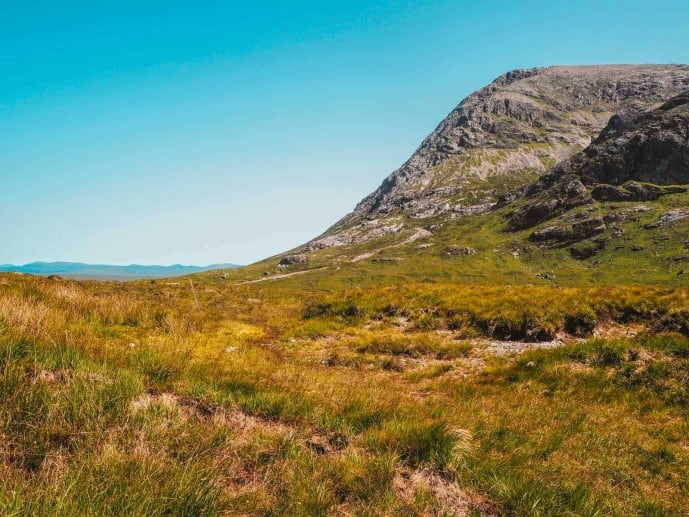 How to get to Glencoe?
Glencoe is easily accessible by car on the A82 from Glasgow or Inverness.
The benefit of driving in your own transport is that you can stop off wherever you would like to explore.
If driving isn't an option, you can get to Glencoe by bus too. You can take the city link 915 that will take you straight through the heart of the valley.
This service runs from Glasgow to Uig on the Isle of Skye. Check out Travel Line Scotland to plan your journey.
What to prepare for your visit to Glencoe
Planning your trip all depends on what you want to do.
If you plan on driving through, then I would make sure you fill up your petrol tank fully before you go. Petrol is really pricey in remote areas.
Then, all you need is some good tunes, road trip snacks and your camera.
If you plan on walking, I would make sure you also take the following;
Wellies or hiking boots – it gets really wet around Glencoe, the weather here is deceiving as I visited on a freak summer day. I have never seen Glencoe this clear!
A bottle of water – As there aren't many shops in Glencoe. The water is so fresh you could refill too.
A warm coat – the weather is changeable in Scotland. Even in the peak of summer, a Scottish breeze has a bite.
A rain jacket – You must know how often it rains in Scotland!
Midge repellent – in June these were everywhere and are really annoying. The Glencoe Visitor Centre does sell this too if you're stuck.
A packed lunch – Apart from the Green Welly Stop after Glencoe and the Glencoe Visitor Centre there are limited places to buy food.
The Green Welly Stop
The Green Welly Stop is a famous family-run business that has been open since 1965.
They run a stop and shop in Tyndrum and it always seems to come at the right time.
You'll find road trippers, bikers, backpackers, and all sorts here.
Inside they have a supermarket, gift shop, and cheap restaurant to buy some much-needed grub.
If you need warm clothes or anything else to prepare you for your hikes around Scotland. Check out their clothing shop on site for any last-minute essentials.
They also have an all-important toilet stop here. Plus, for those wanting to wash clothes, there is a laundromat.
Outlander tours that include Glencoe
If you're not planning to self-drive around Scotland. Then you may be interested in taking an Outlander tour that includes Glencoe.
Where to stay in Glencoe
If you're looking for places to stay in Glencoe, there are many options for all sorts of budgets. Here are my top picks;
Budget Hostel: Glencoe Independent Hostel. Dorms are a great budget option in the remote Highlands! Dorm beds start at £15-20 a night dependent on the season.
Fancy: Kingshouse Hotel , an upscale hotel in the Highlands that has FREE activities for guests. These range from cycling to kayaking. They also have a Bunkhouse for £35 a night if you'd rather keep your costs low.
Looking for more Outlander locations in Scotland?
I went on an epic 'Outlander pilgrimage' of Scotland and visited over 50 filming locations.
My journey took me from East Lothian to Edinburgh, The Highlands, the Isle of Skye, Glasgow, and many more.
Having been to all of them myself, I can give you travel tips for each of them based on my personal experiences.
Check out my ULTIMATE list of Outlander locations post here. Or, here's a list of some of my favourites below.
My favourite Outlander articles
Save this Glencoe Outlander guide for later!