All right witches and wizards of all houses. Are you curious to know where all the Gloucester Cathedral Harry Potter filming locations are? I have a list of them right here!
The Gloucester Cathedral cloisters featured heavily in the first two Harry Potter movies and briefly in the sixth.
It acted as the Hogwarts Corridors, the Gryffindor Common Room, "The Chamber of Secrets Has Opened Scene" and even outside Moaning Myrtle's Bathroom!
So, if you are a Potterhead, you will definitely want to visit as it will feel like you've been transported into the magical Wizarding World.
Here is my ultimate muggles guide to all the best Gloucester Cathedral Harry Potter filming locations you can visit!
Are you a Potterhead? Click here to see all my Harry Potter filming location guides!
Gloucester Cathedral history
Gloucester Cathedral has a history spanning back over 1,300 years! In 678 AD the Anglo-Saxon prince Osric founded a religious house here. It was then known as Gloucester Abbey.
During the Norman Invasion, William the Conqueror assigned Serlo to look after the abbey as the abbot. He was a monk from Mont St Michel in Normandy. After he took over, he was able to raise funds to build the abbey church we see today.
By the Middle Ages, Gloucester Abbey was a powerful institution of religion and learning. Henry III was crowned here in 1216.
In 1327, Edward II died at Berkeley Castle under suspicious circumstances and was then buried at Gloucester Abbey.
As people travelled from all over to pay respects to their fallen king, the abbey coffers were bursting and more building work was added to the cathedral.
Gloucester Cathedral Cloisters history
The cloisters were begun by Abbot Horton in 1351 and completed by Abbot Froucester in 1390. They were designed by Thomas de Cantebrugge and now these are the earliest surviving fan vaults in the country.
Like most cloisters they were built for the monks to reflect, read, and created a space for worship.
Back then, there would be desks in which the monks would study and copy manuscripts. You'll find niches where they once stood. Also, the Lavatorium was a washing area.
Troubling times & Today
By 1540, Henry VIII ordered the Dissolution of the Monasteries, and Gloucester Abbey had to submit. The religious buildings then became known as Gloucester Cathedral.
After that, there were quite turbulent times here. For example, Mary I of England burned Bishop Miles Smith at the stake for his Protestant beliefs in 1555.
Furthermore, the cathedral was under threat of being demolished by Oliver Cromwell during the English Civil War.
But, thankfully, ever since the restoration of the monarchy in 1660 it has been a peaceful religious site run by the Dean and Chapter.
Today, thousands of people visit Gloucester Cathedral to see the incredible architecture and chase scenes from Harry Potter!
Which Harry Potter film was filmed at Gloucester Cathedral?
Gloucester Cathedral actually ended up featuring in three of the Harry Potter movies.
These are Harry Potter and the Philosopher's Stone (2001), Harry Potter and the Chamber of Secrets (2001), and Harry Potter and the Half-Blood Prince (2009).
In all three, it was used to represent the corridors and different areas of Hogwarts School of Witchcraft and Wizardry.
Which parts of Gloucester Cathedral were used in Harry Potter?
Only the Gloucester Cathedral Cloisters were used to film scenes in the Harry Potter movies.
There are four cloister corridors in total that form a small square around a courtyard. All four of these cloisters were used for the filming.
The production team did end up using the same areas for different locations in the movies. They filmed from different angles so the audience would be none the wiser!
They used these cloisters along with other cloisters found around the country to make up Hogwarts.
For example, they also used the cloisters in Lacock Abbey, Durham Cathedral cloisters and courtyard, and Oxford's New College cloisters too.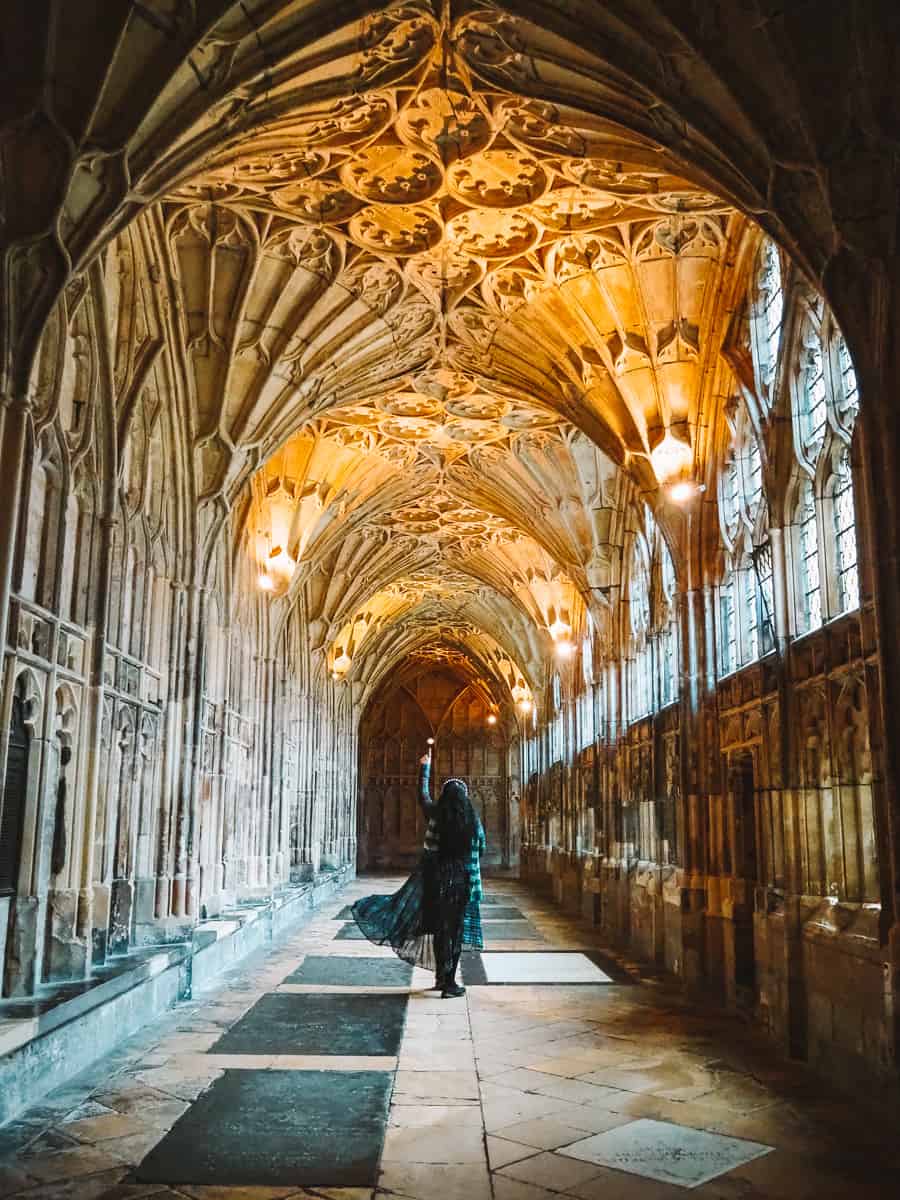 The best Gloucester Cathedral Harry Potter filming locations and scenes
So, what are the best Gloucester Cathedral Harry Potter filming locations that you can see here?
Well, there are plenty of scenes to be found in the North, South, East, and West Cathedral Cloister Corridors.
Here's a complete list of Gloucester Cathedral Harry Potter scenes!
1. The South Cloisters Corridor – The Gryffindor Common Room
In the very first Harry Potter movie, Harry Potter and the Philosopher's Stone, we see the Sorting Hat ceremony that assigns the students to their houses.
Then, we see the first-year students being guided to the Gryffindor Common Room for the first time.
They are guided through Hogwarts by the prefect Percy Weasley who takes them towards the entrance door.
You'll find this scene was filmed in the South Cloisters Corridor. They all look so young when you watch this movie now!
2. The West Cloisters Door – Entrance Door to the Gryffindor Common Room
After they walk down the corridor, they eventually reach the door to the Gryffindor Common.
Percy then introduces the students to the Fat Lady who sits in a portrait and guards the outside.
To enter the common room, you need to give her a password. This door can be found at the end of the West Cloister Corridor but, unfortunately, there will be no portrait to greet you!
3. The North Cloisters Corridor – "The Chamber of Secrets Has Opened" scene
One of the most iconic Gloucester Cathedral Harry Potter filming locations is in Harry Potter and the Chamber of Secrets.
We see Harry, Ron, and Hermione find Mrs. Norris who is Argus Filch's cat! She's been petrified and is hanging upside down on the Hogwarts Corridors. Behind her is a message written in blood;
"The Chamber of Secrets has been opened. Enemies of the heir…Beware!"
The location of this scene can be found along the North Cloisters Corridor.
Later, Harry and Ron overhear the professors discussing their plan of action after the "Chamber of Secrets has opened" message.
They also hear that Ginny Weasley (Ron's sister) is in trouble. She has been dragged into the chambers where her "skeleton will lie forever"! They also filmed this scene in the Gloucester Cathedral cloisters.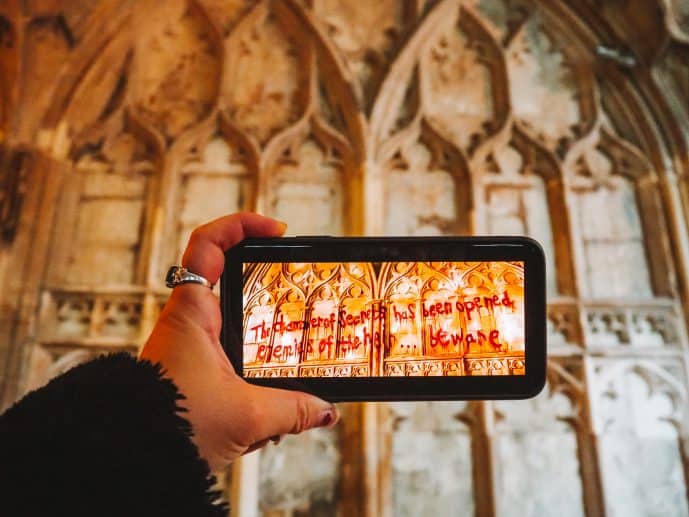 4. The Lavatorium – The Harry Potter Troll scenes
In Harry Potter and the Philosopher's Stone there is a Halloween Feast at Hogwarts (one of my all-time favourite scenes)!
But, the students hear that a troll is one the loose! Harry and Ron go to find Hermione to warn her but it's too late.
They see the troll walking through Hogwart's corridors towards the girl's bathroom. Harry and Ron hide behind some pillars to watch.
You'll find this Gloucester Cathedral Harry Potter filming location in the Lavatorium.
5. The Lavatorium – The Unbreakable Vow
In Harry Potter and the Half-Blood Prince, Harry overhears both Severus Snape and Draco Malfoy discussing the 'Unbreakable Vow'.
Of course, this was the vow Snape made to protect Draco in his mission from Voldemort.
I will leave it there as I don't want to give away any spoilers if you haven't seen/read this part yet!
6. The East Cloisters Corridor – Moaning Myrtle's Bathroom flood
Who could forget the scenes with Moaning Myrtle's Bathroom in Harry Potter?
If you weren't aware she is a (rather annoying) ghost at Hogwarts who usually haunts the girl's bathroom. Her real name is Myrtle Warren when she was alive and she was killed there.
In Harry Potter and the Chamber of Secrets she gets the hump as someone throws a book at her! So, she decides to turn on the taps and flood the place. Harry and Ron see the leak in the corridors and go to investigate, then she confronts them.
Although you cannot actually see the famous bathroom at Gloucester Cathedral, you can see the location where they filmed the flood outside of it in the East Cloisters.
7. West Cloisters Corridor – Harry and Ron attend first term classes
In Harry Potter and the Half Blood Prince, Harry and Ron think they have some time between classes as a free period.
But, Professor McGonnagall catches them and quickly points them towards a Potions class with Professor Slughorn.
You'll find the location of this Gloucester Cathedral Harry Potter scene in the West Cloisters Corridor.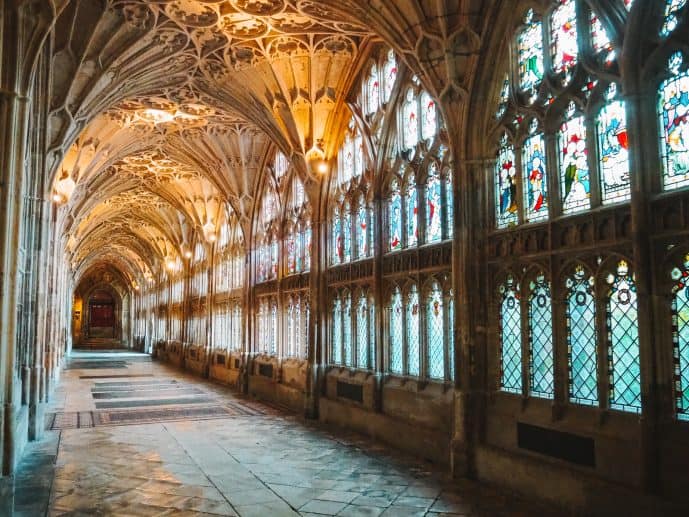 Some interesting facts about the Harry Potter filming at Gloucester Cathedral
You will be surprised to know the lengths it took to be able to film Harry Potter at Gloucester Cathedral.
Plus, so much effort was made to protect it from damage during the production. Here are some facts you may not know;
There were massive protests about Gloucester Cathedral being chosen as a location due to the association of Witchcraft and Harry Potter. The Dean of Gloucester Cathedral stood by his choice as he loved the books.
All of the religious images were removed or covered up during filming so that you didn't know it was a place of worship. On the stained glass windows, the saints were covered with filter paper.
On that note, all of the modern light switches and plug sockets had to be covered up with special panels
The tombstones throughout the cloisters were covered with roofing felt to protect the graves. They were made to match the rest of the floor
The wall used for the "Chamber of Secrets has opened" scenes was an exact duplicate of the cloisters corridor wall. It was made especially and stuck on so that the original wouldn't get damaged by the bloody writing.
When they filmed Moaning Myrtle's bathroom, they created a special diversion to lead the water outside to the courtyard so that the cloisters would not suffer water damage.
Gas torches were used to light up the scenes in the cloisters so that the stonework on the walls would not be damaged!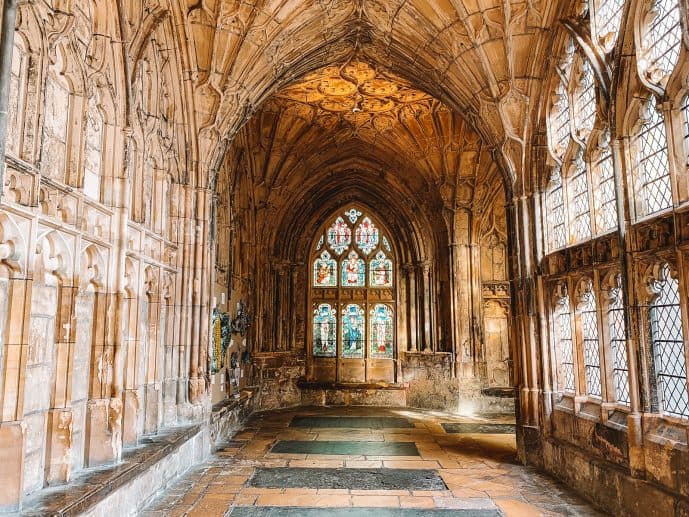 What else has been filmed at Gloucester Cathedral?
The beauty of Gloucester Cathedral has not been lost on other film and TV production companies.
The cathedral regularly gets scouted as a film location for period dramas as these cloisters are so impressive. They also remain largely untouched from the period in which they were built.
Gloucester Cathedral has featured in these popular films and TV shows:
Wolf Hall – A BBC Tudor piece that follows in the early years of King Henry VIII and the rapid rise of Thomas Cromwell at Court.
The Spanish Princess – I loved this Starz Tudor drama which concentrated on the powerful Queen Catherine of Aragon for a change! They used the Gloucester Cathedral Cloisters to represent Winchester Castle.
A Discovery of Witches – a Sky fantasy drama set in a Dark Underworld. The crew used the cloisters, the garth, and the crypt of King Edward II for the production.
Mary Queen of Scots – A Film about Queen Elizabeth I starring Margot Robbie as Elizabeth. It follows the turbulent reign of Mary Queen of Scots (Saoirse Ronan) and her complicated relationship with her Tudor cousin before her downfall.
Doctor Who – The Christmas Special was filmed here starring David Tennant and a recent episode starring Jodie Whittaker 'Fugitive of the Judoon'.
Sherlock – A BBC Sherlock special was filmed at Gloucester Cathedral, it saw Benedict Cumberbatch wearing traditional Victorian Sherlock Holmes garb!
The Hollow Crown – A BBC Adaptation of Shakespeare's Historic play King Henry IV. Jeremony Irons starred as the Plantagenet ruler.
Other things to do at Gloucester Cathedral
So, what else is there to see do in Gloucester Cathedral apart from chasing Harry Potter filming locations?
You could spend hours in here admiring everything as the building is just so impressive plus it has over 1000 years of history to explore!
A highlight of Gloucester Cathedral is the majestic Lady Chapel with its sky-high and ornate vaulted ceiling. It's dedicated to 'Our Lady' and was built in the 15th-century.
You can also see the tomb of King Edward II who was buried at Gloucester Cathedral in the 14th-century. It's one of the only monarch tombs outside of London.
There is also the Whispering Gallery situated above the Quire and the impressive Great East Window which is made of stained glass.
One of my favourite parts was seeing the colourful reflections that are made by the stained glass windows on the pillars of the cathedral! It's best seen in the morning time.
Gloucester Cathedral Tours
There are many tours available to explore the cathedral, they are volunteer-based and so are subject to availability.
For the moment, unfortunately tours are cancelled. Always check the website to see when they are running.
These are the Gloucester Cathedral tours you can take;
Highlights Tour – a guided tour of the cathedral which explains the highlights. They do briefly cover Harry Potter and the filming locations but it's not specifically a 'Harry Potter' tour.
Crypt Tour – You can head underground and see what lies beneath the cathedral!
Tower Tour – When it's open to visitors, you can climb the cathedral tower to see amazing views over the city of Gloucester!
Library Tour – You'll need to climb many steps to reach the Cathedral Library but it looks like a library straight from Hogwarts filled with old books.
Stonemasons Workshop – some of the donations at the cathedral go towards the amazing stonemasons who work tirelessly to keep the cathedral looking amazing! You can check out their workshop on a tour.
Where to eat in Gloucester Cathedral
If you were looking for a pick me up after your visit, then I would definitely pop over to the Gloucester Cathedral cafe, The Monk's Kitchen.
It can be found just outside the cathedral entrance and it serves up a delightful coffee that you can pair up with one of their homemade cakes on offer! I had a slice of their coffee cake which was delicious.
There are also light bites and lunches available throughout the day if you fancied something more substantial.
You can choose from soups, sandwiches, paninis, jacket potatoes, salads and lots more. Everything is very reasonably priced.
I loved sitting in here as they played some of the choir and organ music from their services and it was so rustic with old pews to sit on! The staff are also lovely, I highly recommend it.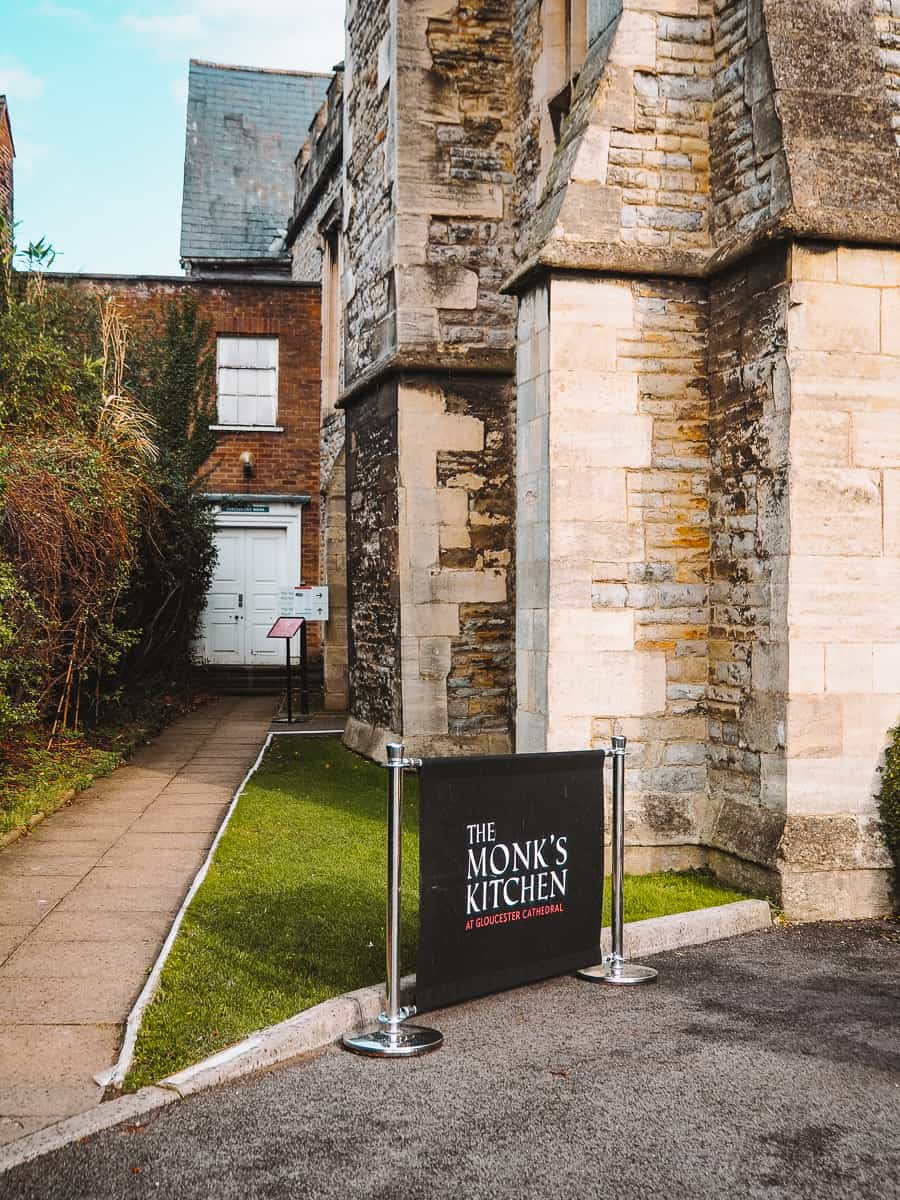 Important information about visiting Gloucester Cathedral
Where is Gloucester Cathedral and how to get there?
Gloucester Cathedral is located in the heart of the city of Gloucester which is in the South West of England.
It's nestled between the Cotswolds and the Forest of Dean so it makes a great addition to a road trip in either of those areas. Gloucester is a 2-hour and 30-minute drive from London.
Gloucester is Britain's most inland port so you'll find thriving docks, a world-class shopping centre Gloucester Quays and lots of history here too!
You can easily access Gloucester off the M5 motorway which stretches from the Midlands down to Devon.
Alight at junction 12 and follow signs for Gloucester Cathedral. It's a top attraction here, so you'll see tourist signs for it all over the city!
If you're arriving by train, the cathedral is an easy 10-minute walk from the station via London Road and Northgate Street.
Gloucester Cathedral parking
There is no car park directly outside Gloucester Cathedral, the Cathedral Close is blocked off to staff members only.
But, there is ample parking nearby. It will then take you just a few minutes walk to reach the cathedral from the car parks.
You can either park in the Hare Lane South Car Park or Hare Lane North Car Park which is a two-minute walk to the cathedral. Also, there is West Gate Street Car Park.
Parking prices are £1.20 for the hour, £2.20 for two hours, or £4.20 for 4 hours max.
There are a couple of off-road parking spaces around the cathedral which are free but limited to two hours. These can be found on St Mary's Square, Pitt Street, and Archdeacon Street. But, these are hard to find space in.
There are 8 blue badge holder car parking spaces closer to the cathedral. These are available on a first-come-first-served basis.
Gloucester Cathedral opening times and ticket prices
Gloucester Cathedral opening times are from Monday to Saturday from 10 am – 5 pm. Or, you can visit on Sundays from 12 pm – 5 pm.
There is no ticket charge for Gloucester Cathedral but the building is ancient and costs around £6,000 each day to keep it open!
So, although it is free it is appreciated that visitors pay a small suggested donation of £5 to contribute to the repairs and upkeep of the place. It's definitely a small price to pay to enter Hogwarts!
Your donation also goes towards education, the stonemasons working on the cathedral, and their important outreach programmes.
Is there a guided Harry Potter Gloucester Cathedral tour?
Not really. They used to hold many Harry Potter tours throughout the summer here a few years ago!
It used to be great for film buffs as they would play the movie in the cathedral and have a guided tour of the cloisters.
I also couldn't find many companies that are putting on a film location tour of Gloucester Cathedral at the moment.
The only one I could find is almost £800 which is obscene. This covers Lacock and Gloucester Cathedral but still, it's quite pricey.
I think the easiest thing to do would be to go on a self-guided tour of the cathedral. Gloucester is easily accessible by train from London, Bath, Bristol, and further afield.
You can then follow this post to read up on the Gloucester Cathedral Harry Potter scenes as you go! Plus, the staff will let you know of film locations there too.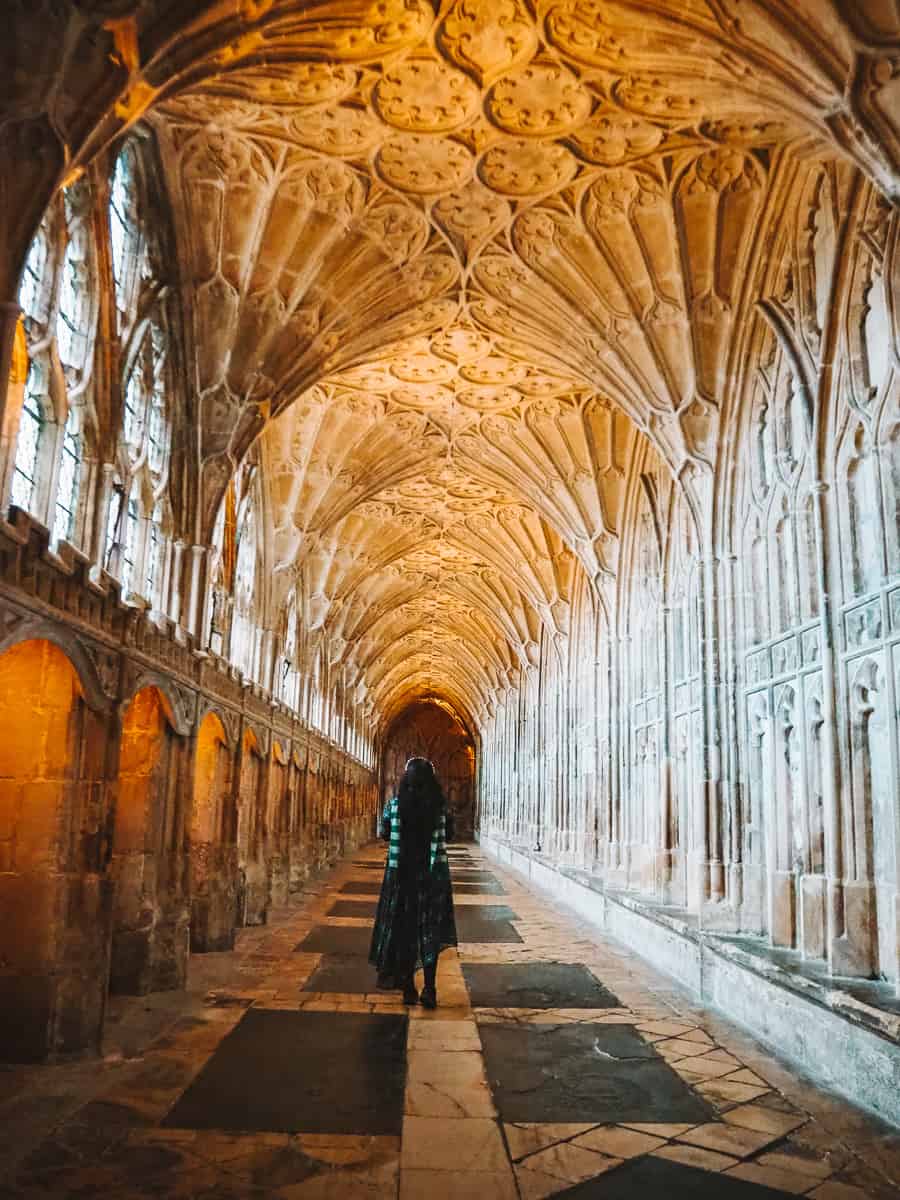 Looking for more things to do in Gloucester?
Beyond the cathedral, Gloucester is filled with amazing things to do as part of your day trip here.
I would highly recommend heading over to the Gloucester Docks which are part of the city's heritage. They were built in 1827 and became a powerhouse of trade.
Nowadays, they are undergoing a renaissance and have been completely renovated! Most of the dock warehouses are now museums, cafes, and restaurants. There are even pleasure cruises you can take throughout the day.
Click here for my complete guide on what to do at Gloucester Docks
Exploring the docks was one of my favourite parts of my visit as there is so much you can see and do on the docks trail! Make sure to visit Llanthony Secunda Priory ruins which were a bit of a hidden gem.
You can also visit Gloucester Quays shopping centre which is filled with designer boutiques, high street labels, and eateries.
Just before you enter the cathedral, make sure to check out College Court which is a gorgeous alleyway filled with cute shops. It's home to the Tailor of Gloucester which is a Beatrix Potter Museum and Shop. She visited here in 1894 and her visit inspired her to write the book in 1901!
I have written a whole guide about the best Gloucester photography locations which will give you some ideas.
Make sure to visit these Harry Potter locations next!
If you're a Potterhead, you may be pleased to know that there are plenty of Harry Potter locations around the area. So, you could join up your visit with another spell-binding location.
You can find all sorts of Harry Potter magic in The Cotswolds, Oxfordshire, and the Forest of Dean.
After you've explored Gloucester Cathedral, make sure you head to these magical places next!
Lacock Village & Abbey
If you wanted to continue your visit to Hogwarts, then make sure you head over to Lacock Abbey in Wiltshire.
The Lacock Abbey Cloisters were also used to represent the Hogwarts Corridors' that the students used to walk down on their way to classes.
Also, the Sacristy and the Warming Room in the abbey were used for Snape's Potion's Class and Professor Quirrel's Defence Against the Dark Arts class! Plus, you can even see where Harry looked into the Mirror of Erised.
Around the village, you'll find even more Harry Potter locations like Harry's parents' home, Budleigh Babberton, and Horace Slughorn's Hideaway.
Click here to read my complete guide on all the Harry Potter filming locations in Lacock with a FREE map!
As well as the Harry Potter locations, this is the oldest village in England and it's absolutely gorgeous with plenty of amazing things to do.
There are also many more filming locations you'll recognise. Click here for a complete visitor guide with the best places to visit.
The Forest of Dean
If you have read all the books, you will already know that the Forest of Dean was mentioned in Harry Potter and the Deathly Hallows.
After Ron abandons Hermione and Harry on their search for Horcruxes, Hermione apparates both her and Harry to a new location in the Forest of Dean.
Hermione explains that this was the place she travelled to with her parents as a child and they won't be disturbed by You Know Who.
But, what you may not know is that they also used it during the filming of Harry Potter and the Deathly Hallows: Part 1! So, those scenes really were filmed in the Forest of Dean.
You'll see many scenes in the movie of Harry and Hermione camped out here and you can even visit the riverside location near Symonds Yat!
Coppett Hill & Symonds Yat
One of the highlights of a visit to the Forest of Dean and Wye Valley has to be the incredible viewpoint from Symonds Yat Rock!
You may recognise the view from here which featured briefly in Harry Potter and the Deathly Hallows Part 1.
From this viewpoint, you'll also recognise the U-Bend in the river where Harry, Ron, and Hermione can be seen walking from above in the movie.
As well as the Forest of Dean woodlands being used for filming in Harry Potter and they also filmed on Coppett Hill.
You can easily see Coppett Hill which is next to the River Wye from Symonds Yat Rock. However, how to get to that exact location is a mystery.
Click here to read my travel guide for visiting Symonds Yat Rock!
The Quidditch town of Tutshill
You can't visit Gloucestershire without paying a visit to the childhood home of J. K. Rowling. It's located in the small parish of Tutshill which is just a mile from Chepstow in Wales.
If the name sounds familiar, you may recognise it from the Quidditch Team in Harry Potter – The Tutshill Tornados! She used many names around the county and the UK for characters and places in the books!
Today, Tutshill is officially an honorary Quidditch town and was awarded the status by Bloomsbury who was the publisher of Harry Potter.
There are 11 honorary Quidditch Towns all over the country who currently have the status. The hype came after her latest book on the Wizarding World, 'Quidditch Through the Ages'.
If you head to St Luke's parish church of Tutshill, you'll see the Quidditch Goal Post hanging up outside. It even has a flag with the team colours and mascot on it!
J. K. Rowling's childhood home is just outside to the right. Bookworms will love the free library swap located just down the road from here!
Click here to read my complete guide to the Tutshill Quidditch Town!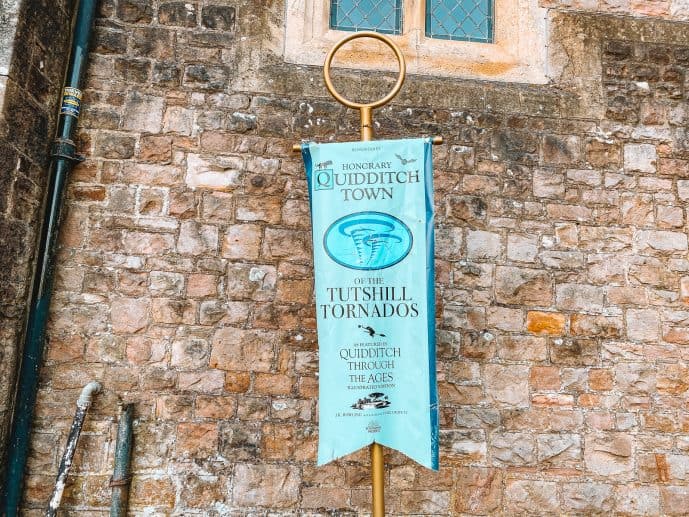 Stinchcombe & Dursley
There are some more villages and towns in Gloucestershire that may be of interest to Harry Potter fans!
The small village of Stinchcombe is where The Potter family originated in the Wizarding World. In fact, they descend from the twelfth-century wizard Linfred of Stinchcomb;
"Linfred was a locally well-beloved and eccentric man, whose nickname, 'the Potterer', became corrupted in time to 'Potter'. Linfred was a vague and absent-minded fellow whose Muggle neighbours often called upon his medicinal services"
This is very close to the market town of Dursley, whose name inspired a rather mean muggle family that locked Harry Potter in the cupboard under the stairs!
It is said that J. K. Rowling named the Dursleys after the town as she didn't like the place. She commented "I don't imagine I'm very popular in Dursley".
I would only visit these places if you have the time as there are no filming locations in either of them. But, Potterheads may love to see them for the references.
Oxford
Oxford is another amazing place to visit if you love Harry Potter. In fact, you could spend all day in this city losing yourself in the rooms used for Hogwarts!
Oxford is filled with amazing historic buildings and colleges which form part of Oxford University and many of them are featured in the movies!
For example, the Duke of Humphrey's Library was the Hogwarts Library and The Divinity School was where Harry met Dobby. The New College Cloisters also double up as Hogwarts.
Beyond actual filming locations, there are many rooms that inspired the movies like the Christchurch Dining Hall. This was an inspiration for Hogwarts Dining Hall!
The good thing is that you don't need to be a student to see them. Many open up for tours throughout the day.
Oxford is just a 90-minute drive along the A40 from Gloucester. So, it's a great stop on a Harry Potter UK tour!
Click here to read my complete Harry Potter guide for Oxford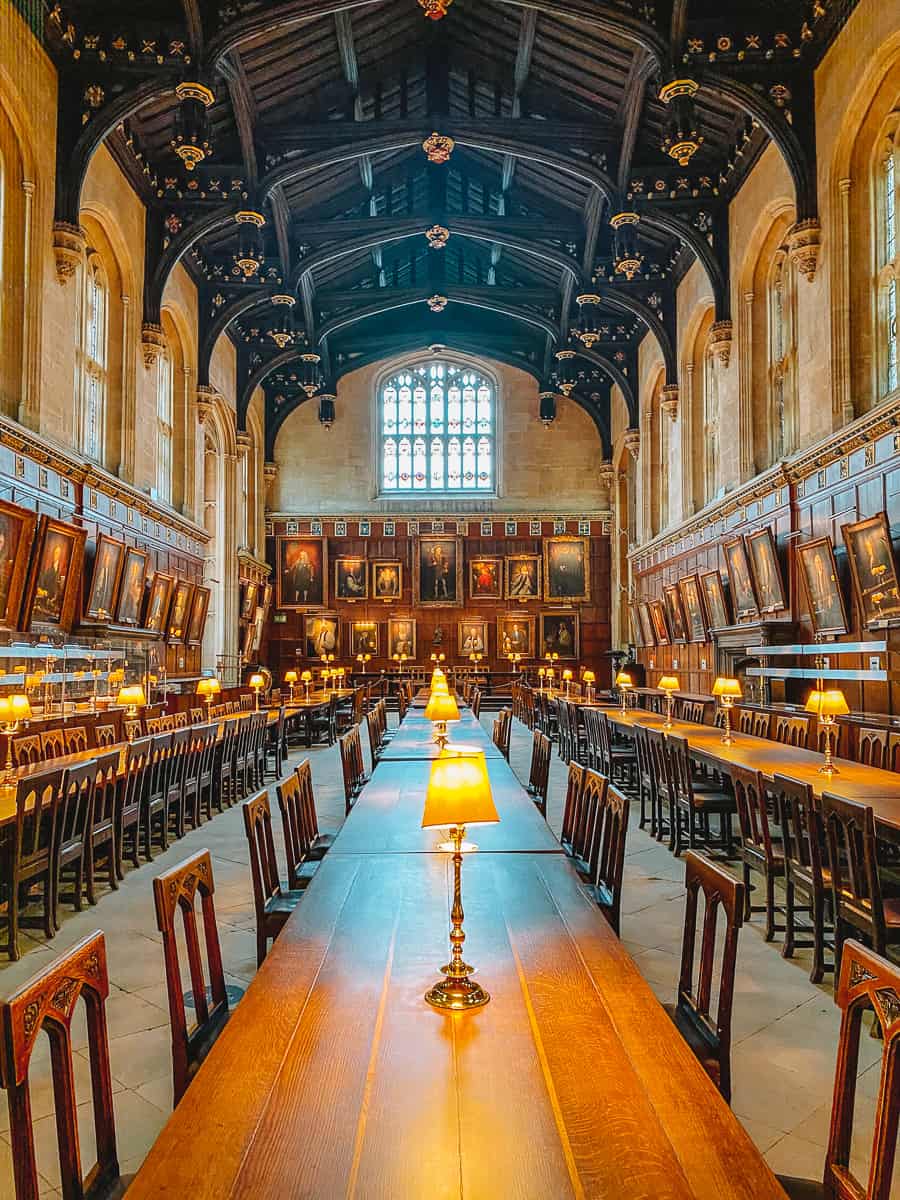 Blenheim Palace
Just a few miles from Oxford is the gorgeous stately home of Blenheim Palace. But, what does that have to do with Harry Potter?
Well, it's actually home to a famous tree that featured in the Order of the Phoenix. You'll find it in the flashback scene of Snape's Worst Memory.
Although Blenheim Palace is an expensive visit, you can actually visit the grounds around the home and see this tree for FREE!
Click here to find out how to find the Harry Potter Tree at Blenheim Palace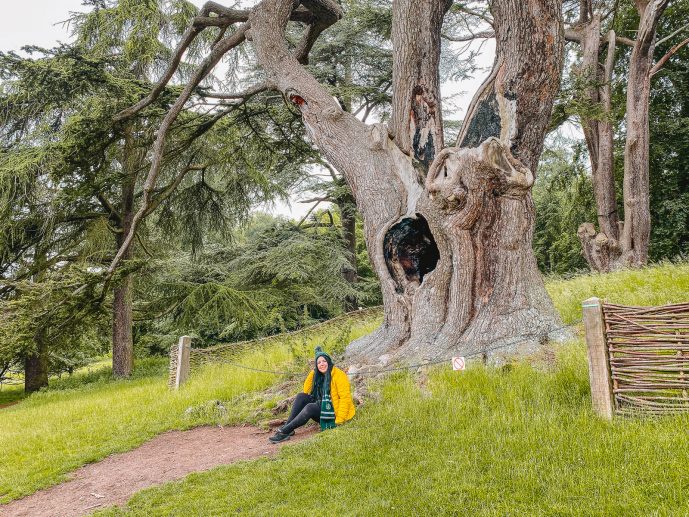 Read even more of my Harry Potter travel guides
How to ride the real life Hogwarts Express in Scotland
Harry Potter locations in York
The Shop That Must Not Be Named
How to find Dobby's Grave in Wales
How to spend the night in Hagrid's Hut
How to visit Tom Riddle's grave in Edinburgh
Harry Potter locations in Edinburgh
All the Harry Potter filming locations in Scotland
How to see the Hogwarts Express in Scotland
All the Harry Potter filming locations in Alnwick Castle
A complete Forbidden Forest Experience review
How to visit the real Godric's Hollow in Lavenham
The most magical photo locations at the Wizarding World of Harry Potter
How to visit Malfoy Manor in real life!
Harry Potter locations in Exeter
Harry Potter filming locations in Virginia Water
How to visit a real-life Knockturn Alley
Is Cecil Court a real Diagon Alley in London?
How to visit Dumbledore's Grave in Scotland
Harry Potter filming locations at Durham Cathedral
Save these Gloucester Cathedral Harry Potter filming locations for later!