If you're heading to Goa, no doubt it's because you've seen pictures of pristine beaches, magical palm trees and the beautiful turquoise sea.
It's India's number one beach and family holiday destination and for a good reason, it's absolutely stunning.
But the is so much to do in Goa beyond beaches.
Now don't get me wrong, I love a beach. In fact, I love the sea and there's something about it that makes me feel at home. But, I cannot sit on one for hours cooking away. I get too restless, hot and need to move on!
I headed to north Goa for a weekend (cue the 'not enough time' comments) and I knew I needed more to do than sunbathing my time away.
So, I researched a few places to explore and see Goa beyond sipping a coconut in my bikini!
If you're not a beach bunny like me, this is the post for you. Or, if you have a long holiday and just need a break from topping up your tan to keep reading to find out more.
Here are the top things to do in Goa beyond beaches.
Goa beyond beaches – 5 interesting things to do in Goa that AREN'T the beach!
1. Sahakari Spice Farm
If you're wondering what spices go into your food in India and where they come from, Sahakari Spice Farm is your ticket.
This plantation is the cutest little attraction to visit in Goa and they're most happy to show you around.
You will be welcomed by the team and, with a local drink in hand, wait for your tour.
Don't be surprised if a group who arrived later goes before you; they're most likely going to be experiencing the tour in Hindi.
English tours run a little less frequently as there are fewer guides.
Tours of Sahariska Spice Farm in Goa
Your informative guide will take you around the farm and tell you about all the spices which grow there.
I actually found this really interesting as a lot of spices are obviously not native to the UK…duh.
You can chomp away at your tikka masala, never really knowing what the spices looked like before they're crushed up and put in a jar at the supermarket!
Look out for some of the elephants which roam around the area.
I didn't participate, but you can get involved in some elephant riding here. We were fortunate enough to catch one taking a bath to cool down from the noonday sun.
2. Try Cashw Feni
Another great thing about this place is you can sample some of the local spirit distilled here; Cashew Feni.
Supposedly for medicinal purposes, this alcohol is made of locally grown cashew apples that can cure all sorts of illnesses.
Of course, if you have one too many the side effects don't have the same healing properties!
It's a pretty strong brew, but make sure you try some while you're here.
After your tour, you'll probably be pretty hot from exploring the jungle so the team is on hand to cool you down.
They will pour some spiced water down your back. As you can see, it definitely sends a chill up your spine!
3. Sample some AMAZING Goan Cuisine
The part that most people come for is the 'all you can eat' buffet lunch which is served complimentary with your ticket.
All the food which is on offer to you is locally grown and made here fresh every day!
You have to try it for yourself, it is delicious. This makes the attraction well worth the value for money.
4. Visit the Basilica of Bom Jesus
A UNESCO world heritage site and one of the oldest churches in Goa, the Basilica of Bom Jesus is famous to those who practice the Catholic faith.
It contains the tomb and preserved corpse of Saint Francis Xavier who is the apostle of the Indies.
Saint Francis was a missionary who dedicated a lot of cause to Asia. In 1542 he arrived in the capital of Portuguese India; Goa.
His mission was to restore the Catholic faith to the Portuguese settlers who were living there. He died en route to China in 1552 from a fever.
This church opened its doors in 1605 and St. Francis' body when it arrived was supposed 'as fresh as the day he was buried'.
He is encased in a glass coffin ready for tourists to take a peek and is supposed to have healing properties. Every decade, the casket is opened for the exhibition.
Today, the basilica is still an active church and services take place daily. It's free to enter but donations are welcome.
5. The Church of St. Francis of Assisi
Across the road, you can walk into the beautiful plastered white church, the St. Francis Church of Assisi.
Another church left by the Portuguese settlement in 1661, is spectacularly decorated.
The minute detail in the architecture is stunning with gold, chandeliers, and old paintings on the walls. It's also a wonderful respite from the heat.
6. Church of the immaculate conception
A popular Bollywood filming location, this church is so picturesque to look at.
The white plastered walls with splashes of electric blue really make a statement in the middle of Panjim.
Again, built by the Portuguese it was designed in the baroque style which was fashionable in the 1600s.
Today mass is held daily in English, Konkani, and Portuguese! It also holds the second largest church bell in Goa.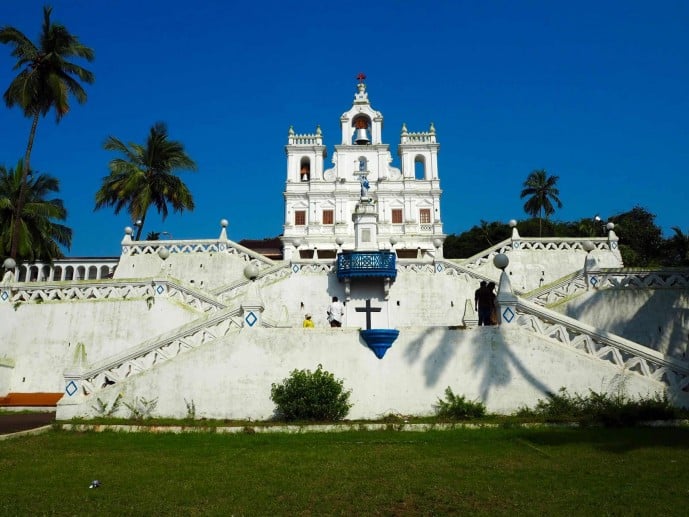 7. Ruins of St. Augustine
Built in 1602 by St. Augustinian friars, the St. Augustine Church used to boast a huge belfry tower and be a large convent for Catholics.
Suffering from neglect after the Portuguese fled Goa in 1835, the church rapidly went into decay and collapsed.
Today, you can still wander around what's left and explore the ruins. I found it was a really peaceful place with a good vibe. The entrance is free.
8. Cruise along the Mandovi River
After a busy day of exploring churches, you can finish off your day with a boat ride at sunset.
Surprisingly there are a lot of casino boats in north Goa near the Mandovi river if that floats your boat (get it?)!
Deciding to save our rupees, we ended up taking a quick one-hour round cruise. I must warn you, they really pack the tourists in here and so you'll find you won't have much room when you sit down.
However, it doesn't take away from the fantastic views you'll get as you float along.
A lot of the boat rides along Mandovi hold their own disco on the bottom deck so if you did want to party the night away at sea, this is the place to do it.
Our boat also had a bar, so you can sip a well-earned Kingfisher. The boat ride was 300 rupees per adult.
Save this Goa beyond beaches guide for later!
There really is a lot to do in Goa beyond beaches which don't include the beach.
Of course, they are the main attractions here but they're not your only option when in the area.
If you did want to explore all of these places, you can get a great deal on an air-conditioned taxi for the day to see the sights.
Just enquire at any of the travel booking offices.
My friend and I paid around 1800 rupees for 8 hours which was great value for money as Goa is a big place to find your way around!
Heading around the south of India? Read more of my articles!
If you're on an EPIC adventure in South India, make sure you read some of my informative travel guides;
A first timers guide for Mumbai
My one week in Kerala Itinerary
Amazing things to see in Alleppey
A guide for the Kerala backwaters
The best Munnar tea plantations
A complete guide for Pondicherry
Visiting Auroville from Pondicherry