Before I took a GoBus in Egypt as a tourist, I read awful reviews of unsafe drivers, dirty buses, and bad experiences.
So, I was pretty surprised when I walked onto my amazingly air-conditioned bus and found a professional driver that greeted me with a smile. I also found pristine spacious leather seats, USB charging ports, amazing WiFi, and touch screen TV with Hollywood movies (and in English too)!
GoBus Egypt is one of the leading companies for bus travel across the country. They reach many destinations and are extremely affordable which appeals to tourists and locals alike.
But, what's a journey onboard the GoBus really like?
In this complete GoBus Egypt review, I'm going to explain how to book the GoBus, what services they offer, and try to demystify the whole travel experience.
Practical information before you visit Egypt
You will need a tourist visa for Egypt. These can be bought for $25USD at the border or in advance online. Check out my post all about securing one as a UK citizen but this applies for most countries.
You will need travel insurance for Egypt I always choose World Nomad's as their policies cover a wide range of adventure activities. I would also consider buying camera insurance from a separate provider in case something goes wrong. I chose Ripe Insurance.
Egypt uses the Egyptian pound and at the time of writing £22 Egyptian Pounds = £1 British Pound.
What is GoBus Egypt?
GoBus Egypt is an Egyptian bus company that offers coach services connecting people with many destinations across Egypt.
I had never heard of these guys before I landed but many locals recommended their services, even my guide on my Nile cruise. So, I thought I'd give them a shot.
They have a massive fleet of coaches in all different classes and many services that run daily throughout Egypt.
They are the perfect choice for those not looking to do a tour, travel around Egypt independently and if you're on a tight budget.
Who is the GoBus Egypt for?
The budget traveller in Egypt who wants to save some serious money on travel costs – the GoBus is so cheap compared to flights and trains
Anyone who wants to avoid those dreaded mini-buses (aka death machines) – bigger buses means slower and safer travel. They do run a 'minibus' service to Alexandria from Cairo, I would NOT recommend this. Take the larger classic or elite plus buses.
The traveller who wants comfort on bus journeys- leather seats, footrests and snacks, bliss!
The unorganised traveller who likes to book travel on the fly – compared to the train ticket system in Egypt, GoBus has an app, it's instant and a breeze to book on the day
The traveller who wants to go somewhere trains don't run a service for i.e. Hurghada / Sharm El Sheikh / Dahab
Is GoBus safe? Are GoBus drivers safe?
I was a solo female traveller in Egypt and caught the GoBus eight times while I was there! On every occasion, it was completely safe, even late at night.
The drivers were always incredibly friendly, patient and there was never any road rage at all. In fact, compared to India (where I used to live), I hardly heard them beep the horn at all!
There are single seats available so you don't have to sit next to someone if you don't want to, which I found a huge comfort.
The roads in Egypt are pretty smooth and the traffic wasn't all that bad. So, the driver didn't have any reason to speed. It's a big coach so that makes speeding practically impossible anyway!
Where does the GoBus run in Egypt?
The GoBus in Egypt has many stations across the country;
Cairo – Giza (for the Pyramids!), Abdel Moniem Ryiad, Nasr City, Qolali, Almaza
Alexandria – Sadi Gaber, Abis, Moharam BK, Mahtet El-Ramel
Luxor – Luxor bus station
Hurghada – Hurghada bus station, Rogina, El Gouna, El Sakalla
Sharm El Sheikh – Watania, Royssat
Dahab – Dahab Bus Station
Quena, Marsa Matrouh, Porto Sokhna and Marsa Allam too.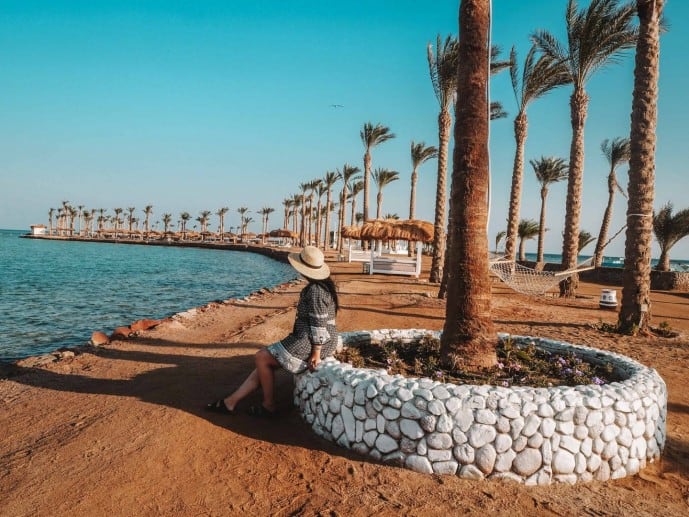 The GoBus does not run to…
Aswan – no GoBuses run to Aswan, but a train from Luxor to Aswan takes only a few hours and first-class is cheap. Read my Aswan guide here.
Abu Simbel – no GoBuses run to Abu Simbel, you will need a coach tour or a taxi. See my guide here.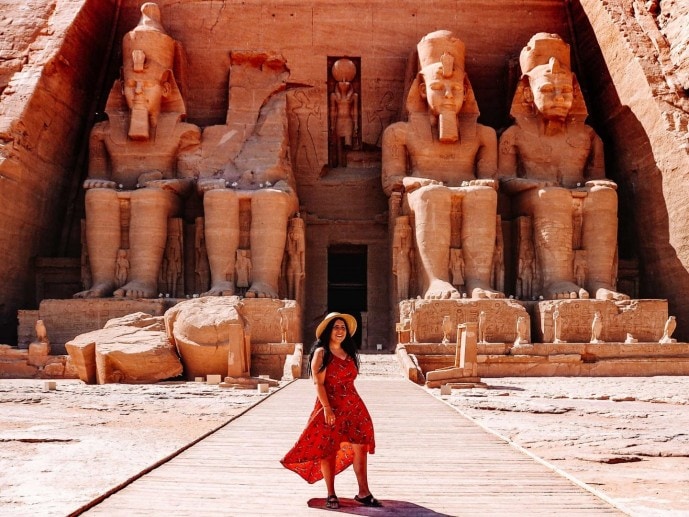 GoBus classes and services
First up, before you even consider booking a GoBus. I would review the different services or classes they offer.
This usually was the deciding factor for me on the time I left the destination on my GoBus. Different services run at different points of the day.
There are lots of different GoBus classes. But, I'll list the most common here…
Classic – your very basic bus and the cheapest. It will have an overhead TV which is shared by the whole bus. Lots of seating but not necessarily any phone chargers. Definitely no WiFi but will have Air Con.
New Deluxe – a slightly better version of the Classic. Air con, WiFi and overhead TV provided.
Go Mini – a mini bus that typically routes from Cairo to Alexandria. I'd personally avoid these like the plague. They are so dangerous and the drivers are crazy.
Elite Plus – my kind of bus! This has food and hot drinks provided, interactive TV, WiFi, snacks, premium seating, air con, phone charging ports and the works.
Elite DD – not really sure of the difference between Plus & DD as the icons are the same on the website. But, I presume a slightly fancier bus than the Elite Plus?
Aero – Again same icons, as Elite Plus and Elite DD? So, I'm sure it's similar.
Although the premium buses are slightly more expensive. The extra money is worth it for comfort on long journeys!
The first one I got from Luxor to Hurghada was on their classic service. It was okay, clean, and comfortable and it was only a short 4-hour journey.
But, when I found out about the GoBus luxury classes this changed it all for me!
After that, and for longer journeys, I would go for their Business Class or Elite Plus.
These services had spacious leather seats, WiFi, a private touch screen TV so you could watch movies of your choice. They also provided snack boxes and hot drinks.
It made the tedious long journey leg from Hurghada to Cairo and Cairo to Sharm El Sheik that much more comfortable.
Although, I did watch IT on the bus so spent the whole journey petrified that Pennywise the clown would jump out at me!
Note: you can check what facilities your bus class will have on the GoBus app. These will usually be shown with icons. For example, toilet, entertainment, food etc.
How do I book a GoBus in Egypt?
There are 3 ways to book the GoBus in Egypt;
At the GoBus counter – just pop in and let them know where you'd like to go and when. I would usually only do this if I was heading out at that moment. Make sure you ask to see where they have allocated your seat. GoBus usually have a nice waiting area for your bus in the air con.
Online via their website – super easy. There's an Arabic and English version. You just say where you'd like to go, look at classes, services and prices, select your ticket and pay via card online. You can select your seat and away you go.
Via the GoBus app – my personal favourite so I could book on the go! I also found that the payment by card option worked so much better on the app too. Plus, your details get loaded onto the app and they remember you for next time. You can select your seat, look at classes and load a profile of you as well. Click here for iPhone or here for Android.
Luggage on board GoBus Egypt
There is no limit to the amount of luggage to board the GoBus. Not any that were actually enforced anyway.
But, obviously, you can't use it to move a whole house! As a tourist, I presume you'll have a set amount of suitcases anyway.
There is no charge online to load your luggage onto the bus, but I found that people asked me for a 5 Egyptian Pound tip or backsheesh for luggage handling.
This varied from bus to bus, some guys charged no money at all and some tried for 10 and I refused and gave 5EGP. No locals seemed to be paying though, only tourists were asked.
So, I'm not entirely sure if it was actually a real charge with GoBus or a scam but a 5EGP tip is fine by me. Even though I could easily load my own luggage in the hold lol.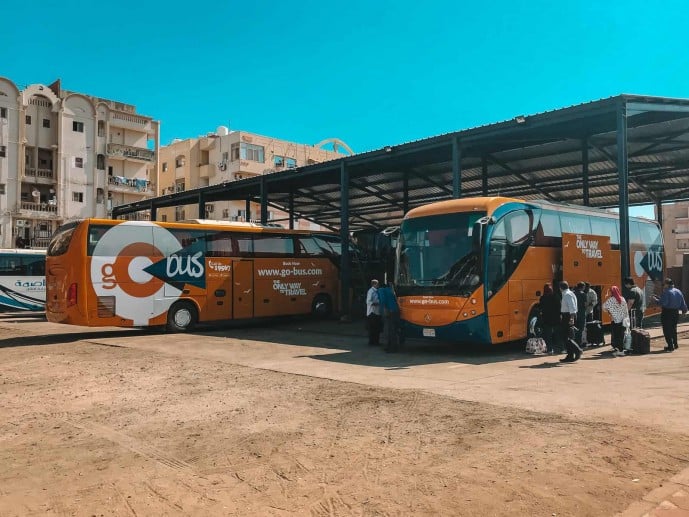 Food and snacks onboard GoBus Egypt
It was never going to be luxury cuisine, I knew that before I boarded. But, I have to admit the GoBus snack boxes were great!
You would get a bottle of water (mini so for long journeys stock up), packaged biscuits, juice and a packaged sandwich.
I also loved the buses where you received tea or coffee with the journey too. The roads are really smooth so no spilled drink situations.
WiFi and TV onboard GoBus Egypt
The thing I loved was the fact that the GoBus has FREE WiFi. The WiFi is notoriously bad in Egypt so don't expect a super-fast connection but you can get connected in built-up areas!
I did find that the WiFi router is close to the driver, so I would book a seat at the front of the bus.
As for the TV, on the classic service, you'd watch the movie on the overhead. It was usually in Arabic so I had no clue what was going on and no English subtitles either.
If you want to find a way to stay connected, click here for the WiFi Hotspot I recommend
But, on the Elite and Business Classes, I was super impressed by the choice. It was like a media system similar to what you'd find on an aeroplane.
There were TV shows, Hollywood movies, Bollywood movies, Egyptian cinema, games, you could even connect to Facebook on their app.
On the super-long journeys from Cairo to Hurghada, this was the best thing. I watched IT, Beauty and the Beast, The Mummy, Rampage, and even Avengers. There was so much to choose from.
So make sure you have some headphones with a jack connection handy to be able to listen to the sound.
Typical GoBus Egypt routes and timings & prices
I did go on a fair few journeys with GoBus Egypt and found that some of their bus timings could be more of a prayer than a plan. I'll list out some typical tourist routes and their timings;
Cairo – Alexandria – 2 hours and a half (Elite Plus 115 EGP = £5/$6)
Cairo – Hurghada – 8 hours (Deluxe Plus 225EGP = £11/$13)
Cairo – Sharm El Sheikh – 11 hours (as we had people on board who were being questioned, there's LOT's of security stops (Deluxe Plus 225EGP = £11/$13)
Cairo – Luxor – 12 hours (Deluxe Plus £255EGP = £12.50/$15)
Luxor – Hurghada – 4 hours (Deluxe Plus 135EGP = £6.50/$8)
GoBus rest stops on the journey
Although you do get fed on some of the GoBus journeys, they still stop at rest stops on the way to your destination for a well deserve toilet and tea break.
Even if the journey is only 2 hours, you'll stop somewhere.
Some of the services we stopped at were like massive modern food courts with a subway, supermarket, burrito stall. With Mexican music playing oddly.
Others were more like a shack on the side of the road. But still, the food, service and more importantly toilets were clean.
In a lot of the tourist stops, you will have to sit down toilets as well as squatters (as I like to call them). But, you will get charged for toilet roll and be expected to tip at the end.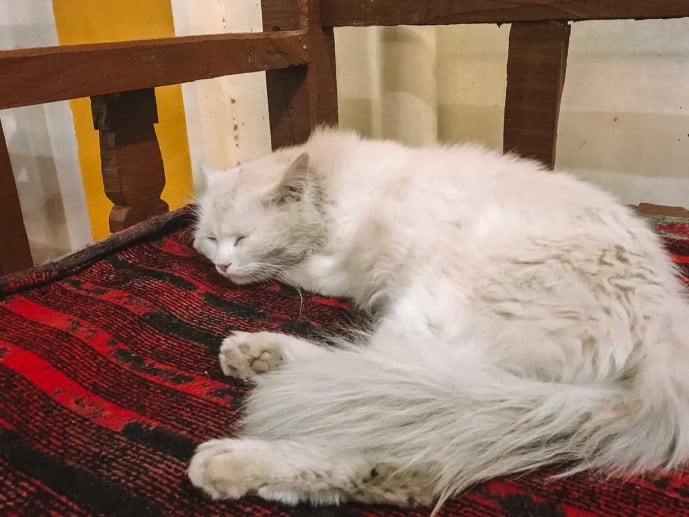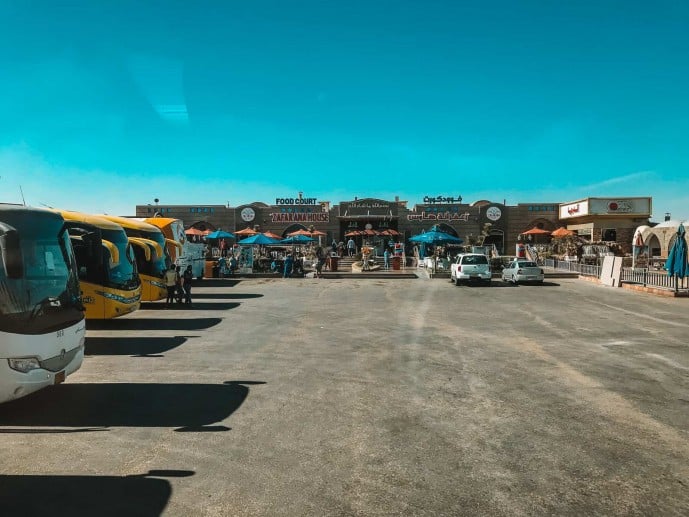 What to pack for your journey with Gobus Egypt
Before every bus journey, I'd make sure I had the following nearby so I was prepared;
A blanket, socks or warm clothes – the air con can get freezing on these buses
Headphones – so I could listen to the movies on the TV screen
My phone charger cable – there are USB ports to charge equipment
A bottle of water – the one they give you is like a thimble so pack extra
Snacks – I always buy the equivalent of Oreo's with me just in case
Toilet roll – I'm happy to pay but the toilet roll they give you is so thin and they are scrimpy with it. I would always pack a roll with me and just gave an extra tip if they were annoyed about it.
Click here to read my complete packing list for your vacation in Egypt
Where does the GoBus drop you off at your destination?
Most of the time, the GoBus will drop you off at their office in the city if they have one. They had one in Sharm El Sheikh and Luxor.
In Cairo, I missed my stop for Giza and ended up near the airport which resulted in an expensive Uber back to Giza.
Yes, there is Uber in Egypt and it's safe. I have a whole article on how to use it here.
In some areas like Hurghada, Cairo (Tahrir), and Alexandria, they will drop off and pick up at the city bus station.
If there is no Uber available, it's then an overpriced taxi journey into the main city. Make sure to haggle hard and try to buddy up with some travellers to keep the price down.
Top tips for using GoBus Egypt
I would always book a bus seat near the front of the bus if only so I could get a better WiFi signal. Also, the journey was less bumpy this way.
GoBus is strictly no smoking (thank god somewhere was in Egypt) but there are stops if you need a fix.
Some of the buses don't have toilets on the bus, others do. But, if it does, try to avoid a seat next to the loo as you'll smell it the whole journey.
Always make sure you turn up at least 15 minutes before your bus. In Cairo, the bus stop was actually over the road from the GoBus office and someone chaperoned us over through the traffic. But, remember, these usually run on Egyptian time, which means LATE.
Solo female travellers may choose to book single seats if these are available. These were always my choice.
Personally, I always lock my luggage up with a TSA lock (my big suitcase and carry on), just to be safe. I haven't read anywhere about stealing but it's best to make sure and keep it in sight.
Personally, I loved GoBus Egypt
I don't know if some of the bad GoBus Egypt reviews that have been written were legit or fake; Egypt has a massive track record of fake reviews by other businesses to take each other down.
But, what I do know, is that I went on these buses 8 times, and each time I had a comfortable journey with a professional service. Add in free snacks and movies to pass the time and I couldn't have asked for more.
I never at one moment as a solo female traveller in Egypt felt unsafe, the drivers were never angry, the driving was calm and I felt in good hands.
It's an affordable, comfortable and safe way to travel in Egypt and I will use GoBus for many of my trips to come.
Looking for more information on Egypt?
If you're heading to Egypt and looking for detailed and informative guides on classic destinations, I have a few articles here that may like to check out;
The top things to do in Cairo
Why you must visit Naguib Mahfouz Cafe in Cairo
My Luxor itinerary for travelling independently
A Nile Cruise from Aswan to Luxor
Top places to visit in Aswan
How to get to Abu Simbel
Hurghada or Sharm El Sheikh which should you choose?
Should you go to the West Desert in Egypt?
Like it? Pin it!