Golitha Falls is one of Bodmin Moor's best beauty spots, a series of scenic cascades set in fairytale woodland – what's not to love?!
As it was a particularly rainy day on the moor, I decided to hide inside the shaded woodlands and do this walk. I figured more rain means a better water flow for the falls…and I was right!
I was not at all disappointed and the Golitha Falls Nature Reserve truly took my breath away. It was like a storybook with babbling brooks, emerald trees, wildlife all around you, and a beautiful waterfall!
This stroll through the nature reserve is also extremely accessible (even with wheelchairs access) and there are a couple of walking route options for every type of traveller. So, it's an ideal trip for anyone.
Here's a complete guide to the Golitha Falls walk on Bodmin Moor with route options, facilities, what to expect, seeing the best falls, and more!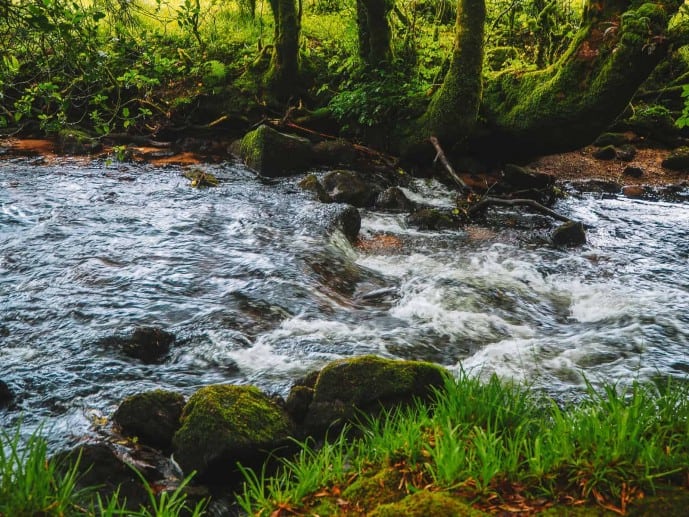 What are the Golitha Falls, exactly?
I have to admit before I went I had no idea what to expect. A 'falls' does put into your mind a picture of a crashing waterfall at a great height.
But, I don't want to get your hopes up. This isn't Niagara falls! The falls are more like a series of scenic cascades that flow on the River Fowey (pronounced Foy-ee) from Cornwall.
You'll find many cascades here, some smaller than others. Plus, some big crashing cascades too if you search for them.
The reason why this is spectacular is that the river flows through ancient woodland.
This area is now called the Golitha Falls nature reserve and has amazing flora, fauna and wildlife to spot as you walk around.
It's one of the most popular spots on Bodmin Moor and its outstanding natural beauty draws thousands of visitors every year!
The ancient legend of Golitha Falls
It seems like every spot on Bodmin Moor has an ancient legend associated with it and the Golitha Falls are no different. As you walk around the woodlands it does feel like there's a certain mystery to it.
Golitha is pronounced 'Gol-ee-tha' which is a Cornish word for obstruction.
Many say that there is an old man of the woods called Golitha and that you can still see him wandering the woodlands on a full moon. There is also a dark history to the Golitha falls too.
King Doniert or Dunrgarth was one of the last Cornish Kings who ruled in the 9th century. He was drowned in Golitha Falls in 875 AD.
Some say he was murdered. You can find King Doniert's stone on a short walk from Golitha Falls after your visit!
When is the best time to visit Golitha Falls?
There isn't really a 'bad' time to visit Golitha Falls which is a popular woodland walk all year round.
I visited on a rather grim rainy day in June and it was a great choice as the woodlands shaded you from getting wet! But, the floor was quite boggy.
In the summer season, this is a lovely walk as well as it's nice and shaded from the sun and not as exposed as other parts of Bodmin Moor.
In the winter, it's even seen snow and icicles which would look completely magical.
The only thing I would recommend is visiting with a reasonable amount of daylight left. There is next to no lighting on the moor at night and it's pitch black – it's famous for getting people lost!
Where are the Golitha Falls in Cornwall?
The Golitha Falls nature reserve is part of Bodmin Moor which is an Area of Outstanding Natural Beauty.
It's around a 10-minute drive from the nearby town of Liskeard, 15 minutes out of Bolventor (Jamaica Inn) from the A30, and 30-minute drive from the Eden Project in Par.
It is well-signposted throughout the moor as it is a popular spot for tourists.
Travel options for the Golitha Falls Nature Reserve
It's easiest to have your own car to drive around Bodmin Moor as it's a remote area with many locations having no or infrequent bus services.
Phone signal is very limited around here as well, so I would make sure you have some form of SatNav, GPS, or offline map like from maps.me.
Although most of the moor is well signposted with tourist attractions, it is easy to get lost on the small winding roads if you take a wrong turn!
Bus to Golitha falls: There is a bus from Liskeard to Golitha Falls but it will drop you off around 20 minutes walk away. The number 74 from Lloyd's Bank in Liskeard will drop you off at Commonmoor Turn and then you can walk to Golitha falls from there. See here for a bus timetable.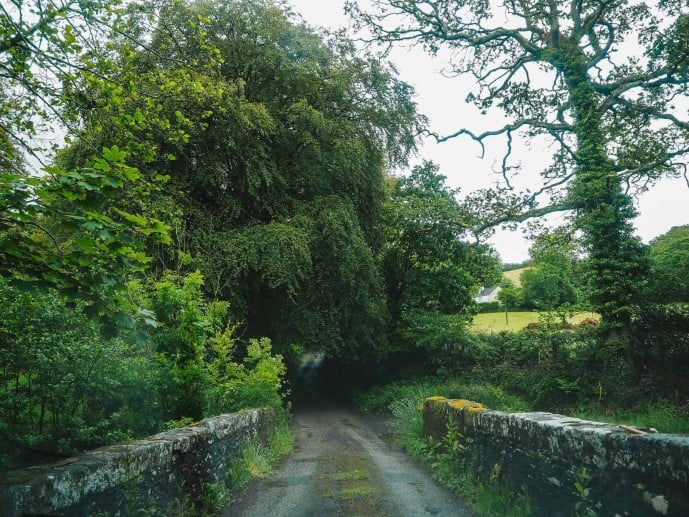 Golitha Falls Car Park
There is a FREE large car park at Golitha Falls (woop!) that is open 24 hours a day.
This does get quite busy in the summer with walkers and larger camper vans are also allowed to park up inside here as well.
The car park is situated around a half-mile away from the Golitha Falls and it will take you around 5-10 minutes to reach it from there depending on your walking speed. Although it is gravel, it can get muddy!
In the car park, there are also some small facilities like Inkie's smokehouse that serves up an amazing menu with coffees and Inkie's trading post next door! More on that later…
Travel tips and warnings before your walk
The Golitha Falls are FREE to visit and are open 24 hours a day – but visit in reasonable daylight
Dog's are welcome on the walk all year round and I did see some enjoying swimming in the river! Just watch out for wildlife
There are accessible routes and harder routes – walk within your limits, the ground is sometimes really uneven on the harder route and you'll need to hop over logs and some stepping stones etc.
Be careful around the cascades of the falls, there have been many unfortunate incidents and even some tragic deaths in recent years due to people slipping and being carried away by the river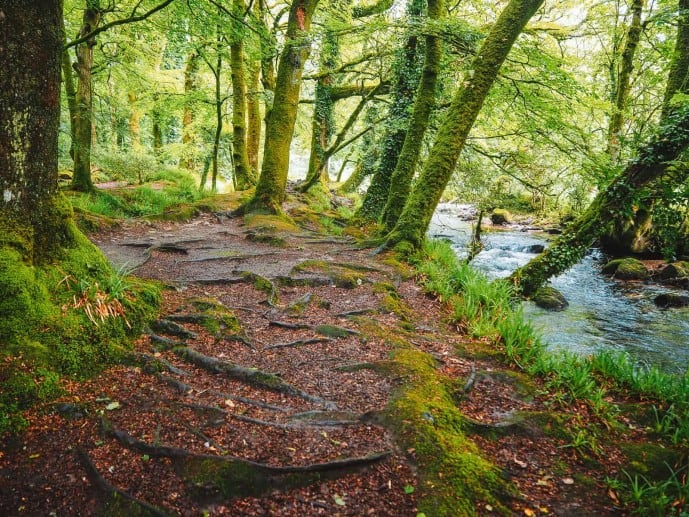 What to wear for the Golitha Falls walk & packing list
A good pair of shoes – The woodlands can get really boggy with mud as they are on a moor, especially if it has been raining for a few days. Bring a good pair of walking shoes or waterproof boots
Appropriate clothes for the weather – Bodmin Moor is almost like it's own micro-climate so come prepared for rain or shine!
A bottle of water – It's not so strenuous but there are no facilities in the woodlands themselves so come prepared with something to drink. Of course, there is the river to drink from too and fill up your bottle from too but I don't know how fresh it is.
Snacks – Again no facilities but there is an amazing café in the car park called Inkie's Smokehouse if you'd prefer a cooked bite to eat!
Torch/phone light – if you're visiting later in the day, the woodlands are mostly shaded and can get quite dark. It's better to be safe than sorry.
Bug spray – In the summer months there are quite a few bugs flying around. So if you're like me and bugs love you, I would bring something to stop them biting.
Camera – pics or it didn't happen!
Golitha Falls walking route options in the nature reserve
So, once you're all parked up and ready to head out there are a few walking options available to you.
Both routes start out together and then when you reach the River Fowey, they split up. I personally did both so will go through each.
The paths are clearly marked with red and yellow arrows to guide you;
Red arrow route – The route is an easy circular walk, this will take around 20-30 minutes to reach the falls and back. It's accessible and there is also a wheelchair/pushchair pathway, look out for the signs! Although this does say it is accessible, it can still be quite challenging with tree roots and mud.
Yellow arrow route – The second route will take you on a much longer walk down to the see the

larger cascades. This is a lot harder with more obstacles, steep paths and uneven ground. But, it is worth it to see the bigger cascades if you're keen. I'd allow at least 45 minutes to an hour.
Red route – The easy accessible route with small scenic cascades
This circular walk is very scenic from the car park through the woodlands and back.
You'll get to see the River Fowey, it will take you alongside it and there is a small number of cascades to be seen from this route at the river bend.
There is a well-laid flat gravel path, a wooden bridge to cross over, and a small circular walk. There are a number of tree roots on the floor which can make this a bit challenging for some – so watch your step.
The scenic route has some picnic benches and rest spots by the river, with a small notice board and some information about the falls as well. Plus, there are boards that tell you what sort of animals live here!
Although this walk is really pretty, you will need to walk further into the woodlands to see the bigger cascades and this is where it gets more challenging.
From the circular route, you can follow the markers along towards the big cascades.
Yellow route – The harder longer route with bigger cascades and waterfalls
This route starts off really easy, save a few pesky tree roots overgrown on the floor, then gradually ends up getting harder.
You essentially follow the river bed all the way down to the larger crashing cascades!
This does come with some mucky ground, bridges, logs to balance on and steep/uneven ground. It does require a certain amount of scrabbling.
I saw an elderly gentleman fall over quite badly here and hurt himself which was quite scary. He was a trooper though and kept going, bless him!
From seeing this, I would like to stress to walk within your limits and be careful as you go.
It is totally worth doing if you feel able to and you will be rewarded with some stunning scenery!
What to expect on the harder Golitha Falls walk
Having done both of the walks, I definitely found the harder walk a bit of a challenge.
There are a lot of tree roots and stones jutting out of the floor that is covered with leaves here. So, it's hard to see where these are to avoid them.
There are also parts that were really wet and boggy as the woodlands don't get much daylight and some logs to do a bit of a balancing act on. I'll take you through what to expect below.
Pretty views of cascades
As you're walking along the river there are a number of pretty cascades to admire that are framed with gorgeous leafy green trees.
You can stop by here and relax by the river, take some photos or just walk past them taking in the scenery on your way.
Some of these cascades are more dramatic than others but I'd say the biggest waterfall was at the end part before the walk becomes inaccessible.
Bridges, log crossings & bogs!
Some of the tributaries stream from the River Fowey snake through the woodlands and there are a number of crossings that you'll need to take to hop over them.
Some were really easy like the iron bridges that have been here for a century or more, others were logs and stepping stones that had been placed here by other travellers.
I found balancing on these quite challenging but then I do have the balance of a rhino!
It was also really boggy in parts so I was trying to avoid getting my feet really wet in puddles and squelching floors – and this was in 'sunny' June.
So, bring some good waterproof shoes just in case you slip into the streams or get mucky.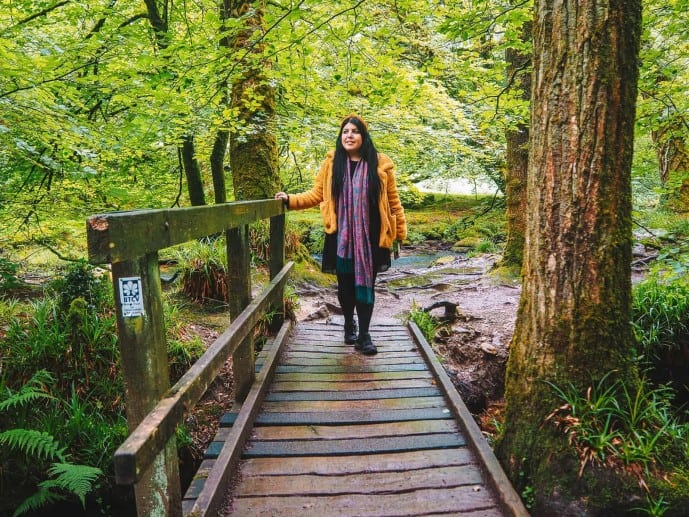 Steep and uneven ground
Some parts of the river bed path become a little inaccessible and require you to veer off to the sides, especially near the end of the walk.
These can be quite steep muddy places to navigate and have tree roots growing all over the uneven ground.
I would definitely assess the various woodland routes available and see what is best for your capability. Some parts aren't obviously marked out!
An amazing waterfall at the end!
So, I knew that I eventually came to the end of the walk when I saw a family taking some photos of the larger cascade at the end of the river.
After this steepest cascade, the public path comes to a halt, and then you'll need to circle back around the woodlands to the car park.
I was SO happy when I finally made it to the largest cascade as it made the walk feel worth it to me.
It was really beautiful here, so I stopped to take lots of photos and take a well-needed break! Although the word 'falls' is a bit misleading, it is still really pretty and worth the effort.
Heading back to the Golitha Falls car park
As I really didn't know where the path would lead further down and into the woods, I just turned back and walked the same way to my car.
It can be better to stick to what you know and the river is a great place to keep you on the right path.
However, if you were keen, I believe there is a loop around you can take into the woodlands that will eventually lead you back to the car park too. But, don't take my word on that!
King Doniert's Stone
There is a small walk that you can take after Golitha Falls that will lead you to King Doniert's Stone.
King Doniert or Dunrgarth was a Cornish King and one of the last recorded in history. He drowned in the Golitha falls around 875 AD.
The stone is actually a set of two pieces of a wayside cross. The inscriptions that are on the cross are a commemorative message for King Doniert who died nearby.
One of the stones reads "Doniert rogavit pro anima" which means "Doniert has asked [for this to be made] for his soul['s sake']".
Christianity was first brought to Cornwall by Irish and Welsh monks. But, it wasn't an easy battle!
Whenever they won a 'victory' for Christ by preaching at a site, they would erect a wooden cross there.
Over time, when Christianity took hold, these wooden crosses were replaced with stone ones.
If you didn't fancy walking, there is a lay-by opposite the stone you can pull into and check it out! It's really close to the falls.
Golitha Falls Café & facilities
Within the nature reserve itself, there are a few facilities like picnic benches that are dotted around the woodlands if you fancied stopping for a picnic.
There are also some doggy bins, some informative signs and that's your lot!
Most of the facilities are located within the Golitha Falls car park. So, make sure you use them before you set out.
Make a pit stop at Inkie's Smokehouse!
A great restaurant/café at Golitha Falls car park is Inkie's Smokehouse! It's a popular spot, especially in summer and they serve up an awesome menu.
As their name would suggest, they offer a lot of BBQ meat dishes including briskets, ribs, burgers, and pulled pork.
But, if you weren't feeling hungry for a meat dish, they also have a café that serves up breakfast options like fluffy pancakes, hot and cold drinks, and homemade cakes too.
The ladies that work inside are super friendly and will be happy to chat to you about anything really.
I loved sitting outside for a while on one of their cosy seats with a coffee and a sugary duffin (doughnut and muffin)! It was a well-deserved treat after my rainy walk.
Inkie's Trading Post
Nearby, there is also Inkie's Trading Post which is a small gift shop.
Inside, they serve up a lot of locally sourced conserves, coffee beans, tea bags, cheeses, cured meats, and jars of pickled things.
Plus there are some locally made handicrafts, tote bags, and Christmas decorations in the festive season.
It's well worth checking out if you wanted to take home some local souvenirs from St Cleer!
Are there toilets at Golitha Falls?
Yes, there are some public toilets in the Golitha Falls car park and these are free to use. However, these can get pretty disgusting.
They get used a lot throughout the day and get really muddy and slippy on the floor too.
I would personally make sure you have some spare tissue with you or some hand sanitiser just in case anything has run out.
Things to do near Golitha Falls
So that's pretty much everything you need to know about a visit to Golitha Falls! But what is there to do after it?
Bodmin Moor is a seriously underrated part of Cornwall that is perfect for a day trip.
Around the area are ancient sites, lakes, hamlets, and beautiful walks that you can take on the moor.
Click here to read my complete Bodmin Moor guide with 15 amazing things to do!
Trevethy Quoit
A few miles down the road from Golitha Falls is Trevethy Quoit. This amazing Neolithic Tomb is thought to date back to 3,500 BC!
This ancient monument is made of five standing stones that all weigh around 20 tons and are stacked on top of each other. The shape makes a 'capstone' cave and is thought to be a burial chamber.
How this has survived and is still standing like this after 5,000 years is mind-blowing!
It's completely free to visit and there is a small car park just outside of the site for easy access.
Click here to read all about this amazing dolmen chamber
Hurlers Stone Circles & the Cheesewring from Minions
Minions is a REAL place on Bodmin Moor and there are some of these amazing characters from Despicable Me on the welcome signs haha.
But, the reason why most people visit is to see the ancient standing stones that lie on the moor around here!
The Hurlers Stone Circles are an amazing set of three stone circles that date back to the Bronze Age.
A local legend says that these are men who were petrified after playing hurling on a Sunday. You can also see The Pipers and Long Tom nearby.
Click here to learn more about the Hurler's Standing Stones!
The most fantastic attraction in this area can be found on Stowes Hill. The Cheesewring is a peculiar set of stones stacked on top of each other that are around 20 feet high!
It is thought to have naturally occurred from weathering over thousands of years and still remains in its bizarre shape.
This amazing walk on Bodmin Moor will take you over ancient burial mounds, cave homes, and breathtaking views.
Click here for my complete Cheesewring hiking guide!
Explore even more of Bodmin Moor!
There is so much to explore on Bodmin Moor, it would take you weeks to get around all of it.
So, I'd choose some spots or an area you'd like to cover. If you wanted more ancient sites you can visit Stannon stone circle or the Trippet and Stripple Stones.
If you wanted more extensive walks you can travel to Rough Tor, Brown Willy, Sharp Tor, Hawks Tor, and Showery Tor.
There are also a few scenic lakes dotted around the area like Colliford Lake and Siblyback Lake.
Or, just outside the moor, you can visit the man-made caves of Carnglaze Caverns which were part of an old mining quarry.
Click here to read my complete Bodmin Moor guide with more amazing places to visit
The best place to stay on Bodmin Moor
There are a few pubs located on Bodmin Moor but none so famous as the Jamaica Inn, an old smuggler's pub from 1750.
Cornwall has a long history of smugglers, bootleggers, and wreckers and this inn was where they would hide their contraband.
As the inn was located far away from anything on Bodmin moor, the authorities wouldn't venture here so it became a hive of criminals!
Daphne du Maurier ensured the inn's fame when she wrote her classic novel in 1936. It's now a cosy pub, restaurant, and hotel.
Despite the building being old, the hotel is really modern and luxurious – the perfect base for a few days of exploring. Click here to book your stay!
Read my complete Jamaica Inn guide with all the amazing things to do here
Read more of my Cornwall guides
St Aubyn Estates Cottages review
How to visit Tregothnan Estate in Cornwall
Things to do in Mousehole Cornwall
How to visit St Michael's Mount in Cornwall
Things to do in Charlestown Cornwall
The Museum of Witchcraft in Boscastle
How to visit the Lost Gardens of Heligan
Things to do at the Jamaica Inn
A complete guide to Porthgwarra Cove
Why you must visit Minack Theatre
Secrets of the Admiral Benbow Inn
Where is Driftmark filmed in House of the Dragon
How to visit Holywell Bay from House of the Dragon
Magical things to do in Kynance Cove
Save this Golitha Falls Cornwall guide for later!