If you have ever wanted to see Killewarren in Poldark for yourself, then you must plan a visit to Great Chalfield Manor in Wiltshire.
That's right, not all of Poldark was filmed in Cornwall. This idyllic medieval home on the fringes of the Cotswolds featured as Caroline and Dwight Enys' residence in the series.
It's owned by the National Trust, so Poldark fans will be delighted to know that they can easily visit Killewarren in real life!
Although I can't quite promise that you will spot Doctor Enys on your visit, it is worth going on a tour to follow in his footsteps.
Here's a complete guide for the Great Chalfield Manor Poldark location including the history of the manor, things to do here, and how to visit!
The history of Great Chalfield Manor
Great Chalfield Manor began being built around 1470 for Thomas Tropenell who had made his fortune as a lawyer and solicitor.
He acquired Chalfield Manor after winning a legal dispute, which would become one of many in his time.
Thomas Tropenell was nothing but ambitious in pursuit of his own ends and used his knowledge of the law to his advantage.
After the settlement, he built Great Chalfield Manor which had a Great Hall and a series of wings including a solar with oriel windows.
It has undergone many transformations in its time, particularly when Robert Neale acquired it in the 19th-century. He carried out a survey with the architect Thomas Larkins Walker and the house was reduced.
By the early 1900s, the house was in dire need of repair as it had been owned and lived in by farming tenants.
George Fuller of Neston Park then purchased the house and it was later restored by his son Robert Fuller and architect Harold Brakspear.
Robert Fuller, another descendent and co-owner of Fuller's Brewery, then donated the house and gardens to the National Trust in 1943.
Today, the donor family still live on the property but it is open to the public for tours.
The Great Chalfield Manor Poldark connection
There are many incredible National Trust properties that were used to film Poldark. But, none so idyllic as Great Chalfield Manor.
In all the series, this amazing house played a role as Killewarren. If you weren't aware, Killewarren in the Poldark stories is the ancestral home of the Penvenen family in Cornwall.
Caroline Penvenen is Ray Penvenen's niece and initially, she lives here as the heiress to his fortune. Later, after her Uncle dies, she marries Doctor Dwight Enys who is Ross Poldark's best friend.
Dwight and Caroline then make Killewarren their family home. So, you'll see lots of scenes featuring them outside and inside of Great Chalfield Manor.
According to the production team, this house appealed to them as it's still lived in by the family. So, it gave a feeling of warmth that couldn't be achieved in a studio.
Things to do at Great Chalfield Manor
So, what is there to do when you get to Killewarren in real life? Well, there's actually plenty!
Not only do you have the inside of the manor home to explore but you also have a gorgeous garden, river, and church to explore too.
Here are all the amazing things to do at Great Chalfield Manor.
1. Take a tour of the medieval manor
Great Chalfield Manor is a spectacular home that has often been described as one of finest medieval manors in all of England.
It's has a gorgeous mix of medieval and Edwardian features. You'll find timber framed areas and symmetrical oriel windows which make it extraordinarily charming.
If you haven't already, I would definitely suggest booking your tour inside the medieval manor when you first arrive. That way, you won't miss your tour timing as you may be distracted by the fairytale gardens!
Usually, the tour guide will gather up all of those booked in for the tour outside of the manor before you go inside. Here, you'll be given a brief introduction to the history of the house and owners through time.
After that, you'll head inside to explore the downstairs and upstairs of this amazing home. Tours usually last for around 45 minutes.
Unfortunately, tours were restricted on my visit to the Great Hall! So, the tour was extremely short but informative.
It was a lovely airy space where they usually hold events like operas and carol concerts! Look out for the gable carvings of a dog, monkey and soldier. Also, you'll find original paintings from the 16th century on the ceiling.
There is a medieval census of the area inside which was carried out by Thomas Tropnell which gives an insight into medieval life at the time.
I particularly loved the garish peephole face carvings which were in the Great Hall. These were made so that the family could spy on what was happening below.
There are three to look out for, one is King Edward IV with donkey ears! Thomas Tropenell had to pay a fine to keep it.
Many of the interior scenes of Killewarren were filmed here with Caroline and Doctor Enys. Plus, some visits from Demelza and Ross.
Note: photography is not permitted inside the house due to family photographs being present
2. Smell the roses
I absolutely fell in love with the fabulous rose garden at Great Chalfield Manor. It looked like something out of a fairytale!
It was the first thing we saw when we left the house after our tour and I don't think I've ever seen so many roses gathered in one place.
The were bushes gathered around a well and also trellises that made it look like a waterfall of pink roses.
It felt like a dream and the smell was out of this world. There are plenty of benches in this terraced area to admire them. I would definitely recommend making the most of it if you visit in the right season.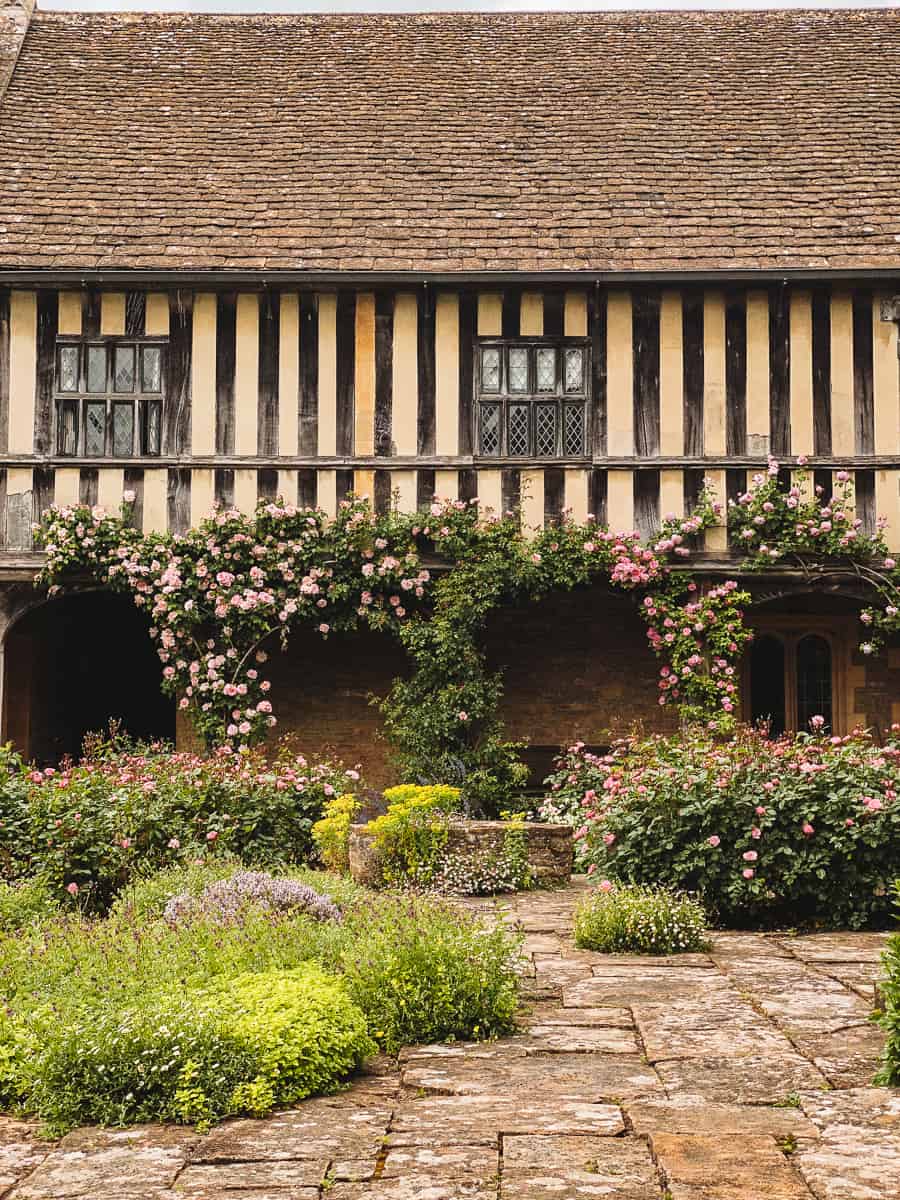 3. Admire the romantic gardens
The rose garden is truly spectacular but if you're visiting out of season, don't fret. The rest of the gardens here are equally as breathtaking!
Although it is a 15th-century manor, the gardens have an Arts and Crafts influence as they were designed by Alfred Parsons when the Fullers took over.
There's lots of explore. You'll find upper and lower moats and an orchard full of wildflowers which bloom in summer!
There's also a fish pond, gazebo, water lily ponds which all make it look like you're walking through an oil painting.
Make sure to look out for the topiary yew 'treehouses' that have been made on the grounds. They are so big that you can walk inside them and see what lies within.
You'll see many scenes in Poldark of Dwight and Caroline walking in these gardens on their estate. So, you can follow in their footsteps!
4. Take the river walk around the estate
One of the favourite parts of my visit was the scenic riverside walk. This used to form part of the defensive moat used to protect the manor.
This stroll is perfect in summer as it's shaded and you can get great views from the river bank of the manor house!
There are plenty of wild flowers here and wildlife to be found including ducks, a buzzard, and a cheeky heron that can usually be seen perching on the treetops.
This walk is also where you can get a great picture of the stone steps leading up to the house. It's usually the frame they use of the house for most period dramas including Killewarren in Poldark. So, you'll instantly recognise it!
5. See more Great Chalfield Manor filming locations
Talking of which, did you know that they filmed more than Poldark here? The historic beauty of this manor is not lost on film scouts as the perfect location for period dramas!
It has an untouched look to it which is perfect to set the scene for many chapters of history.
Great Chalfield Manor has featured in big movies like The Other Boleyn Girl starring Natalie Portman. On the smaller screen, you may have seen it in BBC's Persuasion, Wolf Hall and Tess of the D'Urbervilles.
More recently, the Starz production of The Spanish Princess were seen filming here. A series which follows in the footsteps of Catherine of Aragon and Henry VIII.
The Starz production of White Princess, which is a prequel set in the time of the War of the Roses, was also filmed here.
In fact, this manor seems to be a favourite filming location of Starz as I heard on my visit that their new series 'Becoming Elizabeth' was filmed here in March.
It's a period piece that follows in the footsteps of Elizabeth I in her early years and is due to be released soon. It will be available to watch on Amazon Prime!
6. Visit All Saints Parish Church
Once you've finished your visit around the amazing gardens and filming locations, don't forget to pop inside the All Saints Parish Church which is on the estate.
It's a small temple that dates back to the 14th century. It was first mentioned in 1316 when it had only 10 parishioners using it! But, there is a Norman font inside so it could date back to a much earlier time.
Later, Thomas Tropnell rebuilt the church in 1480 and kept many of the original features including the south chapel, bellcote, and the nave roof.
After that, there were significant restorations made in 1775 by Robert Neale. Today, it's Grade I listed and is part of the benefice of Broughton Gifford, Great Chalfield & Holt.
It's definitely worth popping inside as, although it's a small space, it packs a punch with history at every corner. You'll find some lovely paintings and coat of arms which add to its charm.
7. Stop by the Great Chalfield Manor tearooms
If you were looking for a pick me up, there is a small makeshift tea room that has been set up here opposite the stables of the estate. But, don't expect any frills!
It's very much DIY, where you can pour yourself a cup of tea or make an instant coffee. There is also cordial on offer and biscuits.
Payment is a small donation where you can pop your money in the Tupperware box. There are also toilet facilities provided nearby.
Where is Great Chalfield Manor and how to get there?
If you wanted to visit this Killewarren Poldark location and see it for yourself, Great Chalfield Manor is located in Wiltshire just a few miles away from Melksham.
It's also nearby Bath, Devizes, Corsham, Bradford on Avon, Lacock and Chippenham. So, it makes a great stop if you're planning a Wiltshire or Cotswolds road trip.
It is quite remote so when you're heading in from Melksham, you'll be driving down winding country roads which are single track with passing places.
Great Chalfield Manor parking can be found on the grassy verges directly in front of the manor house itself and it's completely free.
Opening times and prices
It's good to note that Great Chalfield Manor is only open to the public seasonally from early April to the end of October.
Also, it's only open on a few days of the week for tours. Those are Tuesday, Wednesday, Thursday and Sunday.
You can visit the house on a 45 minute guided tour which run on the hour, every hour from 11am – 4pm during the week. On Sunday's the guided tours run on the hour from 1pm – 4pm.
It is very important that you book or are booked onto a house tour to avoid disappointment as places are limited.
The gardens are open for visits any time between 11am – 5pm Tuesday – Thursday and 1pm – 5pm on Sundays.
Adult tickets are £8 and children's tickets are £4. Family ticket options are available. As always, National Trust members can go for free.
Click here to check the latest opening times and ticket prices
Even more Poldark locations in Wiltshire and Cornwall
Did you know that a lot of Poldark wasn't actually filmed in Cornwall? There are plenty of places in Wiltshire and Somerset too! So, if you were a Poldark fan there are some amazing locations you can visit nearby.
Chavenage House near Tetbury was the location of Trenwith which is the ancestral family home of the Poldark family.
Gentle Street in Frome doubled up as the historic streets of Truro in the second series as well as the main High Street and Town Hall at Corsham.
The Bishop's Palace featured as the French convent and Wells Town Hall featured as the Warleggan Bank. Plus, they used other locations like Bath's Prior Park College and Bowood House.
Dyrham Park, which is another National Trust property, also played the Warleggan Town House which is a short drive from Great Chalfield Manor too!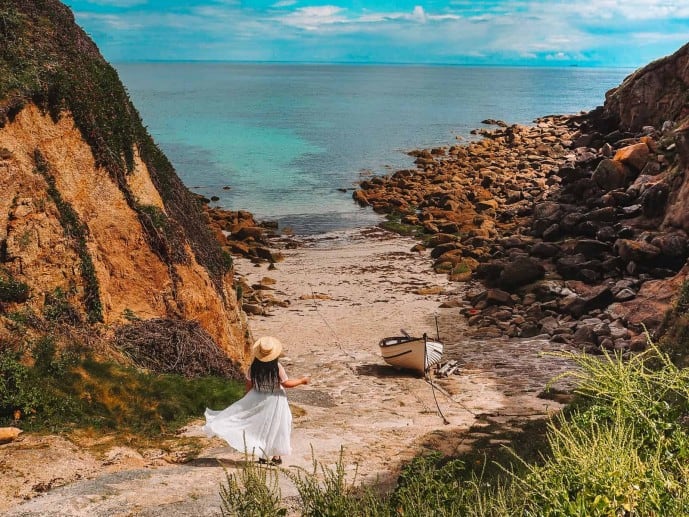 Read more of my Wiltshire travel guides
A quintessential afternoon tea in Bradford upon Avon
The best things to do in Corsham
Is Castle Combe the prettiest village in England?
All the Harry Potter locations in Lacock
How to visit Stonehenge for FREE
A visit to King Alfred's Tower at Stourhead
Stourhead Pride and Prejudice film location!
How to visit Imber, the abandoned ghost village in Wiltshire
Save Great Chalfield Manor for later!