Have you ever wanted to visit King Arthur's Round Table of Camelot that his knights used to sit around?
Well, you can do so by visiting the Winchester Round Table as part of Winchester Great Hall.
Although it's not really the legendary circular table, it is a medieval recreation that dates back to the 13th-century!
As a huge fan of the Arthurian Legends and anything to do with Merlin, I just had to check this table out for myself.
Here is how to visit Winchester Round Table, the famous court of King Arthur's Camelot!
The Rounde Table at Wynchestere beganne, and there it ende, and ther it hangeth yet – John Hardyng
The legend of King Arthur's Round Table
There is rarely a tale about the legendary King Arthur that doesn't include his Knights of the Round Table. It's a fabled circular table in Camelot where King Arthur used to hold his court.
As there was no head to the table, it sent a message that everyone who sat around it was of equal status and importance. It was quite rare for a king to do this and that's why it's so famous!
It is just a legend, so we cannot know for sure how this round table came about or if there was any truth in it.
There is a story that the wizard Merlin originally gifted the round table to Uther Pendragon. After his death, it was given to Guinnevere's father Leodegrance. Could this have been gifted as part of her dowry when she married Arthur?
Although it doesn't appear in early accounts of the Arthurian Tales, we first hear about it in Roman de Brut by Wace in the 12th-century.
The legend is now so famous that it has become synonymous with King Arthur and Camelot!
In fact, the symbolism of this round table was felt so strongly that during the Middle Ages many round tables were created for 'Round Table Tournaments' throughout Europe.
They were set up as an imitation of Arthur's court for feasting and jousting. One of those was made in Winchester during the reign of King Edward I!
Winchester Round Table history
After the Battle of Hastings, William the Conqueror built Winchester Castle in 1067. Later, Henry III started building a medieval hall to enhance the fortress in 1222. It had beautiful pointed archways and aisled marble columns.
Many people believe that the Winchester Round Table is the real round table of King Arthur's Camelot but it is unfortunately not the case.
The table has been carbon dated and the results show that it dates back much later to the 13th-century.
It is believed that the table was made in 1290 for a 'Round Table Tournament' in celebration of the betrothal of one of King Edward I's daughters. Edward I was a King Arthur enthusiast!
The paintwork we see was ordered by King Henry VIII for his visit to Winchester in 1516. You can see the Tudor Rose in the very centre and the image of the king is meant to be Henry as a young man.
The artwork was meant to symbolise that the Tudor dynasty were true descendants of King Arthur to strengthen their claim on the throne of England.
It did suffer some damage during the English Civil War but it has been restored many times since and now proudly hangs in Winchester Great Hall for all to see.
Did you know? Thomas Malory identified Winchester as Camelot within his L'Morte De Arthur written in the 15th-century!
Winchester Round Table facts
The Winchester Round Table is made from English Oak.
It is around 5.5 metres in diameter and weighs approximately 1.2 tons!
The artwork we see today was commissioned by King Henry VIII. You'll see the Tudor Rose in the middle.
There are 24 names around the table and each one represents one of King Arthur's legendary knights.
If you're wondering why each name begins with 's' it represents 'sir'. e.g. Sir Lancelot, Sir Galahad, Sir Gawain etc.
The round table used to have table legs until they were removed so that it could hang from the wall in the 16th-century.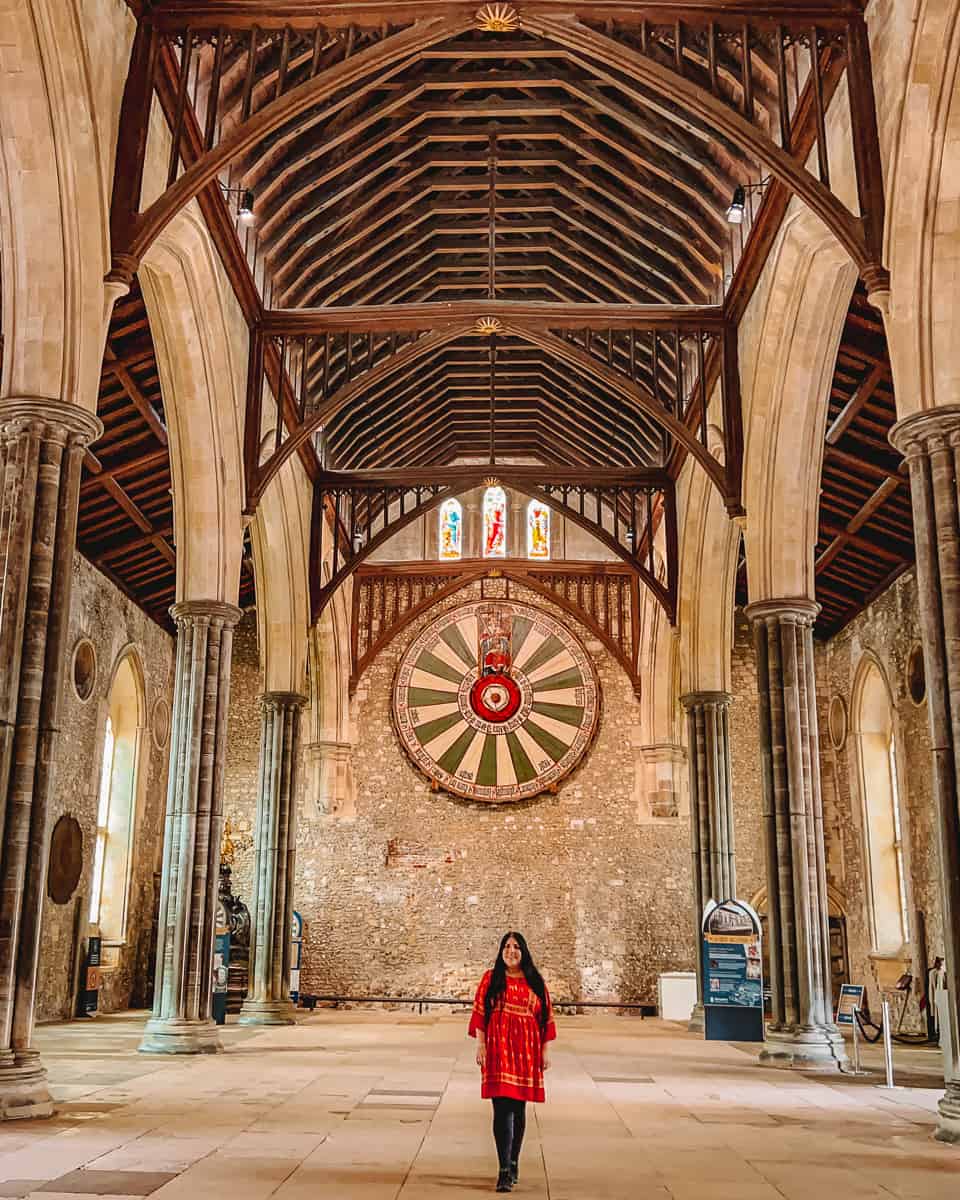 How to visit Winchester Round Table
If you wanted to see the legendary round table for yourself you can do so by visiting Winchester Great Hall which is located on Castle Avenue in the city.
Winchester is a great city to plan a day trip and it will take you around 90 minutes to drive there from Central London.
There are direct trains from London Waterloo to Winchester and it will take you around an hour to reach there. Once you arrive at the station, you can head to the hall on foot in around 10 minutes.
You'll pass through the historic Westgate that used to be part of the city walls! This is one of two surviving gates, the other being Kingsgate.
There is no official parking for the Great Hall, the nearest car park is Tower Street Car Park.
Winchester Great Hall address is Castle Avenue, Winchester, SO23 8UJ. Click here for a Google Pin!
Winchester Great Hall opening times and prices
The Winchester Great Hall is normally open from Monday – Sunday, 10 am – 5 pm with the last entry at 4.30 pm.
Sometimes the hall is closed off for private events, so make sure to check their website for the latest closure days before you plan to visit.
Guided tours of the Great Hall take place at 11 am and 3 pm but are subject to staff availability.
Ticket prices are £4 for an adult, £3 for a child, and £3.50 for concessions. Family discount tickets are available for £10.
Click here to check for closures and the latest opening times & prices!
Things to do in Winchester Great Hall
1. See the Great Hall & Winchester Round Table
As soon as you enter, the Great Hall and Winchester Round Table will take your breath away!
Built by Henry III this is now all that remains of Winchester Castle and is one of the finest examples of a 13th-century hall.
The Winchester Round Table hangs on the West Wall and on the East Wall you'll find a royal family tree. There's lots of information and various displays to learn more about the incredible legend.
An interesting fact about Winchester Great Hall was that Sir Walter Raleigh was brought to trial here in 1603 for his supposed treason in the Main Plot.
The hall became a court of assizes for many years and you can see the old judge's chair on the back wall.
Look out for the statue of Queen Victoria. It weighs two tonnes and it was made by Sir Alfred Gilbert to mark Queen Victoria's Golden Jubilee in 1887.
There are all sorts of medieval costumes you can try on here. Little kids (or big kids) can be a knight or princesses for the day.
2. Queen Eleanor's Garden
One of the things that surprised me on my visit to Winchester Round Table was the delightful medieval garden that you can find outside.
It's called Queen Eleanor's Garden after Queens Eleanor of Provence, the wife and queen consort of King Henry III.
You'll find all sorts of plants and herbs that were popular in the 13th-century during Eleanor's time and it's a peaceful respite in the city!
There's a beautiful fountain in the centre as well as some seating if you wanted to relax.
3. Explore the Long Gallery
After your visit to the Great Hall, head over to the Long Gallery to discover more about the kings, queens, and nobles who have a connection to Winchester.
You can learn about how Winchester was the capital of England, a castle defense fortress, a royal residence, a parliamentarian target, a courthouse, and eventually a tourist attraction.
There are lots of sketches and paintings that show you what the city would have looked like years ago. It is incredible how much it has changed over time.
After your visit, don't forget to browse in their wonderful gift shop. They have lots of lovely medieval souvenirs and gifts to buy. I bought my own mini-version of the round table as a magnet!
4. Walk beneath Winchester Castle via the Sally Port
One of the coolest things to do here is walking underneath what remains of Winchester Castle via the Sally Port.
You can descend down the steps underground to the restored passageways that would have led down to a dry moat years ago. They are over 800 years old.
These were thought to be secret passageways that would allow the royal family to escape if the castle was under siege!
It's a bit dark and creepy but it's an amazing way to experience the history of a once-great fortress.
Tip: walking beneath Winchester Castle is completely free and you don't need a ticket to the Winchester Great Hall in order to do it.
Looking for more things to do in Winchester?
Winchester is best known for being the Anglo-Saxon capital of the Kingdom of Wessex, the home of King Alfred the Great!
You'll find a huge statue of him at the end of the High Street, which is one of the oldest High Streets in the UK.
A highlight is visiting the spectacular Winchester Cathedral with its vaulted ceiling. Don't forget to check out the cathedral courtyards like Cheyney Court on your way.
On your way to Winchester Great Hall, you'll most likely pass Westgate. It was part of the city walls years ago and is now a delightful museum with a great rooftop view.
One of my favourite places in Winchester was the Peninsula Barracks which is home to six military museums.
You can walk part of the South Downs Way and stroll along the River Itchen here. Make sure to check out the City Mill that is owned and protected by the National Trust.
Explore the ruins of Wolvesey Castle or take the Keat's Walk if the weather is fine. For a bite to eat, pop into the Wykeham Arms.
For one of the best panoramic views of the city, head up to the St Gile's Hill viewpoint!
Read more of my King Arthur posts
How to visit Tintagel Castle in Cornwall
A complete guide for Merlin's Cave
How to visit Uther Pendragon's Castle in Yorkshire
Dinas Emrys Walk – Vortigern's Castle
Finding King Arthur's Cave in Wales
Merlin filming locations in Puzzlewood
Read more of my Hampshire guides
How to visit Highclere Castle for free (Downton Abbey)
How to visit the Brockenhurst Gatehouse
Things to do in Burley Witch Village
Save Winchester Round Table for later!