I'm not sure if it would be classified as strange or just downright weird to have a 'favourite graveyard'. But, if that is a thing then my personal favourite would be Greyfriars Kirkyard in Edinburgh!
Known as the most haunted graveyard in the entire world, this 400 year old resting place has played a role in many of Edinburgh's most important historic chapters.
Many of the cities most notable residents have been buried here as well as it being a home for Franciscan Friars and the Covenanters!
Today, however, this graveyard is most famously known for a little dog that's buried here, called Greyfriars Bobby. It's a story that will melt your heart.
It's also risen to fame in recent years due to its Harry Potter connection. Potterheads will love the fact that you can find many recognisable names from the books!
Here's a complete guide for visiting Greyfriars Kirkyard in Edinburgh. Which includes the history, spooky stories, things to look out for and how to visit.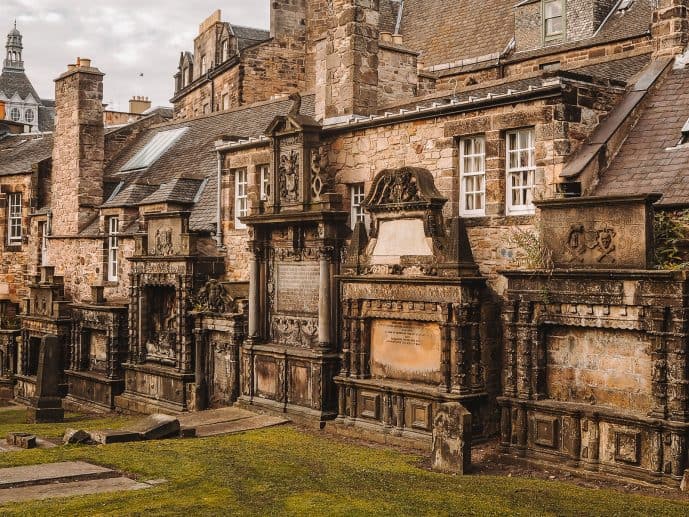 Firstly, What is Greyfriars Kirkyard?
Greyfriars Kirkyard is a large graveyard that surrounds the historic Greyfriars Kirk. Kirk is the old Scottish word for a church.
It's was established as a burial area during the reign of Mary Queen of Scots. Ever since then it has seen over 100,000 people buried here!
It's located on the southern edge of the Old Town of Edinburgh near Candlemakers Row and George Heriot's school.
Today, the monuments inside are classed as Grade A buildings. It's managed by Edinburgh County Council in liaison with a Charity Organisation.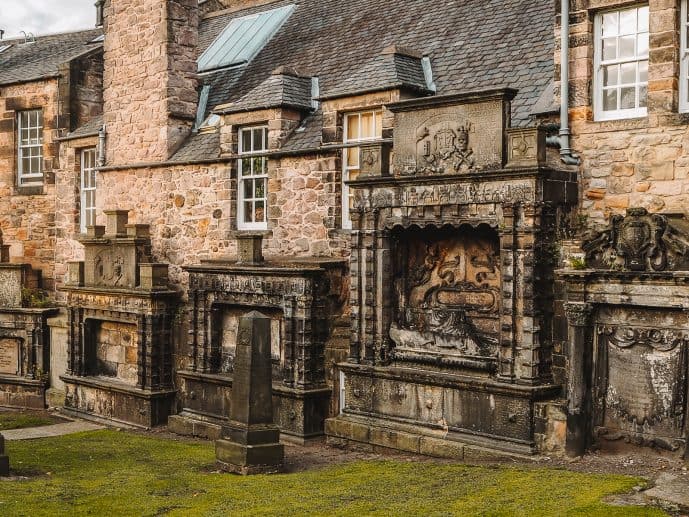 The dark history of Greyfriars Kirkyard
Around the year 1477, Franciscan Friars built and established a Friary on the North End of Grassmarket overlooking the castle.
They were called Greyfriars as they wore grey robes – hence where the Kirk and Graveyard get their names!
For years, they healed the sick in Edinburgh until they were forced out of the friary during the Reformation in 1558.
Mary Queen of Scots then reclaimed the land in 1562 and established it as a burial ground. This was due to the overflowing St Giles Cathedral graveyard nearby on the Royal Mile! Thousands were then buried here during the Black Plague of 1568.
During Queen Mary's short and turbulent reign, there were many Lords buried here in unmarked graves. Including James Douglas who was accused on murdering Queen Mary's husband!
The Covenanters
Just like in Tudor England, Scotland was torn and at war over religion. The faith of the country was often decreed by the monarch at the time. If you were seen to be supporting the 'wrong' faith, it would mean a rather merciless traitors execution.
When Henry VIII established the Anglican Church in England, he cut his ties from the Catholic Holy Roman Empire.
This threw the country into opposing sides with many refusing to convert to the Anglican faith from being a devout Catholic. Therefore many Catholics died a martyr's death during his reign. You'll find a Martyr's Monument here in the Kirkyard to remember those killed of the Presbyterian Faith.
In Scotland, it was no different and when King Charles II took the throne he had a brutal policy about those who opposed the King and rejected the Church of England.
Those who were in favour of the Presbyterian Church of Scotland or the National Covenant were called Covenanter's. Their religious and political movement was named after the biblical term Covenant meaning 'a bond with God'.
In 1677, Sir George MacKenzie of Rosehaugh became the Lord Advocate in the court of Charles II. He was in charge of punishing those who opposed the Church of England.
After the Battle of Bothwell Bridge in 1679, he captured thousands of Covenanters as prisoners. But, he couldn't keep them all in the prisons. So, he locked up the surplus 400 Covenanters in Greyfriars Kirkyard with no shelter in Scottish winter.
Many were abused by guards, died of exposure and starved to death. They are thought to be buried in an anonymous mass grave somewhere in the yard!
It's believed that MacKenzie is responsible for over 18,000 deaths. It gained him the nickname "Bloody MacKenzie" and his reign of terror over eight years has been dubbed "The Killing Time".
Incredible Greyfriars Kirkyard facts
In the 1700s, the Edinburgh council kept a large supply of gunpowder here. It ended up exploding by accident and destroyed the church! It then had to be rebuilt.
There is an American Flag that hangs in Greyfriars Kirk. This is because the church opened the same day the Pilgrims landed in the United States in 1620. In 1970, this flag from the White House was gifted by the American Consul on its 350th anniversary.
Due to mass overcrowding of St Giles Church graveyard. Several tonnes of human bones were exhumed from their resting places in 1879. They were then reburied here in Greyfriars.
The most famous grave here is actually not that of a person, but of a little Skye Terrier dog. His name is Greyfriars Bobby!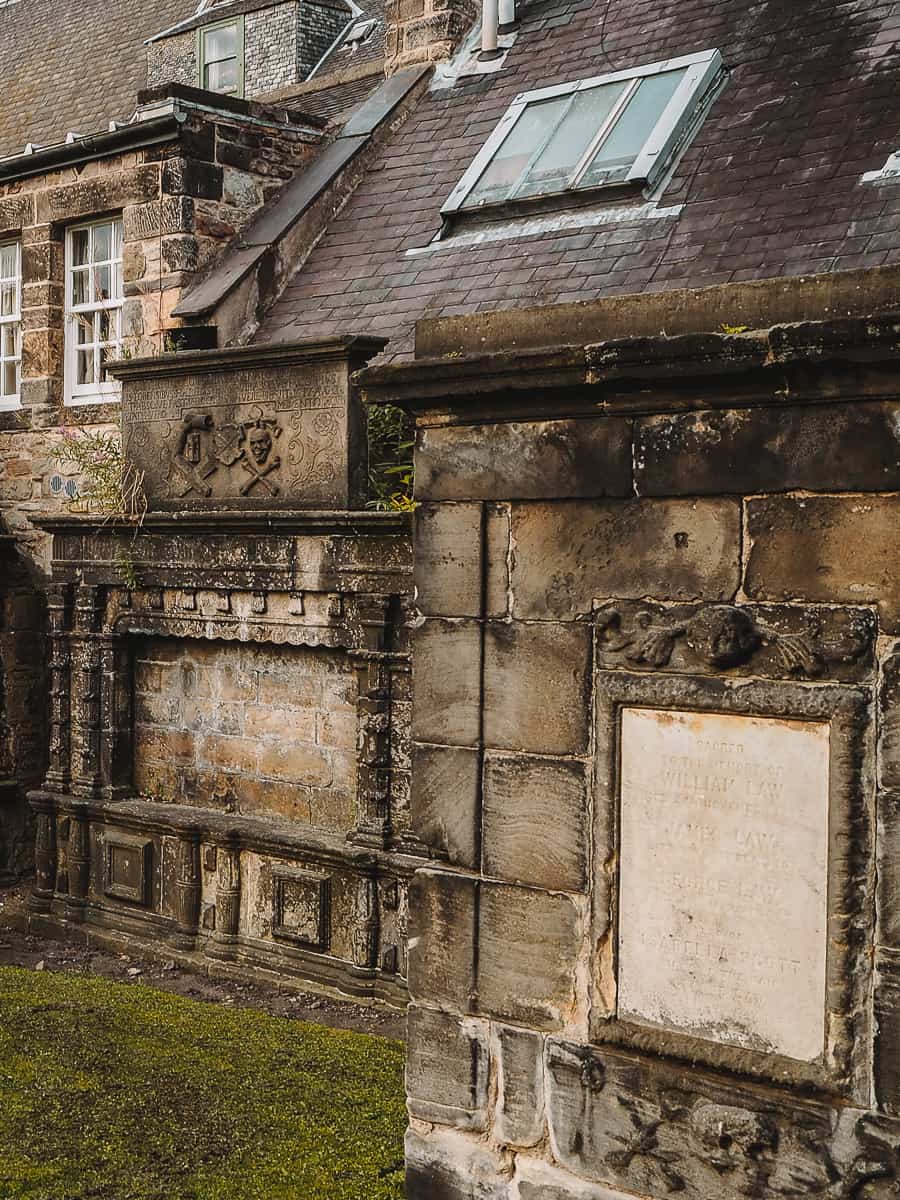 The sweet story of Greyfriar's Bobby
Beyond the gruesome deaths and events that have happened here over the centuries. The reason why this graveyard is so famous is not because of the humans that are buried here but because of a little dog named Bobby.
There are many heartwarming legends and tales surrounding Greyfriar's Bobby but this one is the most popular.
The story goes that Bobby, a Skye Terrier, was the best friend of his owner John Gray, also known as "Auld Jock".
Jock worked for the Edinburgh City Police as a nightwatchman. Bobby remained loyal at his side for years and always joined him on his watch.
One fateful day in 1858, the town found that Auld Jock had died of Tuberculosis and he was buried at Greyfriars Kirkyard.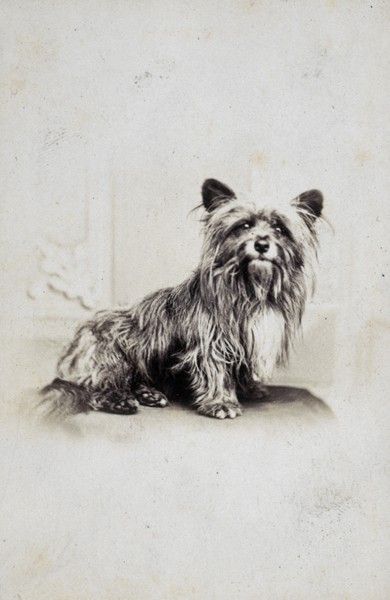 Even in death, Bobby wouldn't leave his master's side
Bobby led the funeral procession to his grave and the caretakers kept trying to send him away.
But, the little terrier kept returning to be by his master's side in the graveyard. No matter what the weather, he would be there.
Eventually, the caretaker stopped trying to shoo him away and Bobby's loyalty to his master ended up melting the hearts of the local residents.
Breaking all the rules, they built a shelter for Bobby next to his master's grave. The faithful terrier then lived here for 14 years guarding Auld Jock. He left only for food with the sound of the midday cannon.
He eventually became a bit of a tourist attraction in the city and he was even awarded a new collar by the Lord Provost of Edinburgh.
When he died, he was buried in the kirkyard just a few yards away from his master. Aw!
He's now known as the most famous dog in Scotland and there is even a fountain statue dedicated to him outside Bobby's Bar on Candlemaker's Row. People rub his nose for good luck.
Although many call it a 'Victorian publicity stunt', the tale of his loyalty still touches the hearts of millions around the world today.
He's even been made into a Disney movie! Not bad for one awesome little dog.
The Harry Potter Greyfriars Kirkyard connection
As well as Greyfriar's Bobby, fans of the Harry Potter books flock here in droves every year.
But, you're probably wondering, what on earth has a graveyard got to do with the Boy Wizard?
Well, although a lot of people know that The Elephant House Cafe was a regular haunt for J.K.Rowling and is now known as the "birthplace of Harry Potter".
What you may not know is that this graveyard is only a short walk away from the café! So, it's not too farfetched a theory to think Rowling strolled through here.
Although she has never admitted it, it seems as though she was inspired by the names of tombstones in the kirkyard and ended up using them in her stories!
So, you'll recognise many famous characters on the tombs like Potter, McGonagall, Moodie, Charles Black and even Tom Riddle.
If you want to know all the Harry Potter graves inside the kirkyard, I have a whole list in this post. Scroll down to find more.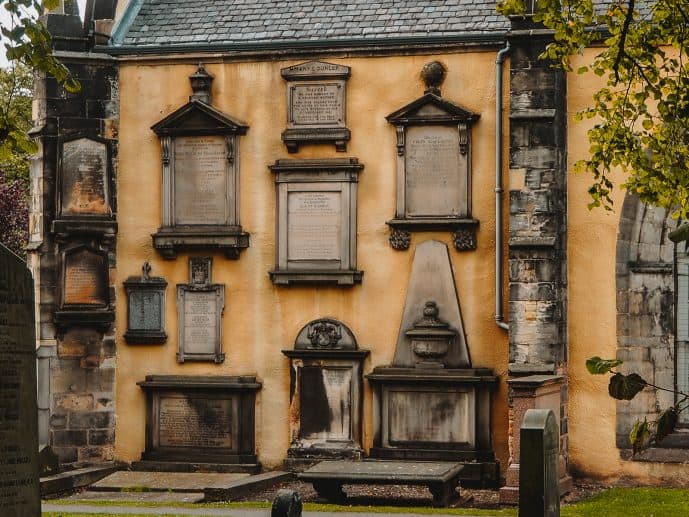 How did it become the most haunted graveyard in the world?
Today, Greyfriars Kirkyard is known as the most haunted graveyard in the world due to lots of spooky goings-on. It all started with Sir George MacKenzie's mausoleum in 1998.
Mackenzie was buried here in 1691 in a fittingly elaborate tomb for a peer of the realm. Just a few metres away from the victims of his Covenanter Purge.
His tomb stood quietly in the graveyard for centuries until a homeless man seeking shelter broke into the grave.
While he was breaking in, the floor collapsed beneath his feet and he fell into a pit full of bones of old plague victims!
He managed to pull himself out and run away, however, it is said that this unearthed something terrible – MacKenzie's ghost!
Ever since, visitors of the mausoleum left with scratches, bites, bruises and even broken bones.
Many get a cold shiver or tingling up their spine. Some people even have bruises around their necks and have been found unconscious near the tomb!
Even a spiritualist called Colin Grant visited the mausoleum in the hope of exorcising the evil spirit in the year 2000. But, he felt such evil from the tormented souls that he fled the graveyard. He died of a heart attack just weeks later.
Years later, in 2004, two teenagers broke into the tomb and took the head off of George MacKenzie's corpse. They were arrested and sentenced to probation for grave robbing. But, now George MacKenzie's poltergeist is one of the most active and evil in the city.
Nowadays, they lock up the tomb because too many people have tried to damage it. But, you can see inside through the gate. Don't visit at night!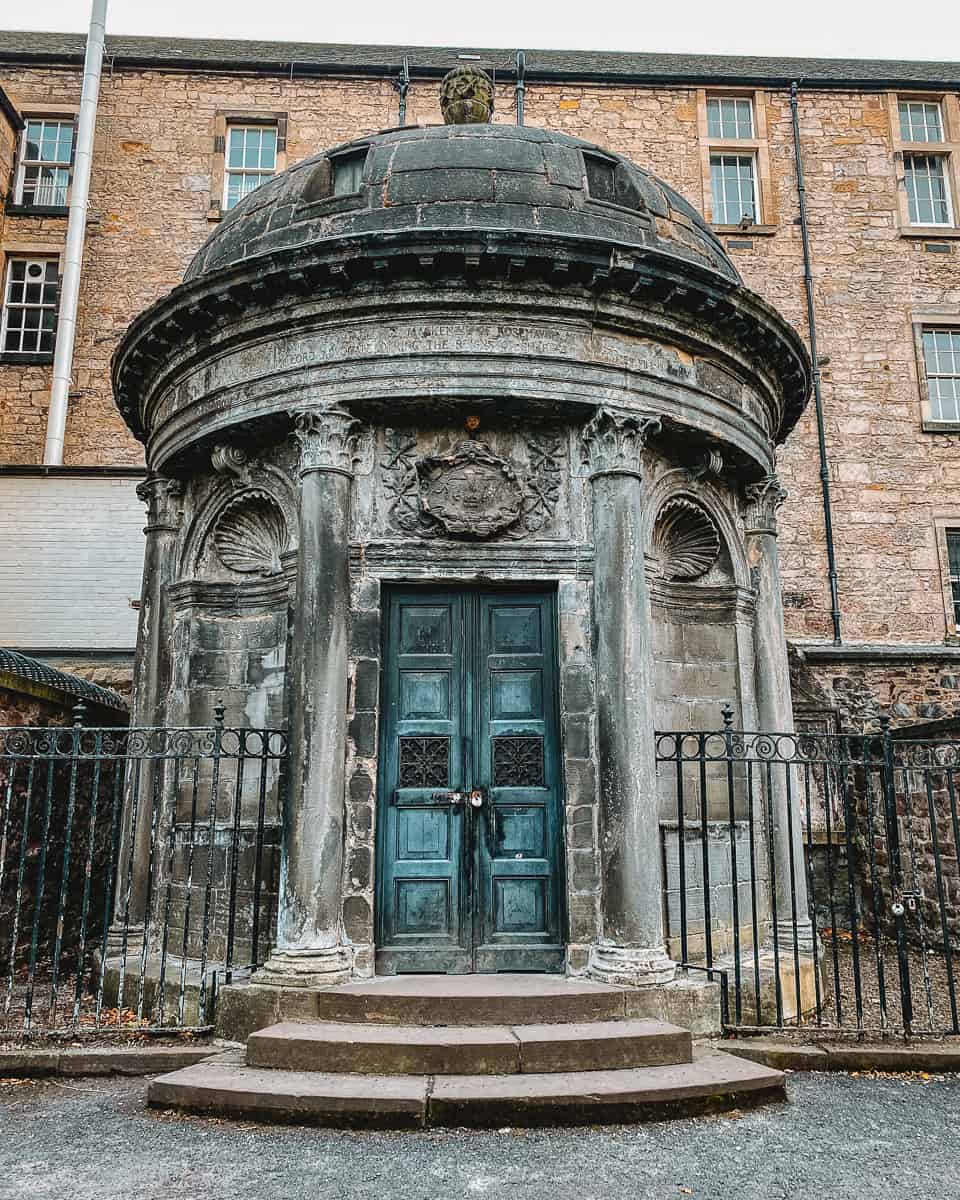 Can you visit Greyfriars Kirkyard in Edinburgh?
YES! Thousands of tourists who visit Edinburgh pop by Greyfriars Kirkyard each year. It's a great way to escape the crowds as you enter a place of calm for a few moments.
As it's open 24 hours of the day, 7 days a week you can fit a visit into even the tightest of Scotland itineraries. Plus, it's a great budget activity as entry is completely free.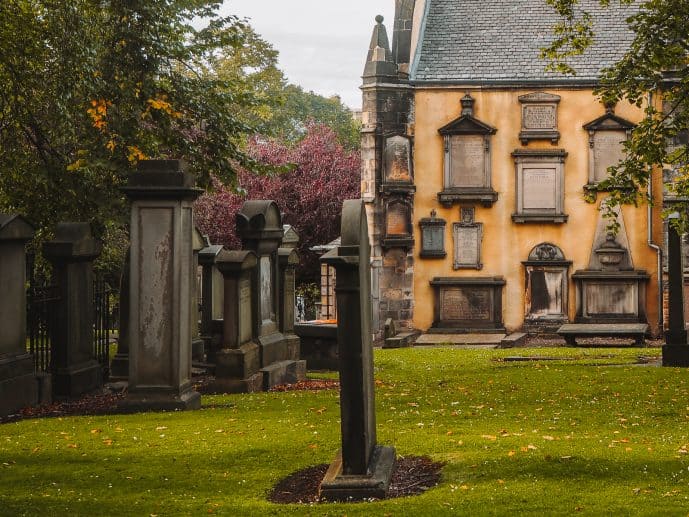 Things to see in Greyfriars Kirkyard
This historic graveyard really has something that appeals to everyone. Whether that be some quiet, admiring historic buildings, ghost hunting, following a loyal terrier or being a Potter fan!
Here are the top things to look out for in the kirkyard;
Pay respects at Bobby's grave
This is by far the sweetest part of visiting the graveyard, seeing the tribute and gravestone of Greyfriars Bobby.
A new red granite headstone was donated by the Dog Aid Society of Scotland in 1981. It will tell you briefly about the story of the loyal dog who wouldn't leave his owner's side.
Many people who visit Bobby's grave leave little tokens at the site like collars, dog treats, sticks, and toys. I've even seen a dog bowl with water here!
Visitors often report seeing the ghost of Bobby at night or deathly barking sounds in the graveyard.
If you wanted to, the Kirk nearby has some lovely souvenirs you can buy of Bobby as well. Don't forget to visit Bobby's Statue nearby on Candlemaker's Row! It's very sweet.
Pop inside Greyfriars Kirk
A benefit of visiting this graveyard during the day time (as well as not seeing ghosts) is that you can pop inside the historic kirk on the grounds.
Built on top of the old Franciscan Friary in Post-Reformation Scotland, Greyfriars Kirk is now celebrating its 400th year anniversary.
It's still an active parish church here in the city and it welcomes tourists who wish to take a look around.
The interior architecture is gorgeous plus they also have a small exhibition about the history of the graveyard. The staff are more than happy to help answer any questions you have!
In the shop, they have a map of the yard with notable graves for 50p. This is a great help if you're on the hunt for the Potter tombs.
Click here for more information and opening times for visiting the Church. It's FREE but donations are encouraged. Also, they do tours and concerts each week.
Get up close to George MacKenzie's haunted mausoleum… if you dare!
I don't know about you, but I find it quite eerie that Sir George MacKenzie is buried so close to the old Covenanter Prison, Martyr's monument, and the mass grave of the Covenanter Purge.
It was hundreds of years ago. So, maybe it was done purposefully as a reminder and warning to those who would reject the Church of England?
Although today Bloody MacKenzie's tomb is locked up for the public. That doesn't stop people from visiting his mausoleum every day to take a peek inside. It now has the nickname 'Black Mausoleum'.
You can still see the hole where the homeless man fell through into the bone pit.
But, many people that touch or step close to the mausoleum have reported seeing cuts and bruises on their bodies later that day!
There are reports about this in Scottish newspapers and the media with photos of these kinds of attacks. So, take that as you will and proceed with caution.
The one thing I will say is that you should stay clear of this place at night! They don't call it the most haunted graveyard in the world for nothing.
If you don't believe a word, why not watch this YouTube video? It's quite shocking.
If you did want to go inside, you only need book a City of the Dead tour of Edinburgh who has special permission.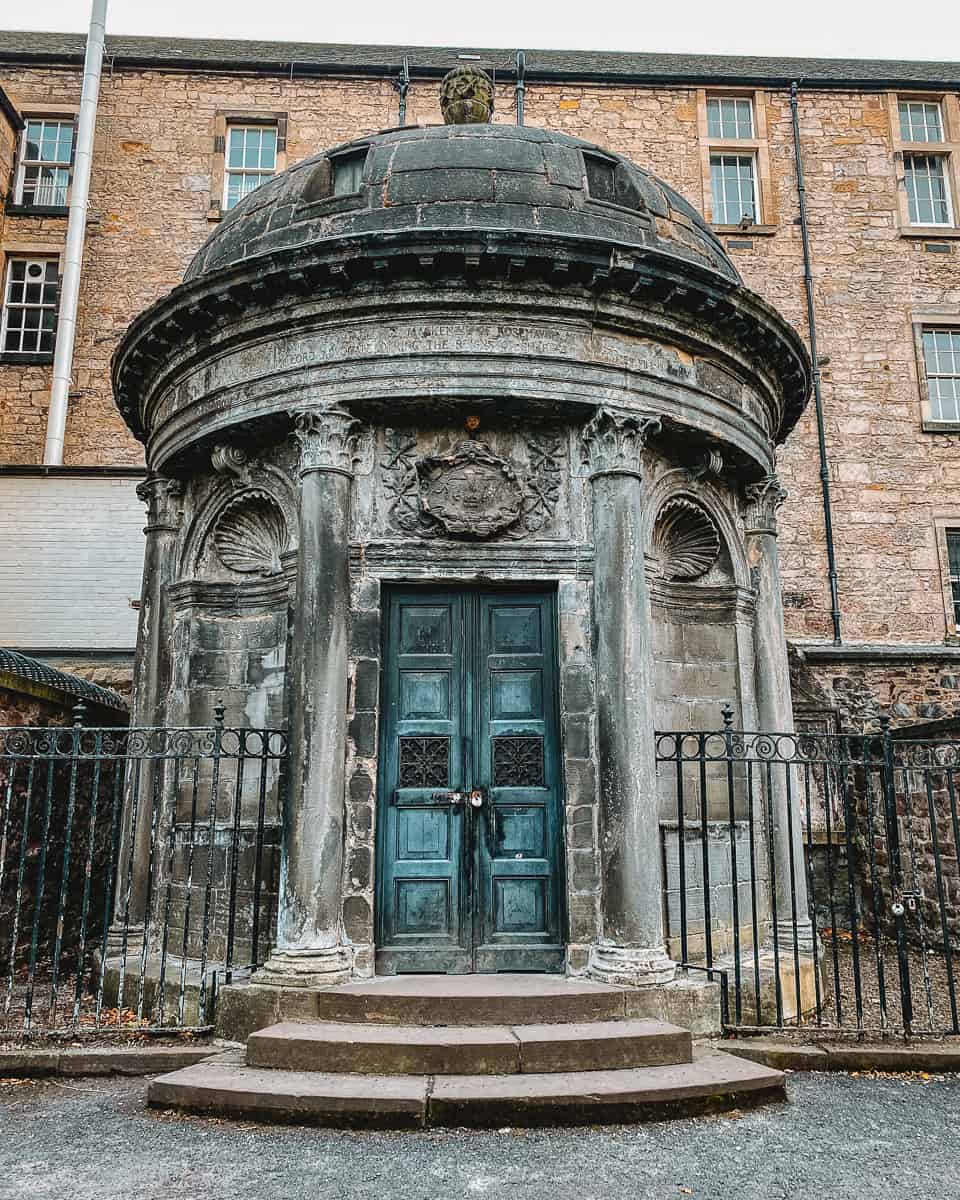 Visit the Old Covenanters Prison
Just a few yards away from George MacKenzie's tomb, you can take a look at the Old Covenanter Prison that was created in the kirkyard.
After the Battle of Bothwell Bridge in 1679, MacKenzie ordered for a prison to be made. This involved setting up a barbed-wire fence on the Old Flodden Wall to the George Heriot's school.
It was a small space and had 400 or more prisoners cramped in exposed conditions. Many were tortured, died of exposure and were executed.
Today, the prison is locked off to the public so you can only see it from the outside. But, you can organise a special tour to look around.
You can either organise a tour with Greyfriars Kirk or attend a City of the Dead tour of Edinburgh.
See the Mortsafes stopping grave robbery!
You'll find many of the graves here have bars over them or cages called Mortsafes. These were put in place so that the dead bodies were not stolen!
Grave robbing, although illegal, was common here over the centuries. Mainly to help with dissection studies for medical students at the University of Edinburgh. You may have seen this sort of thing in the movies about the murderous duo Burke and Hare.
So, many wealthy families 'caged' the grave to allow the dead to rest in peace.
Read more – The mystery of the Burke and Hare Coffin Dolls
Look for the Greyfriars Kirkyard Harry Potter tombstones
Thousands of Potter Fans descend on this kirkyard each year to see some notable characters from the wizarding book series.
I shouldn't have to say this but remember it's an active church and graveyard. So, be respectful of the gravestones.
Although it's never been corroborated by Rowling herself, the yard is only a few minute's walk from The Elephant House Cafe which is seen as the "Birthplace of Harry Potter"!
The names are too eerily close to be a mere coincidence. These are all the Harry Potter tombstones to look out for;
Anne Potter – Could this be where the Potter name comes from? Many people also believe it's Potter Row. But, you'll find this tombstone near the Flodden Wall on the marker of James Park Giles.
William McGonagall – This is the grave of a notoriously bad poet, he's even been called the worst poet in history! A world away from the clever Minerva McGonagall at Hogwarts, but definitely worth a peek.
Elizabeth Moodie – You'll find Mrs Elizabeth Moodie's grave near the Flodden Wall. This is thought to be the inspiration for Mad-Eye Moody!
Charles Black – This is believed to be inspiration for the Black family who were Voldermort supporters. It could also be for Sirius Black who was Harry's only family member.
Margaret Louisa Scrymgeour Wedderburn – As it's only one letter away from Scrimgeour, Potterheads will find this eerily similar to the Minster of Magic who replaces Corneilius Fudge in the Order of the Pheonix.
Cruikshanks – A small bonus, but you can find the grave of Cruikshanks near the Potter tomb. Of course, Potterheads will love this for its similarity to Crookshanks, Hermione Granger's pet cat!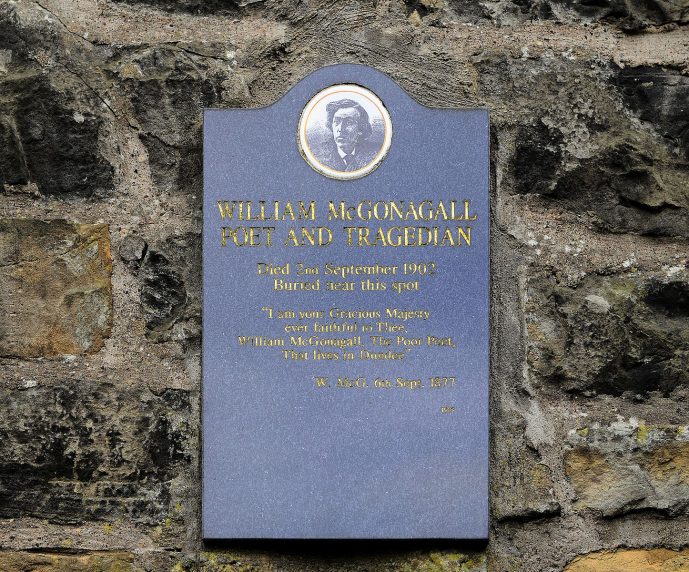 How to find Tom Riddle's Grave at Greyfriars Kirkyard
The most famous tomb that Potter fans all want to see is the tomb of Tom Riddle.
Fans will need no introduction but, if you're not aware, Tom Marvolo Riddlelater becomes Lord Voldemort. Alternatively known as You-Know-Who, The Dark Lord, and He Who Shall Not Be Named!
You can find Tom Riddle's grave by entering the kirkyard from Candlemaker's Row.
Then, from the tomb of Greyfriar's Bobby and the front of the 'Yellow' Kirk, head towards the Flodden Wall Arch
After passing the archway turn right, and you'll approach a fork. Continue straight down.
Walk down the hill and turn right and follow the pathway to the end. Here you'll find the grave of Tom Riddell Esquire!
If you were interested, this is actually the grave of Tom Riddell Senior who died at 72 years old in 1806.
There are also other Riddell family members commemorated here including Tom Riddell Junior who died before his father at 26 in 1802.
Click here to read my complete list of Harry Potter locations in Edinburgh
Bonus Potter location: George Heriot's school
If you look a little further on from the graveyard, you'll spot the turrets of George Heriot's School built in 1628!
Although not an active school anymore, many believe that this building was the inspiration for Hogwarts School of Witchcraft and Wizardry.
There's not much to say that this is a fact, but the building does inspire a wee bit of magic!
If you wanted to visit a real Hogwarts filming location, why not take a day trip to Alnwick Castle on the Scottish Borders? Here's a complete Potter guide including the famous broomstick lessons!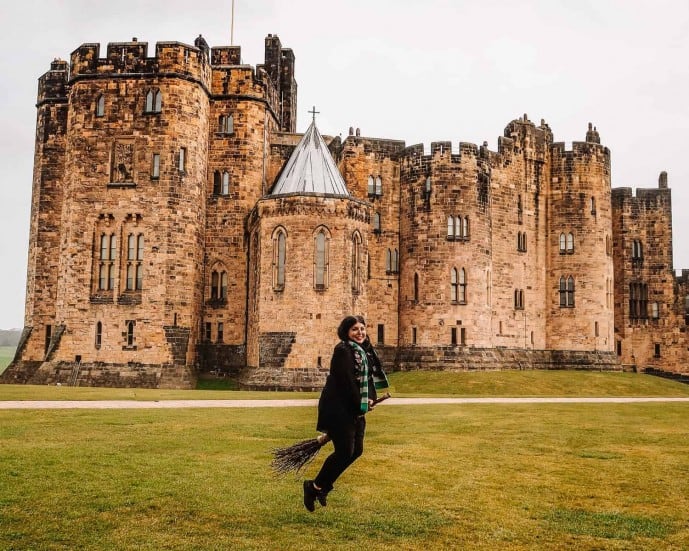 Or, read more of my Harry Potter inspired guides:
How to see the Hogwarts Express in Scotland
A magical guide to Harry Potter in York & Yorkshire
The Shop That Must Not Be Named review
Harry Potter locations in Exeter
The top photo spots at the Wizarding World of Harry Potter
How to visit Malfoy Manor in real life!
How to visit Dobby's Grave in Wales
Harry Potter filming locations in Lacock
Harry Potter filming locations at Gloucester Cathedral
Harry Potter filming locations in Virginia Water
A complete Forbidden Forest Experience review
Visiting the Quidditch Town of Tutshill Tornados
How to find the Harry Potter Tree at Blenheim Palace
Is Cecil Court a real Diagon Alley in London?
How to visit Dumbledore's Grave in Scotland
Harry Potter filming locations at Durham Cathedral
Where is Greyfriars Kirkyard in Edinburgh?
You can find the graveyard near the Grassmarket area of Edinburgh on Candlemakers Row. The easiest way to navigate to the entrance is by locating Bobby's Bar which is a pub dedicated to Greyfriars Bobby!
Just opposite you'll also find a statue of the little terrier. It's a great photo opportunity.
From here you can locate the main entrance where the George VI bridge and Candlemaker Row meet.
There is also another entrance that is located at the bottom of Candlemaker Row just next to Grassmarket.
The easiest way to get around Edinburgh is to explore on foot. But, be prepared for a good workout and wear some comfortable shoes. Also, remember this is Scotland so preparing for inclement weather is advised.
If you missed it earlier on in the post or skipped through, the graveyard is open 24 hours a day and entry is completely free. You can buy a graveyard map from the kirk for 50p during their opening times.
Looking for more things to do in Edinburgh? Read more of my guides!
Edinburgh is one of my favourite cities, EVER!
So, I have plenty of travel guides if you wanted to take in some of the tourist sites around the city too;
The ultimate list of experiences in Edinburgh
The best viewpoint in Edinburgh
Secrets of Queen Mary's Bath House
Visiting a quaint village in the capital of Scotland
My complete photography guide to Edinburgh
A complete list of Outlander film sites in Edinburgh
Why you must visit Bakehouse Close
A complete guide to the Vennel
The hidden gem of Tweeddale Court
Why Craigmillar Castle has to be on your list
Afternoon Tea? The Colonnades & The Balmoral are the best!
Scottish National Portrait Gallery review
Discover Liberton Kirk in Autumn
Topping & Company Booksellers Edinburgh review
Save this Greyfriars Kirkyard post for later!