The Sri Lanka south coast is home to some of the prettiest tropical beaches on this beautiful island!
Imagine palm trees (and palm tree swings), fresh coconut water straight from the tree, beautiful blue water, and white sandy beaches for days!
I had such a wonderful time beach hopping along the south coast. What's more, it's so easy to do!
That way, you can explore and soak up the sun on more than one beach while you're here.
I decided to start my journey first in the south as I was visiting during the rainy season in October (no wonder the flights were cheap!).
This part of the island was literally the only place at that time with some sunshine.
Here's a little guide to beach hopping along the Sri Lanka south coast!
How to get to the Sri Lanka South Coast
Most likely, you'll be landing in Colombo which is Sri Lanka's largest international airport.
Although it is called Colombo airport, it's actually situated around an hour away from there. It's closer to a little place called Negombo.
You can get visas on arrival and make sure you check the immigration requirements before you arrive.
I bought my tourist Visa in advance on their website. The price was $40 for 30 days.
I decided to head into Colombo only for one night via the airport express bus.
As I landed pretty late there were no trains running in the evening to Galle. Plus, as I was travelling solo I prefer not to travel at night alone. So, I waited until the morning and caught the train south.
If you have enough dollars to spare, you can easily arrange a private taxi from the airport to Colombo, the Sri Lanka south coast, and even Kandy.
Galle is around a 2 and a half-hour train ride from Colombo via the express trains. If you haven't reserved and are planning to buy a ticket on the day a top tip is to catch the train from the 'Meradana' station and NOT the Colombo Fort.
From this station, you're more likely to get a seat. For 2nd class non-reservation, the train to Galle was 180 (£1) in Sri Lankan Rupees.
Make sure you sit on the right side for great views of the seaside. There is no Air conditioning in this compartment, so get the window open and take in the fresh salty air!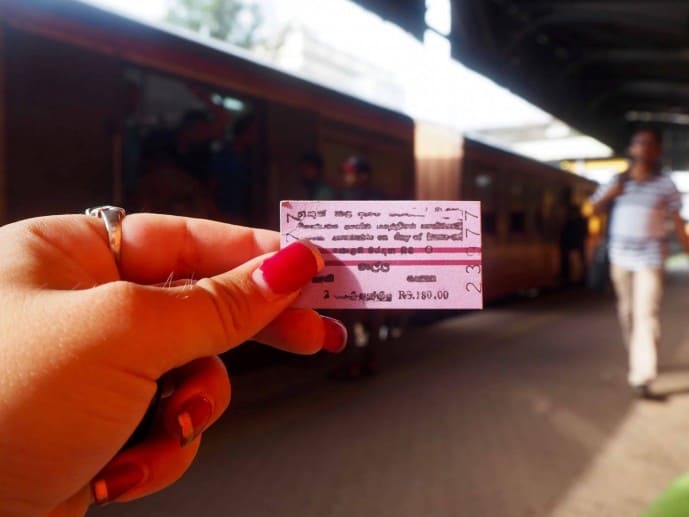 Travelling around the Sri Lanka south coast
Tuk Tuks in Sri Lanka, especially when you're travelling alone, seem to target you and are more than persistent. I was hassled on a daily basis.
I couldn't walk down the street without Tuk Tuks stopping for me.
If you're not familiar with a Tuk Tuk, it's a three-wheeled vehicle. Basically a motorbike with an extra wheel and a box on top to sit in haha!
Personally, I would recommend not getting Tuk Tuks on the Sri Lanka south coast as they rip you off.
Just catch the local buses which head along the south coast road. This Sri Lanka south coast road is the main throughway and connects all the beaches.
It goes all the way up to Matara, so you won't miss the buses heading out. Also, if you are getting Tuk Tuks, don't tell them your plans.
If you say you're heading to Udawalawe or Ella next, they will keep hassling you to take you in their Tuk. Although for a private transfer, the prices are reasonable, I can't imagine spending 2/3 hours of my life in a Tuk Tuk.
Buses are safer and cheaper. Also, I heard from my hotel that they would charge you a return fee after you get there (i.e. double what was agreed).
Bus journeys were based on kilometres and can save you a tonne. From Galle to Unawatuna it was 25 LKR.
From Galle to Mirissa it was 50 LKR and from Mirissa to Matara (for onward travel) it was 25 LKR again. It's dirt cheap but it is a little hair raising so prepare yourself!
The drivers were crazy along the Sri Lanka south coast road. Constantly taking over vehicles on a single track.
The only thing that made it entertaining was the obnoxiously loud, Sri Lankan music that plays on the TV haha.
Top places to visit around Sri Lanka south coast
Galle Fort
Galle is one of the historical cities of Sri Lanka and it took me about 10 minutes to fall in love with it. That, and the yummy, trendy restaurants in the area.
Most of the hotels, attractions, and restaurants are based within the fort walls themselves and it's as pretty as a postcard. You will be paying more to stay within the fort walls but it's totally worth it!
For me, wandering around the fort looking at all the ancient colonial buildings was my favourite part. For colonial sites, it's definitely worth checking out the Lighthouse and the clock tower for panoramic views.
The Doctors Inn and a couple of the churches and temples are also worth a peek.
As for restaurants, I loved Rocket Burger and Pedlars Inn. You will also find a wealth of boutiques that have high-quality and couture souvenirs to take home for loved ones.
I also loved window shopping in the art galleries set up and bought some vintage travel postcards!
Click here to read more top experiences in Galle!
Galle city
Outside of the fort, you can find the local markets and take a visit to this beautifully striking building.
It's an Instagram famous location and it's still a beauty after surviving the 2004 Tsunami here.
I personally loved basing myself in Galle for a night, but if you're not a history buff I would base yourself on one of the beautiful beaches and take a day trip here.
Where to stay in Galle
As the prices for hotels within the fort walls were ridiculously priced, I looked up a cute little Air BnB property called the Casa De Kulu.
It was a beautiful little place with cute boutique decor.
The wifi was super fast, there was hot water all the time and good air conditioning!
Click here to check available dates and rates for Casa De Kulu!
Unawatuna
Unawatuna is a beautiful beach on the Sri Lanka South Coast but I found it a little overcrowded and the beach was also packed.
So, I decided to stay in and around Dalawella for some well-needed peace and quiet.
It's an off-the-beaten-track beach that literally has around 4/5 people on it at any time (well in the offseason anyway). It was my little heaven.
The swaying palm trees and the sand which led into the beautiful ocean were gorgeous.
I loved just relaxing and watching the waves crash on the shore. There were fresh coconuts cut from the tree, palm tree swings, and just footprints in the sand.
The insta-famous palm trees swing looks pretty awesome. But actually, when I came down to it, I found it pretty terrifying!
I'm only 5 feet and so climbing up the base of a tree to jump off wasn't my idea of fun. But, I tried it and it was pretty enjoyable in the end.
The cost was 500 rupees per person to have unlimited rides. So, swing your heart out.
Read more about this Instagram vs Reality moment in Unawatuna here
Although I did love Dalawella, it wasn't an oasis all the time. I had a few complications here in terms of my privacy as a solo female traveller.
I would have local guys approach me all the time. When I was taking photos on the beach in my costume, I even saw some guys in an Aloe Vera bush hiding and watching. It really creeped me out.
There is also a resident guy who hangs out on the beach and approaches you offering bus tickets, coconut water, aloe vera, and palm tree swings.
He basically makes money out of hawking for local businesses in the area.
Although he was kind, he did get kind of annoying badgering me all the time. So, I decided to head out onto the next beach on Sri Lanka's south coast.
Where to stay in Dalawella
It's mainly full of pricey resorts here, there are some hotels off the main road that is reasonable.
I stayed at Summer Valley Boutique Villas which was around a 10-minute walk to the beach over the train track. Although the strange thing, as they wouldn't allow sand inside! It was a bit difficult as it's a beach hotel.
There are tonnes of beachfront options as well, but, I was concerned about my safety so didn't choose one of those.
It's also a long walk to get into Unawatuna for some decent restaurants and cafés, so you have to get the buses/tuk-tuks a lot.
But, I loved the beach so, for me, it was worth it. Check here for available dates and rates for Summer Valley here!
Mirissa
The last town on the Sri Lanka south coast is Mirissa. It's the perfect place if you love palm trees, quiet beaches, and a laid-back vibe.
I actually based myself in the more quiet area of Mirissa just to escape the crowds and traffic horns.
I think after living in India for 12 months, I would pay huge amounts of money just to avoid traffic noise haha.
What I loved is all the palm trees that are lined up along the coast, there are just so many of them.
As well as relaxing on the beach, I took a few strolls on the coast.
I sat in the beachfront cafés enjoying fresh coconuts and chilling out. It was so relaxing and the views were to die for.
Where to stay in Mirissa
I stayed in a cute little family-owned property called Maison D'hotes. It was a little hideaway by the coast and had access to a private beach area called Sanda Beach.
Plus, it was right next to Mirissa's palm tree island in the first picture above!
The family is so sweet and is willing to help you with any travel advice you may need.
What I loved about the property was the red brick walls, soundproofing, and the cleanliness of the place. Everything was imported from Paris and it was beautiful inside.
Click here to check available dates and rates for Maison D'hotes!
Dewmimi Roti Shop
Roti is a national dish in Sri Lanka and Dewmimi roti shop is run by the kindest soul. It serves up some of the best roti, I had on my whole trip to this island.
It's number 1 on TripAdvisor and It's a little out of the way but it's totally worth the walk, trust me.
There are so many options on the menu and some special menu items. My heart jumped when I read the words 'avocado roti'.
I instantly ordered it (and it was so good I had two)! The food is so tasty here and the service is second to none.
I think that if it's a family restaurant, the food is made with love. So, it's got to taste better right?
You can also try the Kotta here which is famous in Sri Lanka. It's made with Roti and two massive swords make a tune as it's getting cutting it up.
You can try it with vegetables, chicken, and all sorts of varieties. It's a must-try in Lanka, it's filling, tasty and cheap.
Turtle hatcheries in Sri Lanka
Turtle hatcheries are everywhere on the Sri Lanka south coast but I would urge you to choose wisely.
Do not just go to the closest one or one recommended by your hotel/Tuk Tuk driver.
Make sure that it's a hatchery that is kind to the animals and is for conservation not just there as a business enterprise.
I visited the turtle conservation project in Harabaduwa after doing research and they seem to be doing good work!
People traditionally eat turtle eggs in Sri Lanka as they think that turtles live long lives anyway, so a couple of eggs don't matter. But, they are now on their way to becoming an endangered species.
The project is working on successfully releasing these cuties into the ocean.
They also rescue injured turtles, who lose limbs or get broken shells from motorboats and fishing nets.
The price was 500 rupees to enter the sanctuary and you pay a little more for releasing them. It was a really heartwarming experience. I would highly recommend it.
Final words on the Sri Lanka south coast
So, that's a little guide to exploring some of the gorgeous beaches that the Sri Lanka south coast has to offer.
I would highly recommend a visit here. If you're planning on making this your last stop, it's definitely a good choice and will finish off your trip in traditional Lankan style.
Make sure you add these Sri Lanka south coast beaches to your Sri Lanka itinerary!
Where else are you heading in Sri Lanka?
Sri Lanka is a great island for travel as everything is within relatively easy reach. Use my articles below to guide you to more locations in Sri Lanka;
My ULTIMATE Sri Lanka Bucket List
A complete guide for Nuwara Eliya
Tips for hiking up Sigiriya Rock
The ancient town of Polonnaruwa
My ultimate Udawalawe Safari guide
Save this Sri Lanka south coast guide for later!