One of the best adventures you could have in Northumberland is sailing over to the Farne Islands during puffin season.
That's right, you don't need to travel to Iceland or the Faroe Islands to see puffins. They're also right here in the UK.
Each year, thousands of Farne islands puffins land here in the hopes of making little pufflings with a mate. They show off that colourful beak, scoot into their burrows and lay eggs!
When you finally land on the island you can get up close and stand mere inches away from them.
It's a magical experience that even David Attenborough loves to see 'magnificent nature'.
Puffins only land here during the breeding season, so you need to plan your visit right.
Here is a complete travel guide for the Farne Islands and the very best time to see Farne Islands Puffins in Northumberland!
What are the Farne Islands?
The Farne Islands are a group of islands that sit off the coast of Northumberland in the UK.
They sit nicely in between the fishing village of Seahouses and Bamburgh Castle on the coast around 2 or 3 miles out in the ocean.
There are around 15 to 20 islands that you can see depending on the tide and they are divided into two groups; the Inner Group and the Outer Group.
You can only land on 3 islands. The Inner Farne Islands, Longstone Island and Staple Island (May and July only).
Every year between April and July, it is estimated that around 150,000 seabirds dive bomb (quite literally) on these islands for mating and included in that are around 43,000 pairs of puffins!
As well as seabirds, there is other wildlife including dolphins and grey seals. This is a big pupping site and every year around 2000 seal pups are born here in Autumn. Squeal!
Farne Islands history
The Farne Islands have long been a site of pilgrimage and were home to many Celtic Christian hermits and monks.
The most famous of those was St Aidan and then St Cuthbert who lived here in the 7th century.
Cuthbert lived on the Holy Island of Lindisfarne for a while until he felt a calling to live as a hermit on the inner Farne Islands. He would lock himself away in a cell here for deep contemplation.
He only greeted people who made a voyage to see him through the window. He was like the ultimate anti-social!
After a brief time as a bishop on Lindisfarne again, he came back to the island and died here.
Following that, it was home to a series of hermits with the last being Thomas De Melsonby in 1246.
In 1540 a Prior named Castell built the "Pele Tower" to house the monks living on the island.
But, After Henry VIII's Dissolution of the monasteries, the island became the property of Durham Cathedral.
It then switched hands to William Armstrong (who owned Bamburgh Castle) and now it is a property that's owned and managed by the National Trust.
A familiar name you may see around this area is Grace Darling. She was a daughter of lighthouse keeper on Longstone Island.
At just 22, she and her father rescued nine people from the wreck of the 'Forfarshire'. Her bravery gained national attention and now she is almost a legend in British folklore.
There is a museum about her life and legacy in Bamburgh if you were interested.
What is the best time to see puffins on Farne Islands?
If visiting the Farne Islands puffins is the main thing you want to do on your trip, then you need to plan your visit right around the breeding season.
Puffin season on the Farne Islands is between April and July. But, the peak puffin breeding season is around May and June.
I visited the Inner Farne Island at the end of April and there were lots of puffins there.
They would fly over the boat, around us, and do their cute little waddle! It was adorable to watch them as they looked so clumsy!
How many puffins do the Farne Islands have?
It varies every year! But, the records are usually between 30 – 55,000+ pairs of puffins.
Puffins have classed a red-listed bird species which means that their breed has declined in this country in the last 25 years.
They do land on a handful of sites in the UK including the Farne Islands and the National Trust do a great job of protecting those that do land here.
How to get to the Farne Islands
The only way that you can access the Farne Islands is by boat. But, it's good to note that the Farne Islands are not open for landings all year around.
The Farne Islands are open for visitors from the 28th of March to the end of October.
The easiest place to access the Farne Islands in Northumberland is to take a boat trip from the nearby harbour village of Seahouses.
During the season, there will be plenty of boat trips that run throughout the day.
You can choose to land on either the Inner Farne Island or Longstone Island from March to October. But, Staple Island is only accessible to visitors from May to July.
The boat rides will only land on one island during a single trip, so you'll need to choose. I went for the Inner Farne Island as Longstone was shut while I was there. It has a lighthouse, the old chapel, the National Trust centre and lots of puffins!
In the breeding season, some islands will be completely closed off to the public and sailings will be prohibited around them. This is to protect the birds but also to protect you!
The best Farne Islands boat trip from Seahouses
If you were struggling to choose a good boat trip for the Farne Islands, the best choice is Billy Shiel's.
The Shiel family have been running boat trips in the area since 1918, just after the First World War.
The current Billy Shiel's great grandfather founded 'Farne Island Boat Trips' and today their fleet is one of the biggest.
They currently have 11 boats, 8 Glad Tidings, 2 St Cuthberts and a speed RHIB.
You can either book your boat trip online or turn up on the day and book a ticket from their counter in Seahouses.
I chose their Inner Farne Islands trip which is around 3 hours and includes an hour's landing.
But, they also have Sharp Islands trips, full-day bird watching trips, outer island trips around Holy Island etc. Click here for the full range.
If you were really eager to see Longstone Island and follow in the footsteps of Grace Darling. You can look up Serenity boat trips here.
Pro tip: the best time for a Farne Islands boat trip is later in the afternoon. This way there will be far fewer crowds on the island. I went around 3 pm and there were six of us total and we had the whole of the Inner Farne to ourselves!
Tips and warnings for visiting during Farne Islands puffins season
Bad weather – it's good to note that in foggy or stormy weather, the boat trips will not run at all. It's important for safety. I waited for a good weather day.
Seasickness – even on a clear day, the boat can be quite rocky with the waves. Make sure you take any tablets or bring whatever you need to help you if you do get seasick.
Mating season – means that the birds will be loud, playing up and pretty much dive-bombing into the boat. They may come close to you or fly just over your head. Just watch out for that!
The smell – Wow, the smell of these islands is truly something else. It's so overpowering and not great if you already get seasick. You do get used to it though when you land.
Bring cash – the Farne Islands doesn't have a card system here due to bad signal. There is a National Trust shop on the Inner Farne island where you can buy some cute puffin souvenirs. They also rent binoculars for £1 to those that want a closer look. So, have some spare coins with you!
Toilets – if you're worried about needing to go on your trip, the National Trust does have some public toilets to use once you land on Inner Farne Island. But, there were no toilets on the boat itself.
Accessibility – the island has a flat, wheelchair-accessible trail around the Inner Farne Island so that everyone can visit. See the National Trust's accessibility page here.
What to expect on your Farne Islands boat trip
So, what is a Farne Islands boat trip really like? Well, I have to admit, I didn't come with any expectations.
Seeing wildlife is never a guarantee, so I didn't want to get my hopes up of seeing puffins. But, I'm so happy that we did.
As the islands see anything up to 55,000 pairs of puffins here, you're pretty much guaranteed to spot some in the months of April to July.
It's so exciting when you have your first puffin sighting. Ours flew over the boat and landed on the surf. But, the larger groups will be found grouped on the Farne Islands.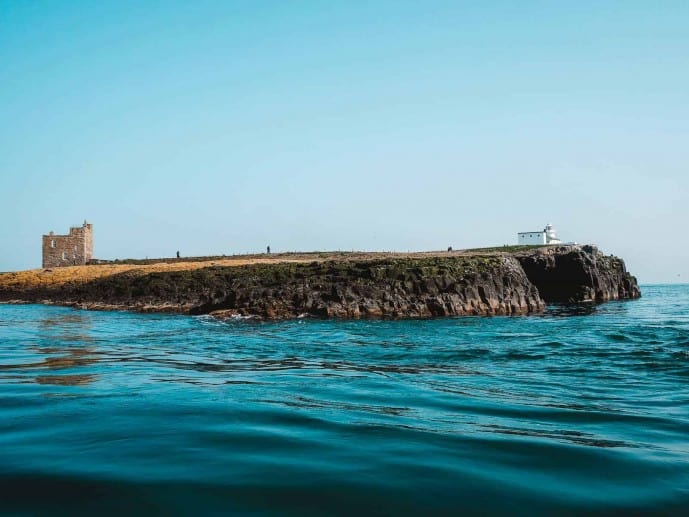 Sailing to and around the Farne Islands
The boat we had was Glad Tidings VIII with Billy Shiel's and we boarded at Seahouses Harbour. The ship is completely open plan with seating around the sides.
It doesn't really matter what side you sit on for a good view of the islands as Glad Tidings will be circling around.
Luckily, on our trip, there were barely any people so I just kept moving either side for photos. Make sure you have good sea legs!
As we made our way out to the Farne Islands, the currents made the boat quite rocky.
But, the team will prepare you for anything like that over the tannoy and give you a great informative commentary on what islands you're seeing as you pass them too.
As soon as we made it over the cross current, the waters became a lot more calm around the islands. It completely depends on the tide as to how many islands you'll see on your visit.
There is Brownsman, Longstone, Staple Island, Megstone, Elbow, Wideopens, Goldstone, Gun Rock, Nameless rock and many more. You'll notice that the bigger islands have lighthouses, cottages and towers.
Even before you land on the Farne Islands, you'll see SO much wildlife.
Keep your eyes peeled for grey seals who love to bask in the sun or the tails and fins of dolphins in the surf!
There are so many birds flying around here that you can spot including shags, razorbills, kittiwakes and fulmars. Don't worry, they will make themselves known to you, probably by flying into your boat!
Landing on the Farne Islands
Once you've had a a good sail around the islands, you'll finally be ready to weigh anchor and hop aboard the Farne Island of your choice!
I landed on the Inner Farne Island and It felt so surreal.
You're completely surrounded by the ocean and you can see Bamburgh Castle and Holy Island in the distance on the mainland.
There are a few landmarks but it's almost inconceivable to think about what life must be like for someone living here.
Some of the rangers do this almost all year! It's tiny, covered by birds and completely exposed to the elements.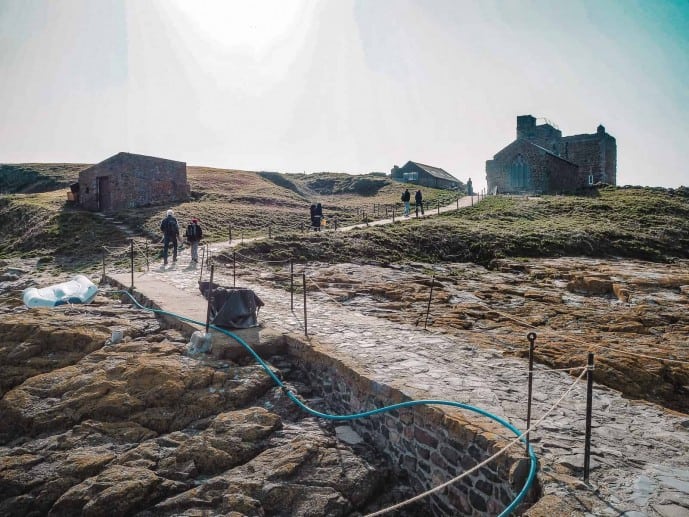 Farne Islands Chapel
Although there were Celtic Christian monks like St Aidan and St Cuthbert living on the island in the 7th century. Their settlements, like St Cuthbert's Cell, are no longer visible and fell into decay.
In 1370, a new chapel was built which is largely what we see today on the island.
The monks of the House of Farne were incredibly wealthy. They cultivated crops, had livestock and stored fish. Seals were also a delicacy that they would eat on Fridays!
The holy community lived here up until King Henry VIII's Dissolution of the monasteries.
Very little was done to the church when it passed over to Durham Cathedral.
Most of the modern renovations were carried out in the Victorian era. That's when the gorgeous stained glass window was installed with some of the wood panelling and decorations.
Even today, the National Trust maintains the church and have made some improvements like the eastern gable and the new cross.
As well as admiring this holy place, this is also where you can visit the National Trust visitor centre. Here, they have some displays on puffins and souvenirs to purchase.
National Trust Puffin Talks
If you were interested to know more about the Farne Islands Puffins, then National Trust does run some Puffin Talks throughout the day in St Cuthbert's Chapel.
These are usually held by the rangers who live on the islands and monitor the puffins daily. So, they will explain some amazing facts and you can ask them any questions that come to mind.
Although I do love muffins because they're incredibly cute, I really didn't know much more than that about them! So, I found it fascinating.
Our ranger explained that the puffin breeding season is the time when they will have their gorgeous colourful beaks on show to attract a mate.
Did you know that when out of breeding season, a puffin sheds its colourful beak in place of a dull grey one?
They also have one partner that they meet and breed with here each year! The female will lay one egg and they both work together to incubate and feed their baby.
They are also sometimes known as sea parrots due to their colours and also clowns of the sea! Amazingly, they have a life expectancy of 20 years.
It's definitely worth visiting to find out more and what work they do on the island too.
Getting up close to Farne Islands puffins
After you've attended the puffin talk, it's time to go and meet them!
If you don't have binoculars for yourself, make sure you donate £1 to borrow some from the National Trust visitor centre.
Although they do come incredibly close to you, it's not always guaranteed. So, it's best to have a way to see them from afar if they're feeling particularly shy.
On my visit, I must have seen a hundred puffins or more. They were scurrying around, burrowing holes and gathering on the rocks.
I honestly fell head over heels in love with them and I'm sure you will too. If not, they will definitely win you over with their clumsy antics.
There are lots of viewing areas on the island itself near the edges and some areas are roped off. The volunteers here are really friendly and can answer any questions you have!
Other birds and wildlife on the Farne Islands
Of course, puffins aren't the only birds that land here on the islands.
There could be well over 100,000 sea birds around at any one time. Kittiwakes, Seagulls, Arctic Terns, Shags, Eider Ducks, Sandwich Terns, Fulmars and Guillemots have all been spotted on the wildlife calendar.
Even as you sail around the islands, you'll hear their noisy screeching from afar but when you're on the island itself it's almost deafening.
I would also watch out for terns, they are pretty cheeky and will fly into you or land on your head. But, don't let it put you off.
When I had my tripod out to take some photos, a black shag nearly attacked it haha (I did have permission). So, keep your things on your person.
Prior Castell's Tower
The tower on the Inner Farne Island, or Prior Castell's Tower, was built for Durham Cathedral between 1494 to 1519. It was named after Thomas Castell who commissioned it.
It was originally built to further protect the monks who were living on the island. From both border raids and the elements.
After the Dissolution, the tower held a small garrison in 1565 of four men. The Captain was Sir William Reed, who was also the leader of Holy Island for Queen Elizabeth I.
He complained about the state of the tower and found it would easily fall should it be under attack, so further renovations were carried out.
In the 17th century, it became a ruin and fell into decay. But, it saw an opportunity for a small beacon light to be placed on top of the tower. Eventually, it became a lighthouse in 1809 called Low Light.
Today, this is where the rangers of the island live nine months out of the year to monitor the wildlife activity!
Inner Farne Island Lighthouse
As well as the lighthouse, a further Inner Farne lighthouse or 'High Light' was built in 1809. This lighthouse is still in use to this very day to help ships on the coast.
Although there used to be a lighthouse keeper that would run this manually on the island, the High Light is automated these days.
It may surprise you to know that it is automated remotely by Trinity House which is the Lighthouse Authority in England miles away from here in London!
It's a popular landmark that can you can easily see from the mainland off the coast of Northumberland. Although it would be lovely to see how everything works inside, it's locked off to the public.
How much is a boat trip to the Farne Islands?
The Inner Farne Islands boat trip with Billy Shiels will cost you £30 an adult and £23 per child.
You can pay this by card, cash or Apple Pay. But, keep in mind that this doesn't include the Farne Islands National Trust Landing Fees that you have to pay.
These are £8.20 for an adult and £ 4.10 for a child. During May – July the landing fees go up to £12.60 for an adult and £6.30 for a child. National Trust members get this FREE.
You pay your landing fee at Seahouses to the National Trust counter. Remember to bring your membership cards with you!
Can Dogs visit Farne Islands? They are allowed on the boat ride however they cannot land on the Farne Islands.
How long is the boat trip from Seahouses to Farne Islands?
The Farne Islands Boat trip I went on was around 3 hours in total.
This included sailing to and around the islands, hours landing on the Inner Farne Island and then an hour sailing back. I would definitely allow more time to get here before your trip though.
Seahouses is a small village that's very popular. It does quickly pack out and parking spaces can be limited.
You'll also need time to purchase your tickets if you haven't already and you should prepare for possible delays. The ocean is never predictable.
Personally, I was held up in traffic coming off Holy Island and I just made it here on time by frantically running to the harbour. Not something I want for you!
What to wear for Farne Islands & a quick packing list
Wear a hat – Birds have been known to land on your head here. So, come prepared with something to protect you. I didn't get that memo but luckily, no birds landed on me!
Don't wear something you mind getting bird poo on – There are so many seabirds around here flying everywhere. It is very well possible that you may be the target practice.
Bring an extra layer – The Farne Islands are really exposed out on the ocean. So, make sure you bring an extra layer even on a warm day. The breeze can bite.
A good pair of walking shoes – The island has a flat accessible trail, but I wouldn't wear flip flops or heels. You'll need a good pair of shoes to hop on and off the boat with and walk around.
Binoculars – If you have them, bring them! Although you will be inches away from the Farne Islands Puffins, it's really cool to see them up close. If you don't own any, the National Trust have some for rent.
Bring a camera – Let's face it, pics or it didn't happen. You'll definitely want a good camera to capture the Farne Islands puffins. The bigger the zoom lens the better! But, I found I was really close for a few good snaps.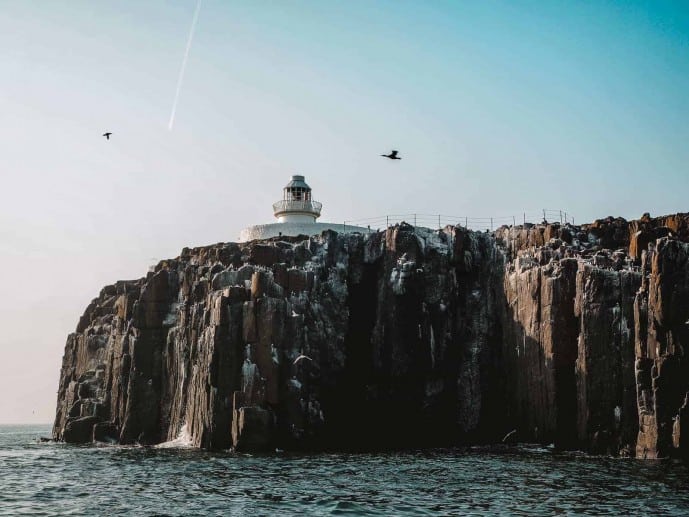 Can you stay on Farne Islands?
There is currently no Farne Islands accommodation for tourists whatsoever as it's a bird sanctuary.
The only people that live on the Farne Islands are rangers working with the National Trust to monitor bird activity.
To be perfectly honest, I'm not sure you would want to stay on the Farne Islands anyway! It would be incredibly noisy with all the thousands of birds and the stench is so strong.
It would also be FREEZING as it's so exposed. It wouldn't be the most relaxing.
Where to stay near Farne Islands
The nearest place to stay for the Farne Islands is Seahouses in Northumberland.
You'll be super close to the harbour here which will be in inches of the boat counters;
The Olde Ship Inn – You're within touching distance of the harbour with this family-friendly pub. There are so cosy rooms to check-in for the night with the added benefit of a restaurant and pub below decks! Click for rates.
Ugiebrae House B&B – A cute family-run B&B with a terrace and gardens, close by to the harbour. It comes with a wholesome breakfast and you can rent bikes to explore the area. Click to book.
Wyndgrove House – If you'd rather have some peace and quiet Wyndgrove House is in a remote quiet conservation area close to Seahouses harbour and beach. It also has fresh and spacious rooms with modern decor and facilities. Click here to enquire.
Looking for more places to visit in Northumberland?
If you're wondering what to do after your Farne Islands trip, you'll be spoiled for choice along the coast. You're right in the heart of an Area of Outstanding Natural Beauty!
You've probably already seen the mysterious Bamburgh Castle with its dominating position on the coastline and I would highly recommend crossing the threshold.
This is also the location of Uhtred's Bebbanburg in The Last Kingdom on Netflix. Click here to read my guide.
There are so many amazing staterooms in this fortification with museums and dungeons too. Or, get lost in the sand dunes of Bamburgh beach!
I recently went at Christmas time and it was absolutely gorgeous decorated for the festive season.
If you're fond of tidal islands, you could head right over to the Holy Island of Lindisfarne when it's low tide.
This is the first place that the Vikings invaded England and it's magical! Don't forget to visit the castle, and priory and try some of the legendary Lindisfarne Mead.
Read all the things to do on this magical tidal island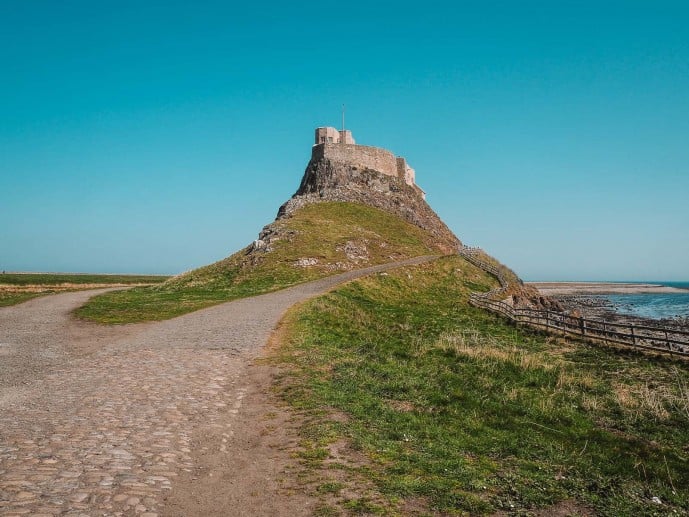 Fans of Harry Potter will lose it at Alnwick Castle as they shot some of the scenes here in the movies. You can even have a go at flying a broomstick with their magic lessons!
Or, head into the gorgeous floral displays at Alnwick garden and their poisonous plants. Also, if you're here in April/May you should check out their Cherry Blossom Festival!
Also, the town on Alnwick is a wonder to explore and you can stop by the impressive Barter Books.
Dunstanburgh Castle was one of my favourite walks in Northumberland and you'll be heading over a coastal headland to the dramatic ruins.
It's extremely romantic and best paired with sunset. Read more about this amazing walk here.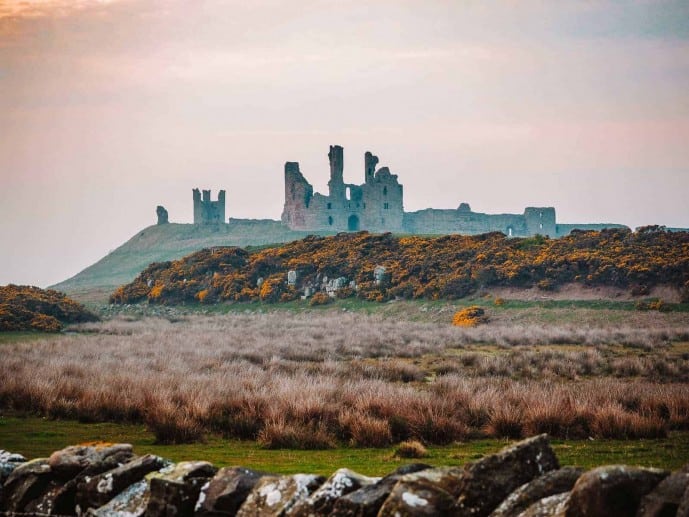 Like it? Pin it!