Photography in Egypt is the ultimate experience for any photographer. You quite literally have thousands of years of history before you and I'm sure excitement is rushing through you to capture the beauty.
But, this isn't the golden age of Egyptology where tourists could roam for free through the desert, climb the pyramids and not have to pay a single penny to enter. No, no.
A visit to Egypt, especially for taking photographs, requires planning and a good budget.
It may surprise you to find out that photography in Egypt is a strict and pricey business. Not to mention the crowds, the lighting, shadows, tripod bans and endless permits and security checks of your equipment.
Hell, even when I bought a tripod or photography permit I was constantly asked for proof of it by security!
It is a challenge but one that's worth taking to score some awesome photographs. So, I thought I'd put together this guide to help fellow photographers and Instagrammers out.
Now, I'm not a professional photographer by any means so I won't be discussing aperture settings or whatnot as I feel that's completely down to the person behind the lense.
But, I will tell you the best photography and Instagram spots in Egypt, prices for photography in each attraction and the best time to visit for good lighting and as little crowds as possible.
So, if you're ready. Let's start the ultimate guide for photography in Egypt!
Things to prepare before you visit Egypt
You will need a tourist visa for Egypt. These can be bought for $25USD at the border or in advance online. Check out my post all about securing one as a UK citizen but this applies for most countries.
You will need travel insurance for Egypt I always choose World Nomad's as their policies cover a wide range of adventure activities. I would also consider buying camera insurance from a separate provider incase something goes wrong. I chose Ripe Insurance.
Egypt uses the Egyptian pound and at the time of writing £22 Egyptian Pounds = £1 British Pound.
Camera protection and safety when in Egypt
As mentioned before it would be a wise idea to buy camera insurance when travelling in Egypt. Pickpocketing is common, so make sure you have your camera equipment to hand, locked away or in sight at all times
Egypt is a dusty and sandy place with sandstorms being a frequent travel buddy. I can't mention the amount of times i've got sand in my camera and ruined it! So, I would make sure that you have camera protection in the form of a photography bag/backpack with the appropriate lens covers.
Don't switch lenses when it's windy as you may find that sand gets inside your camera.
Tripods are allowed in certain attractions but at a flat fee or £20EGP per site, per day. So be prepared to fork out a lot of cash for tripods and for taking photos. When setting up your tripod be cautious of the wind and make sure that you plant it firmly to avoid it falling in sand.
I didn't really fear my camera getting stolen in tourist sites when set up on a tripod, there were lots of guards and no one was getting very far with my camera/tripod if they did decide to run away with it. But, in cities like Cairo and Alexandria it's important to keep a keen eye.
Photography spots in Cairo
Oh Cairo, the capital city people love to hate!
I personally loved it but compared to the rest of Egypt this place is downright polluted, beautiful dirty chaos. But, there are some pretty Instagram spots to behold and photograph in amongst it all.
Cairo in general terms isn't necessarily a city, it's a region with districts and cities within it.
Giza, where the Pyramids are located, is a city within the boundaries of Cairo. In fact, it takes around an hour to reach Giza from the airport! So, I'd split up sight seeing in two parts. Giza for one day and then the wider Cairo (old and new) another.
1. The Pyramids of Giza & Sphinx
Seeing a wonder of the world with your own eyes is an incredible feeling and seeing ancient one that still stands is even better! A visit to the Pyramids of Giza has to be on any travellers list in Egypt.
As one of the busiest sites in Cairo though it's always good to come prepared!
You don't have to have a tour guide with you but I would recommend it to stop being hassled all the time.
Also, it's always handy to have them pay a tip to the guard to look the other way so you can climb a pyramid.
I have a whole guide with 21 survival tips for the Pyramids of Giza here if you want to read more.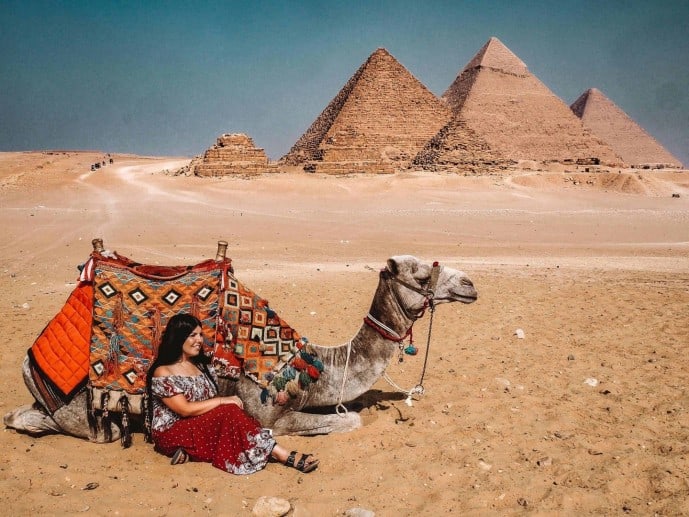 Pyramids of Giza opening times: October – March 8am with last entry at 4pm. April – September 7am with last entry at 6pm.
Ticket prices for the Pyramids of Giza:
General Entry: £160EGP
Great Pyramid £360EGP
2nd and 3rd Pyramid £100EGP per pyramid
Solar Boat Museum £100EGP
Photography prices: Photos are free but tripods cost £20EGP.
Photography tips for the Pyramids of Giza: Get here for opening time in the morning or even earlier to get in line. When I visited in October I didn't have to queue and was first in! The sun rises opposite at this time and lights up the pyramids beautifully.
Visit the Sphinx first to photograph it as it only gets crazier throughout the morning. You don't need to go on a camel tour you can hire a camel inside.
You can get a really good sunset view from the Pizza hut opposite once the complex closes or go to the dunes on a desert tour at sunset/sunrise.
2. Khan El Khalili Bazaar
One of Egypt's oldest markets and also one of the most picturesque! A lot of people will tell you to avoid this tourist trap but I wouldn't.
It's stunning with lots of souvenirs and places to photograph inside! Head into the old part of the bazaar for picture perfect stalls selling arabian lanterns, ancient archways and all sorts of Egyptian souvenirs.
After your photos, if you are interested in shopping head to JORDI. It's a fixed price shop so you know you wont be ripped off!
read more – Why you must visit Naguib Mahfouz Cafe in Cairo
Times of opening: Khan El Khalili doesn't close, but the shops will. You may battle with crowds a little but getting here when the shops are open is better for photos.
Ticket prices: Free!
Photography prices: Free!
Photography tips for Khan El Khalili: I would get here early in the morning around 9am or 10am to photograph. You can treat yourself to a yummy Egyptian breakfast and coffee in the stalls around. The archway located on 'Bab al-Ghuri gate' is the most famous spot in this market! Just wait patiently until shoppers leave so you can take your shot.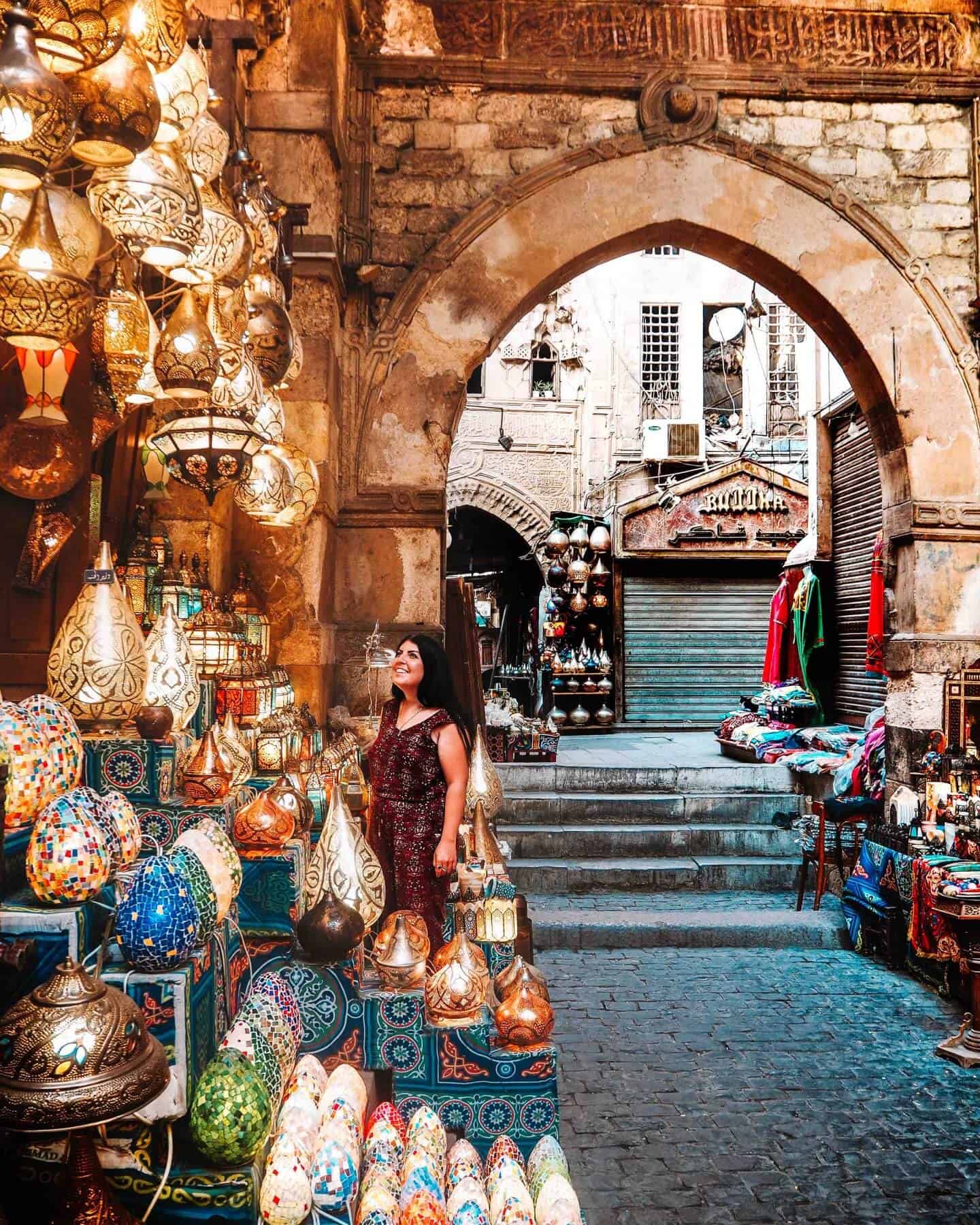 3. Citadel of Saladin
This medieval fortress can be seen all over Cairo and it's like a siren pulling you in.
It was built on Mottakam Hill and is a UNESCO World Heritage site.
Saladin, who was the first Sultan of Egypt and Syria, constructed it in the 12th century. t's definitely worth a visit and you can get a fabulous view of the whole city around you from up here!
Don't forget to pay a visit to the Mosque of Muhammad Ali, built in 1830, that's spectacular inside an out.
Citadel of Saladin opening times : 8am – 5pm.
Citadel of Saladin ticket prices: £100EGP to enter the Citadel which includes the mosque and other museums inside.
Photography prices: Free! Tripods are not allowed.
Photography tips for Citadel of Saladin: It will be busy in the afternoons to get here in the morning if you can! The city views and the mosque are the most picturesque parts.
4. The Egyptian Museum
This is the most famous museum in Cairo and is extremely popular.
The highlights inside are the masks and sarcophagi of King Tutankhamun. But, there is no photography allowed in there.
The outside building, huge arched ceiling and all the artefacts inside are great muses for photos.
Opening times for the Egyptian Museum: 9am -5pm. Late night openings until 9pm on Thursday's and Sunday's
Ticket prices for Egyptian Museum:
Standard entry: £160EGP
Royal Mummies Hall: £180EGP
Photography prices: £30EGP for a photo pass
Photography tips for Egyptian Museum: No photography is allowed in the King Tutankhamun display and the Royal Mummies room. Some great photos can be found at the top floor looking down on the main halls.
Photography spots in Luxor
Luxor is like an ancient playground, it's the world's largest open air museum.
For miles you can chase ghosts in historic temples and tombs, see artefacts in museums and gaze upon the Nile that has been here since the dawn of time.
It's where I would recommend spending most of your time as there is so much to explore! This is also where I took the majority of my photos as each site had something new to offer and I could have spent hours in each one marvelling at the ancient architecture.
If you're after an itinerary for Luxor, you can see my itinerary for exploring independently here. Also if you'd like to try your hand at night photography, see my posts of all the things to do at night in Luxor here.
5. Karnak Temple
Karnak is one of the most impressive temples that has been left behind from ancient Thebes ( modern day Luxor). Built in 2055BC, it took over two centuries and 30 pharaoh's to complete it!
It's most famous for its almost sky-high decorated columns which weigh a few tonnes, you can explore a citadel of worship.
You can wander down the impressive Ram Road at the entrance, explore the many temples that are inside its walls, see the epic obelisks that were erected by Queen Hatshepsut, gaze at the reflections on the lake and count all the colossi that stand proud.
Don't forget to return at nightfall for the Karnak light and sound show.
Unlike the Pyramids, you don't just sit and watch. You walk in amongst the temple as the show goes on around you.
It's spooky but spectacular and the eerie narration paints a picture of how Karnak used to be in ancient times.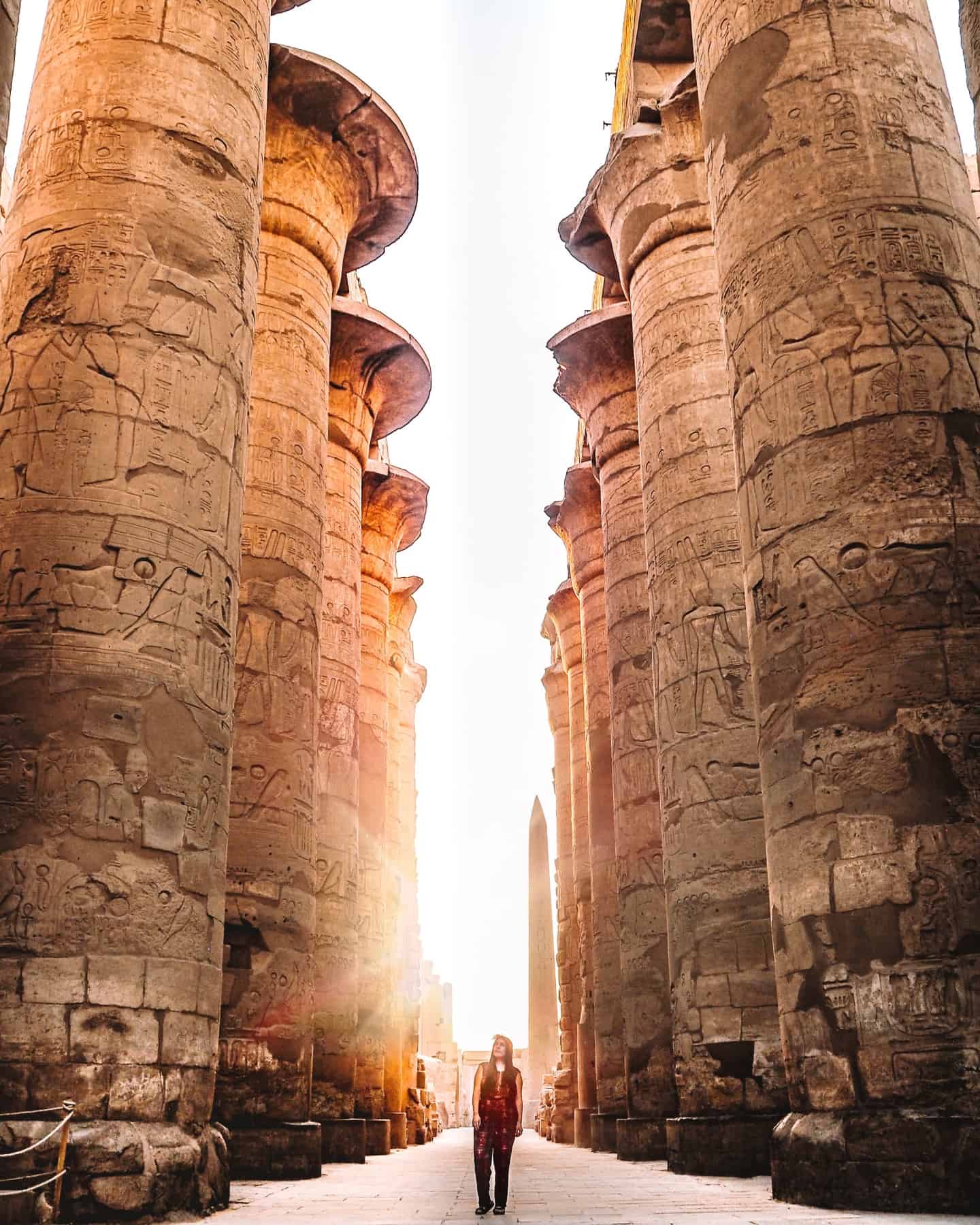 Opening time for Karnak: 6am – 5.30pm
Ticket price for Karnak: Entry is £150EGP
Photography prices: Photography is FREE but tripods cost £20EGP.
Photography tips for Karnak: I would make sure you enter Karnak at 6am as a priority for photos. When you arrive at this time, the lighting is so soft and fabulous and as the sun is rising it makes the columns turn pink and orange!
You should have it to yourself for around an hour until the mass of tour groups show up. After that, it's game over until closing time at sunset when you can tip the guard for a shot or two after people leave.
Despite this, there are places in amongst the columns at all times of day where you can snap a photo without people so don't stress too much if you're on a guided tour.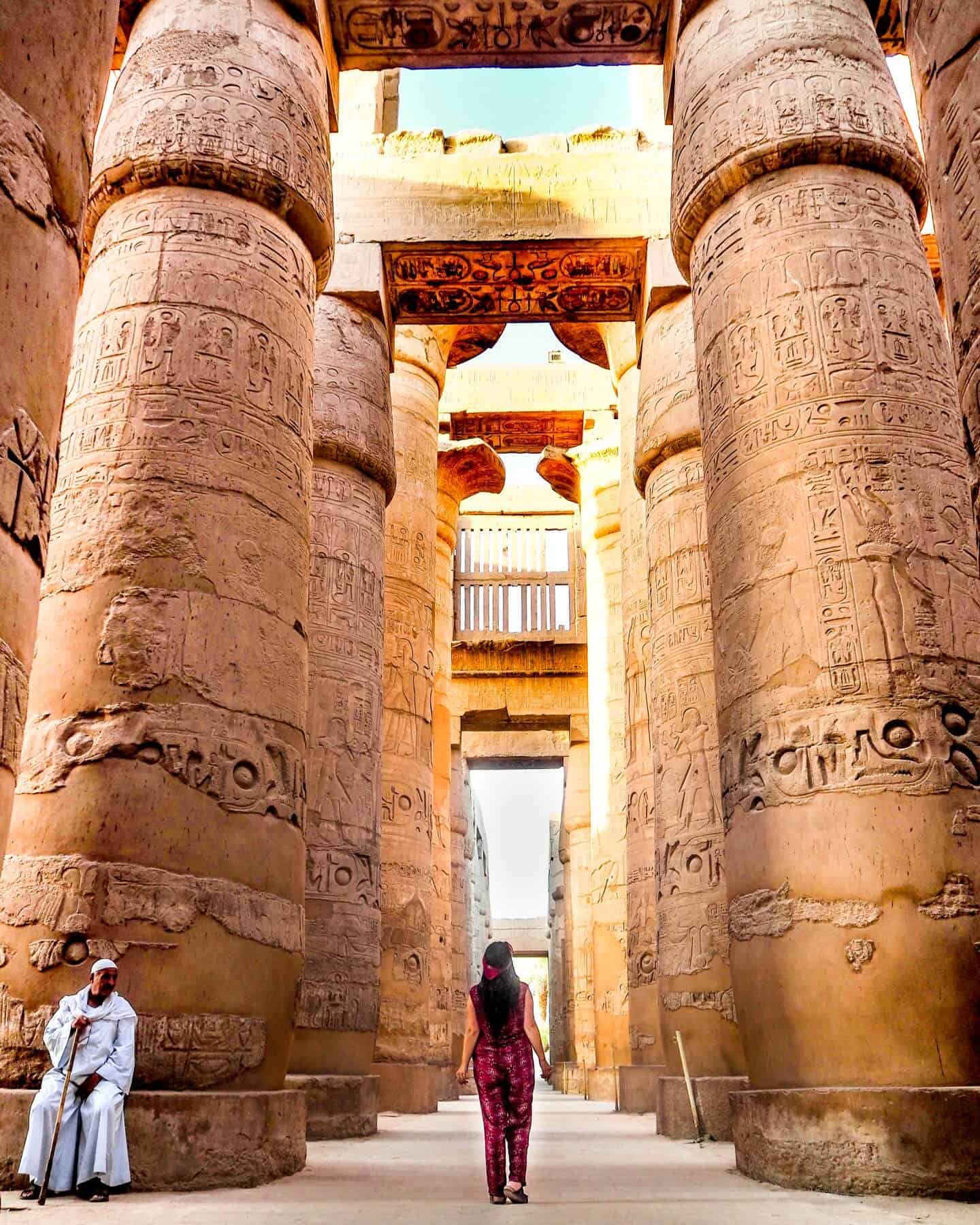 6. The Valley of the Kings
The Valley of the Kings has been an area of significant public interest ever since Howard Carter discovered Tutankhamun's tomb in 1922.
Ever since, people from all over the globe have heard tales of the 'Curse of King Tut' and were curious to see these beautifully decorated tombs of Pharaoh's.
It is an incredible place to explore, but it's a little bit of a minefield with strict rules. Your general entry ticket only allows you into 3 tombs of a possible 8. Add to the fact, that photography is quite expensive, it's important to choose wisely.
Not to worry, I have put together a whole post to demystify a visit here with the best tombs for photos. I went twice, so I went in more tombs than most.
Opening times for Valley of the Kings: 6am – 5pm.
Valley of the Kings Ticket prices:
General Entry – £160EGP
Seti I (KV17) – £1000EGP
Tutankhamun (KV62) – £200EGP
Ramses V & VI (KV9) – £80EGP
Photography prices: £300EGP (£15) for a photo pass which permits photos in 3 tombs only, tripods strictly prohibited. You don't need a photo pass for mobile photography! A lot of people tip the guards for photos too but it's a risk and your camera could be taken away to the photography kiosk.
Photography tips for Valley of the Kings: Get here early if you can say around 7/8am, most tourists will explore the tempe of Hatshepsut first so you have some grace.
Around 10am is when the majority of tourists will be arriving in groups from cruise ships in Luxor or coach tours from Hurghada.
Even when you buy a photo pass you'll be hassled for it so keep it to hand. Also, you only get to photograph 3 tombs even if you pay extra to enter. So, make sure you choose your tombs wisely using my guide so you're well prepared.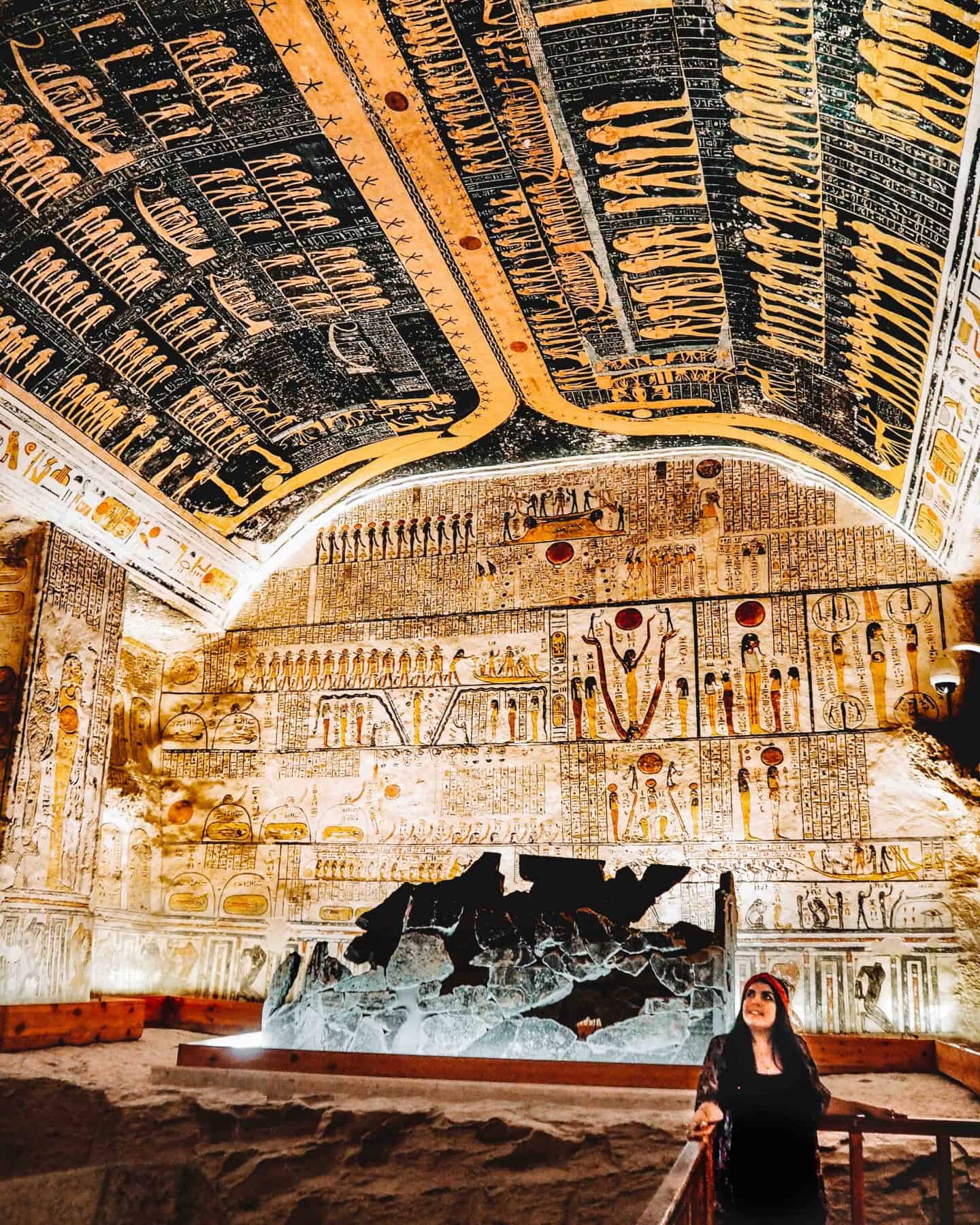 7. Luxor Temple
In ancient Thebes, the Ram Road at the entrances at both Karnak and Luxor temple used to be connected as a through road to each other.
Luxor temple, was a sanctuary temple of worship. Luxor temple was built in 1400BC and it's dedicated to Amon.
King Amenhotep III (1390-52BC) started the construction but it was completed by King Tutankhamun (1336-27 BC).
It's not as grand as Karnak temple, but it's a beautiful site to behold with a magnificent facade to greet you at the front. When you head into the temple, you can find lots of colossi, columns and even paintings from the Roman period.
Once the sun goes down, return again at night to see this temple lit up beautifully against the night sky.
Opening times for Luxor Temple: 6am – 10pm at night.
Ticket prices for Luxor Temple: £120EGP
Photography prices: FREE but tripods cost £20EGP.
Photography tips for Luxor Temple: Like most temples, getting here for opening time is a guaranteed way to have it to yourself or with as little crowds as possible. During the day, and even more so at night, it's crowded with a relentless flow of tour groups en masse.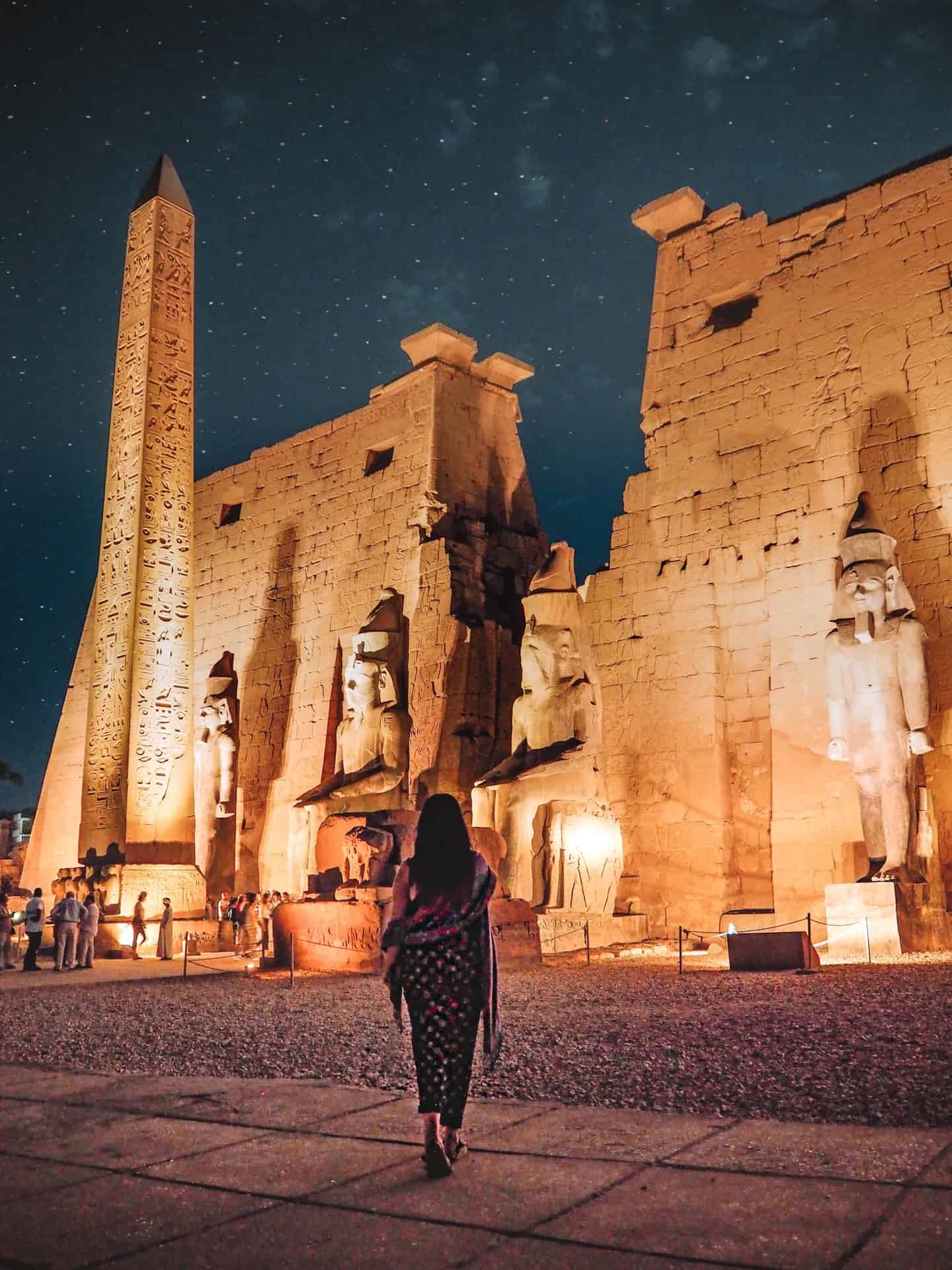 8. Temple of Queen Hatshepsut
The Mortuary temple of Queen Hatshepsut is an Egyptian architectural wonder due to its astronomical alignment. Most of this temple is a restoration but some of the original tomb is here to see.
More importantly is the women who built this temple. Queen Hatshepsut was a powerful female figure in ancient Egypt.
She was the longest reigning female pharaoh but she dressed as a man gaining the title the "the woman who was king".
It's beautiful to photograph due to the symmetry but again, packed with tourists and you'll roast under the sun here.
Temple of Hatshepsut Opening times: 6am – 5pm
Ticket prices for Temple of Hatshepsut: £100EGP
Photography prices: Photography is FREE but tripods are £20EGP
Photography tips for Temple of Queen Hatshepsut: Sunrise or as early as possible again! This temple packs out with groups and so it can be hard to get decent photographs of the facade. Make sure you have your tripod ticket to hand or the guards will pounce!
9.Madinet Habu
This was one of the most peaceful temples I visited in Luxor.
As it's left out of many tour groups itinerary you can relax and wander around with hardly any crowds to bother you.
As the mortuary temple of Ramses III, there are many paintings of his battles and defeats inside.
It's a shame lots of people miss it as its one of the most preserved temples in ancient Egypt in terms of the paint on the walls.
Before time weathered these temples, almost all of them were painting from top to bottom! It must have been fabulous to visit.
Opening hours of Madinet Habu : 6am – 5pm.
Ticket prices for Madinet Habu: £80EGP
Photography prices: FREE but again, tripods cost £20EGP.
Photography tips for Madinet Habu: You won't struggle much with crowds here (yay!) so you can turn up at any point of day. The columns within the inner sanctum are the most impressive part due to the preserved paint.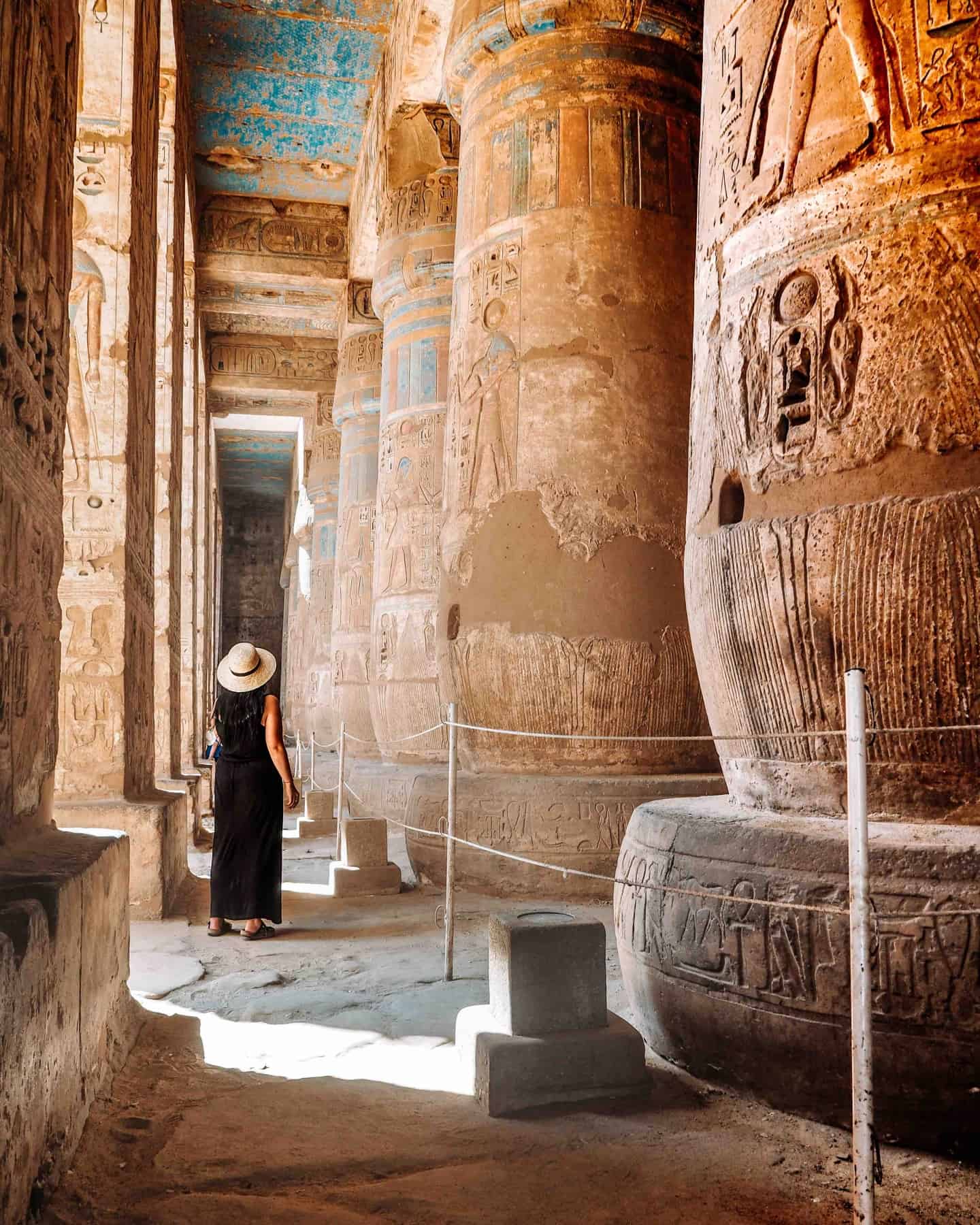 10. Colossi of Memnon
A popular stop in the West Bank. These two statues depict Pharaoh Amenhotep III, or did before they were destroyed in an Earthquake. Most tour groups stop here for a quick photo!
Times of opening: Dawn til Dusk
Ticket prices: FREE
Photography prices: FREE
Photography tips for Colossi of Memnon: It's not too bad in terms of crowds, but go further forward to get it without crowds. I got told off for my tripod here, even though there is no option to get tickets. The best times would be to get here for sunrise and watch the balloons rise above them!
11. Air Balloon ride in Luxor
Probably the most exhilarating thing I did in Luxor was a hot air balloon ride over the West Bank.
This was my first time in a hot air balloon and was pretty terrified. They don't have the best reputation for safety. But, I shouldn't of worried, I was in safe hands and the views were breathtaking!
Having done it myself, I'd say not to miss out. But, I'm sure you have concerns so I've written a post about how to pick a safe balloon over Luxor ride here.
Times of opening: Usually most air balloons take off at sunrise but then carry on through the morning until around 7/8am.
Ticket prices: $50 – it's the cheapest place to fly in the world
Photography prices: FREE But you're technically not meant to. But, the crew said they can't stop you once you're up in the air. This is Egypt!
Photography tips: It can be crowded in the basket so you may struggle for a photo of yourself so get creative with your shots. I took a GoPro which was perfect. For the landscape I'd pick a wide angle lens. Ask to go up on the balloon heading up for sunrise so you're not in the dark when you start!
Photography spots in Aswan
Aswan was my favourite spot in Egypt. Unlike Luxor, it had a certain magic to it that I fell in love with.
Maybe it was the romantic views of the Nile or the peaceful nature of the people, either way, its the one place I wish I had spent longer in.
In Ancient times, Luxor was Thebes and acted as the capital of the New Kingdom. Aswan, was Swenett and was on the forefront of the Pharaonic Egypt on the border of Sudan (Medjay). Many of the quarries in this area provided the stone work for the temples you can see in Luxor and Egypt today.
There's so many amazing things to get up to in Aswan, I've put together a list of them here.
Also for any Agatha Christie fans out there, Aswan is where she spent a year in 1937 writing her famous novel Death on the Nile. She checked into the Old Cataract and you can still see her old writing desk. For more about that, see my post here.
12. Philae Temple
What could be more romantic than a temple sitting in the middle of a lake? Even more exciting is the fact that you have to get a boat here to access it! It's as mysterious as it gets here in Aswan.
This temple is nicknamed the Temple of Love and is dedicated to Goddess Isis and Hathor. It has the last ever known hieroglyphics carved into the wall here and gorgeous views!
There is also a sound and light show that goes on here in the evening – don't miss it!
Opening times for Philae temple: 6am – 5pm.
Ticket prices for Philae Temple: £150EGP including the boat ride
Photography prices: FREE but tripods cost £120EGP
Photography tips for Philae Temple: I would get here as early as possible for photos without crowds, but when we arrived around 3/4pm it wasn't overly crowded either.
13. Nubian Villages
The colourful Nubian villages are beautiful muses for photography. So many colours and patterns into the rocks!
But, I would personally take caution when taking photos in these villages. I didn't personally visit as I was a little morally conflicted with it.
Please don't intrude on people's houses without permission and give tips when requested for photos. If you're heading here on a tour, enquire as to what is being given back to the tribes here. Also, make sure to dress respectfully especially women.
Times of opening: Dawn til Dusk
Ticket prices: None, but tours will cost.
Photography prices: FREE
Photography tips for the Nubian Villages: Tip people for using their houses as a photo spot! Give back to the community you're using for your photo album. Don't intrude or disrespect the area. This isn't a tourist attraction, it's their livelihood.
14. Kom Ombo Temple
Kom Ombo temple is a popular stop on the Nile Cruise route. In fact, our cruise ship pulled up opposite. It felt so surreal.
This temple was built in honour of Sobek who was a crocodile God. There are many hieroglyphics that explain that worship of Sobek and the handling of crocodiles that would be worshipped inside the temple.
You can even visit the Crocodile Museum after your visit to find the mummified crocs on display!
I toured around here with my guide from my Nile Cruise. We didn't really have a choice on the time of visit but you can easily stay in the area or get the train here from Luxor.
Opening times of Kom Ombo Temple: 6am – 5pm.
Ticket Price for Kom Ombo Temple: £80EGP
Photography Price: FREE but tripods cost £20EGP
Photography tips for Kom Ombo: We arrived at the temple around 10am and it was already horribly crowded. I would aim to get here as early as possible. But, there were parts of the temple where you can get photos without masses of tourists.
15. Edfu Temple
Edfu is another popular stop on Nile Cruises. This temple is one of the best preserved in Egypt and it's huge! There are so many sanctums, chambers and staircases to explore. For a history geek it will blow your mind.
This is the temple dedicated to Horus and used to be home to the cult of Horus. So, you'll find lots of statues of Horus, hieroglyphics about offerings like perfume and even recreations of the boat they used to worship him by bringing it down to the Nile. The Nile used to flow outside the temple in ancient times.
Opening times of Edfu Temple: 6am – 5pm
Ticket Prices for Edfu Temple: £150EGP
Photography prices: FREE, tripods cost £20EGP
Photography tips for Edfu temple: Although we got here in the middle of the day, it was actually quite easy to get photos without people in. Groups make their way around and you can wait to capture parts of the temples.
16. Photography in Abu Simbel
Abu Simbel is by far the most impressive temple in Egypt. In fact, many say that if you don't visit these temples your visit to Egypt is incomplete.
The temples of Ramses II and the small temple of Nefertari are carved into the rock and took over two decades to build!
How they did that and the fact most of it is perfectly preserved blew my mind. You have four options for visiting. For more details check out my post!;
One is to stay in Aswan and take a tour from there. The drive is around 3/4 hours and you start off from Aswan at 3am with a bus load of you.
Two, you can get a private taxi later in the day to have it all to yourself like I did.
Three you can stay in Abu Simbel itself and get a bus down, take a taxi or fly. Then you can stay in a hotel and visit early for sunrise.
Four, a cruise ship stops by here on their tour. Not the cheapest option but you pull up right outside the temple
Opening hours of Abu Simbel: 6am – 5pm. There is a light and sound show in the evening if there are 10+ people.
Ticket prices for Abu Simbel: £200EGP
Photography prices: £300EGP (£15) for a photo pass for taking photos INSIDE the temple. If you just want to take photos outside its free. Tripod tickets are £20EGP.
Photography tips for Abu Simbel: Getting it without people will be a struggle if you don't take a private taxi down there at a quiet time or stay down in Abu Simbel itself and visit at sunrise! In fact, around 8am it sees hundreds of people swarming the place!
Photography spots in Hurghada / Sharm El Sheikh
The Red Sea in Egypt is a popular location for many tourists. Either for a beach holiday or to get some R&R after all that temple hopping!
Now, the question is which do you choose? Hurghada or Sharm El Sheikh? Both are extremely popular.
I would say that it depends on how much time you have in Egypt. If you have more time head on down to Sharm El Sheikh on the Sinai Peninsula. It's the far east of Egypt so it will take longer but the Ras Mohammad National Park and the diving in the area is supposed to be amazing.
If you have less time and you're on the classic Egypt route, take a trip to Hurghada. It's only four hours away from Luxor and also have some amazing diving/snorkelling areas.
If you're still deciding, here's a post I have all about the pros and cons for both here.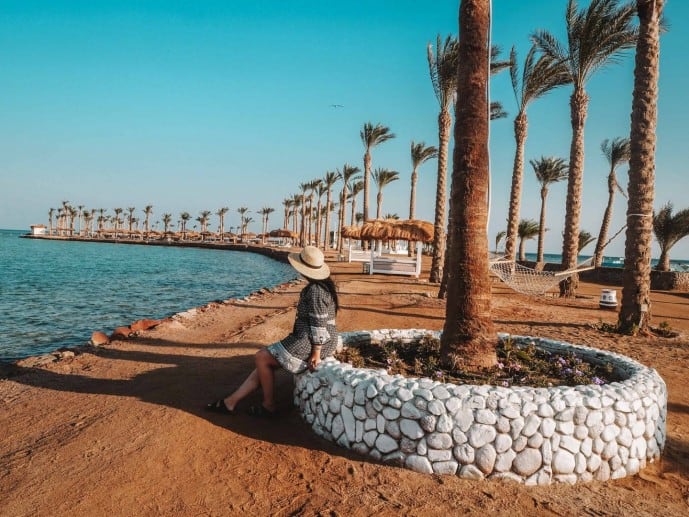 17. The Beach or your resort
Most of the time the beaches are privately owned by resorts.
There are public beaches but it may not be the sort of relaxing affair you're looking for. Many local women will completely cover themselves up at the beach and you'll probably be hassled by vendors the whole time.
Personally, if you're staying by the Red Sea its better to stay in a resort. The All Inclusive resorts in these areas are super affordable and you can relax and dress in what you like. The staff in these hotels are used to seeing men and women dressed in swimwear.
Times of opening: Dawn til Dusk
Ticket prices: FREE
Photography prices: FREE
18. Diving in the Red Sea
A visit to the Red Sea isn't complete without a dive or a snorkel in it. The crystal clear water, colourful corals and interesting sea life make for an exciting underwater adventure!
You can go on a variety of tours. Diving tours, snorkelling tours, glass bottom boats or even just a day trip on the ocean. Ask your hotel for details but I would negotiate with a tour operator directly if you're on a budget.
Ras Mohammad national park has many shipwrecks you can explore and a shark quay, so if you're an adrenalin junkie I would opt for this.
Times of opening: Dawn til Dusk
Ticket prices: Tour Dependent
Photography prices: FREE
Photography tips for the Red Sea: Bring a GoPro, waterproof iPhone cover, sports camera or underwater housing along with you to capture it. Some tours may have a camera with them or GoPros to hire if needed.
19. The Al Sahaba Mosque
Was it crazy that I travelled across Egypt to Sinai just to see this beautiful architecture?! Maybe.
But, the few days at the beach were totally worth the journey too. I loved the Al Sahaba mosque, but, be prepared for it to be in a busy, tacky, shopping area in Sham El Sheikh.
Entering the mosque requires you to wear an Abaya which you can rent from the Information centre outside. But, be weary of the Imam's in here offering prayers for tips! The whole place felt a little false to me. But, for photos it's a fabulous subject.
Times of opening: For worship it's open as early as 4am. But visitor times are from 9am – late.
Ticket prices: FREE but the robes are by donation.
Photography prices: FREE but the Imam's in here may ask for tips.
Photography tips for the Al Sahaba mosque: I would visit this mosque early morning at sunrise. At sunset the area is full of tourists and it's quite impossible to capture it well.
Photography spots in Alexandria
Ah, Alexandria! I can't believe I almost talked myself out of visiting.
It's an incredible city on the Mediterranean sea and, as it's only two and a half hours from Cairo by car, makes the perfect day out for sightseeing.
Alexandria is legendary in Egyptian history as it used to be a powerhouse of kings, battles, intellect and philosophy.
Founded by Alexander the Great, it was most famous for the Great Library of Alexandria which held most of the world's written knowledge in scripture at that time. Also the lighthouse of Alexandria, an ancient wonder of the world, stood here but was unfortunately destroyed.
You can visit a 15th century stronghold, the medieval wonder of the Catacombs of Kom El Shoqafa, walk amongst royalty in Montazah and enjoy the views of the Corniche!
I have two articles that may take your fancy on this marvellous city; reasons why you should visit and the most popular Instagram spots.
20. The Citadel of Qaitbay
This 15th century fortress was built to protect Alexandria against the Ottoman Empire and stands on the exact location of where the ancient Lighthouse of Alexandria once stood.
Standing proud on Pharos Island, you can visit the Citadel and climb up the fort to get some fantastic views of the city, harbour and the ocean.
Opening times of the Citadel of Qaitbay: 9am (although Google said 8am) – 5pm.
Ticket prices for the Citadel of Qaitbay: £80EGP
Photography prices: FREE but tripods are £20EGP
Photography tips for the Citadel of Qaitbay: I would get here for opening or later in the afternoon when it clears. Unfortunately on my visit, there were so many groups of school children on an education visits to get clean pictures easily but I managed with extreme patience haha.
21. Abu al-Abbas al-Mursi Mosque
As I was waiting for the Citadel to open two Turkish backpackers, showed me a picture of this mosque they took on their phone.
I instantly had to find it! So, after my visit to the Citadel of Qaitbay I made my way down the Corniche and turned down a side street to find this gem!
This mosque I'm posing with isn't active, it's in fact derelict but the architecture was super pretty. That reflection is also not a river or fountain, it's a leak from the toilets. So, you'll smell them before you get there.
Opening times: dawn til dusk
Ticket prices: FREE
Photo prices: FREE
Photography tips: It's pretty at any time of day, but the sunrise would be perfect. The rising sun turns the top of the mosque red/pink!
22. Pompeii's pilar
The Serapeum ruins in Alexandria are quite famous, but when I arrived in the afternoon there was not even one person about!
Pompeii's pilar is a victory pillar to celebrate the Emporer at the time for his defeat against a revolt in the city. Here you can see the obelisk and two Roman takes on the Sphinx.
Don't forget to visit the ruins underneath which are the only remains of the Great Library of Alexandria. I almost forgot until the security team reminded me!
Opening time for Pompeii's pilar: 9am – 3pm according to Google, but I'm sure I entered later than this. This maybe, why no one was there?
Ticket prices for Pompeii's pilar: £80EGP
Photography prices: FREE but tripods are £20EGP
Photography tips for Pompeii's pilar: I had no problems here getting it without crowds. There was not a soul with me in the complex. Quite spooky actually, especially in the tombs underground!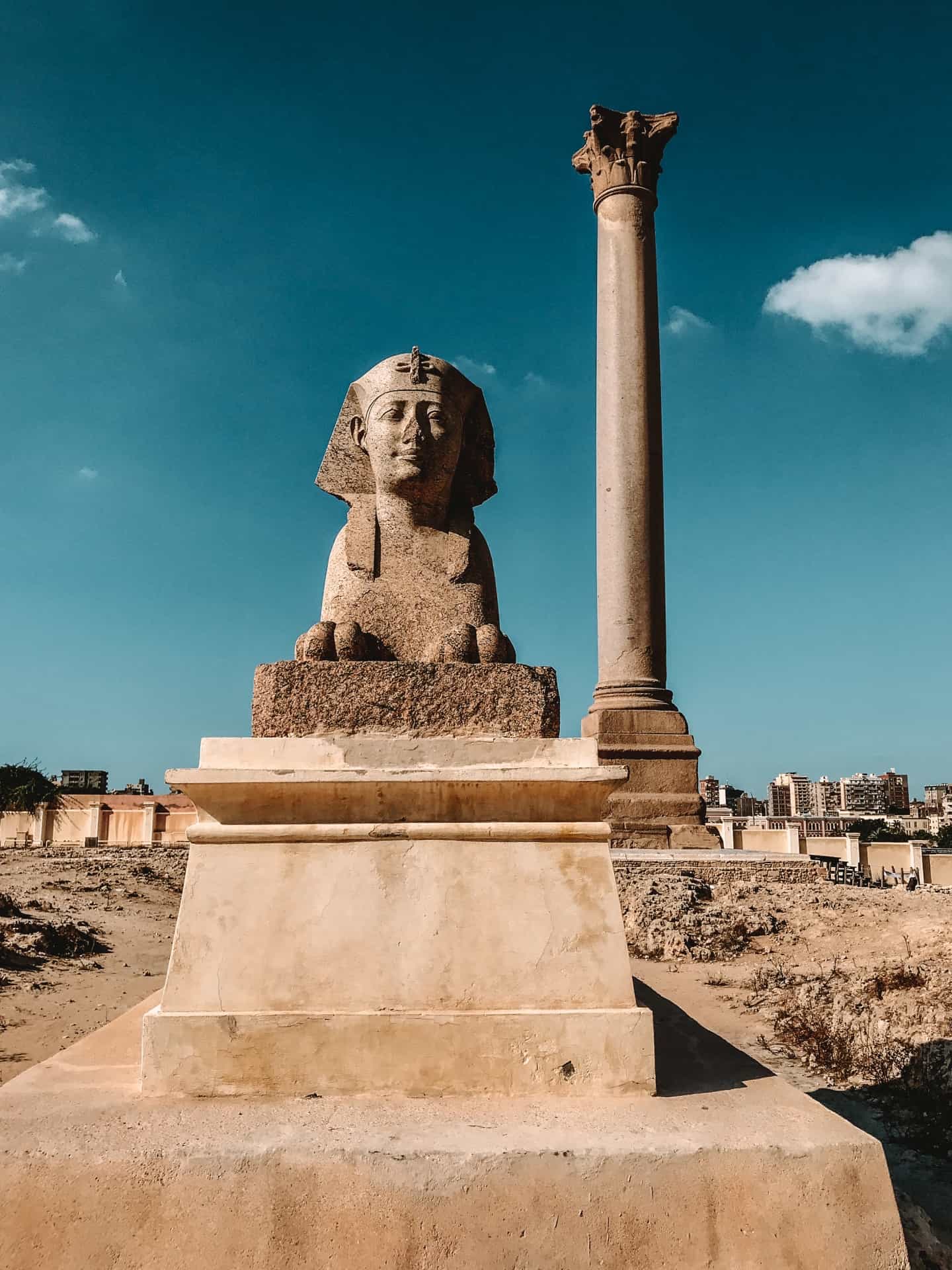 23. Bibliotheca library
Alexandria used to have one of the biggest libraries in the world. The Great Library of Alexandria held up to 400,000 scriptures of knowledge in its peak. So, it was quite a set back once it was destroyed.
However, keeping to its namesake, the city of Alexandria have now built a new library called Bibliotheca. It was built with the same mission, to provide knowledge and education with a spirit of openness.
It's one of the largest libraries of the Middle East and its definitely worth a visit. I personally felt so humbled to be around so much knowledge in one place!
Opening times of Bibliotheca:
Sundays – Thursdays: 10 am to 7 pm
Fridays: 2 pm to 7 pm
Saturdays: 12 pm to 4 pm
Ticket prices of Bibliotheca: £100EGP, students get a discount with valid ID
Photography price: FREE and tripods are permitted without charge
Photography tips for Bibliotheca: take the lift up to higher floors for a grand perspective. Also be respectful of students at study. The book bench below can be found on the ground floor by the exhibitions.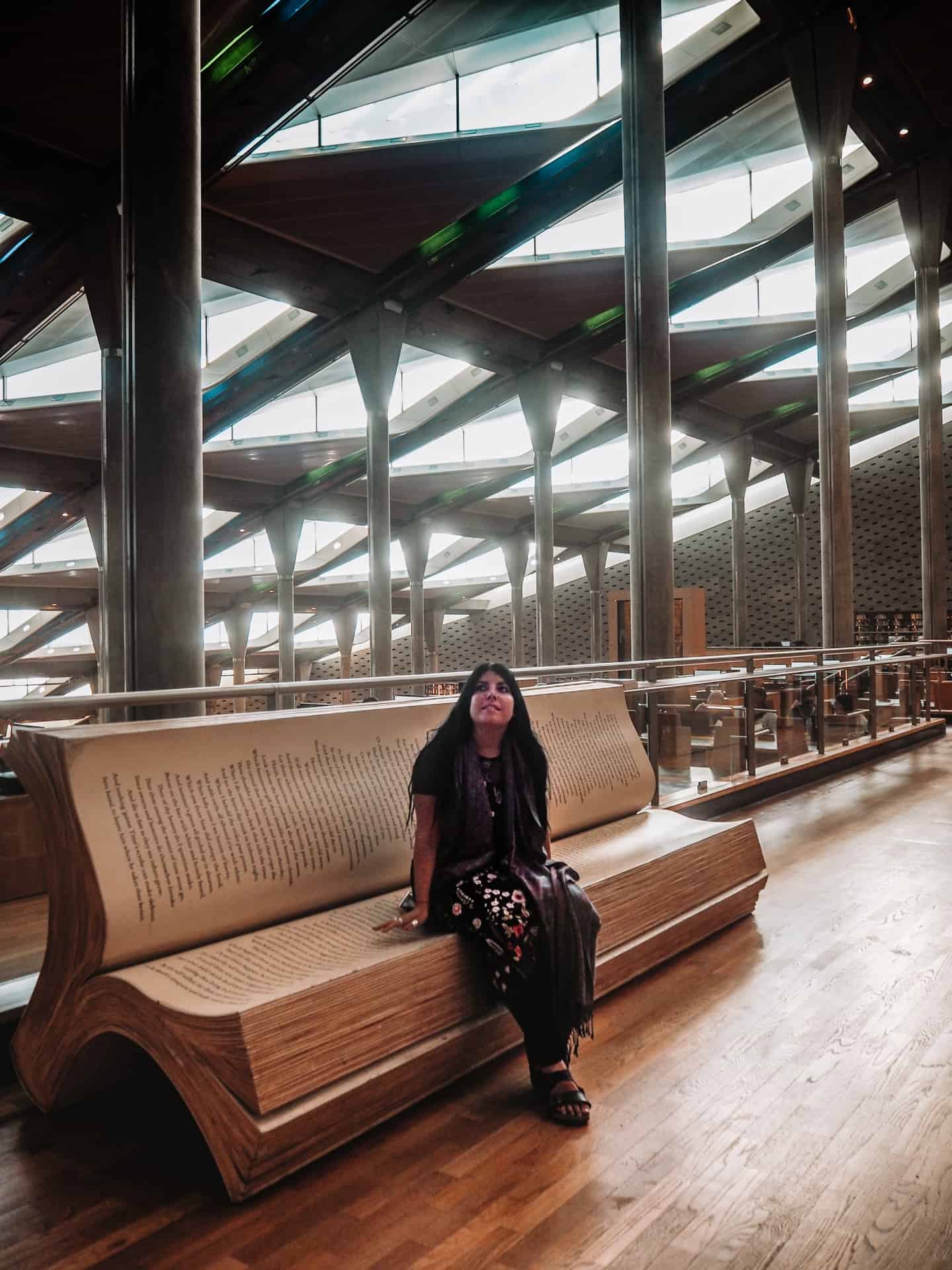 24. The Catacombs of Kom El Shoqafa
A medieval wonder of the world, the Catacombs of Kom El Shoqafa are unique in the way that there is Egyptian, Greek and Roman carvings inside. Its name translates to the "mound of shards" as there used to be a lot of broken pottery in the area.
Supposedly, a donkey carrying a cart, fell down a hole over the site and made this discovery, but this has yet to be proved! Either way, this is an active archaeological dig site and they are making new discoveries daily.
Visitors can visit the catacombs underground and see the ancient carvings and wander through the tombs. Pretty creepy but interesting at the same time.
Opening for the Catacombs of Kom El Shoqafa: 9am – 5pm.
Ticket prices for Catacombs of Kom El Shoqafa: £80EGP
Photography prices: you're not technically allowed to take photos with cameras but everyone was taking them inside with mobiles.
25. Montazah Royal gardens and palaces
Montazah royal gardens are a popular location for a visit, but it isn't centrally located along the Corniche.
It's 15 kilometres from Bibliotheca so I would recommend hiring a car to take you here. Also its 360 acres of land so I would go even further to suggest hiring the taxi to drive you about the place.
It's popular with cruise ship tours, so it's busy at all times of the day. Beautiful to capture with its palm trees, flowers, royal palaces, lighthouses and super fancy Tea Palace Island with a boat and fishing club.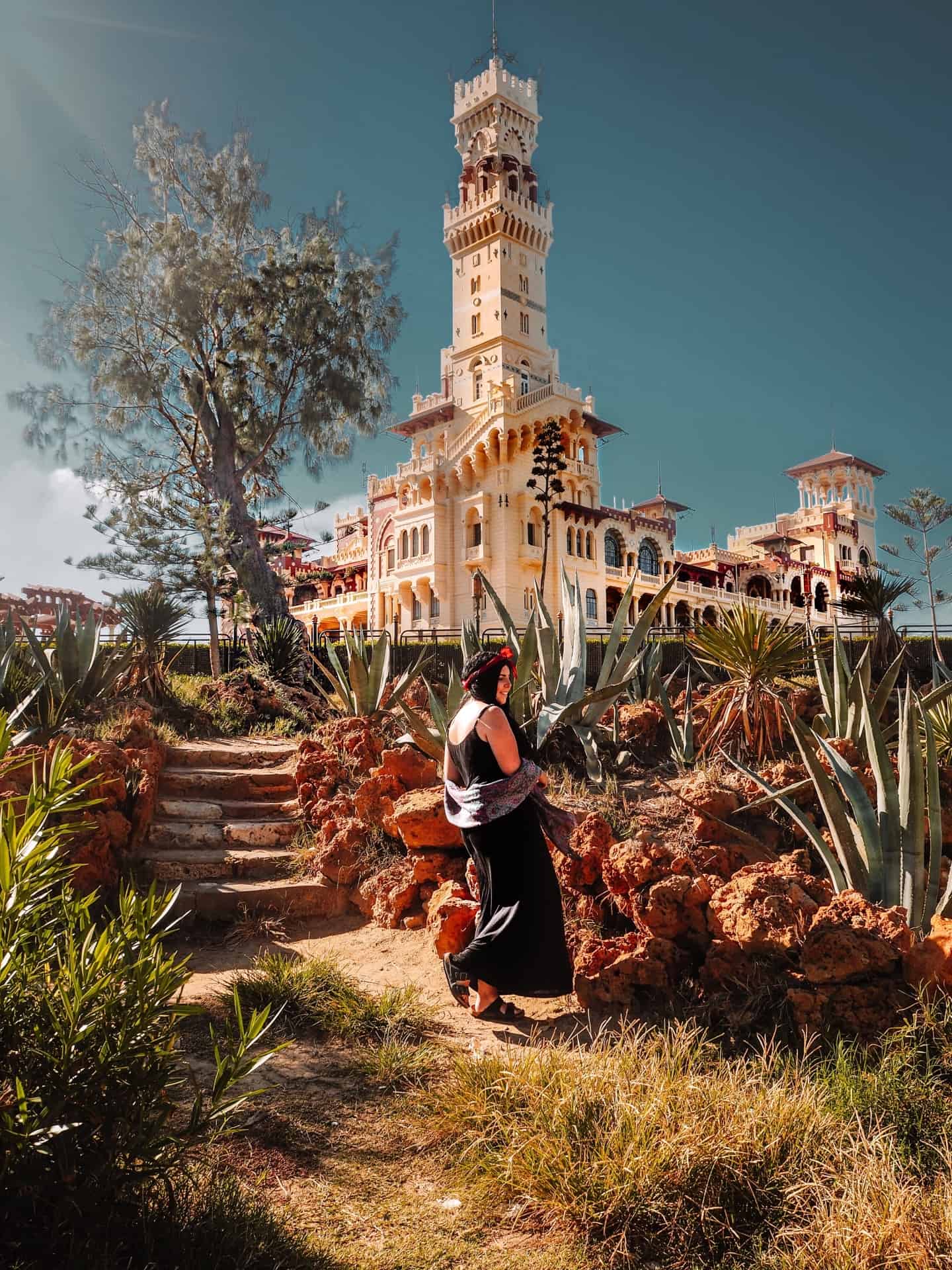 Times of opening: 8am – midnight. There are some restaurants in the area that are opening til late, even a McDonald's!
Ticket prices: £40EGP and a car will need to buy a permit.
Photography prices: FREE
Photography tips: Any time of the day is good but sunset would be lovely to capture the place with softer lighting. Highlights are the royal palaces, tea palace island and the lighthouses.
Photography spots in the West Desert
The West Desert is definitely somewhere I would recommend when you visit Egypt.
It's a (safe) off the beaten track adventure and you will feel like you're on a different planet!
You'll go from black desert, to white desert, small sand seas, to magic springs and crystal mountains. It almost sounds too good to be real.
You're not allowed to visit on your own, you must go on a tour for security reasons. I went with Western Desert Tours who were brilliant and you can read all about my three day tour here.
Photography is permitted in all areas, just bring enough battery power as when camping in the desert there aren't any plug points. This also goes for your phone, preserve that battery life!
I'll go through some famous photo points below;
26. Black Desert
Despite the name, this desert isn't all black. It's actually more golden brown with volcanic rock which lies on the peaks.
This is most likely where you'll stop first and it's a steep climb up to the top. It's pretty much gravel so wear good shoes.
27. Small Sand Sea
As the Great Sand Sea near the Libyan border is closed right now, the Small Sand Sea is a good alternative. It's miles of sand dunes and it's so beautiful!
You can even go sandboarding here if you're feeling daring.
28. White Desert
The thing people most want to see on this tour. The White Desert is like another world. It's miles and miles of white rock formations in all sorts of shapes and sizes.
Centuries ago this whole area used to be under the sea, thats why you can find shells and shark teeth in the rocks.
The most famous iconic spot is the Chicken sitting under the mushroom. You can also find some cute Fennec foxes to capture if you're lucky.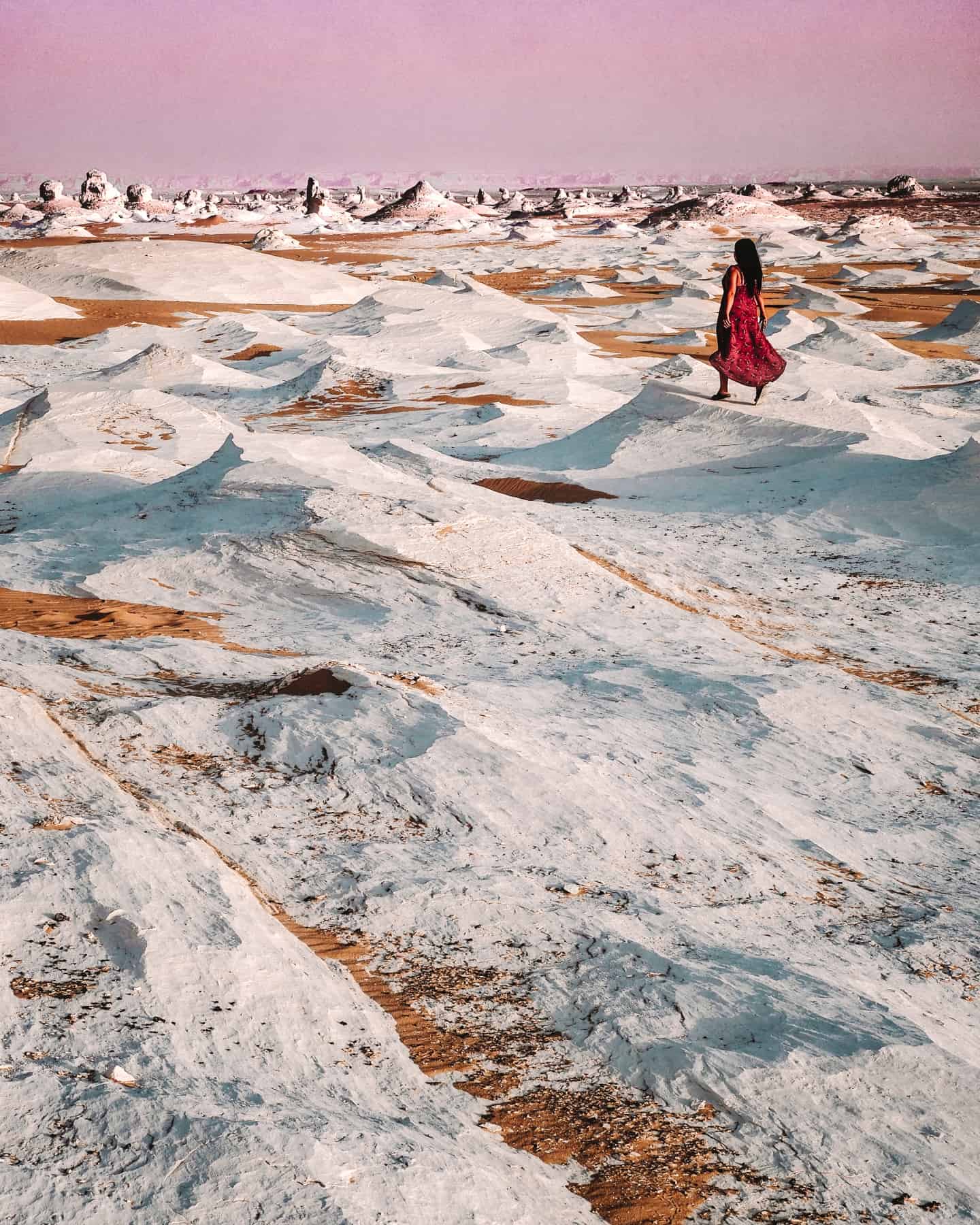 29. Agabat
This place made me feel like I was on the moon! It's a magnificent valley that looks like its in outer space with its rocky peaks. Don't miss out on a snap with the window frame in the rock.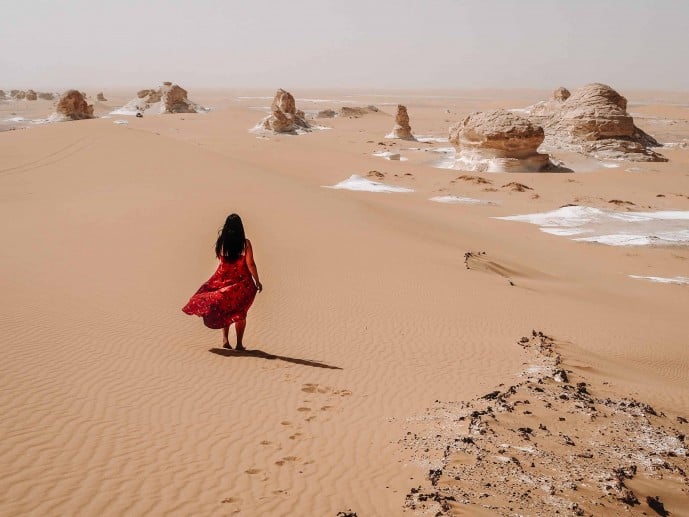 30. Magic Spring
A long time ago the Romans used to use this place as a stop to water their camels and horses on the way into Egypt or Libya.
They call it a magic spring as supposedly, it used to start when people arrived and then stopped when people left. I'm not sure how much of this legend is true but when I arrived the spring didn't start. In fact, it's not worked for weeks! Despite that, it's a really beautiful spot for photos.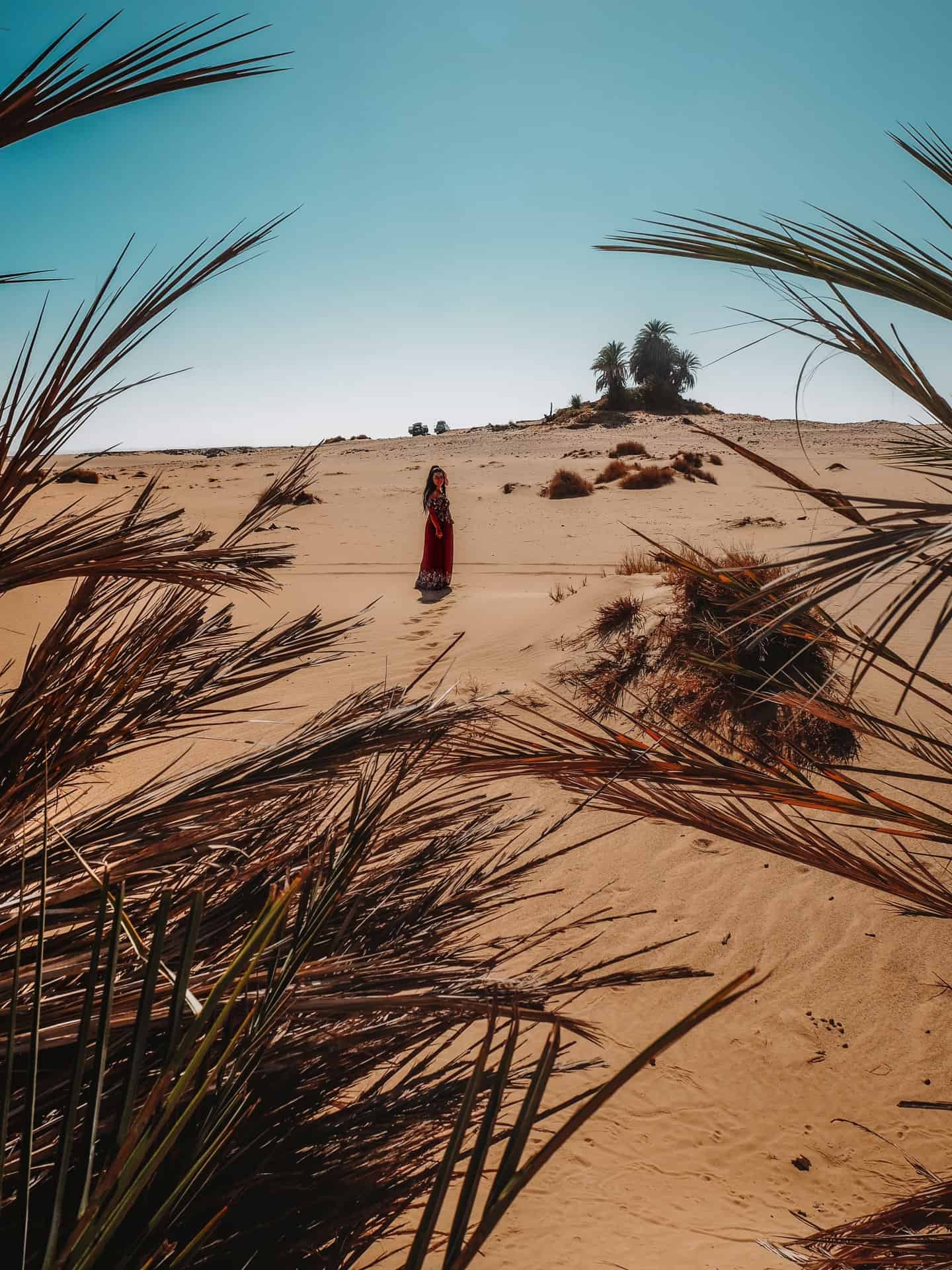 31. Siwa Oasis
I didn't make it as far down to Siwa but it looked like another world. Only 50 kilometres from the Libyan border, it's deep inside the Sahara.
But, it's not baron like the rest of the West Desert. It is lush with palm trees, mosques and springs.
A journey here takes quite a few days and due to security reasons a lot of tour groups don't run this excursion, so factor in this and ample time if you plan to go.
Read more of my Egypt articles
My perfect 2 week Egypt Itinerary
The perfect Egypt packing list
My guide to the Valley of the Kings
The ultimate 4-day Nile Cruise
Top places to visit in Luxor at night
The perfect guide for Abu Simbel
My survival guide for the pyramids
Why you NEED to visit Alexandria
Top tips for riding a hot air balloon in Luxor
Like it? Pin it!