Bus travel in Nepal is the main way to get around this beautiful country. There are no trains and of course, you could fly but it will cost you a pretty penny.
Bus travel in Nepal isn't at all as bad as people make out and it's really cheap, so it's a more attractive option to most travellers.
In this guide, I'm going to be going through the main tourist 'triangle' route of Kathmandu > Pokhara > Chitwan > Lumbini. I'll also cover heading out to India (if this is your plan).
Plus some tips about tourist buses vs. local buses, how and where to book, and what to expect before and during the journey!
Here's a helpful and simple guide to bus travel in Nepal.
What do Nepal buses look like?
The buses here range in size, comfort, and quality depending on what bus company you select and how much you're willing to pay!
For air-conditioned tourist buses, it will be a good quality air-conditioned coach with nice reclining seats.
With local buses, it may be just an upright uncomfortable plastic chair where it's so hot you have to open the window.
Some local buses literally look like they're about to fall apart.
Some tourist buses are also really old and the windows open without you asking them to!
This lets in a lot of the dust pollution on the roads which are really bad. In fact, it's some of the worst I've come across in all the Asian countries I've visited.
So, make sure you pack a scarf to save breathing it in.
You can also get microbuses as well which are like a minibus. I personally didn't book these as I heard that they are terrifying on the mountain roads at high speed but you may not mind.
These are a good option if all the tourist buses are sold out.
Tourist buses vs. local bus travel
Personally, I found a massive difference between tourist buses and local buses in Nepal.
Firstly, the quality is that much better on tourist buses.
They're much cleaner, spacious, and have good air conditioning which was a lifesaver in the hot 'shoulder season' months of September/October. This also means you don't need the window open to breathe in that dust.
Secondly, they are direct buses which means that you will get to your destination a lot quicker than a local bus.
Local buses tend to stop at any point, anywhere for anyone, and for any amount of time!
Also, with tourist buses, they will stop at hygienic and clean food stops whereas, on a local bus, you don't know where they're going to stop!
Local buses are an attractive option due to the price tag of $5 (500 Nepalese rupees) but, they can be quite uncomfortable and hectic.
They will cram as many people on the bus as humanly possible and you may be sitting next to goats or chickens according to some stories I heard haha!
For only a few dollars more you can get a comfortable journey at $8 (800 Nepalese).
How and where to book bus travel in Nepal & getting a good price
Pretty much every tourist city in Nepal had a plethora of tourist booking offices.
Here, you could book a bus, plane, trek, or tour so it may be worth the price comparing around a few before you book.
Usually, I found that if you book through a hotel (depending on the price of your hotel), the commission could be quite high!
Prices for a bus from Kathmandu to Pokhara should be around $8, Pokhara to Chitwan $6, and Chitwan to Lumbini $5/6. But, you could pay more (around $15) depending on the quality of the bus and if meals and drinks are included in the price.
Most of our stops were at buffet-style food stops and cost around $3 for a vegetarian all you can eat. It was pretty bland but it was a filling meal for the journey.
A lot of travellers would just wing it on the day and turn up at the bus stand.
You will pay way less for a ticket and it's pretty easy as all the buses go from the same place at the same time around 7 am in any city (weird, I know).
I was tempted to do this but as I was travelling over the festival time, buses were all sold out.
I didn't want to wake up early just to be turned away! The main companies for bus travel in Nepal are Mountain Overland, Blue Sky Travels, and Green Line.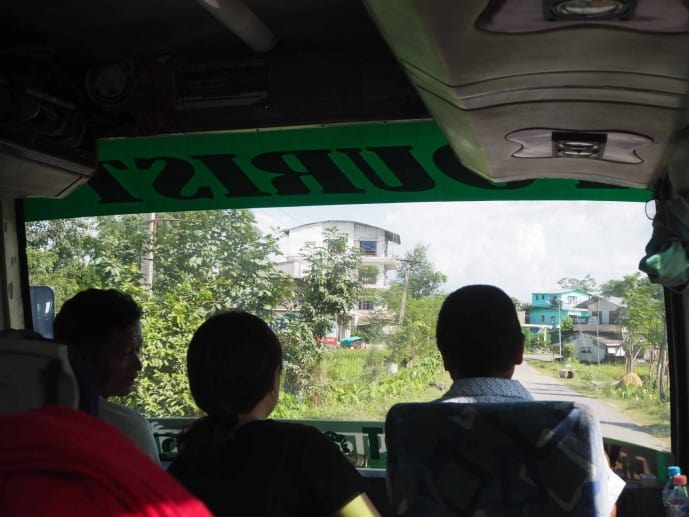 Things to ask when booking bus travel in Nepal
The first and foremost question is how much is the ticket! The price can vary massively between tourist booking offices and hotels.
Price comparing is a must if you're on a budget or just don't want to spend more than necessary.
You should definitely ask where your seat is going to be on the bus.
Try not to sit at the back if you can. If you're on the wheel suspension, you will be in for a bumpy ride.
The road quality is terrible with potholes and gravel most of the way.
Add the sharp winding bends and you could come airborne out of your seat. This is especially important if you get travel sick.
Other questions to ask are;
How long the bus will take?
Is it a direct bus?
Does the bus include meals/drinks?
Will there be any stops along the way?
Booking bus travel in Nepal during festival periods
Personally, if I had more time I would have avoided travelling on buses over the festival period.
We were travelling over the Dussehra festival in late September/October which was nine days of celebrations. Before, over this time, and after the buses were fully sold out.
This was due to locals going home to celebrate with families. All 5o buses were full from Kathmandu to Pokhara!
A lot of people recommended just turning up at the bus station and trying and get a ticket.
But I didn't want to risk getting up at 6 am, checking out of my hotel, and then not getting a bus! So, I paid almost double at 1300 rupees ($13).
It was a really low-quality bus and they didn't turn the A/C on until it got sweltering.
Also, as all these 50 buses started to leave at the same time from Kathmandu to Pokhara the traffic jams were huge. It doubled our journey from six to twelve hours! It was a nightmare.
Road quality in Nepal & dust pollution
The dust pollution in Nepal is bad and even worse than in India! I've been across many countries in Asia but this was some of the worst I have experienced.
As my Chitwan to Lumbini bus was a local one, I had to have the window open for the whole journey due to the heat. During this time, I breathed in so much dust I got a sore throat and was worried I would get an infection.
I would personally prepare yourself with a scarf or anti-pollution mask for these journeys. This will limit the amount you breathe in.
I heard the roads in Nepal were awful, but I wasn't expecting them to be as bad as they are.
You will be going over mountain roads, which have sharp bends, people taking over you, and a sharp drop down with no barriers.
There are potholes 80% of the time and the bus will bend in all sorts of directions you didn't think possible!
The drivers do a great job of getting you here in one piece and know how to handle the roads. However, it can be quite a scary experience for someone who hasn't experienced this sort of thing before.
Kathmandu to Pokhara bus route
This is the main tourist through the route as many travellers land in Kathmandu and shoot off to Pokhara as soon as possible.
As this is the most popular route in Nepal, this has the most bus services provided.
Every single day 50 tourist buses will head out of Thamel at 7 am to start the journey to Pokhara.
They call Kantipath a bus station but it's literally just across the junction of two roads.
You really can't miss it as there are buses all lined up waiting.
It can be quite hard to find your bus and, if you're like me, you will definitely head up the wrong way. This will mean heading all the way back to the big line of buses with a heavy backpack.
As you can tell I was thrilled about it. There are SO many buses here that it can be confusing to find which one is yours.
Show your ticket to any of the bus drivers in Kantipath and they will guide you or call the operator to find out where the bus is for you.
It can be quite hectic and crowded with people and luggage everywhere, but you can stop for a chai and pick up some water and snacks for the journey ahead.
The traffic out of Kathmandu is terrible. As all the buses seem to leave at the exact same time, there can be a bit of a hold-up.
But, once you've escaped the capital it will be plain sailing.
I did find a lot of the food stops in between Kathmandu and Pokhara quite a hustle with crowds and queues for food and the toilet.
I guess that's what happens when all 50 buses leave at the exact same time…
Kathmandu to Pokhara bus prices should be anything from $8, $15, and $35 for a one-way ticket. Popular companies are Blue Sky Travels ($8) and Green Line ($15 with meals).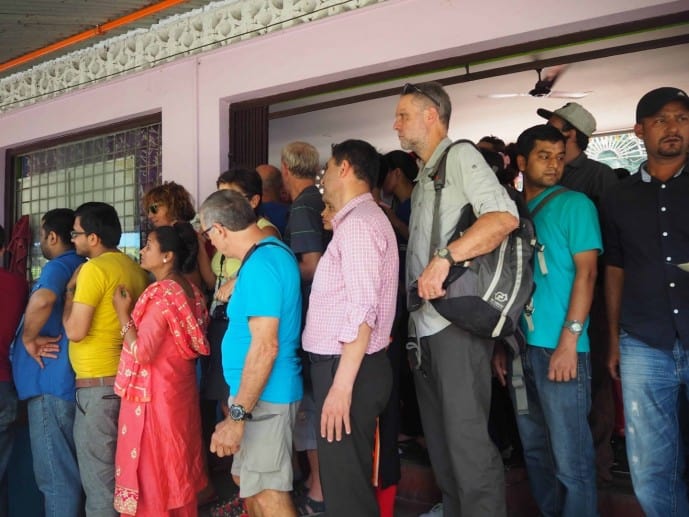 Pokhara to Kathmandu bus and Pokhara to Chitwan bus route
Pokhara buses tend to leave from the tourist bus stand, which is located almost opposite the airport.
Make sure you tell your taxi to head here not the local stand.
Once again, it's crazy and hectic with a load of buses parked waiting to leave at the same time to Kathmandu or Chitwan.
Show your bus ticket to the drivers here to make sure you know what bus is yours.
The most popular tourist bus company that runs A/C services between Pokhara and Chitwan is Mountain Overland Travels which costs around $6/8.
There are other options too but don't expect comfort. There are plenty of organic coffee and chai shops to grab a drink.
To be expected, this is the tourist bus stand so you'll be paying tourist prices (60 rupees a chai when it's normally 10!).
However, it is nice to relax a little with a hot drink. If only to cure the tiredness of the early wake-up call.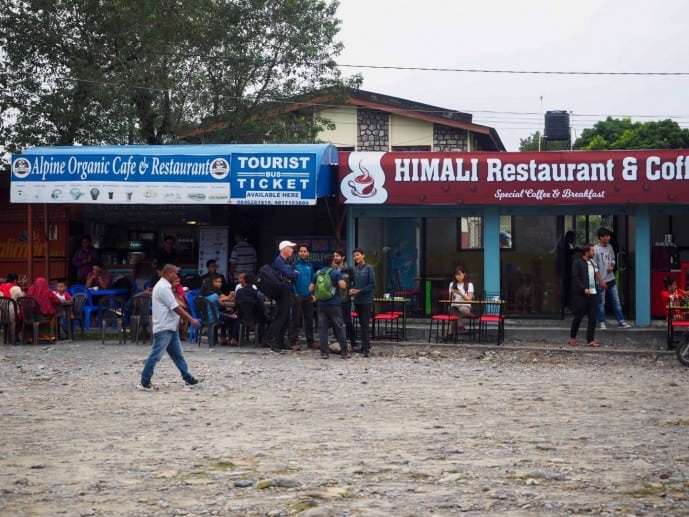 It's the same bumpy, spinning roads but with far less traffic than Kathmandu. It's an easy journey of around 5/6 hours.
Heading back to Pokhara and Kathmandu is easy and will take around 6 hours either way.
I was so happy when I arrived that there was actually someone with my name on the sign-in Chitwan to save me having to get an expensive taxi to my hotel!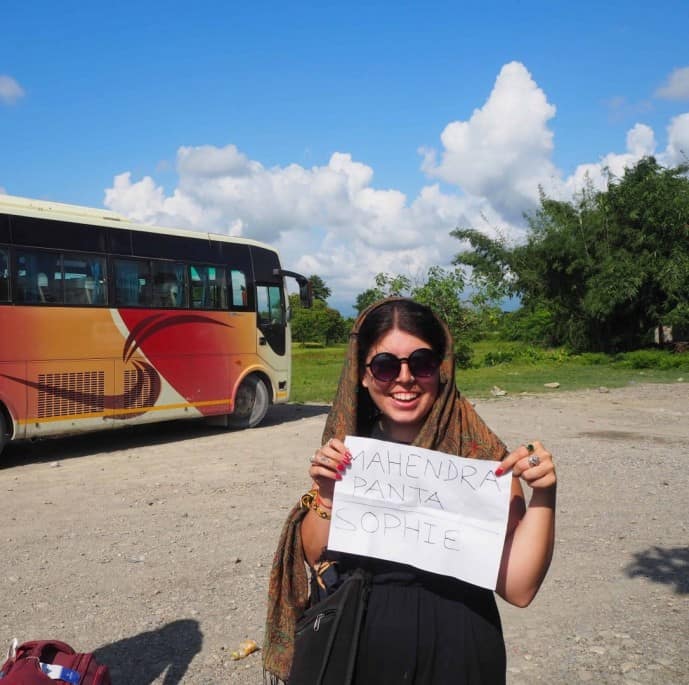 Chitwan to Lumbini bus
There are no tourist buses between Chitwan and Lumbini. So, a tourist bus which is pretty much a local bus is the only way to go!
There was no A/C, it was boiling and we had to have the windows open the whole way.
The bus stand in Chitwan is pretty much just a gravel park in the middle of farmland.
There's a small shelter, a shop for drinks and snacks, and some chickens hanging around.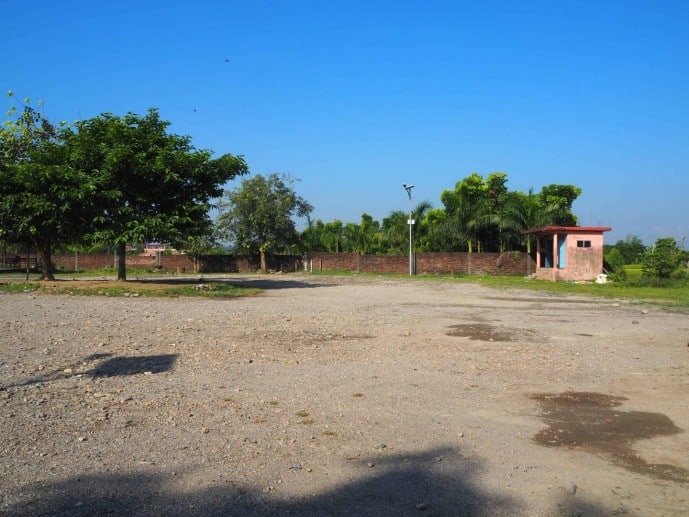 Our luggage was thrown on the top of the bus and tied down. It was covered with a plastic sheet in case of rain.
Although I knew it was safe, I still hate seeing my bag being carried on top!
We actually had to take two buses to Lumbini as there is no direct bus. Our first bus was around 3 hours to a place called Bhairahawa.
From here, we had to switch buses to a local bus which took us the remaining 30 minutes to Lumbini.
I'm not sure why there is no direct bus as it's such a popular route. But, hey ho.
The whole journey? Pretty disgusting.
The heat was unbearable, the bus was old and cranky and the dust had to come inside. Without the window open it was like an oven.
$6 (600 rupees) for an indirect bus was a pretty bad deal!
The second local bus was even worse, double hot, dirty, and so old I'm surprised it was still running.
It was crammed full and some people were standing and sitting on the floor. The price of this bus was 50 NPR each.
The Lumbini bus stand is non-existent and is just a spot on the road opposite the monastic sites.
Personally, if you need to head back to Kathmandu/Pokhara, I would repeat the journey back by heading to Bhairahawa and then Chitwan. From Chitwan, there will be nice air-conditioned tourist buses.
Ticket prices are $6 for the 'tourist' bus and then 50 rupees for the local bus. I'm not sure if our hotel had a markup, so it may be worth the price compared to the main town.
If you're heading out of Nepal to India by bus
Lumbini is a great place to stop over as it's only 40 kilometres from the Indian border of Sonauli.
I caught a direct bus between Kathmandu and Varanasi and it was hell.
So, staying near the border in Lumbini to cut the journey will ensure you reach India in a good amount of time.
We left Lumbini at 7 am via a private taxi for 2500 Nepalese rupees as there are no direct buses available.
We would have had to catch around 3 buses to get there, which if you're trying to visa hop isn't ideal.
The taxi took one hour to get to the border, 45 minutes to get through immigration, and then another 12 hours from Sonauli to Varanasi.
We caught a local bus to Gorakhpur which took two hours and cost 100 Indian rupees.
Then hopped onto another bus to Varanasi which took seven hours and cost 220 INR. In total, our journey into India took 15 hours. Not too shabby!
Please note: You MUST have an Indian visa bought in advance to enter India. You cannot get one at the border. We also met some travellers who were advised by Kathmandu airport to enter overland via e-visa at the Sanauli border. You cannot enter India with an e-visa overland. You have to enter the airport you stated on your e-visa application. This is due to no biometric scanners available overland. You cannot sweet-talk or bribe, they will turn you away.
For more information about travelling over this border, see my full article here.
Want to read more about these awesome places in Nepal?
I've covered the tourist circuit of Nepal in some helpful, honest and informative guides which can be accessed below;
The ultimate Kathmandu Bucket List
What to expect at Pashupatinath Temple
A guide for Garden of Dreams in Kathmandu
Everest Flight from Kathmandu – is it safe?
My top travel tips for visiting the Birthplace of Buddha
Travelling overland from Nepal to India
Save these Nepal Bus Travel tips for later!