I've always seen the famous Hackpen White Horse from the roadside for years living in Wiltshire.
But, I've always skipped it on my way to the likes of Avebury stone circle. I've never thought of parking up and actually going to see what was up there.
One day when the weather was fine, I decided to drive up to Hackpen Hill for sunset and I couldn't believe what I had been missing out on.
The views of the Marlborough Downs were magnificent and you could see for miles all over Wiltshire.
I could walk around the White Horse, there were magical forests to explore, wildlife to spot plus it was a gateway to the oldest road in Europe; The Ridgeway!
Hackpen Hill makes an incredible stop on a Wiltshire road trip. Here's a complete guide for visiting with all the very best things to do.
What is the Hackpen White Horse?
Wiltshire is famous for its White Horses carved into hillsides. In fact, we have eight in total and you could drive (or walk) 90 miles to see all of them.
From Devizes, Marlborough, Cherhill, and Pewsey. There are plenty of geoglyphs to find.
However, unlike the nearby Uffington in Oxfordshire, the Hackpen White Horse doesn't date back 3,000 years to the Bronze Age.
This hillside scar of 90 square feet is far newer and was made in 1838 to commemorate Queen Victoria's coronation!
Henry Eatwell, a parish clerk of Broad Hinton, was the man who made it along with the assistance of a landlord at the local pub.
Although it is a well-loved landmark today, it hasn't always been celebrated. In fact, many criticised it saying that the boxed horse looked more like a fox and not worthy of a royal.
Today, it is still scoured by hand every year and has even been seen sporting a red nose and has been dyed completely red for Red Nose Day!
Why visit Hackpen Hill today?
Beyond visiting this mysterious white horse on the hillside, the main reason to visit Hackpen Hill would be for the endless views.
As you'll be elevated at a height of 272 metres (892 feet), you'll be able to see for miles around the Marlborough Downs (previously North Wessex Downs) which is an Area of Outstanding Natural Beauty.
It's like a patchwork of emerald fields and you'll find many horses and sheep grazing, birds like red kites roaming the area and wildflowers too.
The Ridgeway National Trail can be accessed from here which is a road that travellers have used for well over 5,000 years.
Nerby is Overton Hill, the start of the Ridgeway trail. Or, you can head over to Barbury Castle which is an ancient Iron Age hill fort!
The best time to visit Hackpen Hill, in my opinion, would be at sunset as you'll get a fantastic view from the hillside and it looks absolutely gorgeous when the colours change in the sky.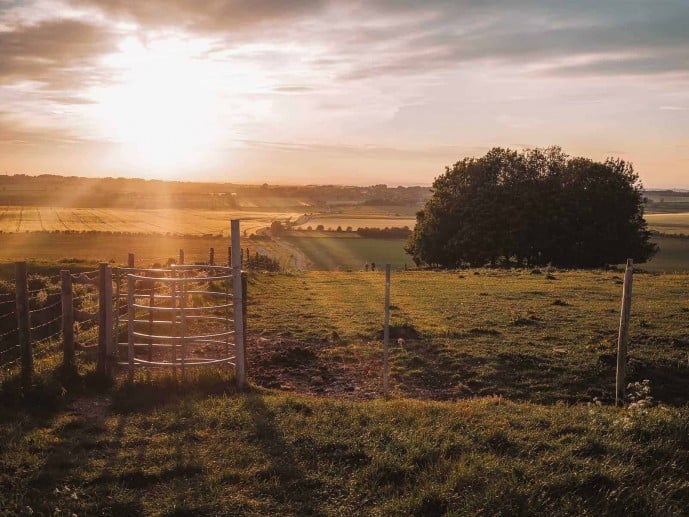 What to do on Hackpen Hill
So, what is there to do here?! Well, for such a small area, it may surprise you that there is a wealth of things that you can do after you park your car.
1. Visit the Hackpen White Horse
Although you can easily see Hackpen White Horse from the roadside, it is far better to go and see it for yourself!
Unlike the other white horses in Wiltshire, accessing this horse is really easy and is just a skip away from the car park on top of the hill.
Pass through the kissing gate into the field and you can head down to investigate.
I will warn you though, the white horse hill is extremely steep and there are some burrow holes around. So, where some good shoes and mind your step!
While you're here, you can wander all around the horse scar and see the gleaming white chalk it's made of.
Amazingly, you're allowed to touch and walk over the horse. Many of them are blocked off. But don't steal pieces of the chalk!
I saw many people do this for souvenirs. After all, it's a protected site. I picked up a piece to have a quick look but then returned it where it belonged.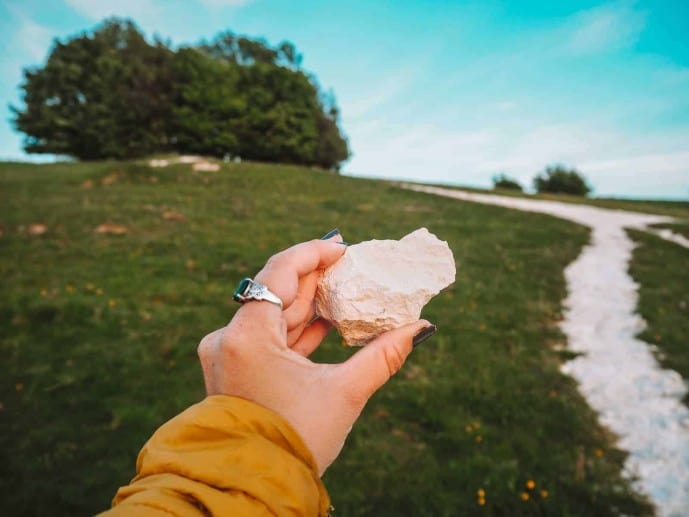 Hackpen White Horse photography tips
You may realise that when you approach the horse that getting photos of it is while you're up here is not really possible!
In the shots, it just looks like some scarring in the hillside! But, not to worry, I know a few tricks of getting a great shot.
The best location to take a photo of Hackpen White Horse is actually from the road directly in front of it.
As you drive towards it, there are a few lay-bys where you can safely park up and get some photos of it from there.
However, remember to always park with consideration and watch for other cars – they drive really fast along this road!
2. Watch the sunset or starry skies
Hackpen Hill is the perfect spot to admire the gorgeous views of the Marlborough Downs.
It's a wide-open field so there is plenty of space to set up a picnic or stop for a while to watch the sunset.
From here you can see over towards Broad Hinton, Avebury, and even the Cherhill Downs on a very clear day. This is home to another white horse.
The only thing I would say is to bring a jacket with you as it does get seriously windy on top of the hill! Many choose to sit in their cars.
At night time, due to the limited light pollution, the hill almost has a true 'dark sky' and you can spot some of the brightest stars from here.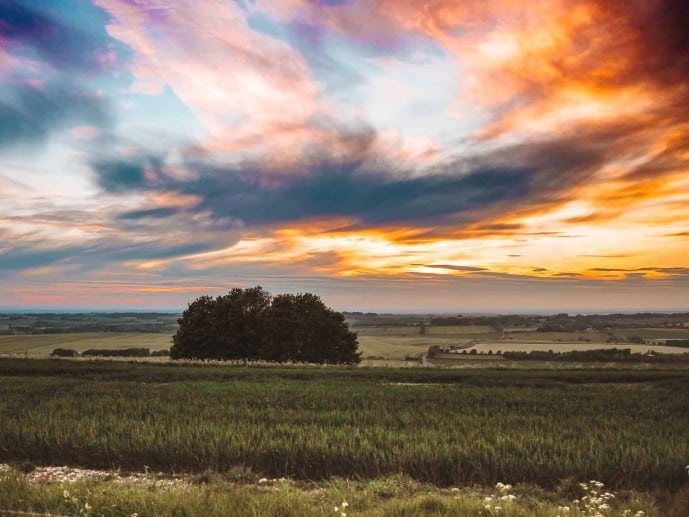 3. Spot some wildlife, horses and even highland cows!
One of my favourite things about Hackpen Hill was the fact that you can see some wildlife grazing in the fields. It's so quintessentially Wiltshire!
You'll find old shire horses here with fluffy hooves, sheep bleating, and even some unlikely Highland Cows who roam around the fields.
A lot of the time they will come to say hello to you and, for the most part, they are extremely friendly.
Although they are docile, they can get protective of their young in the spring season. Also, remember not to feed them, no matter how doe-eyed they look at you!
4. Discover the mysterious crop circles
Something I found out after my visit is that the area around Hackpen Hill is famous for its mysterious crop circles that crop up (pun intended).
Wiltshire seems to be a hotbed for mysterious crop patterns. In fact, almost 50% of all crop circles in the UK have been found near Avebury stone circle!
Whether you believe that these strange patterns suddenly appeared overnight from the likes of UFOs, the farmer, or even the Devil himself, they are still fantastic places to visit. Conspiracy theories or not.
The Hackpen Hill crop circles are usually opened up for charity. So, you can pay a small fee to explore and see what lies within.
5. Visit one of the magical circular forests
If you walk along The Ridgeway Trail towards Barbury Castle, you'll come across some circular forest circles that you can explore nearby to the hillside. Naturally, it piqued my curiosity so I went in to explore.
As soon as I entered inside, you could feel that this place had a certain mystery to it.
It was copse full of tall trees and it was a lovely shaded area compared to the likes of the Ridgeway which is always exposed.
It just felt very calm with the only sound being the rustling of the trees and you could easily sit here with a good book or just to find some peace.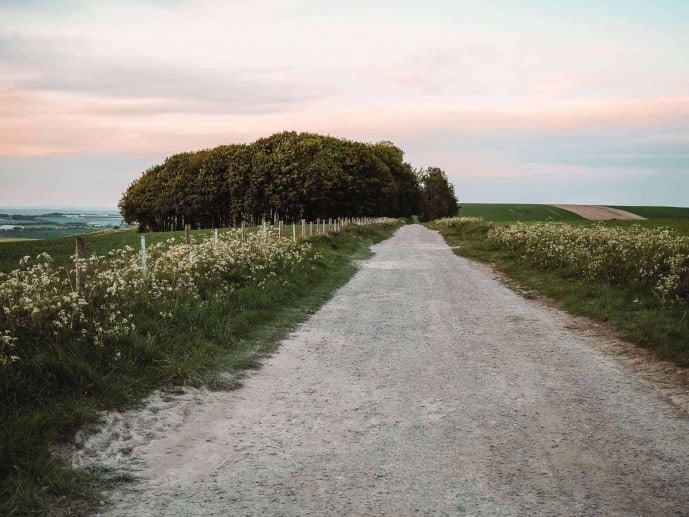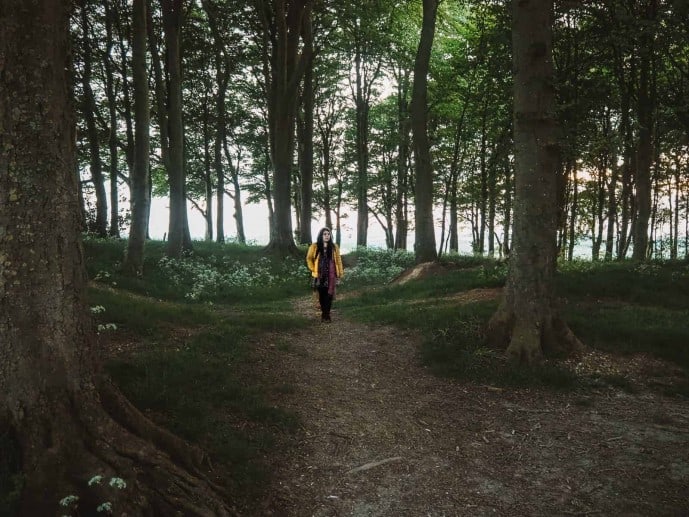 6. Take a walk from Hackpen Hill to Barbury Castle along the Ridgeway
The Ridgeway is a National Trail that is over 5,000 years old making it the oldest road in the country. Some say it's the oldest roadway in Europe!
You'll be following in the footsteps of early humans, Romans, Saxons, Danes, and even King Alfred the Great as you traipse along here.
The trail starts at Overton Hill and carries on for 87 miles to Ivanhoe Beacon in Buckinghamshire. It will take you around 6 days to complete the whole trail but you can experience a small piece of it from Hackpen Hill.
You could walk to Barbury Castle which is an Iron Age hill fort built over 3,000 years ago. The walk is 2 miles and will take you around 40 minutes each way.
Or, why not head over to Avebury Stone Circle? It's 5 miles and will take you 90 minutes each way.
Having done some of the walks along The Ridgeway in the past, I have to admit it isn't my favourite road. It's a straight flat path for miles on the end which is hard to walk on and much of trail is surrounded by hedges on either side which blocks the views.
It's also extremely exposed making it tough in summer. So, I would wear good shoes, bring some sun protection and prepare for the fact there are no breaking points or benches on the way.
Where is Hackpen White Horse?
You can find the white horse near Broad Hinton which can be found on the A361 road heading from Swindon to Avebury!
You can easily see the white horse as you make a turndown Summers Road which is also the spot where you can get some nice photos of the horse.
The hill has some sharp winding turns, so watch out while you're driving and heading out of the car park towards the horse.
Hackpen Hill parking: There is a large FREE gravel car park that is situated on the brow of the hill that has room for large cars and even camper vans. It makes a great base to park your car and accessing The Ridgeway. It can get busy though on the weekends or at sunset time.
Note: this part of the Ridgeway National Trail does not allow for motorised vehicles.
Places to visit near Hackpen Hill
Once you're here, you're right on a gateway to the Marlborough Downs, which is an Area of Outstanding Natural Beauty. There are plenty of historic and ancient sites to explore as well as quaint villages and towns.
A few miles down the road, you'll find the likes of Avebury with its ancient stone circle. It's equally as fabulous as Stonehenge but doesn't cost a penny to visit!
Nearby, you can find West Kennet Avenue for more standing stones or check out Wiltshire's very own pyramid at Silbury Hill.
West Kennet Longbarrow is an ancient house of the dead or you can visit The Sanctuary which is a stone and timber circle marked out from recent excavations.
Devizes is a gorgeous medieval market town that is home to the historic Wadworth Brewery. The only brewery in the UK to still deliver its ale by a shire horse.
Or, visit Caen Hill Locks which is the longest continuous flight of locks in the UK! You get to see canal boats traverse over 29 locks for 2 miles, covering a height of 237 feet! It takes around 5-6 hours for riverboats to travel down.
Read more of my Wiltshire travel guides
How to find the Devil's Den on Fyfield Down
How to visit Stonehenge for FREE
How to visit Imber, the abandoned ghost village in Wiltshire
Discover this magical bluebell wood in Swindon
Aqua Sana Spa review in Longleat
Castle Combe – the prettiest village in England!
Why you must visit King Alfred's Tower in Stourhead
Harry Potter locations in Lacock
Like it? Pin it!