If you're looking to find some beautiful bluebells in Swindon, then I would highly recommend paying a visit to the Hagbourne Copse Nature Reserve!
Having been a Swindonian for most of my life, I'm so surprised that this magical place was right on my doorstep!
Strangely, you'll find this small park hidden away inside an industrial estate by the M4 motorway.
But, as soon as you step inside, you'll find yourself transported into a fairytale woodland and immersed in a vibrant blanket of bluebells. You simply must check it out.
Here's how to visit Hagbourne Copse Nature Reserve and its magical Bluebell Woods in Swindon!
Please note: Native bluebells are protected flowers. So, please keep to the main pathways while visiting. Don't pick or trample on them!
What is Hagbourne Copse Nature Reserve?
Hagbourne Copse Nature Reserve is a pocket of woodland where wildlife and wildflowers make a home in Swindon.
It used to be part of the wider Lydiard Park estate but it's now hidden away in the Blagrove industrial park which is just metres from the M4 motorway.
Although it's not the most likely place to find nature in Swindon, as soon as you step inside the woods you'll forget where you are!
This quaint little copse is packed full of trees, wildlife and flora to explore that is protected by the Wiltshire Wildlife Trust.
Each year it comes alive with the arrival of bluebells in the spring turning the ground completely purple.
But, the question remains, how did such a charming bluebell wood end up inside an industrial estate?
The history of the Hagbourne Bluebell Wood in Swindon
The copse was planted around 1766 and formed part of the Lydiard Park Estate. This was owned by the notable St John family who lived in Lydiard Park House.
Oak trees were coppiced and harvested here for construction and hazel trees were used to build fences. They were provided for local community.
It remained part of the estate for centuries until the 1940s when it was sold off as private land. It then switched hands many times after that.
The locals were worried that this gorgeous woodland would be destroyed due to the ongoing development in Blagrove industrial estate and so they asked Wiltshire Wildlife Trust for help.
The trust bought this woodland in 1999 and today the flowers, trees and wildlife are all protected from harm.
Volunteers still visit the woodland today to coppice sections of the reserve so that sunlight can reach the ground and encourage woodland flowers to grow each year.
This is how the fabulous bluebells appear in the springtime and can show off their colours!
When is the best time to visit Hagbourne Copse Nature Reserve?
By far, the best time to visit Hagbourne Copse is in mid-April to late May. This is when the bluebells will appear and turn this forest into a fairytale forest!
There is never a set time that bluebells will appear each year in the UK. It completely depends on the weather, how cold the winter has been and the amount of sunlight that spring.
As bluebells are perennials, they flower annually. So, they spend the spring soaking up the sun and then store it over winter. They then bloom again the following year.
Bluebell season doesn't last very long, only a few weeks, so make sure to get here before they wilt!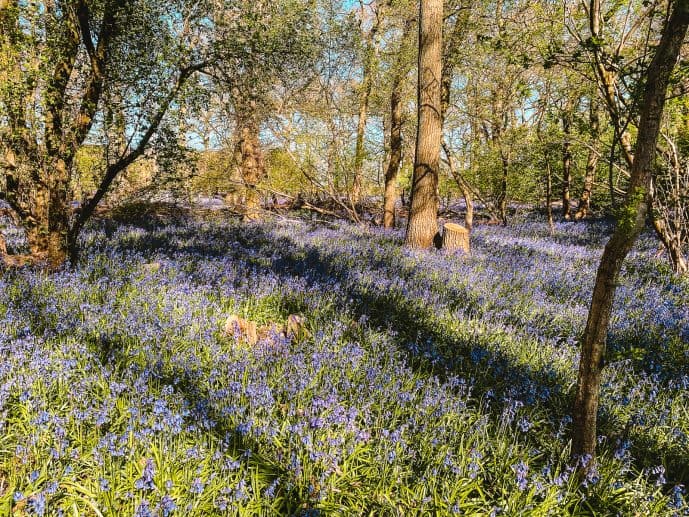 If you do happen to miss it, don't worry, there are plenty of things to see and do in this little copse all year.
For example, in summer you'll find lots of butterflies fluttering around as well as wildflowers that grow.
In autumn, it's the season of fungi! So, you'll find that the trees turn a golden brown and 28 species of mushrooms grow in the reserve.
You can get a glimpse of wildlife all year. You'll often find woodpeckers, treecreepers and sparrowhawks in the trees!
How to visit Hagbourne Copse Nature Reserve & directions
Hagbourne Copse can be found within the Blagrove Industrial Estate in West Swindon. It's close to the Spittleborough Roundabout that leads you to the M4 motorway.
I walked here from my home in West Swindon near Lydiard Park but I found the walk a little frustrating as you have to cross over busy national speed limit roads and the industrial estate.
I would personally recommend driving over to Hagbourne as it's easiest!
The best way to visit would be to drive onto the Blagrove Industrial Estate via the Blagrove Roundabout in West Swindon.
Once you're on the estate, continue on Ramsden Road until you reach a mini roundabout.
Take the second exit to the right heading down Frankland Road to the very end until you can see the Holiday Inn Express that is in front of you.
You'll find the gated entrance to Hagbourne Copse Nature Reserve on your right in the corner.
There are some FREE roadside car parking spaces on Frankland Road. But, be mindful that there are lots of double yellows along here too.
The Hagbourne Copse Nature Reserve postcode is SN5 8YW
What to expect when you're in Swindon's Bluebell Woods
When you enter Hagbourne Copse in bluebell season, I can guarantee that you'll be speechless.
As I was walking down the lifeless industrial estate, I caught a quick glimpse of the bluebells to my right and I was so shocked!
I imagined a few bluebells growing here but I could never imagine that the whole floor of the copse was covered in them. I honestly couldn't believe my eyes.
Aside from the colour, the second thing that hits you when you walk inside the wood is the smell! It's so potent and makes the walk around even sweeter.
The woodland walk takes you on a small looped path around the copse. It's relatively flat and you can enjoy the area at a leisurely pace. It's perfect for families and small children.
There is a small seating area near the end that is accessed via the main pathway. So, you can sit in amongst the bluebells for a while.
I found that even on a sunny Sunday afternoon, there were barely any visitors here so it was nice and relaxing.
There are also lots of opportunities all over the garden to capture the bluebells, so make sure to have your camera ready for some photos.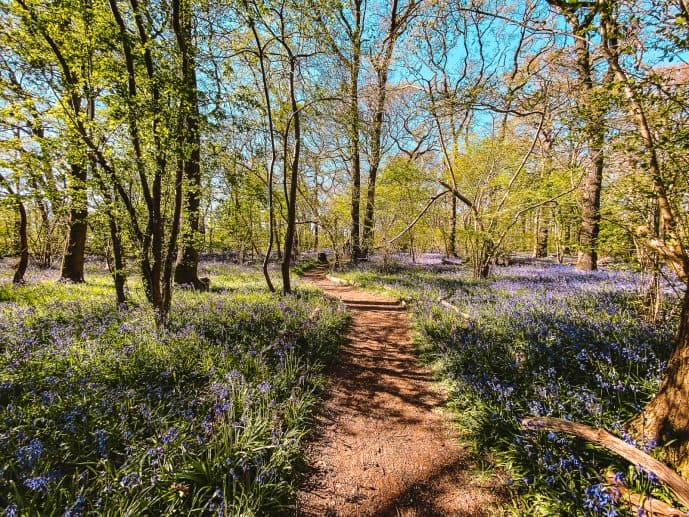 Important tips for visiting Bluebells
Native bluebells in the UK are endangered and so are protected by the Wildlife and Countryside Act 1981.
It's against the law to intentionally pick, dig up or destroy bluebell flowers.
It's important to protect them as you're walking around the woodland by sticking to the main pathways. As they are native to the area and fragile they cannot survive being trampled on, so mind your step as you go.
We want to ensure that bluebells can be enjoyed by all for generations to come.
Did you know? Almost half the world's bluebells are found in the UK!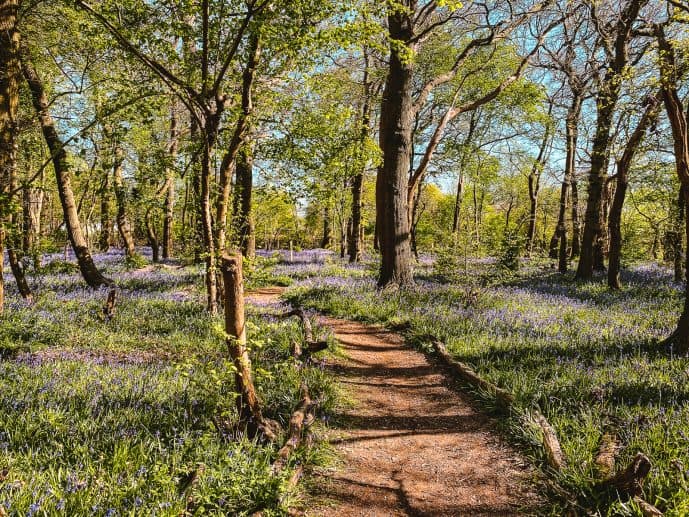 Opening times and prices
Hagbourne Copse Nature Reserve and its bluebell wood are open 24 hours a day, 7 days a week.
It's also completely FREE to visit – so it's a great budget activity!
Dogs on leads are welcome. However, it's not suitable for pushchairs or wheelchairs on the woodland loop path.
Read more of my Wiltshire travel guides
Castle Combe – the prettiest village in England
How to see the wild Snakes-head Fritillary in Cricklade
Visiting Wiltshire's very own Pyramid
Harry Potter locations in Lacock
How to find the Devil's Den on Fyfield Down
A complete guide for West Kennet Long Barrow
A complete guide for Hackpen Hill
How to visit Stonehenge for FREE
How to visit Imber, the abandoned ghost village in Wiltshire
The best places to visit in Wiltshire
A complete guide Avebury & The Summer Solstice
Aqua Sana Spa in Longleat review
The Bridge Tea Rooms in Bradford-on-Avon
Why you must visit King Alfred's Tower in Stourhead
Save these Swindon Bluebells for later!