Okay, muggles, witches, and wizards of all houses. Did you know that you can book a stay at a real-life Hagrid's Hut?
That's right and you don't even need to travel to the Wizarding World and Hogwarts in order to do it. You'll find this magical place located in North Yorkshire!
It's a cosy cottage retreat in the countryside that is perfect for Potterheads to spend a few nights away.
This enchanting accommodation is the only one of its kind in the entire world, so you simply must experience sleeping here if you're a fan of Harry Potter.
I thoroughly enjoyed my magical stay at Hagrid's Hut North Yorkshire. Here is my complete Groundskeeper's Cottage North Shire Review.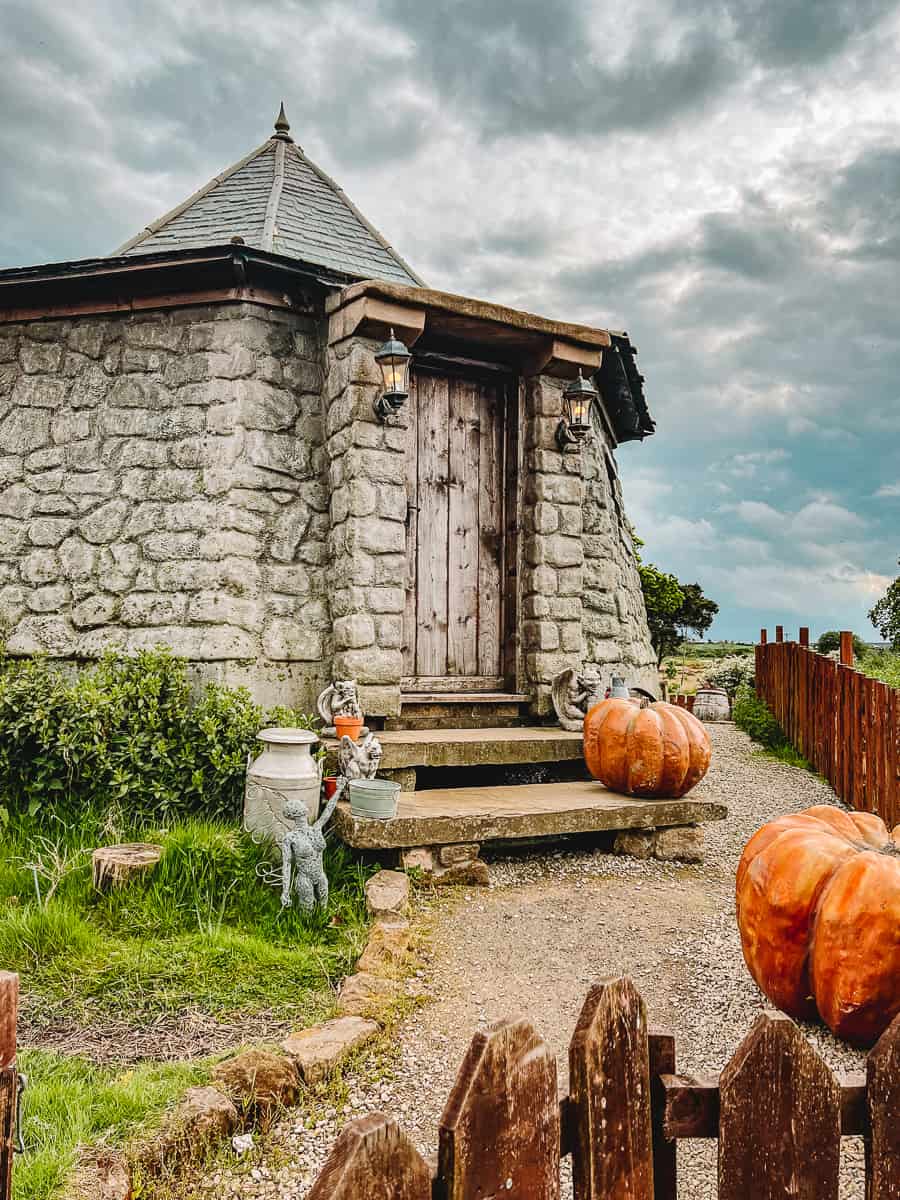 What is Hagrid's Hut North Yorkshire?
Hagrid's Hut North Yorkshire, or the Groundskeeper's Cottage, is a life-size replica of Hagrid's Hut from the Harry Potter books and movies.
It was built by Carol, Karl, and their family who own North Shire in the North York Moors National Park.
The Groundskeeper's Cottage is made up of three squat medieval towers and comes with lanterns, gargoyles, and colourful stained glass windows.
It has a lounge area, kitchen, bedroom, and bathroom with everything you could possibly need for a spellbinding holiday.
There's even a pumpkin patch and a blue Ford Anglia just outside – watch out for Whomping Willows!
The Groundskeeper's Cottage at North Shire
When we arrived the key was in the door for us to walk in and I was blown away by how warm it was inside. There was a roaring fireplace to welcome us and the decor was breathtaking.
You'll find all manner of pots, pans, bags, and bric-a-brac hanging from the ceiling just like Hagrid's Hut is described in the books and in the movies.
There are stained glass windows and a fireplace. All that was missing was Hagrid's Dog Fang snoozing away somewhere!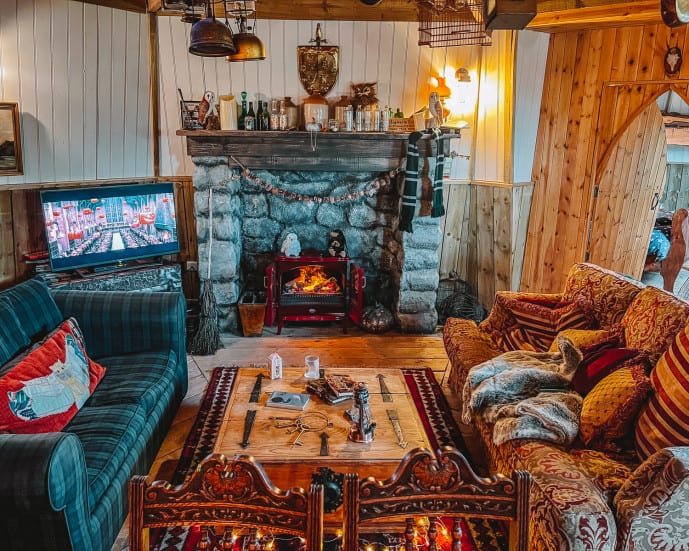 Groundskeeper's Cottage living room & kitchen
The main tower of Hagrid's Hut North Yorkshire is the cosy living room with plush carpets.
The lounge has two comfy double sofas, a coffee table (with Hogwarts House coasters), and a huge fireplace with a faux-fire.
What I loved is that they had a large TV and DVD player and it was the perfect setup for a Harry Potter movie night.
You'll also find a huge dining room table to eat on which is located just next to the kitchen area by the front door.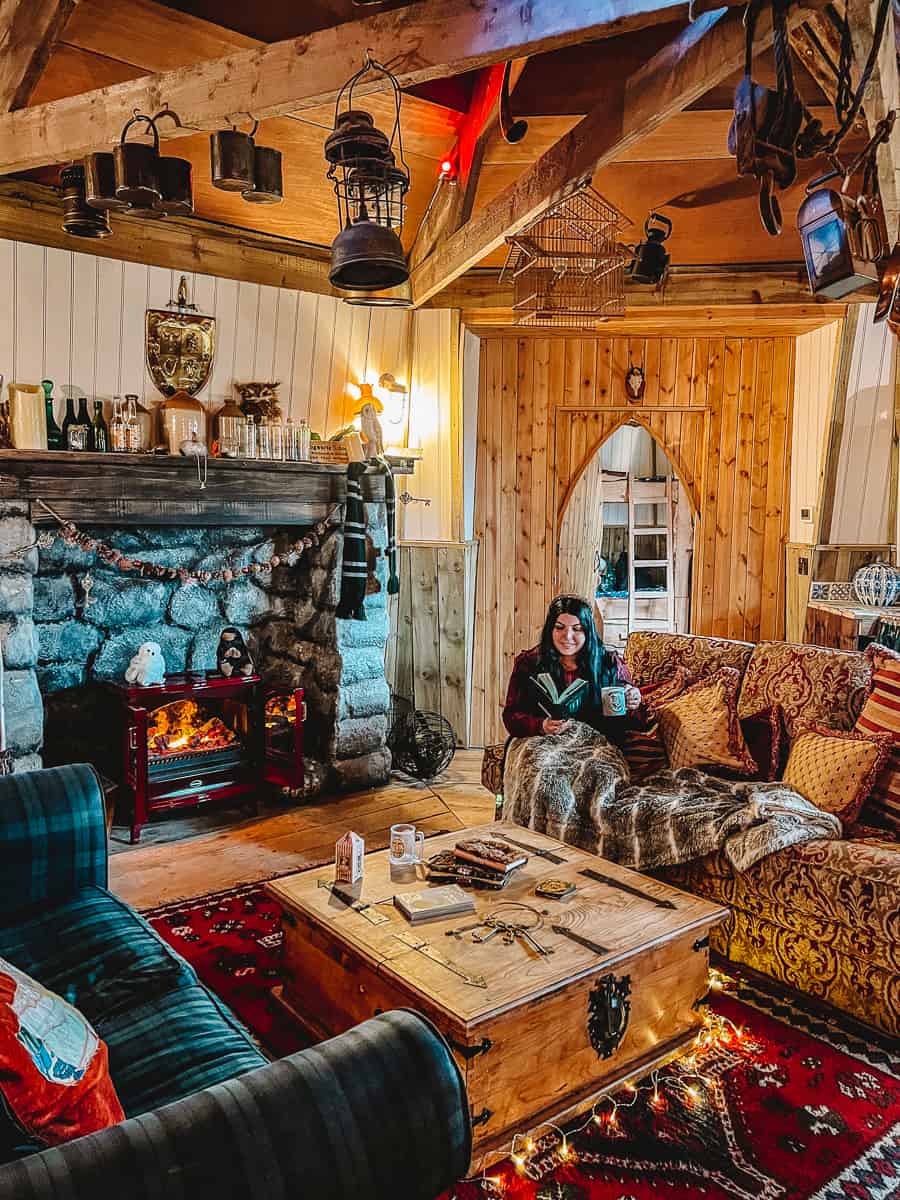 There was a hodge-podge of Wizarding World decor to find around here. Look out for Ron's Howler, The monster book of monsters, and a quill and ink to fill in the guest book.
In the same room, you'll find the kitchen area that has everything you could need for a self-catered stay.
There is a fridge, microwave, kettle, and toaster plus all the utensils, plates, glasses, and cutlery you could think of!
A lot of the pieces are tastefully hidden underneath the velvet curtains that cover the open counters.
On arrival, we found a chocolate fudge cake waiting for us on the cutting board as well as a small pint of milk in the fridge which was a nice touch.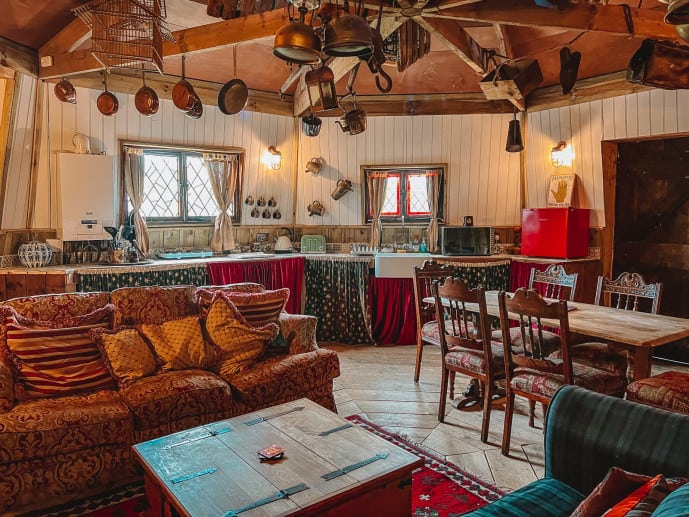 Groundskeeper's Cottage bedroom
The second squat tower in Hagrid's Hut is the bedroom which has Harry Potter's trunk and a familiar owl to greet you.
There is a comfy double bed with a fur blanket and two beer barrels on either side of you that serve as bedside tables. There is also a plug socket by the bed which is always a bonus!
Behind the main bed, there is a wooden rustic-style bunk bed for children to sleep in. There is a secure ladder that allows you to climb on the top bunk.
The Groundskeeper's Cottage sleeps up to 6 people. That's 4 adults and 2 children. The sofa in the lounge converts into another double bed!
The Ministry of Magic Bathroom
Although this is meant to be a replica of Hagrid's Hut, the magical accommodation has been inspired by other locations in the Wizarding World too.
The Groundskeeper's Cottage bathroom has been inspired by the Ministry of Magic and you'll see it decorated in their signature green tiles.
Inside, there is a double-lined copper bathtub, a sink on top of a beer barrel, a small cabinet, and a toilet inside.
The tub has a shower function that you can use and as it's super warm inside the hut so you don't get cold!
Hagrid's Hut Garden
Just outside of the bedroom in Hagrid's Hut is your own private terrace which has a small garden and picnic table. The North Shire site has amazing views of the countryside and the coast.
If the weather is warm during your stay, you could spend some time out here sipping on a coffee or relaxing outside.
You could have your lunch here on the table or enjoy a few drinks with dinner in the evening.
Things to do in Hagrid's Hut at North Shire
The Groundskeeper's Cottage is the perfect retreat for Potterheads and you can hide away in the countryside for a few days.
It's very roomy and there are plenty of things you can get up to inside. Here are some suggestions on how to spend your time in Hagrid's Hut;
Harry Potter movie marathon – The hut have all eight Harry Potter movies available to watch on their DVD player at the cottage! Why not bring Butterbeer, popcorn and Bertie Bott's Every Flavour Beans? We also enjoyed their chocolate cake that was left as a gift!
Harry Potter puzzles & card games – In one of the chests, there is a huge Harry Potter puzzle you could spend time working out. There is also a Harry Potter card game that you could play with your friends while sipping on a few drinks.
Read a book – Hagrid's Hut North Shire is such a peaceful retreat and perfect for bookworms. You could easily spend a few hours on the sofa reading one of your favourite Harry Potter novels!
A Harry Potter photo session – I had so much fun taking photos inside and outside of the hut while I was here. Why not add your own costumes and use some props?
How much is a stay at Groundskeepers Cottage North Shire?
Prices start from £290 a night to stay at the Groundskeepers Cottage but there is a minimum requirement of 2 nights.
So, it will cost you around £595 for two nights to stay in Hagrid's Hut North Yorkshire and £875 for 3 nights.
They sometimes have 1 night offers that they will advertise on their social media pages which have a slight discount. So, look out for those to save some money!
Personally, I think 1 night is too short a stay in the hut as you are limited in time there. But, it's completely up to you.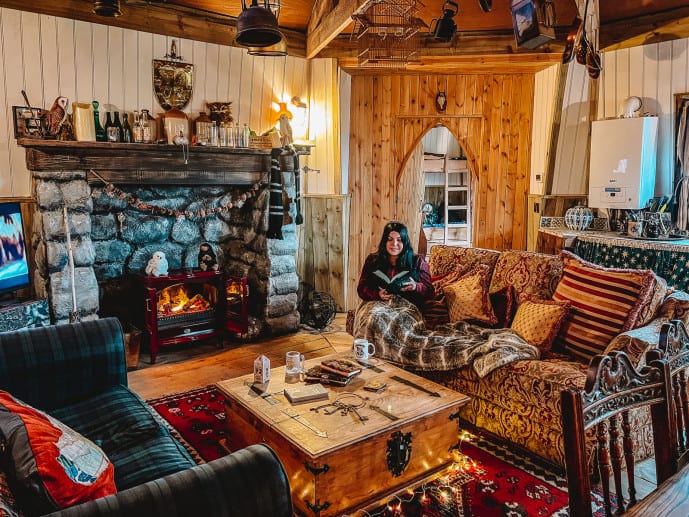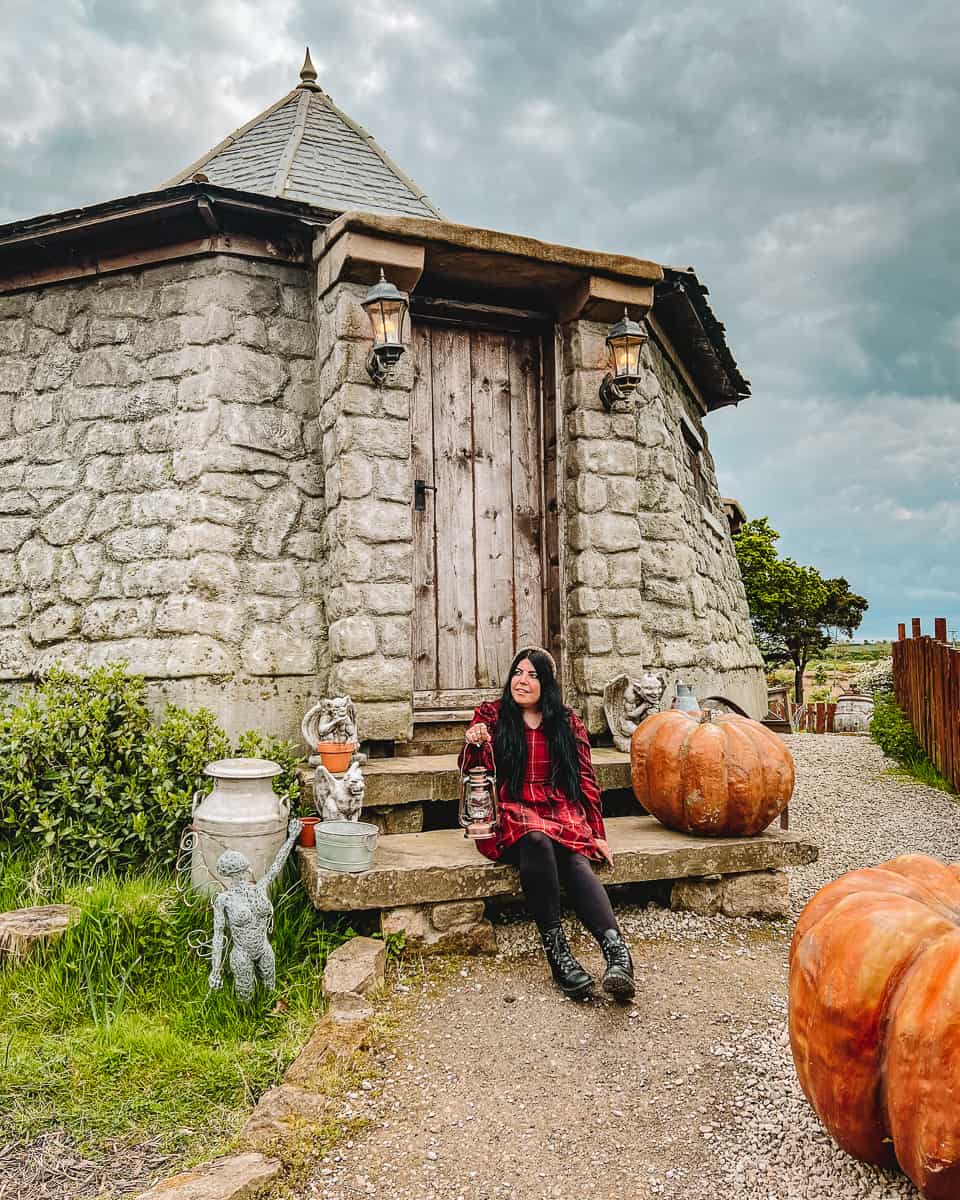 How to book your stay in Hagrid's Hut North Yorkshire
You can book your stay at Hagrid's Hut by checking availability on North Shire's official website.
I will say that the Groundskeeper's Cottage is VERY popular accommodation and so you will need to book your stay months in advance.
I booked my stay six months in advance and I can already see that spaces are pretty much booked up for this year.
They sometimes have one-night offers that you could book when available and they may have cancellations.
But, I would recommend booking 2/3 nights in Hagrid's Hut to really make the most of the experience.
Click here to book your stay at the Groundskeepers Cottage for the night!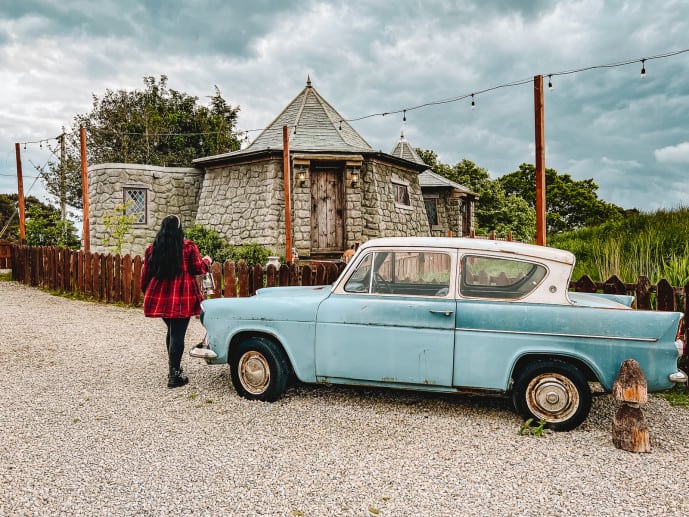 Extra fantasy-themed accommodation at North Shire!
Aside from Hagrid's Hut, North Shire have an extensive range of magical accommodation that you can choose from as well.
It's perfect for fans of Harry Potter, The Hobbit, Lord of the Rings, or fantasy worlds in general;
Hobbit House Pott's Corner – You can stay at a magical grass-covered Hobbit Hole for the night just in front of the Groundskeepers Cottage. It has a rounded door and Lord of the Rings inspired decor inside! The prices start from £295 a night.
Harry Potter Dorms – You can book the North Shire Harry Potter dorm room which looks like the Gryffindor Common Room! The room sleeps six and costs £300 a night. It's perfect to split the cost with friends.
North Shire site & amenities
North Shire's site is much more than just magical accommodation. They have lots of Shepherd's huts and wagons to stay in. A unicorn hut, mad hatters hut, and even a Petit Chateau cottage in Liverton.
You'll find a stone circle picnic area and a huge playground on their campsite which is great for children.
As North Shire is a working farm, you'll find chickens, a peacock called Fawkes, and ponies on site. All overlooking the North York Moors countryside and you'll get unobstructed views of the coast too.
You can even book your wedding at North Shire and their Enchanted Barn has been inspired by The Great Hall at Hogwarts.
Where is Hagrid's Hut North Yorkshire?
The Groundskeeper's Cottage in North Shire is located in Liverton in the North York Moors National Park in the North East of England.
This is just 20 minutes drive from Saltburn-by-the-Sea and Whitby on the North Yorkshire coast.
You can access Liverton by heading out on the A71 road towards Whitby, then make the turning on the B road when you see the Liverton sign. Then, take the first right when you see the purple North Shire sign.
As you drive in, you'll find a set of welcome gates with stags on top of them which reminded me of Hogwarts.
It's definitely easiest if you have your own means of transport to access North Shire as it's in a remote location.
Alternatively, you could arrange a taxi from either Whitby or Saltburn-by-the-Sea. Both towns have railway connections.
The North Shire address is Liverton, Saltburn-by-the-Sea, Yorkshire TS13 4TJ. Click here for a Google Pin!
North Shire parking
There is plenty of parking around the back of North Shire and car parking is included in the price of the stay.
If you need accessibility parking, there is some space just outside the hut that you can use and in front of the reception.
When they are busy, it may not be possible to keep your car there. So, make sure to double-check with the staff before you arrive!
Things to consider on your Hagrid's Hut stay
You can check into Hagrid's Hut from 3.30 pm and you have to check out by 11 am on the morning of your departure
Come prepared with enough food for your stay. There is a Co-op supermarket just a few minute's drive away if you needed to restock
There is a fridge and kitchen facilities if you plan to bring and cook your own food. The hut has all plates, utensils, cutlery, and cooking equipment
North Shire is a campsite and working farm. There is Fawkes the Peacock and some chickens onsite. They wake up early so you may want earplugs if you're a light sleeper!
Although Hagrid had his trusty Fangs in here, dogs are not allowed on the North Shire campsite
You are not allowed to set up fire pits or campfires
At the moment, North Shire is not providing towels for guests. So, you'll need to bring your own towels for the duration of your stay.
There is heating inside the hut but bring a jumper just in case and a pair of slippers as your feet can get chilly on the floorboards
Where to eat near North Shire
The hut does provide a small booklet with recommended takeaway places nearby to eat.
Less than a mile away you'll find places like the Liverton Mine's Fish and Chips and Salerno Pizzeria in Loftus.
But, if you have a car, you can easily drive over to Saltburn-by-the-Sea which has restaurants like The Seaview Restaurant and takeaway.
Also, Whitby is a great place to visit for dinner as there are lots of choices. They have traditional pubs, bistros, Italian, Fish and Chips (The Magpie), Indian, and Thai restaurants to choose from.
Things to do near Hagrid's Hut North Yorkshire
It can be hard to pull yourself away from Hagrid's Hut North Yorkshire but if you do start to get itchy feet there are plenty of amazing day trips you can take while staying here.
Potterheads will be happy to know that there are Harry Potter filming locations and experiences just a short drive away from North Shire.
Here are all the places that I would recommend visiting when you're in the area.
Goathland (Hogsmeade Station)
You may be surprised that there is a major Harry Potter filming location just 20 minute's drive from North Shire.
Goathland Station was used for Hogsmeade Station in Harry Potter and the Philosopher's Stone. We see it when the Hogwarts Express pulls in from Platform 9 3/4 at King's Cross Station!
You can visit the station for FREE and watch the Hogwarts Express steam train arrive at the station daily from April – October.
But, you can also ride on the NYMR that has services from Pickering to Whitby. The Harry Potter production team used the carriages on board to inspire the train sets for the movies!
Read my complete Harry Potter guide for Goathland Station aka Hogsmeade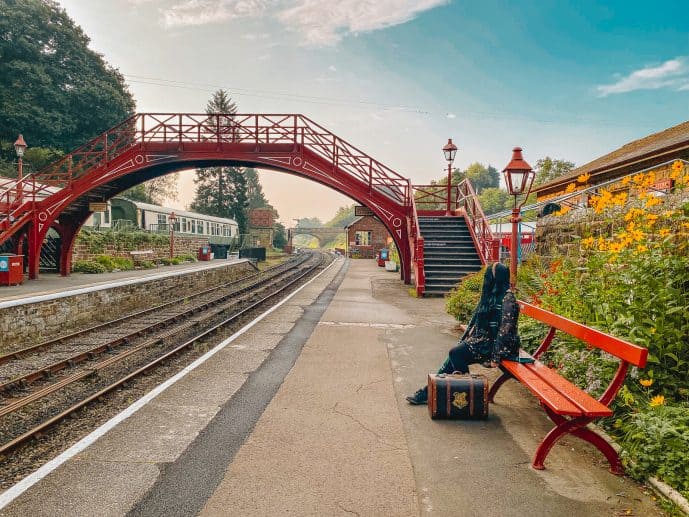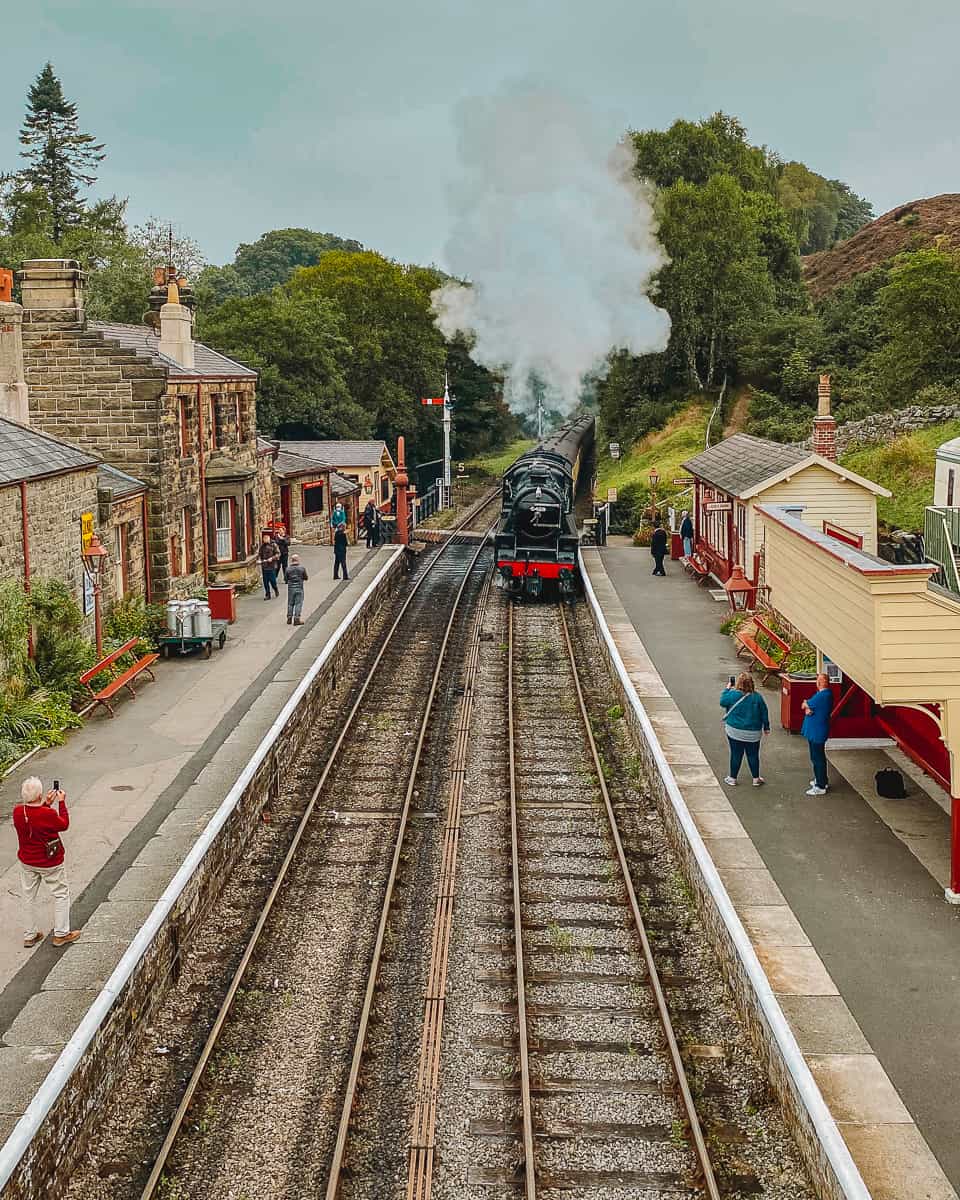 Whitby
Whitby is one of my favourite places in the UK and it's home to Bram Stoker's Dracula.
Bram Stoker stayed at the Royal Hotel and it is said that the view from the Whitby Whalebones of the 199 steps and Whitby Abbey inspired his famous vampire novel.
I would always recommend visiting Whitby Abbey first to learn the history of the area. But, there are plenty of other things to do.
You can stroll along the harbourside, take a boat ride on a replica ship of Captain Cook, go shopping, visit Sherlock's Cafe or have an ice cream from Trello's of Whitby.
Read my Dracula guide for Whitby or find all the photography locations here!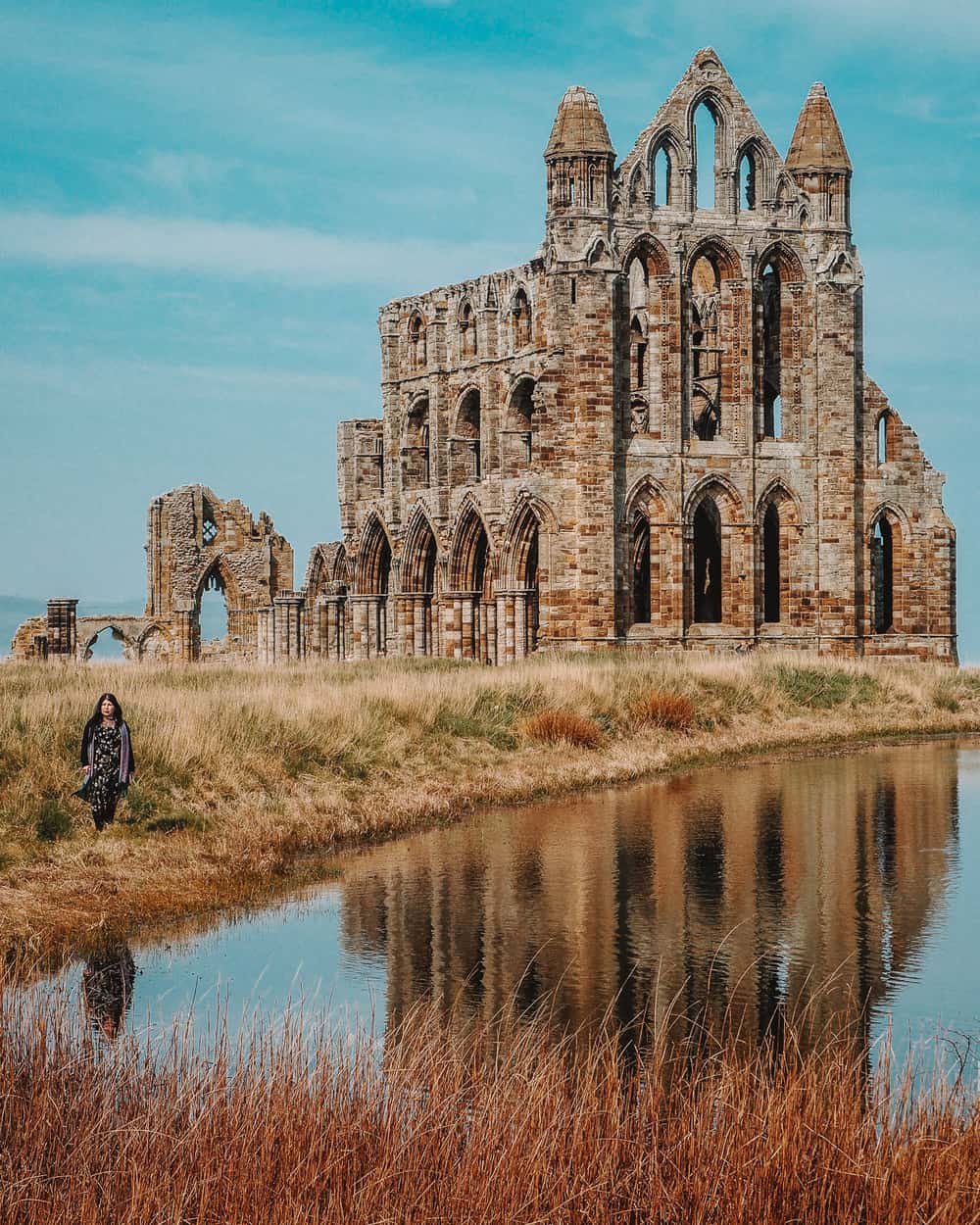 Saltburn-by-the-Sea & Runswick Bay
Saltburn-by-the-Sea is a popular beach town here in the North York Moors. You can park up the top of the cliffside and take their Victorian funicular down to the beach.
It has a pier that you can stroll down toward the ocean and some arcade games to play. You can also go swimming on their sandy beach, take up surfing or hike over to Staithes and Redcar.
There are plenty of Fish and Chip shops that you can visit to have your tea while staying at North Shire.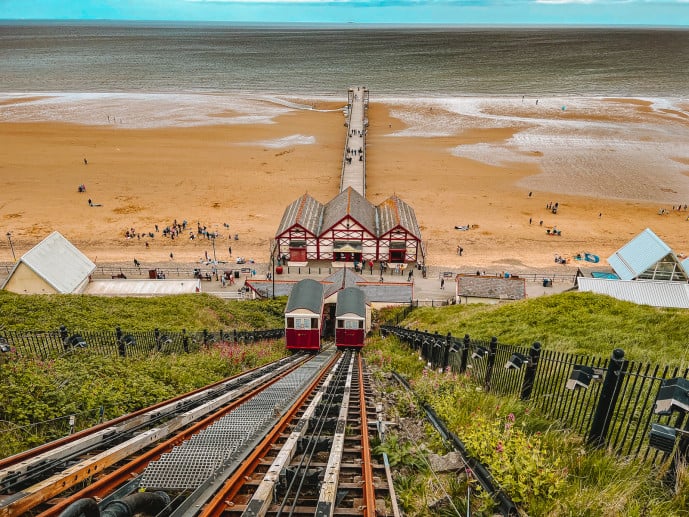 Just nearby, you'll find the gorgeous Runswick Bay which has higgledy-piggledy houses perched on the cliffside.
It's a very steep place but you can wander around the quaint houses of the village or you can play on their huge sandy beach when the tide is out!
Staithes
Staithes is one of the prettiest ports in Yorkshire sandwiched between two cliffs and there is lots of history to uncover here as well.
It started off as a Viking settlement and Staithes translates to 'Landing Place'. At its peak, the port would have some 80 vessels in the harbour.
This is the place where Captain James Cook grew up and worked in William Sanderson's shop. There's now a museum in the village to commemorate his life.
The 'Staithes Group' of painters was established here and it also featured in CBeebies Old Jack's Boat.
It's a gorgeous place to explore and you can wander around the houses, go shopping, relax on the beach or chase Birdseye views! The Cod & Lobster pub is very good for food but can get busy.
You can't park in the village itself but you can park up the top of the cliff and walk down.
Read my guide on all the best places to visit in Staithes
Robin Hood's Bay
One of my favourite villages in Yorkshire is Robin Hood's Bay. A quaint place on the cliffside that is famous for its smuggling past.
No one knows where the name came from as there is no evidence that Robin Hood ever visited here. But, it's still a beautiful spot all the same.
You can wander around the cottages and small laneways, visit their beach and 'boggle hole cave' or have a pint in one of the many pubs!
Read all the best places to visit in Robin Hood's Bay
Extra day trips in the North York Moors and beyond!
Helmsley was a quaint village with cute houses in the North York Moors that I loved. You can visit their market square, Hunter's deli, and ancient castle. Or, hike over to Rievaulx Abbey which dates back to the 12th-century.
Check out the fairy tale Beck Isle Cottage in Thornton-le-Dale or take a stroll through the quaint hamlet of Hutton-le-Hole.
A little further afield, you can explore more of the coast just outside the North York Moors. Scarborough is a historic spa town that has an ancient castle, beaches, museums, and Peasholm Park!
Click here to read all the places you can visit in Scarborough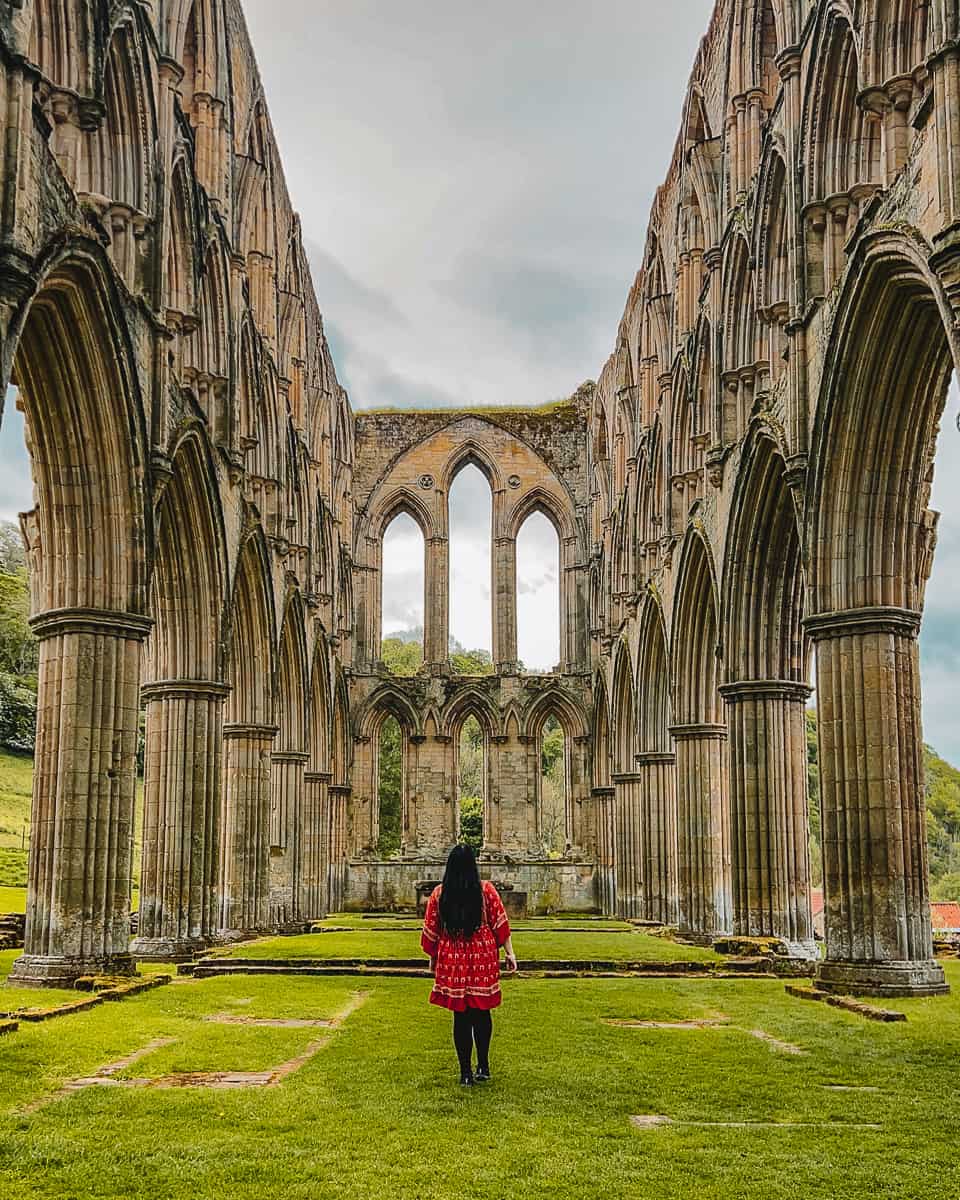 Potterheads will absolutely love visiting York which is only a 90-minute drive away from North Shire. You can visit The Shambles which is also known as the Harry Potter Street as it looks like Diagon Alley.
They have plenty of Harry Potter shops like the Potion's Cauldron and The Shop That Must Not Be Named. Also, you'll find a Harry Potter filming location at the station.
Click here to read my Harry Potter guide for York.
Durham Cathedral is also only a 1-hour drive from North Shire and they filmed many scenes for the movies here in their cloister quad including where Harry freed Dobby the Elf.
You can wander around like you're in Hogwarts! Click here to read my Harry Potter guide for Durham.
You can also visit Malham Cove in the Yorkshire Dales. This is just two hours drive from Hagrid's Hut and is featured in Harry Potter and the Deathly Hallows Part 1!
Click here to read my complete Harry Potter guide for Malham Cove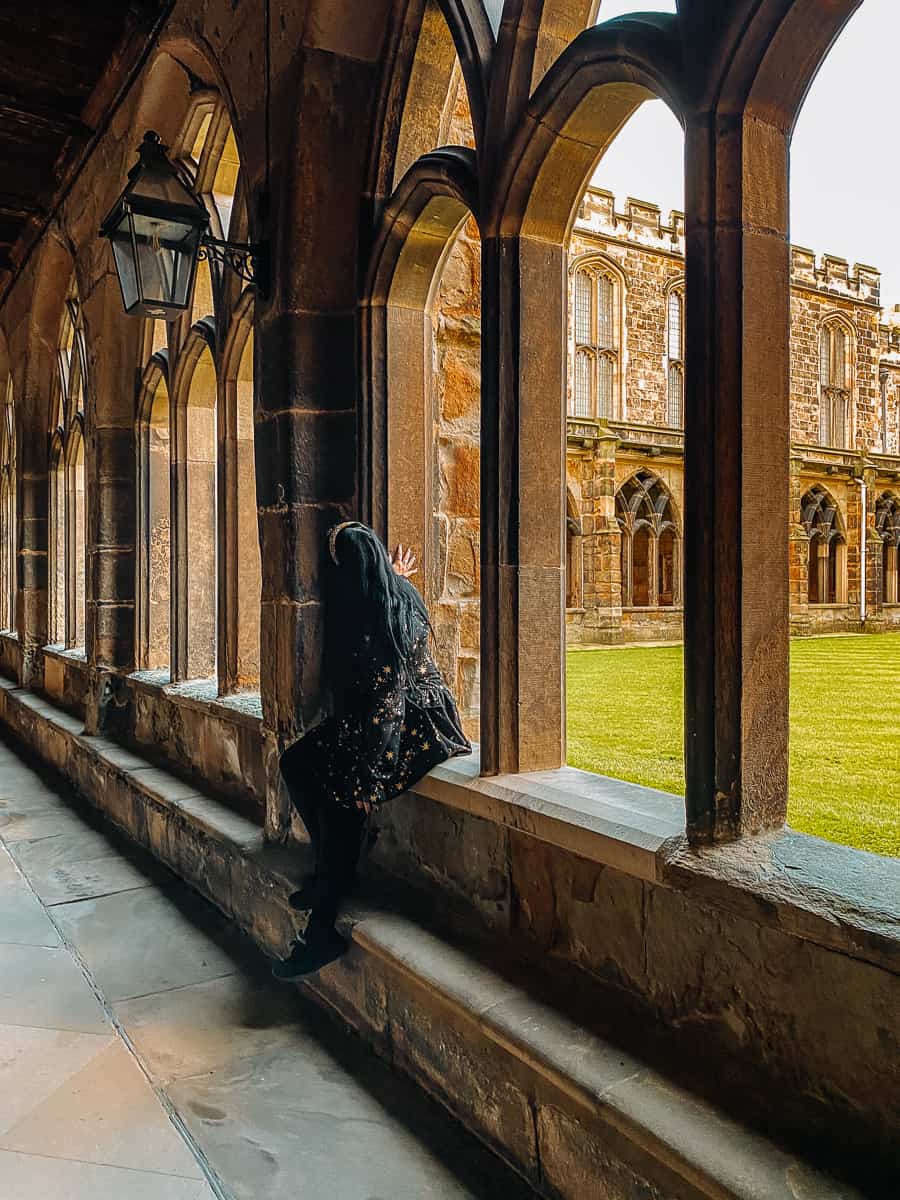 Is the North Shire Groundskeeper's Cottage worth it?
100% YES, I would highly recommend booking a stay at Hagrid's Hut North Yorkshire if you're a Potterhead!
It is an expensive place to stay and it's most definitely a bucket list splurge. But, as this is the only Hagrid's Hut accommodation of its kind in the entire world, I think it was worth every penny to experience it.
There is plenty to do around the area and it felt surreal to watch Harry Potter movies and spend a cosy few nights in the cottage!
Click here to book your stay in Groundskeeper's Hut in North Shire!
Read more of my Harry Potter travel guides
How to visit Hagrid's Hut filming location in Glen Coe
Harry Potter filming locations in Scotland
Harry Potter locations in Edinburgh
Harry Potter locations in Lacock
How to visit the real Godric's Hollow in Lavenham
Harry Potter filming locations in Oxford
Harry Potter filming locations in Alnwick Castle
How to find the Harry Potter Tree at Blenheim Palace
How to find Dobby's Grave in Wales
Harry Potter filming locations in Gloucester Cathedral
Visiting Malfoy Manor in Real life!
A complete Forbidden Forest Experience Review
Virginia Water – the Other Hogwarts Lake
Harry Potter filming locations at Durham Cathedral
Instagram locations at the Wizarding World of Harry Potter
Save this Hagrid's Hut North Yorkshire Groundskeeper's Cottage Review for later!