Are you looking for all the incredible things to do in Hampi? Then keep reading! Hampi is such an adventure!
You'll be transported to a world of ruins, ancient palaces, stone carvings, palm trees, monkeys, and giant Ganesh statues.
It's quite a crazy place and well worth exploring if you find yourself in the Indian state of Karnataka.
This site is the birthplace of Hanuman, the fighter monkey god in the Hindu religion. He likes to play tricks and features an integral part of the Ramayan epic legend.
So, naturally, you'll find a tonne of monkeys who wander around waiting for banana offerings. You'll need at least a day or two to explore as there is quite a lot to do and it's spread across a wide area.
Here's my complete Hampi travel guide and the best things to do in Hampi!
How to reach Hampi in India
Hampi is in the north of Karnataka and, unfortunately, there are no direct flights which will deliver you here.
So, your best bet is to hire a taxi, take the train or bus from the main cities of Bangalore, Hyderabad, Goa, or even Pune.
If you're heading here by car from the cities, it's a mammoth of a drive along a pretty terrible stretch of country roads.
If you've ever been on long drives in India, the roads are a mix of really great open highways to narrow lanes with potholes and large lorries to take over!
So, although Google maps will tell you a time, add another 2 hours onto that to be safe.
If you're taking the train there is a Hampi express train which runs overnight from Bangalore. For more information on this and the schedule, see here.
Click here for more Indian train travel tips
How to travel around and explore Hampi
Hampi is spread across a massive area and so depending on your level of fitness or more importantly how you handle the heat you'll have to decide how you want to explore it.
When I went to Hampi, it was the Indian winter season.
Although it was only 34 degrees, which is nothing compared to the peak temperatures of summer, it was HOT!
Hampi is mainly sand and stones which all absorb the heat. They then radiate it, which makes the place seem 10x hotter than it is on the thermometer.
That's why when it does hit peak summertime, Hampi closes down.
You can still wonder about it obviously, it doesn't disappear! But, there won't be any restaurants, tour guides etc. So, best to visit in Winter between November – January.
If you're like me and love your air conditioning, I would recommend hiring a taxi to take you about with your tour guide. That way, you can avoid being in the relentless heat for the day.
If you're made of stronger stuff, I would hire a bike to explore or go on foot.
Some of the main attractions are quite close together and there are some great designated walks to follow.
The best things to do in Hampi
1. Virupaksha Temple or Main Temple
The first place to head is to the main temple in the centre of Hampi.
Locally known as the Virupaksha Temple, it has a massive stupa with some pretty saucy carvings of the Karma Sutra.
Why do you need sex ed classes when you can just study here, right?! Haha.
You will need to walk around barefoot and there is a shoe counter to store your shoes in for 2 rupees.
But, as this is an old temple, the floor is pretty tough on your tootsies. It's hot, oily (it felt so gross *shudders*), sticky and there are little stones everywhere just waiting for you to tread on. So, go carefully.
There are A LOT of monkeys who cause havoc here as they are looking out for pilgrims offering bananas in the temple. So, keep an eye out for mischief. Don't carry food with you and don't leave valuables on display.
You can get a blessing from the Laxshmi elephant or have a look inside at the priests burning incense to the gods. A great place to look around.
2. Admire the EPIC view from Virupaksha viewpoint
Just up the stairs from the main temple is an amazing viewpoint that looks like something out of Bedrock in the Flinstones!
This is a great place to visit at any point of the day, but best at sunset for an incredible view of the city and beyond.
You can also head to the big Ganesh statue from here if you head up the hill and through the caves.
3. Visit Sasivekalu Ganesha statue
I'm not sure if it's a 'thing' to have a favourite god, but my favourite is Ganesha.
The remover of obstacles and all-around giver of good luck, what's not to like?
In Hampi, there are two massive single stone carved Ganesh statues that you can visit and they're insanely gorgeous!
The first is called Sasivekalu Ganesha which is on an open pavilion. This Ganesha has a snake as a belt when he ate too many sweets!
This was also a statue for the common people to worship back in the day and was a gift from the Raj.
4. Kadalekalu Ganesha
The second statue is the Kadalekalu Ganesha which is inside an ancient temple. It is absolutely humungous!
It's one of the largest statues which has been carved out of a single stone and was a private statue for the King and Queen to use for worship.
You have to remove your shoes to go inside and it's still an active temple today.
I accidentally lost my step here as it was so dark and nearly face palmed a woman heading in. So, be careful!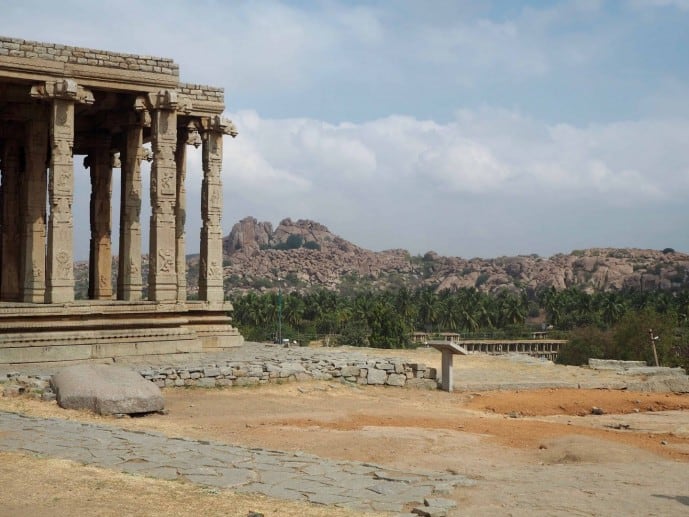 5. Hazara Rama Temple
The Ramayan quite literally means the story of Rama, a Hindu deity. The infamous story of Rama who went to rescue Sita from the clutches of Ravana is a popular tale.
Hampi has numerous shrines dedicated to Rama as it's the birthplace of Hanuman, who helped him with his army of monkeys.
The ruined city features in the legend and so there are numerous temples dedicated to them.
The Hazara Rama temple has some of the best carvings depicting the numerous chapters of the Ramayan legend.
Your guide should be able to translate for you and point out highlights on the panels.
What's even more amazing is this temple was built in the 15th century for the Kings and Queens of Vijayanagar.
Although some parts have been reconstructed, it still has an ancient feel as you wander about.
6. Hampi Stepwell
Hampi stepwell and the ancient kingdom it resides in are pretty awesome to take in.
As you walk around and your guide describes the parties, traders, and armies who used to reside here, you can let your imagination go wild and picture it.
Although most of the city is in ruins, a lot of the infrastructure still remains.
7. The Hampi Lotus Temple and Elephant Stables
Possibly my favourite location in Hampi was the Lotus Mahal. The symmetrical petal archways were just so beautiful to look at.
The temple was made for the royal ladies of the time for dancing, gossip, and recreation.
Miraculously, it has hardly been damaged since it was originally constructed.
The gardens surrounding this temple are so lush and green and I loved the colourful flowers. It made a really beautiful setting; pity I couldn't pull up a picnic here!
The elephant stables are what it says on the tin. Located in the Royal Centre, they used to act as the home for the royal elephants while they were here. Today, it's a nice open area to explore with beautiful arched roofs.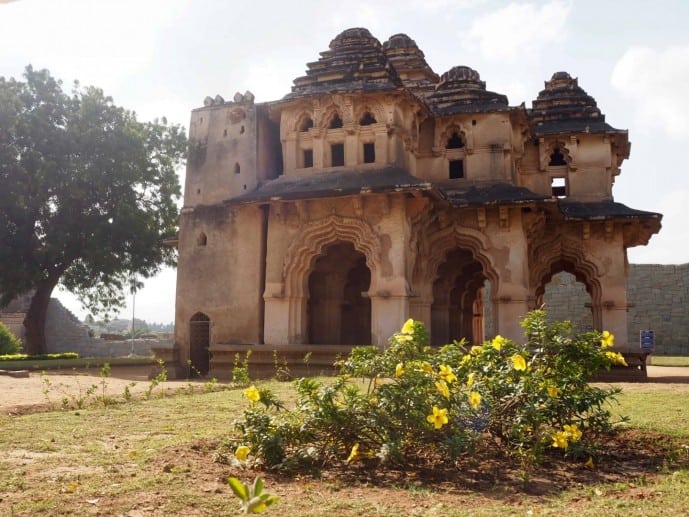 8. Lakshmi Narasimha statue
An imposing figure tucked away in the jungle of Hampi, the Lakshmi Narasimha is the largest monolith statue in Hampi and depicts one of the 10 transformations of Lord Vishnu and Goddess Lakshmi.
It's one of the most popular statues to visit and so will be packed with tourists at all times of the day.
Be sure to also check out the Shiva Lingham which is located next to it.
My tour guide told me that I should throw some rupee cents onto the Lingham for good luck with fertility.
If you get it on the bottom part, it's a 50% chance of success, and if you get it on the top 100%! I got it on the bottom, so fingers crossed haha!
9. Hampi Stone chariot
The stone chariot is by far the most impressive excavation site of Hampi.
It's the flagship tourist attraction and the reason why most people are drawn in to take a visit.
The chariot is not just a statue but actually a temple that is dedicated to Lord Vittala, another aspect of Lord Vishnu.
It's an awesome place to wander around and get your classic super tourist picture by it!
Save this list of things to do in Hampi for later!
There is honestly so much to do in Hampi that you will need at least a few days to get around all of it.
I couldn't believe my eyes when I got here. It was miles and miles of boulders, palm trees, ancient temples, and palaces.
You really feel like you're on an adventure or stumbled into the ancient times of India.
If you haven't thought of visiting Hampi yet, I would put this on your list. If you're not convinced, here's some more Hampi travel wanderlust.
Where to stay in Hampi | Hampi Hotels
There aren't really any luxury hotels which are in the city of Hampi itself, but I would highly recommend the Orange County Resort which is located a few kilometres away.
The stay included breakfast and an outdoor jacuzzi, I was in heaven!
You can check available dates and rates for Orange County here
Heading around the south of India? Read more of my articles!
A first-timers guide for Mumbai
My one week in Kerala Itinerary
Amazing things to see in Alleppey
A guide for the Kerala backwaters
The best Munnar tea plantations
A complete guide for Pondicherry
Visiting Auroville from Pondicherry