If you're looking for all the Harambe Market Disney Walls in Animal Kingdom, I've got all of them right here!
From the We Are All Children of the World Wall to the hard-to-spot You Are Most Beautiful Wall, I'll provide you with directions on how to find them and some photo inspiration.
Harambe Market is full of incredible spots for Instagram photos. The good news is they're also relatively close together, so you won't have to go searching for long.
Here's a list of the best Harambe Market Disney Walls!
What is Harambe Market and where is Harambe Market in Animal Kingdom?
Harambe Market is located in the Africa section of Animal Kingdom. It's a wide area with shops, facades, and a food court made up of four restaurants that serve up some tasty African-inspired cuisine.
These restaurants are;
Kitamu Grill
Famous Sausages
Chef Mwanga's
Wanjohi Refreshments
We had a rib platter at Chef Mwanga's and it was huge! This is also included in your Counter Service Disney Dining Plan.
You can look up a full menu of what they serve at Harambe Market here.
The Best Harambe Market Disney Walls in Animal Kingdom
1. Fichwa Fellow Wall
The Fichwa Fellow Wall in Harambe Market is an adorable photo spot. You'll instantly recognise a drawing of Mickey Mouse with Fichwa Fellow! underneath.
A fun fact about this wall is that Fichwa means 'hidden' in Swahili and so you're looking at a hidden Mickey in plain sight! This is the easiest of the Harambe Market Disney Walls to spot.
When I was here, it was during the holiday season and so they had some traditional bushels hanging above it too.
This wall has its very own Instagram account @fichwafellowall and hashtag, so make sure you tag them when posting.
Fichwa Fellow Wall Location
The Fichwa Fellow is located on the outside wall of the entrance archway to Harambe Market Food Court.
If you're heading towards the Kilimanjaro Safari, the Fichwa Fellow will be on your right just a little further on from the Wanjohi Refreshment cycle truck. It's pretty hard to miss!
Wanjohi Refreshment Truck
Look out for the Wanjohi Refreshments truck which is next to the Fichwa Fellow. This is also a great photo opportunity nearby!
2. You Are Most Beautiful Wall
This was the hardest of the Harambe Market Disney Walls for me to find. In fact, this was the hardest Disney Wall to find full stop! The first time I visited, I couldn't find it so I went back after asking a cast member for directions.
The You Are Most Beautiful Wall is a really sweet message that makes a perfect photo opportunity for your Instagram Feed.
This wall also has its own Instagram account and hashtag to mention when posting.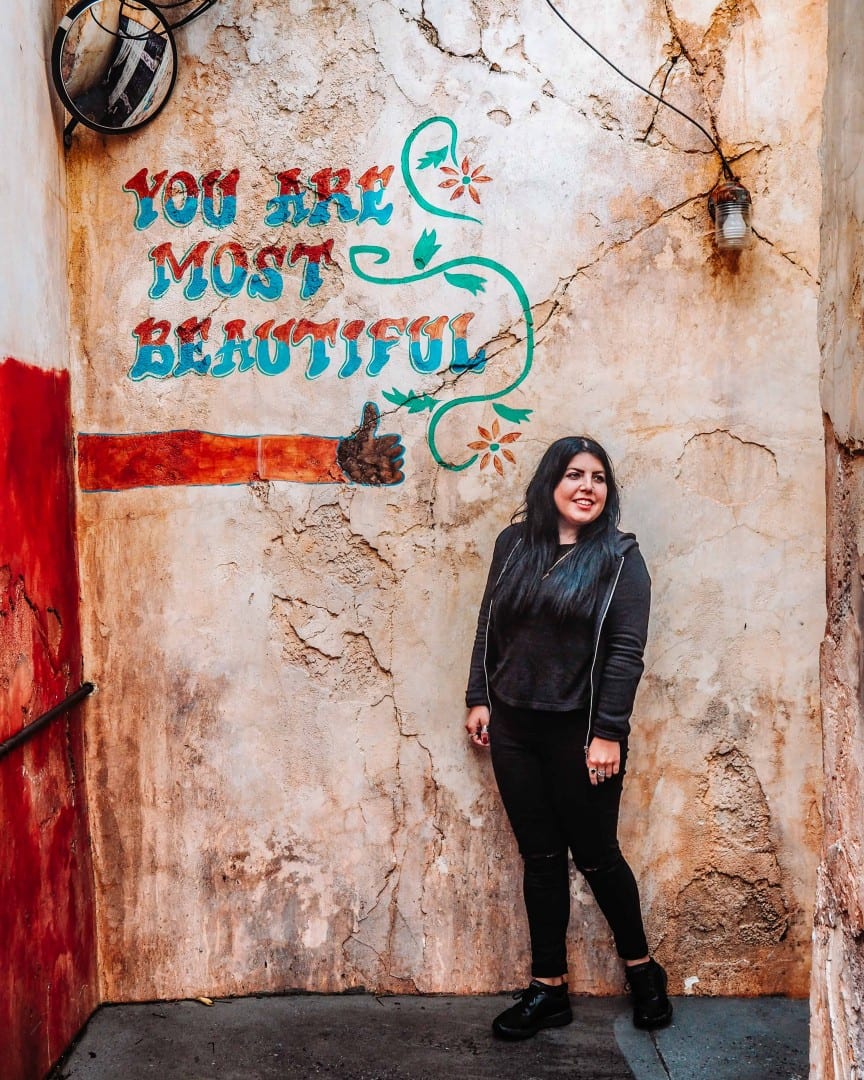 You Are Most Beautiful Wall Location
The You Are Most Beautiful Wall Location is in Harambe Market Food Court. If you enter the Harambe Market Food Court under the archway, find the 'Famous Sausages' quick-service restaurant and it will be in the alleyway to the right of it.
It's actually a Cast Member Only section and is by the entranceway to the kitchens. So, it may be worth visiting at off-peak eating times.
Can't find it? Check out my step-by-step guide of where to locate this wall here!
3. We Are All Children of the World Wall
Of all the Harambe Market Disney walls, this one is my personal favourite spot as not only is it highly Instagrammable but it comes with a really important message too. Look out for it next to the bicycle, it reads;
"It doesn't matter who you are, or where you're from, we are all children of the world"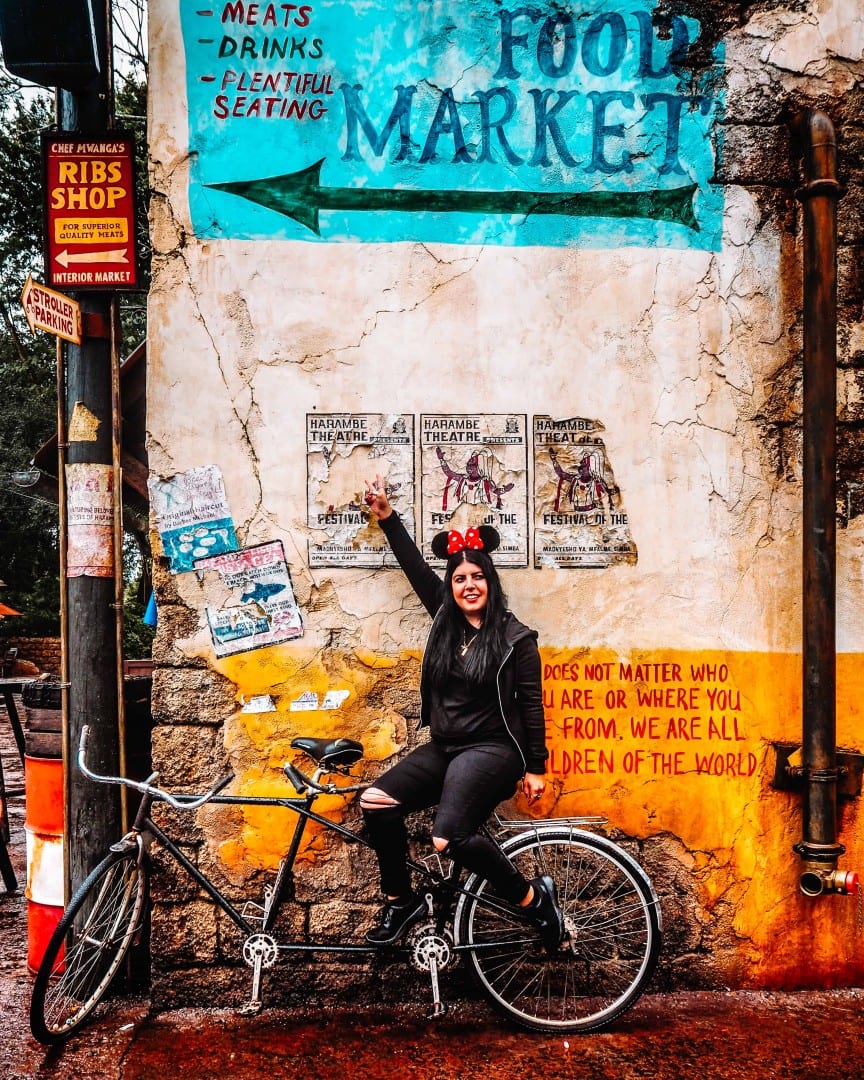 Harambe Market Bicycle Wall Location
The We Are All Children of the World Wall can be found directly opposite the Fichwa Fellow. You'll notice the ripped Harambe Theatre posters and the bicycle against the wall that you can ride.
Above is a sign pointing over to Harambe food court. Next to it is a sign for the 'Bicycle Land' facade.
Thankfully this is bolted to the wall and doesn't move, so you can play around on it and pose to your heart's content without hurting yourself!
4. To Get Lost is to Learn the Way
A new addition to Harambe is the sign "Kupoteya njia ndiyo kujua njia – To Get Lost Is To Learn The Way" which is also an African Proverb.
As a travel blogger, this sign really spoke to me as getting lost is my full-time job! As cheesy as it sounds, it makes you learn big lessons on the way too.
Location: This sign can be found in the Harambe Market Food Court above the seating area.
5. Harambe Market Food Court Signs
Inside the Harambe Market food court, you can find some incredibly photogenic scenes while you're eating your lunch!
I loved spotting all the fun posters that were around the area, advertising all things like plumbers, the Harambe Theatre, Famous Sausages, Fish & Crustacea. Have a look around and see new ones you can spot.
6. We Renew Broken Hearts Wall
This is another new addition to Harambe Market and is becoming a new treading Disney Wall in Animal Kingdom.
The We Renew Broken Hearts Wall can be found under the archways, opposite the Malimwengu Guest House Facade.
This also has an Instagram account and hashtag too!
Looking for all the Disney Walls and Instagram Locations on your visit to Walt Disney World?
That's all the Instagrammable Harambe Market Disney Walls in Animal Kingdom.
But, if you're looking to find all the Instagrammable Disney Walls at Walt Disney World, I have a whole list of the most photo-worthy Disney Walls you can check out here.
Beyond the walls, Disney is full of amazing photo locations. So, I've also put together a magical guide of where to find the most photo-worthy locations in Walt Disney World here. This covers all four parks, the Disney resort, and Boardwalk too!
Read more of my Disney articles
The best shows at Walt Disney World
A FREE day at Disney Boardwalk
The Purple Wall at Magic Kingdom
A complete Be Our Guest restaurant review