Known as the most formidable castle in Britain, Harlech Castle is truly a sight to behold in Snowdonia National Park.
Built as one of Edward I's 'iron-ring' castles, its dramatic location on a headland means that it towers over the scenic Tremadog Bay!
Although you can get some great photos of the castles on your visit. One of the best photography locations can be found from a hidden Harlech Castle viewpoint some 500 metres away.
From here, you can get some amazing photos that are worthy of postcard! Here's a complete guide on how to find the BEST Harlech Castle photography location on Ffordd Isaf.
The legend of Harlech Castle
This incredible castle goes hand in hand with Welsh mythology. It's associated with the tragic legend of Branwen, the Welsh Princess and daughter of Llyr, King of all Britons.
In the Mabinogion, an Irish King called Matholwch comes to meet Brân the Blessed, her brother. He asks for Branwen's hand in marriage as she is the fairest maiden in all the kingdom.
The wedding is agreed upon to bring peace to the two nations but it is far from a happy marriage.
Branwen is mistreated, beaten and banished to the kitchens. She is miserable, without a friend in the world and eventually befriends a stark.
She asks the bird to send her brother a letter in Wales telling him of her plight. Bran is furious and so sails over to Ireland with his men to rescue her.
Unfortunately, the battle between them resulted in tragedy for both sides. Bran was forced to admit defeat and decided to leave Ireland.
But, the Irish ambushed Bran with a poisoned arrow. Not wanting to face a lingering death he asked for his head to be cut off and sent back to Wales. Branwen then died of a broken heart.
However tragic, this story is just a legend. There is no evidence of these events in Harlech or any record of Welsh rulers living here before the castle was built in the 13th century.
Harlech Castle history
The mighty Harlech Castle is known as the most formidable in British history. It was built as one of Edward I's 'iron-ring' castles in 1282 as a symbol of power during his conquest of Wales.
This dramatic medieval stronghold that towers over Tremadog Bay could be seen for miles and would have sparked fear into anyone who approached it, especially his Welsh enemies.
Of course, the English Edward I was not welcomed by the princes of Wales who ruled the North. His arrival sparked many Welsh Uprisings to fight against his campaign for control.
The first major uprising was led by Madog ap Llywelyn in 1294 which spread quickly through Wales.
Later in 1404, the famous Owain Glyndŵr led a huge revolt against English rule. He managed to overthrow the English stationed at Harlech Castle and set up his parliament here!
By 1408, the future King Henry V (Harry of Monmouth) took back control and beheaded the commander, Edmund Mortimer.
The Siege of Harlech Castle
Did you know that Harlech Castle faced the longest siege in British history? It lasted for seven years during the War of the Roses. It was this siege that inspired the song "Men of Harlech" or Gwŷr Harlech.
It acted as a base for Lancastrian forces and here they plotted against their enemies. That was until 1468 when Yorkist Edward IV took back control.
Harlech Castle was the last chess piece for the Lancastrians and when they surrendered it meant that all of England and Wales fell under Yorkist rule.
After a brief attack by Cromwell's Army in the English Civil War it didn't see many battles after that. In fact, this castle became a popular location for artists like John Cotman and J. M. W. Turner!
Today, it's owned by Cadw and one is one of the most iconic castles in all of Wales.
Where is the best Harlech Castle viewpoint?
You can get some nice photos when you're outside Harlech Castle itself however the viewing platform is quite compact.
So, you can't stand very far back and you'd need a wide-angle lens to fit all of the castle in! Even then, I found that my photos from here didn't do the castle justice.
By far, the nicest viewpoint and photography location can be found around 500 metres away from it. It's a grassy outcrop in Harlech on the Coastal Path that looks over Tremadog Bay.
From here, you'll get an amazing birds eye view of the castle, the dunes, the mountains of snowdonia and beyond!
I was quite lucky to find it as it's not in an obvious place being a little out of the town. Fortunately, I had some of those famous photos of the castle on my phone and so I asked a few locals for directions.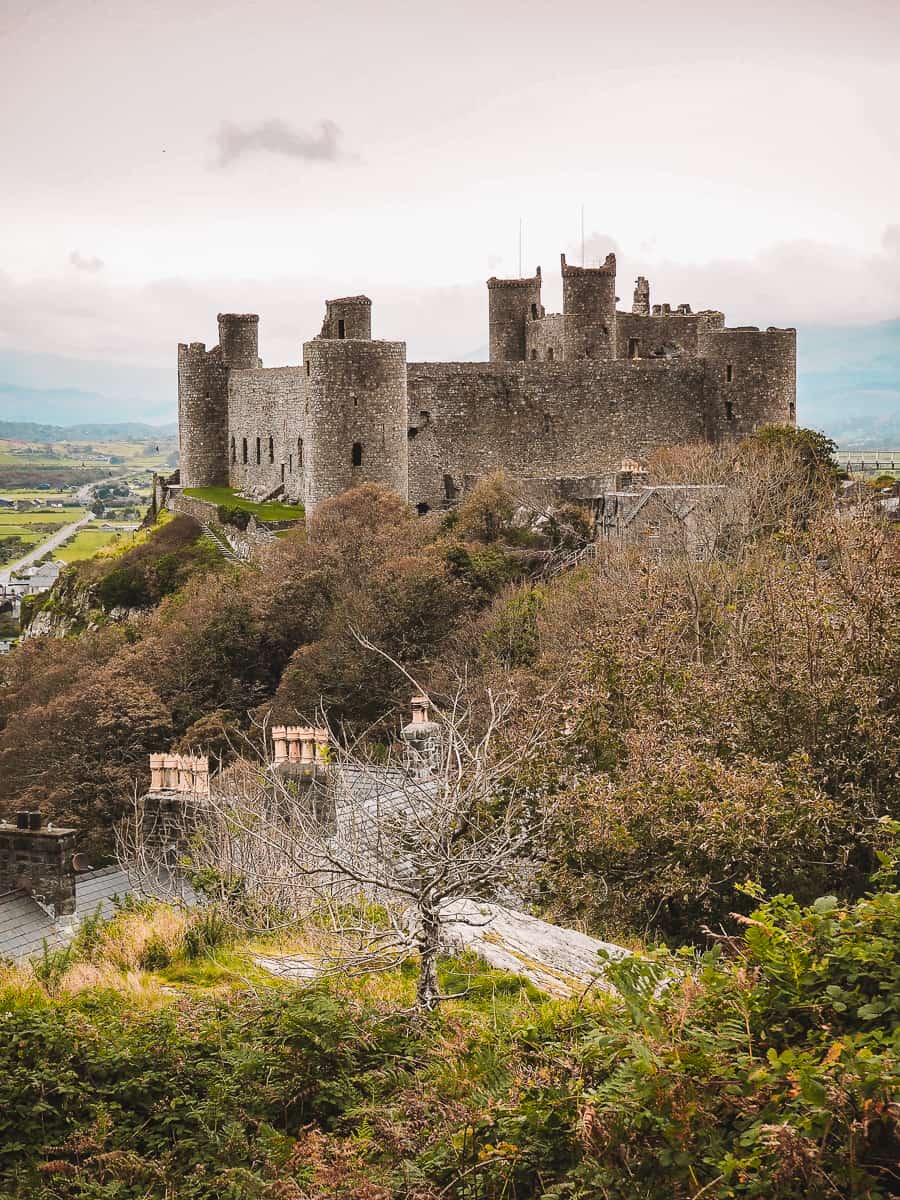 How to find the Harlech Castle photography location
The easiest way to give directions would be to start from Harlech Castle itself.
Once you've left the castle, from the main car park head up Twtil Road until you reach the main High Street called Stryd Fawr.
Make a right and head through the town. You'll pass Paraphernalia Trugareddau on your right and the famous Llew Glas Interiors and café on your left.
Carry on this road until you reach the bend which leads to Fford Isaf Road.
You can either take the 'long route' that takes you by St Tanwg's Church or take a shortcut by walking down the stairs into a small housing estate.
You'll see another set of steps right in front of you which leads you back onto Fford Isaf.
Take a right from the steps and keep following the Fford Isaf Road until the walking path veers off on the headland. You'll see a pedestrian sign pointing towards the coastal path.
If you walk onto this grassy knoll you'll see a small monument with a viewpoint map that tells you everything you can see from here.
Walk a little further on and you'll see the best view of Harlech Castle which towers in the distance!
Click below for a Google Pin to this location
Photograph the best view of Harlech Castle!
The castle dominates the landscape in the distance and has an incredible vantage point on the headland.
You can really get a feel for the symbol of power and the message this defence fortification would have sent to enemy invaders during medieval times.
The castle is encompassed by Harlech town, Tremadog Bay and the mountains of Snowdonia so it's the perfect spot for photography. Make sure to get your camera ready.
There's lots of amazing compositions you can get from here and the best time to visit would be at sunset when the lighting is softest.
The area is large enough for tripods to be set up but it's exposed on the headland and can get windy! So, be mindful when setting up your equipment.
Sit on the Giant Wooden Throne
The siege of Harlech Castle has an eerie similarity to the siege of Storm's End in the Game of Thrones series.
This is where Stannis Baratheon defends Storm's End for a year! They ended up being starved out and had to eat their own horses.
A giant throne sits on the headland here which reminded me a lot of the iron throne. So, now you can sit on the Wooden Throne of Harlech!
These were recently commissioned by Harlech Castle and were inspired by the earliest prose in British history, the legendary Welsh tales of the Mabinogion.
The throne is carved in Celtic knots and one of the magical birds of Rhiannon (Adar Rhiannon) from the Mabinogion sits on top.
Apparently, whoever claims it will also be given the silver tongue of storytelling like those birds. This wonderful throne is actually up for sale. You can check it out here.
Enjoy the spectacular views over Tremadog Bay
Beyond the castle, one of the highlights of this viewpoint is the breathtaking panoramic views of Tremadog Bay.
Harlech is a popular beach town and you can see many of the Holiday Parks near the sandy dunes by the sea.
Beyond the town, you'll see the peaks of Snowdonia in the distance on a clear day and it's spectacular. I could have sat here for hours just taking it all in.
There are some benches here that you can perch on to enjoy the views for a while. It makes a lovely picnic spot if it's nice weather.
Don't miss this incredible viewpoint in Snowdonia!
Where is the closest car park to this viewpoint?
If you can't get a space in the Harlech Castle car park, it's easiest to park up in the Bron y Graig Uchaf Long Stay Car Park.
The viewpoint is located on a popular B-road and there are no lay-by's nearby that you could quickly park in!
This is the closest car park to the viewpoint and it's only a five minute walk from here! Just follow the Bryn Y Graig road down to Stryd Fawr and then carry on to the Fford Isaf Road.
The car park is large enough for big cars and camper vans. It's open 24 hours and up to 4 hours is £3.
There is also some free off-road parking that is time controlled on Stryd Fawr road nearer the shops on the main High Street. I parked up in a space that was free for 2 hours near the Visit Harlech visitor centre.
I found it just enough time to explore this wonderful historic town and take some photos!
Read more of my Snowdonia travel guides
Are you heading through Snowdonia National Park? You are going to fall in love with this part of Wales!
Read more of my travel guides to help plan your trip;
How to visit Dinorwic Quarry Wales
How to see the Bodnant Garden Laburnum Arch
How to find the Lone Tree of Lyn Padarn
When does Tu Hwnt I'r Bont turn red?
Visit Anglesey Barracks – Snowdonia's Forgotten Street
Take a look inside the Smallest House in Great Britain
How to visit the magical Fairy Glen
A complete Swallow Falls visitor guide
The tragic legend of Gelert the Dog
The top places to visit in Beddgelert
Why is the Ugly House called Ugly?
See the jumping salmon at Pont-y-Pair Bridge
A complete guide for the Conwy Town Walls
How to do the Llyn Idwal Circular Walk
A complete guide for the Dinas Emrys Walk & Dragon legend
How to visit Pistyll Rhaeadr Waterfall
Gladstone's Library – Stay in the UK's only residential library
Save the best view of Harlech Castle for later!