Cecil Court London is a quaint and curious shopping street that's a bit of a hidden gem of Covent Garden.
Adorned with colourful Victorian shopfronts and old oil lamps, you could easily miss it if you're not looking for it in London's West End.
Indeed, the historic Cecil Court is anything but ordinary and it will make you feel like you've been transported back in time. It's a book lover's paradise and filled with boutiques offering all sorts of novels and antiquities.
It's also popular with Potterheads as many believe that this quirky street with Victorian store fronts inspired Diagon Alley in Harry Potter!
Here's a complete guide for Cecil Court with the history, how to get here, and the Harry Potter connection.
The history of Cecil Court London
Cecil Court has been a quiet corner of Covent Garden since the 17th-century and when you walk down there today, you'll notice that not much has changed!
According to older maps, there used to be a hedgerow that ran all the way down it. But, a substantial part of Cecil Court was burned down in 1735 due to a tenant called Mrs. Colloway. She used to run a brothel and over-insured her Brandy stock just to set it alight and claim back the funds!
A little later in 1764, a young Wolfgang Amadeus Mozart lodged at 9 Cecil Court temporarily when he was eight years old. He stayed with a barber called John Couzins before he left for Europe.
Later, John Couzin's sold tickets to Mozart's very first London concert from his shop. Look out for the blue plaque at number 9 which marks the spot!
In the early 1900s, the famous bookish lane of Hollywell Street was destroyed and so Cecil Court gained the new nickname of Bookseller's Row. This is around the same time that the court received the iconic make-over which saw every shop lined with colourful Victorian storefronts which we see today.
Later, this street became known as Flicker Alley due to its links with the early British Film Industry. It still does with films like Miss Potter (2006) and Last Christmas (2019) being filmed here in recent years.
Today, Cecil Court is a paradise for book lovers, filled with antiquities and all sorts of curiosities in the various boutiques.
You feel like you've been transported back in time and you could honestly lose yourself for hours browsing in the shop windows alone.
Many people believe that this magical little street was the inspiration for Diagon Alley in the Harry Potter movies!
What is the Cecil Court Harry Potter connection?
Any Harry Potter walking tour in London worth its salt makes a stop at Cecil Court and that is due to its strong links with the Wizarding World and Harry Potter.
Many Potterheads believe that Cecil Court was the inspiration for Diagon Alley. For those that don't know, Diagon Alley is a magical shopping street filled with supplies for witches and wizards!
It's easy to see why people think this as Cecil Court has plenty of quirky and colourful shop windows and signs for historic establishments that sway over into the street.
There are also lots of Bric-a-Brac, tarot readers, antique sellers, map makers, and shelves of books aplenty which do look and feel very similar to the shops found on Diagon Alley!
Is Cecil Court Diagon Alley?
There are many Harry Potter streets in the UK that say they have a claim to fame for being the inspiration for Diagon Alley.
Although J. K. Rowling has recently dispelled some locations like Gandy Street in Exeter, she's never officially announced what street is the official Harry Potter Street that inspired the Wizarding World.
You have the medieval and cobbled Shambles in York with its higgledy-piggledy buildings and The Shop That Must Not Be Named.
Also, Victoria Street in Edinburgh has a claim with its vibrant shopfronts in all colours of the rainbow. It's home to Museum Context which inspired Ollivander's Wand Shop.
Plus, there are plenty of streets in London that are thought to be Diagon Alley such as Goodwin's Court and even Leadenhall Market which became a filming location for the first Harry Potter movie.
So, I guess it's up for debate. Do you think that Cecil Court looks like a real Diagon Alley? I think it's a fair contender as it does have many cool shop fronts and hanging door signs.
But, I'd say my favourite 'Harry Potter Street' (beyond the Diagon Alley in Universal Studios) will always be The Shambles in York. In fact, it's one of my favourite streets in all of the UK as it's just magical!
Things to do in Cecil Court for Harry Potter fans
So, if you are visiting Cecil Court London as a Potterhead, you're probably wondering what there is to do around here when you arrive!
Well, Cecil Court is a gorgeous historic shopping street that has plenty to do. If you're a bookworm, you'll be in heaven as there are so many places to buy books for your collection.
There are lots of jewellers, art dealers, and antiques – so, it really is similar to visiting Diagon Alley in real life!
Here are all the things to do in Cecil Court for Harry Potter fans.
1. Walk down this quaint street with all the amazing independent boutiques
So, beyond shopping, this street is a peaceful paradise in amongst the busy and hectic Covent Garden.
On Charing Cross Road you have all these theatres, shops, traffic, and noise. But, when you head down Cecil Court you escape all that.
You'll be in a pedestrianised area, surrounded by Victorian Shopfronts and old oil lamps and you can simply take some time to enjoy where you are.
It's not a huge street by any means but it packs a punch with character and there are always events that take place here and change with the seasons.
2. Go book shopping
If you're a book lover, you will be spoiled for choice in Cecil Court. There are so many independent bookshops to visit to pick up some new reads for your collection.
What I loved is that all the bookstores were so different and had their own unique theme and character.
Some bookshops, like Bryars & Bryars, were also cartographers and dealt in antique maps which I thought was amazing considering the modern age of Google Maps!
Here are some of the best shops in Cecil Court to explore:
Bryar's and Bryar's – A bookshop that is filled with antiquarian books and maps, a must see!
Alice Through the Looking Glass – probably one of the coolest bookshops on the strip! Obviously, there is a strong Alice in Wonderland theme and the whole shop is so gorgeous! They sell lots of versions of the Lewis Carroll series and Alice themed paraphernalia but it's not limited. They also have a strong fantasy theme.
The Witch Ball – a specialist retailer in antiquarian prints, jewellery and art!
Goldsboro Books – open since the 1990s, this store is filled with special, first and classic edition books. The smell in here is amazing with all that old paper and binding.
Marchpane – Harry Potter fans will love this store. There's plenty of magic inspired things inside with children's books and more links to Alice in Wonderland.
Watkins – Established over 120 years ago, this bookshops serves up a bit of the spiritual and supernatural. They even have crystals, talismans and tarot readings thrown into the mix. Look out for the dried Dragon Blood on sale!
3. Head to Mr. Foggs Tavern
If you were looking for a quirky place to go for drinks or a bit of lunch, I would highly recommend visiting the famous Victorian-inspired Mr. Foggs Tavern in Covent Garden.
There are many Mr. Foggs dotted about London and are all based on the famous explorer Phileas J. Fogg, Esq. from Jules Verne's novel Around the World in 80 Days.
Each one has a theme or story and the one in Convent Garden is called Mr Fogg's Tavern. Its theme is based on the Landlady Fanny McGee who throws open her doors to a traditional Victorian tavern in the heart of Covent Garden every week!
These bars are anything but ordinary and are filled to the rafters with Victorian paraphernalia and quirky drinks inspired by the past.
Although not a Harry Potter bar per se, this place is still pretty magical and reminded me a lot of the Hog's Head Inn or the Leaky Cauldron with its Olde World charm.
Click here to read my complete review for Mr. Fogg's Tavern
4. Stroll down Knockturn Alley
If you were looking for more Harry Potter locations in the area, there is one that's just a hop, skip and a jump away from Cecil Court.
If you head towards St Martin's Lane, you'll find a small tunnel that will take you through to Goodwin's Court.
This is meant to be an inspiration for Diagon Alley but I think it looks more like Knockturn Alley with all the black oriel windows and oil lamps. Plus, you could totally imagine stumbling upon Borgin & Burkes here.
As a bonus, you'll find lots of Harry Potter Easter eggs like Hedwig and broomsticks placed in the windows. So, make sure to snap some photos while you're here. It's an opportunity that you won't want to miss.
Read my complete Harry potter guide for Goodwin's Court!
5. Watch Harry Potter and the Cursed Child
Did you know that the Palace Theatre is based in London West End? It's just a few minutes' walk away from Cecil Court!
Harry Potter and the Cursed Child is a two-part play that begins nineteen years after the Battle of Hogwarts in the Deathly Hallows. Although marketed as the eighth story of the Harry Potter series, I'd keep an open mind about that!
However, it is extremely popular with Harry Potter fans and tickets sell out for shows months in advance. It's not exactly cheap either as to really experience the whole package, you have to watch two shows.
If you were keen, I would make sure that you book tickets months beforehand but you can try your luck to pick up last-minute tickets on the day.
Click here to book your tickets for the Cursed Child play!
Why not book a Harry Potter walking tour?
If you wanted to visit a couple of the Harry Potter filming locations and inspirations in London, I would recommend booking a guided walking tour.
There are many that run but one of the most popular is by Strawberry Tours who run their tour for FREE but, these run on a tipping basis. Always remember to tip your magical guides!
These tours are really popular, so if you wanted to join make sure to head to their website to book your place to guarantee a spot.
Typically, the tour meets at The Palace Theatre at 3.30pm on Thursdays, Saturdays and Sundays.
Click here to book your FREE Harry Potter walking tour in London with Strawberry Tours
Where is Cecil Court London?
Cecil Court is an idyllic shopping street in the heart of London's West End and Convent Garden.
It's a bit of a hidden gem that you can easily miss if you're not looking for it and it's tucked in-between St Martin's Lane and Charing Cross Road (another Harry Potter filming location FYI).
If you were planning to visit Covent Garden, Piccadilly Circus, or Leicester Square while you're in London, Cecil Court makes the perfect place to add on to your trip!
How to get to Cecil Court London
The address for Cecil Court is WC2N 4EZ but I wouldn't recommend driving a car in London as it would be too stressful and not to mention expensive with congestion charges.
The tube or the London Underground is the best way to get around London and it's really cheap and convenient to use.
The nearest tube to Cecil Court is Leicester Square and it's a 5-minute walk from there to Cecil Court down Charing Cross Road.
Cecil Court opening times are 24 hours a day but if you plan on shopping I would personally make sure you check individual shop opening times here to avoid disappointment.
Most shops have a website with their current opening times but the majority open around 11am – 6pm from Monday – Saturday. Most shops here completely close on Sundays.
If you plan on taking photographs of this amazing street, I would recommend visiting as early as possible as it's often very crowded with shoppers and commuters.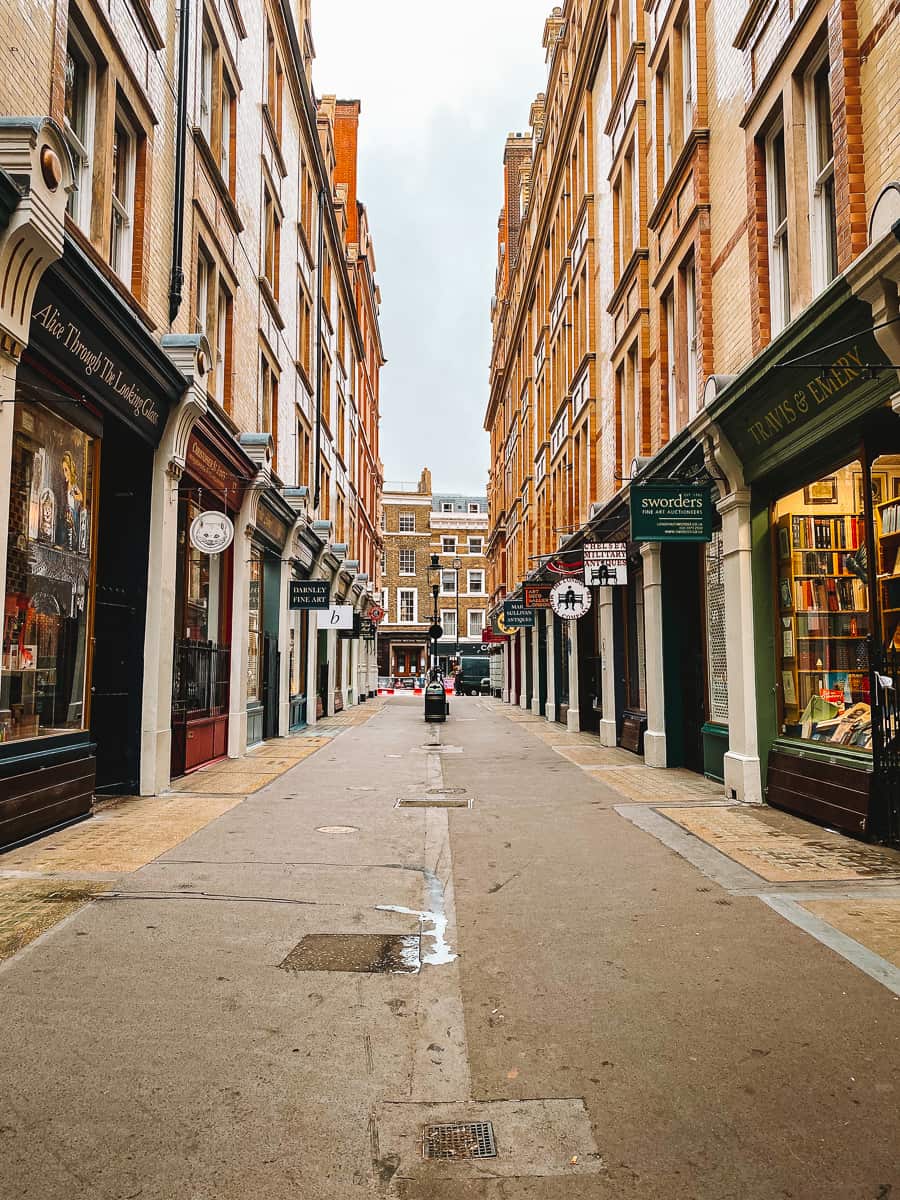 What has been filmed at Cecil Court?
Cecil Court has long been associated with the British Film Industry and it was known as 'Flicker Alley' in the early 1900s.
Here are all the movies that have been filmed in Cecil Court:
84 Charing Cross Road (1987)
Amazing Cecil Court Facts!
Cecil Court dates back to the 17th-century but was redesigned with Victorian storefronts in the 19th-century
Cecil Court was the temporary home of Wolfgang Amadeus Mozart when he was eight years old. He stayed with a barber named John Couzin who sold tickets to Mozart's first London concert from his shop! You'll see a blue plaque at Number 9 Cecil Court.
In 1735, Cecil Court almost entirely burned to the ground due to a resident called Mrs. Colloway who ran a brothel and brandy shop! She over-insured her Brandy stock and then set fire to it to claim back the money. She was arrested for fraud and arson but was later acquitted of all charges!
Cecil Court is also known as 'Flicker Alley' as it was a hub for the early British film industry
Since the 1930's Cecil Court has also been known as the new 'Booksellers Row'. This moniker used to be for Hollywell Street but that was demolished in the 1900s
Cecil Court is part of the Jubilee Walkway, a 15-mile hike which includes some of London's most notable attractions
Looking for more Harry Potter locations in London?
London is full of amazing Harry Potter filming locations, inspirations, and experiences to enjoy if you're a Potterhead.
Just nearby you can walk over to Goodwin's Court that is the inspiration for Knockturn Alley but many say this inspired Diagon Alley too!
You also have a Harry Potter Photographic exhibition with London's only Butter Beer bar in Covent Garden.
Leadenhall Market, Borough Market, and Millennium Bridge are all featured in the movies as well as the St Pancras International Hotel. You can even find the Order of the Pheonix HQ!
You can head into St Paul's Cathedral to see their Geometric Staircase that was the Divination Stairwell at Hogwarts.
You can watch the Cursed Child in Palace Theatre or hop inside the House of Mina Lima who were the designers of most of the magical Harry Potter props like the Hogwarts Acceptance Letters and Daily Prophet newspapers!
Just nearby you have the iconic King's Cross Station. Although there is no platform 9 3/4's in real life, there is a Harry Potter Shop with a trolley nearby for a photo opportunity.
Or, you can enjoy some Harry Potter-themed experiences like afternoon tea at Cutter & Squidge in their Potion Room. Or, head to The Cauldron for a magical cocktails experience.
No Harry Potter fan can leave London without visiting The Making of Harry Potter on a Warner Brother's Studio Tour.
It's filled with lots of real sets, props, and costumes that are featured in the movies. It's based in Watford but you can take an official Warner Studios Bus transfer from central London.
If you can I would recommend a visit around one of their special events like the Dark Arts at Halloween or Hogwarts in the Snow.
Click here to read my complete guide on London Harry Potter locations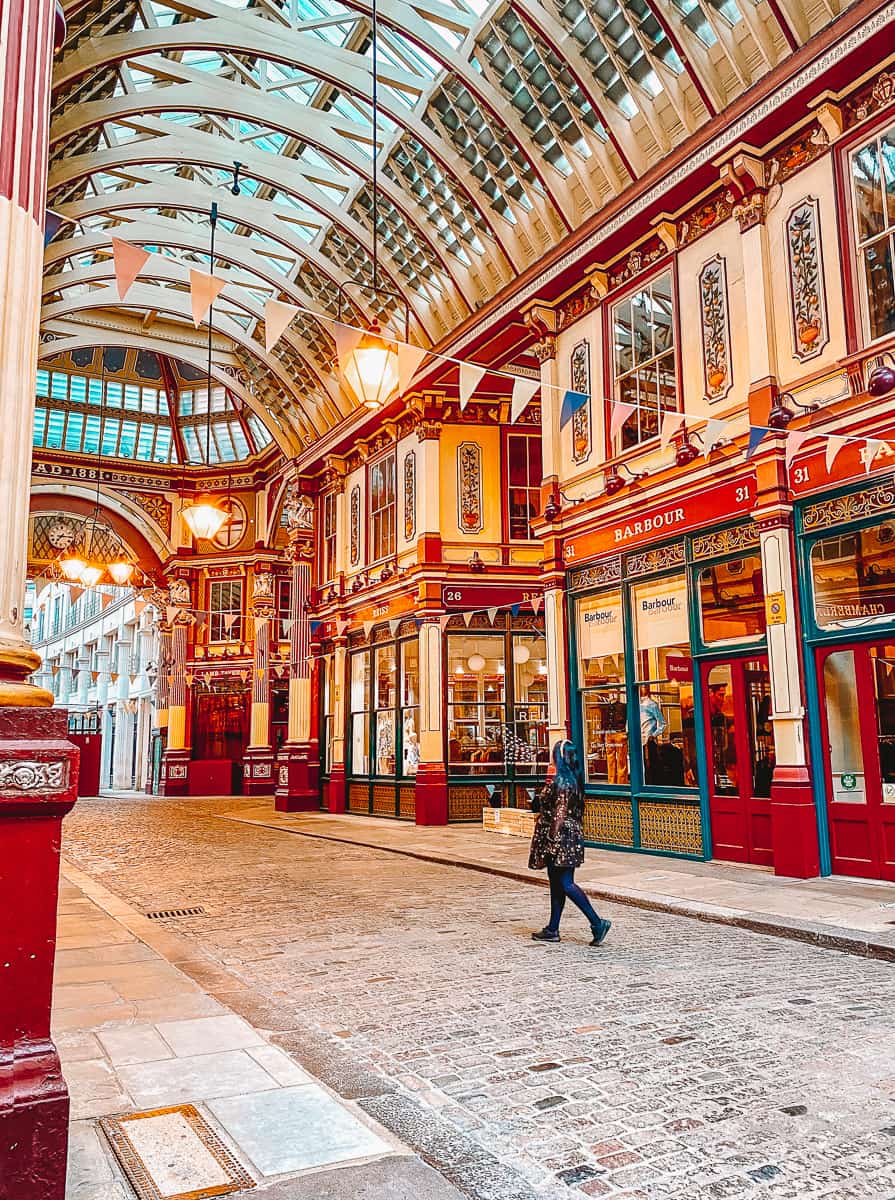 Read more of my Harry Potter inspired guides
Harry Potter locations in Lacock
Harry Potter filming locations in Alnwick Castle
How to spend the night in Hagrid's Hut
Harry Potter guide for Lavenham
Harry Potter filming locations in Scotland
Where to find Harry Potter in York
How to find the Harry Potter Tree at Blenheim Palace
The Shop That Must Not Be Named Review
How to find Dobby's Grave in Wales
Harry Potter filming locations in Gloucester Cathedral
A complete Forbidden Forest Experience Review
How to see the Hogwarts Express in Scotland
Visiting Malfoy Manor in Real life!
Where to find Tom Riddle's grave in Edinburgh
Visiting the Quidditch Town of Tutshill Tornados
Harry Potter locations in Exeter along with Gandy Street and the Room of Requirement
Virginia Water – the Other Hogwarts Lake
Instagram locations at the Wizarding World of Harry Potter
How to visit Dumbledore's Grave in Scotland
How to find the Malham Cove Harry Potter Deathly Hallows filming location
Harry Potter filming locations at Durham Cathedral
Save this Cecil Court Harry Potter guide for later!