Did you know that there is a huge Harry Potter Exeter connection in the UK?
That's right, it's thought that many locations in Exeter inspired J. K. Rowling's Harry Potter series and the Wizarding World.
J. K Rowling was a student at the University of Exeter and so many Potterheads and Exonians have developed fan theories about some of the magical places found here!
From the majestic Exeter Cathedral to Saxon shopping streets that look like Diagon Alley and even the Room of Requirement door. There is magic to be found at every corner of this historic city.
So, if you wanted to see them all, here is a magical self-guided Harry Potter Exeter tour that you can take with a FREE map of all the locations included.
Note: J. K. Rowling has recently dispelled some of these Harry Potter Exeter locations. But, don't despair, I think most Potterheads will agree the resemblances are uncanny and they are truly magical places!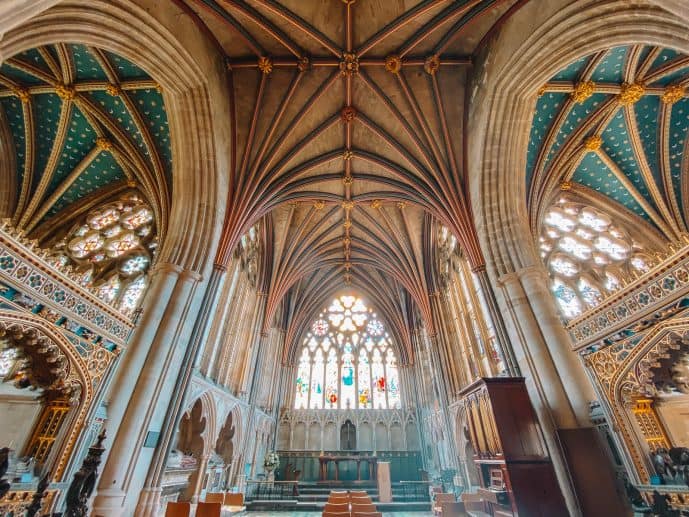 What is the Harry Potter Exeter connection?
Although there are many places in the UK that have Harry Potter connections, it may come as a surprise that Exeter has a magical connection too.
It's a little-known fact that J. K. Rowling studied French and Classics at the University of Exeter during the mid-1980s.
During her time here, she also studied abroad in Paris and Pennsylvania and she even ran up a £50 fine at the University Library!
After she graduated, she worked for Amnesty International, and it's thought she conceived the idea for Harry Potter on a delayed train from Manchester to London.
After that, she moved to Portugal as an English Tutor and started writing chapters about The Boy Who Lived in her spare time. Then, she moved to Edinburgh and wrote chapters in places like the Elephant House Café.
Throughout all her travels, J. K. Rowling still took some of her Exeter and Devon memories with her to influence character names and locations in the Harry Potter books!
You'll notice many similar place names in Devon like Chudleigh of the Chudley Cannons and Ottery St Mary for Ottery St Catchpole. Even Budleigh Salterton sounds like Budleigh Babberton!
So, in that spirit, it is believed that some locations in Exeter inspired the stories of Harry Potter and the Wizarding World.
Was Harry Potter filmed in Exeter?
I'm sorry to tell you Harry Potter fans, unfortunately, none of the Harry Potter movies were filmed in Exeter.
However, the Potter obsessed will say that there is an undeniable connection between the historical city and the Harry Potter books and movies!
Many of these are simply fan theories and J. K. Rowling has already denied a few of them.
However, you will still love taking a Harry Potter Exeter tour to see all the magical places that may have inspired the Wizarding World.
A Self-Guided Harry Potter Exeter Tour!
So, are you ready to take a magical tour of the historical city of Exeter?!
There are many Harry Potter Exeter locations that are thought to have inspired the magic and it can be hard to know where to start.
I would personally recommend that you start your tour in the centre of the city at Exeter Cathedral and then work your way around to the other locations from there.
It should take you no longer than 2-3 hours to complete this self-guided Harry Potter Exeter tour. Maybe slightly longer if you choose to stop for lunch in The Old Firehouse.
So muggles and fellow witches and wizards of all houses. Let's go!
1. Exeter Cathedral – The Great Hall at Hogwarts
So, the first Harry Potter Exeter location you should visit has to be the majestic Exeter Cathedral.
As well as being a Harry Potter inspiration this area has a huge history since the Roman times when they built a bathhouse here.
The cathedral itself is also thought to be one of the oldest in the country with a history stretching back to 1050AD!
Once you enter inside, you'll instantly see the Cathedral Nave which has a resemblance to the magical Great Hall at Hogwarts. Minus the floating candles of course!
The huge vaulted ceiling does evoke a sense of wonder. Did you know that this medieval ceiling is the longest unbroken vaulted ceiling in the world?
As well as admiring the Great Hall, there are lots of things to see here. You can find the famous Exeter Rondels, The Bishop's Throne, Lady Chapel, West Window, and an Astronomical Clock which is over 500 years old!
Entry to Exeter Cathedral is £5 for an adult and photography is permitted. Click here for more information on cathedral opening times. Exeter Cathedral may be closed off to visitors during services.
2. 10 Cathedral Close Door – Room of Requirement
The next Harry Potter Exeter location can be found just behind Exeter Cathedral on Cathedral Close.
This historic street has many buildings that date back to the 14th-century but the building Potterheads will want to see is the magnificent door on 10 Cathedral Close.
It is thought that this medieval door made of Devon Oak was the inspiration for the Room of Requirement door in Harry Potter!
If you didn't know, the Room of Requirement is a secret room at Hogwarts on the seventh floor. It only appears to those witches or wizards that really need it. You need to walk past it three times thinking about what you need and the room will appear.
It has many uses and each one is different for every witch or wizard. For example, it appeared for Neville Longbottom when he needed a way for Harry Potter to train Dumbledore's Army in The Order of the Pheonix.
Draco Malfoy also hid in here during his sixth year at Hogwarts and Voldemort used this place to hide a Horcrux in Rowena Ravenclaw's lost diadem!
Harry Potter aside, this door is a wonder. It was carved in the 16th-century and the building is currently the private residence of the Cathedral Dean.
You can't go inside but, if you did, you would have to crouch down and enter through the tiny Postern doorway!
Read more – was 10 Cathedral Close in Exeter the inspiration for the Room of Requirement?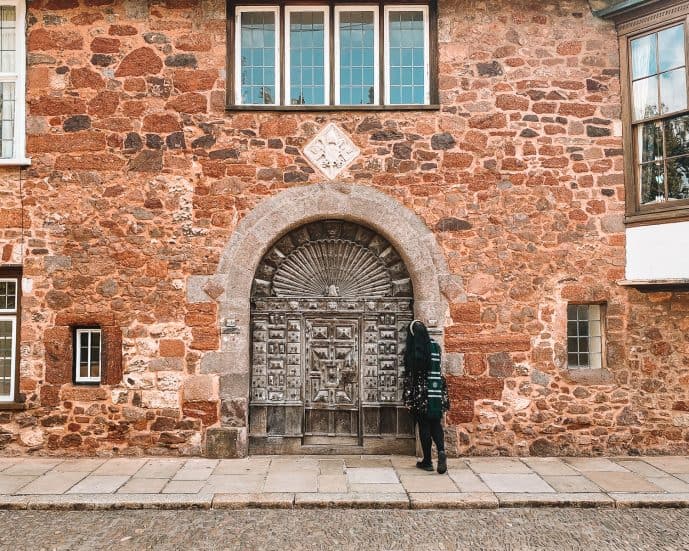 3. The Vaults – Gringotts Bank
The next Harry Potter Exeter location is just a minute's walk away from Cathedral Close!
If you leave Cathedral Close and cross over the road to the High Street, turn right and walk straight until you eventually come across an opening on your left that leads you onto Gandy Street.
Head down this dark alleyway (Knockturn Alley vibes?) until you meet a crossroads and then you'll see The Vaults nightclub just in front of you.
Many Potterheads claim that this popular nightclub inspired Gringotts Bank in Harry Potter and the Philosopher's Stone.
Indeed, the book calls it a "snowy-white building which towered over the other little shops" and The Vaults certainly does just that here on Gandy Street. It even has huge sparkling chandeliers inside!
Not to mention the fact that the Gringotts Wizarding Bank owned by Goblins is full of vaults containing special stones, money and even Horcruxes inside!
Although this location has never been proven here in Exeter, you can visit the Gringotts Bank filming location in London. It's located outside Australia House which is home of the High Commission of Australia on The Strand.
4. Gandy Street – Diagon Alley
So, next, we're moving on to the famous Harry Potter Street in Exeter which is Gandy Street and it looks like a real-life Diagon Alley!
The entrance starts all the way back on the High Street where it firstly looks like you walk through Knockturn Alley to get here.
But, once you've crossed the road past The Vaults (aka Gringotts), you'll reach a gorgeous shopping street full of amazing boutiques, cafés, and bars. Plus, there are lots of hidden alleyways to explore here as well.
This amazing shopping street has a long history since the Saxon era and so you'll find it's quaint, cobbled, and full of surprises.
Many Potterheads and Exonians will swear that this was the inspiration for Diagon Alley. But, this has since been publicly denied by J. K. Rowling on Twitter who said that Gandy Street "didn't look like that in her head".
However, you can definitely see the connection here with all the colourful shops and, more importantly, all the quirky shop signs that hang over the street.
Even if it's not the Exeter Harry Potter Street anymore, I still think Potter fans will agree that the resemblance is uncanny. It looks exactly like the place to go for Hogwarts School supplies! Don't you agree?
If you did want to see a real-life Diagon Alley, I would recommend a stroll down The Shambles in York! It's magical and has many Harry Potter-themed shops there.
Read my complete Harry Potter guide for Gandy Street here!
Is there a Harry Potter themed bar in Exeter?
There used to be a Harry Potter Bar in Exeter but not anymore! In fact, it used to be located right here on Gandy Street and it's such a shame that it's now closed down.
It was first renamed the Muggler's Inn then it became The Cauldron Inn and was a fun Harry Potter cocktail bar in Exeter.
Unfortunately, it closed down a couple of years ago. It has now been replaced by a lovely boutique you can explore.
If you were looking for an alternative, why not head to Doctor Ink's Curiosities on the Quayside? It's a Victorian-themed bar that serves up a whole wealth of magical potions and cocktails to sample!
5. Gandy Street sign – Entrance to Diagon Alley
If you head down to the very end of Gandy Street, you may notice something familiar about the next Harry Potter Exeter location!
Situated near to the Royal Albert Memorial Museum (RAMM), you'll find the Gandy Street sign and underneath it a broken red brick wall on the corner!
To me, this looks just like the red brick wall in the rear courtyard of the Leaky Cauldron that lets you into Diagon Alley! Just tap on the red bricks and you'll be let inside.
It's near Upper Paul Street which looks just as magical with its gothic windows and an old oil lamp! Let me know if you see the connection too?
6. The Old Firehouse – The Leaky Cauldron
The next place that any Potterhead must visit is The Old Firehouse which is a popular student bar in the city centre. You'll find this place just five minutes walk from Gandy Street on New North Road and the John Lewis.
Now, you're probably wondering what on earth does this bar have to do with Harry Potter?
Well, there were many fan theories that claim that this pub inspired The Leaky Cauldron which provided an entrance to Diagon Alley!
However, I'm sorry to report that The Old Firehouse Harry Potter connection has now been dispelled by J. K. Rowling.
Rowling has said that she never visited The Old Firehouse in her time at university. She did, however, visit The Black Horse Inn which is nearby on Longbrook Street.
Regardless, it is still well worth visiting the Old Firehouse if you're on a Harry Potter Exeter tour as many say it gives off Leaky Cauldron vibes.
As soon as you step in, you'll find a cosy atmosphere of timber-framed ceilings, candles, wooden tables, and fairy lights. Plus, it serves up some of the best beers and pizzas in town!
Click here to check opening times for The Old Firehouse
7. The University of Exeter – Hogwarts Classrooms / Common Rooms
As J. K. Rowling studied here, it stands to reason that some of the buildings on campus inspired classrooms and locations in her Wizarding World.
Of course, many of these Harry Potter Exeter locations you won't be able to visit as a tourist. You can only visit if you are a University of Exeter student.
But, you could still see the crest outside of Mardon Hall on the campus if you were really keen…Here are some of the University of Exeter Harry Potter locations;
Mardon Hall – The crest above the building here is thought to have inspired the crest of the Gryffindor Common Rooms. Also, the Mardon Common Room here is red according to sources.
Washington Singer Building – Apparently before it was renovated, the bathrooms here looked exactly like Moaning Myrtle's Bathroom.
Amory – According to students, navigating your way around these stairs is a challenge and you're most likely to get lost on your way to class. Maybe this was an inspiration for the moving staircases?
Save this Harry Potter Exeter locations map!
Explore even more Harry Potter Devon locations
After you've explored all the Harry Potter Exeter locations, where to next?
Well, if you were on a holiday in Devon, you may love the fact that there are plenty of Devon Harry Potter connections that you can visit.
Of course, many of these are just references and some are fan theories but worth mentioning nonetheless!
As J. K. Rowling was a University of Exeter student she may have visited some of these locations or she would have definitely heard of them.
You'll see place names like Chudleigh, Topsham, Ottery St Mary, and Budleigh Salterton. Do these names sound familiar?
Ilfracombe and Exmoor also have small mentions in the books as both the locations of a Welsh Green Dragon attacking a group of sunbathing Muggles and Quidditch tournaments too!
Was any of Harry Potter filmed in Devon? Again, I'm sorry to disappoint fellow Harry Potter fans but there were no Harry Potter movies filmed in Devon.
Topsham
Although a very small reference, Topsham was mentioned in the Harry Potter books. It's the town where the witch Madam Z. Nettles lives.
Although I wouldn't go out of your way to visit Topsham just for that. It is a very cute town on the River Exe estuary which used to be a thriving port once upon a time.
It's also full of independent shops, cafés, and restaurants which are perfect for foodie lovers. There is also a Topsham Museum and many historical buildings on The Strand.
Chudleigh – Chudley Cannons
Many people ask is Chudley a real place in the UK? Well, it is but it has a slightly different spelling of name from the Harry Potter books!
You'll find that there is a small town called Chudleigh which is near Dartmoor National Park just a few miles away from Exeter.
In the books, the Chudley Cannons are a historic Quidditch Team. According to Quidditch Through the Ages, they have won the Quidditch league 21 times.
Did you know that many towns across the UK were recently nominated as honorary Quidditch Towns? That's right, each of them was awarded a Quidditch goal post and flag!
It's important to note that Chudleigh was not awarded a Quidditch post. But, it is still given an honorary mention on the list.
Read more – The honorary Quidditch town of Tutshill Tornados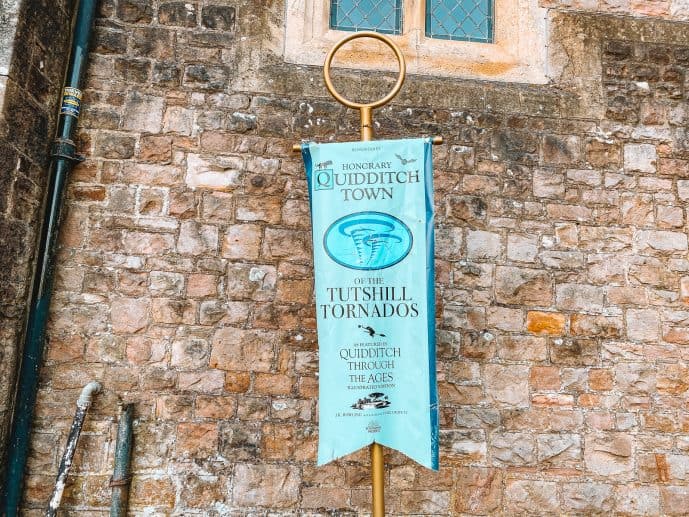 Ottery St Mary – Ottery St Catchpole
Ottery St Mary is a civil parish near Exeter, that has a strikingly similar name to Ottery St Catchpole in Harry Potter.
If you think it sounds familiar, that's because Ottery St Catchpole is the small village to the south of the Weasley's Burrow in the books!
If you were looking for a real Weasley's Burrow to experience, why not visit the Alnwick Treehouse restaurant in Northumberland?
It's well known that Harry Potter was filmed in Alnwick Castle nearby but what many people don't know is that there is a treehouse restaurant in the same location that looks just like The Burrow in Ottery St Catchpole.
It's truly a magical experience inside and you can dine there with a menu of amazing food amongst wooden tables and fairy lights!
Read more – Alnwick Treehouse in Northumberland review
Budleigh Salterton – Budleigh Babberton
Near to Exeter, is the gorgeous town of Budleigh Salterton which is on the Jurassic Coast. Sounds pretty similar to Budleigh Babberton in the Harry Potter books, no?
As this seaside town is so close to The University of Exeter, it's a popular fan theory that the name did inspire the location of Horace Slughorn's hideaway.
If you wanted to see the Budleigh Babberton filming location from the movies, then you only need to travel to Lacock in Wiltshire!
In this National Trust village, they filmed many of the Harry Potter scenes including the Lack Abbey cloisters which featured as Hogwarts.
You can find the Babberton Arms at The Sign of the Angel and the location of Horace Slughorn's Hideaway nearby too!
Read more – Harry Potter filming locations in Lacock!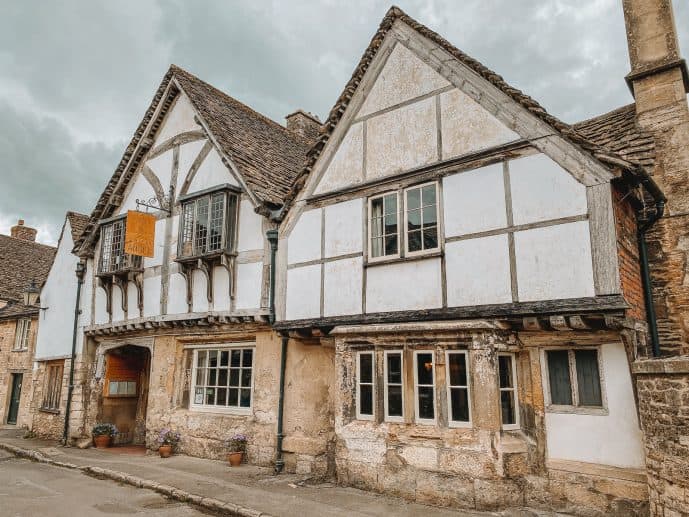 Dartmoor National Park
Although not a filming location, it is mentioned in the books as a place that has a lot of history in the Wizarding World.
Indeed, Dartmoor National Park was the site of a duelling contest in 1379 where witches and wizards from all over Europe came to take part!
The 422nd Quidditch World Cup was also held here which is where the Death Eater Riot took place. Remember The Weasley's charmed Perkin's tent?
Also, Harry, Ron, and Hermione apparate here escaping the British Ministry of Magic. They set up camp in the Dartmoor woods with protection spells and Harry buries Alastor Moody's Eye under "the oldest, most gnarled, and resilient-looking tree" he could find. Then, they move on to the likes of the Forest of Dean.
If you were looking for some magical places to visit on Dartmoor then look no further than the Wistman's Wood near Two Bridges Hotel.
It's an ancient woodland that is filled with gnarled tree branches and mossy green boulders and it looks just like the Forbidden Forest at Hogwarts.
I stupidly decided to visit at sunset and I was super creeped out when it got dark as I thought I saw a hooded druid in the forest. It was only after I left that I realised I was in the most haunted place on Dartmoor at night…eep!
According to folklore, the Wistman's Wood is home to the Wisht Hounds. These are formidable hell hounds who prowl the moor at night in search of lost souls and travellers. They have huge red eyes and yellow fangs.
So, yeah…don't visit this mystical wood at night time or you may be in for a fright!
Click here to find out how to visit Wistman's Wood on Dartmoor!
Is there a Harry Potter Exeter shop?
Try as I might, I couldn't find any Harry Potter shops in Exeter or Harry Potter themed bars and cafés.
As I mentioned earlier, The Cauldron Inn has closed down now and so there is very little left in terms of Harry Potter experiences in Exeter.
If you wanted to experience some serious Harry Potter shopping, I would recommend the 9 3/4 shop at King's Cross Station in London.
Or, if you're on a Harry Potter tour of the UK, why not head to York? Here, you can park your broomstick and visit The Shop That Must Not Be Named!
Looking for more things to do in Exeter?
Exeter is an incredible city that lies on the River Exe in Devon. As a city that has one of the oldest cathedrals in the country, you can be sure that there will be a wealth of amazing attractions to visit.
After chasing Harry Potter locations, I would recommend heading to Parliament Street which you can find hidden away on the High Street. It's reputedly the narrowest street in the world and it really will feel like you're squeezing through the streets on the Knight Bus.
Next up, head to the vibrant Fore Street which is full of independent boutiques and cafés. St Nicholas' Priory is a hidden gem found here.
Then, you can visit The House That Moved down St Mary's Steps on Stepcote Hill which is one of the oldest streets here. Don't forget to visit Book-Cycle nearby which is one of the best bookshops in Exeter!
You also have the Medieval Exe Bridge and Rougemont Gardens which is the last location that women were tried and hanged for witchcraft in the country. Or, you can walk the Exeter City Walls from Northernhay Gardens nearby.
The most popular tourist attraction after the Exeter Cathedral is the award-winning Royal Albert Memorial Museum (RAMM) which is completely free to visit. Or, you can head to the Historic Quays to experience the culture on the waterfront.
How to visit Exeter in UK
Exeter is a historical city in the county of Devon that is perched on the River Exe in the South West of England.
You can easily access Exeter from the M5 Motorway if you're heading in from The Midlands or Bristol. It's also a 3 – 4 hour drive from London.
If you're heading from places like Plymouth, Dartmouth, Dartmoor or Totnes in South Devon then you can easily access Exeter on the Devon Expressway.
Exeter is well connected with public transport and it has a central railway station. A train journey from London Paddington to Exeter St David's will take you around 2 hours.
You can also get National Express coaches to Exeter which runs from London as well which is cheaper.
Exeter Parking
Exeter parking can cost a pretty penny these days. All day parking near the likes of John Lewis on the Exeter High Street can cost upwards of £15 all day.
But, there's a hidden car park by the quayside which is only £3.50 for all day parking and it's located on Okehampton Street.
It's an Exeter city council car park that is a little out of the centre, but it's only a 7-minute walk to Fore Street and a 10-15 minute walk to the High Street from there.
Okehampton Street Car Park is also only a 2-minute walk to the nearby The Cathedral & Quay car park which is around £11 per day! So, you're saving quite a bit of money by parking here.
Read more of my Harry Potter travel guides
Harry Potter locations in Lacock
Harry Potter filming locations in Oxford
How to spend the night in Hagrid's Hut
Harry Potter filming locations in Alnwick Castle
Harry Potter locations in Edinburgh
All the Harry Potter filming locations in Scotland
Where to find Harry Potter in York
How to find the Harry Potter Tree at Blenheim Palace
The Shop That Must Not Be Named Review
How to find Dobby's Grave in Wales
How to visit the real Godric's Hollow in Lavenham
Harry Potter filming locations in Gloucester Cathedral
How to see the Hogwarts Express in Scotland
Visiting Malfoy Manor in Real life!
How to visit a real-life Knockturn Alley
Where to find Tom Riddle's grave in Edinburgh
Visiting the Quidditch Town of Tutshill Tornados
A complete Forbidden Forest Experience Review
Instagram locations at the Wizarding World of Harry Potter
Harry Potter filming locations in Virginia Water
Is Cecil Court a real Diagon Alley in London?
How to visit Dumbledore's Grave in Scotland
Harry Potter filming locations at Durham Cathedral
Save this Self-Guided Harry Potter Exeter Tour for later!