The delightful Georgian alleyway of Goodwin's Court London is a peaceful escape in amongst the hectic and bustling Covent Garden.
It's a place that is easily missed amongst the labyrinth of shopping streets but when you do happen to find it, you'll feel like you've been transported into another world.
Indeed, these Victorian bay windows transport you back to Dickensian London or perhaps you'll feel like you're walking through the chapters of a Harry Potter novel?
Many Potterheads believe that Goodwin's Court is the real-life location and inspiration for Diagon Alley from the Wizarding World.
But to me, it looks more like the mysterious Knockturn Alley in real life! A sinister back street, filled with Dark Wizards and shady goings-on.
As a huge Harry Potter fan and a lover of anything historical, I just had to see this magical court for myself.
Here's a Goodwin's Court Harry Potter guide for Knockturn Alley in real life with the history, connection, and things to do here!
The history of Goodwin's Court London
The first time that Goodwin's Court was mentioned in London was around 1690 when the new residences here were recorded in a 'rate-book'.
But, that's not to say that this alleyway didn't exist before that. According to the sign, it was previously called Fishers Alley.
It formed part of the parish of St Martin-in-the-Fields during the reign of King Edward VI and of Covent Garden area.
At this time, lots of courts, shopping districts, and crescents were being built on the orders of the Earl's of Bedford.
King Charles II had a mistress, Nell Gwyn, who is thought to have been a resident living here in the 17th-century.
After the historic residences of 1-8 were built, many tradesmen and tradeswomen lived here. For example, tailors, seamstresses and printers who worked in the local area.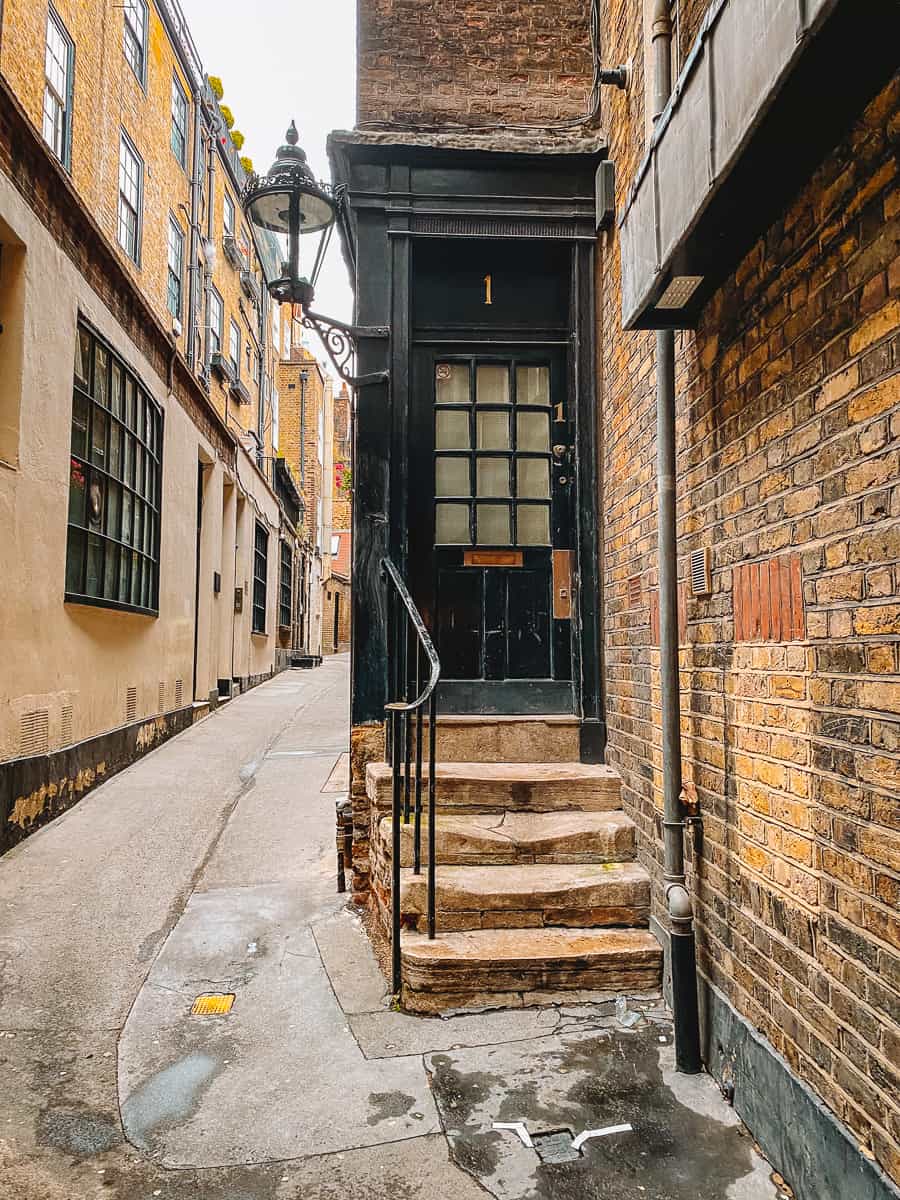 When the West End of London and the theatres started popping up during the Victorian Era, this area was a hub associated with those working in the theatrical circle.
Bedfordbury became more of a slum at the turn of the 20th-century and was a far cry from the million-pound neighbourhoods that we see today!
In the 1930s, this Georgian court started to deteriorate and it was deemed unfit for human habitation. So, Mr. Leslie Sympson of the West End stepped in, bought the whole street, and renovated the houses here.
Nowadays, Goodwin's Court is more of a business district and a commuter shortcut for hardened Londoners who want to avoid the crowds.
But, it's also a popular attraction in London for Harry Potter fans as there is a connection to Diagon Alley!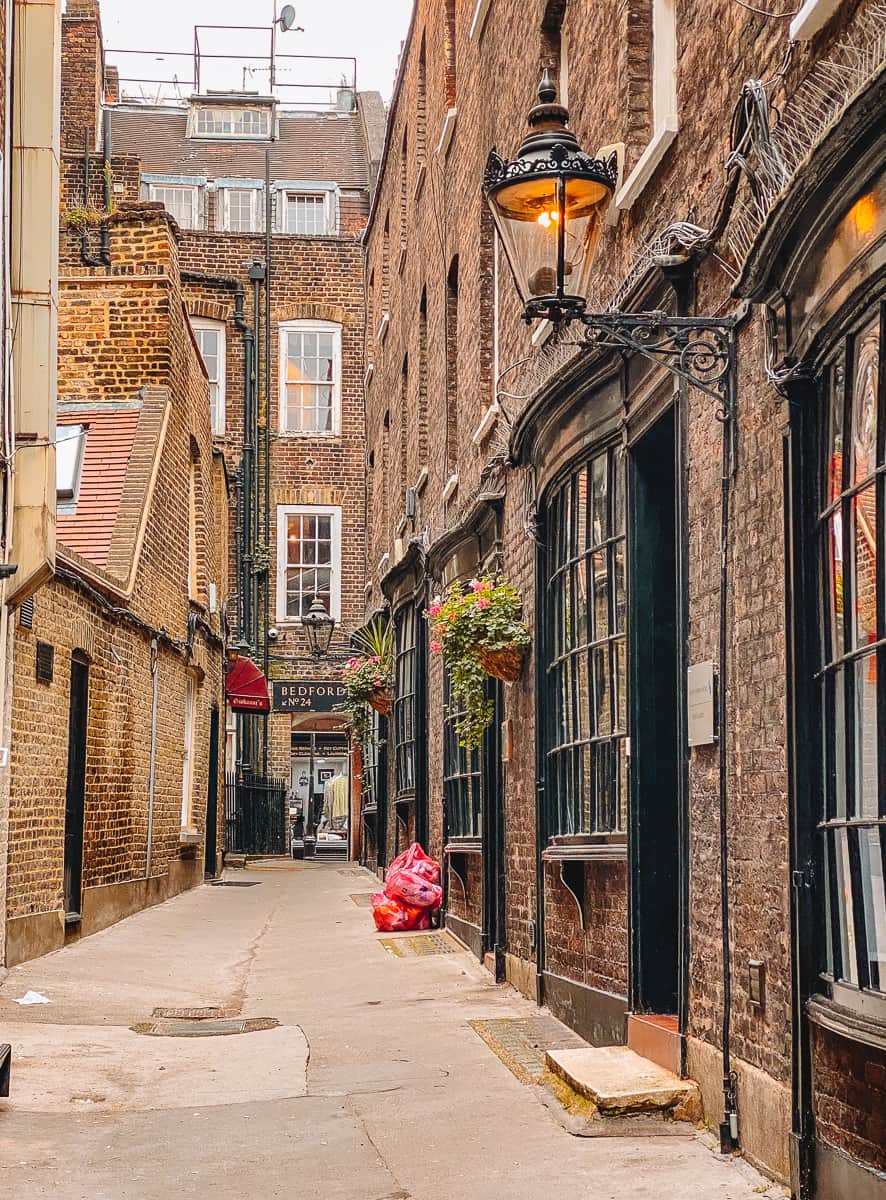 What is the Goodwin's Court Harry Potter connection?
This gorgeous Georgian Court has grown to fame in recent years for its Harry Potter connection to the books and movie franchise!
Goodwin's Court is one of three main locations in London which are thought to have inspired Diagon Alley in the books. The others are Cecil Court and Leadenhall Market.
It's good to note that it's never been confirmed by J. K. Rowling which street it was that really inspired Diagon Alley.
There's plenty of cities in the U.K that have a claim like Exeter's Gandy Street (although now dispelled by J. K), The Shambles in York, and Victoria Street in Edinburgh. So, we can never be sure which one is the official 'Harry Potter Street'.
It could have been a combination of all of them as J. K. Rowling has connections with all of these cities!
But, the Goodwin's Court Harry Potter connection is a strong one and it sees thousands of Witches, Wizards, and Muggles visit this magical alleyway each year…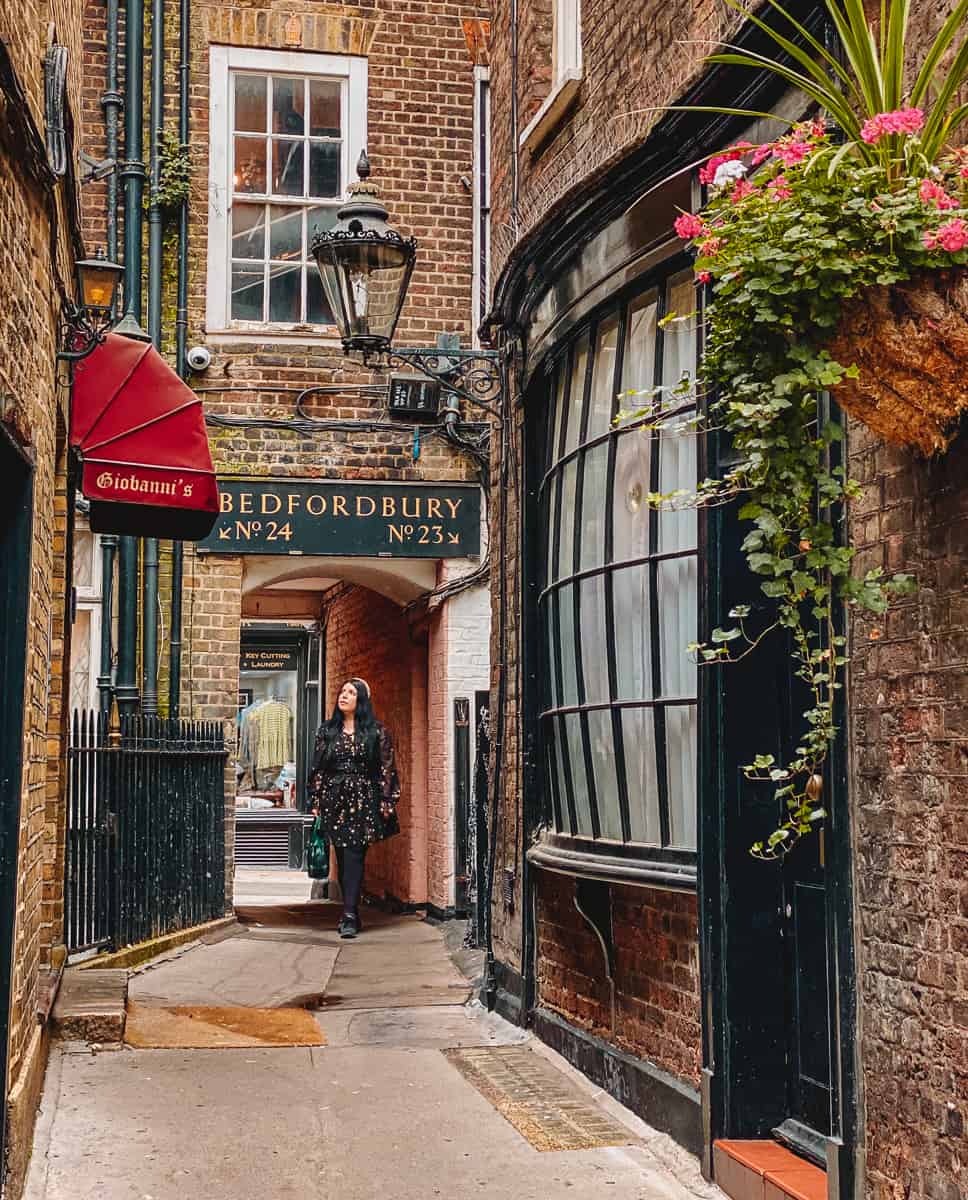 Is Goodwin's Court Diagon Alley or Knockturn Alley?
Again we can never be sure if this is the Harry Potter street of Diagon Alley in real life but, for me, Goodwin's Court looks nothing like Diagon Alley (sorry).
Sure, you have the bay window shop fronts and oil lamps. But, I think this looks like a good contender for the inspiration of Knockturn Alley personally!
I know many Harry Potter fans will disagree with me as we aren't introduced to Knockturn Alley until the Chamber of Secrets.
If you remember, this is when Harry accidentally transports there with Floo Powder from the Weasley's Burrow when he says 'Diagonally' by mistake.
All around him are Dark Wizards and shady characters ready to pounce on the Boy Who Lived. Hagrid then comes to the rescue as he's shopping for Flesh-Eating Slug Repellent.
There are many distinct similarities between Goodwin's Court and Knockturn Alley;
The court is accessed via long tunnels just like Knockturn Alley
There are a lot of dark brick buildings with black and quirky bay window shop fronts. These could easily be mistaken for the entrance of Borgin & Burkes or Cobb & Webb's – Shop of the Dark Arts!
Dark wizards like Bellatrix Lestrange, Narcissa Malfoy, or Draco Malfoy wouldn't look out of place wandering down here at all!
Watch the scene – Harry Potter mistakingly travels to Knockturn Alley!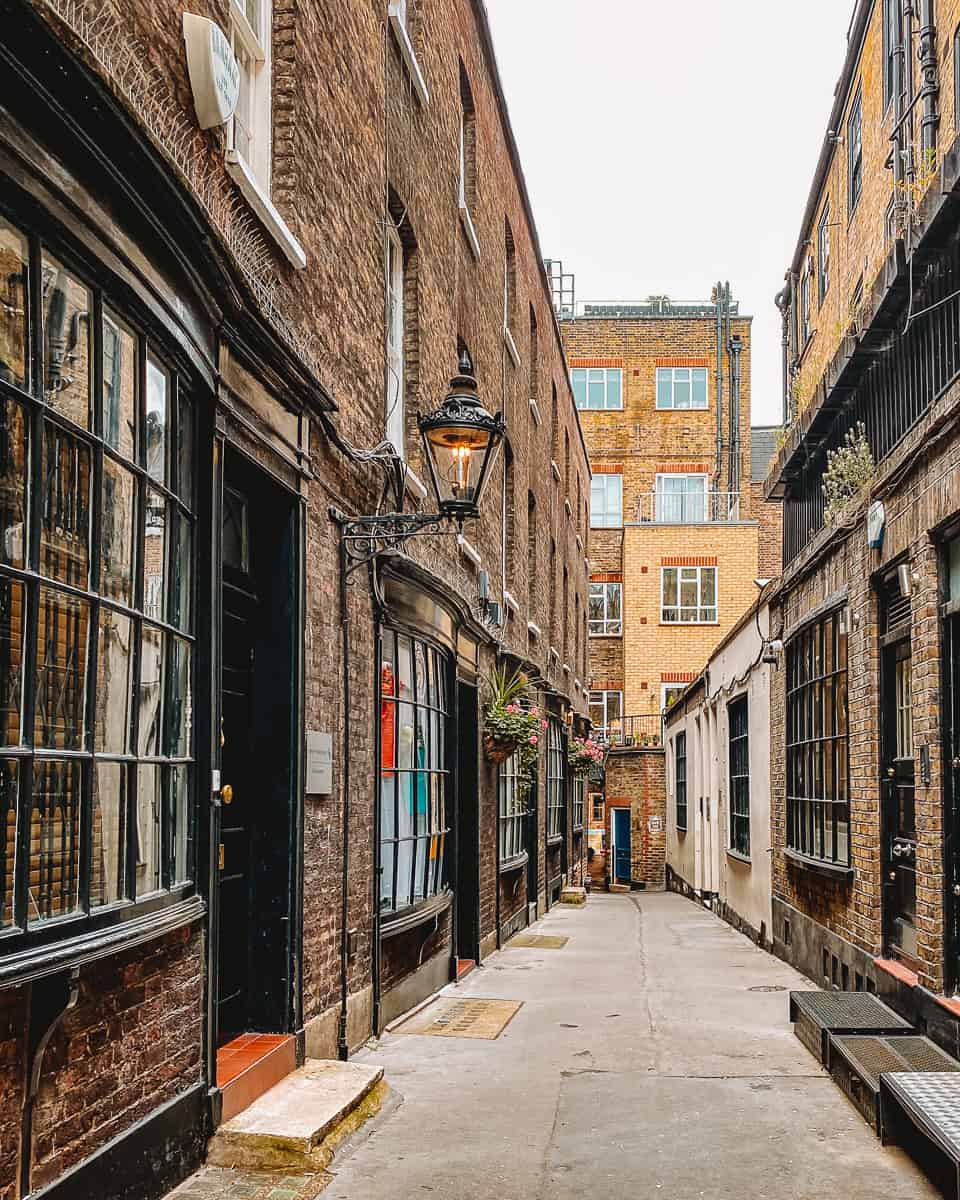 Things to do in Goodwin's Court for Harry Potter fans
So, if you are a Harry Potter fan and you're stopping by Goodwin's Court, you're probably wondering what you can do here?
Well, there's actually quite a bit considering it's a tiny commuter street in central London!
Here are all the things to do in Goodwin's Court for Harry Potter fans and things to look out for on your visit.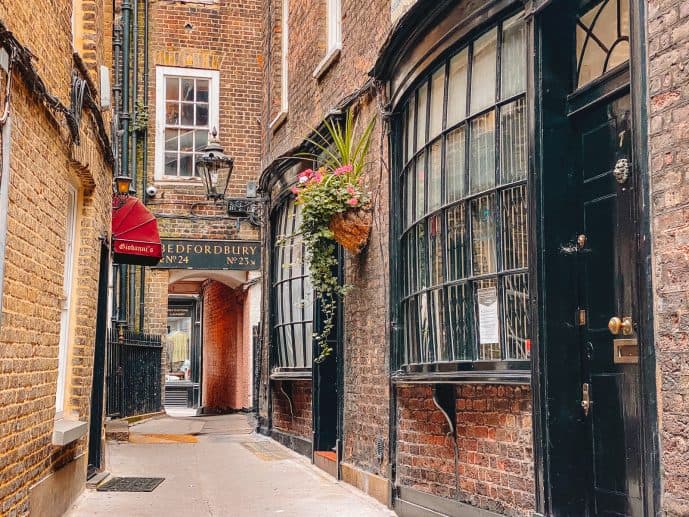 1. Feel like you're walking through Knockturn Alley to Borgin & Burkes
Although many will stop by here feeling like they've escaped to Diagon Alley, I was following the pointed finger guiding me down to Knockturn Alley!
I wandered around Goodwin's Court channeling my inner Bellatrix Lestrange and I could just imagine my wanted poster from Azkaban hanging up on the walls here!
But, in all seriousness, this alleyway does feel like you could walk into Borgin & Burkes to see their curiosities. This includes the famous vanishing cabinet that would allow you to visit Draco at Hogwarts!
The old oil lamps down this street add the mystery and you may be surprised to know that they have been restored over time and still work today. So, coming back in the evening time maybe even more magical.
2. Look for Hedwig, Broomsticks and Deathly Hallows in the windows!
What I LOVED more than anything in Goodwin's Court was the Harry Potter inspired window displays around here. They really embrace the Harry Potter theme!
As soon as I walked in I saw Hedwig and a broomstick in a window! Then, a gorgeous floral display in Hogwart's House colours in another (no Slytherin house though *sniff).
There were even Deathly Hallow's fingerprints in one of the windows (although I can't guarantee they will be there on your visit)!
It made the visit here so magical and it's a lovely little addition for any Potterhead who's stopping by.
3. Dine at Giovanni's Restaurant
If you're looking for somewhere to eat in Goodwin's Court then look no further than Giovanni's of Covent Garden that's tucked away here on the Bedfordbury side.
It's a cosy and intimate setting where the Ragona Family serves up their tasty menu of classic Italian dishes.
The recipes for the dishes served here have been handed down from one generation to the other and they have been serving customers here since 1952!
They are well known in the theatrical circles of the West End, you'll see a photo gallery of stars who have visited as part of their decor.
Prices are reasonable, the location is peaceful and it serves up homemade wholesome food. What more could you ask for?
Call Giovanni's on 020 7240 2877 or email info@giovannislondon.co.uk to make a reservation
4. Head to another real-life Diagon Alley (Cecil Court)!
Did you know that Goodwin's Court is one of three locations in London that is thought to be the inspiration for Diagon Alley?
You can find the second one nearby here in the vibrant Cecil Court which is another popular independent shopping street. It's just a two-minute walk away from Goodwin's Court.
This pedestrianised lane has all sorts of bookshops, antique dealers, art galleries, and boutiques like Bryar's & Bryar's and Alice Through the Looking Glass.
It's very colourful and is filled with quirky bay windows with unique displays and shop signs that swing over the street just like Diagon Alley.
In keeping with their magical reputation, they have some Harry Potter-themed window displays and merchandise for sale. So, make sure you stop by to look for Wizarding supplies.
Don't forget to visit the eccentric Victorian Bar, Mr. Fogg's Tavern which is inspired by Around the World in 80 Days!
Click here to read my complete Harry Potter guide for Cecil Court!
Did you know? The other inspiration for Diagon Alley is Leadenhall Market which was a filming location in the first movie Harry Potter and the Philosopher's Stone (2001)! Click here to read my complete guide!
Where is Goodwin's Court in London?
Goodwin's Court can be found between Leicester Square and Covent Garden in London. But, more specifically on St Martin's Lane and Bedfordbury.
Muggles could easily miss this little commuter street as it's hidden away and only accessible via the two alleyway's on either end of the court!
The full address, is Goodwin's Court, London, WC2N 4LL. But, I wouldn't suggest driving in London.
The easiest way to travel around the capital is the London Underground (commonly known as the tube) and then walking to Goodwin's Court from a nearby station.
The nearest tube station to Goodwin's Court is Leicester Square. Once you leave the station Goodwin's Court is just a 3-minute walk away! Alternatively, you can head here from Covent Garden station. Click here to plan your journey with Transport for London.
What has been filmed at Goodwin's Court?
Although Goodwin's Court didn't feature in the Harry Potter movies, this was scouted as a filming location and it's easy to see why! It certainly looks magical.
But, the Leadenhall Market does make a great home of the Leaky Cauldron and entrance to Diagon Alley.
However, this Dickensian-style street has caught the eye of some other Hollywood production crews.
The most famous Goodwin's Court filming location has to be the new Mary Poppin's Returns (2018) movie. Goodwin's Court featured when she goes to meet her cousin Topsy!
This little alleyway also first saw on-screen fame in 1949 when the Night and The City by Jules Dassin was filmed here!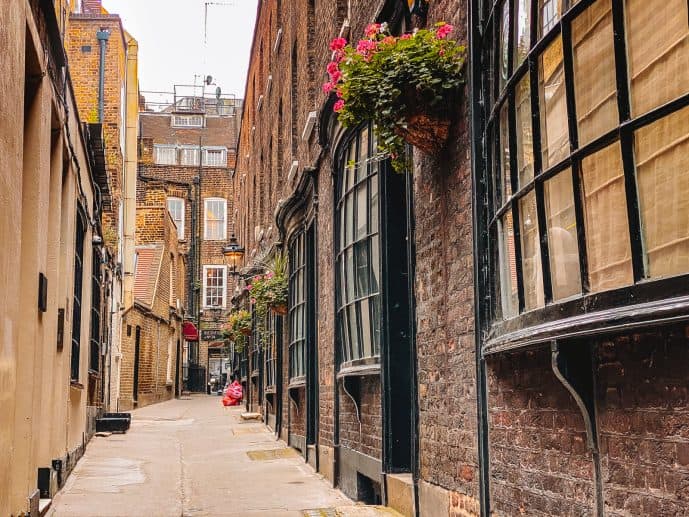 Amazing Goodwin's Court Facts!
Goodwin's Court was originally known as Fishers Alley prior to 1660 and most likely changed once houses were built here in 1690 according to the 'rate-book'.
Many people believe that the Royal Mistress of King Charles II, Nell Gwyn, was a resident of Goodwin's Court although this has never been proven
Although many of these houses were built in the 17th-century, they mainly have Victorian shop fronts which give the street a Dickensian vibe
This street was deemed unfit for human habitation in the 1930s after it started to deteriorate. A man named Leslie Sympson associated with the theatres of the West End bought the street and restored much of its housing.
Goodwin's Court houses numbers 1-8 are now Grade II listed by Historic England.
The alleyway is approximately 280 feet long (85 metres) and barely two metres wide!
Although not the most sought after address in London, properties on Goodwin's Court cost around the £1.2 million pound mark. So, if you have it lying spare…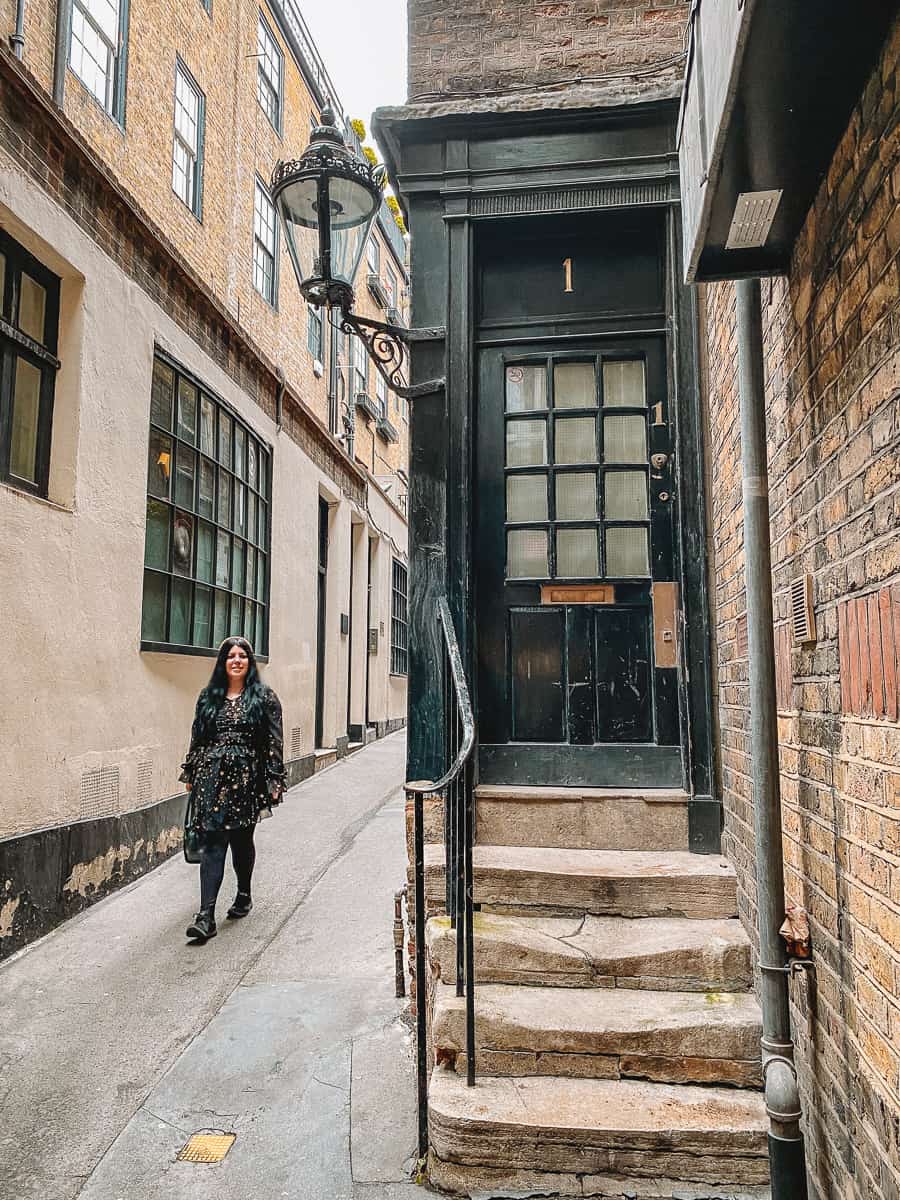 Looking for more Harry Potter locations in London?
London is full of amazing Harry Potter filming locations, inspirations, and experiences to enjoy if you're a Potterhead. Just nearby is Cecil Court which is another Diagon Alley inspiration.
You also have the Harry Potter on Location Photographic exhibition with London's only Butter Beer bar in Covent Garden!
You can watch the Cursed Child live theatrical performance in the Palace Theatre or hop inside the House of Mina Lima in Soho. They were the designers of most of the magical Harry Potter props like the Hogwarts Acceptance Letters and Daily Prophet newspapers!
Leadenhall Market, Borough Market, and Millennium Bridge are all featured in the movies as well as the St Pancras Hotel. You can even find the Order of the Pheonix HQ!
You can head into St Paul's Cathedral to see their Geometric Staircase that was the Divination Stairwell at Hogwarts.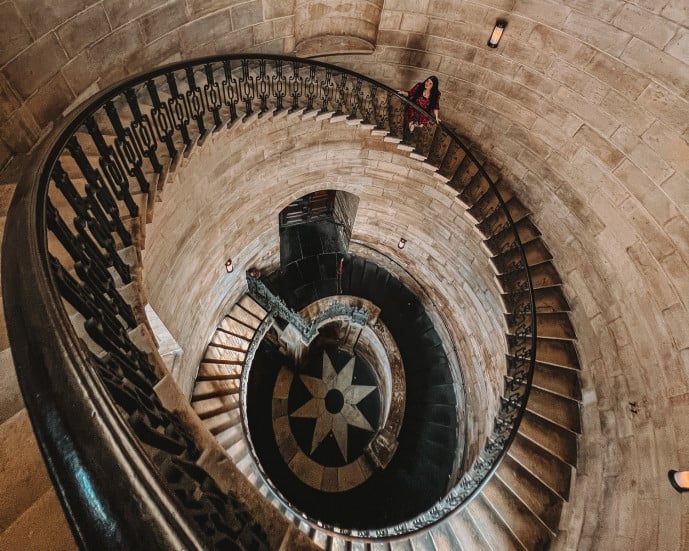 Just nearby you have the iconic King's Cross Station. Although there is no platform 9 3/4's in real life, there is a Harry Potter Shop with a trolley nearby for an incredible photo opportunity.
Or, you can enjoy some Harry Potter-themed experiences like afternoon tea at Cutter & Squidge in their Potion Room. Or, head to The Cauldron for a magical cocktails experience.
No Harry Potter fan can leave London without visiting The Making of Harry Potter or a Warner Brother's Studio Tour. It's filled with lots of real sets, props, and costumes that are featured in the movies.
It's based in Watford but you can take an official Warner Studios Bus transfer from central London to get there. It makes an amazing day trip!
If you can I would recommend a visit around one of their special events like the Dark Arts at Halloween or Hogwarts in the Snow.
Click here to read my complete guide on London Harry Potter locations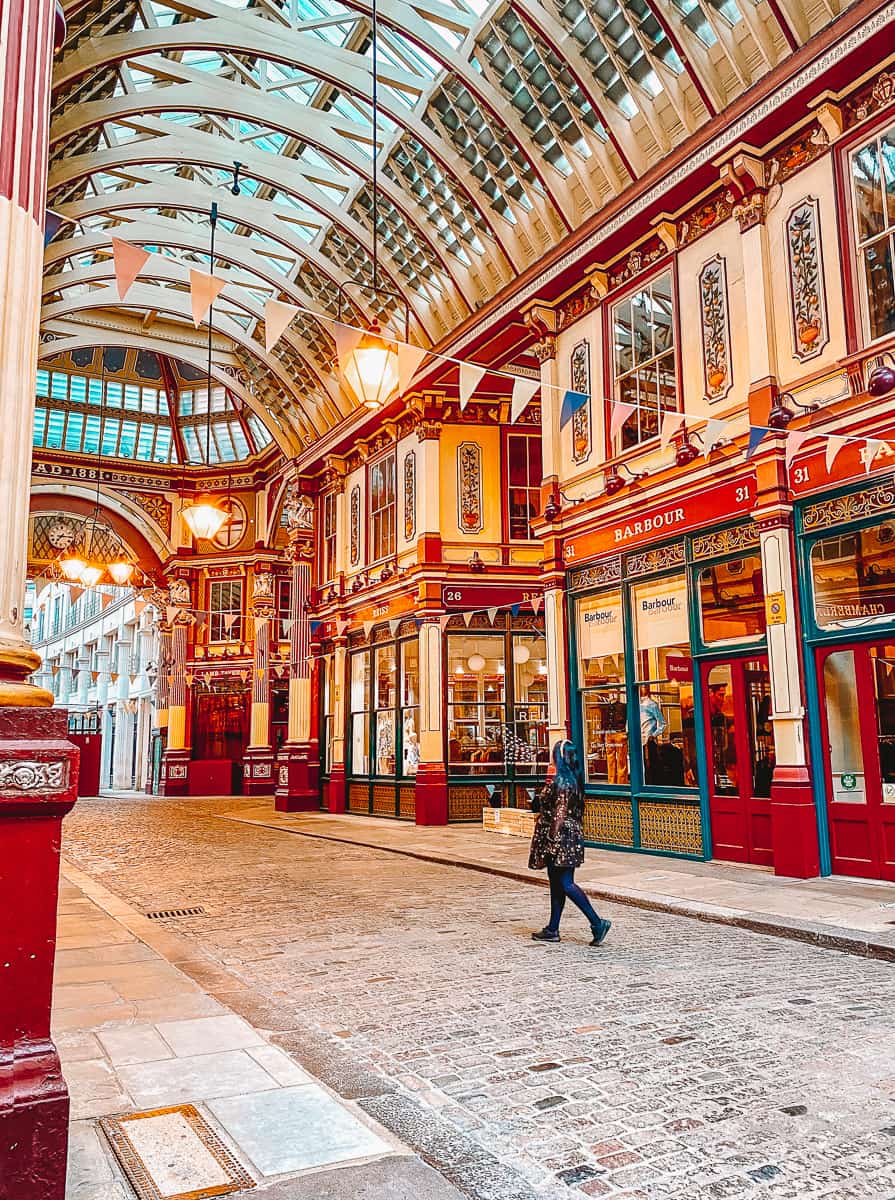 Read more of my Harry Potter inspired guides
Harry Potter locations in Lacock
Harry Potter filming locations in Alnwick Castle
How to spend the night in Hagrid's Hut
Harry Potter locations in Edinburgh
Harry Potter filming locations in Scotland
Where to find Harry Potter in York
How to find the Harry Potter Tree at Blenheim Palace
The Shop That Must Not Be Named Review
How to find Dobby's Grave in Wales
Harry Potter filming locations in Gloucester Cathedral
How to see the Hogwarts Express in Scotland
How to visit Dumbledore's Grave in Scotland
A complete Forbidden Forest Experience Review
Visiting Malfoy Manor in Real life!
Where to find Tom Riddle's grave in Edinburgh
Visiting the Quidditch Town of Tutshill Tornados
Harry Potter locations in Exeter along with Gandy Street and the Room of Requirement
Virginia Water – the Other Hogwarts Lake
Instagram locations at the Wizarding World of Harry Potter
How to find the Malham Cove Harry Potter Deathly Hallows filming location
Harry Potter filming locations at Durham Cathedral
Save this Goodwin's Court Harry Potter guide for later!