Okay, Muggles, Witches, and Wizards of all houses. Did you know that there is a brand new Harry Potter attraction you can visit in Covent Garden?
It's called the Harry Potter Photographic Exhibition or Harry Potter on Location and it's filled with hundreds of photos, props, and exhibits never-before-seen in one place.
As a bonus, this magical place is home to London's only Bottled Butterbeer Bar where you can sit back and enjoy the Wizard drink of choice!
It's a must-visit for Harry Potter fans. So, you need to book tickets and fly your broomstick down to London immediately.
Here is my complete Harry Potter Photographic Exhibition review with all the magical reasons to visit this year!
Note: The Harry Potter Photographic Exhibition and Butterbeer Bar have now been permanently closed.
What is the Harry Potter Photographic Exhibition or Harry Potter on Location?
The Harry Potter Photographic Exhibition or Warner Brothers on Location in London is a brand new attraction for Potterheads to enjoy this year.
It's a magical museum that explores twenty years of movie magic and transports you behind the scenes of your favourite Wizarding World films.
You'll take a journey from when Harry lived under the stairs, all the way down to the Battle of Hogwarts and beyond.
The exhibition is filled with never-before-seen photography, props, and costumes. Plus, you can seek out plenty of photo opportunities, experience green screen technology, and become a member of the Ministry of Magic with your very own photo ID card.
If that's not enough, you also get to sip on Butterbeer in their Harry Potter bar and shop for magical merchandise.
Why you must visit the Harry Potter Photographic Exhibition in Covent Garden, London
I'm sure that Potterheads are already getting excited about this brand new exhibition in London and want to book tickets straight away.
But, if you need more convincing – here are all the magical reasons to visit the Harry Potter Photographic Exhibition in London this year;
1. It's a trip down memory lane
The main reason why Potterheads will love this place is that it's a trip down memory lane.
Like many Harry Potter fans, I grew up with the books and movies when I was younger and I'm actually the same age as the actors are now.
I remember writing a handwritten letter to Leavesden Studios begging to be an extra in the movies and I actually did get a very kind rejection letter back. They said sorry but school and my education were more important (boo).
I even auditioned for Luna when the open casting auditions were announced in London all those years ago. We got there at 6.30 am, it was freezing, we waited hours with 15,000 other girls and got interviewed by Lizo while waiting for CBBC Newsround!
So, I found this exhibition quite special as it remembers and celebrates all those years of Harry Potter movie magic and fever.
It was pretty surreal to see photos of a very young Harry, Ron, Hermione and Draco from the very beginning of this movie series!
It's crazy to think that the first movie came out over 20 years ago now. Many photos in this exhibition bring back memories you didn't know you had.
2. They have never before seen photos from behind the scenes
True to its name, this is a photographic exhibition and it is packed out with hundreds of behind-the-scenes photos to enjoy of your favourite Harry Potter actors and actresses.
Many are from on-set during filming, and also pre-production. It includes some never-before-seen imagery as well!
They are presented so beautifully and you'll also find lots of documentaries and interviews by the directors and actors to accompany each part.
They've organised the photos in sections starting at the beginning of Harry's journey. So, you'll start with photos from Privet Drive, London, Diagon Alley, Gringott's, King's Cross Station, Hogwarts, Hagrid's Hut, the Knight Bus, the Ministry of Magic, and so forth.
I loved finding out about some of filming locations for the movies as I've visited a fair few now. Although most of the films were created at the Warner Brother Studios, they filmed in lots of locations around the UK as well!
Click here to read more of my Harry Potter guides that include many filming locations around the UK
3. You get to see props and costumes that haven't been on display before
As well as enjoying the many photos on display here, you'll also find lots of costumes and props that have not been on display before.
You can look at some real Gringotts Galleon's like the ones found in Bellatrix Lestrange's vault and find out that some actors, like Alan Rickman who played Severus Snape, secretly stole them.
Also, Hermione Granger's enchanted beaded handbag from the films is there with her costume from when the Golden trio is on the run from Voldemort.
The staff are also lovely and big fans of the movies themselves! So, they are on hand to answer any questions you have and fill you in on some fun facts.
For example, did you know that Voldemort's robes in the movies are actually dark green? They get a shade lighter every time that a Horcrux is destroyed.
As Voldemort's robes were made out of silk (which gets heavy in layers), Ralph Fiennes had to wear a back brace for support while filming.
You may be surprised to know that he actually has a nose on the original film clips too, it's not makeup. They just edited his nose out for the final production. I'm always amazed by the magic of cinema!
4. You can ride your broomstick over London…with magical green screen technology!
If you have ever wanted to ride your broomstick over London as Harry Potter does in the Order of the Phoenix then now is your chance!
In the middle of the exhibition, they have a chance for you to take some photos of your very own broomstick ride. You'll be seen catching a golden snitch or dodging the Knight Bus.
As a bit of extra fun, they can also film a video of you riding over London if you wanted to test your broomstick flying skills with a Nimbus.
Afterward, should you want to keep it, you'll get to buy your video and take it home to watch. Just don't let the Ministry of Magic find out.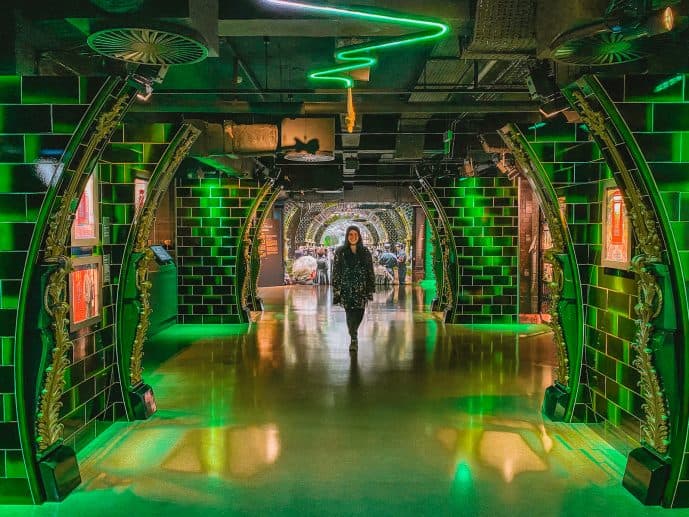 5. There are plenty of incredible photo opportunities here
Photos or it didn't happen, right? Luckily, there are plenty of magical photo and selfie opportunities here that you can enjoy!
As soon as you walk through the door, you'll see one of the Ford Anglia cars hanging from the ceiling that was used in The Chamber of Secrets.
Follow the long trail of Hogwarts Acceptance Letters down the stairs to find gigantic one that you can pose with.
There's also the Ministry of Magic Tunnel, Red Telephone Box and all the fantastic photo opportunities in the Butterbeer Bar – they even have Butterbeer barrel booths. More on that below!
6. You can get your very own Ministry of Magic Photo ID
One of the coolest experiences you can enjoy here is getting your very own Ministry of Magic Photo ID made. It's just like the ones you see in Harry Potter and Fantastic Beasts movies!
After your Green Screen technology experience, the team will take your 'ID photo' for the Ministry and you can preview what it will look like at the photo counter.
When you buy it, you'll get a souvenir photo along with your purple Ministry of Magic Photo ID card. There are spaces to fill in your name and occupation inside!
It's an exclusive personalised souvenir that you will only find here at the Harry Potter Photographic Exhibition. You won't find it anywhere else.
It feels even cooler after you buy it because you'll be carrying on the experience by heading through one of the Ministry of Magic tunnels too.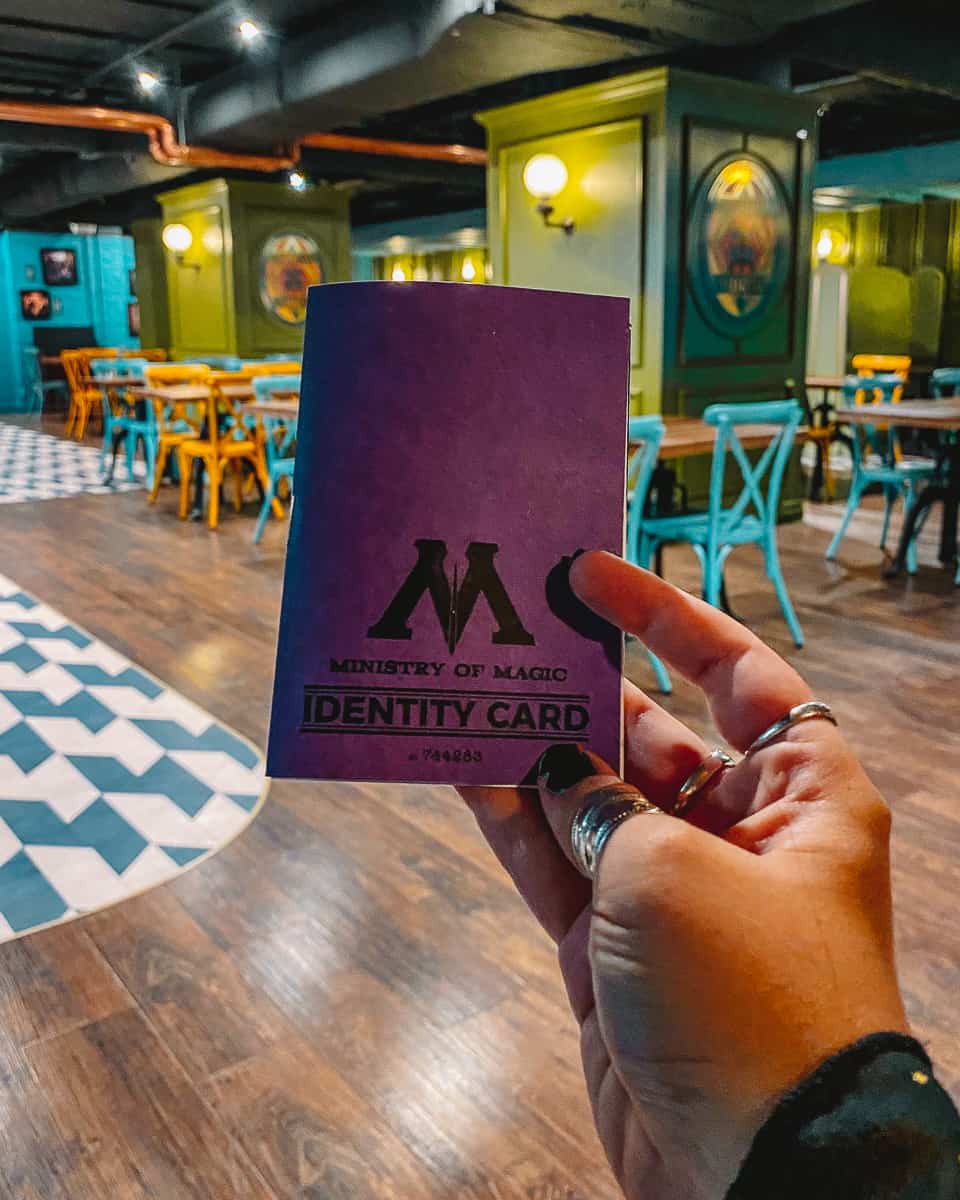 7. It's home to London's only Butterbeer Bar!
One of the best parts of the Harry Potter Photographic Exhibition is that it's home to London's only bottled Butterbeer Bar.
You can only gain access to this bar if you have bought a valid ticket to the exhibition and I would say this place is well worth paying for.
It's decorated in gorgeous bright colours, has Butterbeer Barrel booths you can sit in and they play some of the movie soundtrack that adds to the vibe.
Of course, they sell bottled Butterbeer here and you will receive a souvenir tankard with every bottle that you purchase.
But, this place is not limited to Butterbeer. They also serve a whole range of soft drinks and alcohol if you didn't have a sweet tooth.
They have food options like breakfast muffins, sandwiches, salads, and a range of magical cakes. I had a Chocolate Frog cupcake with purple icing and gold glitter which was amazing.
Click here to read my complete review of this incredible Butterbeer Bar!
8. You can buy souvenirs in the Harry Potter Photographic Exhibition gift shop
Is it even a Harry Potter attraction if you don't exit through a magical gift shop at the end?!
Honestly, whenever I enter a Wizarding World gift shop I feel like I've disappeared through the vanishing cabinet as I just spend ages looking around and cooing at everything.
Just like The Harry Potter Shop at Platform 9¾, this gift shop has many character wands that you can add to your collection.
You can buy robes and Quidditch jumpers from all the Hogwarts Houses, soft toys, pins, and even a copy of the Marauder's Map.
I loved looking around their fabulous makeup collections including the Deathly Hallows and Luna Lovegood sets. I saw they had makeup bags and cosmetics in all the Hogwarts Houses.
There was also a sweet trolley filled with treats from Honeydukes to take home. You could take the lot and stuff your bag with Chocolate Frogs, Exploding Bon Bons, or Bertie Bott's Every Flavour Beans.
Plus, you can even take some of their bottled Butterbeer home with you to enjoy after your visit. They would go perfectly with a Harry Potter movie marathon!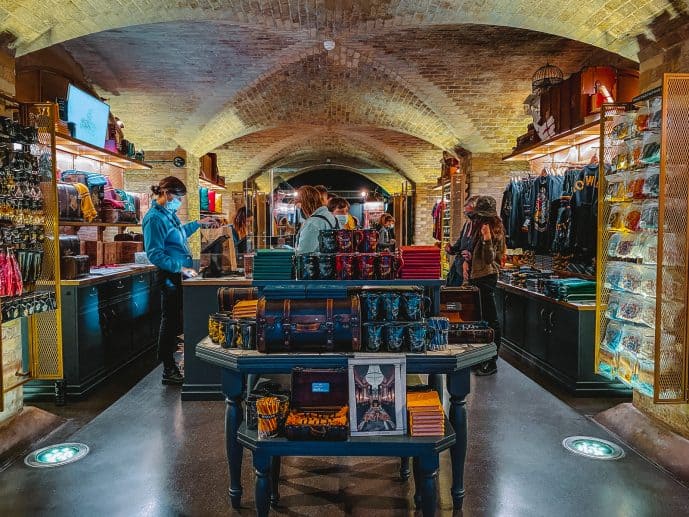 How long do you need to visit Harry Potter on Location?
The Harry Potter Photographic Exhibition recommends that the experience will take you approximately one hour to see it all.
But, I would personally recommend allowing at least 2 hours out of your day in London to fully enjoy the museum.
This is to make sure you have enough time to see all the exhibits you want to see, take and buy photos, enjoy Butterbeer or food in the bar and then go shopping in the gift shop!
You won't want to rush this day out as you've paid your Galleons for it and there are so many magical things inside to see, experience, and enjoy.
Potterheads will be in their element and the time will fly.
How much does the Harry Potter Photographic Exhibition cost?
Harry Potter on Location ticket prices are currently £20 for an adult and £14 for a child. Family tickets are available and under 4's and carers go free.
Your ticket includes the one-hour exhibition experience, green screen technology, access to the Bottled Butterbeer Bar, and the gift shop.
Of course, you'll need to factor in extra costs if you plan on buying souvenir photos, green screen technology videos and/or souvenirs from their gift shop.
Also, the bottled Butterbeer Bar is also an added expense for food and drinks. But, I would say you simply cannot leave without trying the Butterbeer.
It's £6.95 but the price includes a FREE souvenir tankard to take home with you. You can rinse it out in their tankard wash station!
You must book your tickets online and in advance. No tickets will be sold at the door.
Harry Potter Photographic Exhibition opening times
The Harry Potter Photographic Exhibition is open from 10 am – 6 pm Monday to Sunday. On weekends, you may find slots at 9.30 am. The last entry is 5 pm each day.
Personally, I would try to book a little earlier than the last time slot at 5 pm as it only leaves you an hour to look around.
You won't get much time to enjoy the Butterbeer Bar and browse the gift shop which is all part of this magical attraction!
How to visit the Harry Potter Photographic Exhibition in London
So, if you wanted to visit this amazing exhibition, you'll need to fly your broom over to central London and head to Covent Garden!
The Harry Potter photographic exhibition address is Film Museum, 45 Wellington St, London WC2E 7BN. But, driving will be a hassle and expensive.
The best way to get around London would be using the London Underground or Tube service as it's so convenient.
The nearest tube station for the Harry Potter Photographic Exhibition is Covent Garden in Travel Zone 1 and is served by the Piccadilly line.
It's just a short two-minute walk over to Warner Brothers on Location from there. You can also alight at Leicester Square and Charing Cross underground station too!
Click here to plan your travel journey with Transport for London
When is the Harry Potter Photographic Exhibition end date?
Initially, this was only meant to be a temporary exhibition. But, luckily for Potterheads, they have now extended the exhibition until the end of the year.
But, who knows how long it will remain open. So, if you didn't want to miss out I'd book tickets for this sooner rather than later as it really is a brilliant experience for Potterheads.
Is the Harry Potter Photographic Exhibition worth it?
Personally, I think that Harry Potter on Location was totally worth it if you're a Harry Potter fan.
Although, there are fewer things to do than the Warner Brothers Studios tour it is half the price and you get access to some exclusive experiences that you can only find here.
For example, you cannot get the Ministry of Magic Photo ID anywhere else and this is home to London's only official Butterbeer Bar!
All in all, I thoroughly enjoyed the entire experience. I took so many amazing photos, had my magical moment to walk through the Ministry of Magic tunnel, and sipped on bottled Butterbeer at the bar.
Mischief Managed!
Click here to book your tickets to the Harry Potter Photographic Exhibition in Covent Garden before it closes!
Are you looking for more Harry Potter experiences in London?
If you wanted to extend your Harry Potter journey in London there are plenty of filming locations, inspirations, and experiences to enjoy nearby.
You could watch The Cursed Child at the Palace Theatre or visit the House of MinaLima who designed all of the props for the movies.
Cecil Court and Goodwin's Court on Charing Cross Road are also must visits as they are thought to have inspired Diagon Alley!
Leadenhall Market, Borough Market, and Millennium Bridge are all featured in the movies as filming locations as well as the St Pancras International Hotel.
You can head into St Paul's Cathedral to see their Geometric Staircase that was the Divination Stairwell at Hogwarts.
Click here to read my complete guide on London Harry Potter locations
You can even find 12 Grimmauld Place or the Order of the Pheonix HQ at Claremont Square which was owned by Sirius Black!
Just nearby you have the iconic King's Cross Station with the Harry Potter Shop and trolley photo opportunity at Platform 9 3/4. But, be warned, you may have to queue! Then, visit the St Pancras Renaissance Hotel where Ron flies his Ford Anglia!
Harry Potter-themed experiences are also great like afternoon tea at Cutter & Squidge in their Potion Room. Or, head to The Cauldron for a magical cocktails experience.
No Harry Potter fan can leave London without visiting The Making of Harry Potter on a Warner Brother's Studio Tour. It's filled with lots of real sets, props, and costumes that are featured in the movies.
If you can I would recommend a visit around one of their special events like the Dark Arts at Halloween or Hogwarts in the Snow.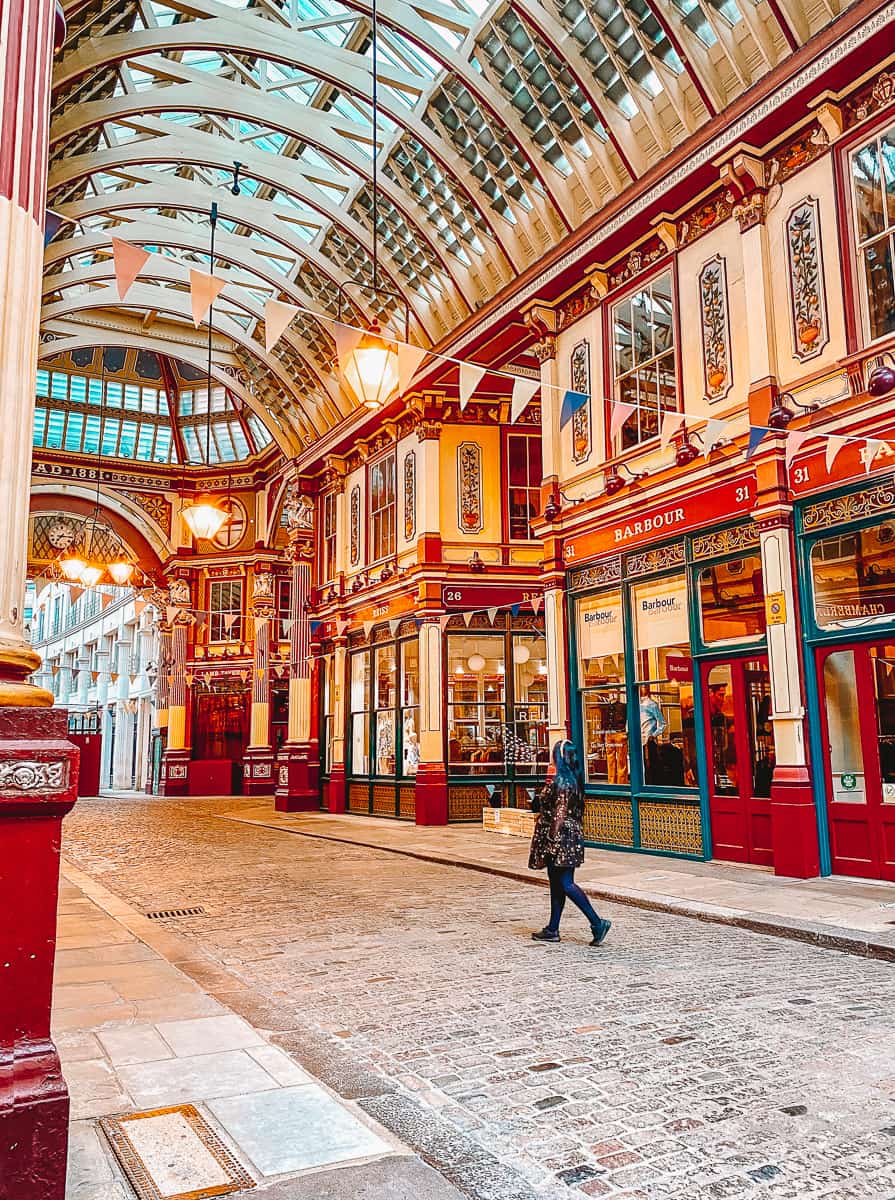 Read more of my London travel guides
Why you must visit God's Own Junkyard in London
Discover the hidden gem of St Dunstan in the East
FREE things to do in the London Bridge area
Tips for crossing the Beatle's Abbey Road in London
How to visit The Hardy Tree in London
How to visit 221b Baker Street – Home of Sherlock Holmes
A complete guide for the Greenwich Foot Tunnel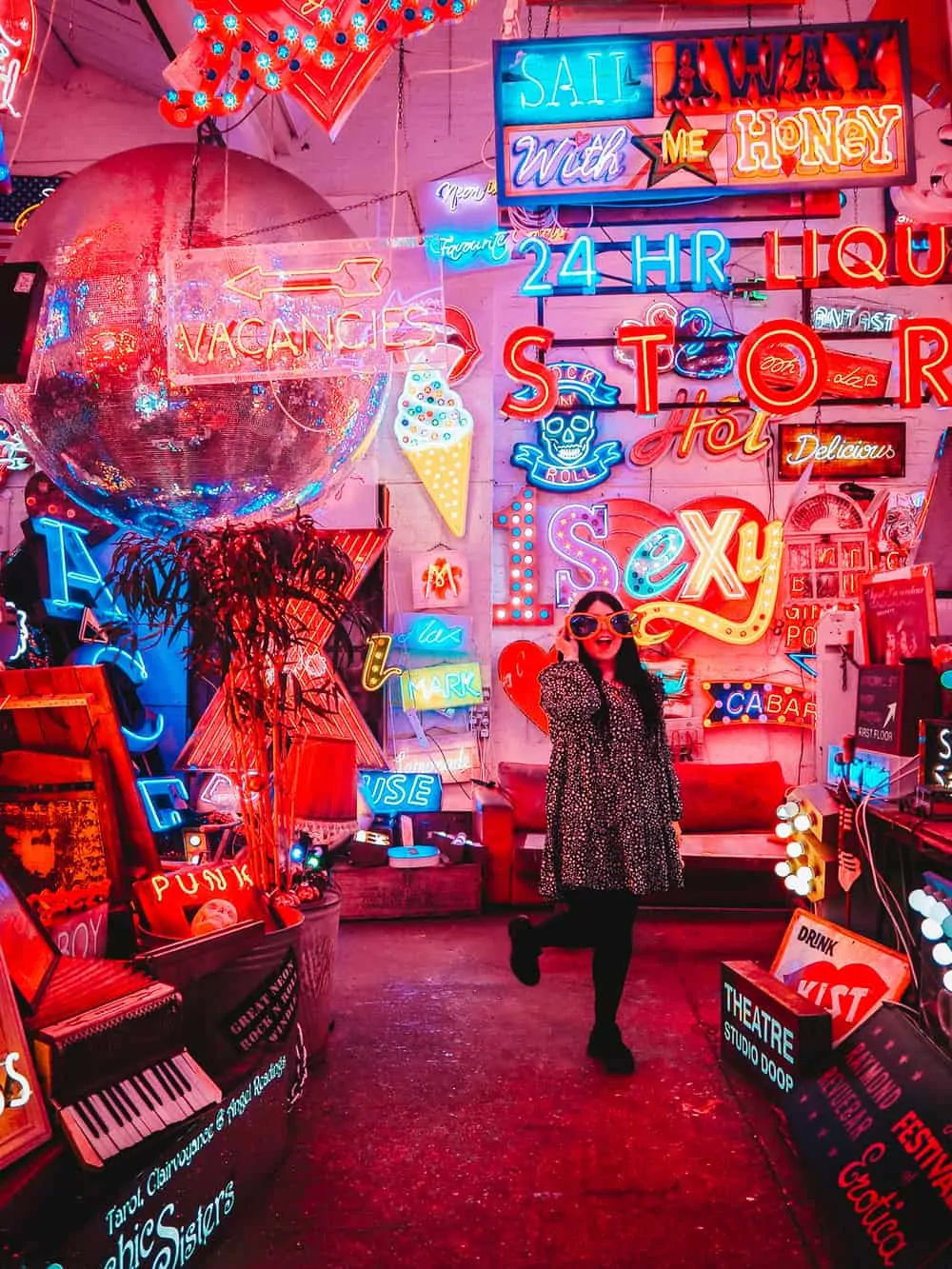 Are you a Potterhead? Read more of my Harry Potter travel guides
Harry Potter locations in Lacock
Harry Potter filming locations in Oxford
Harry Potter filming locations in Alnwick Castle
How to spend the night in Hagrid's Hut
Harry Potter locations in Edinburgh
All the Harry Potter filming locations in Scotland
Where to find Harry Potter in York
How to find the Harry Potter Tree at Blenheim Palace
The Shop That Must Not Be Named Review
A complete Forbidden Forest Experience Review
How to find Dobby's Grave in Wales
Harry Potter filming locations in Gloucester Cathedral
How to see the Hogwarts Express in Scotland
How to Find Hagrid's Hut in Glencoe
How to visit Dumbledore's Grave Island
Visiting Malfoy Manor in Real life!
Where to find Tom Riddle's grave in Edinburgh
Visiting the Quidditch Town of Tutshill Tornados
Harry Potter locations in Exeter along with Gandy Street and the Room of Requirement
Virginia Water – the Other Hogwarts Lake
Instagram locations at the Wizarding World of Harry Potter
How to find the Malham Cove Harry Potter Deathly Hallows filming location
Harry Potter filming locations at Durham Cathedral
Save this Harry Potter Photographic Exhibition review for later!