Are you wondering what the Tutshill Harry Potter connection is in the Forest of Dean?
Although it wasn't a filming location for the movies, it does have a strong connection with the Harry Potter books, the Wizarding World and the author J. K. Rowling.
For example, she lived and went to school here as a child and so this area in Gloucestershire formed lots of inspiration for the Potter Universe.
Tutshill has also recently been awarded the title of Honorary Quidditch Town of the Tutshill Tornados. It was given its very own Quidditch goal post in their team colours!
Here is a complete Tutshill Harry Potter visitor guide with all the magical connections, things to do and how you can visit.
Are you a Potterhead? Click here to read all my Harry Potter filming locations guides!
What is the Tutshill Harry Potter connection?
Although it was not a filming location, there is a strong Tutshill Harry Potter connection.
This village was J. K. Rowling's home from the age of nine where she attended the Tutshill Church of England Primary School in 1974.
She lived in Church Cottage which was a Gothic style building constructed in the 19th-century. It's now Grade II listed and was designed by the famous architect Henry Woodyer.
It is thought that while she was at Tutshill Primary School, she had a teacher called Sylvia Morgan. Apparently, she used her as inspiration for Severus Snape in her books! I'm not sure if that's a good thing or not.
Later, she attended Wyedean School where she made friends which inspired characters like Ron Weasley. There is now a library named after her there.
Of course, as she lived in the Forest of Dean, she used this area around the village as inspiration for Harry Potter and the Deathly Hallows.
But, the most recognisable connection has to be the naming of the Tutshill Tornados Quidditch team. It was recently given an award for being an honorary Quidditch Town!
What is an honorary Quidditch Town & How many Quidditch Towns are there in the UK?
The latest offering from J. K. Rowling in the Wizarding World is the new book 'Quidditch Through The Ages Illustrated Edition'.
It was released in October last year and was written by J. K. Rowling. The wonderful illustrations were made by the talented Emily Gravett.
As part of Bloomsbury publishers release, 11 towns across the UK were given the status of an honorary Quidditch town.
Each of them were gifted their own crest banners in unique team colours which proudly hang on a golden Quidditch goal post!
The banners were all placed at local landmarks and shops were given Quidditch themed activity packs.
There was even an opening ceremony in each place and some local children dressed up in Hogwarts robes to show off their Nimbus 2000s!
This is a complete list of Quidditch Towns in the UK:
Appleby (Appleby Arrows)
Ballycastle (Ballycastle Bats)
Caerphilly (Caerphilly Catapults)*
Falmouth (Falmouth Falcons)
Holyhead (Holyhead Harpies)
Kenmare (Kenmare Kestrels)
Montrose (Montrose Magpies)
Portree (Pride of Portree)
Tutshill (Tutshill Tornados)
Wigtown (Wigtown Wanderers)
Wimborne (Wimborne Wasps)
The Chudley Cannons and Puddlemere United Quidditch teams are from two fictitious towns so they aren't on the list. But, they are officially celebrated!
The Honorary Quidditch Town of Tutshill Tornados
As part of the honorary Quidditch town celebrations in the UK, Tutshill in Gloucestershire was awarded the title for being home of the Tutshill Tornados!
In the Wizarding World, The Tutshill Tornadoes are one of thirteen teams that play in the Quidditch league that was established in 1674.
The Tutshill Tornadoes wear sky blue robes with a double T in dark blue on their chest and back! In the books, the team won the League Cup five times in a row!
So, you'll find that the Tutshill Tornados Quidditch goal post & crest is in those colours with a double tornado on the front.
The town was awarded the post with a small ceremony outside Tutshill Church. It was attended by Councillor Nick Evans and some local children donning Hogwarts robes and Nimbus 2000s.
To celebrate Harry Potter in Tutshill, there were lots of Potter themed celebrations in the village too.
Where is J. K. Rowling's childhood home?
Ever since the books have been released, Potter fans have tried to connect the dots to see where J. K. Rowling lived as a child.
It was later confirmed that she lived in Church Cottage right beside Tutshill Church! She lived here in 1974 with her parents and sister when she was nine years old and continued to do so until she was 18.
It's easy to see where she may have gotten inspiration for the Potter universe here living in a Gothic residence. The architecture is very Hogwarts like! You can find Harry Potter in Tutshill at every corner.
There's vaulted ceilings and even an under-stairs cupboard which may have been where she was inspired to write about Harry Potter in the cupboard under the stairs. It has an inscription saying "Joanne Rowling slept here circa 1982".
It was sold by the Rowling family in 1955 and sold again in 2011. It later went up for sale and a mystery buyer bought it at auction. Turns out that it was J. K. Rowling herself!
She bought back her childhood home of Church Cottage and paid £400,000 for it. But, I don't think she lives or even stays there at all.
On further research, it is owned by her husband as part of the Rowling Trust and they plan to refurbish the property whilst retaining its original features. The plans have not been disclosed.
How to visit the Honorary Quidditch Town of Tutshill
So, if you wanted to experience Harry Potter in Tutshill for yourself, you'll find the secluded village of Tutshill near Lydney in the Forest of Dean in Gloucestershire.
It's located just a mile away from Chepstow in South Wales as Chepstow stands on the English Welsh border!
It's quite a remote place which is accessible along country roads. The easiest way would be to drive there along Castleford Hill and the A48.
If you were going here car-free there are regular bus services to and from Chepstow.
Chepstow has a train station which connects you directly with big cities like Cardiff and Gloucester. Then, you can take a connecting bus to Tutshill.
The main things to see for Harry Potter fans are located just outside of St Luke's Church in Tutshill. There is a small lay-by to park in right by Church Cottage!
The spaces there are free of charge but it is limited to just a few cars. Alternatively, there is lots of free street parking in Tutshill.
Things to do in Tutshill for Harry Potter fans
I have to admit that there are not a lot of things to do in Tutshill. It's a very small and secluded village which is incredibly pretty but in terms of attractions, you'll be quite limited.
So, I wouldn't say to go out of your way and make a day trip specifically to Tutshill.
I would always pair up your visit with a road trip around the Forest of Dean (which has lots to do) or a day out exploring Chepstow.
Saying that, it is worth seeing because of the Tutshill Harry Potter connection. Plus, there are a few things to do in Tutshill that Harry Potter fans will absolutely love!
1. Visit the Quidditch goal post outside St Luke's Parish Church
If you wanted to go and see the honorary Quidditch goal post that Tutshill were awarded then you can find it outside of St Luke's Parish Church. It stands proud in the churchyard.
Each town that was honoured as a Quidditch Town received one and each flag was made with their own team colours.
The Tutshill Tornados Quidditch goal post is gold with a blue flag and has two tornados as the mascot on the front!
It reads:
"Honorary Quidditch Town of the Tutshill Tornados. As featured in Quidditch Through the Ages Illustrated Edition. J. K. Rowling illustrated by Emily Gravett. Bloomsbury"
It's really cool to see but remember to respect it and leave it there for everyone to enjoy!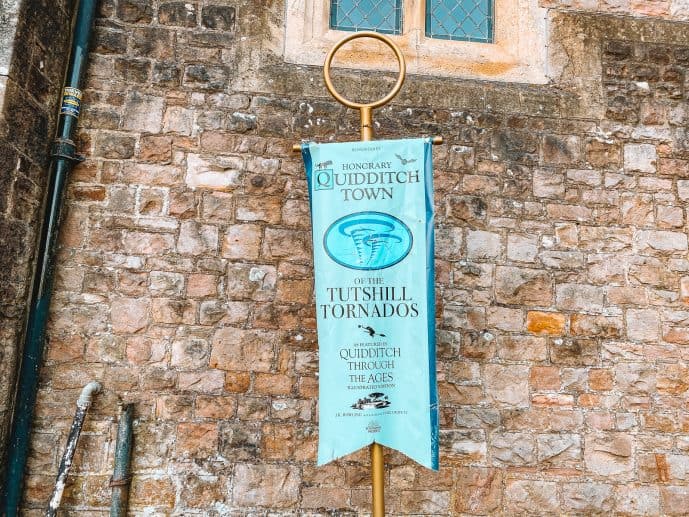 2. Admire J. K. Rowling's childhood home, Church Cottage Tutshill
Just outside of St Luke's Church in Tutshill to the right is Church Cottage which is a gorgeous Gothic building.
This was J. K. Rowlings childhood home and it's a property that she now owns through her trust.
You cannot go inside Church Cottage in Tutshill but you can take a peak from the outside. It stands completely empty.
Fingers crossed there are plans to convert the empty house into a Harry Potter museum or exhibition about the books!
3. Visit the Tutshill Community Book Swap
If you're a Potterhead, you may be a bookworm and will absolutely love the Tutshill Community Book Swap that is located just down the road from Tutshill Church.
These mini libraries are a common sight in the UK and usually you'll find them in red telephone boxes.
Tutshill have a library swap in an old bus stand. Here, you can browse their selection of books, borrow one and swap it with another book of yours.
So, if there was something that you've finished reading, why not take it here and see if there is another book that you would like to read!
Note: if you're donating and there is no room, don't leave books on the floor. Just bring them another time! Also, ensure that the books are clean and something that people would use. Leave the space as you would expect to see it!
4. Chase Harry Potter filming locations in Gloucestershire & The Forest of Dean
After your Tutshill Harry Potter tour you may want to experience even more magic.
Well, you will be happy to know that there are some Harry Potter filming locations to be found in the Forest of Dean and Gloucestershire.
Here are some of the magical places I recommend going to next!
Gloucester Cathedral aka Hogwarts
If you wanted to feel like you're attending classes at Hogwarts then you only need to head over to Gloucester Cathedral.
They filmed three Harry Potter movies here and their gorgeous historic cloisters featured in many scenes!
For example, you'll find the entrance to the Gryffindor Common Room, the Chamber of Secrets has been Opened wall and where Harry overhears Draco and Snape talking about the Unbreakable Vow.
Walking down these cloisters is any Potterheads dream. So, you must visit when in The Forest of Dean.
Read my complete guide for all the Harry Potter scenes filmed at the cathedral
Coppett Hill & Symonds Yat from the Deathly Hallows
The Forest of Dean featured heavily in the book Harry Potter and the Deathly Hallows. As J. K. Rowling lived in Tutshill, she referenced many places around the area in her stories.
But, what you may not know is that they actually filmed in the Forest of Dean for Harry Potter and the Deathly Hallows Part 1!
Firstly, they filmed the trio walking by a horse-shoe bend on the River Wye. You can easily see this scene from the famous viewpoint Symonds Yat Rock!
From this viewpoint, you can also spot another Harry Potter filming location called Coppett Hill. This is where Harry and Hermione camp out after Ron abandons them while searching for horcruxes.
Although you can't walk there easily, you can kayak along the river to see the location if you wanted to! But, I saw it from the viewpoint and was happy enough.
Read my complete guide on Symonds Yat
Stinchcombe & Dursley
There are two places in Gloucestershire that are referenced in the books which may be of interest to Harry Potter fans.
The first is Stinchcombe. This inspired the powerful wizard Linfred of Stinchcombe who was the first wizard in the Potter family.
This village is also very close to the market town of Dursley.
Harry Potter fans will need no introduction to the Dursley family! Of course, they were Harry Potter's foster family who locked him in a cupboard under the stairs.
It is said that J. K. Rowling named the family after the town as she didn't like the place. She commented "I don't imagine I'm very popular in Dursley".
I would only visit these places if you have the time as there are no filming locations in either of them. But, Potterheads may love to see them for the references.
Lacock Abbey
Although not technically in Gloucestershire, Lacock Abbey is a Harry Potter location that is close by in The Cotswolds.
This is another magical place that was used for Hogwarts in the movies. But, as well as walking down the ancient cloisters you can visit some of the classrooms too.
For example, the Lacock Abbey Sacristy and Warming Room was used for Snape's Potion Class and Professor Quirrel's Defence Against the Dark Arts Class! Even the location of the Mirror of Erised was filmed here.
There are also some more Harry Potter scenes filmed there like Budleigh Babberton, Harry Potter's Parents House and Professor Slughorn's Hideaway!
Read my complete guide to all the Harry Potter filming locations in Lacock
Are you a Potterhead? Then read more of my travel guides
How to see the Hogwarts Express in Scotland
Harry Potter locations in York
The Shop That Must Not Be Named
How to Find Dobby's Grave in Wales
Harry Potter filming locations in Oxford
All the Harry Potter scenes at Alnwick Castle
How to find Tom Riddle's Grave in Edinburgh
A complete Forbidden Forest Experience Review
Instagram locations at the Wizarding World of Harry Potter
How to find the Harry Potter Tree at Blenheim Palace
How to visit Malfoy Manor in real life!
How to visit a real-life Knockturn Alley
Harry Potter locations in Exeter
Harry Potter filming locations in Virginia Water
Is Cecil Court a real Diagon Alley in London?
How to visit Dumbledore's Grave in Scotland
Harry Potter filming locations at Durham Cathedral
Save this Tutshill Harry Potter guide for later!