Okay muggles, listen up! If you're a Potterhead, there are many magical spots to experience Harry Potter in York that you can check out.
Not only did J.K. Rowling use the medieval Shambles to concoct Diagon Alley in the books, but they also filmed some scenes out of the movie here too.
Even better, York has really taken on the Harry Potter theme.
The Shambles is filled with famous stores like The Shop That Must Not Be Named and, the Potions Cauldron.
So, you can really feel like you've hopped through Platform 9 ¾, taken the Hogwart's Express, and rocked up to Diagon Alley to park your broom, sip a butterbeer, or go wand shopping.
In this muggles guide, I'm going to show you all the spots where you can find the magical York Harry Potter locations.
So, don your robes, pack your wand, bring your familiar and Wingardium Levi-O-sa!
How to reach the city of York in England
Although I would LOVE there to be a Hogwarts Express going to York, the closest we have is the Hogwarts Express in Scotland.
So, I'm afraid you'll have to get a muggle express train. From London, the train time to York is only two hours which is pretty good going! Check the National Rail site for tickets.
If you're going to be driving by car, big tip, avoid Whomping Willow's! Just kidding. But, the journey will be lengthier at four hours from London. You can alight at the York junction on the M1 Motorway heading North.
You'll be pleased to know that York is relatively compact so many places in this guide are all accessible by foot in the city centre – no broom required!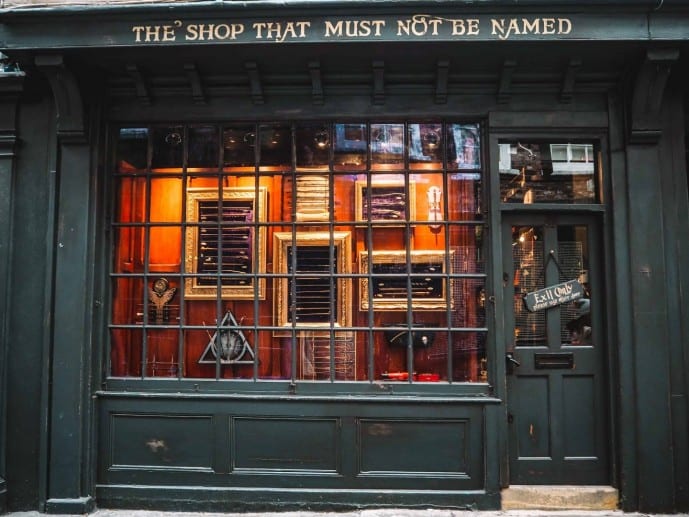 Magical York Harry Potter locations
1. Wander down The Shambles or Diagon Alley
Ah, the place where it all began, J.K. Rowling really did use The Shambles as inspiration for Diagon Alley in the Harry Potter books when she visited. I mean, you can see why!
Cute cobbled streets, narrow lanes, quaint stalls with the most gorgeous signs hanging out the front, timber frame galleries in all shapes and sizes.
This medieval street from the 11th Century really does look straight from a Potter movie with some magic to it!
As a staple stop for anyone visiting York and the best York Harry Potter location.
This gorgeous street will be busy at all times of the day. But, if you come really early in the morning or later on at witching hour, you can have it all to yourself!
You'll find Harry Potter shops, The Shambles Tavern, tuck shops, souvenir stalls, and all sorts here. Make sure you leave enough time to explore.
The Shambles is located at Shambles, York, YO1 7LX. Although the shops will close, It's open 24 hours a day so perfect for witching hour.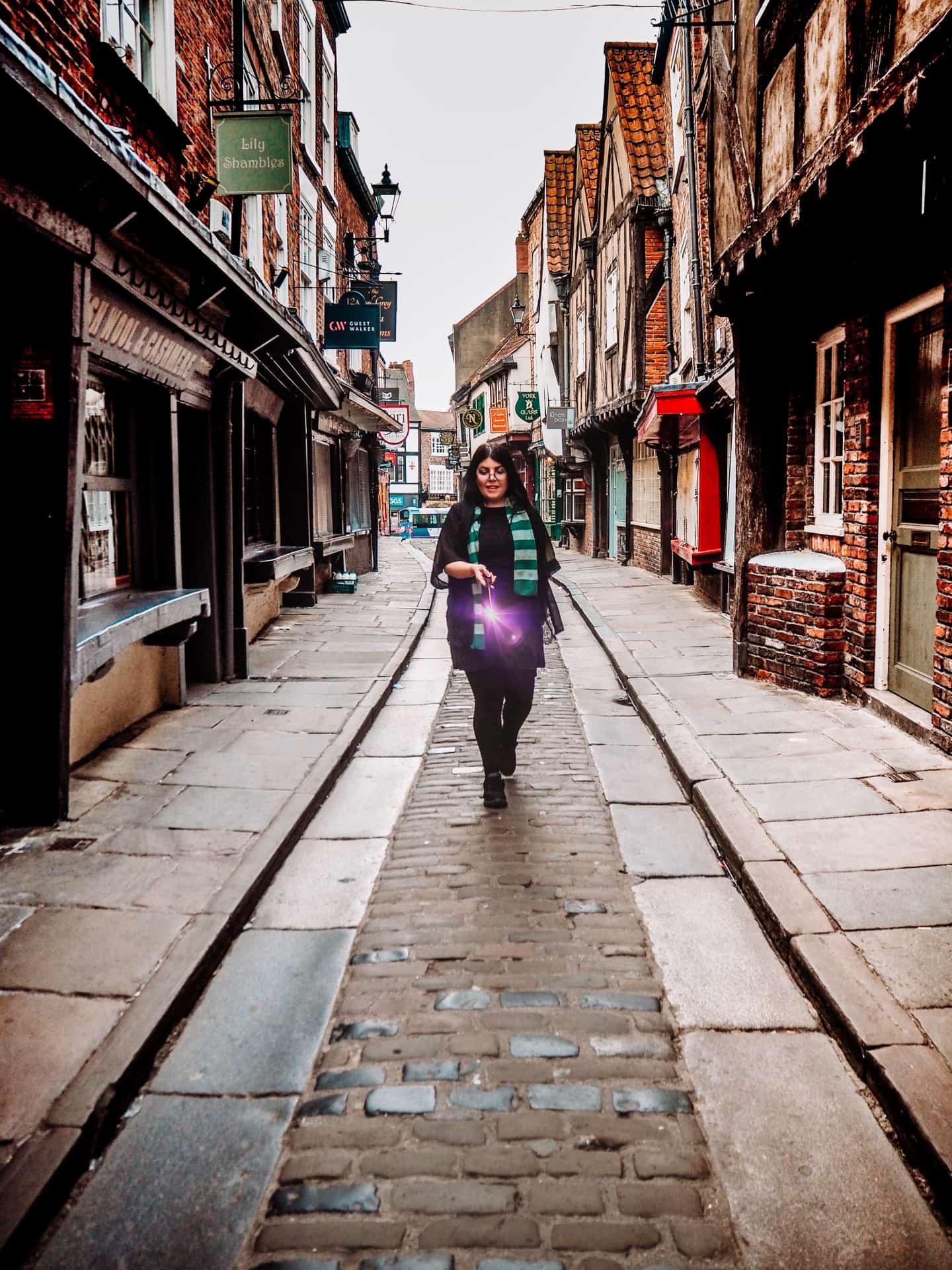 2. Spot The Shamble's smallest resident at number 10
You may walk straight past this house on the Shambles, so keep a lookout for the smallest resident living at number 10. It's a magical York Harry Potter location.
The door is right under the Potions Cauldron, who are proud residents at number 9 ¾!
It's such a cute addition to the street, I wonder who lives inside? A pixie? A house elf perhaps? I'll leave that mystery to your imagination…
3. Brew an elixir at The Potions Cauldron
If you visit The Potions Cauldron at 9 ¾, there is a lesson in potion-making worthy of Professor Severus Snape himself.
But, not quite as dangerous and you have no fear of eating slugs either!
Here you can buy all sorts of Phileas Phials of potions and elixirs to drink, including The Love Potion and The Power of a Wizard. You can add it to your own Slush Puppy for magical abilities!
Or, have a hot potion of a Flat Witch (coffee) that comes with a Chocolate Frog.
You can also buy Dragon Eggs, see their Hogwarts Castle made entirely out of lego, choose your house with their Sorting Hat, and make your very own wanted wizard sign for illegal potion making. Oops, sorry Ministry of Magic!
I loved this place as I found it more of an experience and really fun, even for big kids! You have to visit the Potions Cauldron whilst you're in The Shambles.
The Potions Cauldron can be found at The Shambles 9 ¾. It's open daily from 10am – 7pm each evening.
Click here to read my post on other magical experiences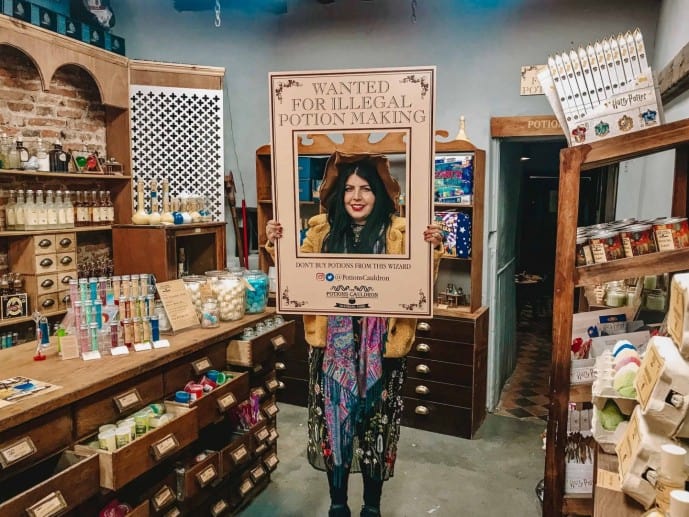 4. Park your broom and go wand shopping at The Shop That Must Not Be Named
The Shop That Must Not Be Named is the most famous as it was the first York Harry Potter store along The Shambles.
So, make sure you park your broom and go inside to take at look at their huge collection of Potter gifts including their very own wand collection from Ollivander's wand shop!
The Nimbus 2000, Hedwig, the Golden Quidditch, House uniforms and robes, quill and ink, spell books and all sorts of magical items can be purchased here! You may have a hard time choosing.
The staff here, or house Prefects, are always at hand to help, donned in house robes! So, don't feel shy if you have a question.
The Shop That Must Not Be Named can be found at number 30 The Shambles and is open daily from 10am – 6pm.
Click here to read my complete review and muggles guide
5. Visit The Boy Wizard and the World of Wizardry Gift Shops
Important Muggle Announcement: the Boy Wizard and World of Wizardry are now permanently closed
Next door and across the street are more gift shops; The Boy Wizard and The World of Wizardry.
Selling official Harry Potter merchandise to buy. They sell clothes, backpacks, card games, house uniform, stationery, magic wands and more!
It's really helpful that there are a few shops down this street to spread out the crowds, they get extremely crowded inside with big queues at the till so make sure you leave lots of time for shopping!
The Boy Wizard is permanently closed :(
6. Buy a Wizarding beverage of Butter Beer!
Another thing that I loved about the Potions Cauldron was the tasty Butter Beer they had in store.
After visiting Hogsmeade at the Wizarding World of Harry Potter in Florida, I was craving their Butterscotch Beer by the Flying Cauldron.
Finally, here I could get my fix without flying a few thousand miles!
It's not as sweet as the draft version and that was perfect for me. So, pop into the Potions Cauldron for the favourite wizarding beverage. They don't take Sickles here though, bottles are £2.50 each!
7. Cross the King's Bridge at York Train Station
Although Hagrid and Harry Potter crossed the pedestrian bridge together in the movie in King's Cross Station in London, the filming location is actually the King's Bridge in York Central Railway Station!
Yes, I couldn't believe it either actually! But it is true. Let's go back to the first movie Harry Potter and the Philosopher's Stone.
The Hogwart's Express is due to depart on the 1st of September from King's Cross Station in London. Hagrid is walking Harry to Platform 9 ¾ and hands Harry his tickets! Hagrid then says "Blimey, is that the time?" and vanishes!
After that, the filming resumes at King's Cross station for the rest of the scenes. Recognise it now?
York Railway Station can be found on Station Road in York, YO24 1AB. You don't need to buy a ticket to enter the platform.
8. Visit Diagon Alley at the witching hour
Out of all the times that I visited The Shambles, my favourite time was in the evening.
The sun had gone down, the stars were out, the crowds (and kiddies) had gone home for the day and the street twinkled with street lamps and fairy lights!
It was downright magical at this time of the day and it looks SO much better in photos too. You can almost imagine Professor McGonagall's shapeshifting from a cat out of nowhere in the night!
There isn't anything to do here in the evenings save a visit to the Shambles Tavern which is a bar serving craft beers. So, if you did want a pint, you'll receive a warm welcome inside.
The Shambles Tavern can be found on The Shambles. It opens at 8.30am serving food until 7pm and closes at 11.30pm, seven days a week (Sunday hours differ).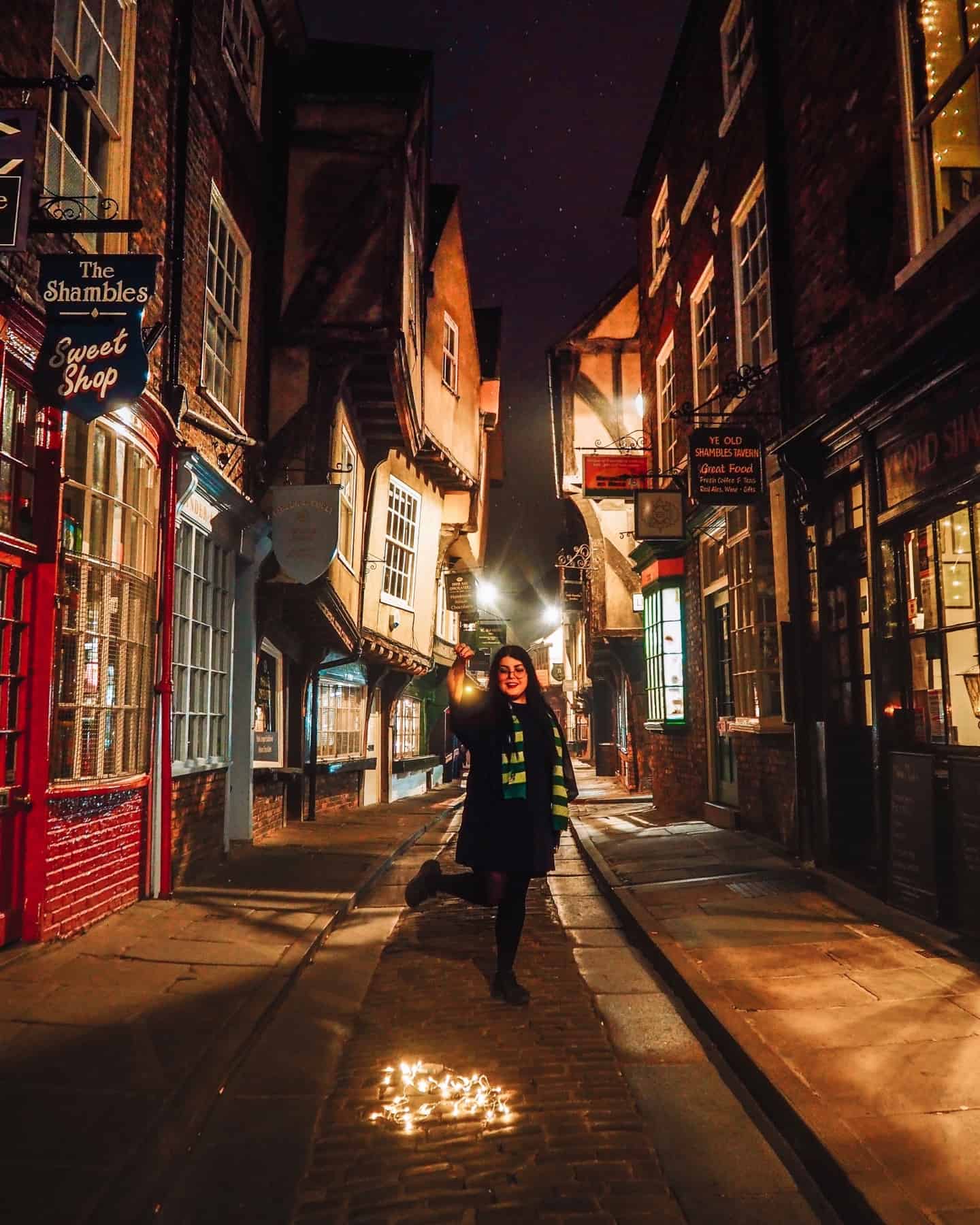 9. Spot some Harry Potter magic at the National Railway Museum
The National Railway Museum in York is free of charge and a HUGE place to visit, perfect for a rainy day. Although there isn't a Hogwart's Express train, you can still find a sprinkle of Harry Potter in York magic. It is hidden somewhere inside, but I'll help you out with directions.
When you enter the North Shed, where the Flying Scotsman is located, head towards the back. If you look up to the roof, you'll see all sorts of numbered train signs. At the very back, after number 9 you will eventually find Platform 9 ¾!
This is the only Harry Potter Easter Egg in here I'm afraid, but I'm sure there will be more with time. If you're struggling to find it, ask the staff. They'll know where to direct you!
The National Railway Museum is free of charge and can be found Leeman Road YO26 4XJ. If you didn't fancy a walk you can catch the shuttle outside of York Minster for £3. It's open daily from 10am – 6pm.
10. Spend a night in The Enchantment Chamber
If you're looking for a Harry Potter Hotel in York then look no further than The Enchantment Chamber!
It's an award-winning, one-bedroom apartment hotel that is built to look like the Gryffindor common room at Hogwarts.
You'll walk through platform 9 3/4 to enter and, inside, you'll find a four-poster bed, a fireplace, and even suitcases that transform into your wardrobe!
Not only that but there are lots of quills, wands, and potion bottles to practice your magic.
It's the perfect place to find some of the magic of Harry Potter in York!
11. Go on a magical Wizard Walk!
Best Tour of York – Little Vikings Awards 2023.
If you wanted a York Harry Potter guided tour, why not book a Wizard Walk that is filled with magic, mystery, comedy, and excitement plus a dash of York's history!
Young children and big children alike can join The Wizard of York on a quest to find magical creatures as we wand-er the alleys and snickelways of this enchanting city.
This activity is ideal for children aged 5-10 in particular but can accommodate bigger kids with a silly sense of humour and passion for the Wizarding World!
Unlike the famous ghost walks, this is a magical alternative so you'll find no spooky ghosts, no scary stories…The Wizard Walk focuses on FUN over frights!
Add to the magic with a Wizard Wand Kit (subject to availability). You'll receive a handcrafted wand and
instructions for seven tricks that young witches and wizards can learn at home. Includes a FREE
printable certificate!
The Wizard Walks run on selected evenings, starting from the bottom of The Shambles. Private tours are also available. You will need to pre-book online to guarantee a space!
Click here to book your Wizard Walk in York!
12. Play Hole in Wand
York has some incredible experiences available for Potterheads to try and I was very intrigued by the new 'Hole in Wand' Magical mini-golf!
The course challenges Potterheads to find the missing Gargoyle Grobblenook through a series of nine magical themed golf holes.
You'll navigate your way through using spells and bubbling cauldrons. There's even a Basilisk, Unicorn, and Wizard to meet!
After your golf course, there's a Wizard Tavern to relax in where you can enjoy a potion or two. Prices start from just £6.99 a person.
Click here to check out the Hole in Wand website and book your session
13. York Harry Potter Escape Room
Can you help piece back together a wizard's body that has been spliced by a spell gone wrong? Well, the Rehab Piccadilly needs you!
You can book their York Harry Potter Escape Room to solve this case and help the wizard by using potions, spells casting, wand lore, runes, and wit.
The experience lasts for 60 minutes and it has been made with all ages in mind. Prices start at £40 for two people or you can have a maximum of 5 people at £100.
Looking for more Harry Potter locations in Yorkshire?
So, this is the full list of Harry Potter York locations in the city centre.
But, there are a few more Harry Potter film locations that you can visit in Yorkshire if you're craving more magic;
14. Malham Cove / Hide Out in Deathly Hallows Part One
You can visit the see natural limestone pavement rocks from Deathly Hallows Part One.
The Malham Cove Harry Potter connection is that Hermione and Harry hide out here from He-Who-Shall-Not-Be-Named!
Where was Ron? Well, he stormed off in a huff!
You can make a day trip from York and access Malham Cove in around an hour and forty minutes. It's based in the heart of the Yorkshire Dales National Park!
Read my complete guide for visiting Malham Cove and this Deathly Hallows filming location
15. Goathland Railway Station / Hogsmeade
Goathland Railway Station was used as a filming location to film Hogsmeade Station. It's based on the North York Moors Railway.
Here, Harry and the other students were dropped off by the Hogwarts Express to start their school year at Hogwarts!
You can also buy a ticket to ride a steam train here that looks very similar to the train in the Potter movies.
Click here to read my complete guide on how to visit Goathland Station
16. Spend a night in Hagrid's Hut (Groundskeeper's Cottage North Shire)
Have you ever wanted to spend a magical night in Hagrid's Hut at Hogwarts? Well, now you can by heading up to North Yorkshire.
The Groundskeeper's Cottage by North Shire is the only one of its kind in the world and is a life-size hut that you can book to spend the night.
It has a living room, kitchen, Ministry of Magic bathroom, and bedroom which makes the entire place cosy. There's even a Ford Anglia outside.
It's been set up as the perfect Potterhead retreat in the countryside. So, you can relax on the sofa, pour yourself some Butterbeer, and have a Harry Potter movie night.
I recently stayed here and it was the most magical time! It is expensive but worth splurging on.
Click here to read my complete Groundskeeper's Cottage review!
Where else is there to stay in York?
After you are tuckered out from hunting down all those York Harry Potter locations, you'll need a place to rest your head or practice your spells (I won't tell the Ministry of Magic if you won't!).
Where better than some spell-binding hotels that are fit for wizards and witches?
The Principal Hotel in York is the ideal location to base yourself for a few days of sightseeing as it's at the heart of the city centre adjacent to the central railway station.
That means that all the Harry Potter spots in York are only a few minutes walk away! For example, The Shambles is only 10 minutes from there.
Many of the rooms feature a spellbinding view of York Minster and they even have their very own private garden, so it's like a mini oasis in the city.
If you're curious to find out more, you can read my whole review about my stay here.
Read more of my Harry Potter Guides!
How to ride the real life Hogwarts Express in Scotland
Harry Potter filming locations at Alnwick Castle
Harry Potter locations in Edinburgh
All the Harry Potter filming locations in Scotland
Where to see the Hogwart's Express Train in Scotland!
How to visit Dobby's Grave in Wales
How to visit Malfoy Manor in real life!
How to visit the real Godric's Hollow in Lavenham
A complete Forbidden Forest Experience review
Harry Potter locations in Exeter
The top Instagram spots at the Wizarding World of Harry Potter
How to find Tom Riddle's Tomb in Edinburgh
Harry Potter filming locations in Lacock
Harry Potter filming locations in Oxford
Harry Potter filming locations at Gloucester Cathedral
How to find the Harry Potter Tree at Blenheim Palace
Harry Potter filming locations in Virginia Water
Visiting the Quidditch Town of Tutshill Tornados
Is this Bristol's answer to Diagon Alley?
How to visit the real Knockturn Alley in London
Is Cecil Court a real Diagon Alley in London?
How to visit Dumbledore's Grave in Scotland
Harry Potter filming locations at Durham Cathedral
Save these York Harry Potter locations for later!